33+ Digital Marketing Tools for Every Business in 2022
This post may contain affiliate links. If you buy something through these links I will receive a commission (at no additional cost to you). I personally hand-test everything that I promote, and I only link to services and products that I like.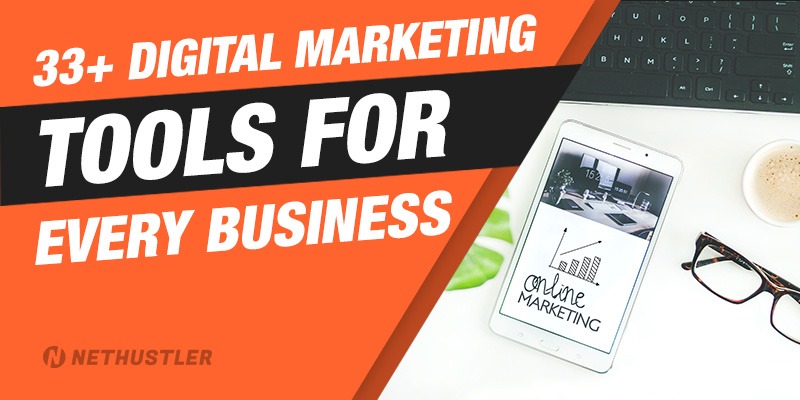 Digital marketing is hot these days. It's always been, but since the pandemic happened, more and more businesses are going online. Check out a list of the top best digital marketing tools that you or your business should be using in 2022.
There are many different strategies and categories of digital marketing tools that you would need to use.
But with so many apps, services, and products on the market, it might be a bit tough for you to decide what is best for your business.
So…here's what I'm going to do:
I'm going to split the post into multiple segments and list what I think to be the best digital marketing software and apps for those categories, the big majority of them I have tested personally and know for a fact that they are amazing.
From SEO tools, analytics software, productivity apps, email marketing services and team management, this post has it all.
Let's get started:
Email Marketing Services
In this day and age, you can't really do internet marketing properly without starting an email list. For years now people have said that email marketing is dead. What a bunch of bullshit.
Email marketing has probably the highest ROI in the business with an approximate 4000% ROI (return on investment). Or in simpler terms: For every $1 spent on email marketing you get back on average $40.
Those are some insane stats. So how can you get into this? Well, for starters you need to use an email marketing service, that can allow you to capture leads and also give you the ability to email them whenever you want.
In general, it depends on the type of business that you're running, but if you're doing affiliate marketing, I highly suggest you stay away from Mailchimp as they don't play nice with affiliates on their platform.
Related: Mailchimp Alternatives
In my opinion these are some of the best email marketing services right now: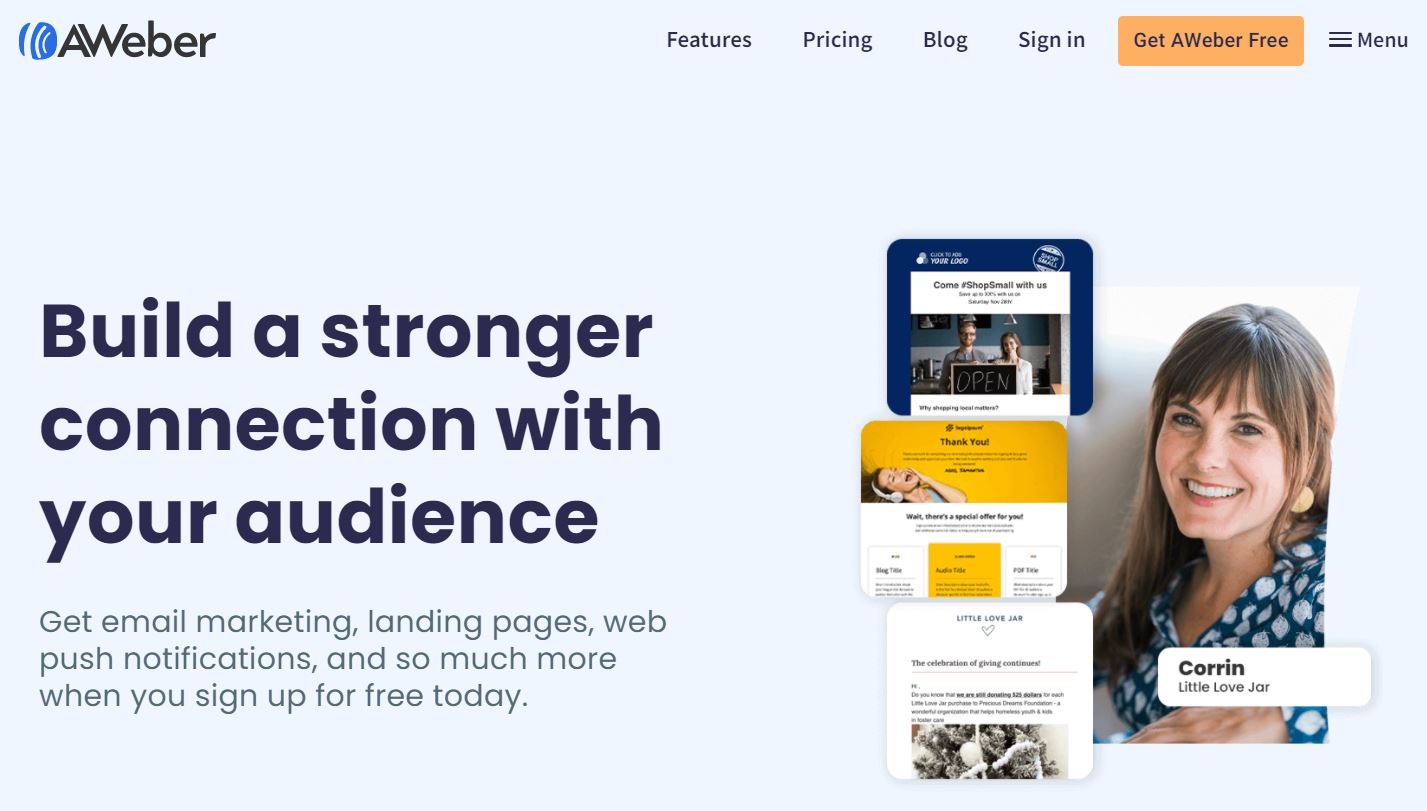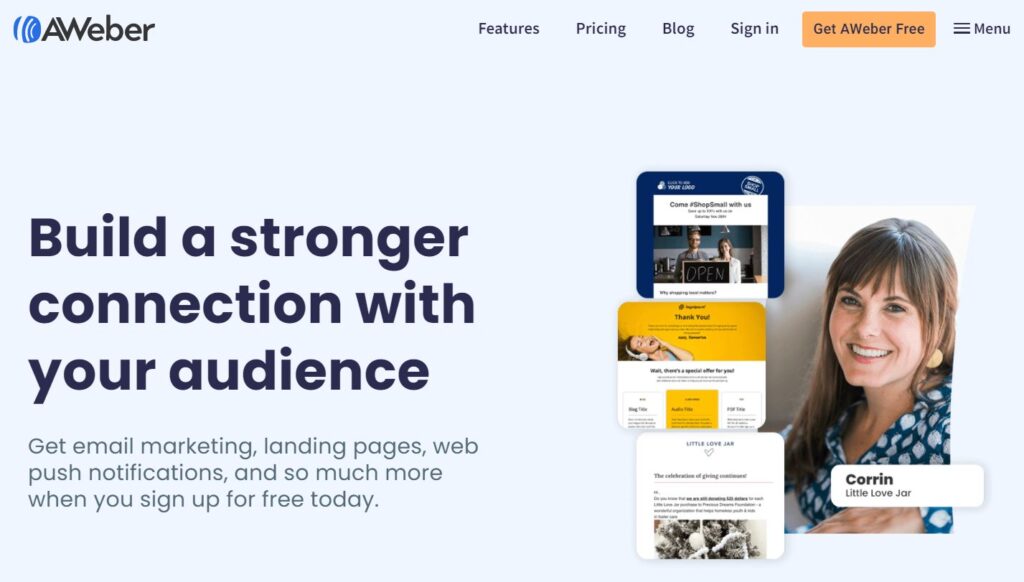 You know I'm a fan of Aweber for more than 10+ years now. Why? Well, it's simple: They do the basics really really well. And that is near perfect email delivery rates and great templates with an easy-to-use email builder.
There are many email marketing tools out there, but Aweber is still one of the veterans of the game and will always feel much more polished.
Not to mention that, unlike other email marketing services they allow you to promote pretty much anything (provided that is legal of course and that your list is genuine).
Recently they started offering a free plan (up to 500 subscribers), so you can sign up and try it out for a while and see how you like it.
Get Aweber for Free (no credit card needed)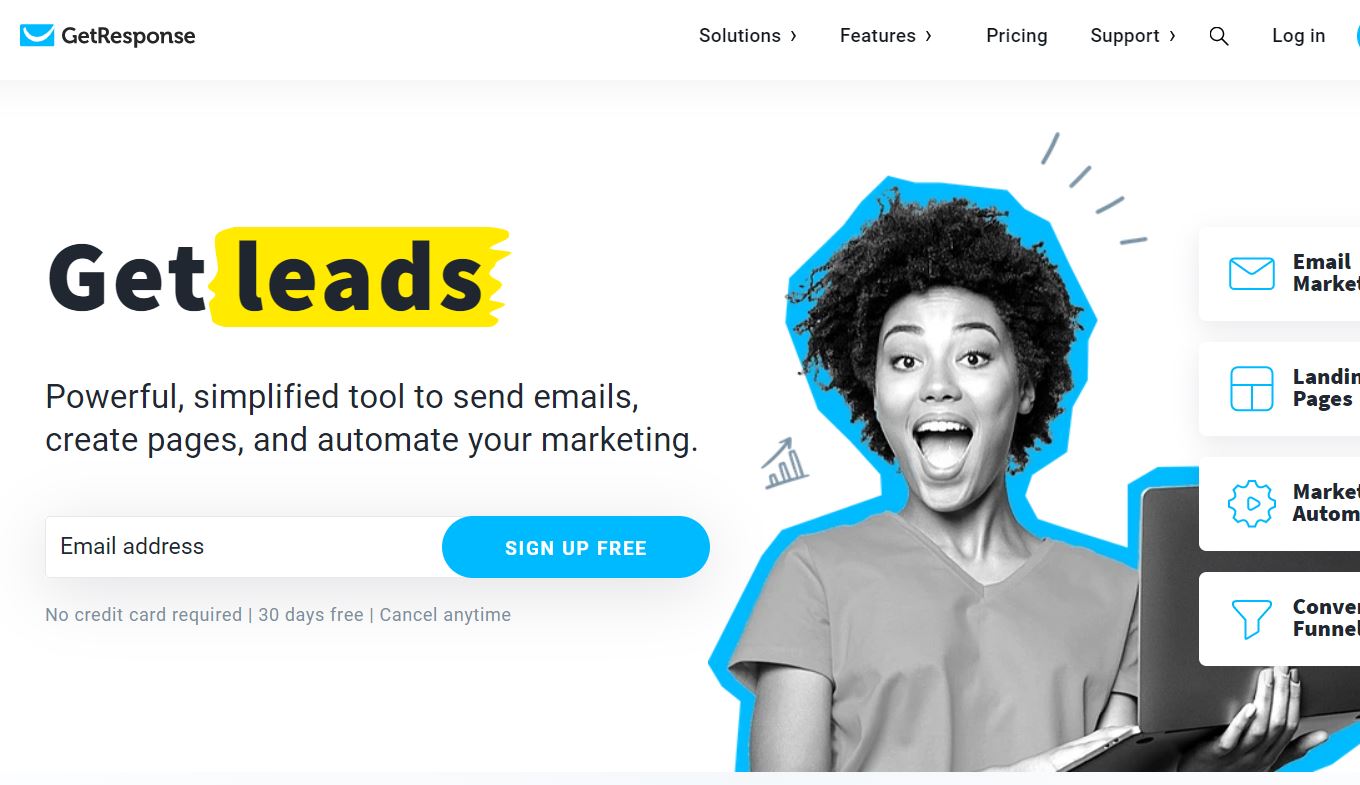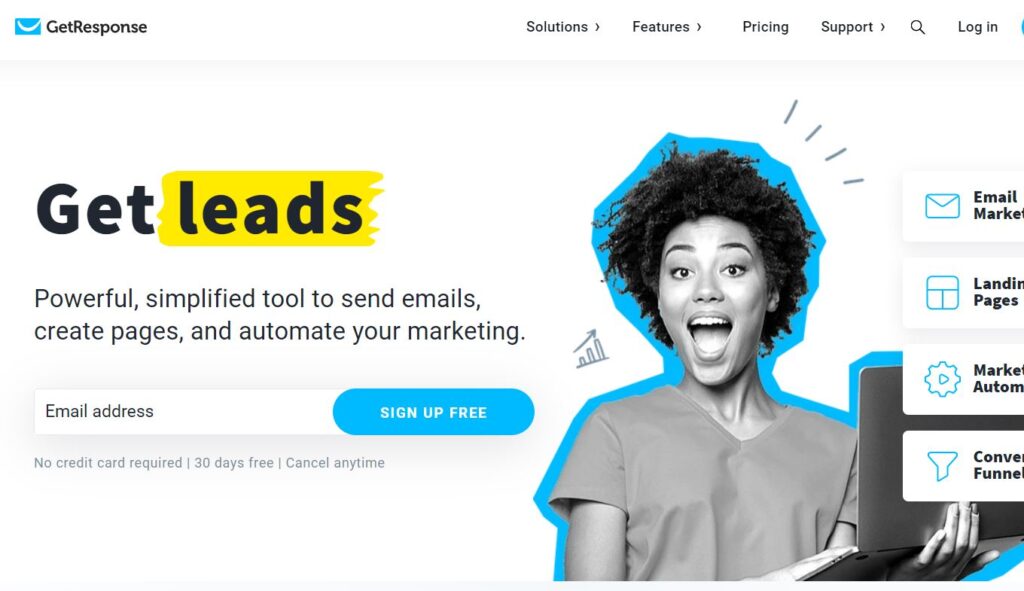 GetResponse is another great digital marketing tool for gathering leads and growing an email list.
Similar to Aweber, they have been in the game for a while now, and they have competitive pricing and great features such as:
Funnel automation
High-quality email templates
List segmentation
GetResponse is a great tool for every business small or large and their pricing starts at just $15 per month for 1k contacts.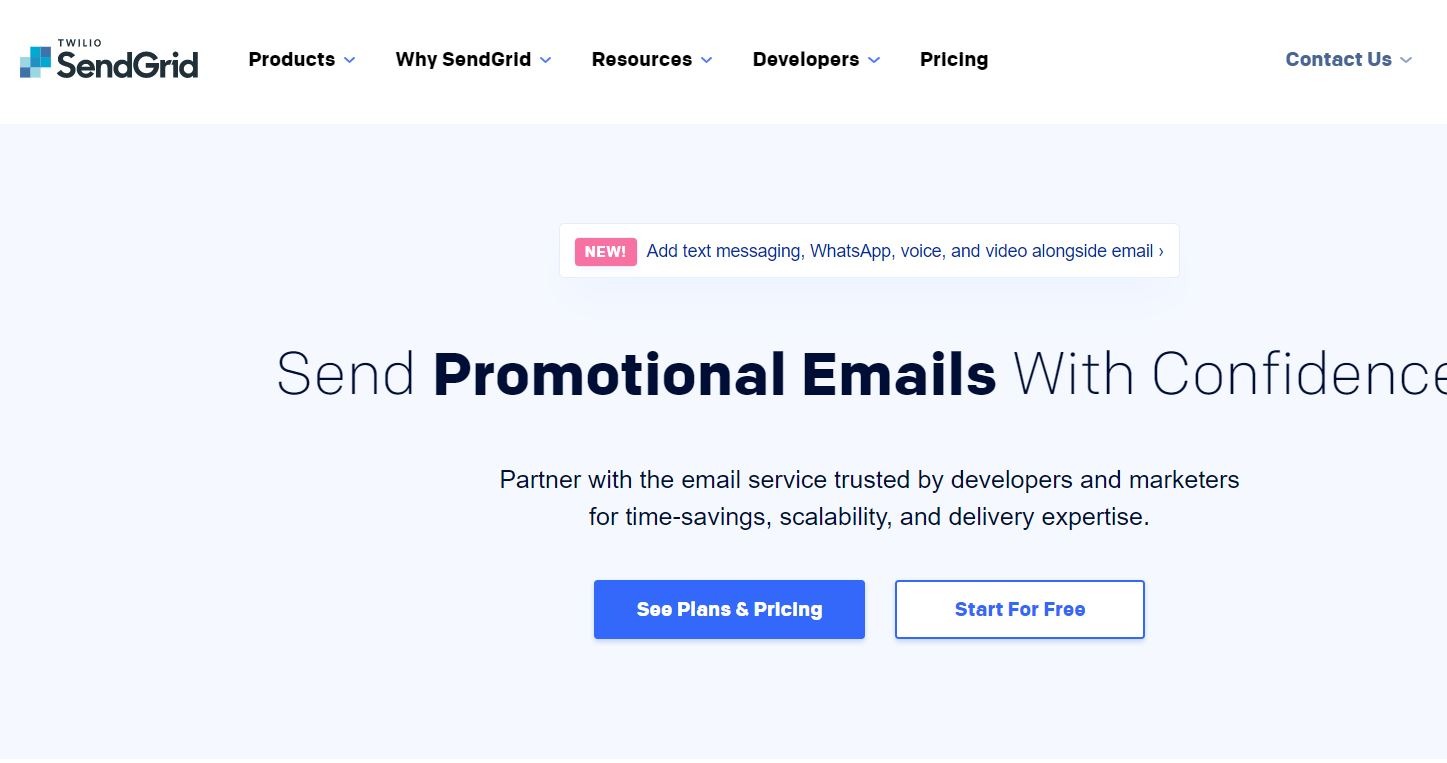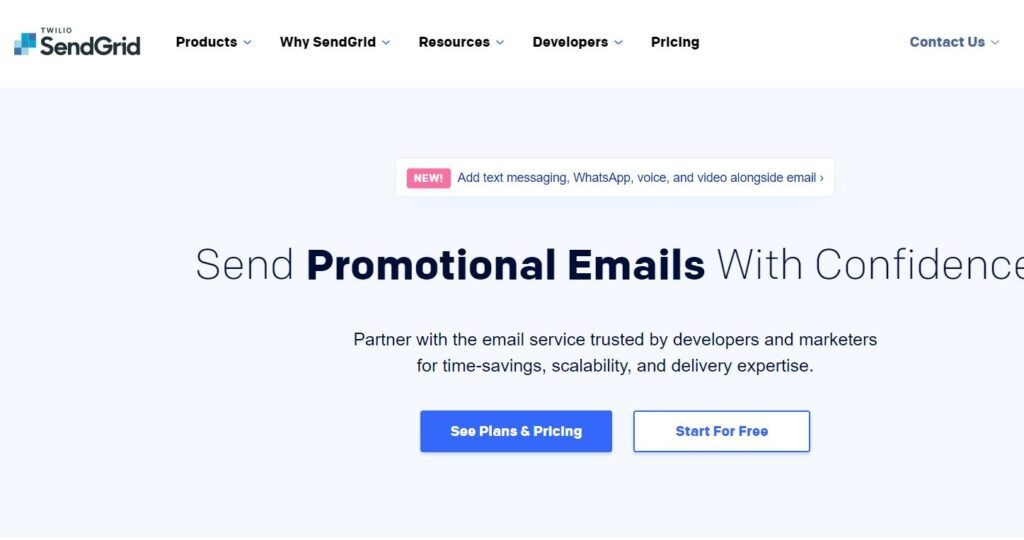 If you're looking for an email service to scale up your digital marketing campaigns, then look no further than SendGrid.
SendGrid is mostly used by large companies such as Spotify, Uber, eBay. But no worries, startups, developers, and small businesses are also welcome.
What makes SendGrid awesome, is its affordability and delivery rates. In the email marketing sector, those are pretty much the only two things that matter the most. How much you pay and how many people you can reach.
Since they processed about 1 trillion emails last year, it's safe to say that SendGrid doesn't play when it comes to email.
Great features of SendGrid include:
Awesome analytics and insights
High delivery rates
Massive integration list with popular apps
Digital Marketing Tools for SEO and SEM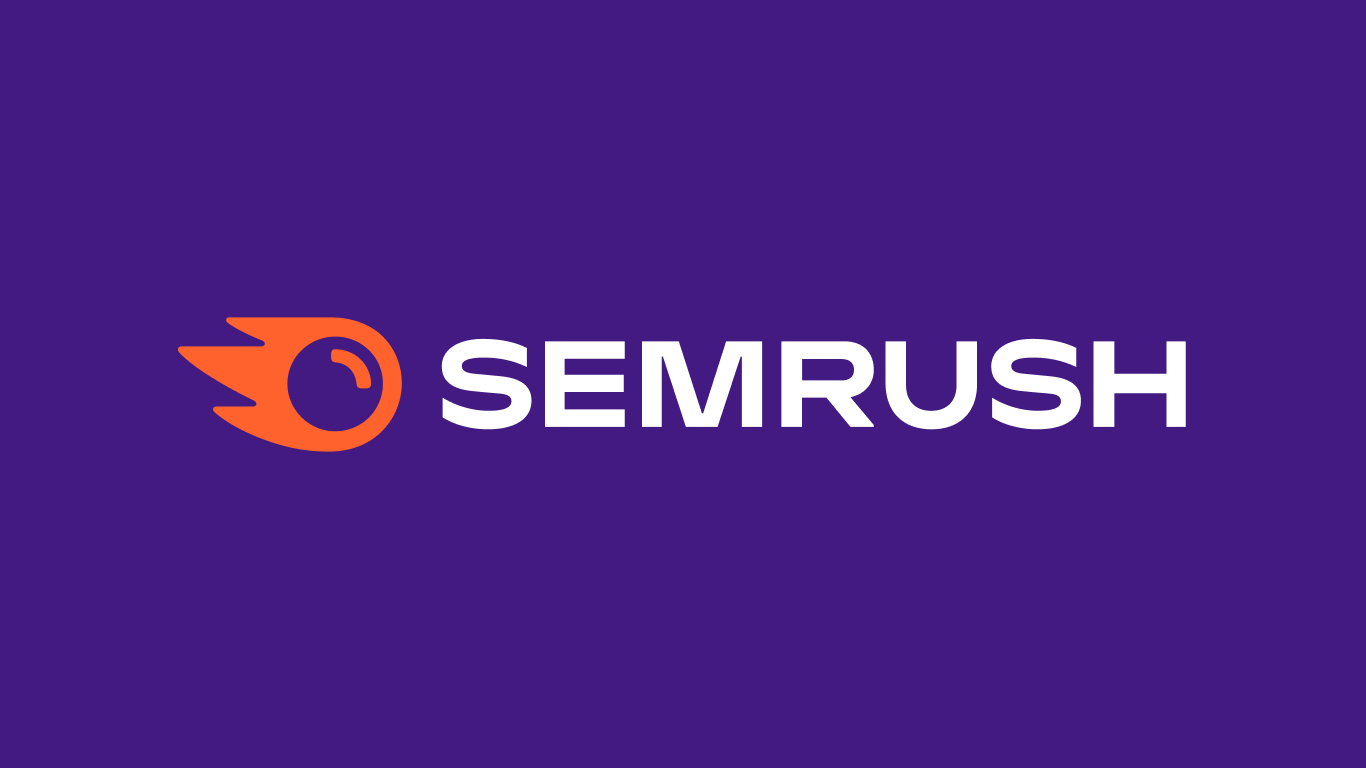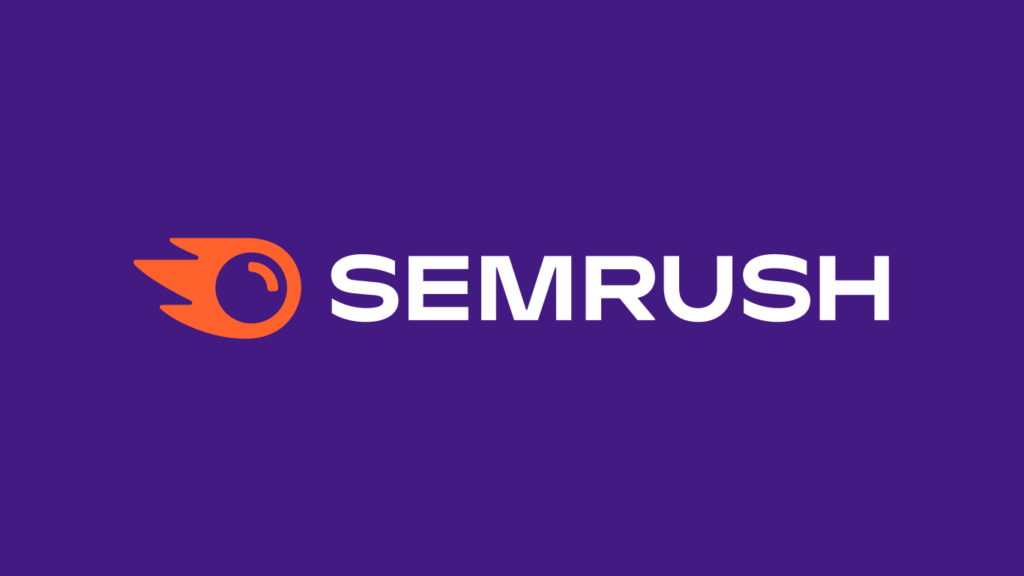 Regular readers of my blog already know that I love Semrush and I promote it any chance I get.
Sure I'm an affiliate of theirs and I earn a little bit every now and then. But trust me, even without that, I would still promote the heck out of them. It's that good.
It's probably one of the best digital marketing tools that you can use to grow your business.
Why? Because it's an affordable service that gives you access to over 40+ tools and modules for one single price.
Here are some of the tools you can access with Semrush: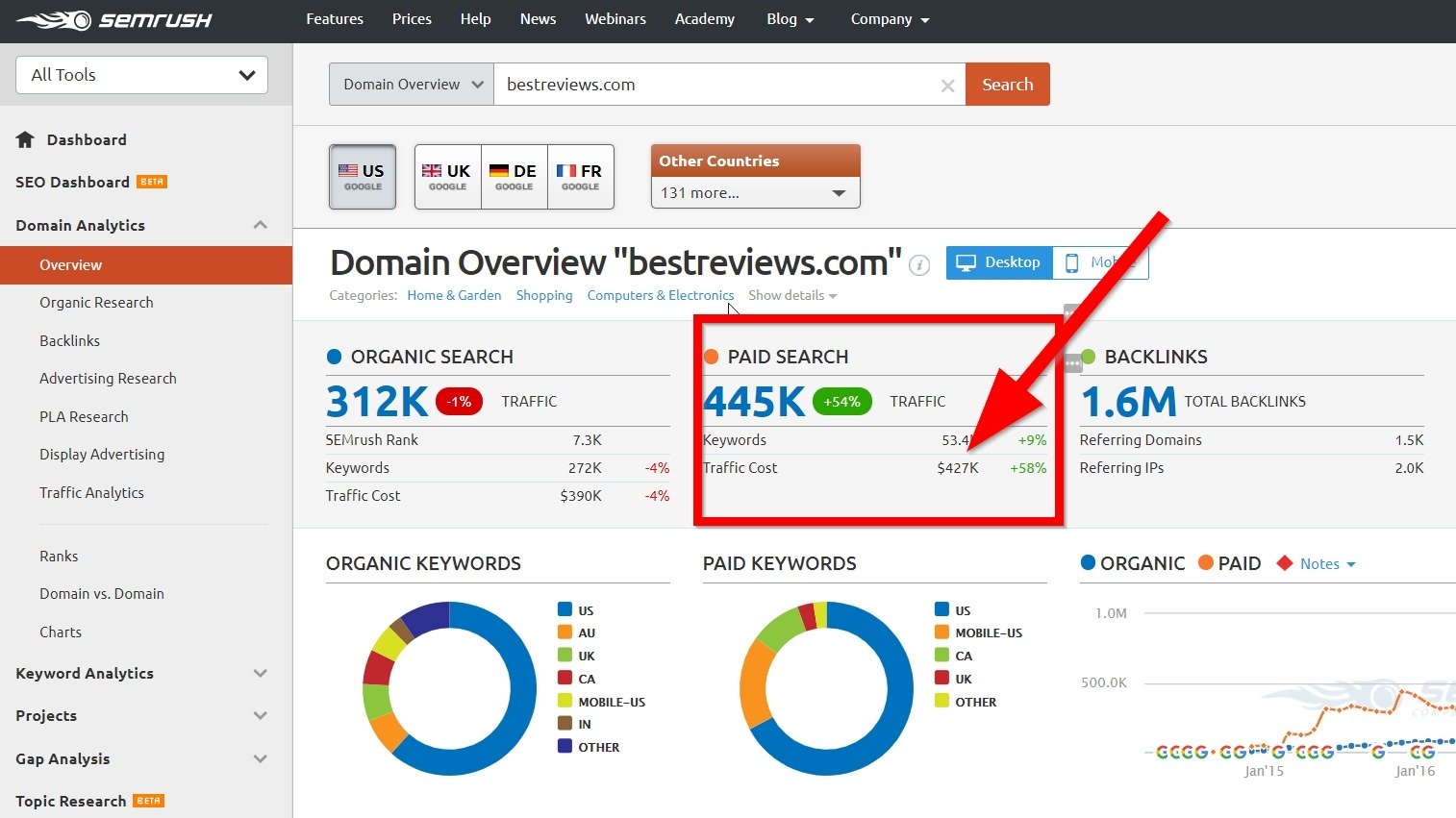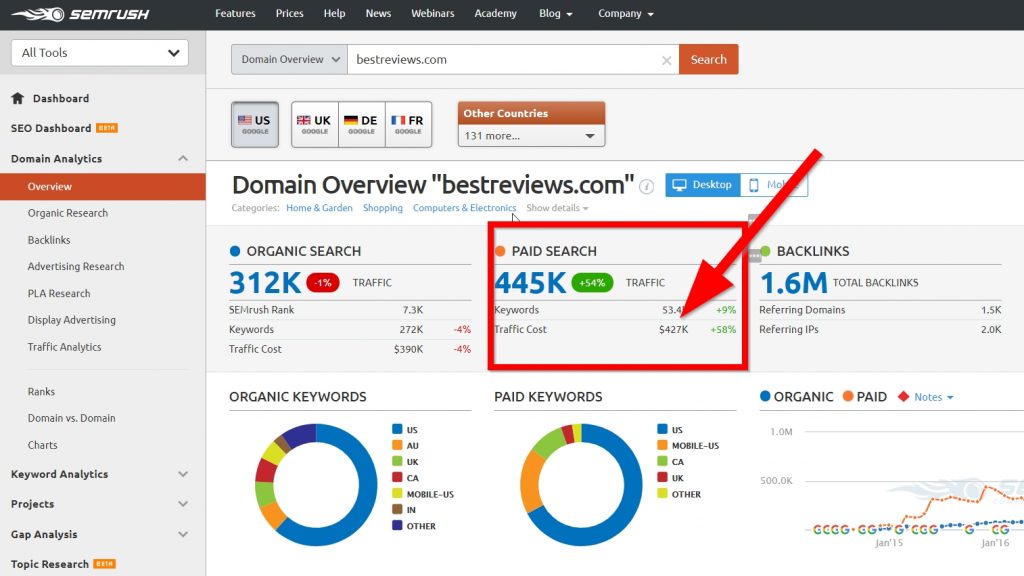 Traffic Analytics – To check website traffic stats
Organic SEO Research – Get insight and data for doing better SEO
Keyword Tool – Great for doing keyword research
Backlinks Monitor – Check out the backlinks of your site (or competition)
PPC Keyword Tool – A must if you're doing PPC with Google Ads
Ad History – Great to spy on your competition's past ads.
Display Ads – Similar to the one above.
Topic Research – Get content ideas to write awesome blog posts.
And many…many more
Seriously, go try them out for yourself. Using my affiliate link below, you will get access to a 7 day free trial to test out most of their features:
Try Semrush for Free (7 days trial)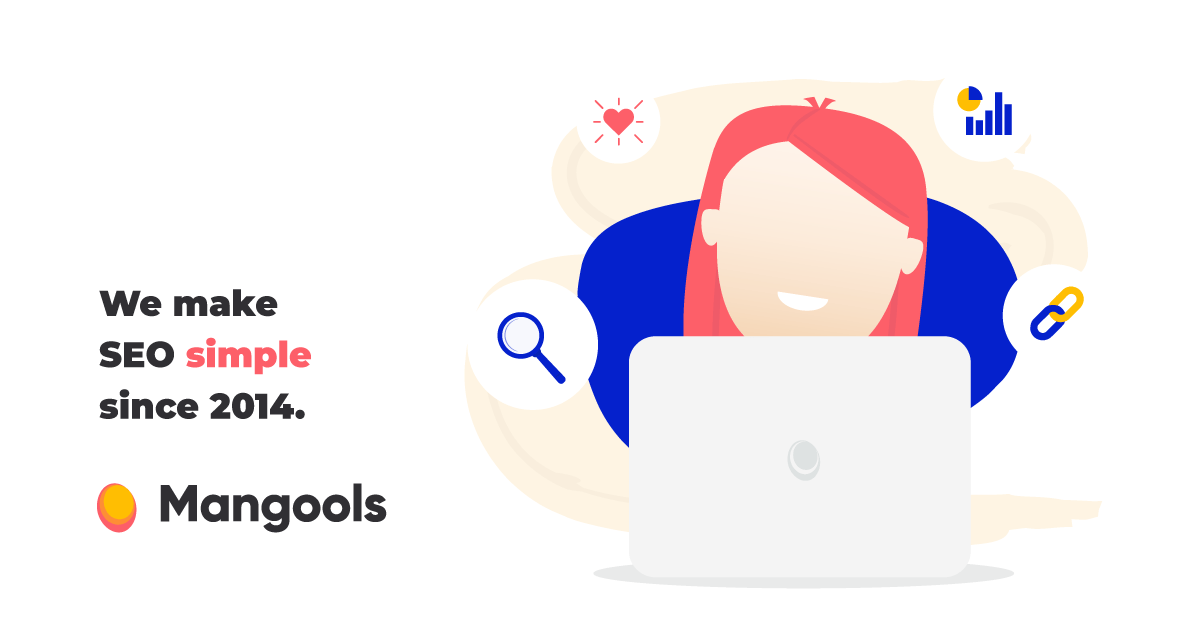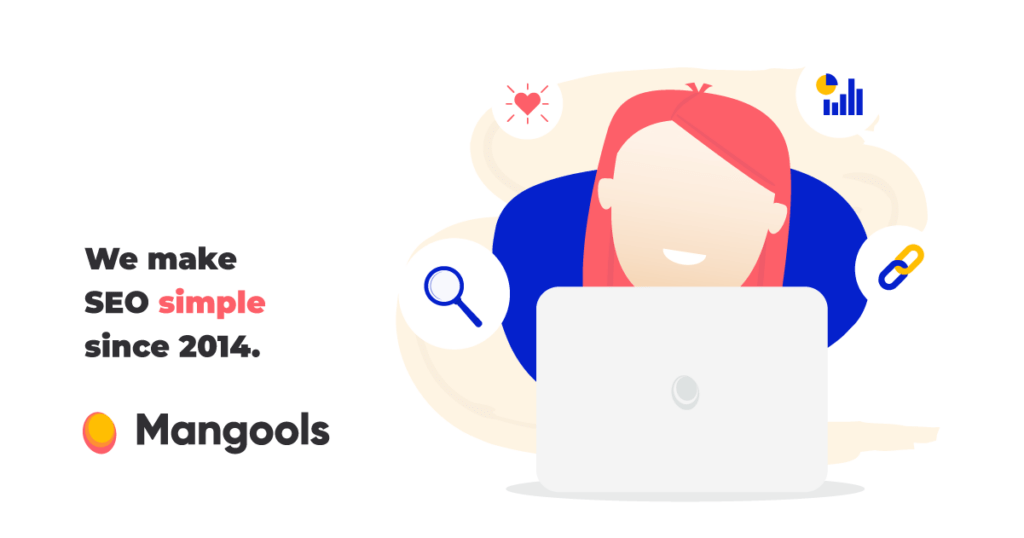 I'm going to be honest with you, Mangools is what you use when you can't afford Semrush. It's that simple.
Mangools suite of digital marketing tools is great. They have an affordable price, but they are nowhere near as comprehensive or have as many features as Semrush.
So, if you're just starting out, and don't need all the stuff that Semrush offers, consider using Mangools as an alternative. For the price, no one can beat them.
Mangools has 5 main SEO tools:
KWFinder – for doing keyword research
SERPChecker – For analyzing SERP of your site or competition
SERPWatcher – To keep an eye on your rankings
LinkMiner – A backlink research tool
SiteProfiler – To get SEO data for your site and competitors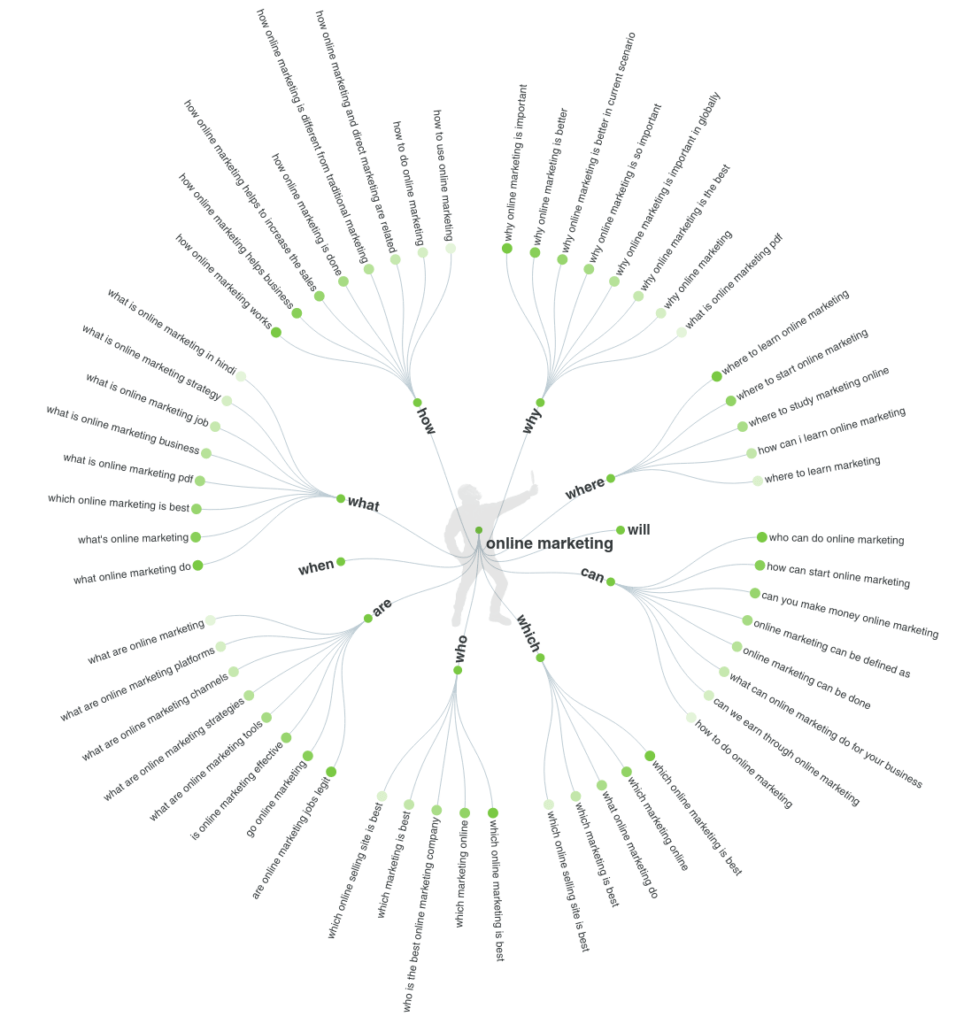 Want to know what people are thinking and searching on the web to create better content? Enter: AnswerThePublic.
AnswerThePublis is one of the most unique and helpful digital marketing tools for content creators. By seeing exactly what users are searching for, you will always have an endless supply of topic ideas to fuel your next article or video.
Not only that but you can uncover a ton of questions and long-tail keywords to add to your content so that you can rank easier in Google.
It's honestly a goldmine, and it's one of my go tools when I need to get some fresh ideas for my niche blogs. I would advise anyone to give it a try since they have a free trial anyway.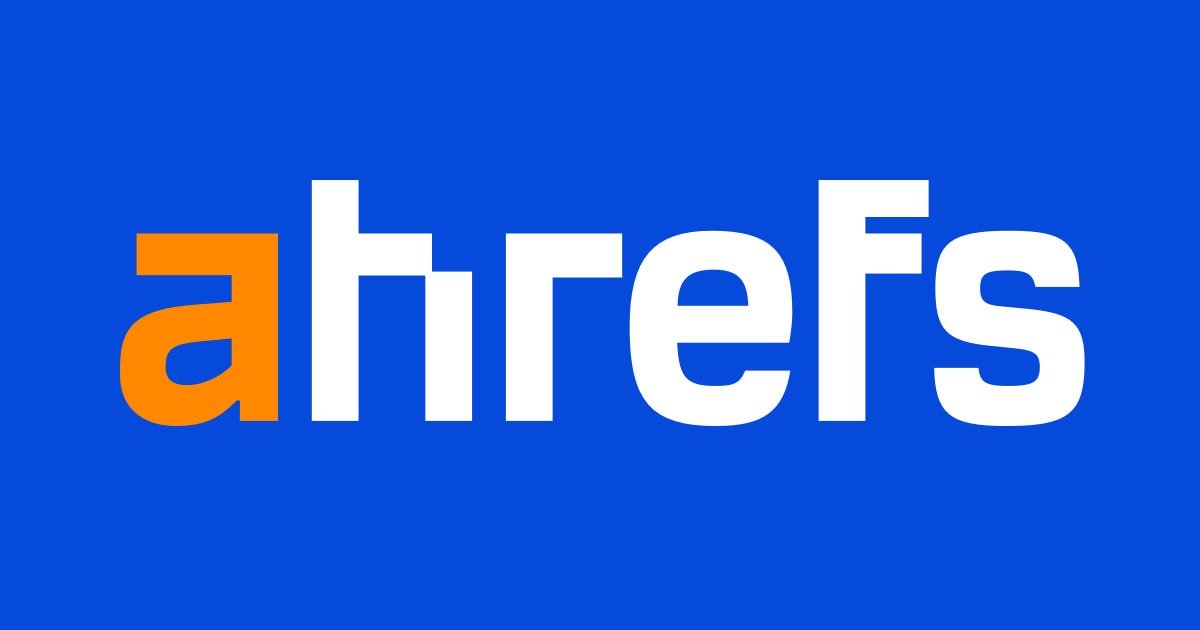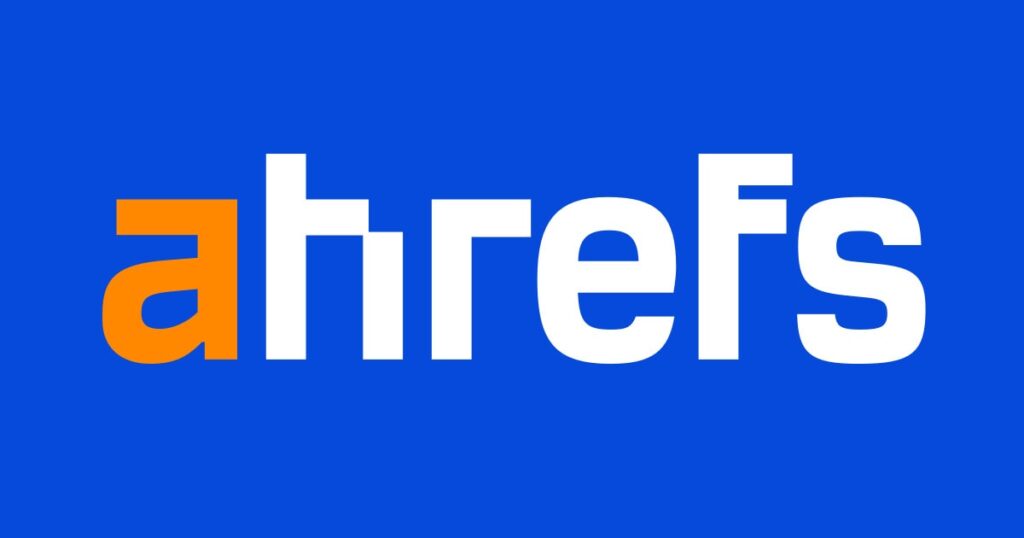 Ahrefs is another solid all in one SEO tool, that you can use for all your SEO needs.
While it doesn't have the vast number of tools and features that Semrush has, many marketers and digital marketing agencies are also using Ahrefs for some of their
In my honest opinion, Ahrefs has a much better keyword research tool, that allows you to gather data from multiple search engines such as Bing and not just Google. But it lacks a bit in providing enough CPC data.
Still, one of the key elements where they beat Semrush is in their pricing range. If you have a business that requires multiple users accessing the same account, then Ahrefs will come out a bit cheaper, albeit, with having fewer features.
Also, unlike Semrush and other SEO tools, their trial is not free.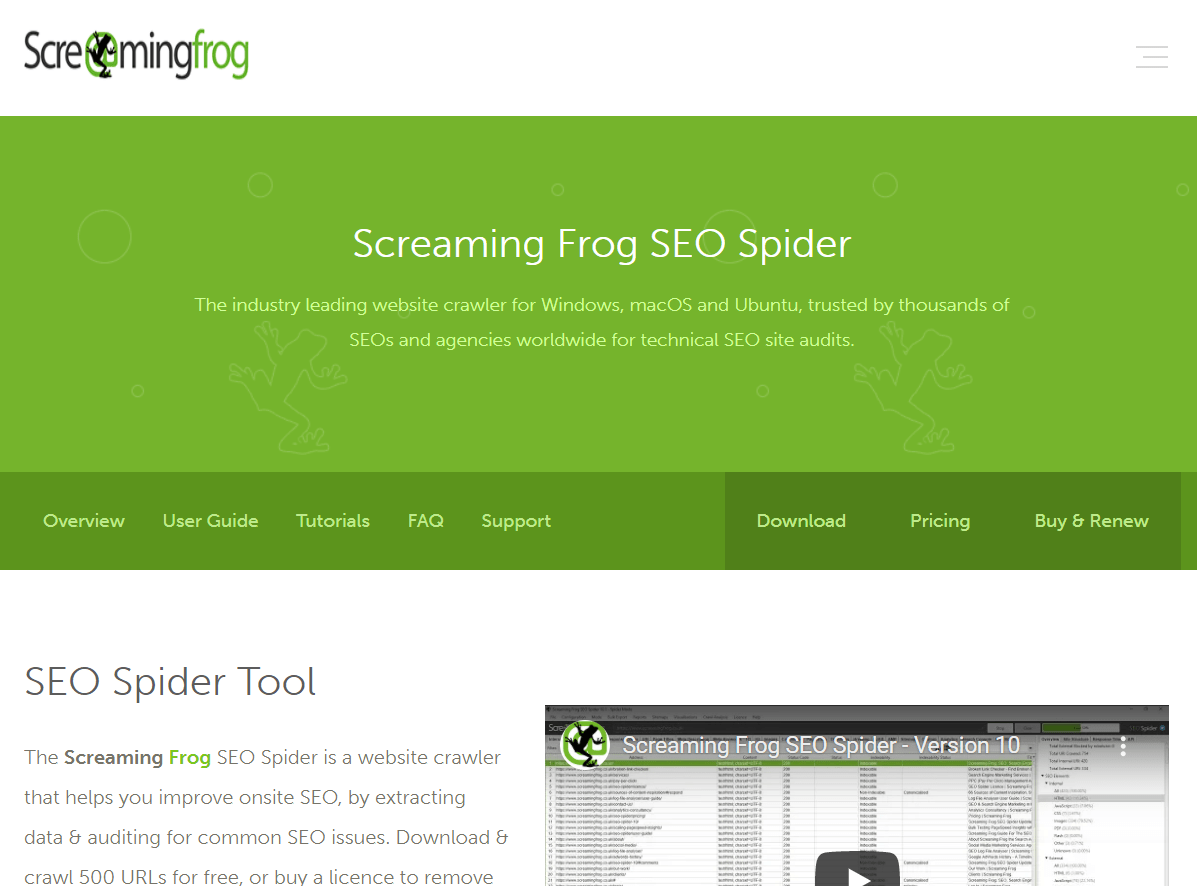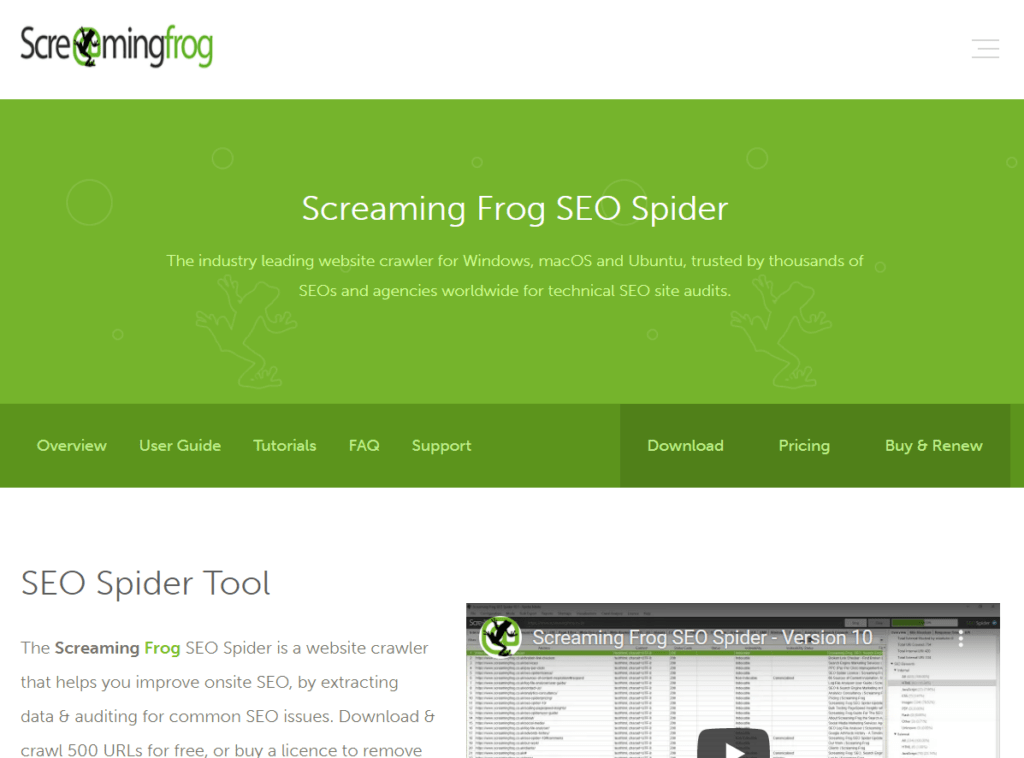 Every serious SEO person or agency will probably use Screaming Frog's SEO Spider tool to create a comprehensive website audit.
There's a lot of cool things that you can do with Screaming Frog such as:
Web Scraping
Finding Broken Links
Analyze Titles & Meta Information
Find Duplicate Content
Create XML Sitemaps
If you want to build domain authority, this digital marketing tool is a must.
Digital Marketing Analytics Tools
The most popular obviously is Google Analytics, but some privacy conscious websites opt to use other tools. Here are some of those.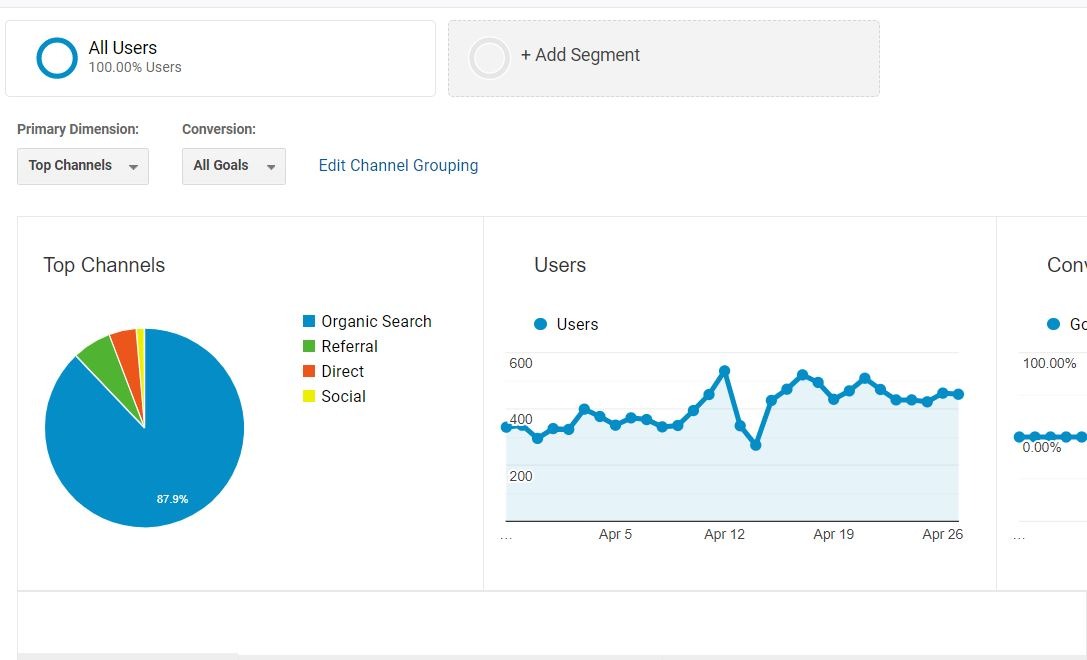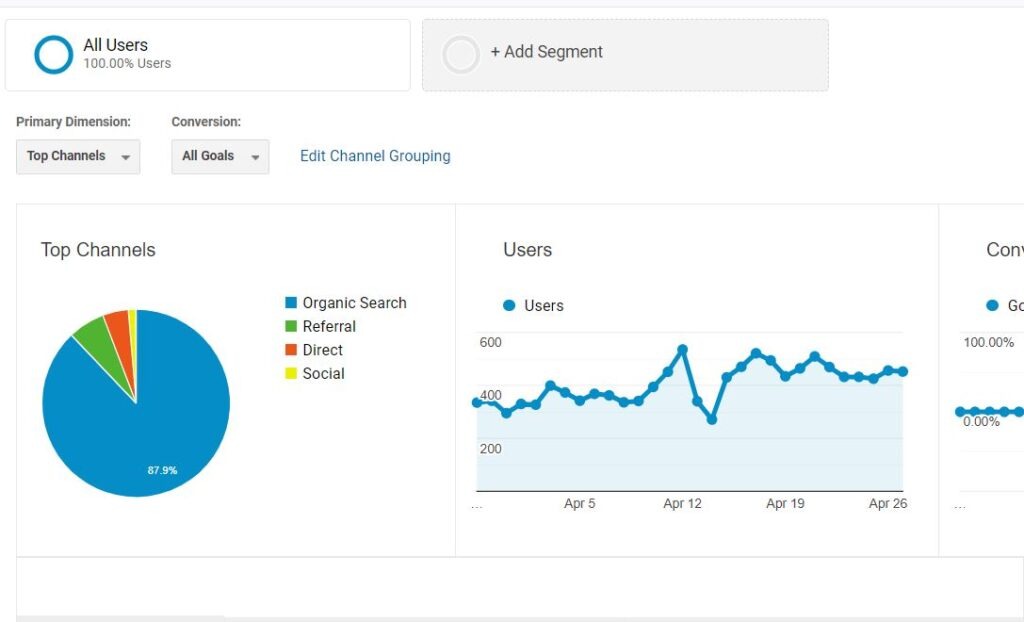 Obviously, pretty much any marketer or webmaster knows about Google Analytics by now. But if you're new to the digital marketing world, then, here is a brief intro:
Google Analytics allows you to get a better insight into your website visitors and customers, by showing you a lot of useful data and metrics such as:
Number of active users
Audience Demographics (GEO, Age, Gender)
The lifetime value of users
Google Ads Click performance
Search Console Integration
Social Engagement and Stats
Custom campaigns
User behavior flow
Website Speed
Goals
Ecommerce
Funnels
Real-Time Reports
Honestly, the list goes on and on, as Google Analytics has a lot more features to offer than just these ones.
So as you can see running Google Analytics on your website is pretty much a must these days.
Unless you're more privacy-conscious and you don't want Google to gather a bunch of data from your website visitors.
In that case you can use the next best tool:
10. Matomo (Formerly Piwik)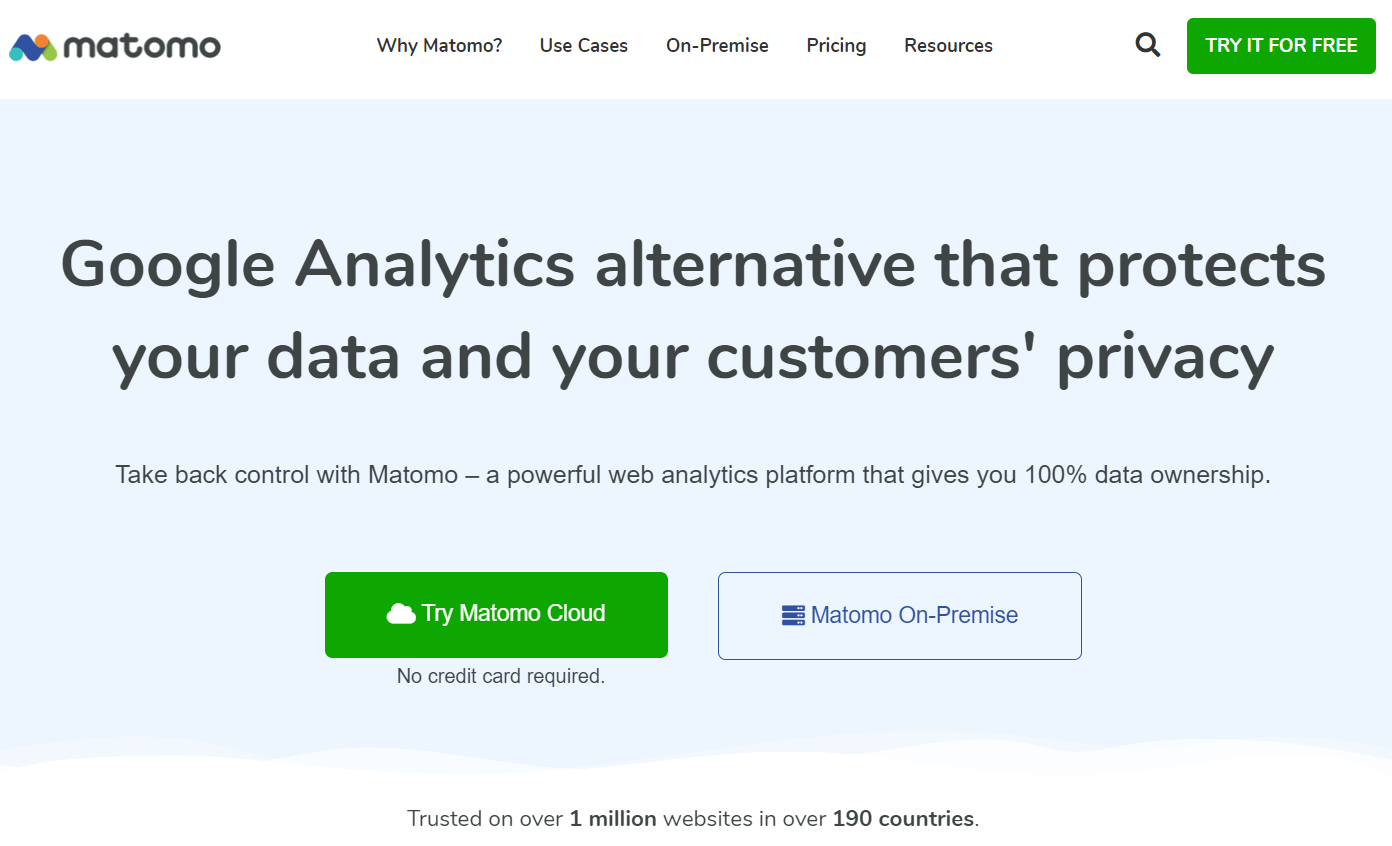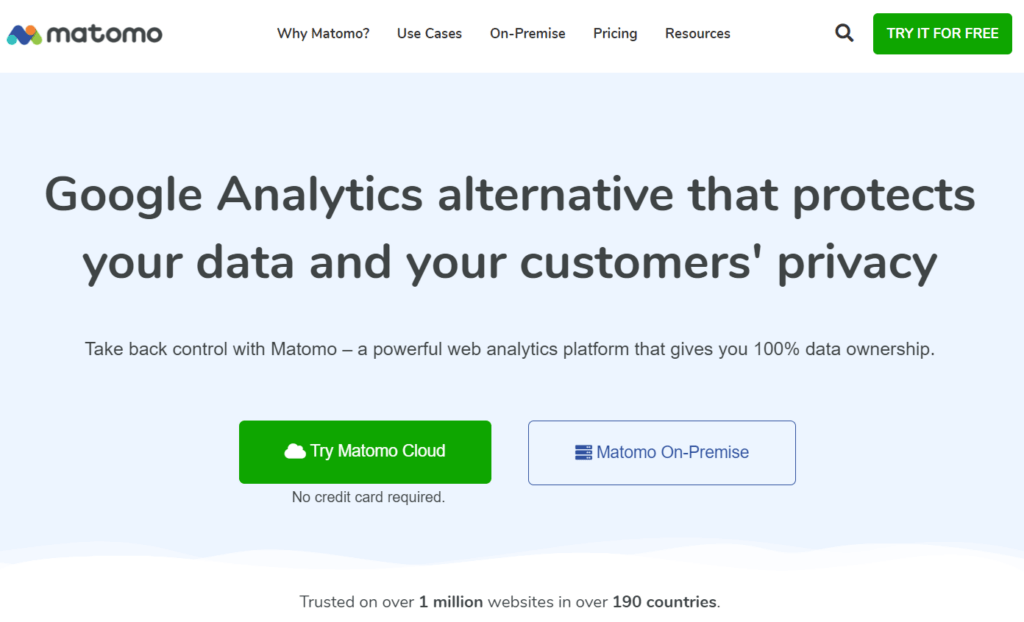 Let's face it, internet users are more privacy-conscious these days, especially in the last few years where governments have implemented laws such as the GDPR and CCPA.
Because of that, many websites and business owners want to use digital marketing tools that are more privacy-friendly to better protect their data but also their customers' privacy.
Google Analytics is a great tool but it integrates with a bunch of other Google products and more than likely reports (anonymously) some of your data to them for "testing and benchmark results".
Enter: Matomo
Formerly known as Piwik, Matomo is a digital marketing tool that you can use as an alternative to Google Analytics. IT's great because you can host it on your own server, meaning that only you, your team, and your business have access to this data.
Isn't that great?
What's more, is that it doesn't really lack too many important features anyway. Sure Google Analytics has a lot more options, but do you really need all of them?
Matomo is 100% open source, can be hosted on your own servers or in their cloud and it's easy to use.
More than 1 million websites use Matomo these days, and my bet is that this number will increase in the upcoming years.
Unlike Google Analytics, it's not a 100% free tool though. You can download their "On-premise" tool for free and host it on your own server (Check out Vultr to get $100 free in hosting credit).
Some of the features will be limited though and unlocked only if you pay and upgrade your account.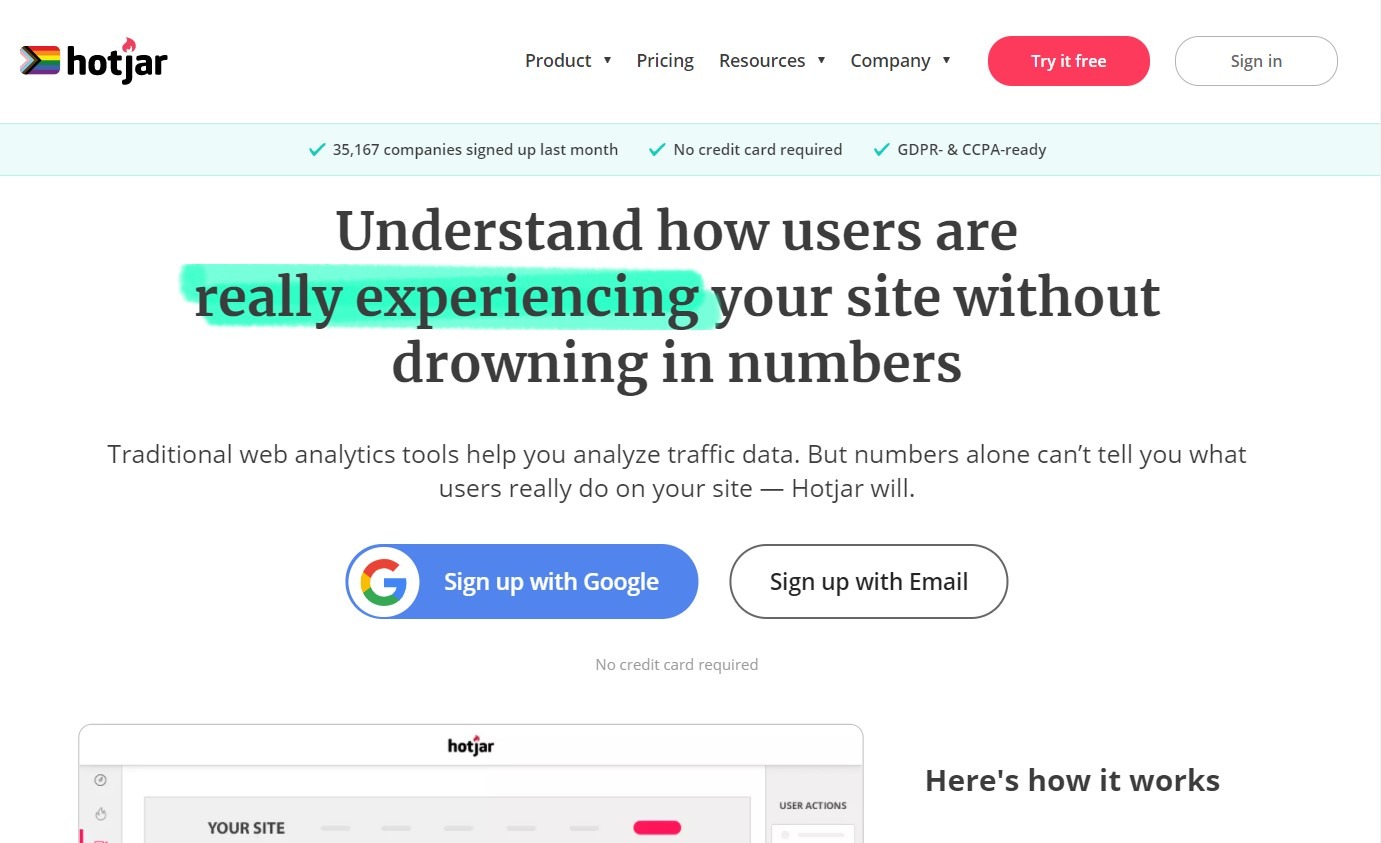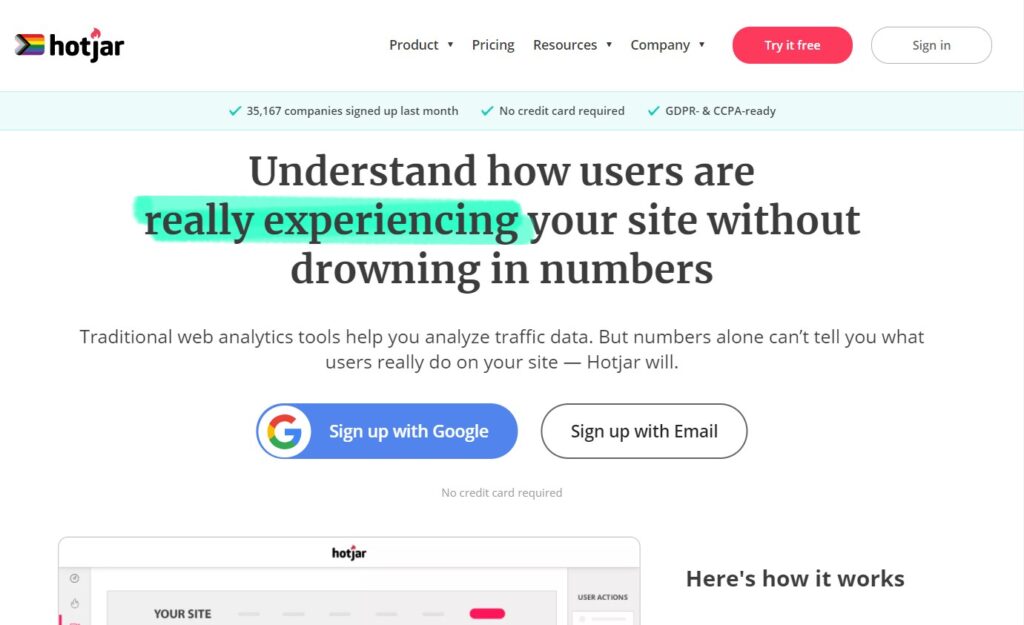 Want to know exactly how your visitors use and browse your website?
Hotjar is another analytics tool but with a twist. It gives you a heatmap of how users interact with your site.
This is super helpful if you want to optimize your site to increase conversions.
Seeing exactly where users focus most of their attention vs the spots where they lose interest is a huge insight to have.
I truly believe that a heatmap digital marketing software like Hotjar is vital to marketers and businesses that want to increase their conversions while keeping costs down.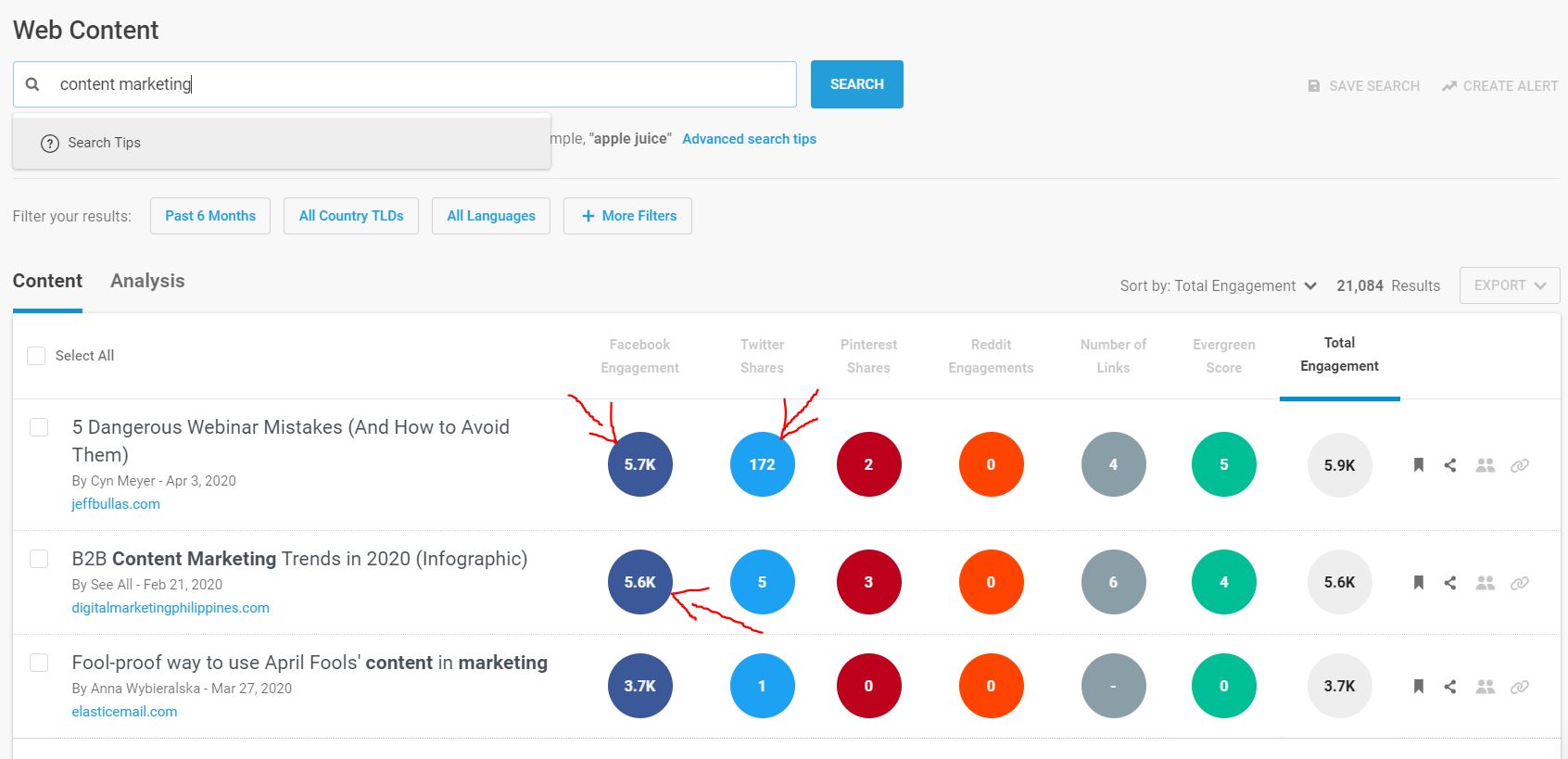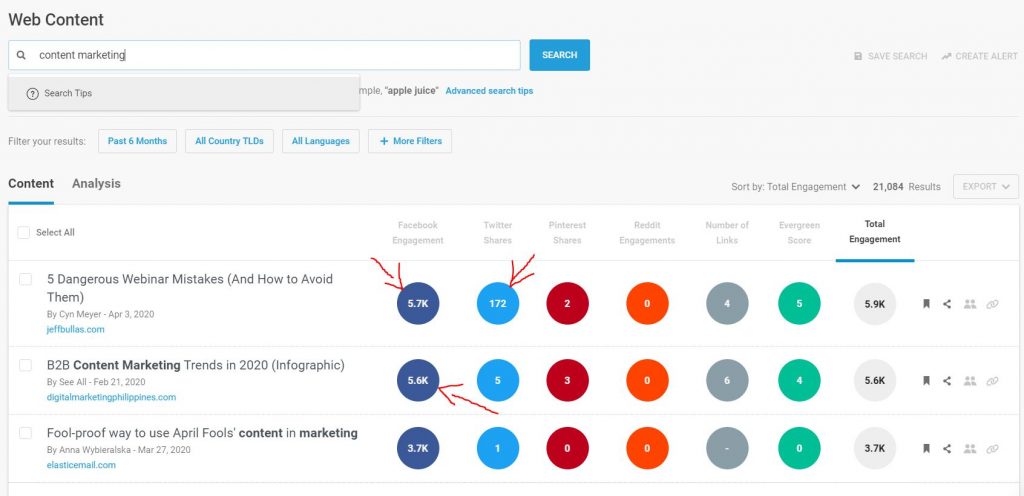 Check out what the competition is posting on their social media profiles with the BuzzSumo social analytics tool.
You can analyze a ton of data and see exactly what type of content works best and gets the most amount of shares on social media.
This allows you to write blog posts faster, better, and with a higher chance of getting more shares compared to your competitors.
Those of you who have read my AdSense arbitrage article will also realize how important an online marketing platform like BuzzSumo is to your content flow.
Digital Marketing Tools For Design & Video
Do you need digital marketing tools for web design, creating graphics (banners, ads, social media photos) and video?
You might not need or want to pay for Adobe Photoshop, Premier, or Illustrator. Or you simply can't be bothered doing all this work yourself, and you want someone else to handle it, or find tools to do it as easy as possible.
Well, you're in luck. Because below you will find some of the best online marketing software for graphics and video creation: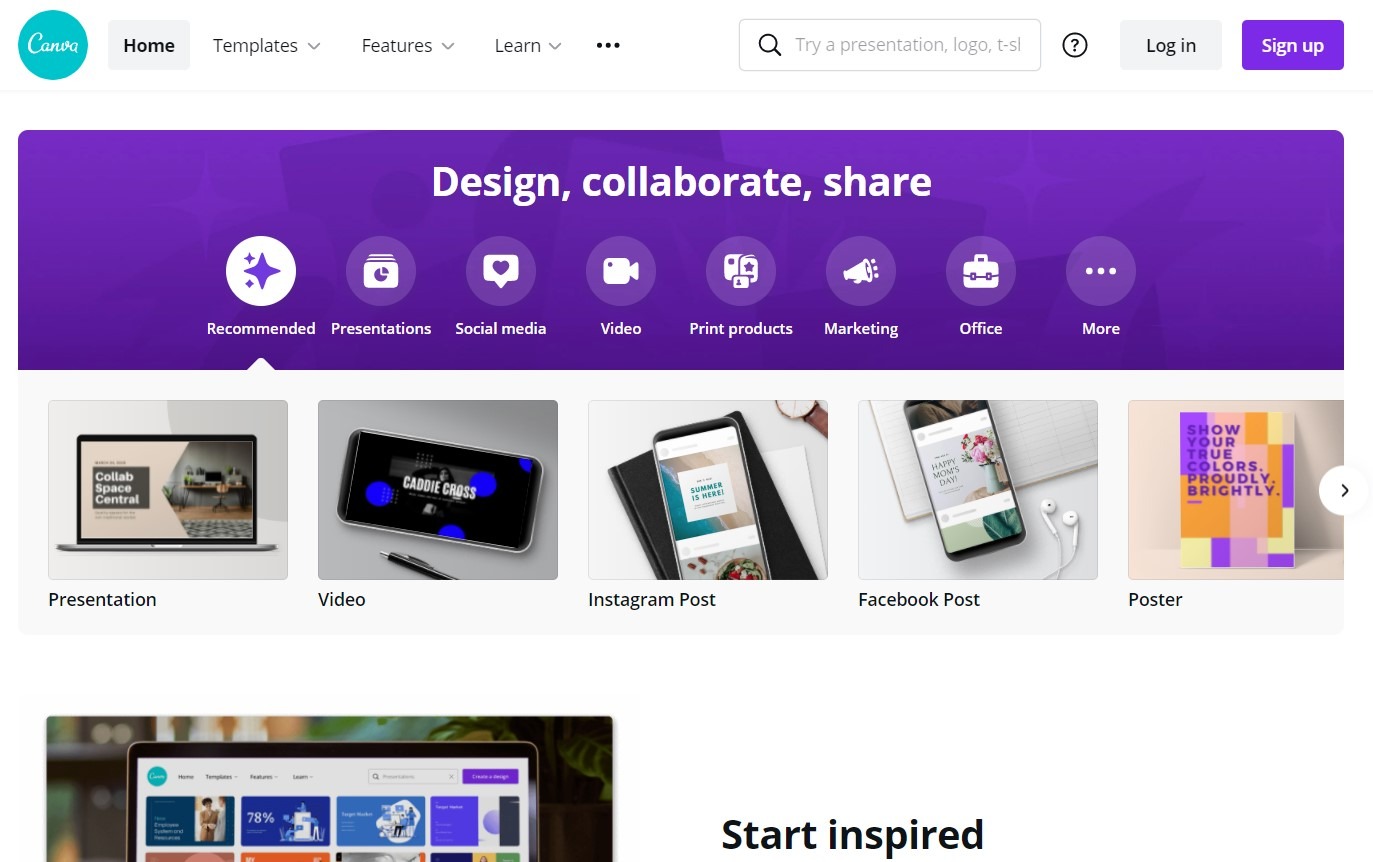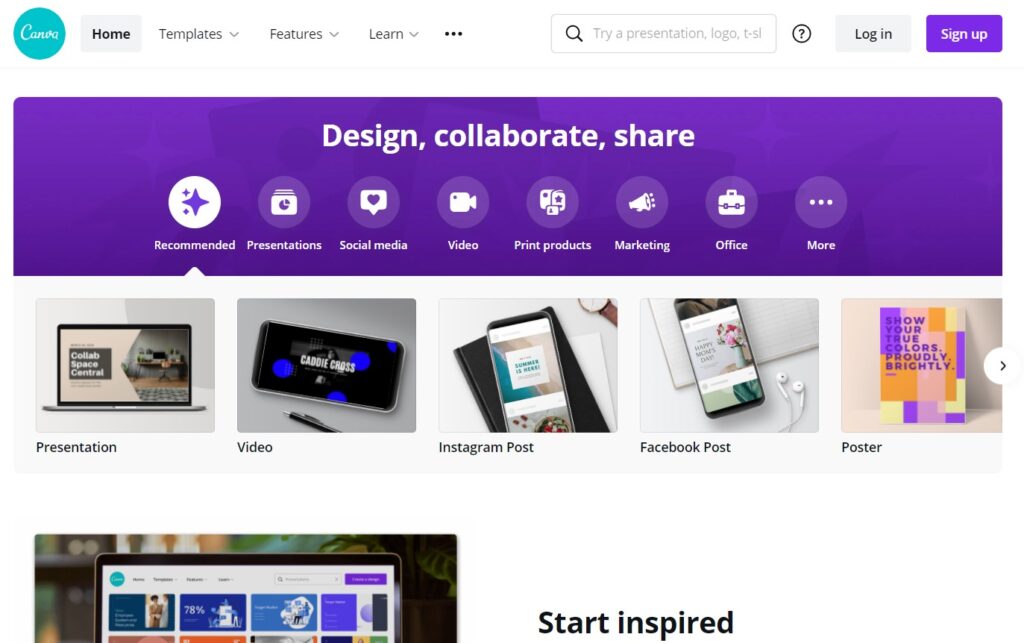 Canva is an easy-to-use online graphic editor. You can create logos, social media content, and unique and special graphics for your blog or website.
What's awesome about Canva is that they also have a free plan, which gives you access to plenty of things to create such as:
Facebook Posts
Instagram Posts
Posters
Logos
Flyers
Videos
Presentations
Covers
Thumbnails
Business cards
and more
You can use Canva for free or upgrade to a PRO plan and get access to 70+ million premium stock images, video files, and audio, 400,000+ free templates, 100GB of cloud storage, schedule social media content, and more.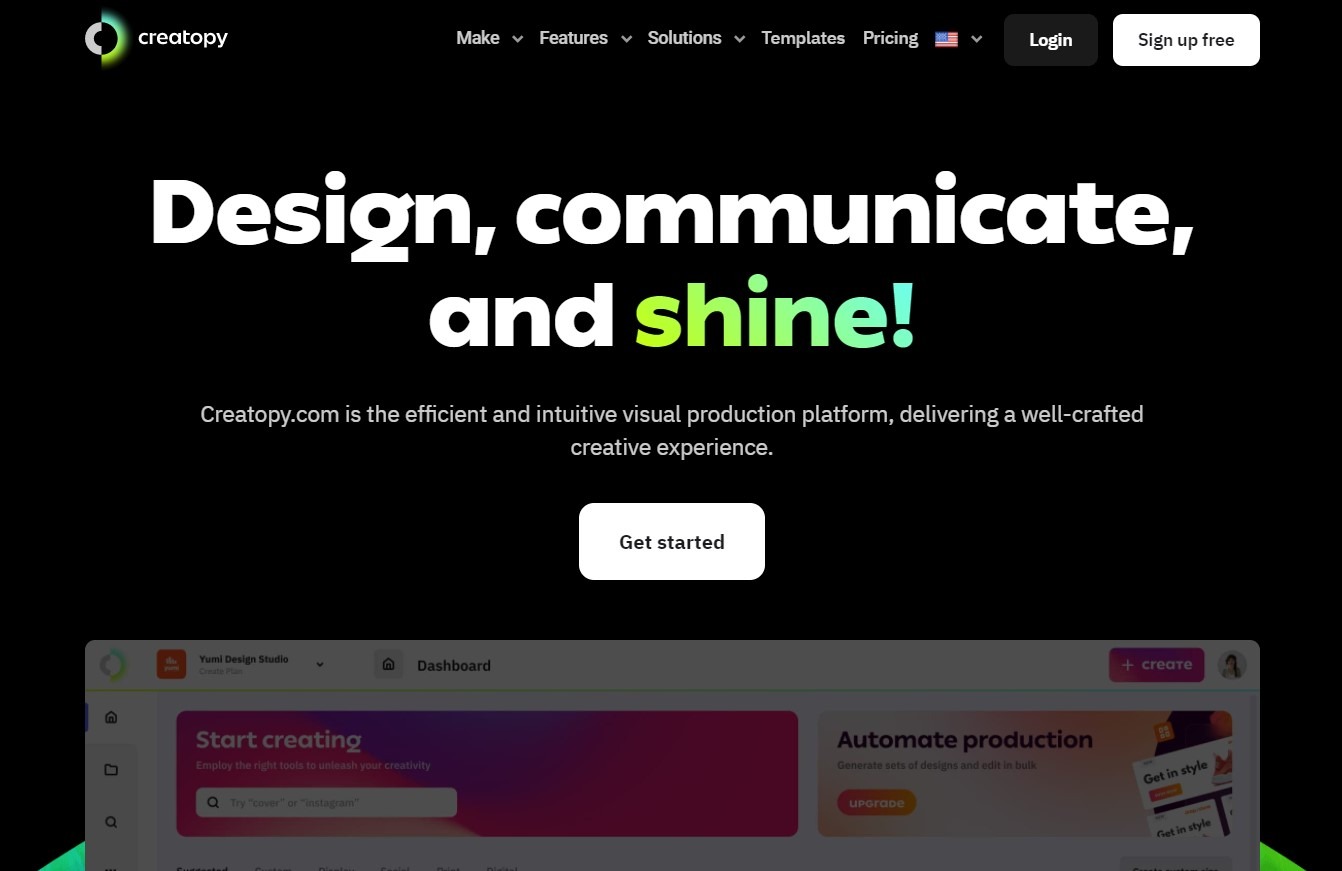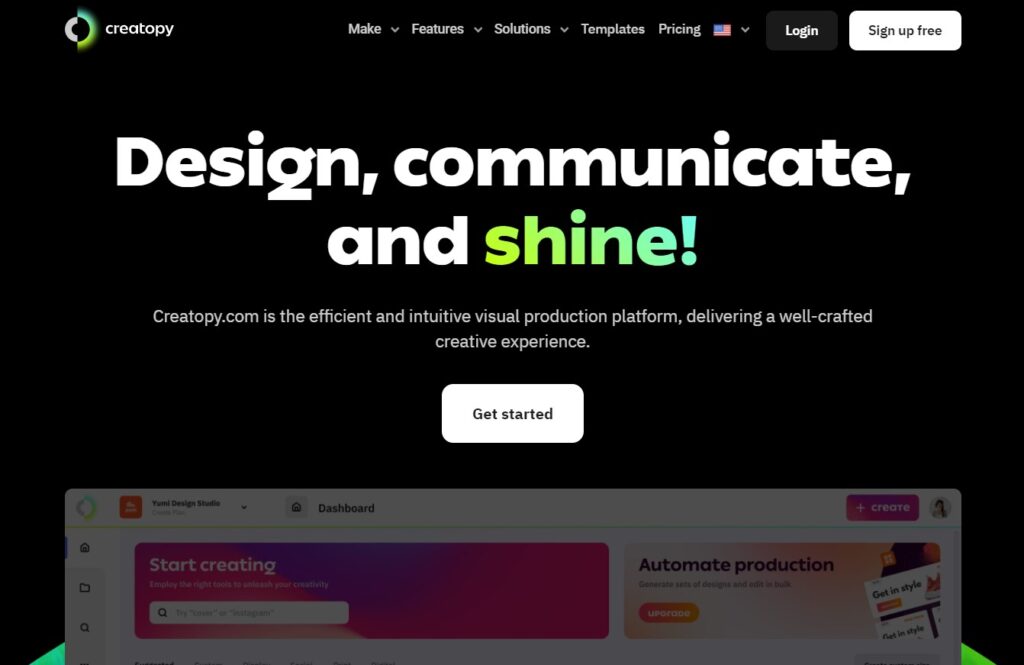 Creatopy is a digital marketing tool for all things graphic design. Formerly known as Bannersnack, they specialize in…you've guessed it: banners and various promotional content such as:
Animated banners
YouTube banners
Facebook Banners
Videos
Slideshows
GIFS
Twitter Header
Ads
Email Headers
Covers
And more…
This free ad design software will help you and your business create awesome marketing material without spending a fortune on design tools.
Even though I consider myself pretty decent at creating cool marketing graphics in Photoshop and Illustrator, but when it comes to video, GIFs, and animation in general I'm a total noob. Because of that, sometimes when I need to create something that involves "moving elements" in my promo ads, I use Creatopy.
What an awesome plug I just gave these guys, and I'm not even an affiliate of theirs. Creatopy if you see this, hook me up. (I'm kidding, maybe?…).
P.S: Weird name, even Grammarly tries to autocorrect it to "creepy", Bannersnack was better in my opinion. But hey what do I know 🙂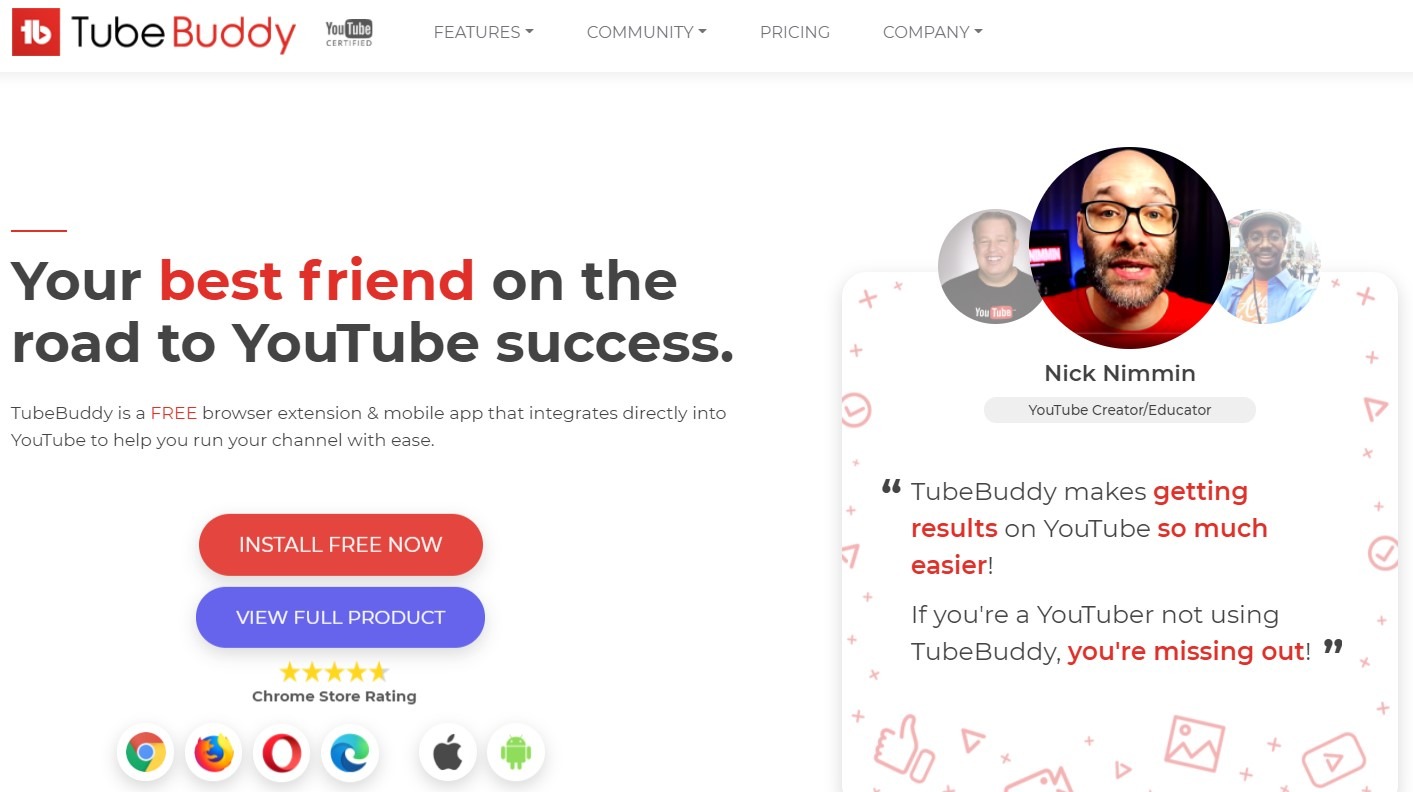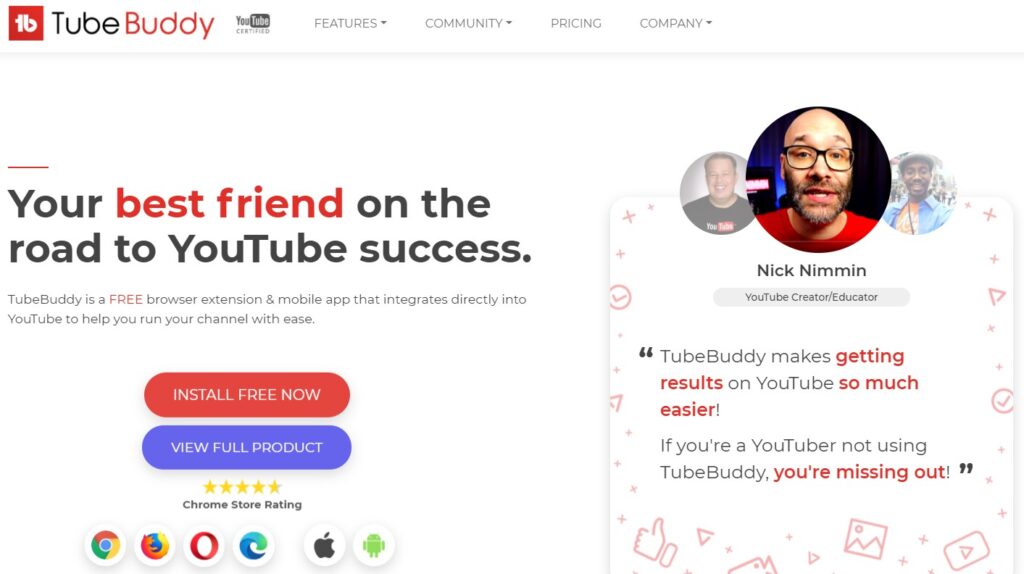 Do you have or plan to start a YouTube channel? You should probably give TubeBuddy a try.
This digital marketing tool is the "secret weapon" of many successful YouTubers. You can easily manage your YouTube channel, but not only that, grow it the heck up.
How does it work? Well, TubeBuddy is a browser extension that superpowers your YouTube experience by helping you with:
Keyword Research – Yes, you still need to do SEO, even on YouTube
Faster Video Publishing – It has a ton of templates that help you create videos faster
Best Practices for Ranking – Get recommendations to help your videos rank higher
Promotional Tools – Get access to a bunch of tools that help you promote your videos
Thumbnail A/B Testing – As you know, A/B testing is a huge deal in the digital marketing world. Glad to see that TubeBuddy implements this in their tool.
According to their site, more than 3 million channels use their video management tool to supercharge their YouTube channel.
Do I believe that number?
Well, yeah, a quick SimilarWeb check shows that they receive on average about 1.5 million visits a month. Since SimilarWeb is not completely accurate (check SimilarWeb alternatives), it's totally plausible for them to have 3 million or more users.
Especially, since they also have a free plan (even though it's very limited).
I wish TubeBuddy would try to expand and work with YouTube alternatives as well since many are flocking to other video platforms in light of recent changes.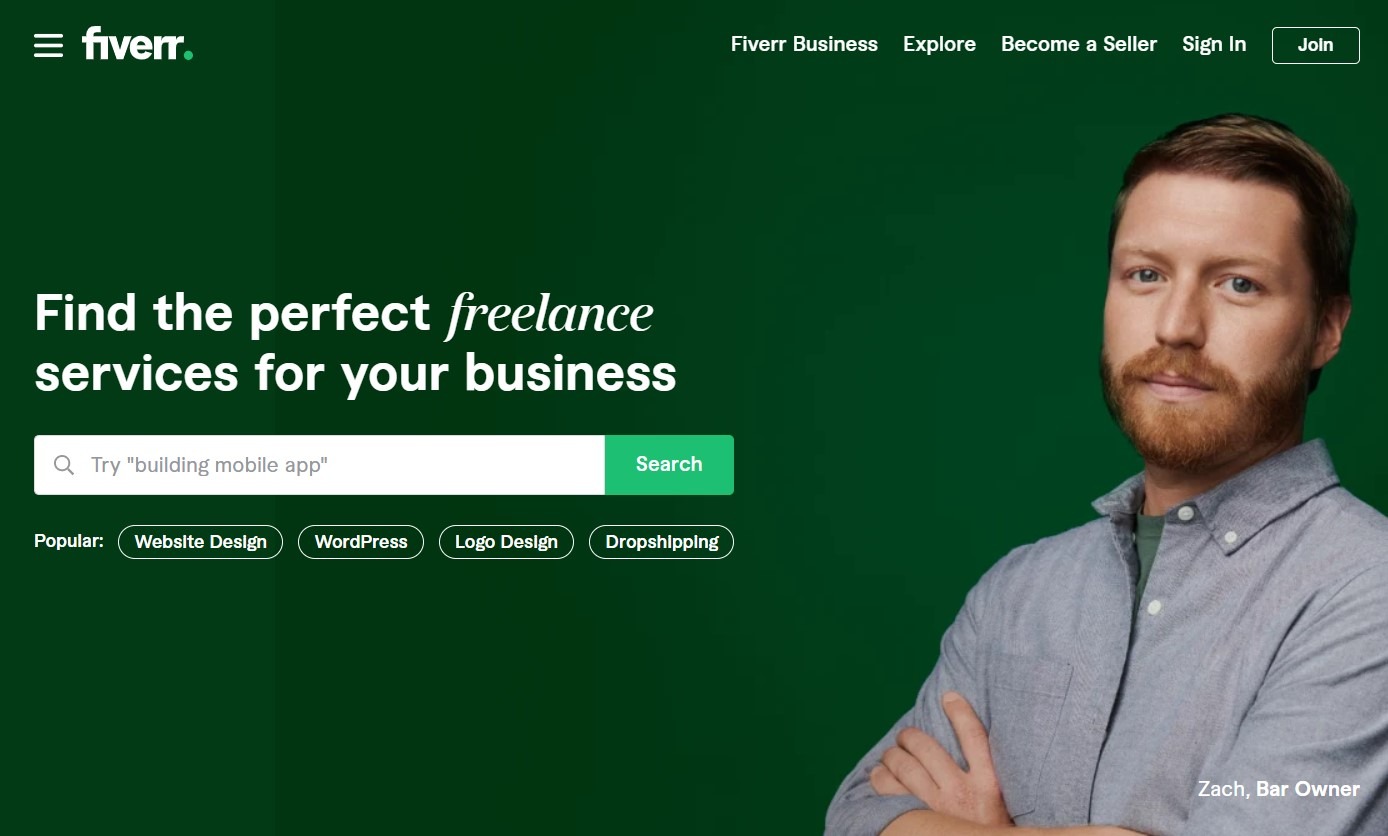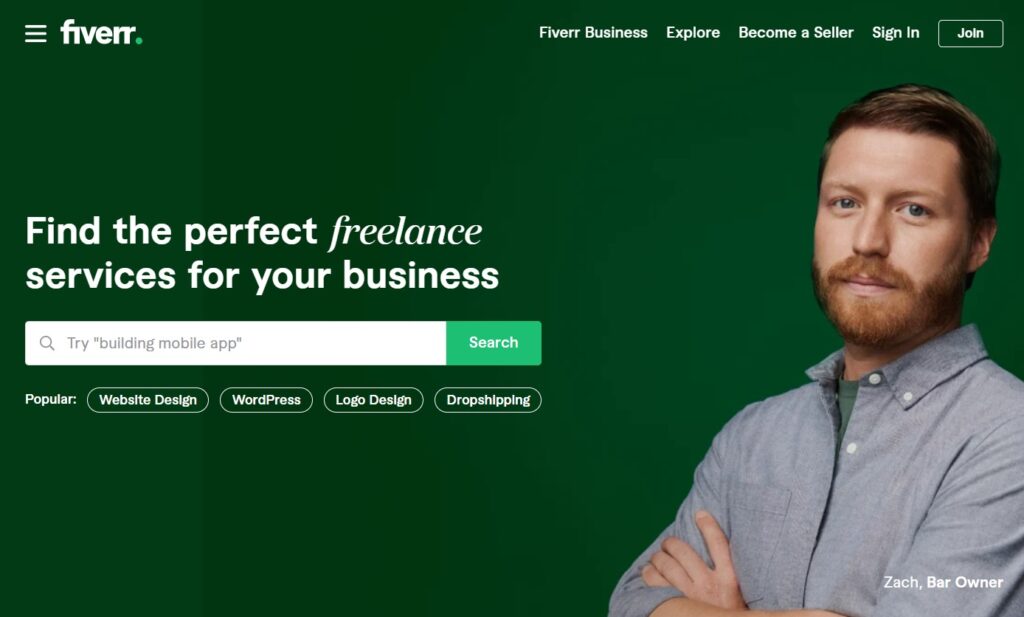 Ok, so Fiverr isn't really a tool, it's more of an online marketing platform that you can use to get various tasks done for cheap (as the name suggests, it started out as a $5 gig site).
It's basically a freelance marketplace, but with a twist. You don't go and post the projects yourself, instead sellers will advertise their service (also known as gigs) for a fee (starts at $5).
You can expect to find many good digital marketing services for your business:
Voice Overs
Logo Design
WordPress customization
Explainer Videos
Social Media Marketing
Writing & Translation Work
Influencer Marketing
Mobile App marketing
Sound Design
Jingles
Programming Work
Data Entry & Research
Virtual Assistants
Business Plans
Presentations
the list goes on and on… but I'ma stop here for your sake.
You get the point. Fiverr has everything your business needs to thrive and succeed. Especially if you want to delegate some of the boring or complicated work such as content creation or social media stuff.
While Fiverr is great and I highly recommend you to try it out, you should stay away from some services like buying backlinks.
Related: Best Fiverr Gigs For Your Blog
Digital Marketing Tools for Productivity
What good are a bunch of marketing tools if you never find the time to actually use them? You always seem to want to do another thing rather than doing the important stuff, like actually working.
So, because of that, these productivity tools might be a life saver for many marketers and business owners. In fact, being the lazy marketer that I am, I had to actually create my own app, to force myself to be more productive.
Let's start with that, shall we?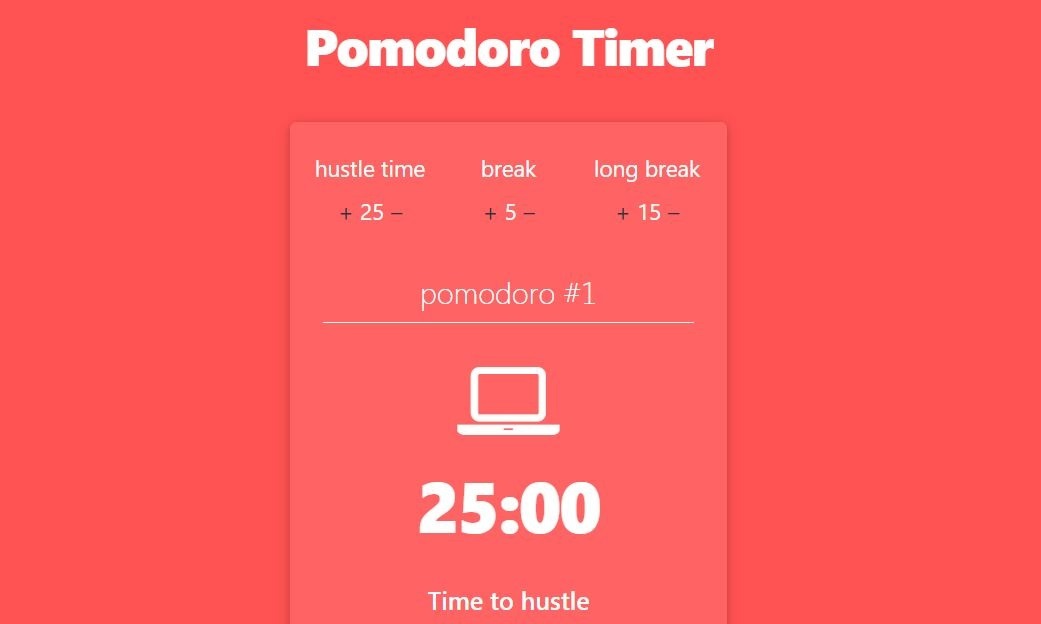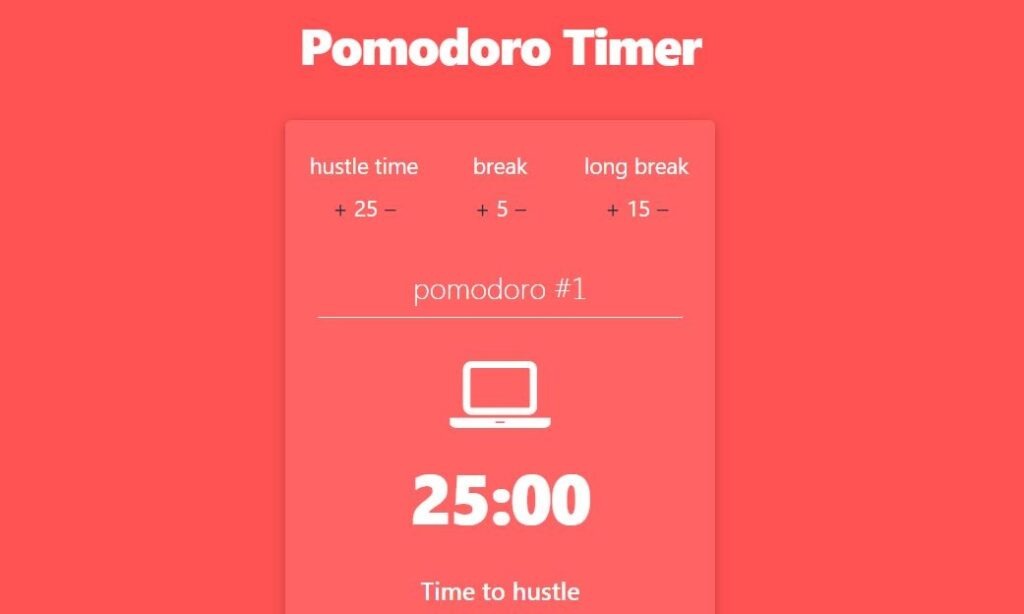 Spoiler alert: this is my own productivity tool. I've made it because I needed a good and reliable Pomodoro timer that worked well in all browsers (desktop and mobile), without having to download extra useless apps filled with ads and other crap.
So, I've decided to also make it public and share it with my readers for free. You're welcome.
It's a basic free Pomodoro timer, based on the famous Pomodoro technique. Which works like this: You hustle for 25 minutes on a project, then get a short 5-minute break.
After you do about 4…erm pomodoros (meaning 4 x 25 minutes), you get to enjoy a larger break, usually for 15 minutes. After that, it's back to hustlin' again.
It might not be the right method for many, but for me, it helps me really focus on the most important task at hand, and being pressured a little bit by time, only makes me want to strive and do better.
I combine this with the time blocking method, where I allocate a number of hours per day for just a specific task, and then use pomodoros to actually work on it. When the 1st task is done, I move on to the next one, and so on.
Might seem tedious to you, but if you're managing a bunch of sites, and ad campaigns, you will quickly realize that you need to prioritize your time better.
Try my Free Online Pomodoro Time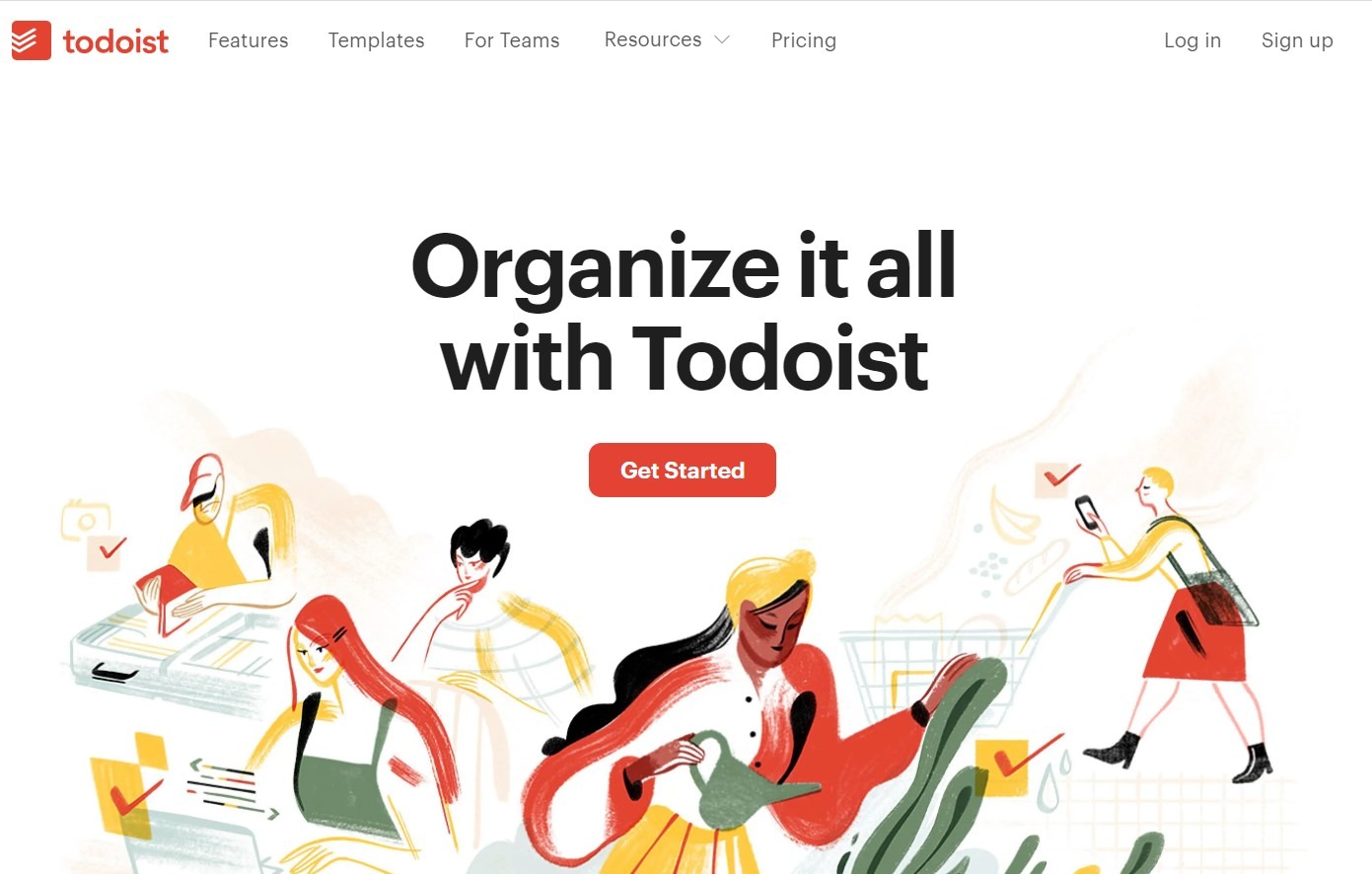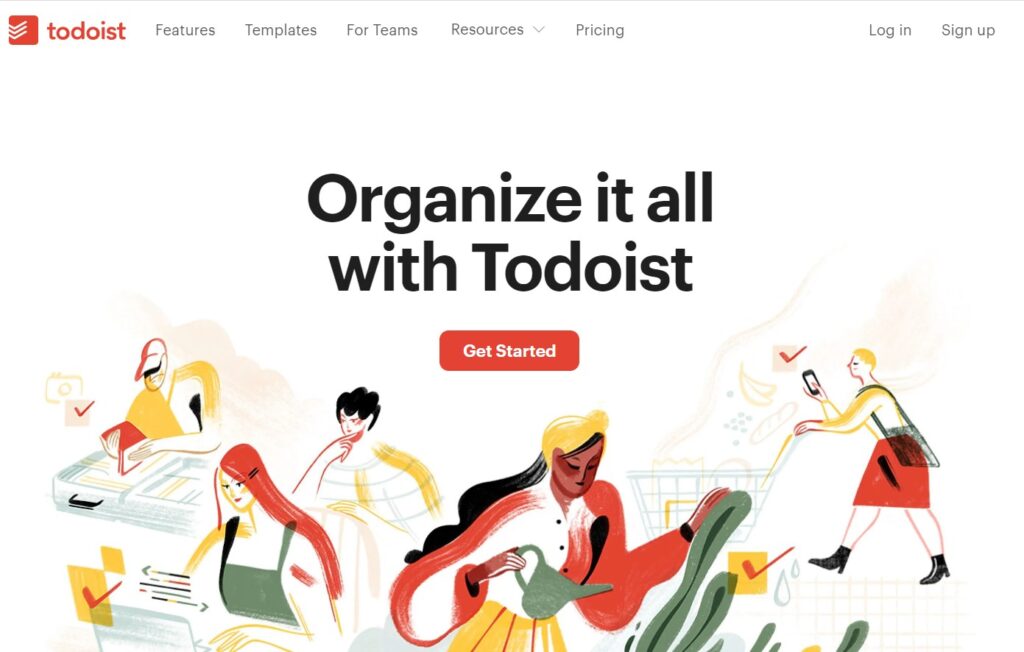 I also use Todoist to create… to-do lists and organize all of my non-important tasks, such as house chores, and secondary projects.
Before I go to bed every night, I write the most important tasks that I need to accomplish the next day, in an actual notebook (the old school one that requires a pen lol). It helps me better keep track of things and somehow if I manually write it down, I have a better satisfaction when I do them.
Anyway, back to our productivity tool: Todoist. When you don't feel the need of writing shit down on a piece of paper or a post-it note, you can use Todoist.
Not only that but you can easily integrate it with your Google Calendar so that you can check your list on the go on every device.
You can also add multiple members, and create different projects that you can all work on at the same time.
Todoist will also send you daily reminders to your email every day, keeping you in check in case you didn't accomplish any of your goals for that day.
It's a great task management tool, that can boost your marketing efforts by "forcing" you to focus only on the important task at hand.
Give it a try. It's free.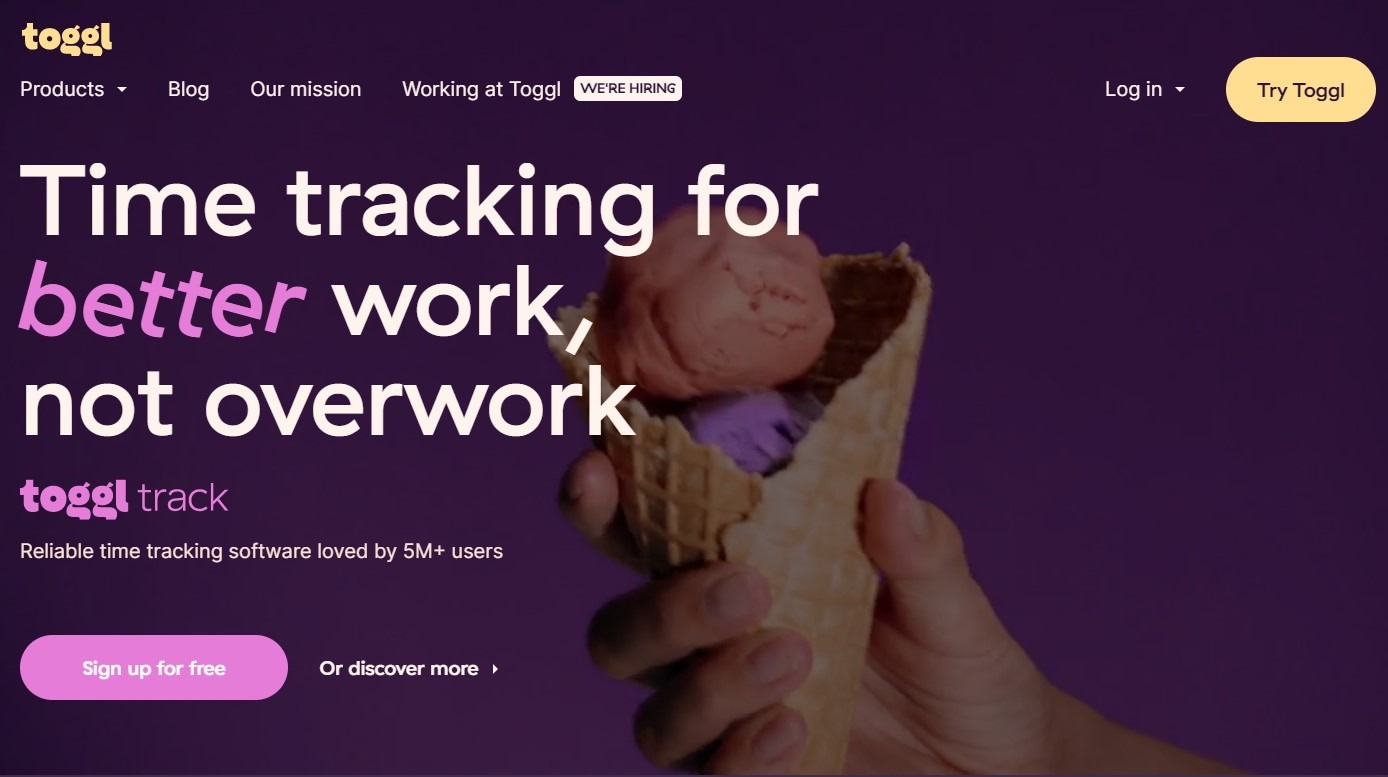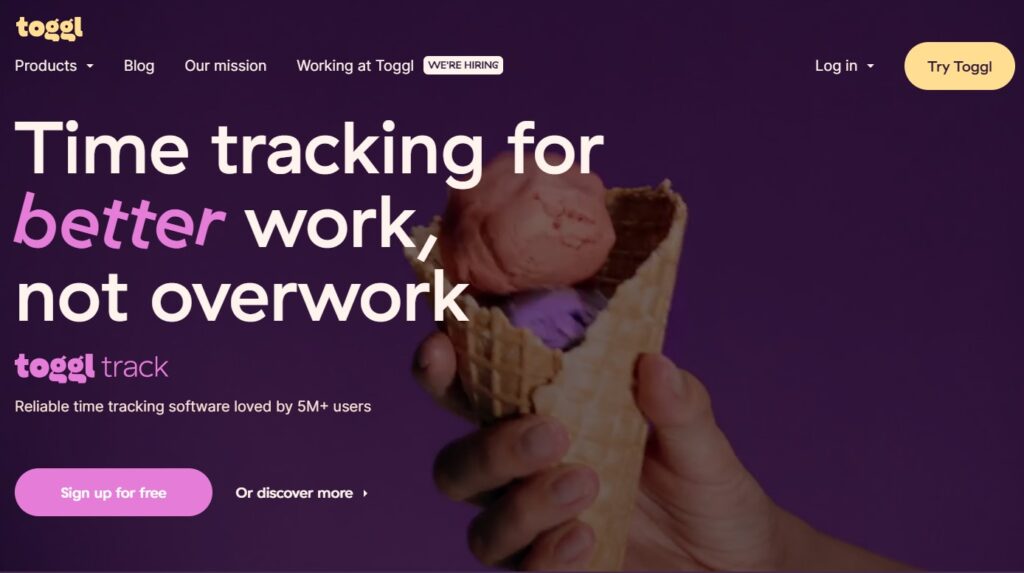 Another time tracking tool, that you can use either by yourself or with a team. This one is great if you hire remote staff, and want to accurately track and get reports about your projects, and team members.
What's more, not only you get access to a planning tool and a time management hub, but you also get to hire skillful people through their Toggl Hire program.
They do a lot of screening tests to find the perfect candidates for the job, helping you cut the time you spend on hiring people considerably.
So if you hire remote workers, give Toggl a try, because you really do need an accurate and easy-to-use time tracking tool to stay on top of everything.
I outsource a lot of stuff these days, such as content writing and design work. Most of the time the freelancers work on an hourly basis, so tools such as Toggl are great for that.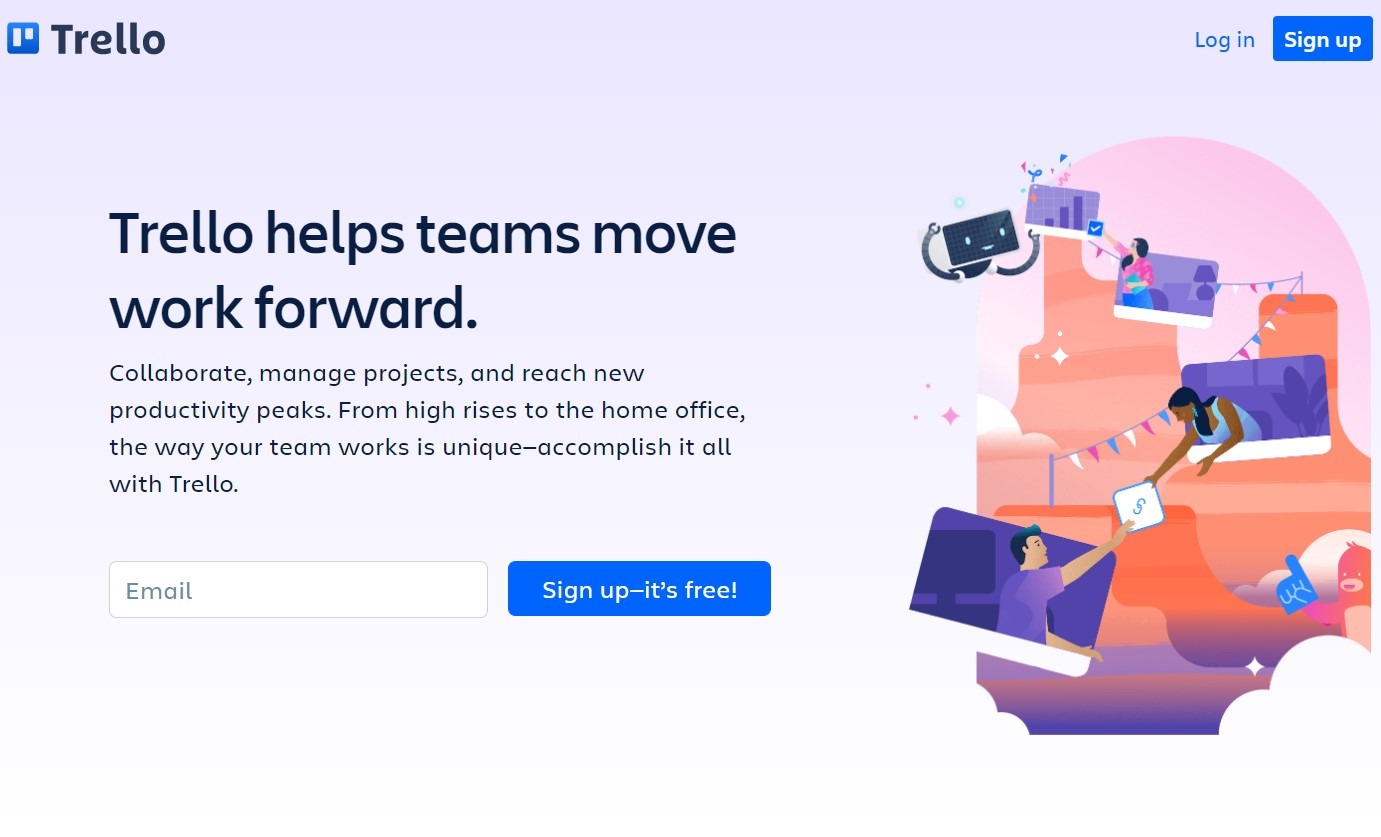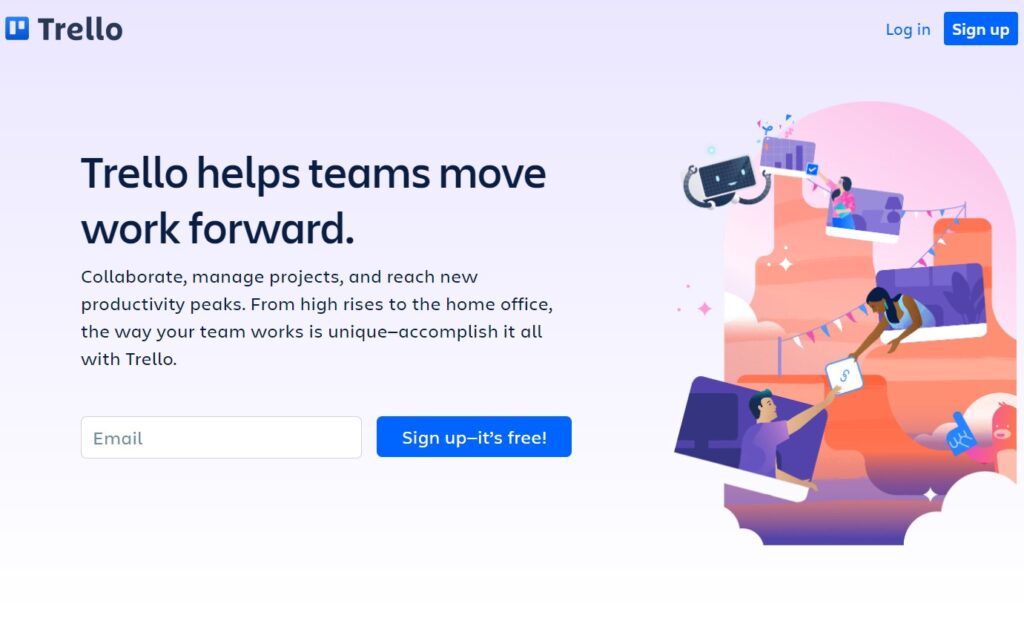 Trello is another team-based project management tool. While it's not exactly a direct digital marketing tool, Trello, like Toggl, is great if you need to gather a successful team to work together on your projects.
Say you want to do a bunch of marketing for your new e-Commerce business. You can create different projects in Trello and assign different team members to work on them separately.
For example you can create:
A project with a team that manages your social media channel (posting, paid ads, interaction with followers)
A team that focuses solely on your PPC Campaigns
Another project that's just about SEO where you hire SEOs to work on improving your rankings
One for content creation, where you can hire different freelancers and remote workers to create content for your site,
You get the idea…
A tool like Trello helps you and your team to stay productive exactly when and where it matters the most.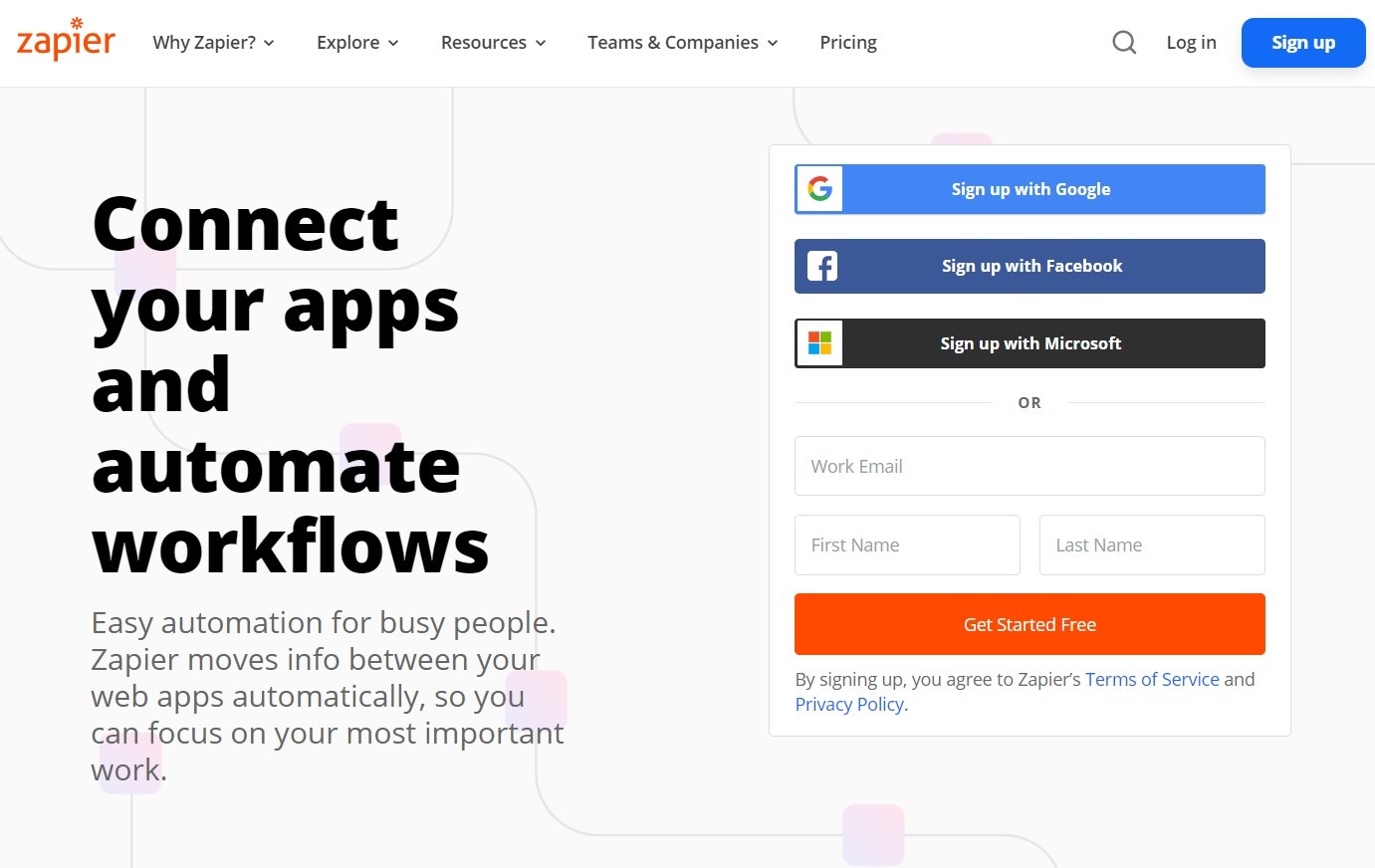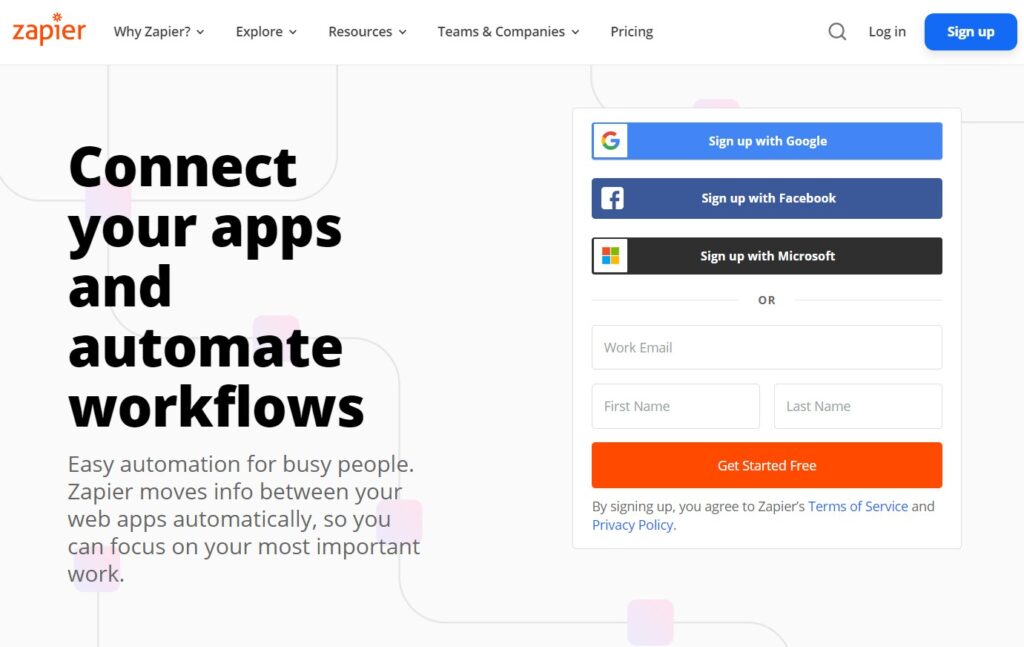 Zapier is one of the most versatile digital marketing tools around, and it has one simple goal: automation.
With Zapier you can connect and integrate over 3,000 apps to sync up and work together.
This is a huge time saver for marketers and project managers that are struggling with a deadline, or simply don't have the time to do the boring stuff every day manually.
Like, you can easily create a zap (that's what the connections are called), and start automating your life or your business.
Here are some popular Zaps that you can do with Zapier:
Automatically publish tweets to your Facebook Page
Send Facebook Page posts to your Instagram account automatically
Share Your RSS to Facebook for every new post
Create Trello Cards from OneNote notes
Send Emails to Dropbox as a backup
Send Google Calendar Events to Slack
Integrate Todoist With Google Calendar (One of my favorite zaps to use)
Digital Marketing Tools for Optimization & Automation
If you want to be successful doing online marketing, you need to test, track, optimize, and gather precious data. Because of that, I'm going to show you a couple of great digital marketing tools to help you do exactly that.
I pretty much use all of these on a day-to-day basis, to constantly monitor and A/B test campaigns, ads, SEO tactics, lead generation methods, conversions, etc.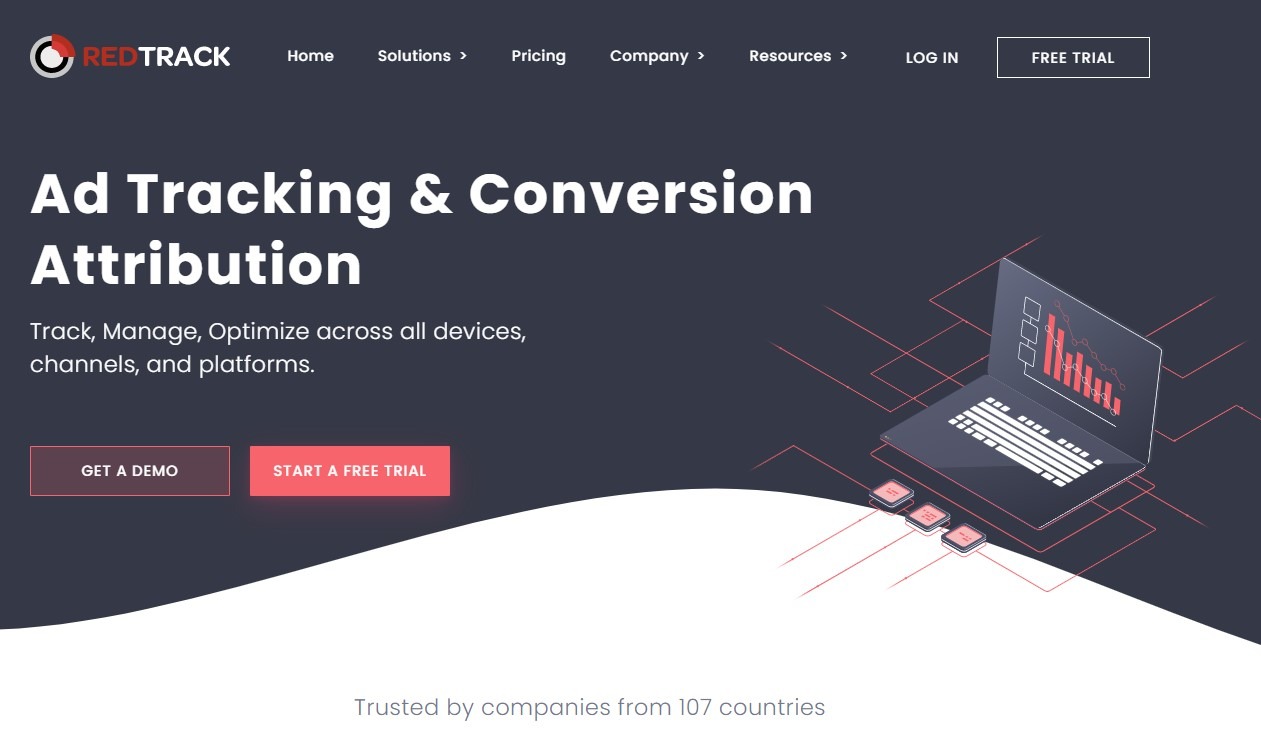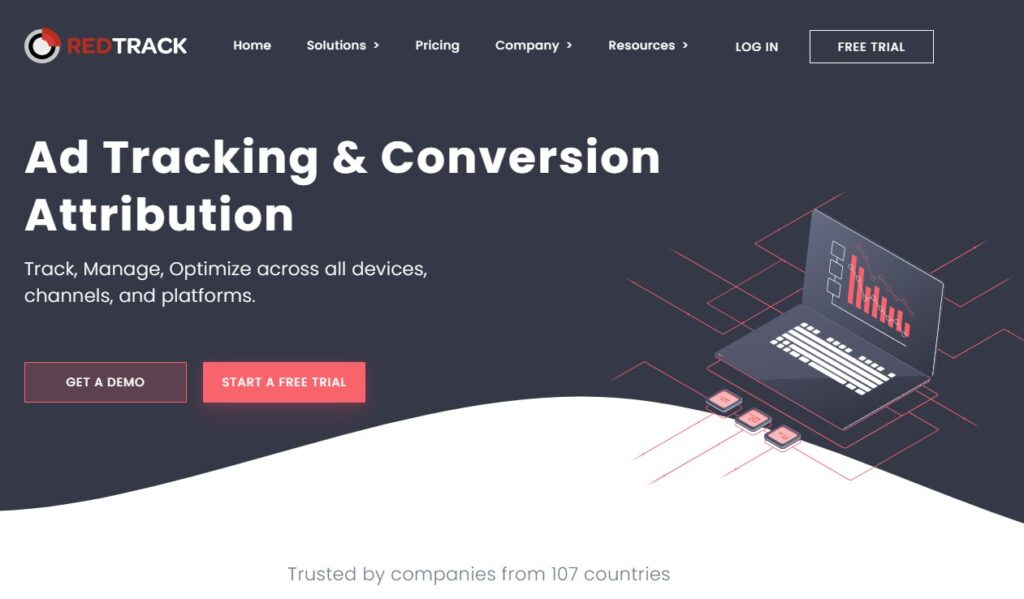 I've mentioned RedTrack on this blog a lot of times, and if you're a regular reader, you know why. If not, (why not? subscribe to my email list too), here are some of the important bits:
RedTrack is, as its name suggests is a tracking software used by marketers, agencies, affiliates, and media buyers to measure and optimize their campaigns.
You can't really start investing thousands of dollars into paid advertising without using a reliable tracker to see exactly what you're spending your money on.
For example, out of a list of 100 keywords that you're bidding on and buying traffic, you might find out that only 3 of those are actually profitable to you and bringing you revenue, the others are dead weight and only waste your ad budget.
That's in a nutshell the essence and importance of using an ad tracking solution like RedTrack.
Now on to the features:
Real-time analytics – Get to analyze and optimize your campaigns in real-time.
150+ Integrations – Easily integrate with over 150 ad platforms and affiliate networks.
Conversion Events – Have a clear view of all the conversions that took place with all the details (clicks, conversions, conversion rate, revenue, cost, profit, ROI, CPA, etc)
Works for Teams – You can connect your team members to Redtrack to save time sharing and working on your data.
Auto-optimization – Set up rules to automate your optimization work
Mobile Apps
Try Redtrack (14 Days Free Trial)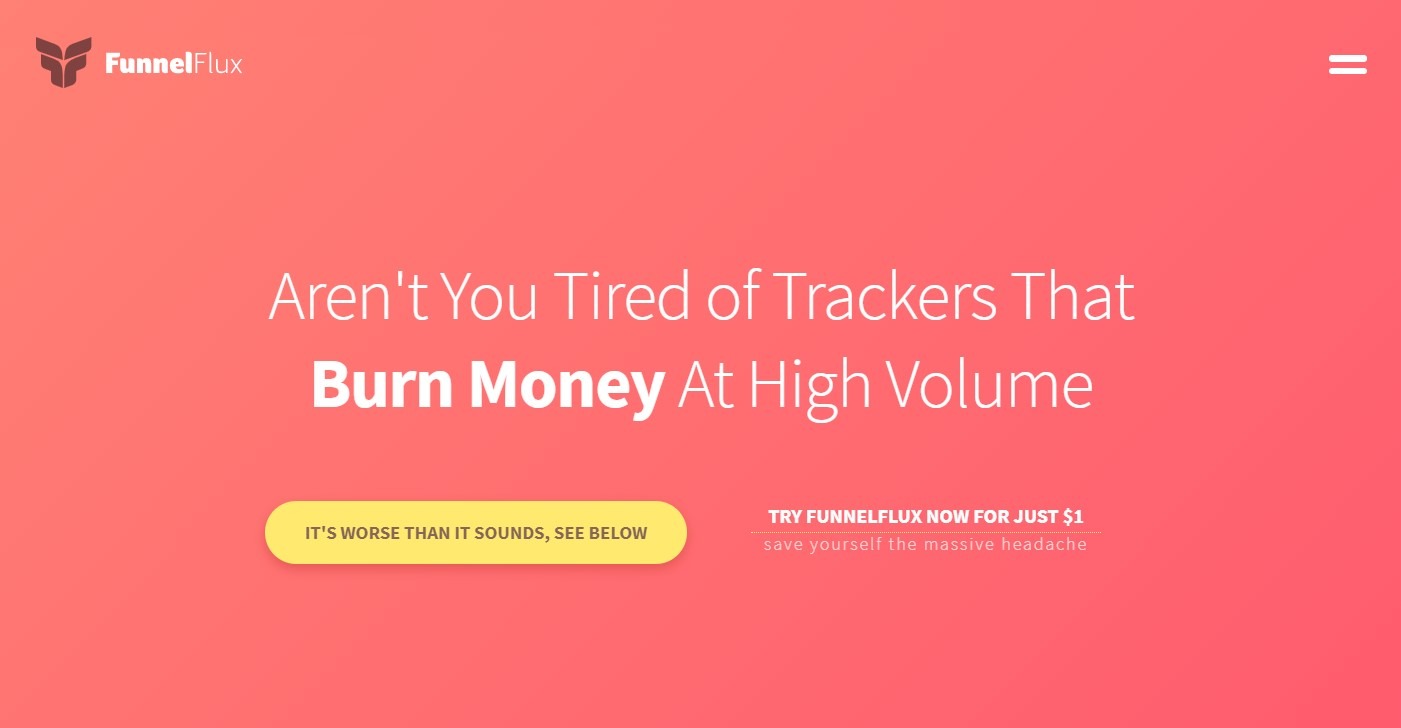 Another tracking tool, FunnelFlux is great if you're looking to self-host your own tracker and avoid paying high fees for cloud tracking solutions.
It's also much easier to use than RedTrack because it has an easy drag & drop campaign and a funnel builder.
While it costs a bit more, you do get a lot of nice and extra features such as:
Visual Funnel Builder
Funnel Heatmaps
Self-hosted or Cloud-based
Unlimited Tracking Domains
Works without landing page scripts
Tracks without a redirect
More than 60 KPI
Lots of testing options
It's honestly a great digital marketing tool, not only can you track your paid traffic campaigns, but you can also build a ton of funnels to supercharge your growth and track stuff like email opt-in conversions, and more.
The thing that stands out about them the most is the self-hosted part. You have two options, you can choose to host the tracker on their server or download it and install it on your own VPS and keep your data private.
With cloud trackers, your data is on their servers. At any given time they can access it or shut it down. That's not good. Especially if you want some peace of mind and privacy.
If you don't care about privacy, well maybe you care about revenue then. The more traffic you buy and send through a cloud-hosted tracker, the more money you will have to pay them each month.
With FunnelFlux you have a flat rate of $99 per month and you can send millions of hits without paying an extra cent.
Not only that, but I remember a few years ago some affiliates were concerned that cloud-hosted trackers could just steal their winning campaigns since they have full access to all the accounts anyway.
I doubt it actually happens, but you can never be too safe.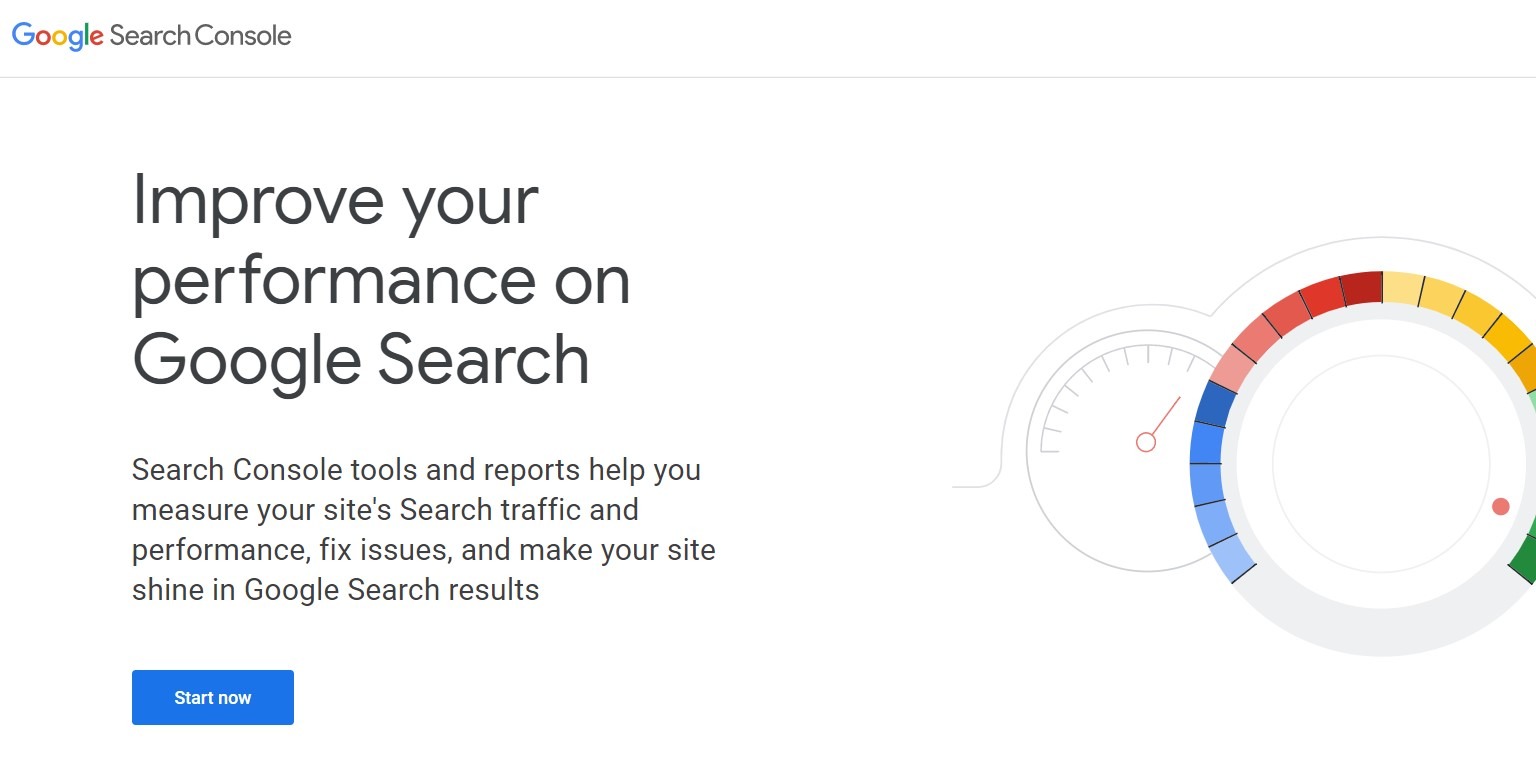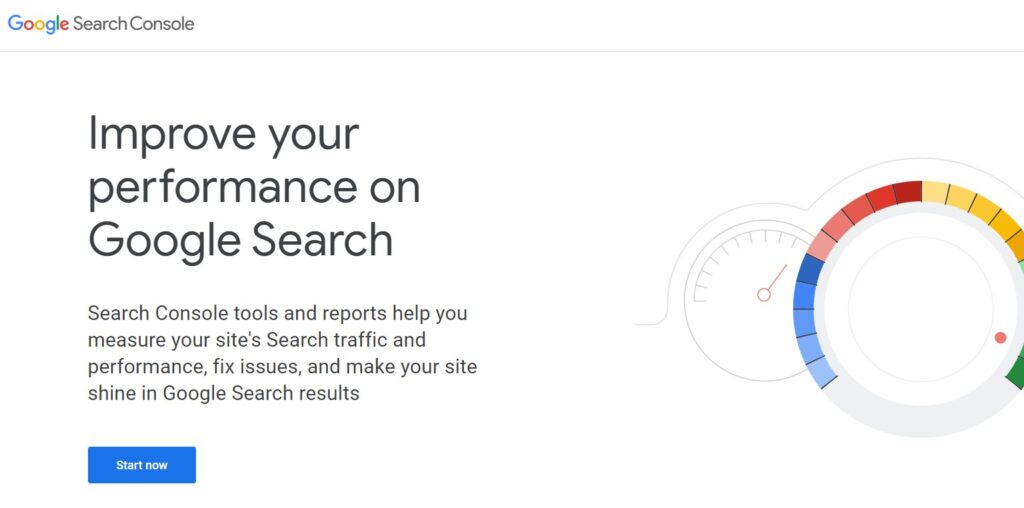 Search console is Google's own tool that allows you to monitor your search engine presence of your website.
You will get a lot of useful insight about how your website performs, such as what pages are the most visited and what keywords are you ranking for.
Not only that, but you will also get to see the CTR (click-through rate) of your links.
This is important because if you rank on the first page but don't get enough clicks because you got a low CTR, then that means it's time to do some changes to your meta info such as the title and description until you raise it.
Other cool things that you can do with the Search Console are:
Add Sitemaps – You can manually submit your own sitemaps for Google to crawl.
Coverage of your links – See if all your links are crawled and indexed, and if not, fix it.
Mobile Usability – Quickly check if your website pages are mobile-friendly (this affects SEO)
Core Web Vitals – The most recent Google update now factors in Page Experience and website loading speed.
Review Snippets – If you have a site with reviews, you can see if they are valid for indexing here.
Sitelinks – These are additional links from your website or article that might appear under the link that ranks in Google.
Links – You can view a list of your internal links and external links (backlinks) here, and also use a disavow tool if you believe you received some spammy links.
As you can see the Search Console is an invaluable tool for every serious marketer, especially the ones that are SEO oriented. Make sure to always check up on it to see if you got any issues or find ways of increasing your organic traffic even more.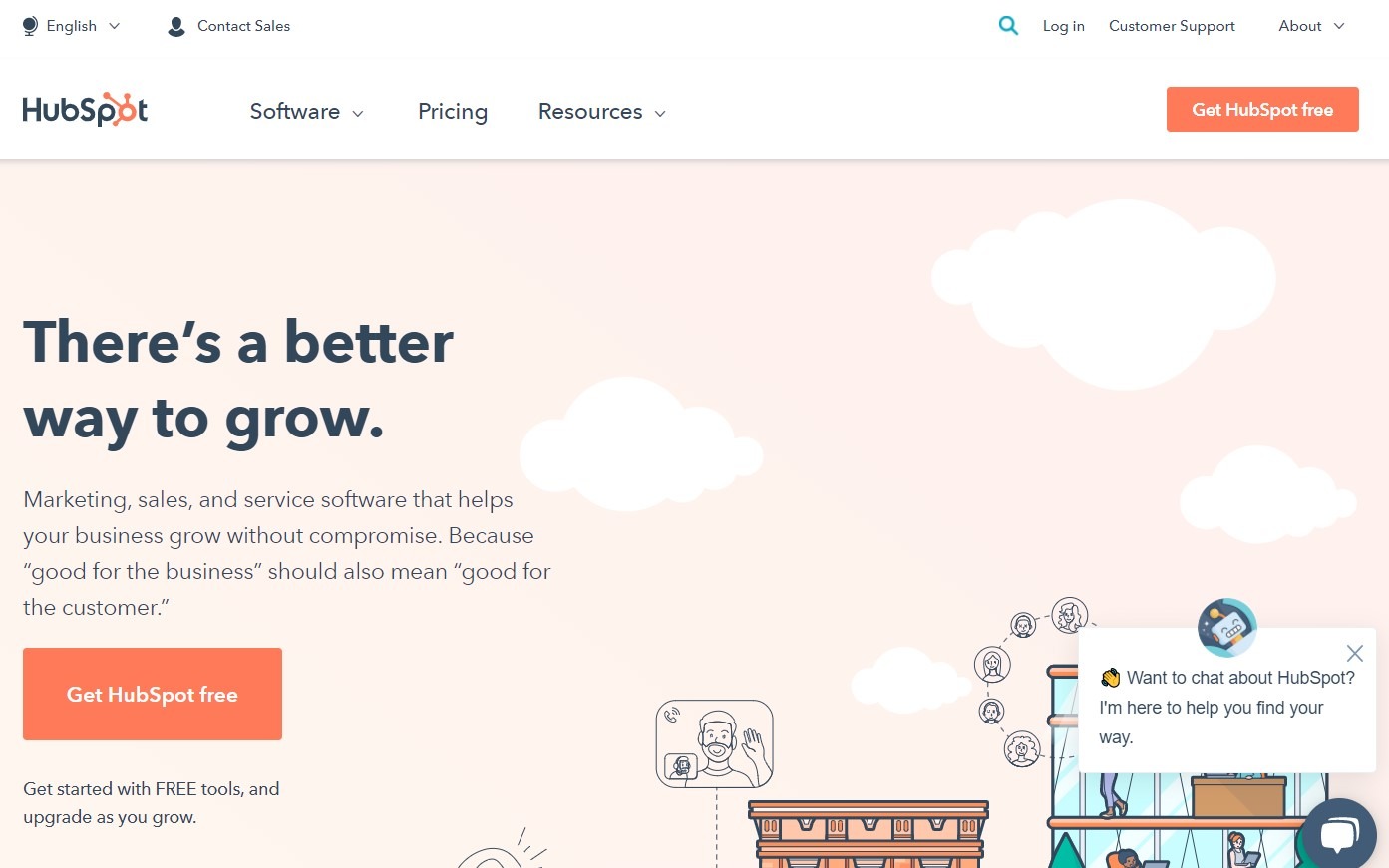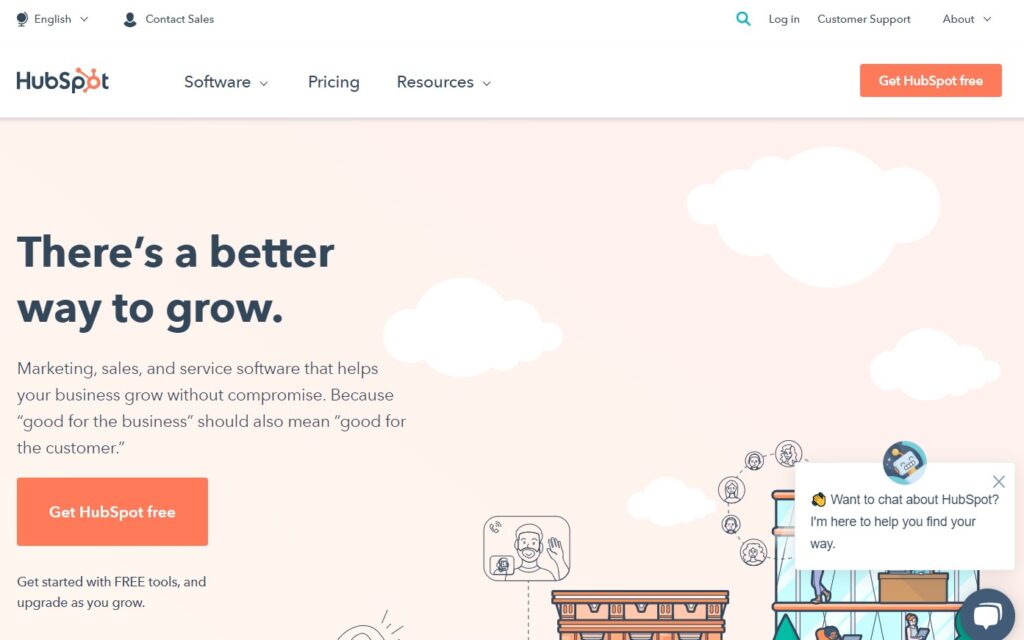 HubSpot is a huge platform that consists of various digital marketing tools. They cover everything from marketing to sales, to services.
This is probably the most popular CRM platform out there, and for good reason. They have solid tools that are free to start with that simply work without too much hassle.
Here are some of the things you can use HubSpot for:
CRM tools – manage contacts, companies, deals, insights, prospects, tickets, forms, etc.
Messenger Integration
Meeting scheduler
Email templates
Email tracking
Ad Management
Landing Pages
Live chat
Website Bots to boost sales
App integrations
Blogging
Website Builder
…and so many more
Honestly, their list of tools is kinda exhaustive, and that's a good thing. It means that you don't need to work and set up accounts on different websites with different companies, and you can keep everything organized and together.
Unless, you don't want to keep all your eggs in the same basket, in that case, you can try and diversify and use different companies for different tools & tasks.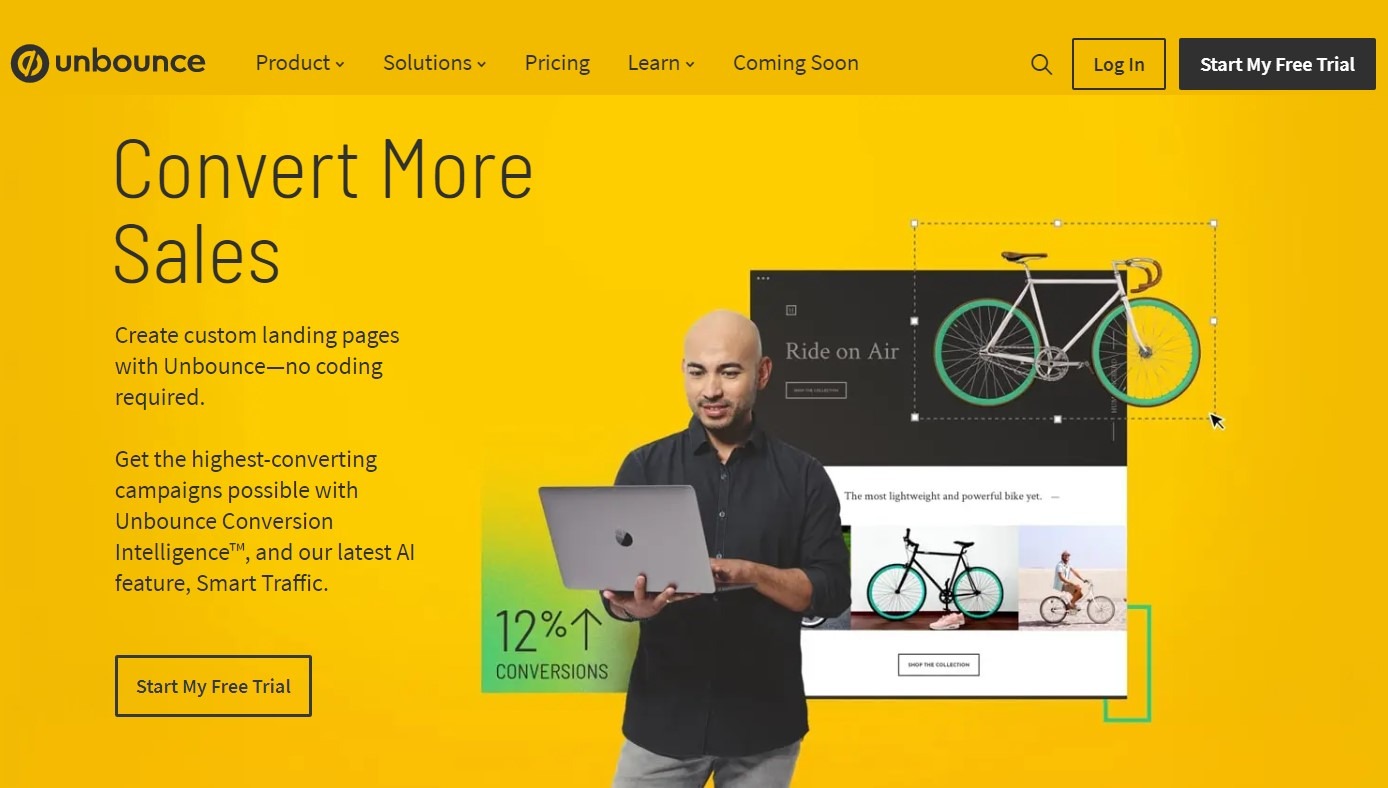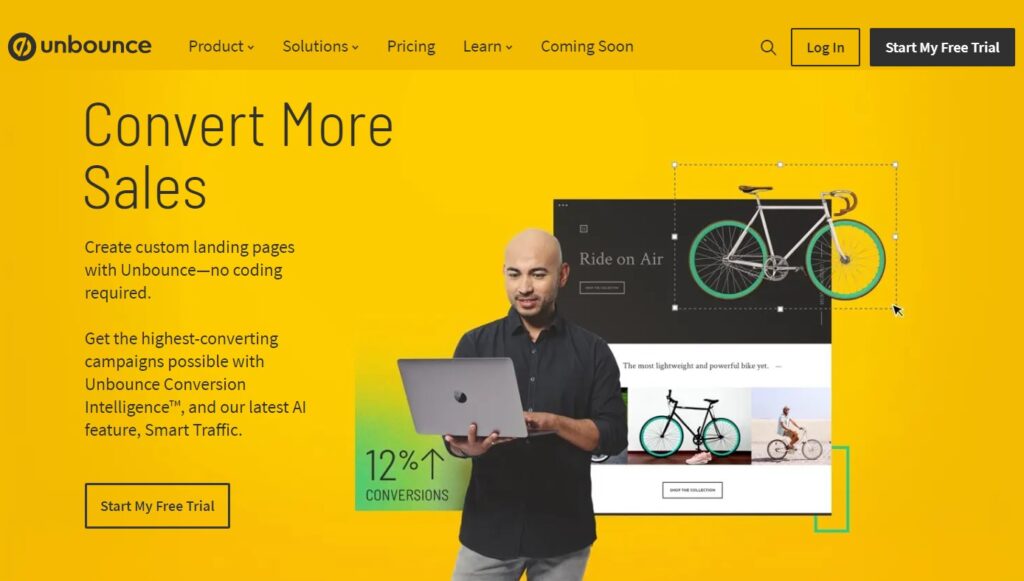 You want to create awesome landing pages for your products, services, or marketing campaigns, but you suck at coding or design?
Well then, you're not alone… because thousands of brands, agencies, marketers, and people are using Unbounce to create high-converting landing pages.
While creating a website is not that hard and it can take about 10-15 minutes or so, creating a high converting landing page takes a bit more skill than that. Especially if you don't know some elements that might increase or decrease your conversion rates.
This is why digital marketing tools like Unbounce makes it easy for everyone to create and optimize landing pages, popups, and sticky bars.
Sure, essentially this is a website builder, but aimed towards improving your conversions to get more sales and leads out of your site.
Some of the neat features of Unbounce:
Drag & Drop Builder
100+ Available Templates
Duplicate Pages Easily
Script Manager
Supports AMP (Accelerated Mobile Pages)
Free Images
Image Optimizer
Lead Generation Form Builder
Gated Content
A/B Testing
Integrates With Many Tools (Zapier, Google Analytics, Facebook, etc)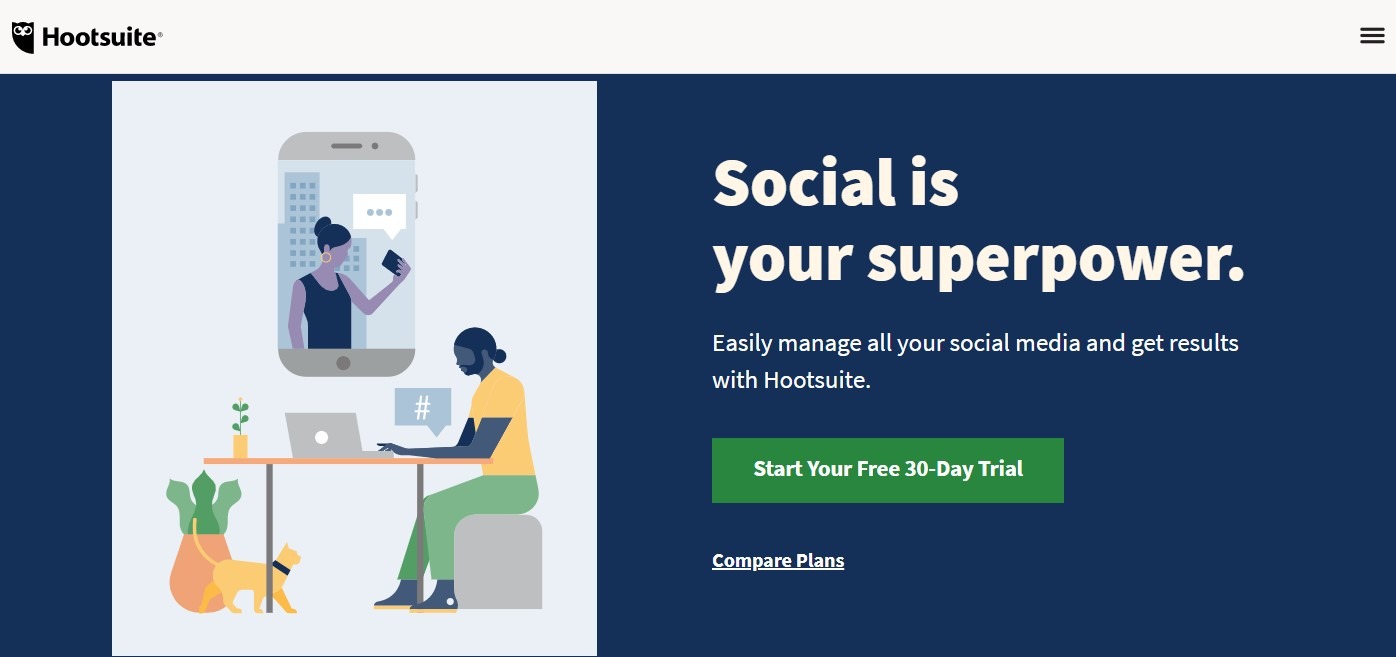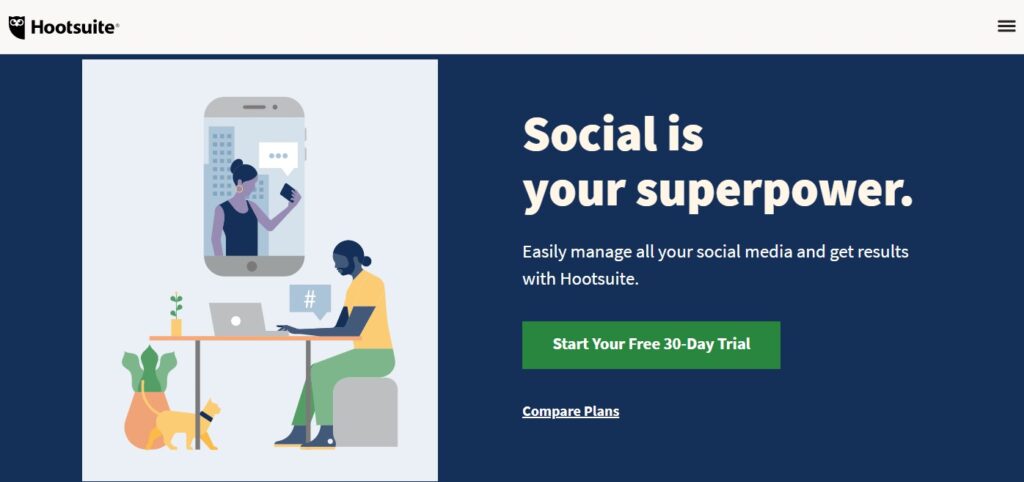 One of the best digital marketing tools to automate and manage your social media is Hootsuite.
Let's face it, managing your social media profiles on 5+ networks is boring, tedious and a waste of time.
With a tool like Hootsuite, you can schedule posts to be published on all the popular social media networks.
This allows you to save a lot of time, time that you can spend doing something more productive, like thinking about new ways to grow your business or taking care of your customers.
Some nice features of Hootsuite:
Connects with 20+ social networks (Facebook, Twitter, Instagram, LinkedIn, Pinterest, etc)
Schedule and publish content automatically
Manage incoming messages
Personalize your social media customer care
Manage social media paid ads
Analyze and measure how your social profiles are doing
Monitor trends and your competition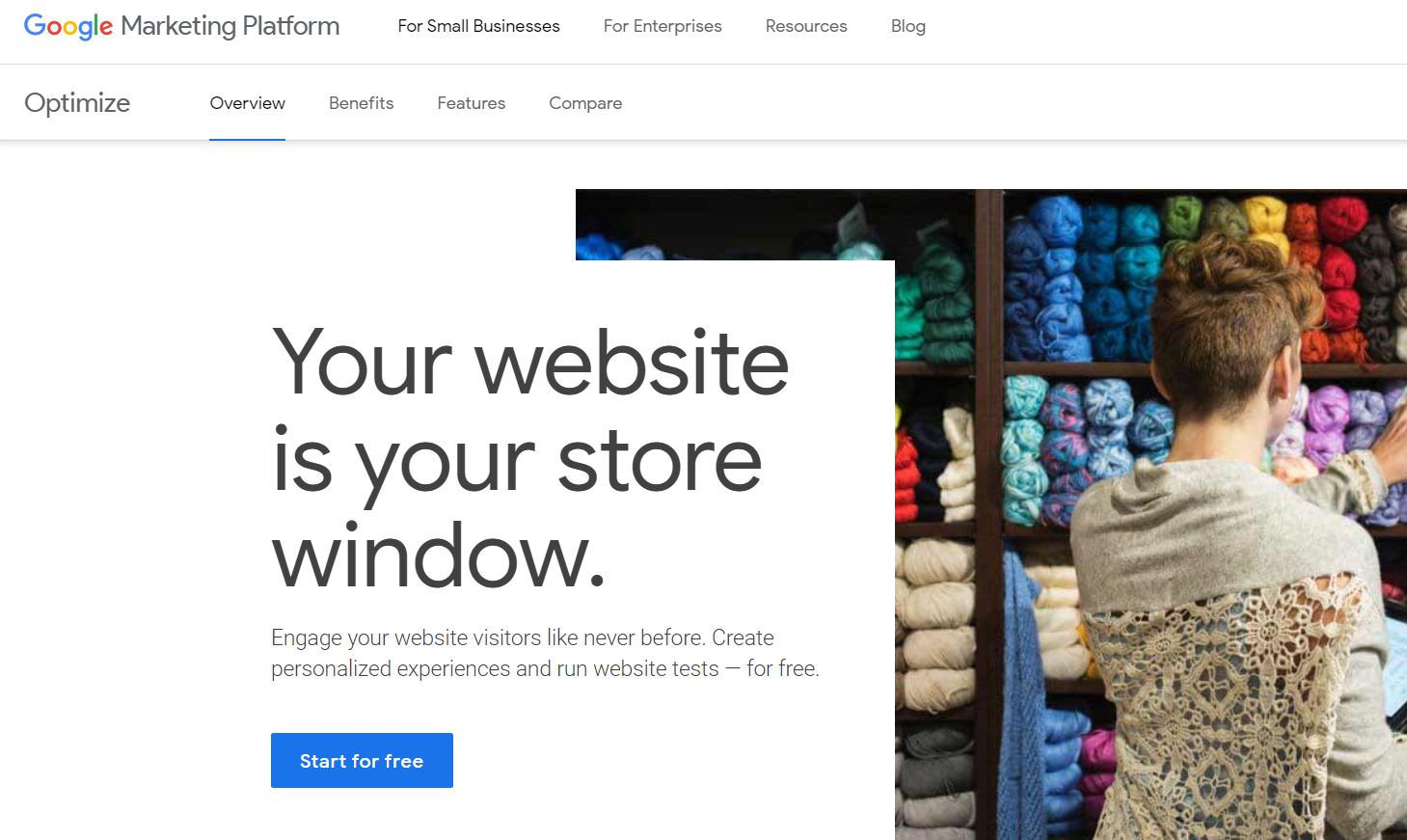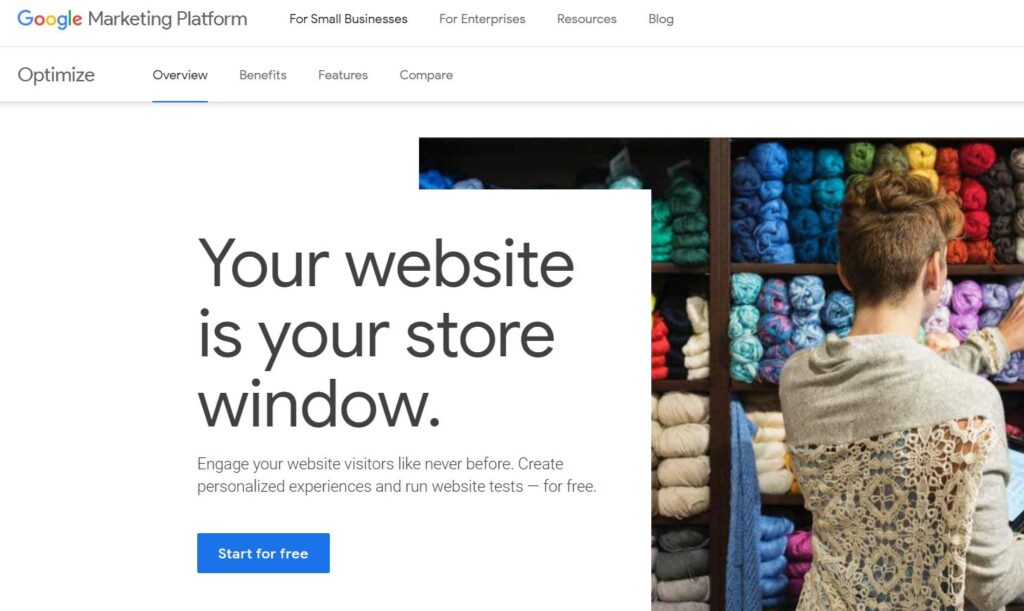 You don't need to pay big bucks to use a decent digital marketing tool for optimizing your website. In fact one of the best ones is free: Google Optimize.
Google Optimize as its name suggests, allows you to create a ton of A/B or multivariate tests on your website to learn what works and what doesn't, in terms of SEO, conversions, and user experience.
Like many of Google's products, it integrates nicely with Google Analytics, giving you extra details on how you can improve your website.
It also integrates with Google Ads, Google BigQuery, Firebase, and AMP. The Google Ads integration is awesome because it allows you to create custom landing pages for your campaigns and ads, and optimize on the go.
You think A/B testing is a waste of time? Think again, because if you want to successfully grow your business and quickly, then you really need to implement it.
Sure there are more tools for optimization that you can choose from. But if you want the basics done right without too much bloat and for FREE, then there really is no other software that comes close to Google Optimize. Especially if you're using Google Ads.
More Tools for Affiliates, Marketers and Webmasters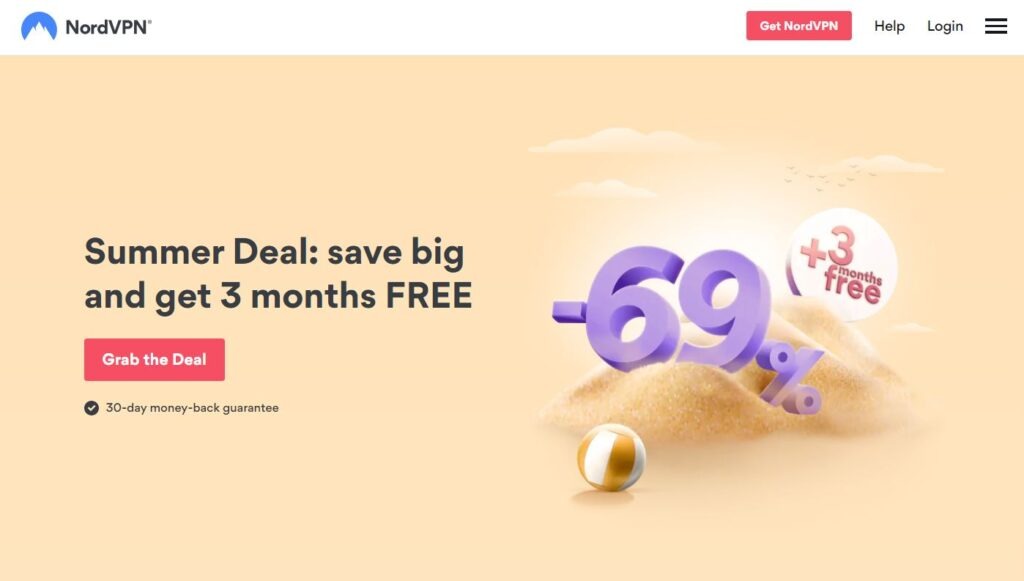 You might not realize this but, using a VPN for marketing makes a lot of sense. Especially if you're doing CPA affiliate marketing.
Why is that?
Well, obviously, if you know a thing or two about CPA, you know that most offers are created and designed for specific GEOs (locations/countries) only.
So for example you as an affiliate that wants to promote a dating CPA offer for Brazil but you live in the United States, will have no way of actually checking how the offer's landing page actually looks like.
When you try to access the offer with your US IP address, you will be immediately redirected to a local offer, one that's for the U.S. market.
Pretty much all CPA networks do this kind of redirect. Because the offers have different payment methods and rates for different GEOs.
So the same offer will pay $1.4 for a lead from Brazil for example, but for a lead from the U.S., the rate could be $3.70.
Checking the offer and its landing page to see exactly what an end-user will see is an important step in creating and running a successful CPA marketing campaign.
If we take the example from above, that means you would need to visit your dating CPA offer from a Brazilian IP address.
The only way to do that (other than traveling to Brazil) is by using a VPN software, like NordVPN.
Chances are you've heard about NordVPN before, after all, it's probably the best VPN out there (they have the most amount of servers, in more countries than their competition).
I actually use it both for personal use, and for business when doing marketing and need to view how an offer looks for the Taiwan market for example.
NordVPN has a free trial and they almost always run some killer deals where you can save up a lot of money if you sign up for 2 or 3 years in advance.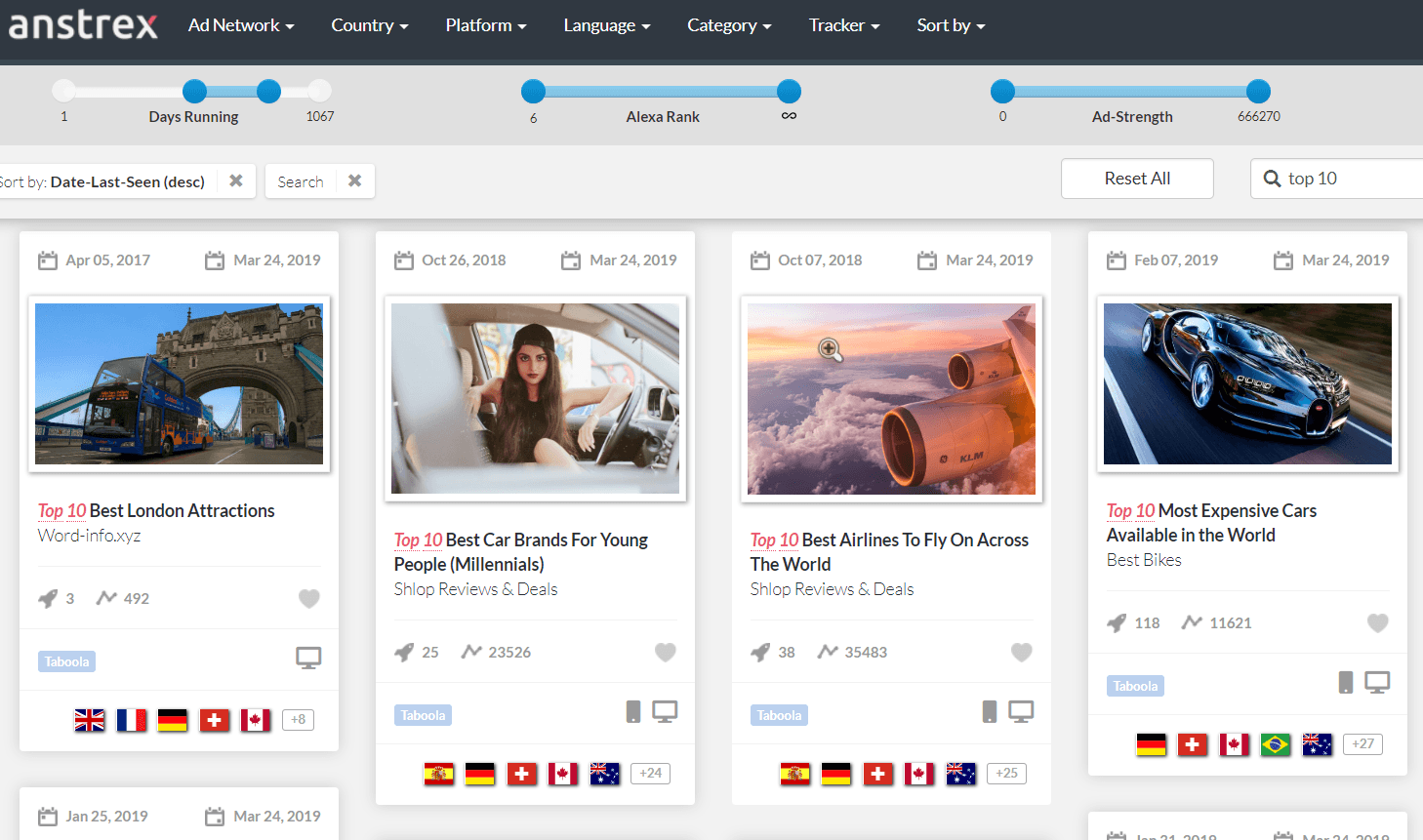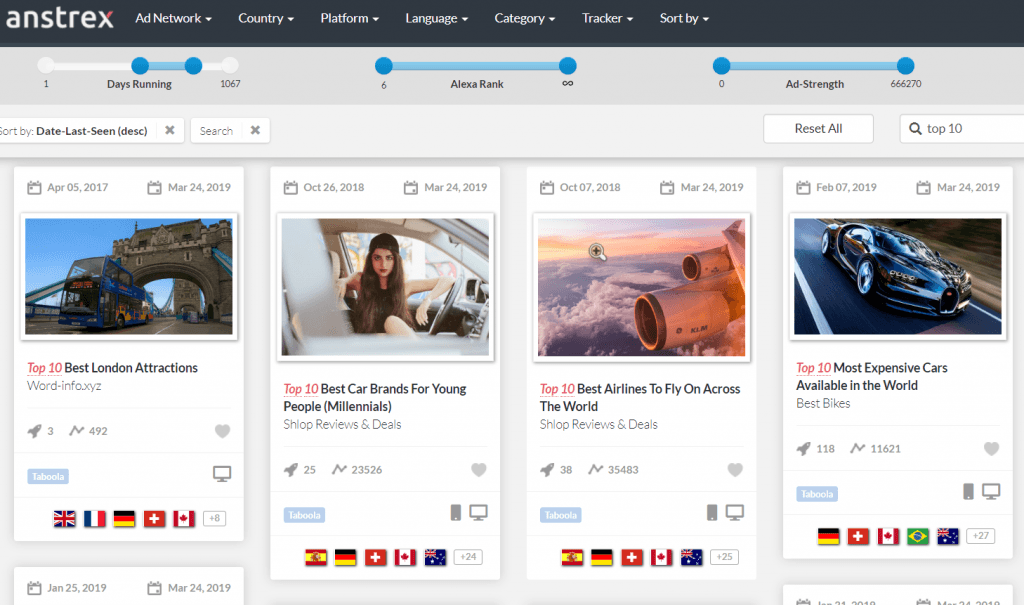 Are you trying to become an AdSense arbitrage master? Then you will simply need to use digital marketing tools for spying on your competition. Such as Anstrex.
With Anstrex you can get instant data and see exactly what kind of ads work and what niches are HOT in all the popular native ad networks (Taboola, Outbrain, Revcontent, MGID, Yahoo Gemini, etc).
Not only that but they also have a push ads traffic spying software as well, this works for all the major push website traffic sources such as PropellerAds, RichAds, Megapu.sh, and Evoads.
Even if you don't do arbitrage, but you're planning on promoting your blog posts or business via native ads, a tool like Anstrex will give you a lot of valuable information like seeing other similar ads in your niche.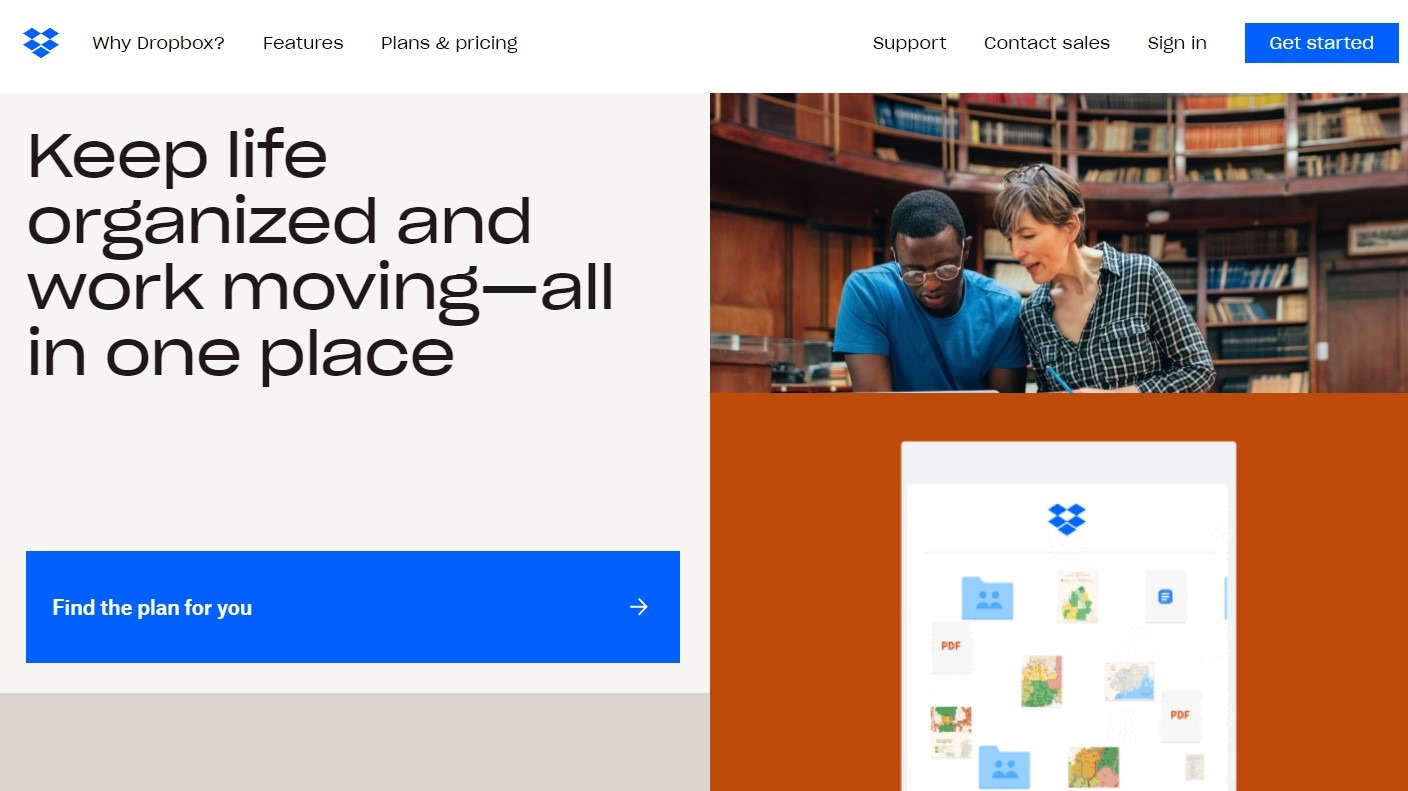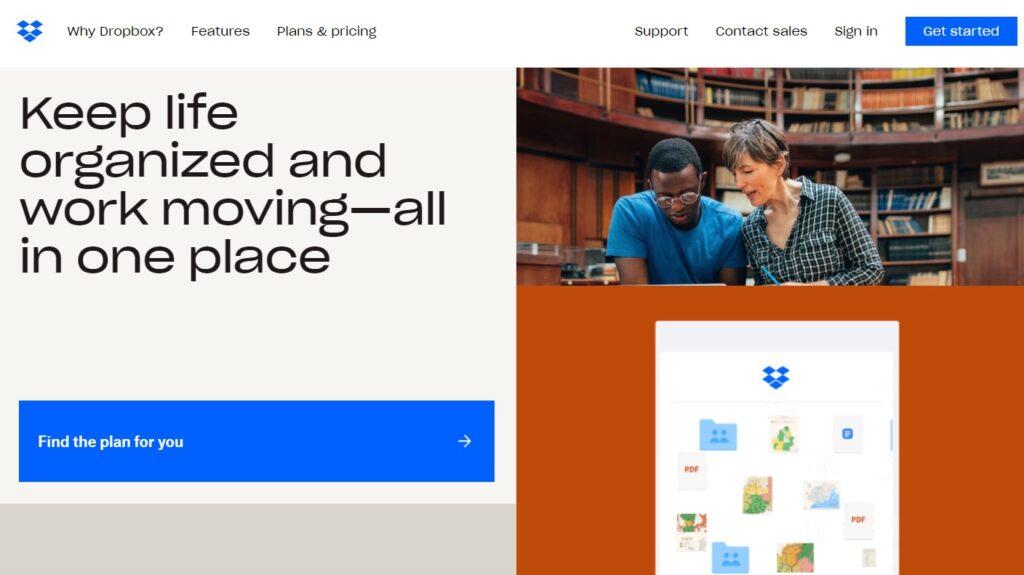 If you need a reliable and free (or cheap if you upgrade), cloud backup solution, then look no further than Dropbox.
Google Drive is great, but sometimes you might wonder how the alternatives stack up. I'm glad to report that Dropbox can go toe to toe with Drive and also the new kid on the block: Box.com.
Dropbox is not just a cloud backup service anymore. They have started to expand their array of features to now include:
Makes remote work easy – Manage and share documents, videos, files, with your team
Syncs across multiple devices – From Mac to PC and from iPhone to iPad and Android, you name it.
Offline Access – You can also access your files even if you're offline with their apps.
Document Scanner – Sounds old-school, but scanning is still an important part of doing business.
Password Manager – Yep, they even have their own password manager.
As you can see Dropbox has a lot more to offer than other cloud and backup storage solutions, and it has become one of the staples of digital marketing tools.
Oh, and it's also very affordable (there's even a free plan with a 2GB limit and up to 3 devices in sync).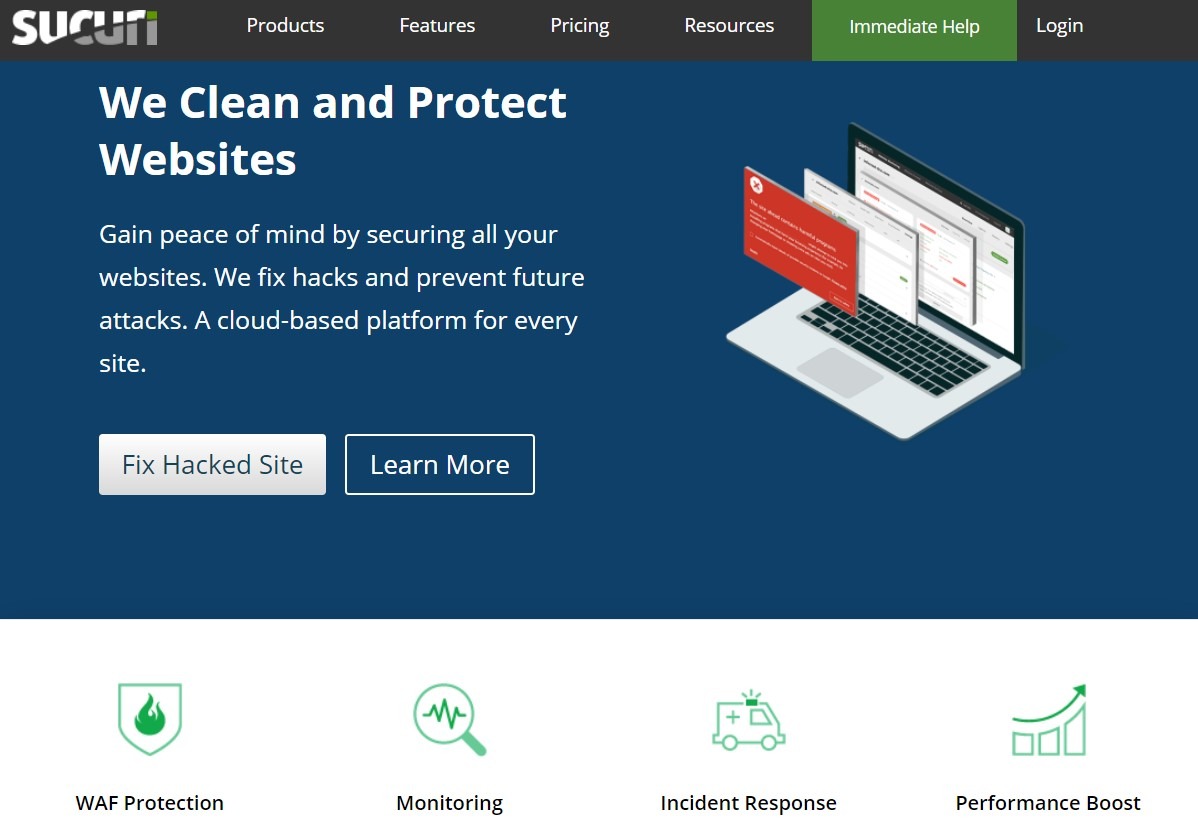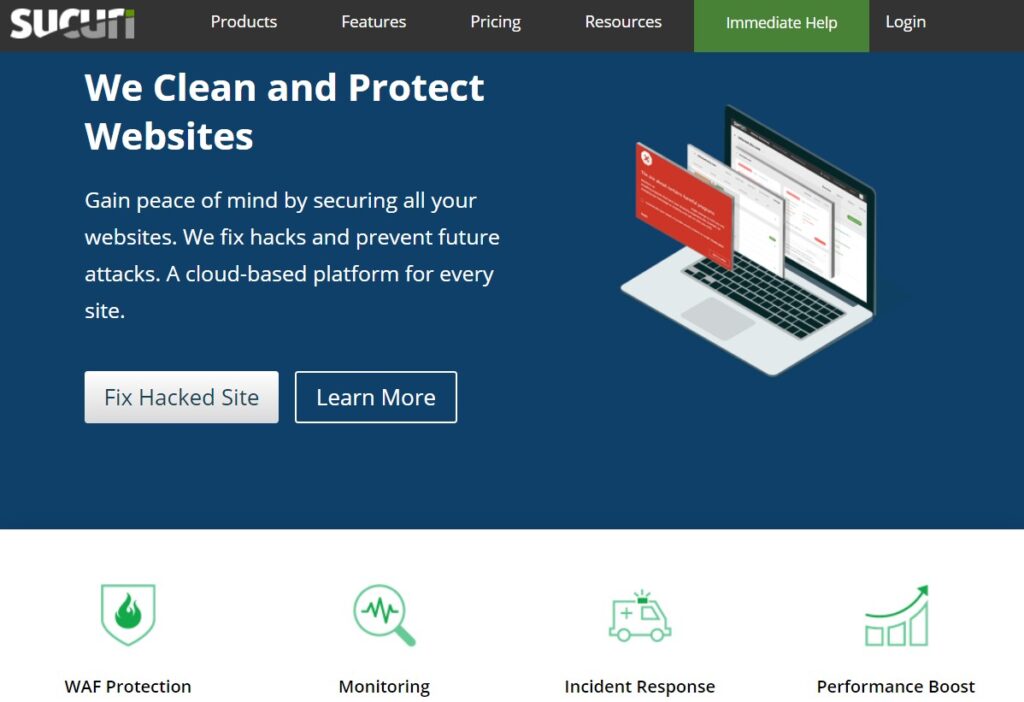 The online world is filled with a bunch of malicious dicks that all they want to do is break into your server and steal your data or crash your website.
Why? I don't know… as I've said, they are dicks, so probably that's why. In more seriousness, they usually do this to try and get access to your server and promote their own spammy products on your website.
Or the more nasty one: to keep your site for ransom, demanding a huge amount of cash to hand it back over to you.
Nonetheless, brute-force and DDoS attacks are getting more frequent these days, and you need to have a way to protect your website.
Sucuri website security gives you peace of mind, by constantly analyzing and scanning your website and its files to make sure that they stay clean, always.
They have their own website firewall protection tool, that is constantly monitoring your site and sending you alerts whenever something fishy is going on.
Not only that but Sucuri can also give your site a performance boost by using their CDN to get faster page speeds.
You worked hard on your website and on its SEO rankings, you don't want to see it all go away, just because you forgot to update an old WordPress plugin that a hacker got a hold of and is now abusing to gain access to a bunch of sites.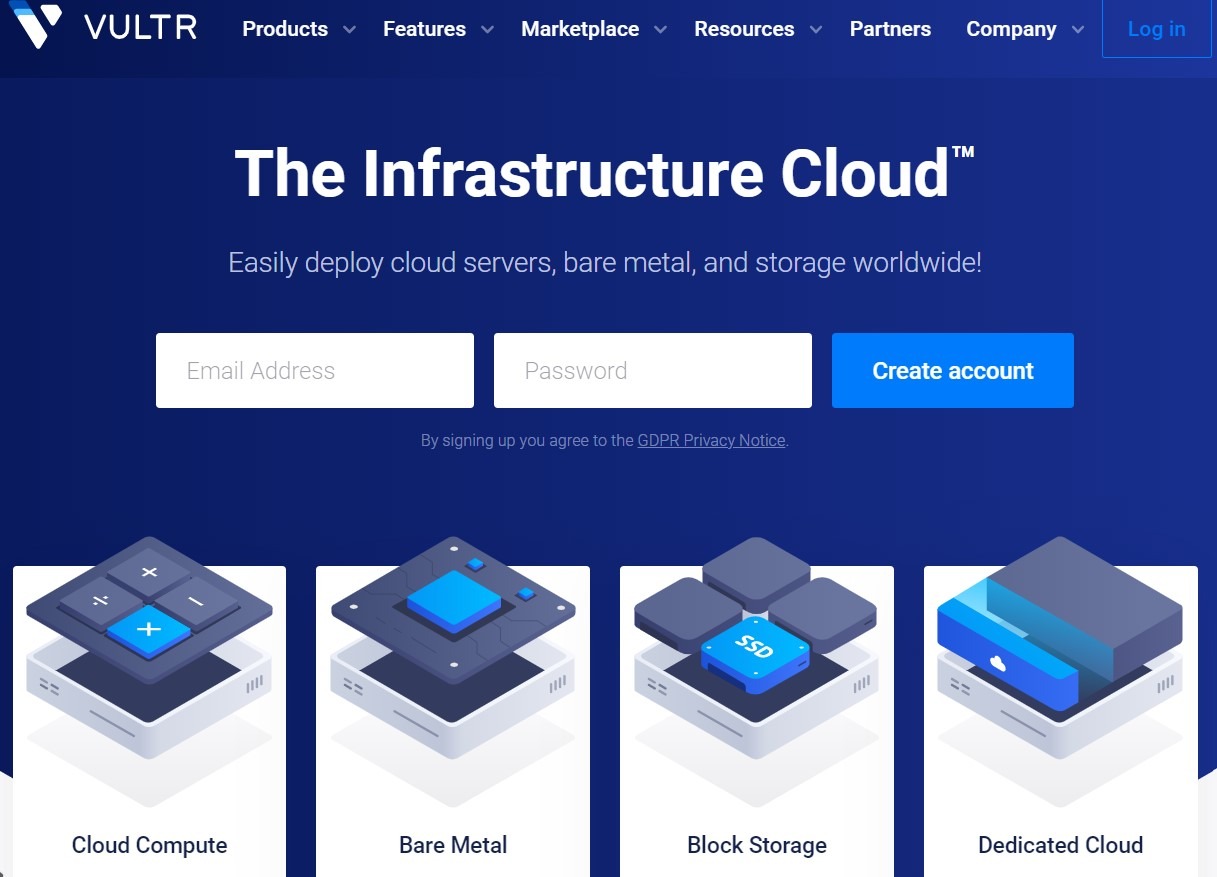 Look, starting a blog on Bluehost is fast, easy, and cheap. But sometimes you need a little more firepower, from your servers.
Especially if you're a marketer that plans on doing some heavy paid promotion and buying a lot of traffic like popups and popunders, or push notifications.
That's why you would need to get a VPS (virtual private server) at the very least. Luckily, VPS prices have gone down over the years, and you can get your own for as little as $5 per month from hosting companies like Vultr.
I like Vultr, I've been using them for 4 years now, hosting various high traffic websites with them.
But I also use them for when I quickly need to put up a landing page for a CPA offer that I'm about to run a shit ton of traffic to in a short time span.
United States (New Jersey, Los Angeles, Miami, Atlanta, Chicago, Dallas, Seattle, Silicon Valley)
United Kingdom (London)
Netherlands (Amsterdam)
Germany (Frankfurt)
France (Paris)
Canada (Toronto)
Japan (Tokyo)
South Korea (Seoul)
Singapore
Australia (Sydney)
Prices start from $5 per month for a 25GB SSD server with 1 CPU and 1024MB RAM and 1000GB Bandwidth per month.
You also get a lot of OS types (CentOS, Debian, Fedora, Ubuntu, Windows, etc) and applications that you can install including one-click ones like WordPress, Joomla, Magento, LEMP and LAMP stacks, and a bunch more.
It takes about 60 seconds to deploy a server on Vultr, but keep in mind these are unmanaged servers, you need to install the software on your own, and maintain it (security stuff, etc).
Bonus Digital Marketing Tools: Google Suite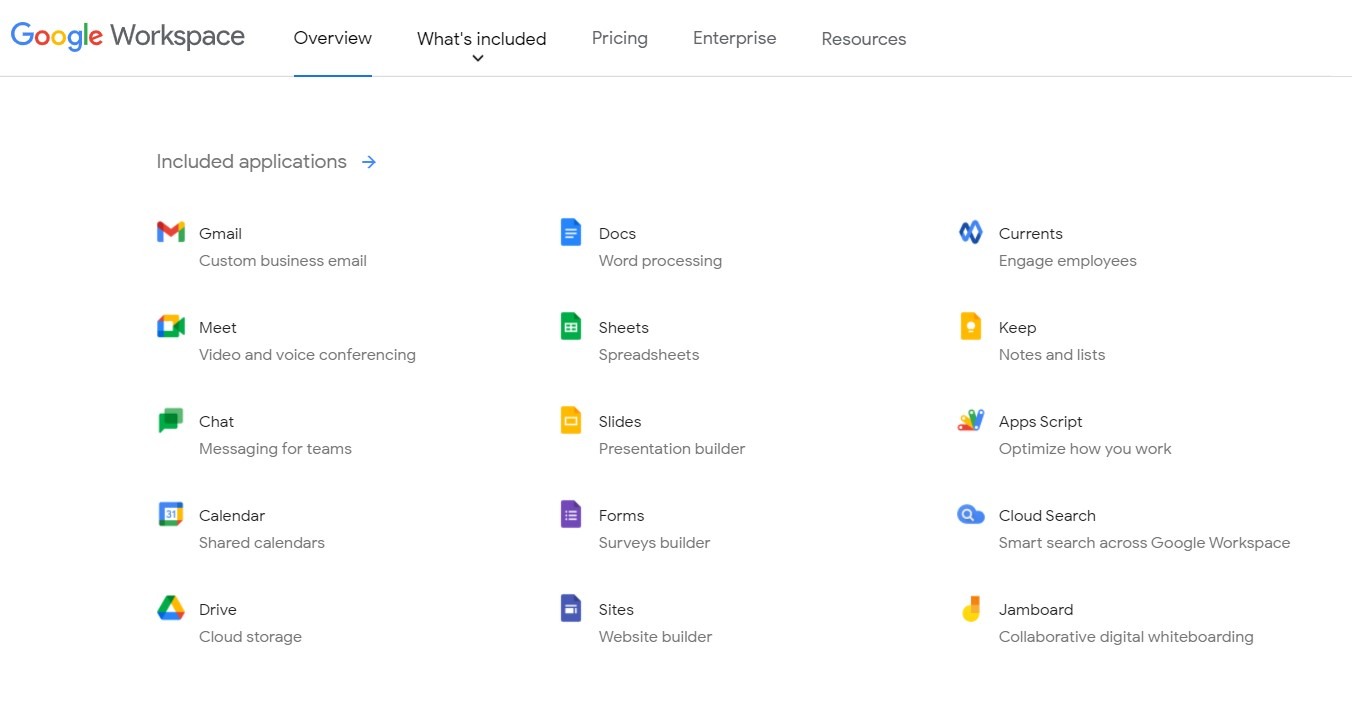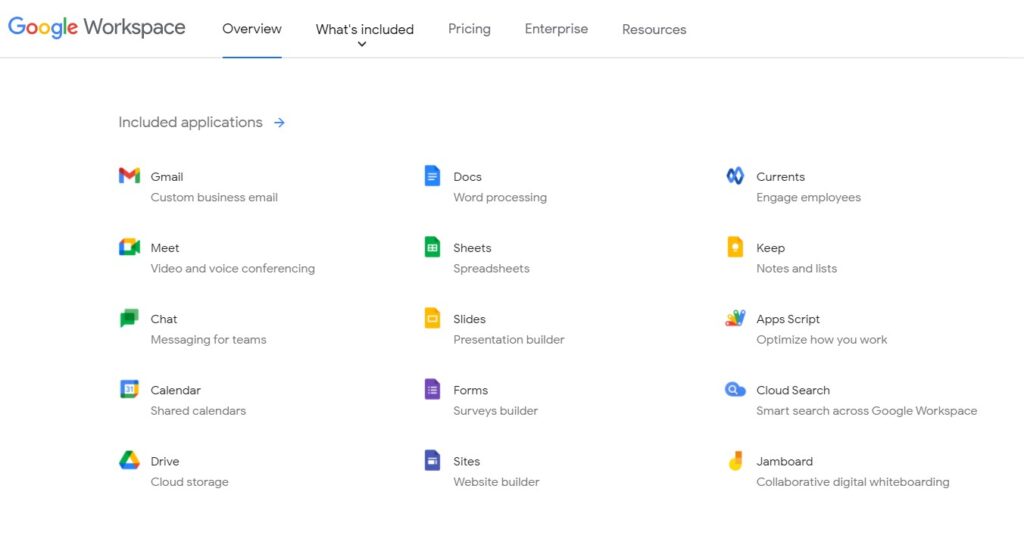 I'm sure you're familiar with some of Google's apps and tools by now (such as Gmail and Drive). But Google's Workspace suite of tools is something that it's hard to pass on.
Sure it might not feel good in handing over a ton of your data to just one company. But damn it, they make and have some of the best marketing tools in existence.
What can I say, even though there are many alternatives to their tools, almost none of them are so intuitive and easy to use as Google's.
I can't really imagine my marketing life without using Gmail, Google Docs, Google Sheets, their awesome Calendar, the meaty Google Drive space, Google Data Studio and so many more.
Every time I wrote an eBook or created a course I've done it in Google Docs or Slides. I can't be bothered with crappy Word documents or a buggy Adobe Reader that constantly wants to update and almost always crashes.
Google's stuff just works, plain and simple. Oh, and it's conveniently always saved in the cloud in case your laptop gets fried or your cat decides it's a nice place to take a dump on.
Do they have access to too much of your info and data? Sure. Can they do whatever the heck they want with it? Absolutely. Do I care? For the moment, no, not really.
Maybe when I get older and a bit more paranoid and find some better solutions and replacements to their software, I will change my mind.
Until then, what can I say… I'm a sucker for good products that work well, and willing to sacrifice some of my privacy concerns for that… for now.
Best Digital Marketing Tools and Software: Conclusion
Congrats on reaching the end of this massive post. I should reward you with something. Hmm… let me think for a second.
Here you go: 🍪
A delicious and crispy cookie just for you.
In all seriousness though, I really hope that this article helped you out in finding the perfect digital marketing tools for your business. I know it's been a long read, but that's what happens when you try to include a bunch of really good services and products on the same page.
I personally have tested almost all of the tools that I've talked about in this post. So I know for a fact that they indeed work nicely and are of good use for everyone that wants to grow their hustle.
Sure, there are some affiliate links here and there, and I might earn a commission if you buy something through those links… but the majority of them I'm not an affiliate and I really do use them on a daily basis anyway.
Let me know down in the comments which are your favorite online marketing tools to use. Here are some of mine:
My Pomodoro Timer – seriously.
NordVPN – Not just for marketing but for everything else as well.
Todoist – Need to organize those tasks somehow
Hootsuite – Can't be bothered wasting time with social media
Semrush – If I had to choose just one marketing tool this would be it. Period.
Don't forget to share this masterpiece with your favorite dogs and humans.
Until next time, stay hustlin'
Stephen