15+ Best Native Ad Networks in 2022 [ULTIMATE LIST]
This post may contain affiliate links. If you buy something through these links I will receive a commission (at no additional cost to you). I personally hand-test everything that I promote, and I only link to services and products that I like.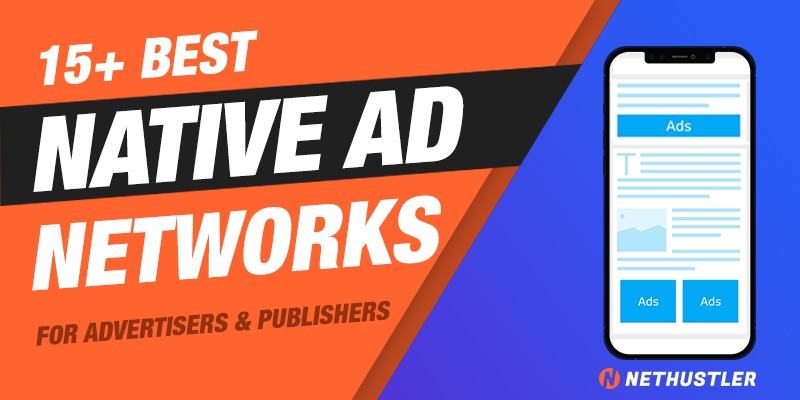 Do you want to get a list of the top native ad networks in 2022? Of course, you do, otherwise, why would you be here?
Sure, the list is more focused on advertisers but publishers can also sign up with these platforms to monetize their websites even more.
Native advertising is still hot in 2022, and the predictions are that the industry will continue to grow in size and revenue over the following years.
Other than the articles on this blog, I rarely write my own content. Why? It's simple: I hate it. That's why
I outsource it
from places such as
Fiverr.
I've had great success with native ads during the last 6 years, and I've used a ton of native ad networks to send traffic to my AdSense arbitrage sites, but also to do affiliate marketing and build an email list.
Over the years I've learned a lot of what works what doesn't and what native ad networks are good for arbitrage and which ones are good for CPA and affiliate marketing.
In this post, I'm going to give you my opinion on what I think are the best native advertising networks of 2022.
But first… just in case you don't know what I'm talking about:
What is Native Advertising
Native advertising is a new format of digital advertising where the ads blend smoothly with the content of a website, without looking like regular banner ads but more like pieces of content, thus getting higher CTR (click-through-rate)
You see, many people have developed what is known as banner blindness, in which we as internet users skip over the regular ads and ignore them completely.
Native digital display ad spend is forecasted to reach $52.7 billion in 2021, in the U.S alone.
That's huge growth, considering that in 2016, that amount was only $8 billion in the U.S.
But then again, it's no wonder, since native ads convert way better than regular ads, more and more marketers and advertisers are flocking to them in recent years with the goal of paying less and earn more.
Oh yea, native ads are still cheaper than regular search PPC like Google Ads. That's one of the huge advantages that this newer ad format has over display ads.
Ok, ok, but how do they look?
Well, here:
Native Ads Examples
One of the best examples of native advertising is Facebook.
Zuckerberg's time-sucking website, not only robs you of precious productivity time, but it also feeds you ads that blend so well with the regular crap, I mean…posts that you won't even notice they are ads.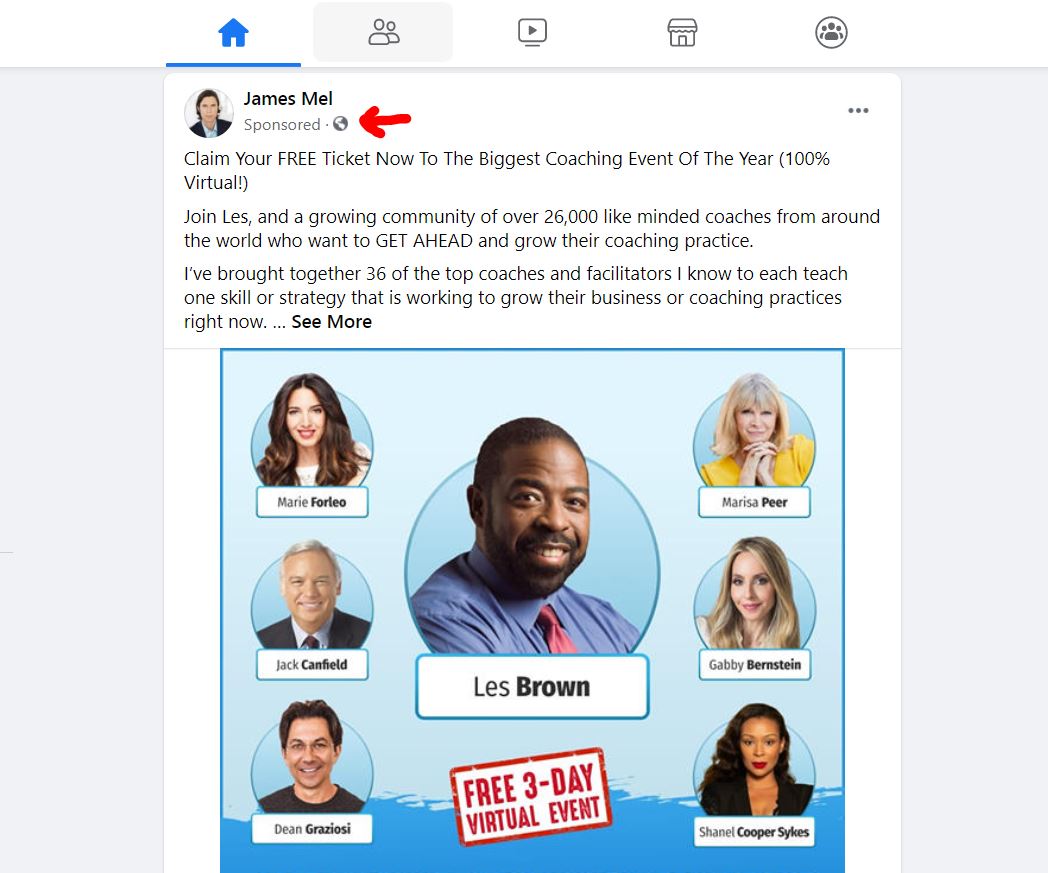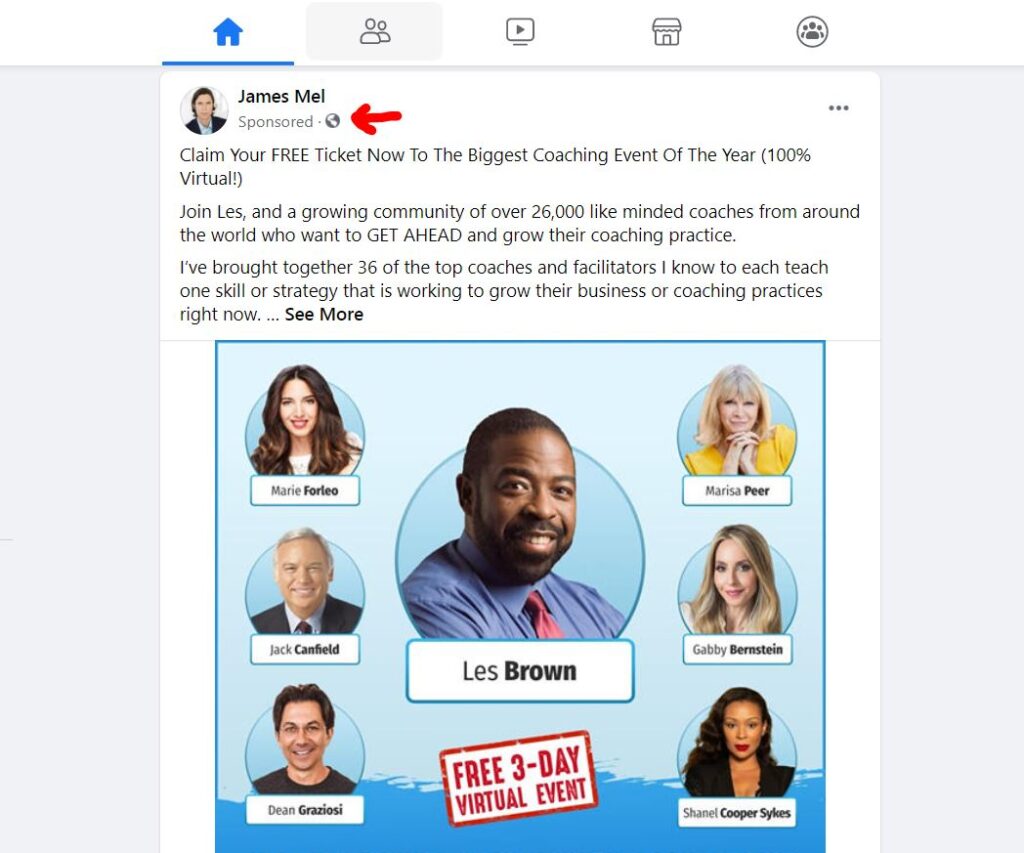 I mean look at how small the "Sponsored" text is, using a grey color to further disguise the ad as a "natural" and regular Facebook post.
As much as I hate Facebook though, I gotta admit, their native ads implementation is one of the best in the industry.
This one is another example of native ads, I'm sure you're familiar with them and have seen them on a ton of websites by now: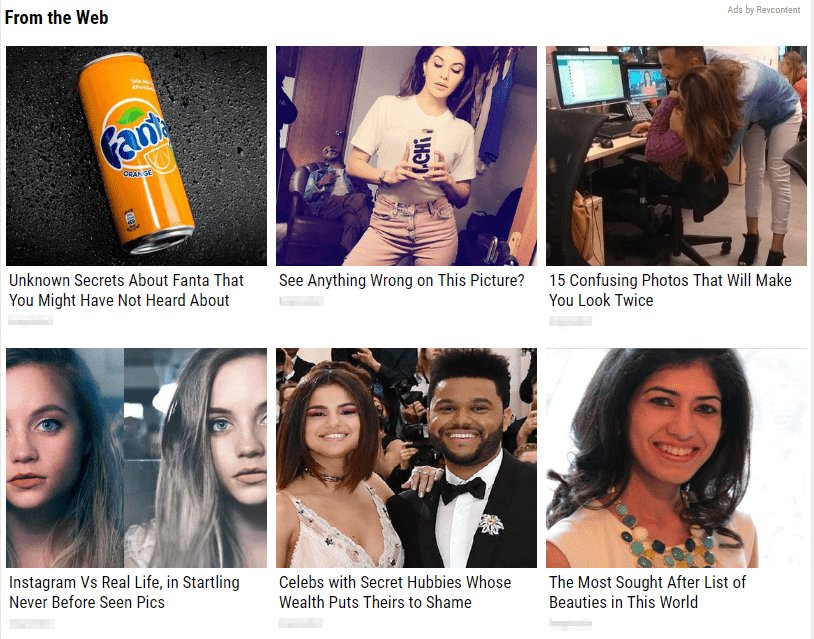 Anyway, to learn more about native ads check out: What is Native Advertising.
1. Taboola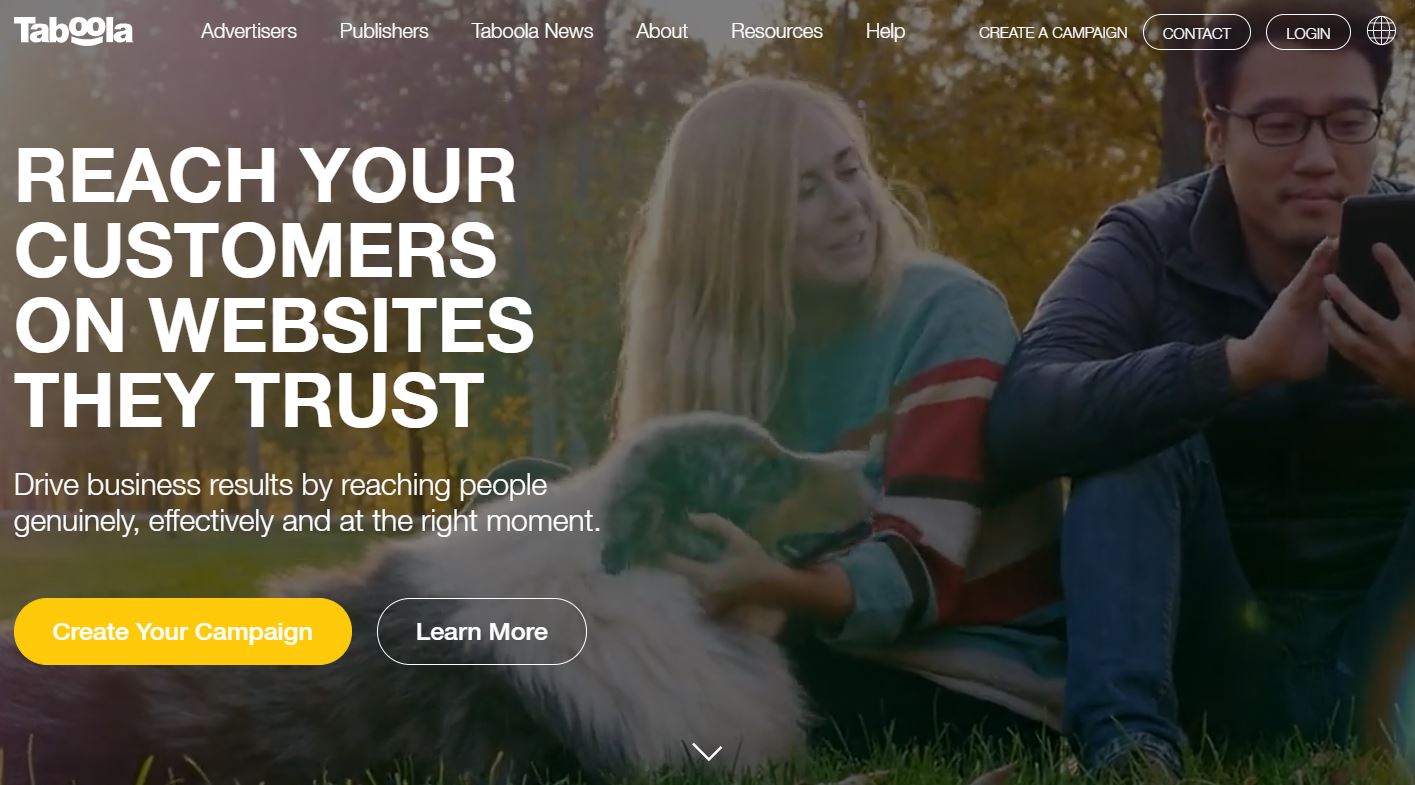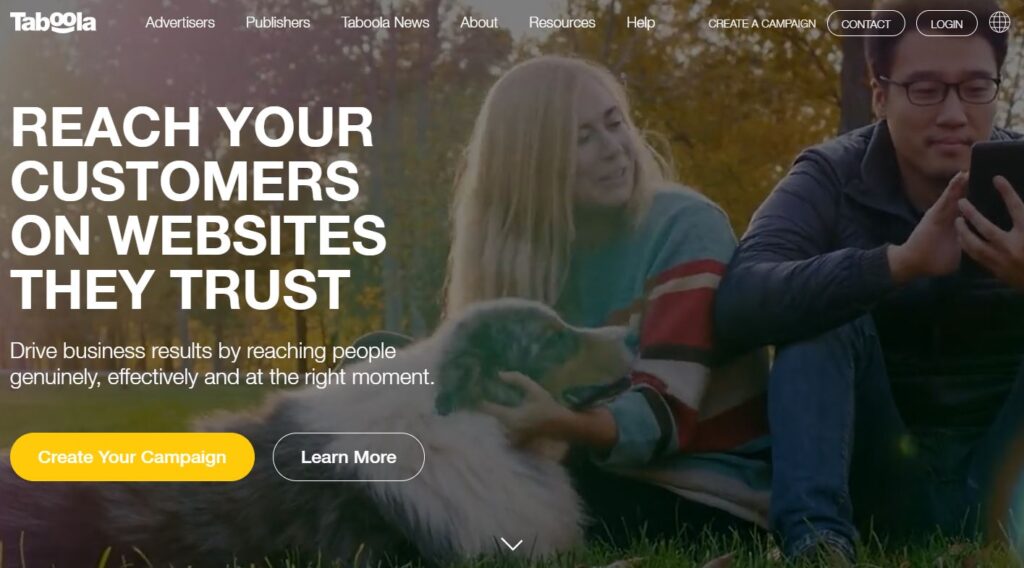 Taboola is one of the leading native ad networks in the game right now. It has a huge reach of over 1.5 billion unique visitors per month and a lot of world-class brands are using Taboola to either advertise or monetize their websites.
Here are some of the top sites that are using the Taboola feed (their native ads): Business Insider, Bloomberg CBS News, MSN, NBC, and more.
Taboola can bring you high conversion rates and a better ROI especially if you're coming from regular display ads.
However, all that increased performance comes at a price, because Taboola has some of the most expensive CPC rates in the industry.
Not only that but it's also increasingly difficult to get ads approved for products in niches such as health, finance, and biz opp.
Taboola Details:
Reach: Taboola reaches over 1.5 billion unique users every month
Targeting Features: Location, Lookalike, Operating System, Browser, Device, Remarketing
Traffic: 30% U.S, 20% other tier 1 countries (Germany, Japan, Canada)
Minimum Deposit: $0 (Minimum is to create campaigns with $10/day)
Pricing: CPC
2. Outbrain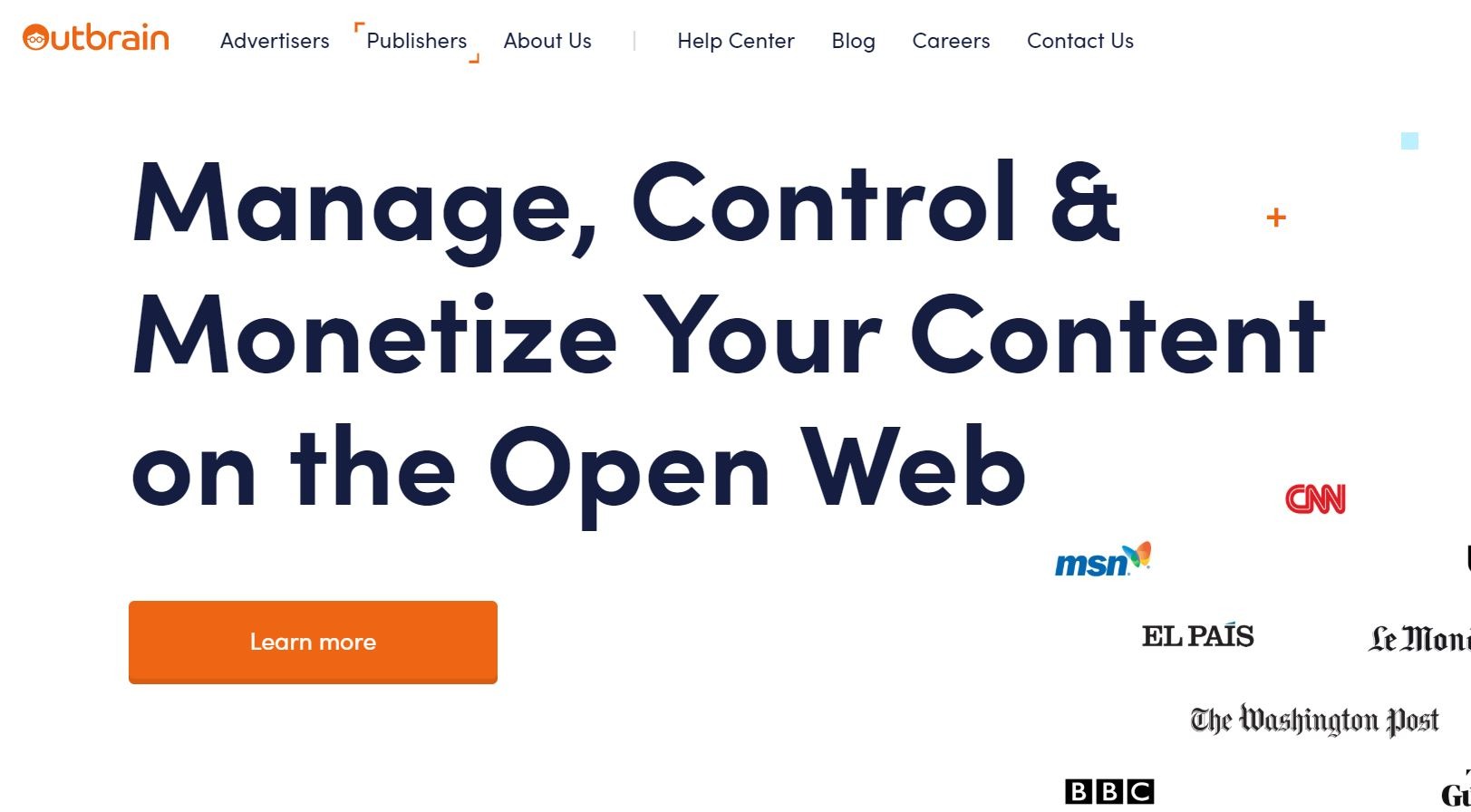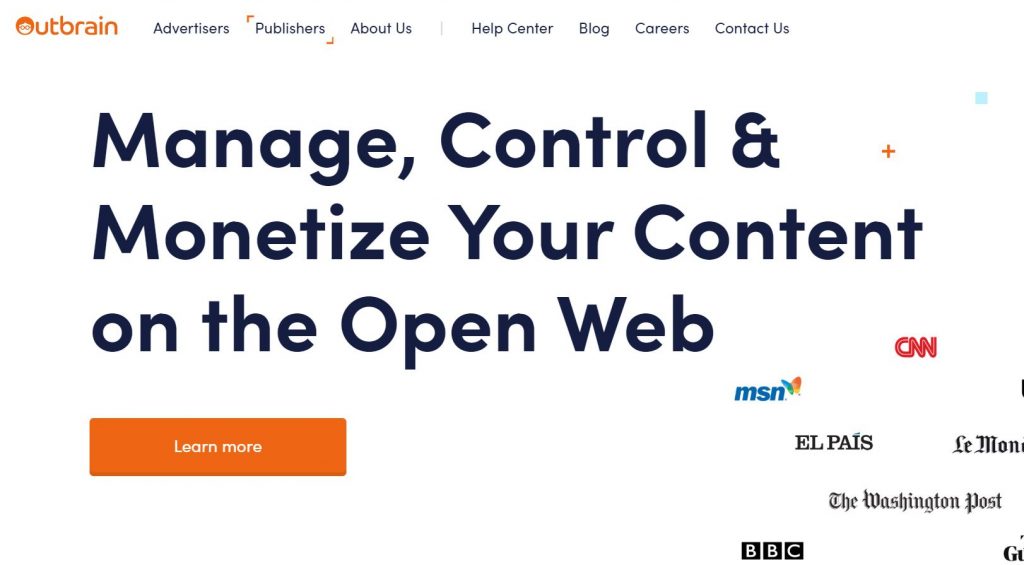 Outbrain is another juggernaut when it comes to native advertising. This premium native ads network was founded all the way back in 2006 and has kept growing ever since.
They are known to have some of the highest quality native ads since there was a huge deal about spam native ads a couple of years ago.
Outbrain was the first company to say no to "spam, scam, or risky products and categories", even if that decision came with a 25% revenue cut for them.
Recently Outbrain and Taboola wanted to join forces and re-structure under one single company in an amazing deal that has since gone bust, with both companies deciding that it's better to continue solo.
Many are comparing Outbrain to Taboola, but the reality is that the requirements for advertising on Outbrain are much stricter, and it's way more difficult to get your ads approved.
Oh, and they cost more. They are currently known to have the HIGHEST pricing for native traffic across all ad networks.
Don't know how to get started making money online? One of the best ways is to
start a blog.
You can easily do that with
Bluehost.
I honestly don't know their minimum bids at this point since I haven't used them since 2015 or so, but even back then I was paying like $0.2-$0.3 for US clicks.
Crazy. I know… it's what pushed me to search for cheap ad networks.
As a publisher that's looking to monetize their website traffic, the minimum requirements to join Outbrain is a bit insane: 10,000,000 minimum traffic per month. Yikes. Good luck with that one.
Sure, on their page they officially state that any site that is of high quality can apply, but that doesn't mean that you will get accepted with just 1k visits a month just because your site has some unique content on it.
I can't fault them though, they have done a lot of things over the years to improve their network and remove spammy sites and bad ads, and because of that, their inventory of publishers is of a much higher quality and your brand or website might benefit from that.
Some of Outbrain publishers: HEARST, CNN, BBC, Sky News, TIME Magazine, you get the point, only the big ballers are allowed with TOP quality content.
Outbrain Details:
Reach: Outbrain reaches over 1.2 billion users every month
Targeting Options: Location, Custom Audiences, Operating System, Device, Browser, Interest, IAB Category targeting
Traffic: Around 50% is tier one (US, UK, CA, AU, DE, JP)
Minimum Deposit: $0 (they use postpay)
Pricing: CPC and can optimize with CPA targeting
3. Yahoo Gemini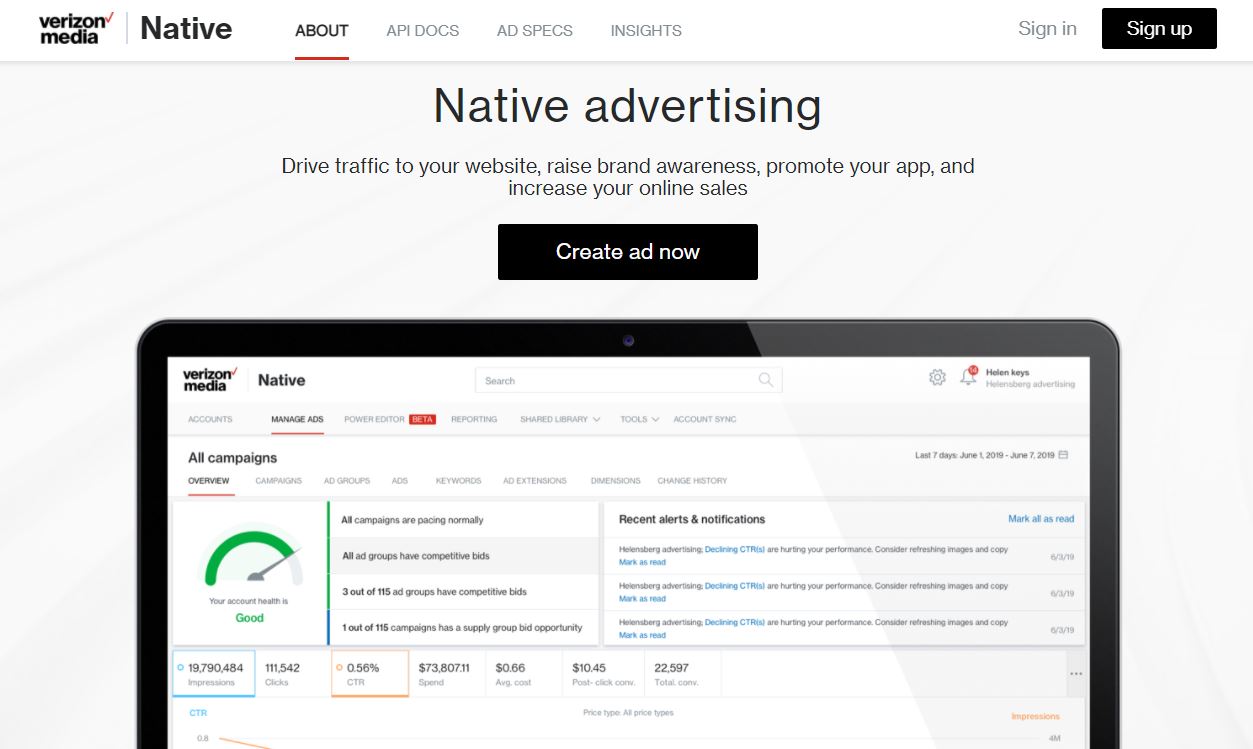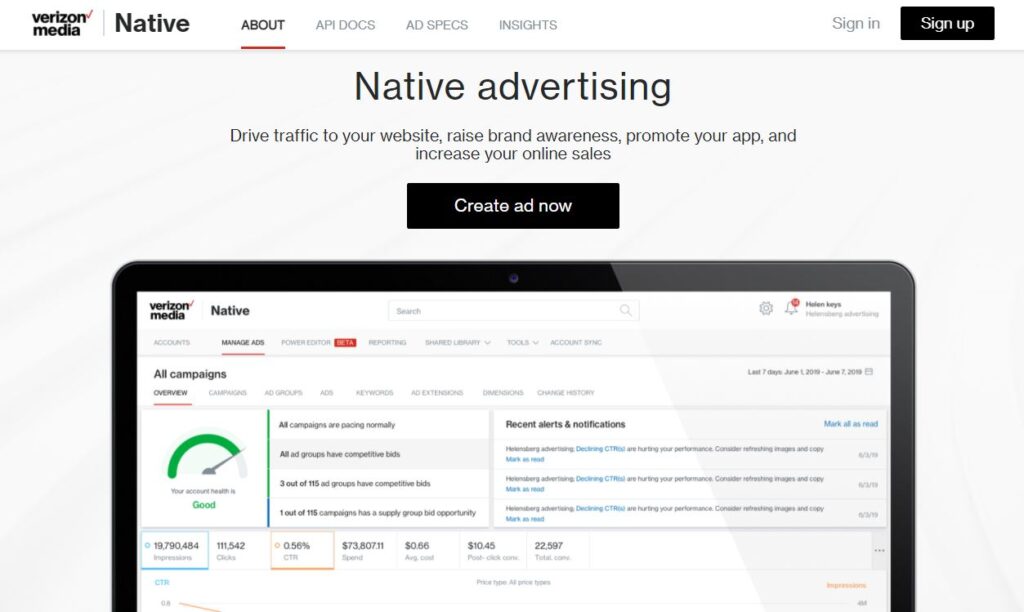 Yahoo Gemini is the native ad platform that runs ads on Yahoo and their sites.
They got bought by Verizon Media, so don't get confused if you see Verizon's logo instead of Yahoo's. They are now called Verizon Media Native… but I'm still going to call them Yahoo Gemini because it sounds cooler plus I'm used to that.
Nevertheless, Yahoo Gemini is great, it has affordable prices (at least when I used it), and they allow more freedom in creating campaigns and advertising a bit more risky stuff such as Nutra and health and finance offers.
Your ads will appear on Yahoo but also on HuffPost, TechCrunch and AOL.
Do people still use AOL? I guess they do.
Yahoo Gemini is a lot cheaper than Outbrain and Taboola, and last time I advertised on them I was paying on average $0.07 for US desktop traffic.
That's pretty damn good if you ask me. But it was in 2018 or so, maybe things have changed after they got in with Verizon.
Yahoo Gemini Details:
My favorite all-in-one SEO tool is
Semrush
. It basically has over 40+ SEO tools inside one neat and easy-to-use platform. Check out
Semrush via my affiliate link
and get a
7-day free trial.
Reach: Yahoo Gemini reaches 1 billion users every month
Targeting Options: Location, Device, Operation System, Age, Gender, Custom Audience
Traffic: 50% from the US alone, plus more top tier countries (UK, Canada)
Minimum Deposit: $0 (they use postpay)
Pricing: CPC, CPM, CPV, CPA
4. Revcontent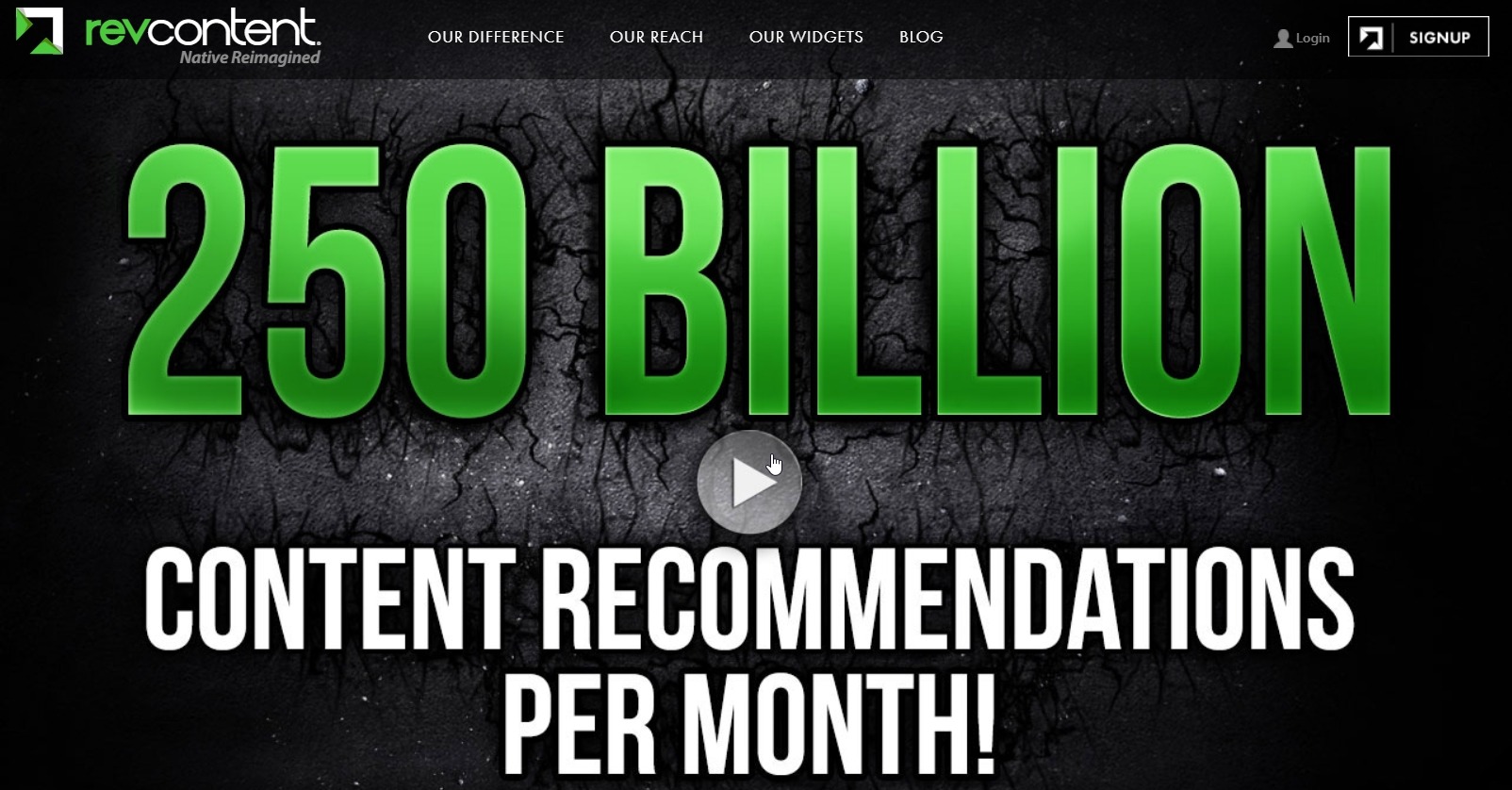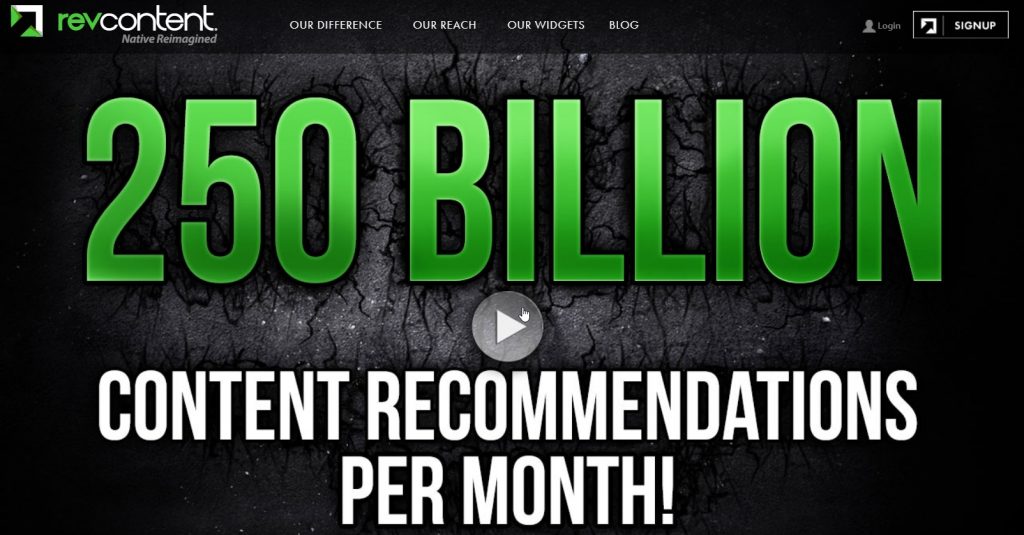 Revcontent is another high-performing native ads network, that I also extensively used in the past for my arbitrage sites and for promoting affiliate products.
Although over the recent years they have become more strict with what offers and ad campaigns they approve (hint: they really dislike health / Nutra ones).
They are cheaper than the competition (maybe on par with Yahoo Gemini) and have some good publishers in their network.
Various websites claim that the publisher minimum traffic requirements to join Revcontent stand anywhere between 50,000 and 100,000 users per month.
They don't explicitly say so on their platform though, so if you have a well-done site with a decent amount of traffic you can apply to the network if you're looking for alternatives to AdSense.
For advertisers, that plan on running ads and campaigns on Revcontent keep in mind that they do have some bot traffic, with malicious site publishers that are always trying to gamble the network.
So I advise you to use trackers such as RedTrack (affiliate link) to quickly identify the bad traffic sources (or widget IDs as they call it), otherwise, they will absolutely destroy your ad budget in minutes.
Revcontent Details:
Reach: Around 250 million users
Targeting Features: Location, Interest, Device, Operation System, Brand (publisher websites)
Traffic: more than 70% from the US.
Minimum Deposit: no minimum deposit (minimum $100/day campaign)
Pricing: CPC
5. Content.ad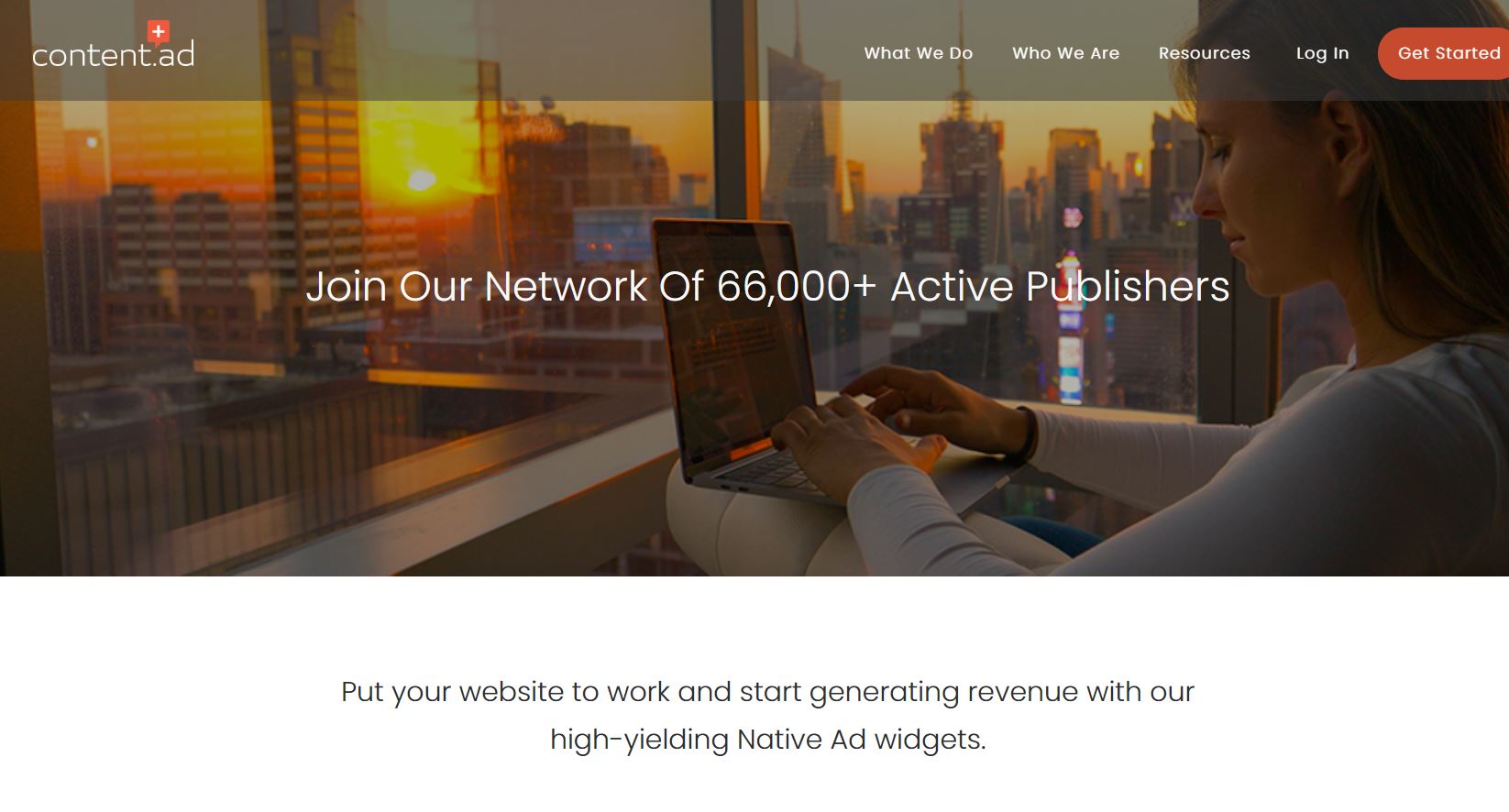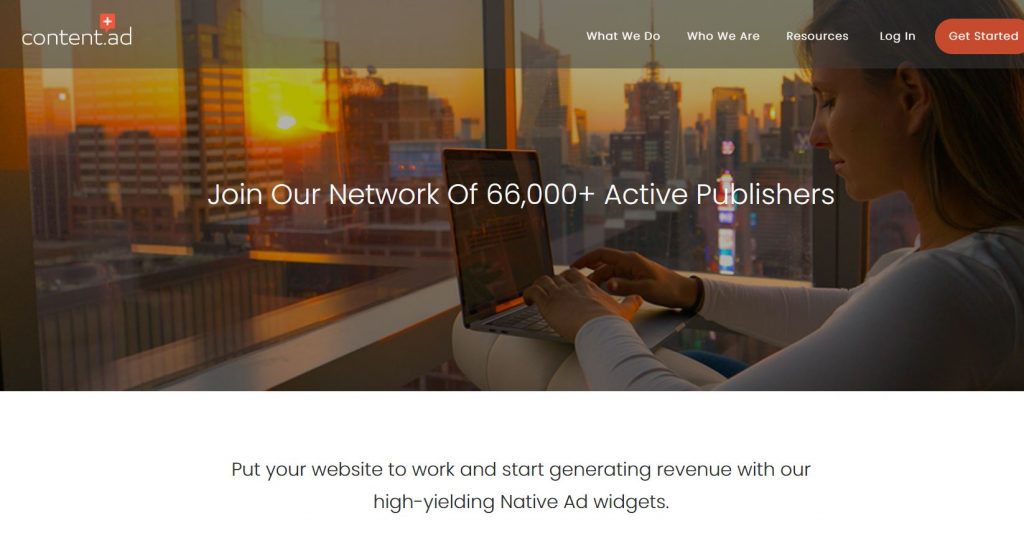 Ah, good old Content.ad, many marketers and advertisers have no fricking idea about this network's existence, and that is a good thing.
It means that I can continue using it for a while with not that much competition going on, and buy cheaper traffic than from the other native ad networks.
Oh damn, now you know about it… well keep this shit secret then.
Content.ad is one of the best performing advertising networks, for me at least. And they are a lot cooler with what you can and can't promote on their platform.
For example, I scoured the web for some Content.ad native ads and look at this: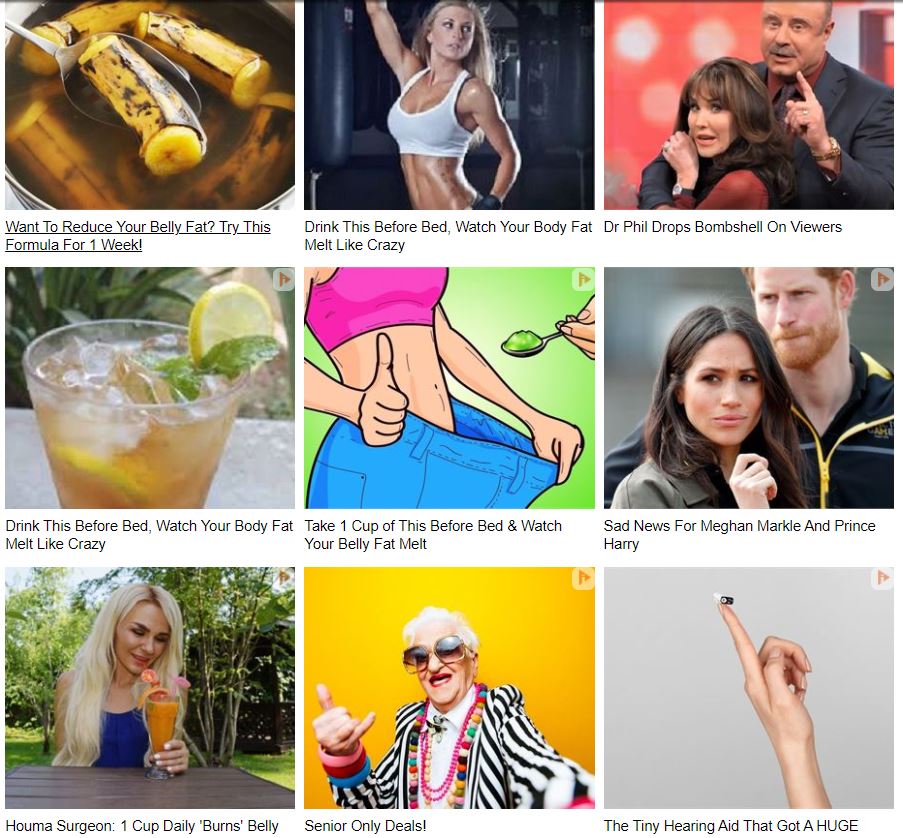 See how advertisers still run "lose weight" and "hearing aids", with all kinds of clickbait-y almost borderline insane headlines?
Yeah, those are the good days of advertising, where you can still use some creativity and have fun with your titles and images and what not, without fearing your campaigns being denied.
For that, Content.ad will always hold a special place in my heart (until they screw things up like the rest and decide to start banning campaigns like that).
Content.ad Details:
Reach: Not clear, but apparently "millions" from the text on their site.
Targeting Options: Location, Device, Operating System, Browser type, white list, block list.
Traffic: 67% from the US (from SimilarWeb data)
Minimum Deposit: $500 (ouch)
Pricing: CPC
6. MGID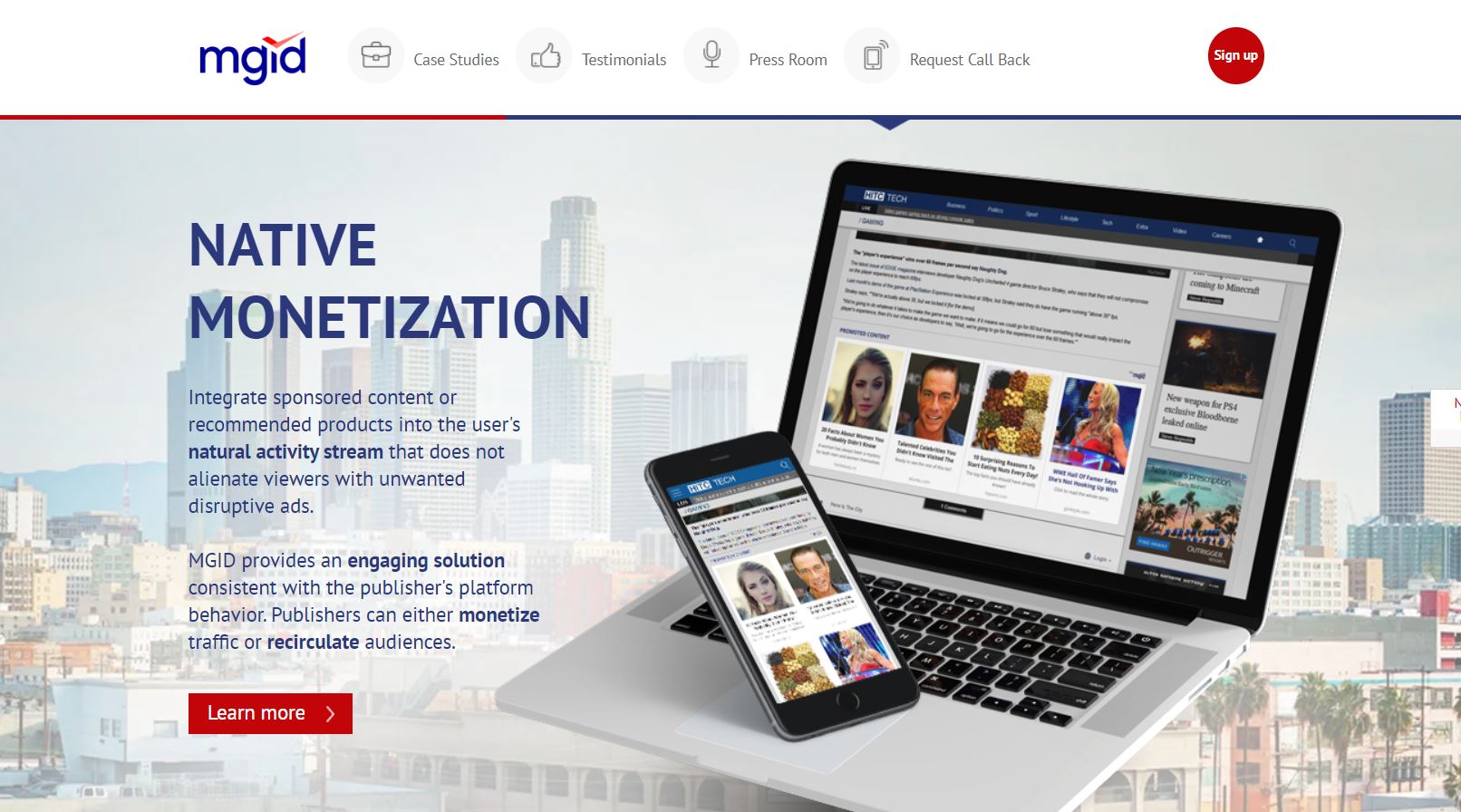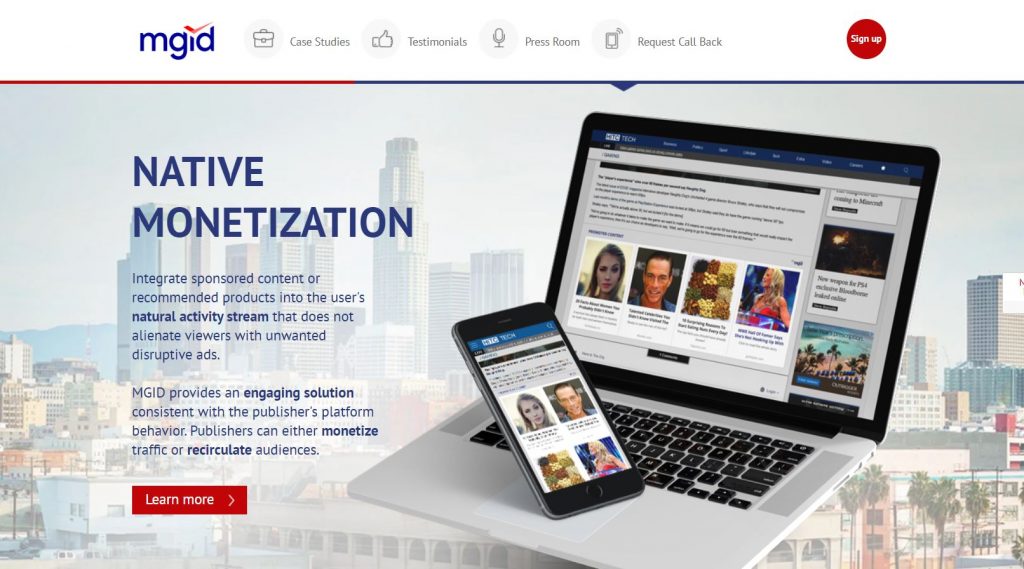 MGID is one of the best native ad networks because you can still promote some riskier ads and campaigns. Which is why they get a ton of brownie points from me.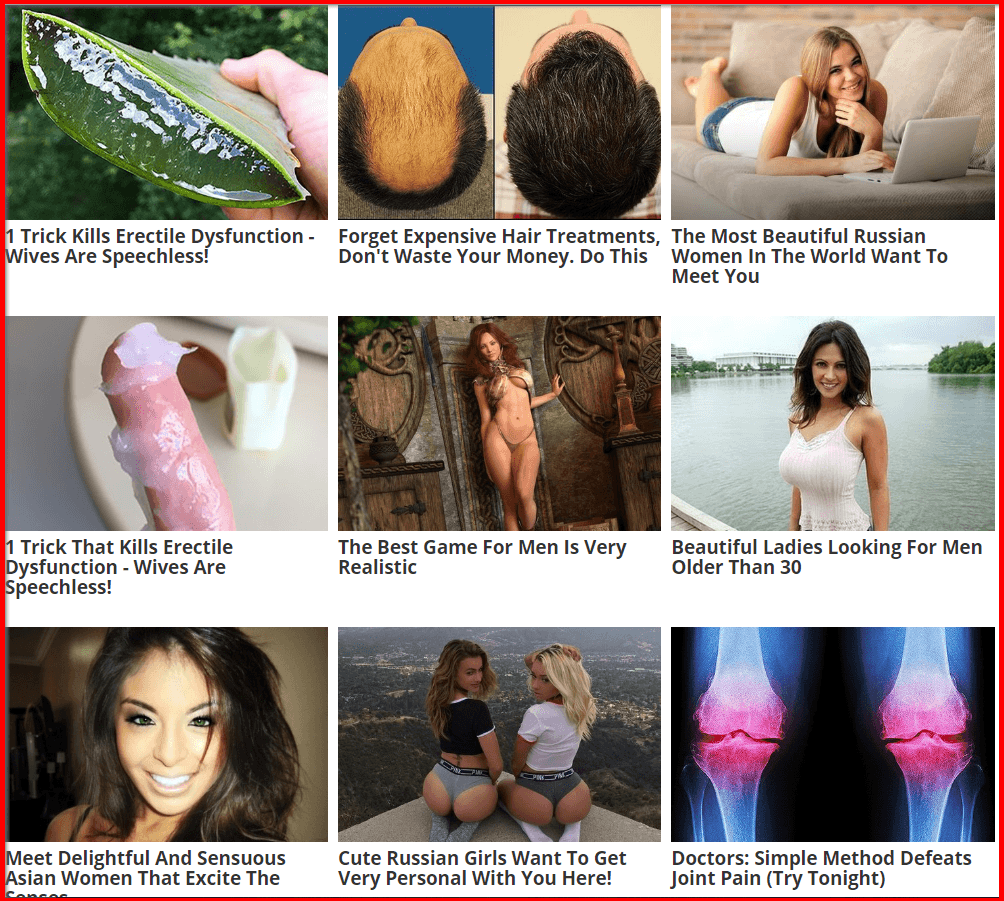 Look at those beauties, I'm talking about the ads. Sure, they might seem like spam or scam to you (some probably are), but to me, they seem like highly effective ad campaigns that are designed to get as many eyeballs and clicks as possible.
Oh and I almost forgot, they are cheap as hell (for native ad traffic at least), and you can get a ton of conversions.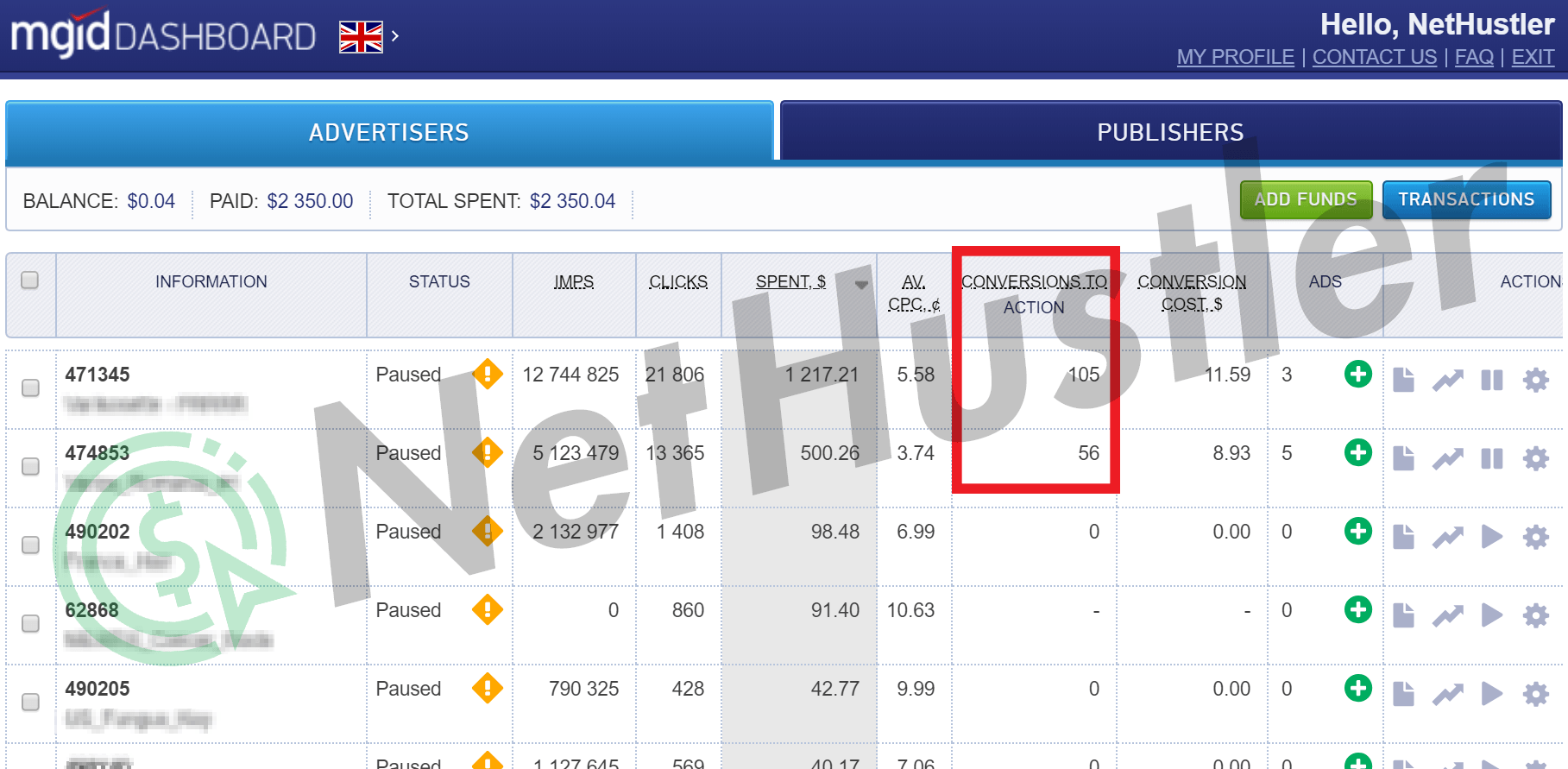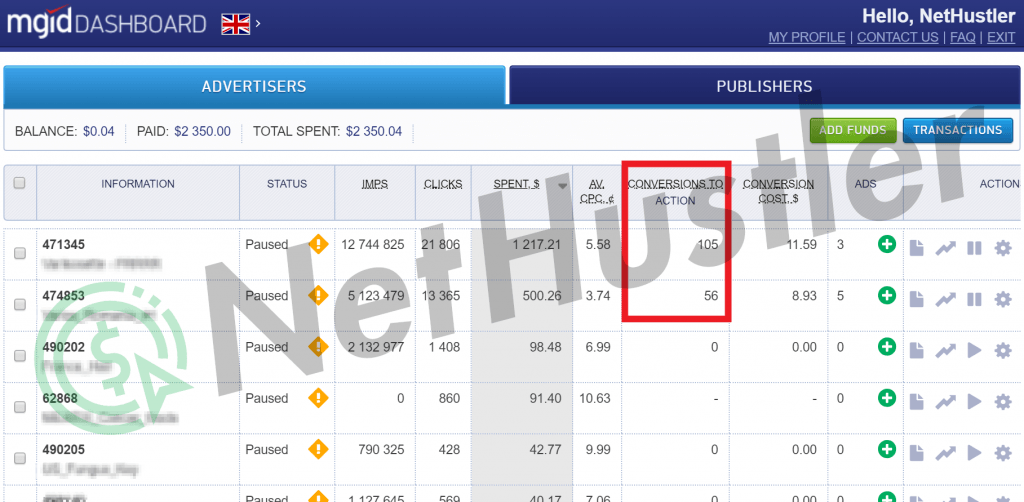 MGID Details:
Reach: 850+ million per month.
Targeting Features: Location, Device, Operating System, Browser
Traffic: Mostly Europe & Asia
Minimum Deposit: $100
Pricing: CPC
7. AdsKeeper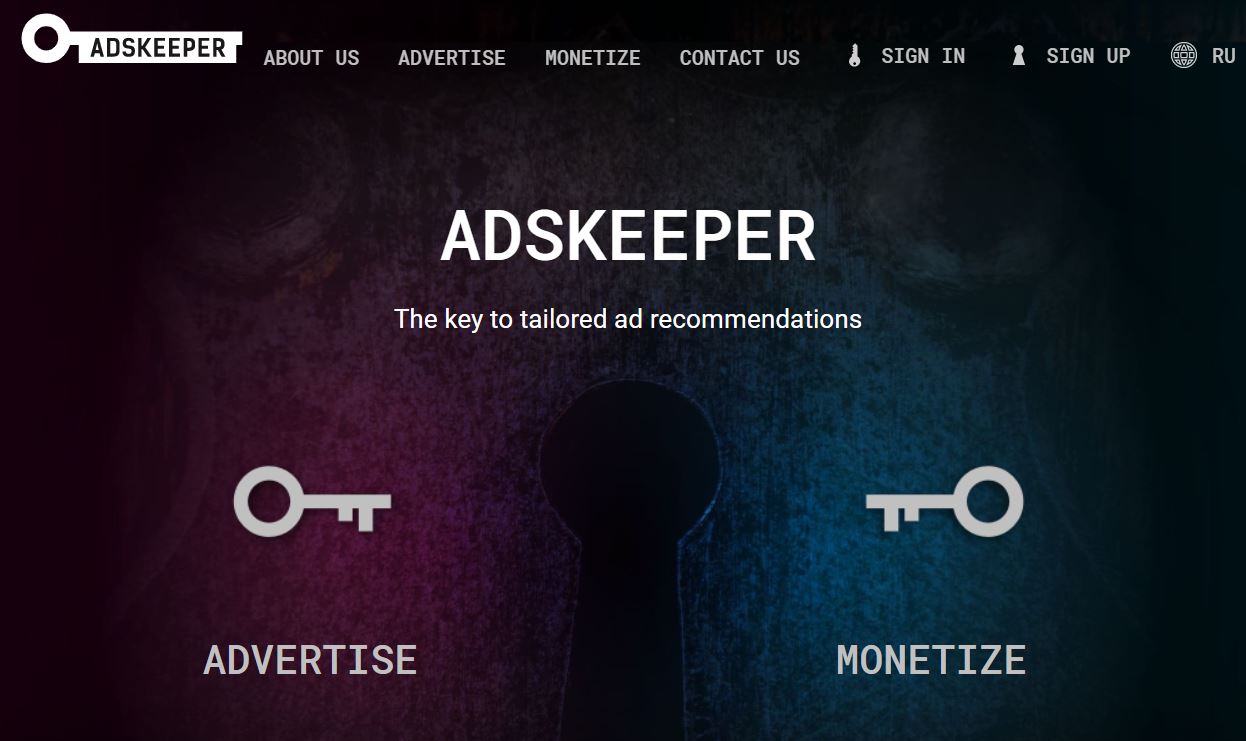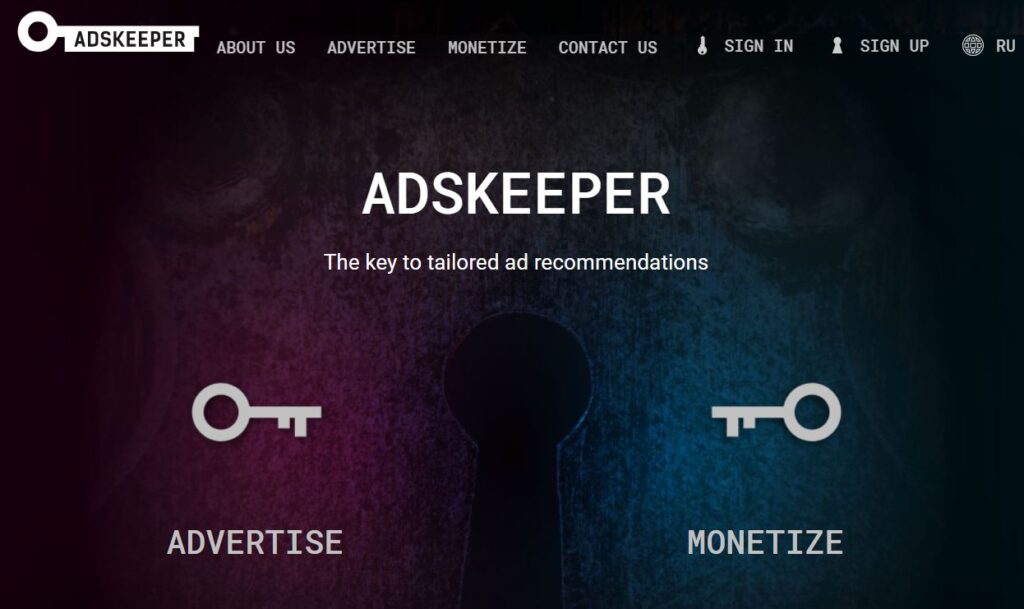 AdsKeeper looks an awful lot like MGID, which I find interesting, almost as if they both run on the same platform or something. Spooky.
Anyway, they are separate native ad networks with their own separate publishers and advertisers.
While AdsKeeper has a lower volume than MGID and other native ad networks, it has lower click costs and more relaxed advertising policies.
Give it a go, especially if you're doing CPA marketing with real products and want to get traffic from other GEOs other than the US.
AdsKeeper Details:
Reach: 15+ billion ad impressions daily
Targeting Features: Location, Device, Operating System, Browser
Traffic GEO: Mostly Europe & Asia
Minimum Deposit: $100
Pricing: CPC
8. AdNow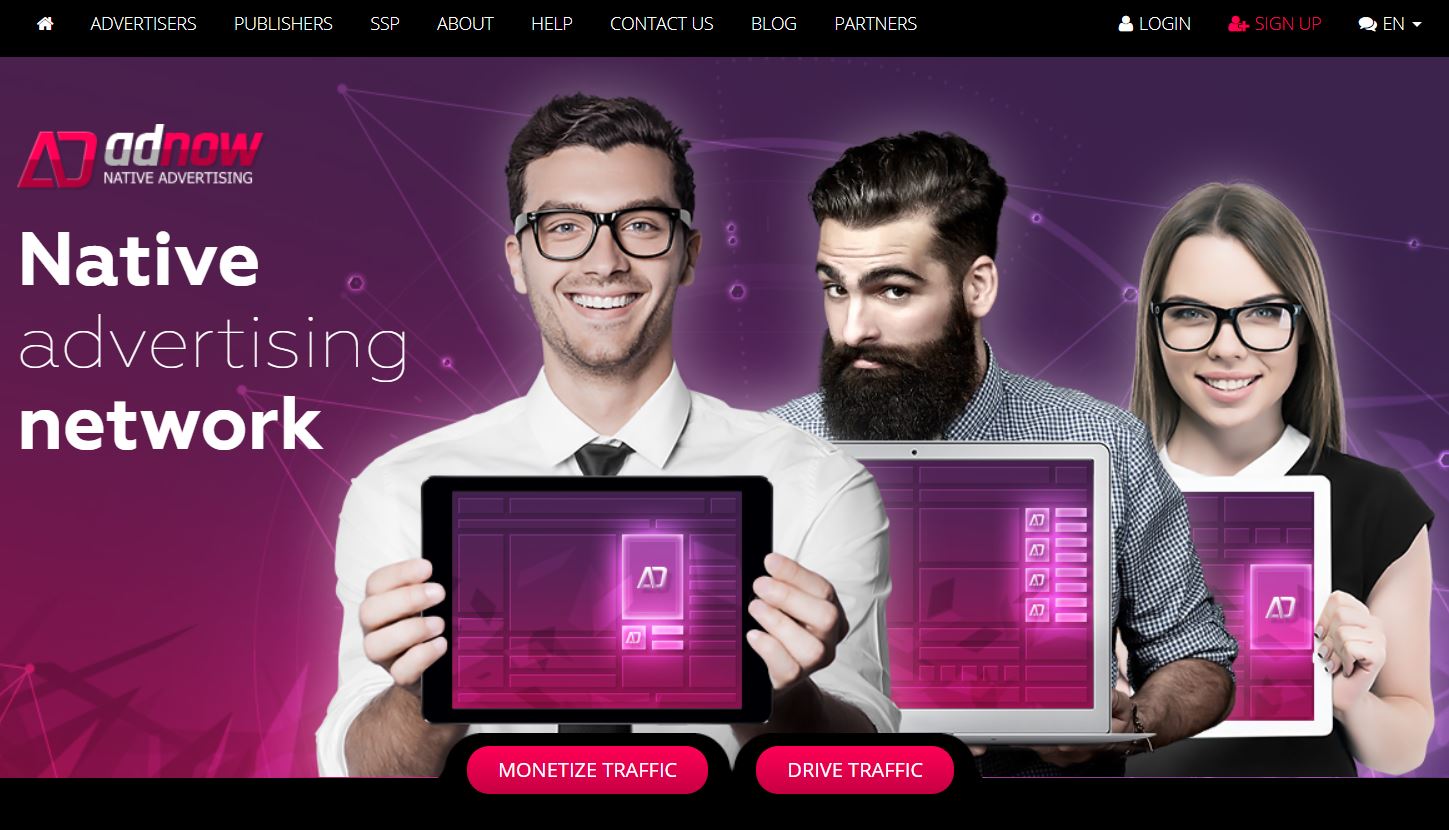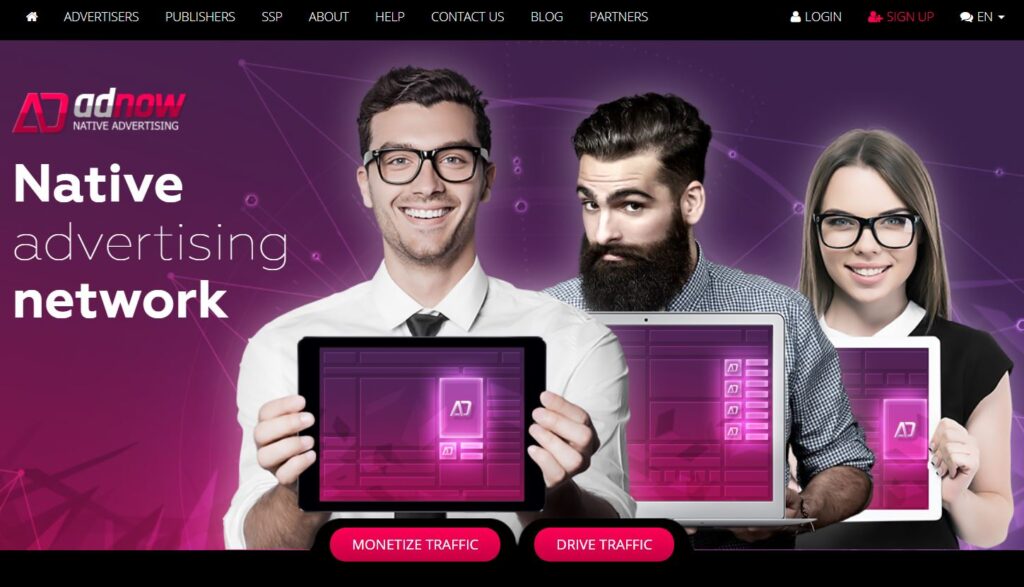 AdNow is one of the lesser-known native ad networks, that has a lot of traffic in Europe in particular.
So if you're looking for European and Asian traffic, give AdNow a try, because they have very cheap CPC rates, and you can even use GIFs as your ad creatives.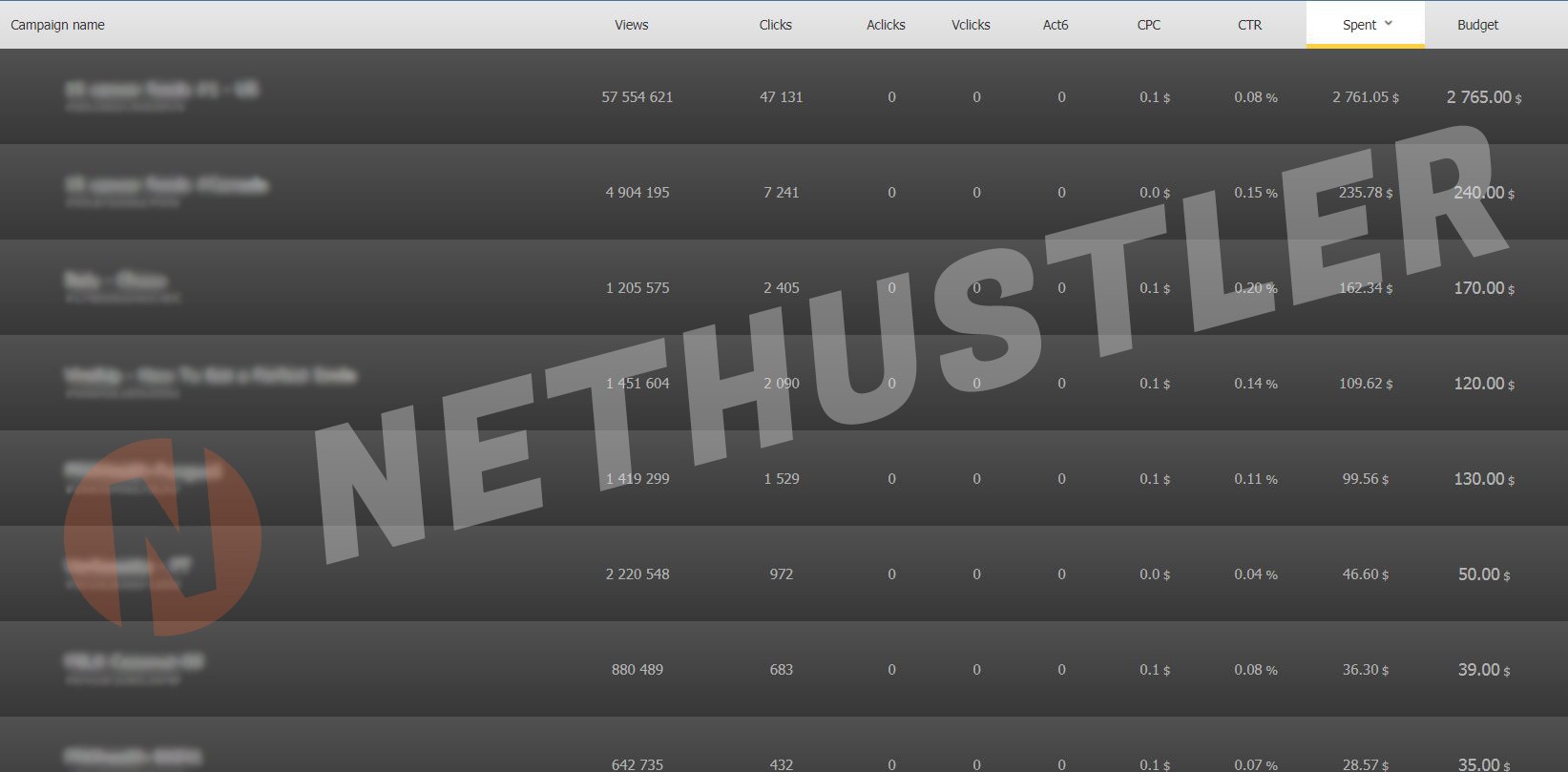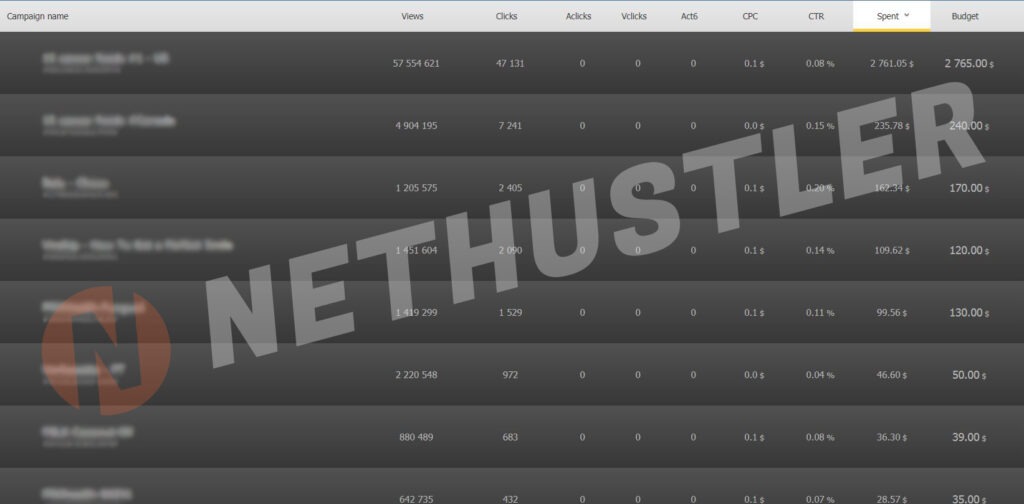 As you can barely see, my average CPCs were $0.05, which is not bad at all.
AdNow Details:
Reach: 1 billion ad impressions daily
Targeting Features: Location, ISP, Operation system, Connection type,
Traffic GEO: Mostly Europe & Asia
Minimum Deposit: $30
Pricing: CPC
9. Dianomi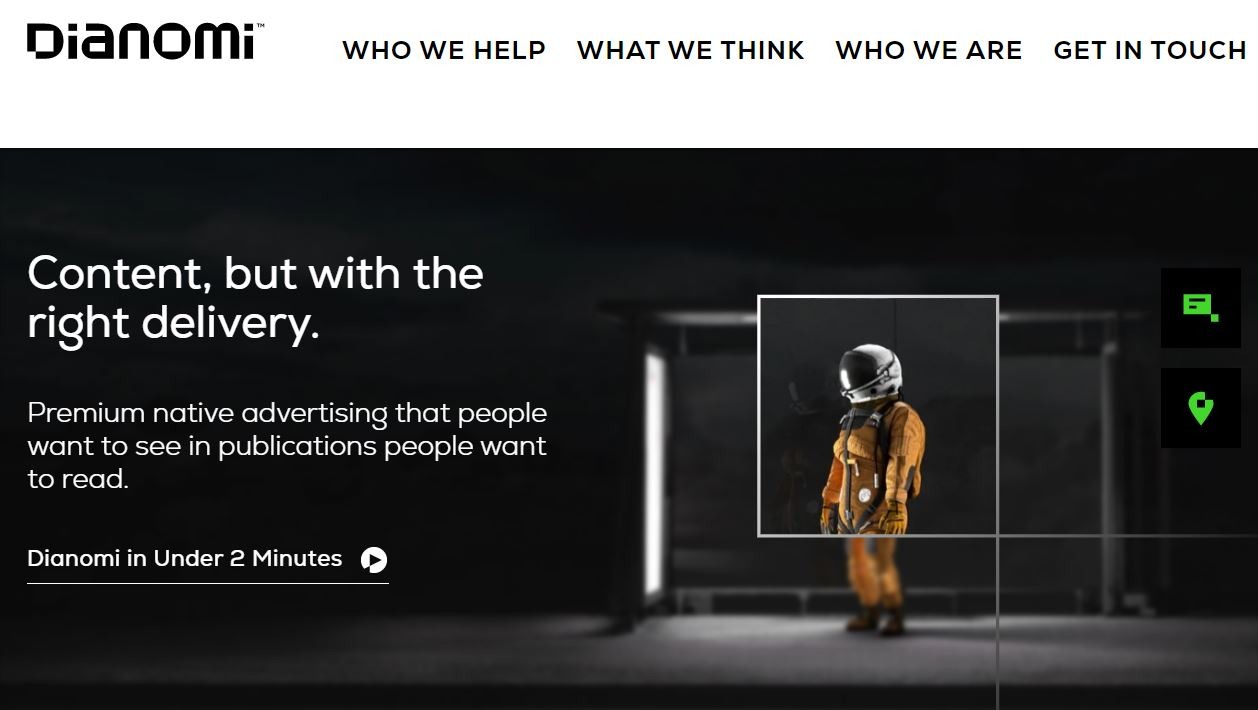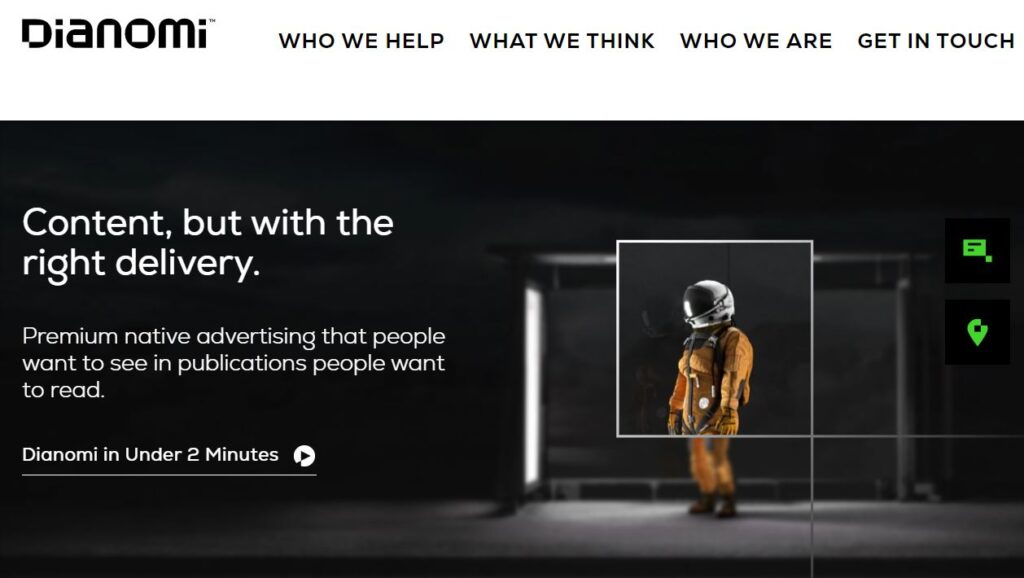 Dianomi is one of the more unique native ad networks in that it focuses solely on financial-related content.
Basically, you will see Dianomi ads on publishers (sites) that are in the business, financial and personal finance niches.
Here are some of the brands that are working with Dianomi: HSBC, FT, Forbes, Reuters, Bloomberg, Fortune, Inc., MarketWatch, Entrepreneur, Business Insider, The Times, Kiplinger, and WSJ.
So if you have a product or service in these categories then Dianomi might be the best advertising platform for you.
Dianomi Details:
Reach: 349 million users monthly
Targeting Features: Location, Device, Operation System, Browser
Traffic: About 50% of the traffic is from the US, 25% Germany
Minimum Deposit: $0
Pricing: CPC
10. TripleLift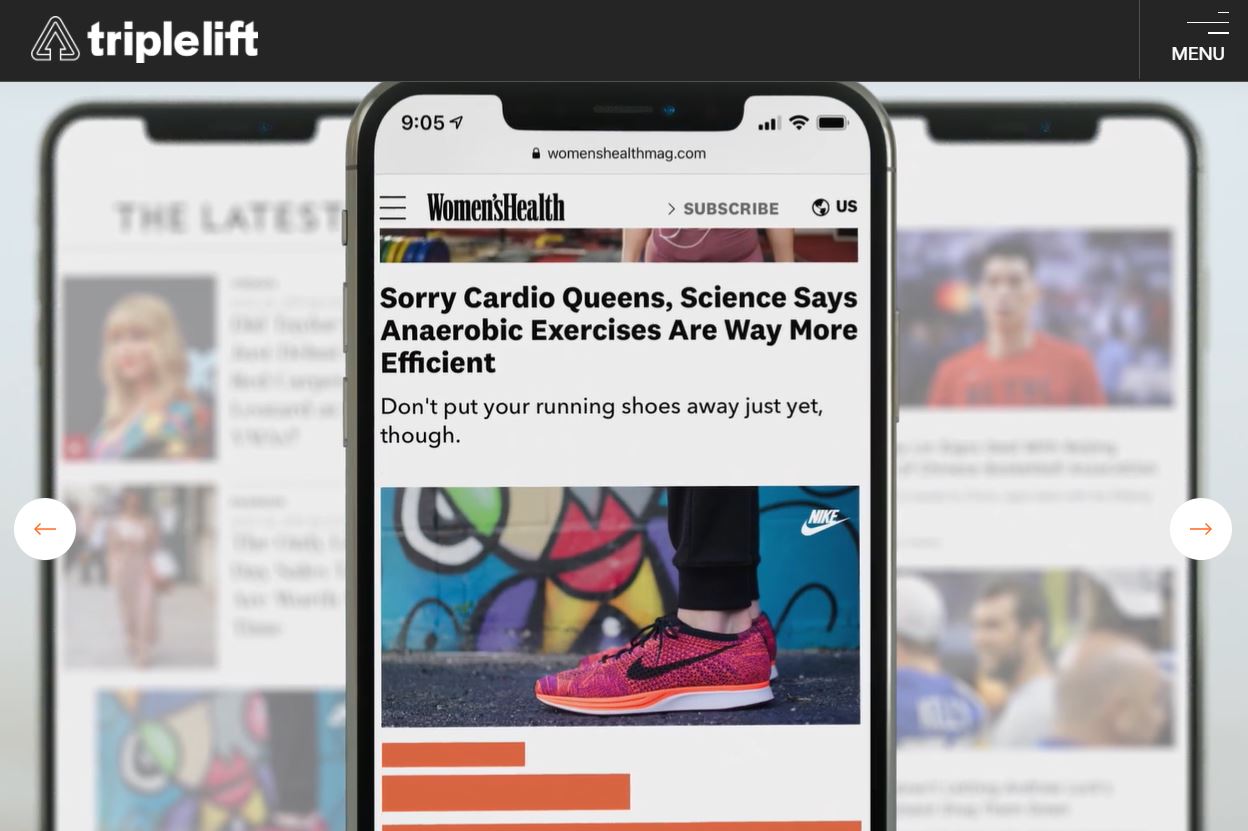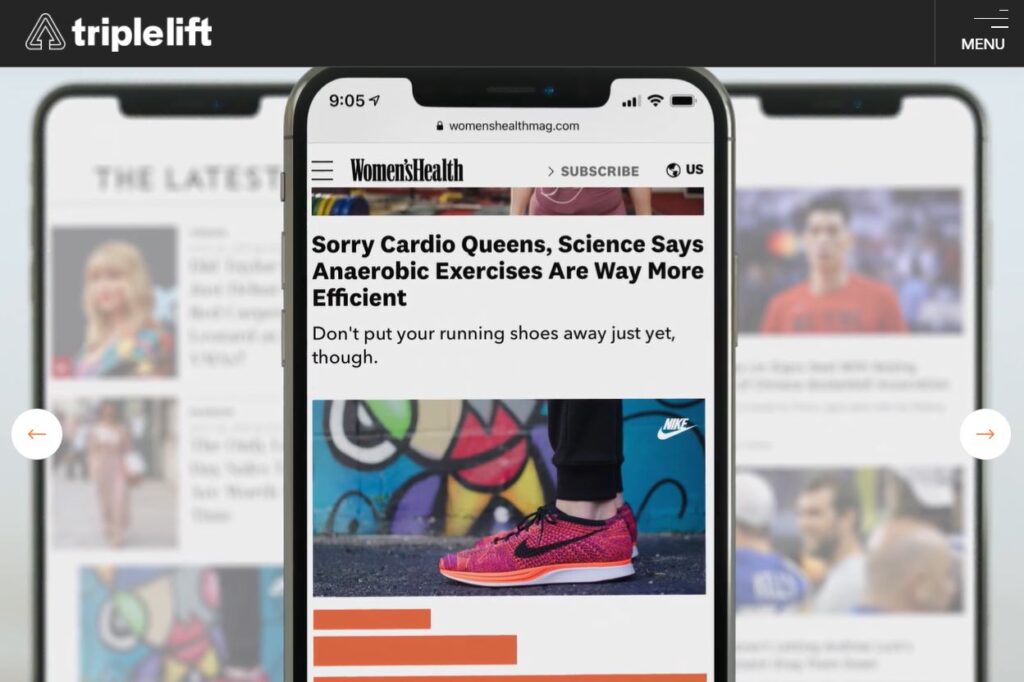 TripleLift has been around since 2012, and they have established themselves as a top programmatic native ads company working with big brands such as Verizon, Microsoft, and Nestle among others.
Some of their premium publishers include BuzzFeed, BBC, eBay, The New York Times, and CNN.
Not only do they offer native advertising, but they also have many more ad formats including Display, Video, and Branded content.
These are some of their native ad formats:
In-stream video
Branded Video
Product Insertions
Cinemagraph
Image
Scroll
Window
Carousel
Reveal
Pharma
TripleLift Details:
Reach: 35 Billion weekly impressions
Targeting Features: Location, Device, Exclusion Lists
Traffic: 64% from the US (Alexa data)
Minimum Deposit: no idea
Pricing: CPC
11. Nativo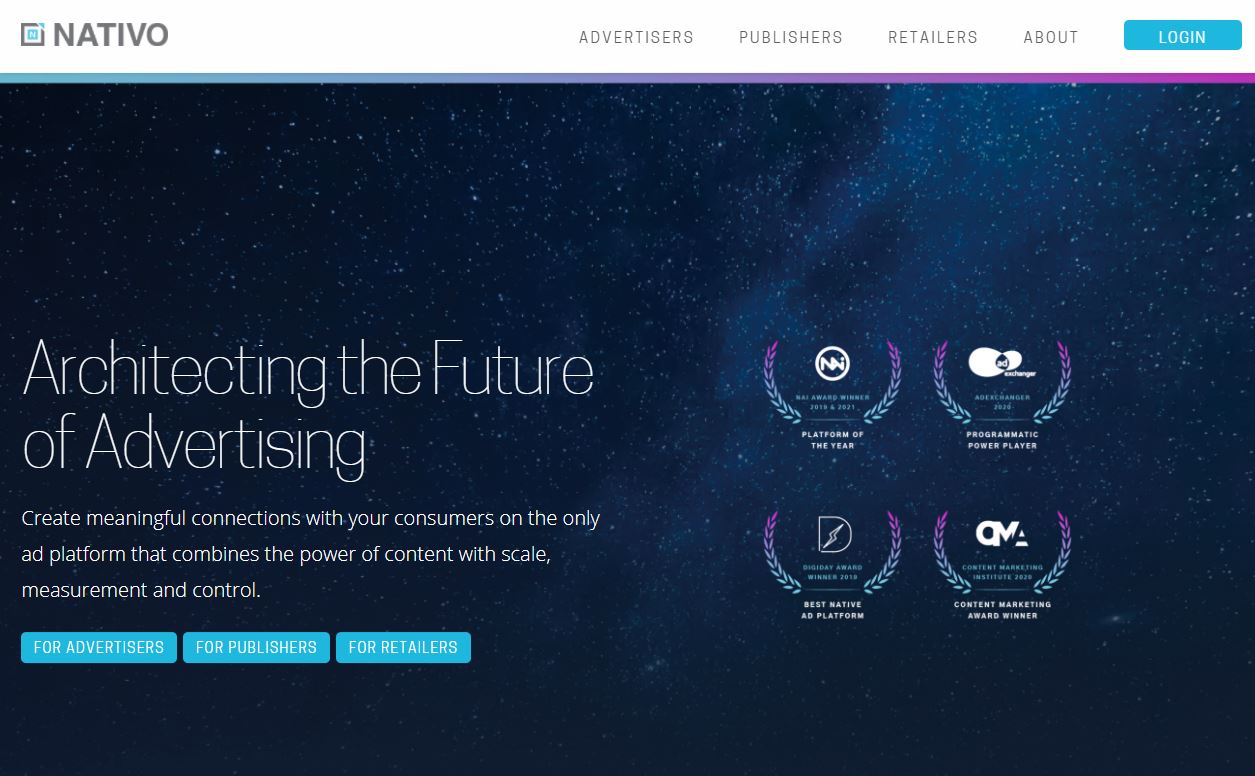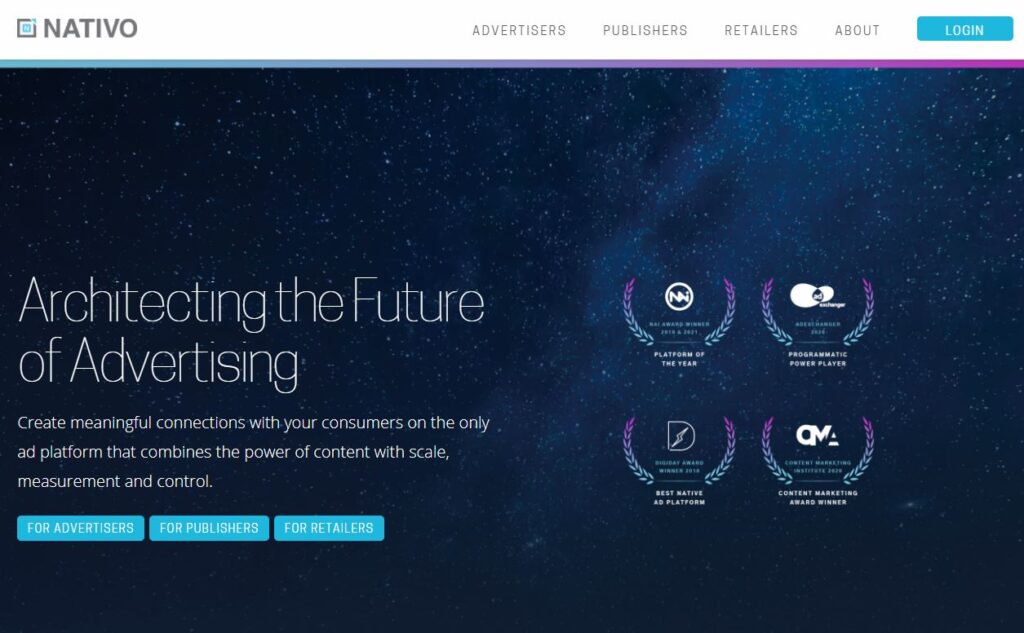 Nativo is a native advertising platform that is used by marketers and publishers to scale their native ads.
Because Nativo is a self-serve platform, there is no minimum spend requirements to join and get access to premium inventory and high converting ad formats.
Using their cookieless native reach, you can create and optimize your native programmatic campaigns to lower your CPA and get a higher CTR on your ads.
Nativo Details:
Reach: no idea
Targeting Features: Location, Device
Traffic: 75% from the US and 15% from the UK(SimilarWeb data)
Minimum Deposit: no minimum deposit
Pricing: CPC
12. Sharethrough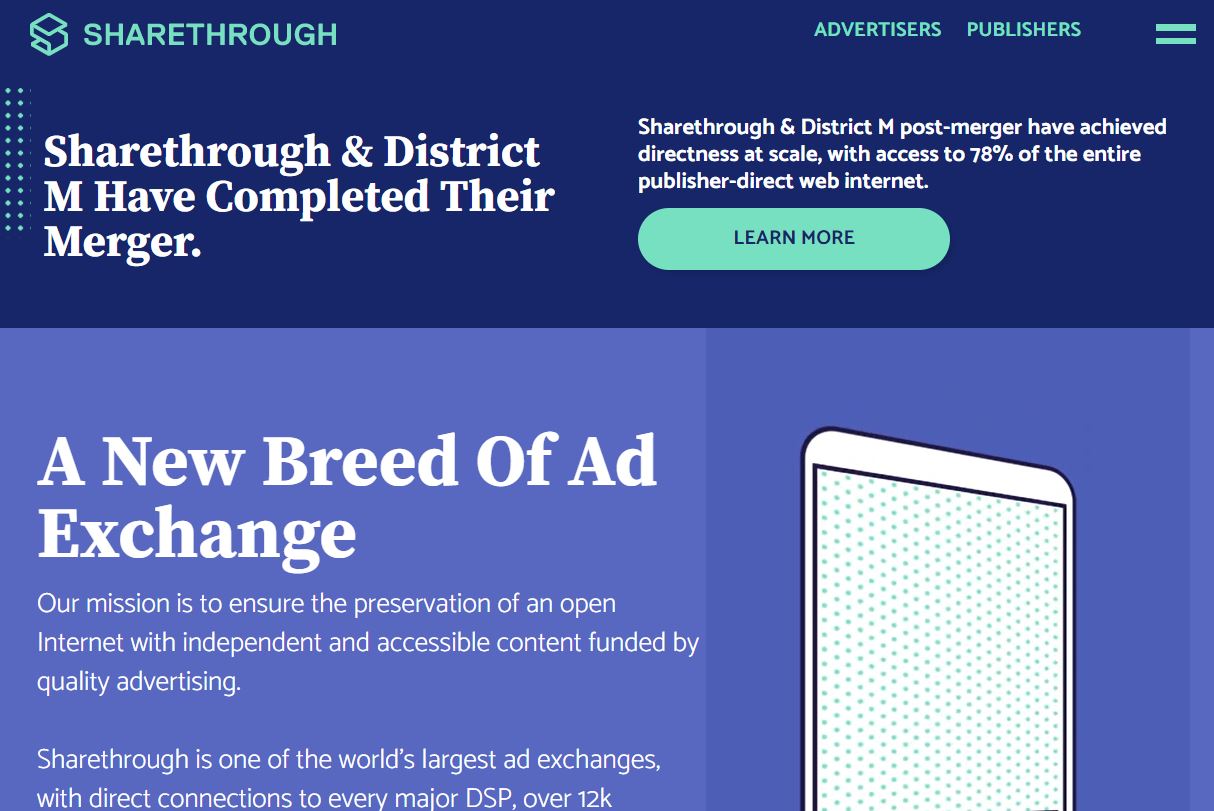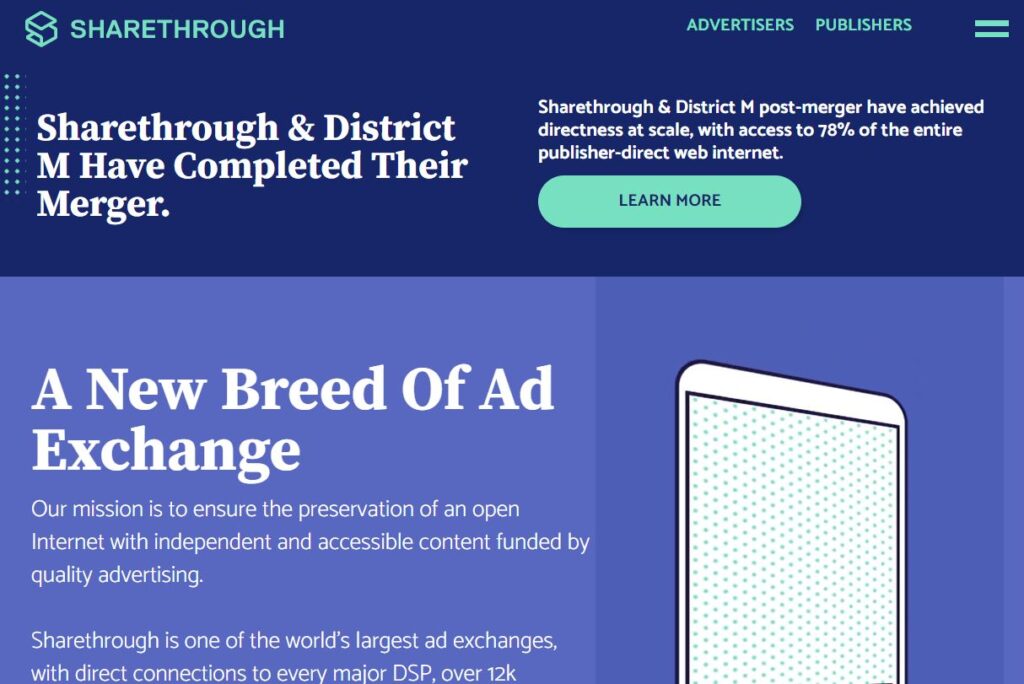 Sharethrough is a new ad exchange platform that's connected to over 12,000 publishers through all the major DSP (demand-side platform).
Their ads receive around 350 billion impressions per month, and they boast to implement ad technology that enhances your ads to make them look better.
My favorite all-in-one SEO tool is
Semrush
. It basically has over 40+ SEO tools inside one neat and easy-to-use platform. Check out
Semrush via my affiliate link
and get a
7-day free trial.
Not sure what that means, but hey, it sounds good. Apparently, they use their TrueTemplate technology to create customized templates for every ad based on the fonts, sizes, and colors of the content that's around the ads.
Their most awesome feature though is the headline analyzer that helps you optimize your headlines to get a higher CTR and get more bang for your buck.
Sharethrough Details:
Reach: 350 billion monthly ad impressions
Targeting Features: Location, Device, and more (based on the DSP)
Traffic: 57% US, 6% Japan, 4% UK, 3.5% Canada (SimilarWeb stats)
Minimum Deposit: no idea
Pricing: CPM
13. Adcash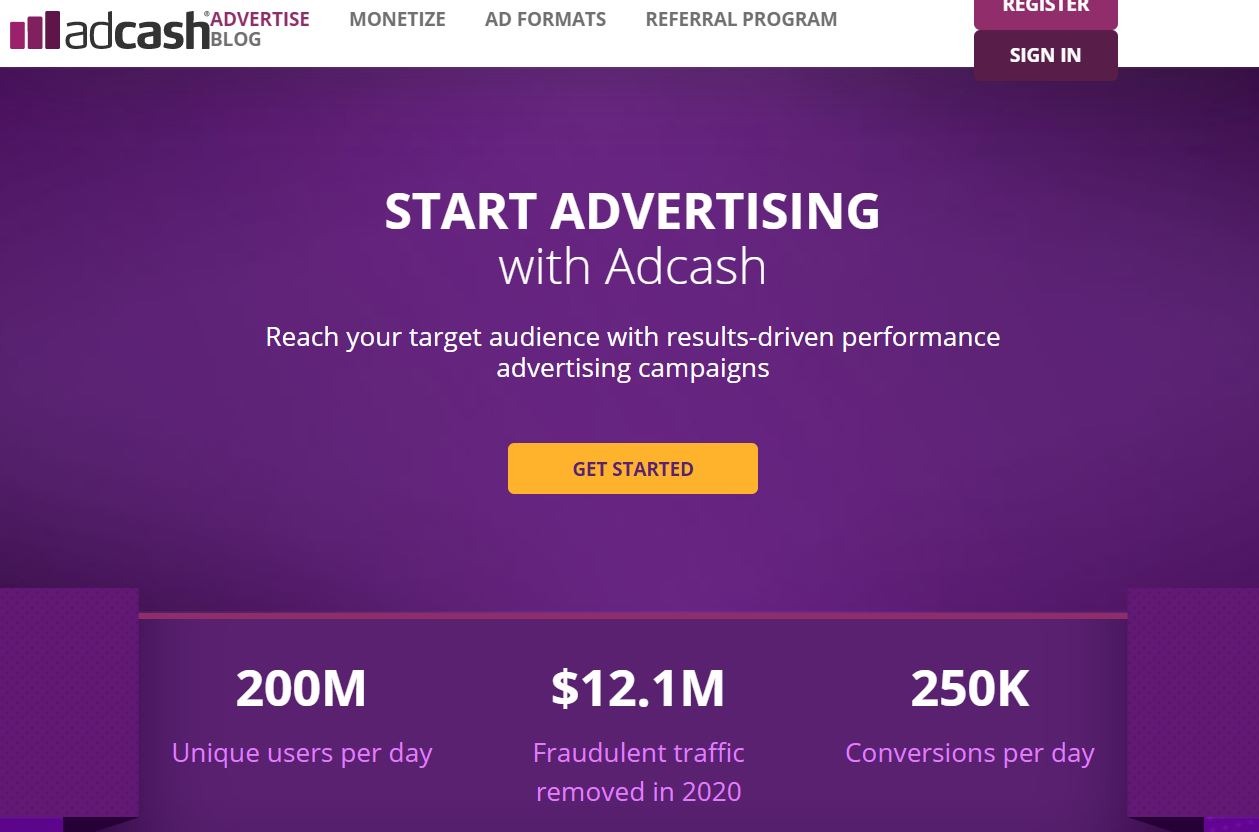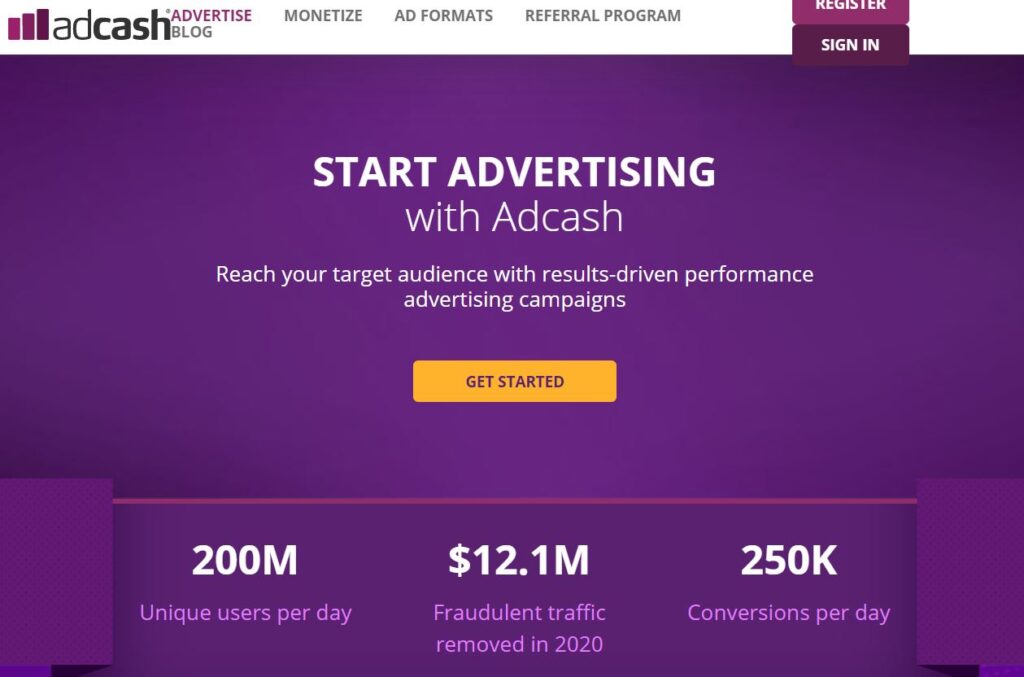 Adcash is a high-performing online advertising platform that works with a lot of ad formats, including native.
Their reach of 200 million users per day is perfect to create results-driven performance advertising campaigns in different GEOs (geolocations).
The great thing about Adcash is that you can get started and have your campaigns approved in minutes, compared to hours or days on other networks.
If you want to try other ad formats you can choose from:
Auto tag
Push Notifications
Banner
Interstitial
Adcash Details:
Reach: 200 million users per day
Targeting Features: Location, Device Type, Zone ID, Browser
Traffic: Mixed, all over the world.
Minimum Deposit: $100
Pricing: CPC, CPM, CPA
14. EngageYa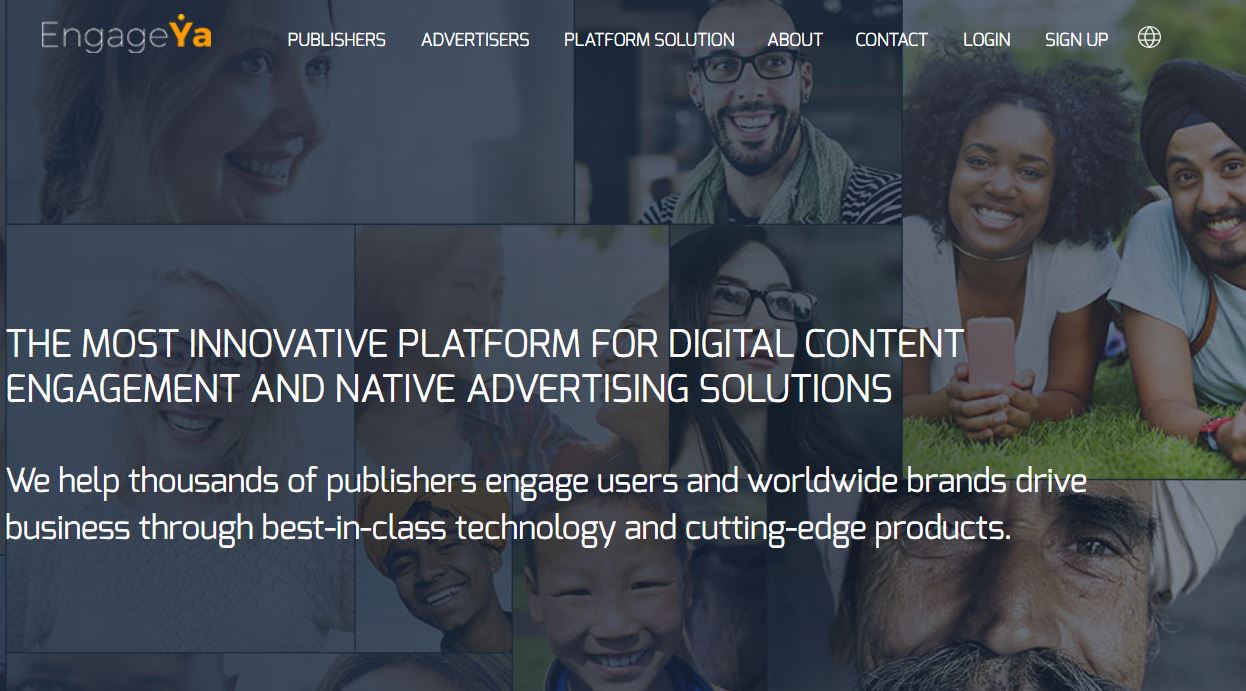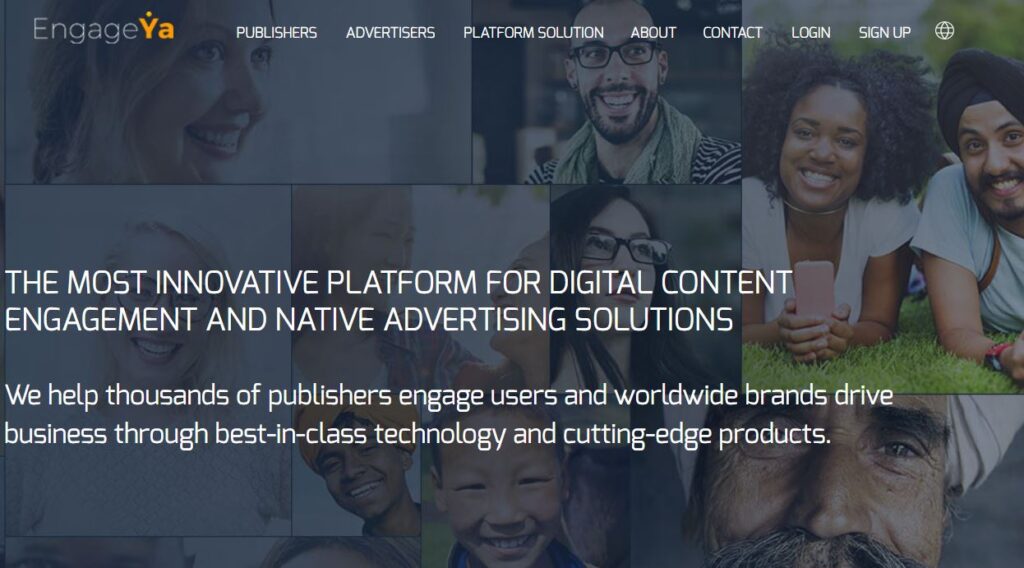 EngageYa is a content discovery platform that's pretty new in the industry and is focused more on Eastern Europe and MENA (Middle East and North Africa) traffic.
They do have some US traffic available, but if you're looking to target countries like Turkey, Greece, Egypt, etc, then give EngageYa a try.
They have over 40 billion monthly ad impressions from working with some of the top sites in those regions, such as CNN Greece, Cosmopolitan, Marie Claire, Haberler, HaberTurk, RT, and more.
EngageYa Details:
Reach: 40 billion impressions per month
Targeting Options: Location, Platform, OS, Frequency Cap
Traffic: predominantly MENA region (Middle East and North Africa)
Minimum Deposit: $300
Pricing: CPC
15. Media.net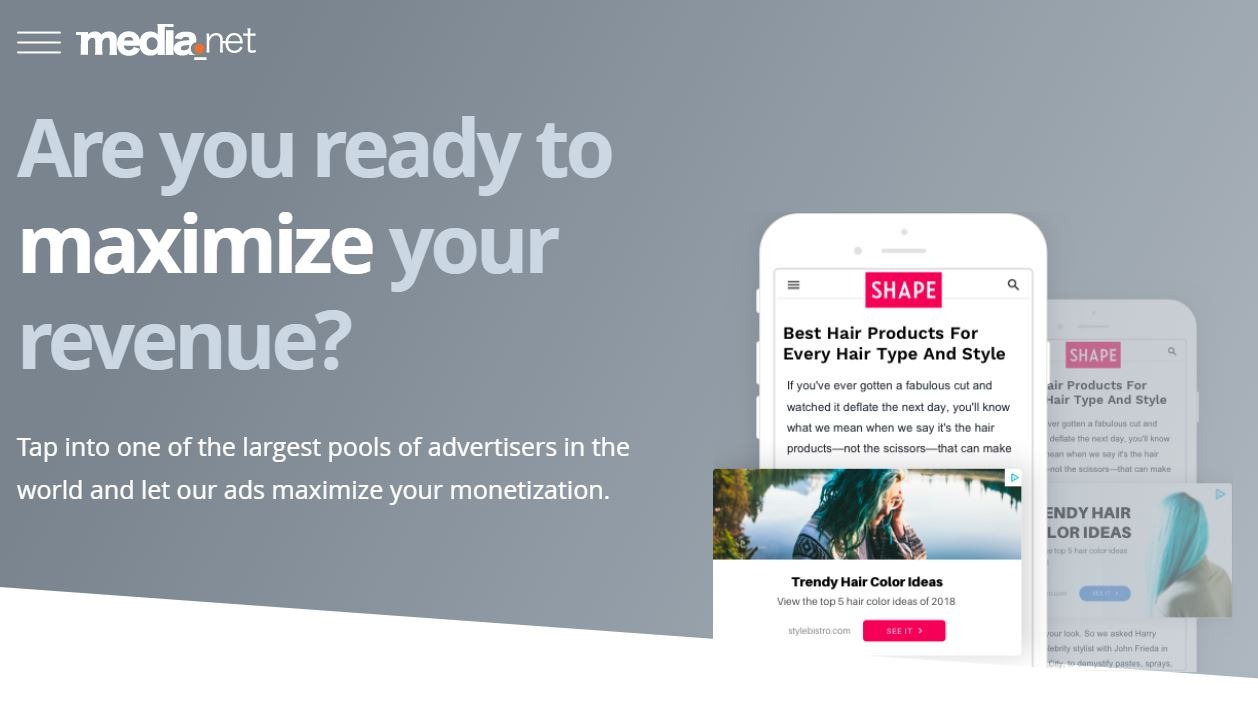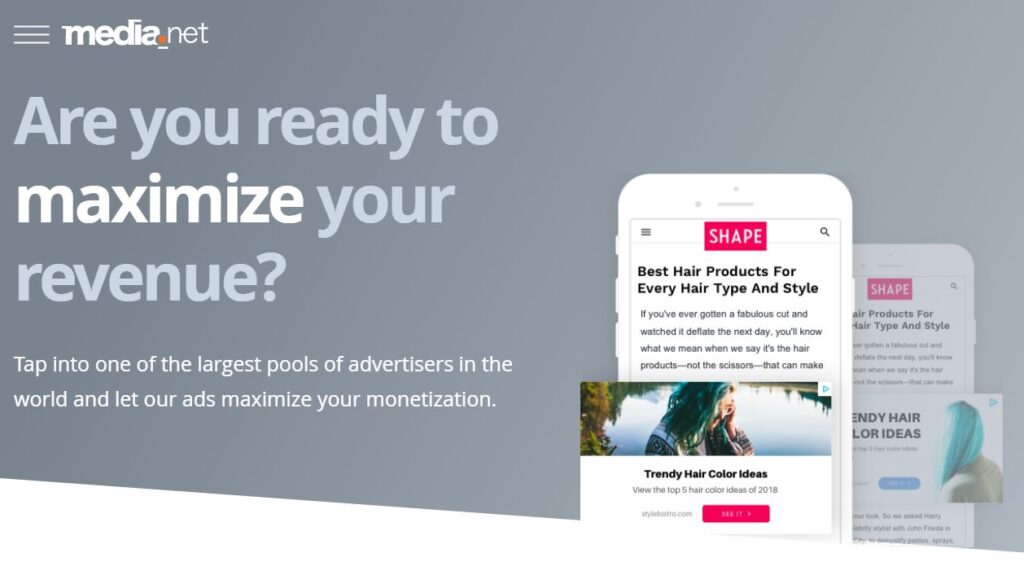 Media.net is the 2nd contextual ad network in the world after Google AdSense, and that means they got a ton of traffic available from premium publishers.
They don't offer just regular ad texts, nope, nowadays they upgraded their platform to serve more ad formats such as:
Native ads
Display Ads
Video Ads
Contextual Ads
Some of the biggest brands in the world work with Media.net: Forbes, CNN, ELLE, Reuters, CBS Interactive, Esquire, USA Today, MSN, SFGATE, WebMD, and more.
Oh and you also get access to the Yahoo! Bing Network.
Media.net Details:
Reach: 70+ million ad clicks per month
Targeting Options: Location, Platform, OS, Keywords, and more.
Traffic: US: 90%, UK + CA: 5%, Rest: 5%.
Minimum Deposit: Doesn't say
Pricing: CPC
Additional Native Ad Networks
Alright, so there are a couple of more awesome content discovery ad networks that you can try out, as a marketer, advertising agency, or publisher.
But since I have no experience with them and since some are either limited to particular GEOs or device types or have lower traffic volumes, I've decided to throw them all together here.
Let's call them, honorable mentions, and no hard feelings, okay?:
Best Native Advertising Platforms: Conclusion
Yo, you've made it to the bottom, phew… that was a long read huh?
Well, what can I say, you're the one who wanted to see this list, not me… I just obliged and created it for you.
Be an awesome person and click on the social media buttons below to share this article with your dogs and cats and people.
Oh and subscribe to my email newsletter to stay updated when I write more good stuff like this post here. I won't spam you with useless shit, pinky swear.
Stay hustlin'
Stephen