Google Ads Promo Code: 5 Legit Ways to Get Coupons & Vouchers
This post may contain affiliate links. If you buy something through these links I will receive a commission (at no additional cost to you). I personally hand-test everything that I promote, and I only link to services and products that I like.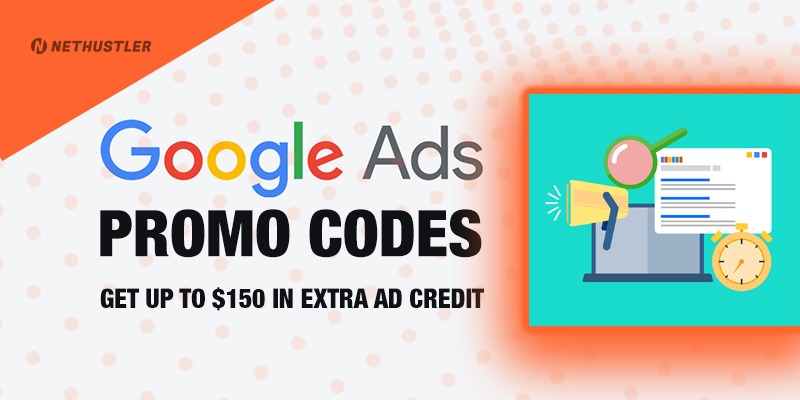 I know why you're here (no I'm not a psychic, yet…), like thousands of other advertisers, you're looking to get a Google Ads Promo Code and score some extra ad credit.
Right?
Good, you're on the right page then, because you will find 5 legit ways to get Google Ads promotional codes and how to use them to get extra ad credit.
Update: I used to have some Google Ads promo codes for you here, but not anymore, sorry… I'll update this if or when I get new ones for you guys. But if you continue reading you will find 5 ways how you can get them…
What is a Google Ads Promo Code?
Google Ads promotional codes (also known as coupons or vouchers) are special numerical codes or direct offers from Google that they use in order to attract new advertisers to their ad network.
A Google Ads promo code can be used when advertisers sign up for an account and after they spend an amount of money running campaigns and ads on the platform before they can receive the bonus ad credit.
You will find that most of the time, these Google Ads promotional codes will be available only for advertisers from specific countries, and because of that, the amounts will vary.
For example, if an advertiser is based in the US you might see a Google Ads offer like:
Spend $50 to get $100 in advertising credit – if the advertiser is based in the US
Spend £25 to get £75 in ad credit – if an advertiser is from the U.K.
How do I get a Google Ads Promotional Code?
I know… I know…
"Stephen WHERE's the actual SAUCE?… I mean Google Ads Promo Codes?"
Alright, stop channeling your inner Gordon Ramsay voice, and take a look below at how you can get access to Google Ads promotional codes.
First of all, you should know that Google AdWords (I mean, Ads… Google Ads, yes they have rebranded and changed their name a while ago), coupon codes or vouchers, are limited.
They are either limited in how many advertisers can use them, the expiration date (yes they expire), or they are limited to a couple of their partners who have access to special promo offers to share with their customers and clients.
Here are 5 LEGIT ways to get Google Ads Promo Codes:
1. From Service Providers
Companies and services such as Bluehost will give a bunch of extra bonuses to customers that sign up for their plans.
So if you were to start a blog on Bluehost, you will also get access to their marketing offers such as $100 in Google Ads credit and $100 in Microsoft Advertising.
2. Site Builders
Similar to the service providers, site builders like Wix or Weebly also give away Google Ads vouchers.
You will have to sign up for their unlimited plans though in order to be eligible to receive them.
3. Business tools
There are various online marketing tools and services that businesses use in their day-to-day operations that can also give you access to bonus advertising credit from companies such as Google Ads and Microsoft Advertising.
For example, if you're running a Shopify store, you can receive $150 in advertising credit if you create a smart shopping campaign. This way you can attract more shoppers to your store in no time.
4. Coupon sites
Oh man… prepare to get disappointed.
Why?
Because… the majority of Google Ads coupons that you will find on these sites will either be expired and not work anymore or be limited to how many people can use them.
Still, it's not a bad idea to search for some if you got extra time.
5. Straight from Google
What's a better place to get a Google Ads promo code than straight from the source huh?
You see, if you're using other Google products such as Google Analytics, or their Webmaster tool (Search Console), you might get a random email from them one day offering you an exclusive Google Ads bonus to try out their ad network.
While these promos can be rarer than a unicorn, and it's pretty much a random process (meaning that you don't know if or when you'll get one), it's still a good and legit way of getting new Google Ads promotional codes.
You won't find a $1,000 Google Ads promo code on coupon sites that's for sure lol, here's an email that I have received from them last year for one of my sites: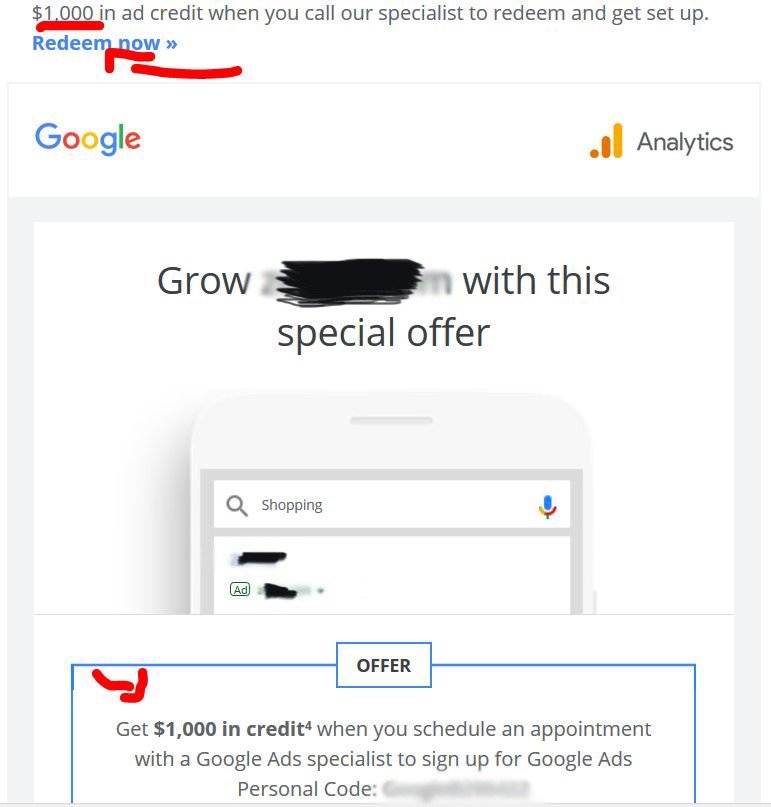 The funny thing about this image is that I haven't even used the promo code yet, I'm sure it expired by now, I guess I'm an idiot, so don't be like me… if you get one of these unicorns… RIDE it, I mean USE it… right away.
I didn't want to call and talk with anyone over the phone. Yeah, millennial problems I guess.
From Google Ads Partners
You can also get a Google Ads promo code from their official ad partners such as digital marketing companies, ad networks like Ezoic, and also their affiliates.
So if you're a client of for one of those companies check out if they have any sweet Google Ads coupons for you.
Don't know how to get started making money online? One of the best ways is to
start a blog.
You can easily do that with
Bluehost.
Can Existing Advertisers Use These Promo Codes?
Short answer: NOPE.
Long answer, your account needs to be new, and you need to enter a promo code in the first 14 days from opening the account.
Existing advertisers might get Google Ads special codes from time to time, but it's generally not something that they do.
If you're running a non-profit organization, you might be eligible to get up to $10,000 as a Google grant.
But 99.99% of you who are reading this are probably not, so don't try to sign up for that as you won't be successful in your application unless you're actually running a non-profit business.
If you're doing affiliate marketing with Google Ads, or have a shop or any other type of business that you're making money and profit from, then you can't apply.
Since you probably forgot by now what I've said a couple of lines above (who can blame you, there's so many words to read, am I right?), you should keep in mind that Google uses these promotional codes as an incentive to acquire NEW advertisers.
I shouldn't have to tell you this…but here goes:
Don't create additional Google Ads accounts just to abuse these promo codes, you will more than likely be caught and get all your accounts suspended.
There, don't say I didn't warn you.
How Do Google Ads Promo Codes Work?
A Google Ads promo code works similarly to a coupon or voucher but they have more terms and conditions that you need to pass in order for you to activate and earn bonus advertising credit.
Here's a few of those:
Your advertising billing profile must be the same as the promo code advertised.
You must advertise for a minimum required amount in order to be eligible (ex: $50).
You must be new to Google Ads, and open up a new advertiser account.
Read the rest of the terms at the end of the article.
Where Can I Enter The Promo Code & Get the Extra Credit?
Go to your Google Ads Account, then click over and go to Billing and check out the Promotions page.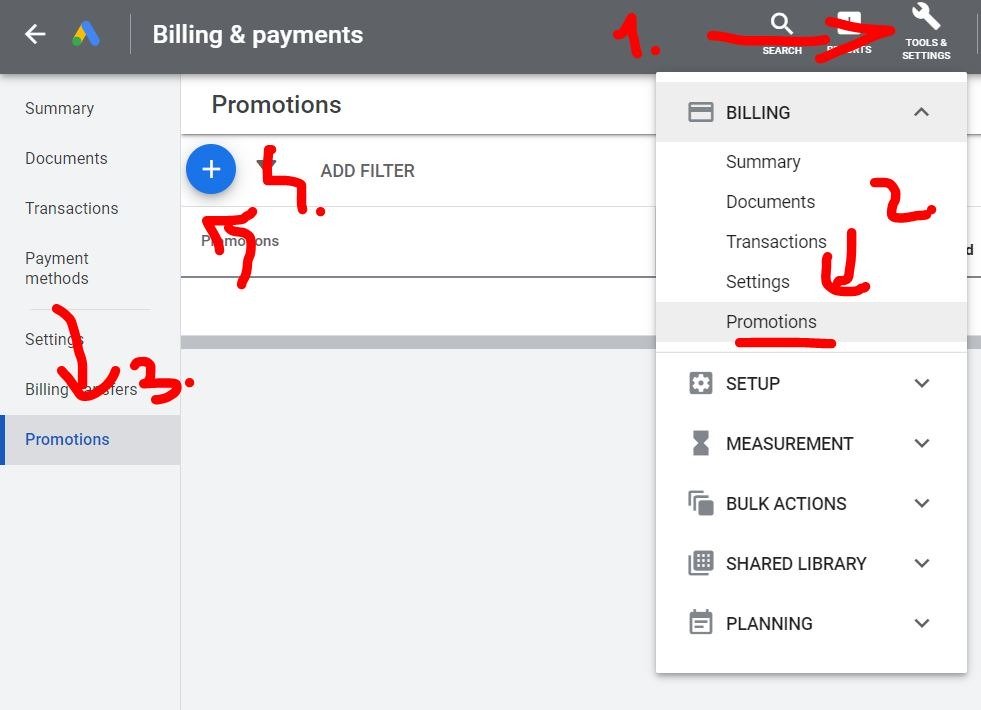 Here you will see all the promotional codes that have been used on your account or the status of the codes that you're going to receive after you spend the amount of money required.
Other than the articles on this blog, I rarely write my own content. Why? It's simple: I hate it. That's why
I outsource it
from places such as
Fiverr.
Benefits of Using Google Ads Promotional Codes
I mean c'mon it's pretty obvious.
You get to run ads and spend extra ad credit that you don't have to pay for. Doesn't that sound like a good reason to use Google Ads promo codes?
But I'm sure you knew that by now.
By the way, did you noticed that I haven't used the word FREE in this article so far?
Now, why is that? After all, there are a ton of articles and coupon pages online advertising free Google Ads codes.
Well, it's simple you see… Google doesn't use the FREE world on their landing page either, and it makes sense why:
It's because you have to spend money to actually earn the ad credit.
So in legal terms, the extra ad credit that you're getting is not really free since you had to spend a minimum amount on paid ads before you get the actual bonus.
So if you need to spend $50 to get $100, it's not actually a free deal now is it? But it is a however nice promotional offer, and the extra $50 in ad credit that you get is worth it.
Makes sense right?
Anyway… I would see why some people might get this easily confused so I wanted to explain this a bit.
Google Ads Promo Codes: Conclusion
Hey, you actually made it all the way down here? Wow, congrats, do me a favor and click on those share buttons. Thanks.
There are many benefits of advertising on the Google network, one of them being: Amazing conversion rates.
But don't just take my word for it, here's what Google has to say:
We conservatively estimate that for every $1 a business spends on Google Ads, they receive $8 in profit through Google Search and Ads.

Running Native Ads?

Spy on Your Competition & Create Winning Campaigns with Anstrex

From Google's Methodology Page.
That's a pretty bold statement, but I kinda agree with it, if you set up your campaigns right, you will see a positive ROI a lot of the times.
Stay tuned for my article on Google Ads tips to learn more on how to increase your ROAS (return on ad spent).
Until then, stay hustlin'
Stephen
More Frequently Asked Questions
How can I get a promo code for Google Shopping Campaigns?
Google or their official partners like Shopify most of the times will have promo codes available for you if you create Shopping Campaigns.
Tips If Your Promo Code Isn't Working
If your promotional code isn't working check your Promotions page inside Google Ads and see if you have spent the required amount to activate the offer.
Do Google Ads Work for Small Business?
Yes, Google Ads works for all kind of businesses, from small to enterprises and everyone in between. It doesn't even matter the type of business (as long as it's legal of course and doesn't go against their rules and terms). Pretty much everyone can benefit from advertising on their network.

You can even grow your YouTube channel for example by buying video ads on YouTube via Google Ads.
Are Google Ads Worth it?
If you don't like to wait for SEO to take effect (3 to 6 months) then yes, Google Ads is definitely worth it, especially if you want to see results right now. But you do need to know how to properly optimize your campaigns in order to have a better ROI.
Am I Eligible for Promo Offers in a Different Country?
Unfortunately not, you will need to use a promo offer that's specific for the country that you have used in your billing settings.
Can I use multiple promo codes in my Google Ads account?
Usually no. The promo codes are mainly for new advertisers, so since you won't be a new advertiser after you're done with your first code, then you won't be able to add another one.

Unless of course, you get a special offer from Google that's for existing customers only.
Is Google Ads Free?
You can set up an advertising account on the Google Ads network for free, however you will have to pay for every click that your ads receive.