I don't know about you, but I have an obsession with finding cheap website traffic that can convert well.
I mean, I also run ads on Adwords where I pay at least $1 per click… and they are giving me a positive ROI, but sometimes I really like to create a campaign and promote it with clicks that cost anywhere between $0.001 and $0.05 and see if I can make an offer convert with that kind of traffic.
There is a weird satisfaction that I get when I see that I can make money even if I don't pay a fortune for clicks or don't have to spend time doing SEO.
When I started out many years ago, my main concern was finding good quality traffic, and I failed many times. I could've created and designed a killer landing page, have an amazing logo or great copywriting, but it was all pointless because I had no good quality traffic that came to my websites.
Of course, I've tried AdWords because so many people talked about it, but as a noob, that was really a mistake to join AdWords and pay such a high CPC even at that time, the lowest I could get was like $0.30 – $0.50 targeting US and search engine only.
So I've said, to hell with that it's too expensive and hard for a beginner to make a profit from AdWords and I started my quest to find good advertising networks that could give me quality traffic but at a fraction of AdWord's cost.
Anyway, before we go any further, you might consider having your website ready to send traffic first, because that will really help you out when doing traffic campaigns with some of these traffic sources.
Because some of them might not like you direct linking to an offer, instead it's recommended to have your own website or landing page where you could send your traffic first, and then from there redirect them to your offers.
Plus this also increases your conversions and can then lower your cost of traffic even more. My tutorial: How To Create A Website will show you how to do it in just 15 minutes.
Why Low-Cost Traffic
You Don't Have a High Budget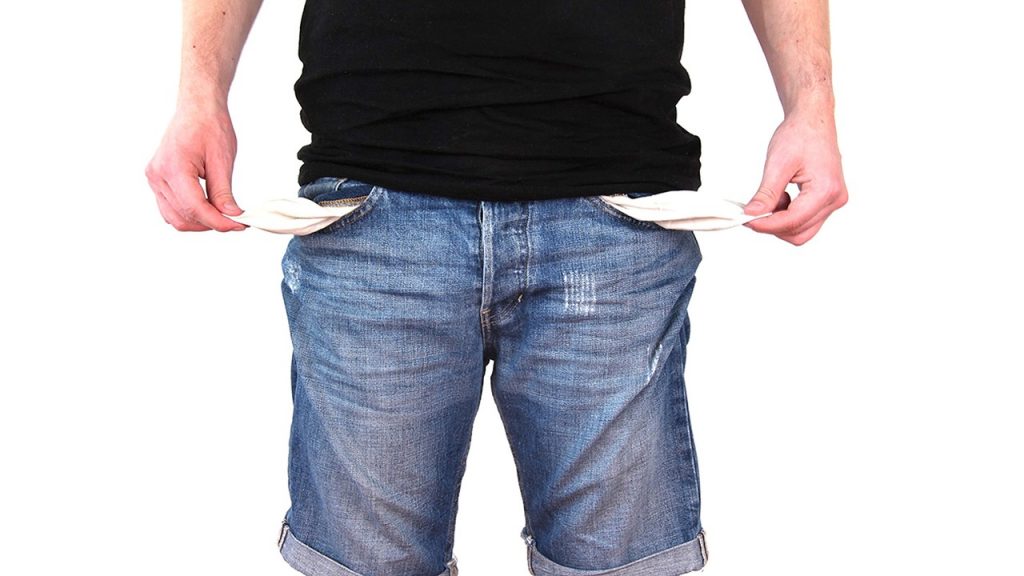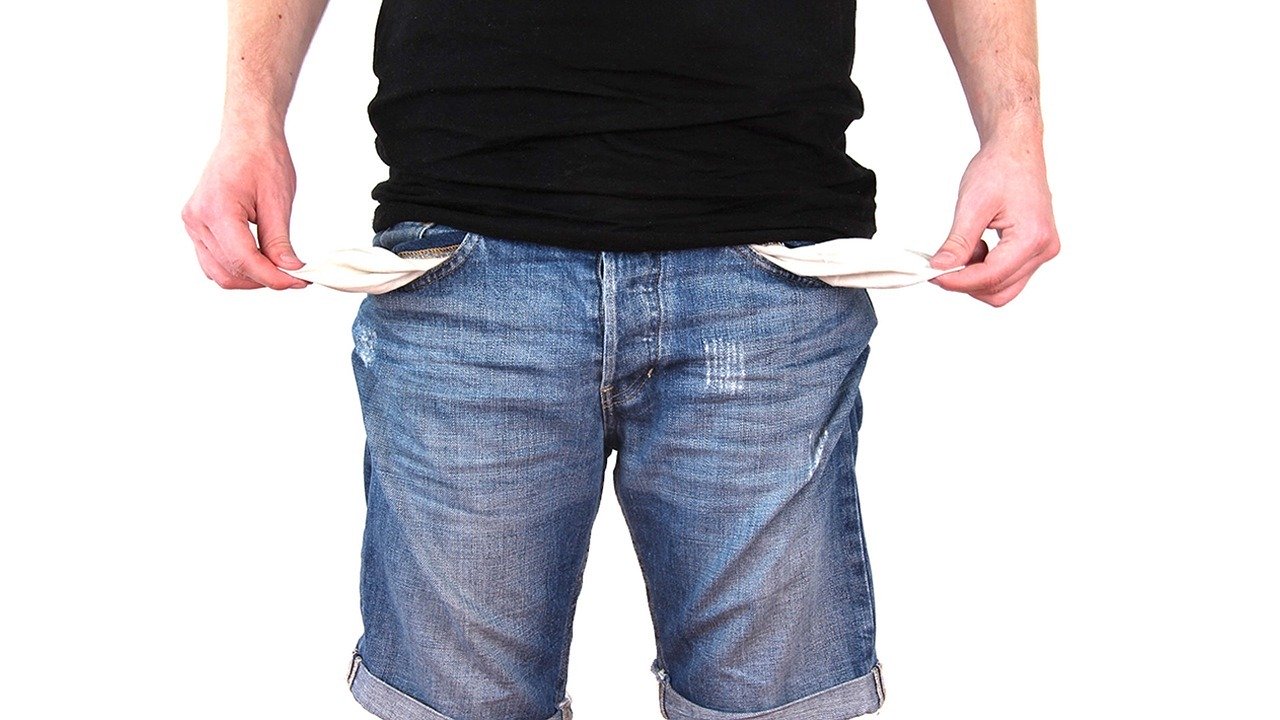 Obviously, if you're reading this article you're interested in increasing the traffic to your website or to your affiliate campaigns. You can achieve that through many methods, free or paid. But let's say you have no idea how to do SEO or have no time to wait until it takes effect, and also you can't afford to pay $1 or more per click on Adwords.
So the next best thing is to find traffic that is cheaper than Adwords that can also convert well and is way faster than waiting for SEO. Sure you might still have to spend money on it, but in the end, if you find a good network that you can work with, your cost will be much lower than AdWords.
No Time To Wait For SEO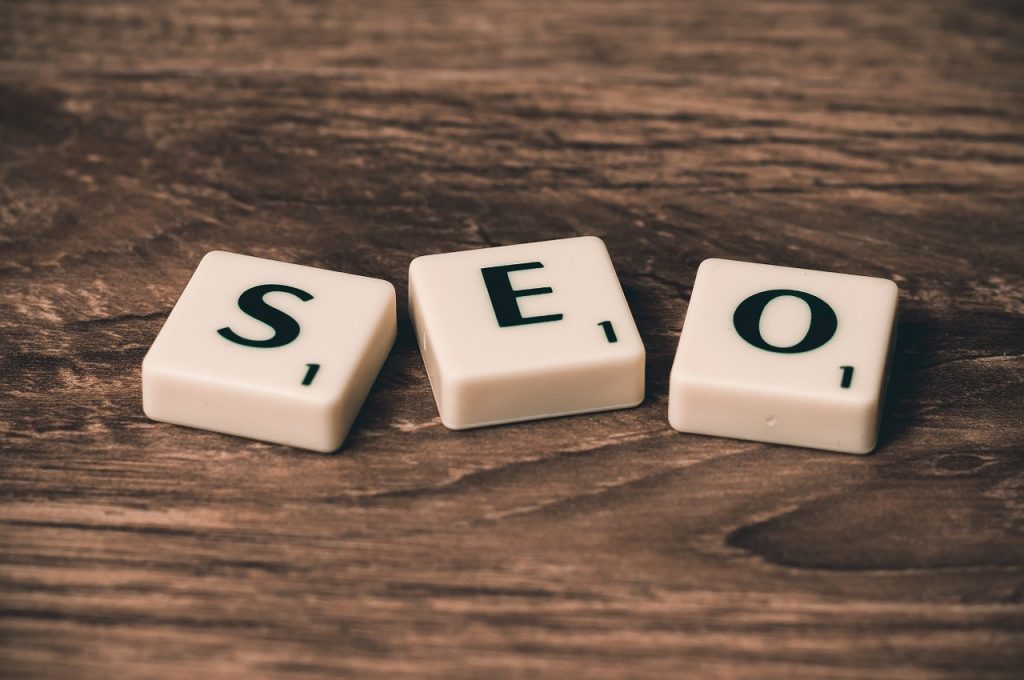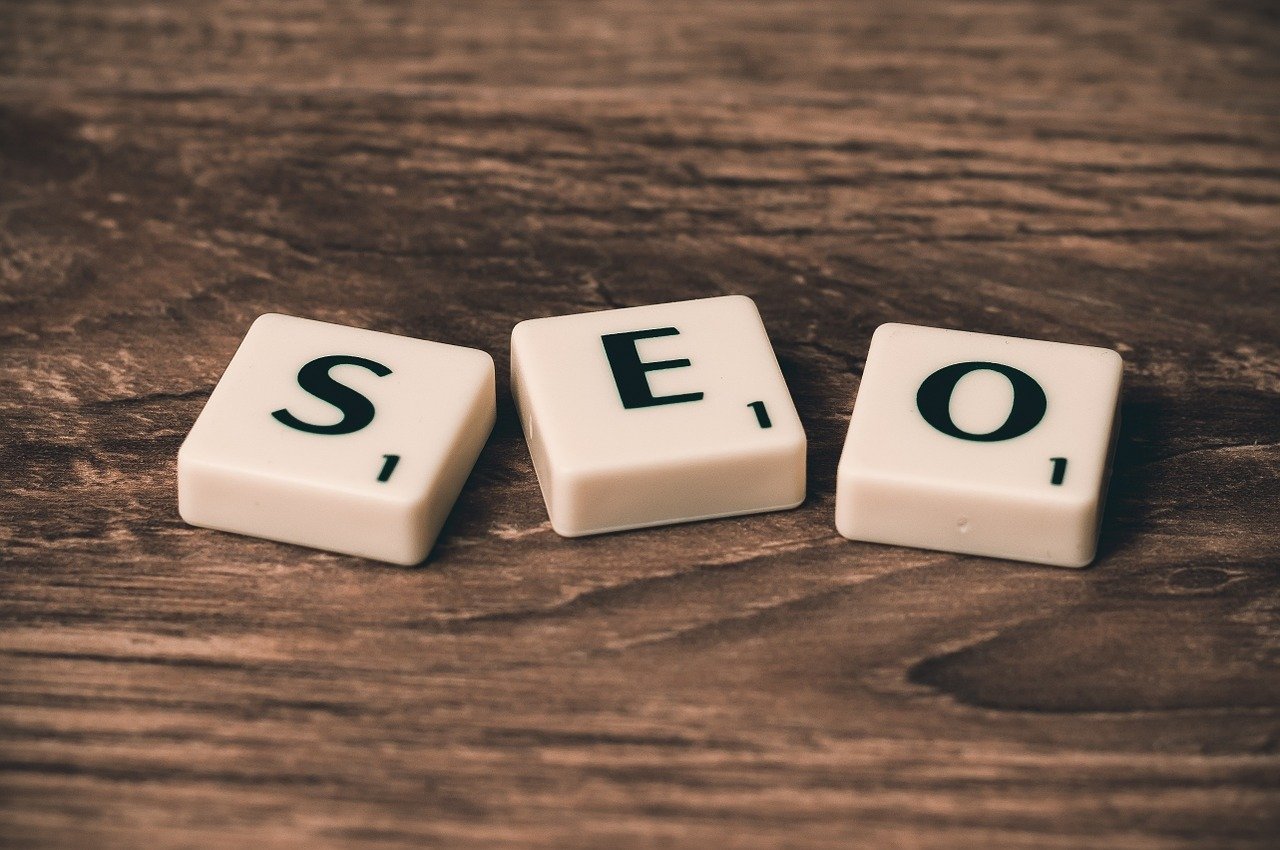 Like I've mentioned above, if waiting for SEO is not your thing, and all the other free traffic methods have failed you (such as social media, forum posting, youtube marketing etc).. then you should try paying for traffic.
Yes, it will not always convert as good as a visitor coming directly from Google if you do proper SEO, but it can still work and you will be able to at least test your website or offer before starting to actually do heavy SEO on the website.
Almost all the paid traffic sources I mention below will start sending you traffic in about 24 hours since you submit your campaign (you will have to wait for your ads to be reviewed so that's why it will take a bit longer).
Isn't All Cheap Traffic Bad?
Yes and No…
I've tried and tested many many paid advertising networks over the years, and most of them where indeed crap, and I only lost my money in trying them out, but there are some traffic sources that I found to have good traffic with low CPC (cost per click) that worked for me and I was able to get sales and leads from them.
So I've figured that maybe you guys will be interested in knowing some of these low-cost traffic sources that I use, so if you're looking to promote affiliate offers or your own websites and you're on a budget, you should try out the following sources.
But first…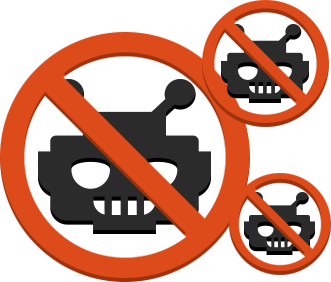 Here are some tips on how to prevent paying for bad traffic:
In general stay away from websites that will promise to send you 100000 visitors for $10.
Don't buy traffic from Fiverr gigs, 99% of the time they are fake bot traffic
Don't pay for an email blasting service (You pay $100 a month to be able to spam thousands of emails)
Always read reviews about the company or service you want to buy your traffic from
Stay away from PTC and traffic exchange websites.
These are some good tips that you should follow if you want to minimize the chances of buying bad or fake traffic.
In general, even the legit traffic sources have bad traffic (you'll read about that in a minute), but the key to that is to do proper tracking and block the bad websites/id's.
Ok, enough about the bad stuff, let's see my go to places to get quality traffic at a low price.
10 Recommended Cheap Website Traffic Sources
1. Microsoft Advertising (formerly known as Bing Ads)


UPDATE: I just partnered with Bing Ads and you can get a $100 bonus in advertising if you spend $25 with them. To take advantage of this offer Sign up with Bing Ads Here. 
By the way, Bing Ads has now become Microsoft Advertising.
No idea why that happened, but since Microsoft actually owns Bing and a bunch of other services and websites, I guess they chose to rename Bing Ads to Microsoft Advertising, because they wanted to include more options for advertisers to advertise on.
Similar to Google and Adwords, Bing also has its own advertising platform for their search engine listings. They work the same, but Bing Ads are in general much cheaper. You can go ahead and create an account here.
They don't have the same volume as Google, so they can't send you thousands a click a day for every industry, but they still have some good numbers especially if you chose to run your ads on their search partners too like Yahoo and AOL.
The Windows operating system is still the most used one in the world, and it comes with their own browser Internet Explorer (or the newest version: Edge) preinstalled. And they have their own MSN and Bing Search pre-configured as the homepage and as the default search engine. So if you're worried that nobody is using Bing search, well think again.
Another good thing about Bing Ads is that their user base is a bit older than Google's, and they have a higher conversion rate than Google but at a lower cost.


The average CPC can range between $0.05 and $1, depends on all the different categories. But you can also get lucky and pay about $0.01 per click. It's a bit trickier these days but it can still be done.
So if you want to get clicks as low as $0.01 you should:
Target other countries than the US (think about Germany, New Zealand, Singapore, UK, France, Spain, etc..)
Create an awesome landing page that has a good quality score. Aim to get at least 8/10 quality score. This helps to lower your CPC.
Go to SemRush and spy on your competitors and see what keywords and ads they are running and copy them all.
Do split tests between different ads and try to change the ad titles and text description
You can also use Neil Patel's Ubersuggest and Google Keyword tool in order to add more keywords to your campaign
Now keep in mind this is not something that's an exact science and of course you might have different results, but in general, if you follow some of these steps you should be able to lower your CPC enough, maybe not exactly $0.01 per click but you can easily achieve something like $0.03 – $0.06.
I've put BingAds in the first place because it's a high-quality ad network with very little bad traffic (if any at all) and they also have good CPC prices.
My craziest record with Bing Ads was 1 sale from just 2 clicks (I paid $0.10 for 2 clicks, ended up selling a product for $40, not that bad, but I did my setup correctly and I was targeting France instead of the US, where there isn't that much of a competition).
Of course I got a little lucky with 1 sale from 2 paid clicks, but still, that only proves that Bing is on par or even better than Google Adwords sometimes and that their traffic converts really well.
Bing Ads Extra Info:
Minimum Deposit: No minimum deposit for Bing Ads, you pay after 30 days, but you can also prepay your account with $50 for example.
Minimum CPC: $0.01
You can get a $100 deposit bonus when you spend $25 with BingAds if you sign up through my link.
2. RevContent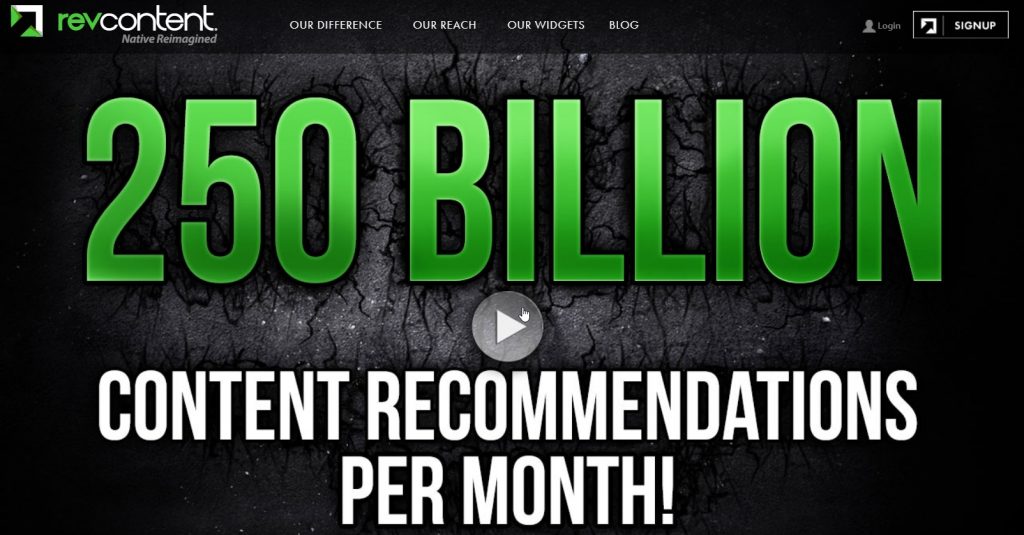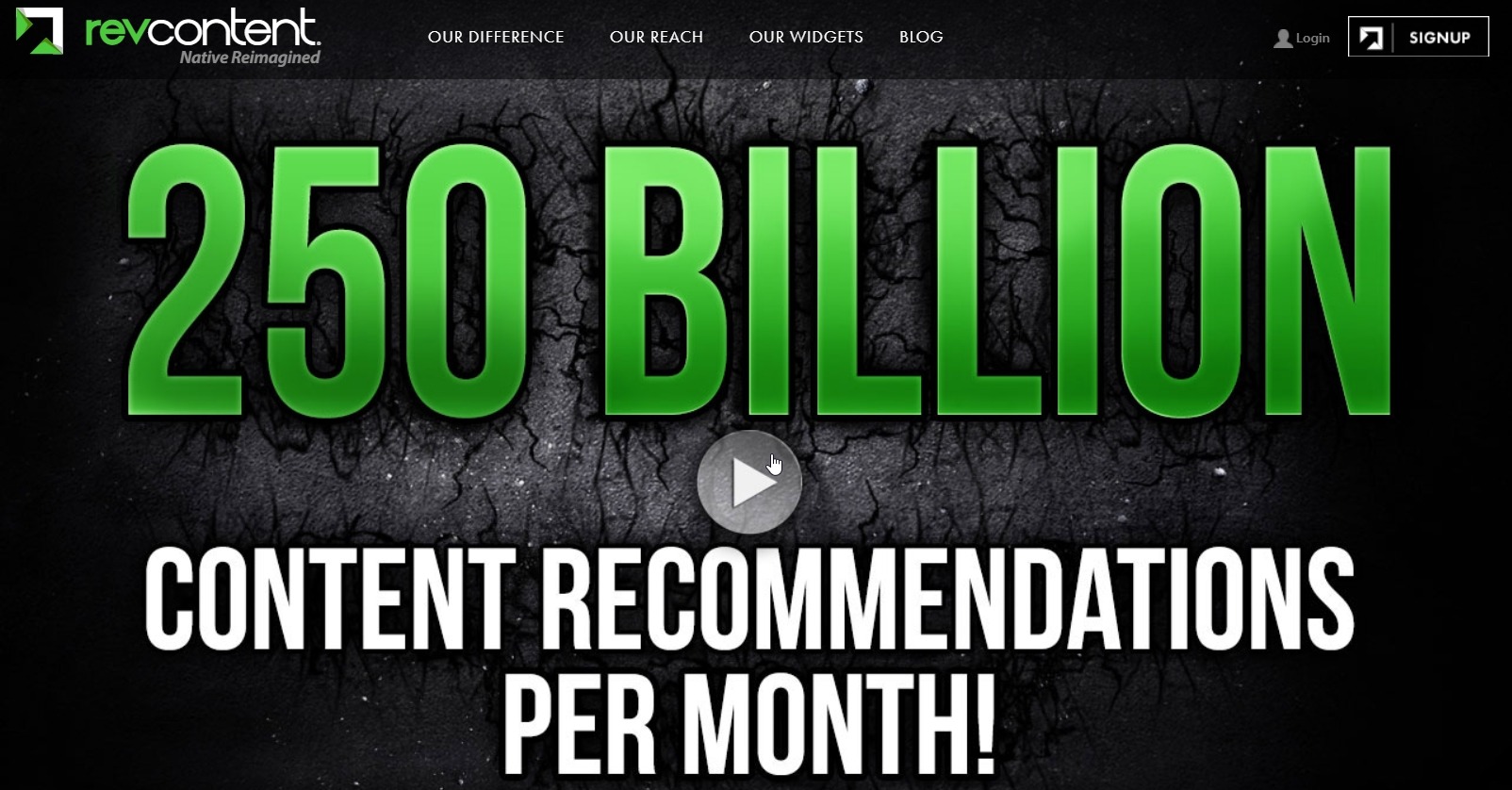 RevContent is a native content recommendation network, where your ads can be placed on some of the top websites in the world such as Forbes.com, PCWorld, NewsWeek, Metro, Inquisitr, Heavy.com etc.
The traffic you can buy on RevContent can be cheap $0.01 per click or can be a bit on the expensive side: $0.10 – $0.30 CPC. It all depends on what your targeting is, such as GEO, placements, category, device etc.
Here are some examples of volume and cost for some campaigns that I ran in the past on RevContent:


As you can see, I had a test campaign running for just $0.05 per click, and that's US traffic on Desktop, (the most expensive combination).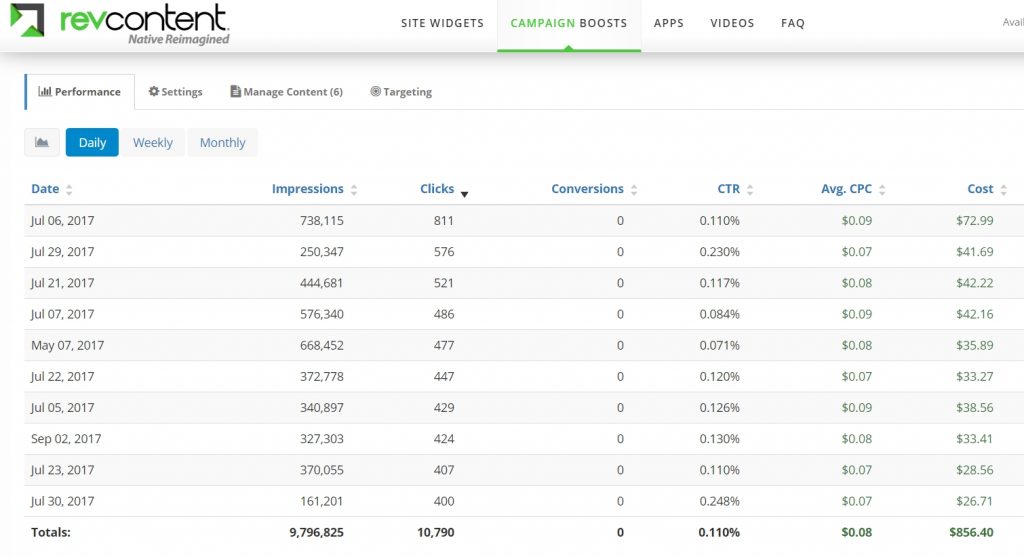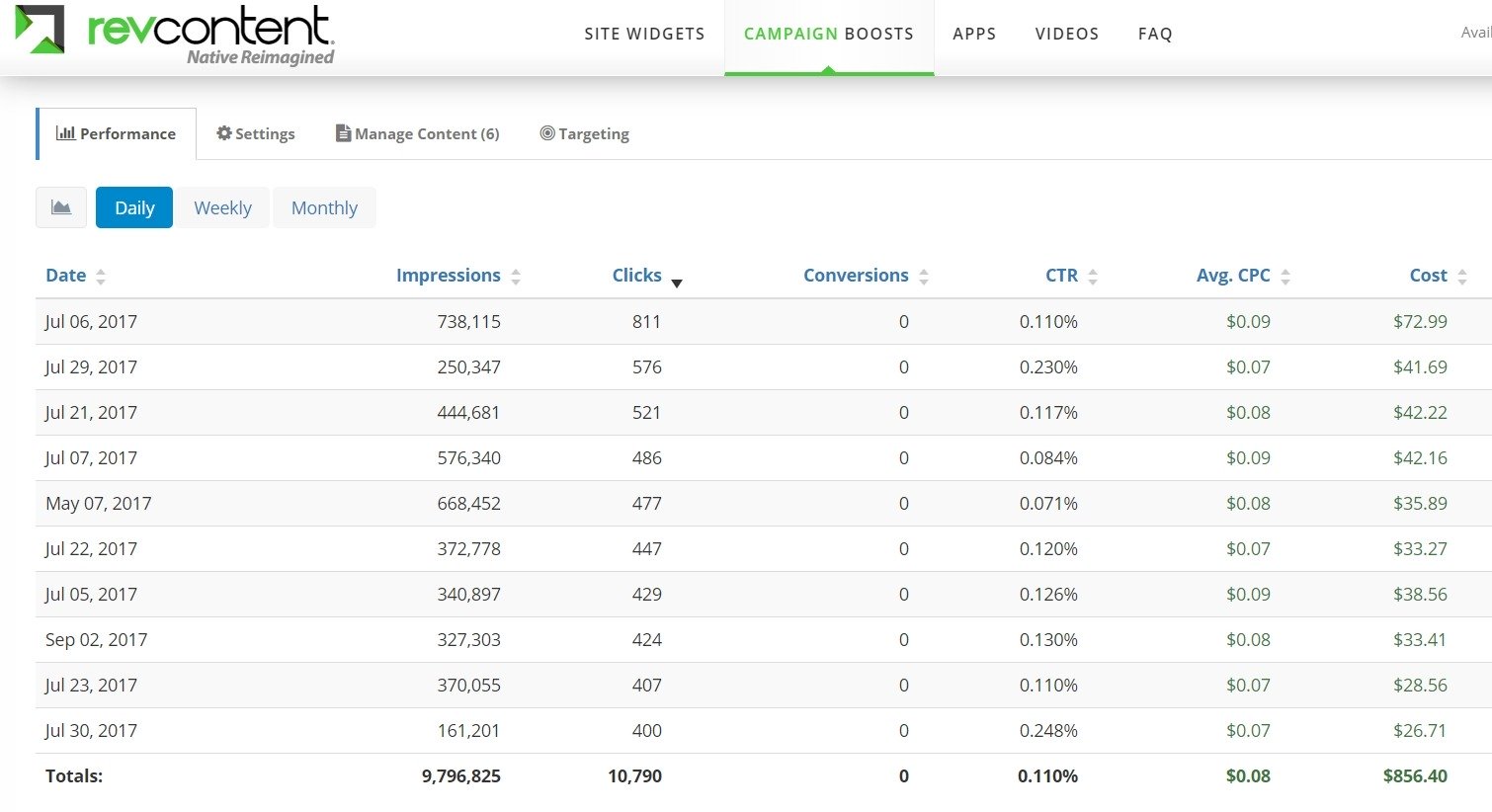 Another campaign that I had running for a longer period of time, the average CPC was a bit higher at $0.08 but it was still worth it for me because I had a great return on investment and I wanted to bid a bit higher in order to buy more traffic. This is also US traffic desktop only.


Did a mobile campaign test in a European country and was able to get a CPC of $0.02. It was only a 1-day test campaign which didn't bring me too many conversions so I had to cut it, but nevertheless, the traffic volume and the cost was good.
So as you can see you can get a lot of traffic from RevContent at reasonable prices, it all depends on what country you're targeting, what device, what category or website placements you chose etc.
Note: Revcontent has a bit of a problem with bot traffic especially if you target the US. Many publishers are using some sort of software to automate clicks on their ads in order to increase their revenue. Of course, this is bad and it can chew a large part of your budget if you're not careful. So make sure that you do proper tracking by using a good tracking software like RedTrack.
You need to track from what websites and widgets the clicks are coming from, and block them immediately if you think they are bot traffic for example if you see 100% bounce rate or less than 1 second spent on site.
Yes, it sucks, and I have no idea when Revcontent will fix this and get rid of all the bad publishers, it's been like this for 2 years or so since I'm testing this platform. But once you create a list of bad website IDs or a whitelist (a list that has only the good IDs that you want to target) then Revcontent is really a great way to get cheap website traffic that converts.
Revcontent Extra Info:
Minimum Deposit: $100
Recommended Minimum CPC: $0.03 (depending on the device and country targeted)
3. Reddit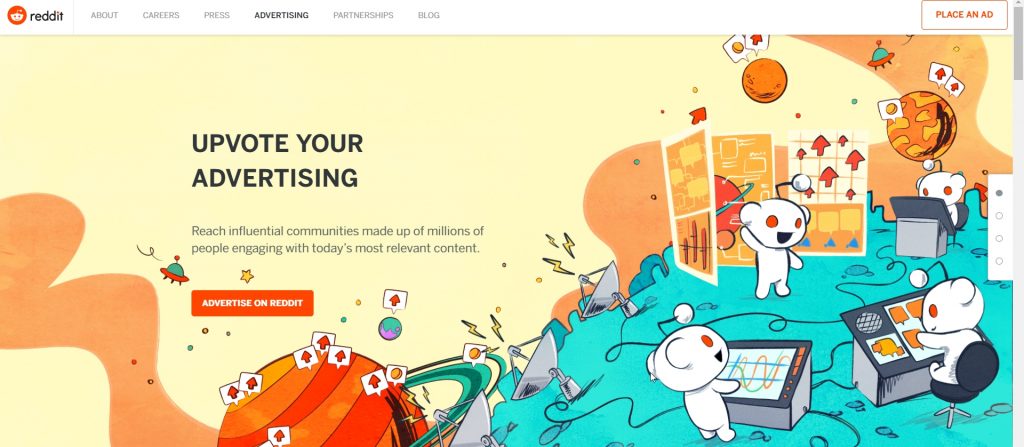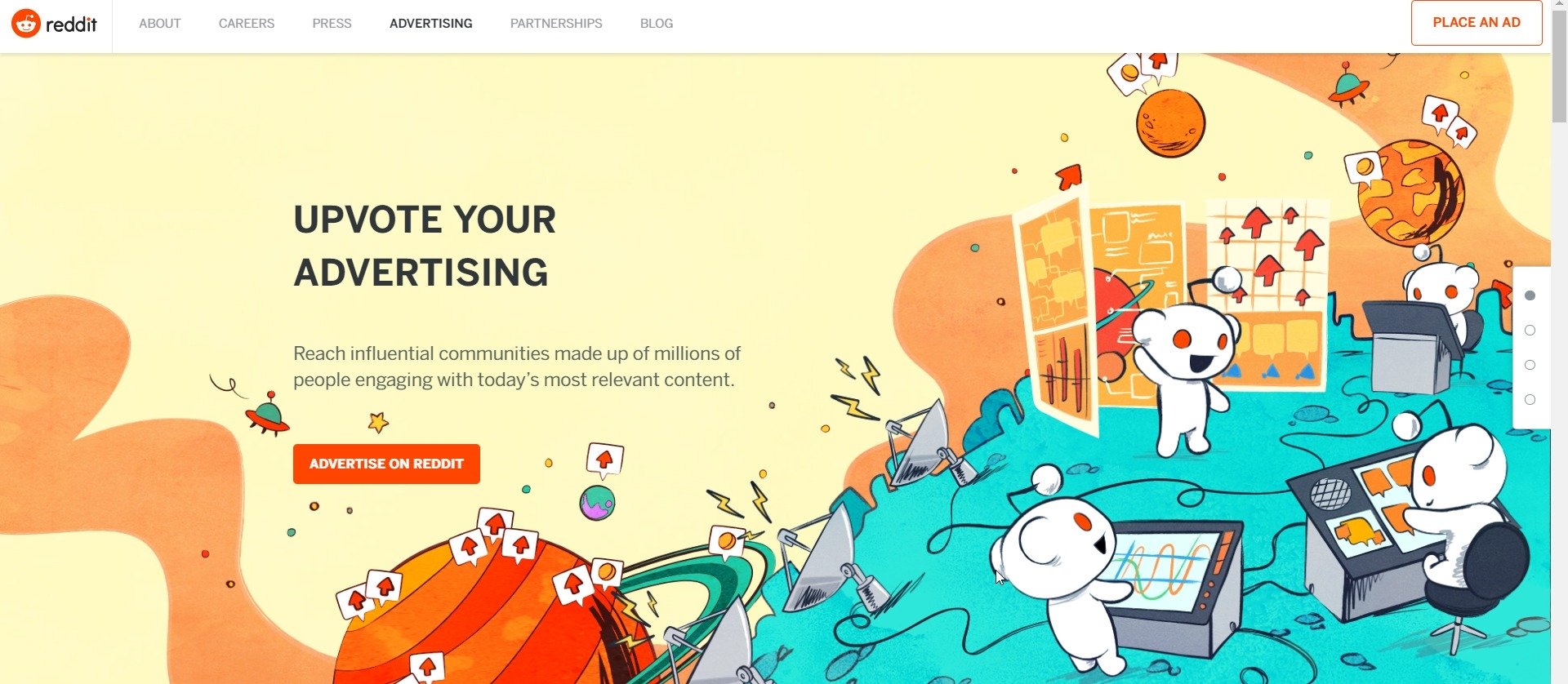 Reddit is a big social network website (currently the 25th most visited website in the world and 6th social network).
But before you get too happy about Reddit, you should know that's one of the most "Brutal" social networks in existence.
Why is that?
Well, the users also known as "Redditors" are a bit too much to handle for some people, they are either trolling, judgemental, talk crap or are brutally honest about you or your service and this can make your marketing campaign on Reddit worthless.
Of course, not every redditor is like that, most of them are in fact nice. But you should always be careful about how you try and advertise your website because they can smell the bullshit quick and the whole campaign could backfire on you if they start leaving you nasty comments. So it's probably best to advertise something that's interesting and helpful to the subreddit that you chose to subscribe to.
Ok, I didn't mean to scare you…
Let's look at the good points:
Reddit is the 3rd most visited site in the US, it has over 330 million average monthly active users and more than 140k active communities (also known as subreddits).
Also, Reddit is a great place to hold awesome and productive conversations with people that have the same interests as you. This makes Reddit traffic that much better since most of its users are super interested and very targeted in all niches. For example, if you want to talk with entrepreneurs and other online marketers you could join subreddits like r/Entrepreneur or r/DigitalMarketing.
You can get traffic from Reddit for free too, but first, you need to build up your profile with a positive karma score and join conversations post helpful guides, articles etc, since most subreddits require you to have a certain karma score in order to post links.
So the next best thing is to pay for it, Reddit Ads are very cheap, and not that many marketers are using them. Which is weird since they have such a good price for super laser targeted traffic.
To start advertising simply go to Reddit Ads and log-in (if you already have a Reddit account) or register if you don't have an account, and then just click on create a campaign and the whole thing is pretty self-explanatory.


The price for your ads depend on what country and subreddit you chose to advertise to, as you can see from the following image, if I wanted to promote a NetHustler article on some internet marketing related subreddits in the US, I will only have to pay something like $0.5 – $1 CPM (cost per 1000 impressions).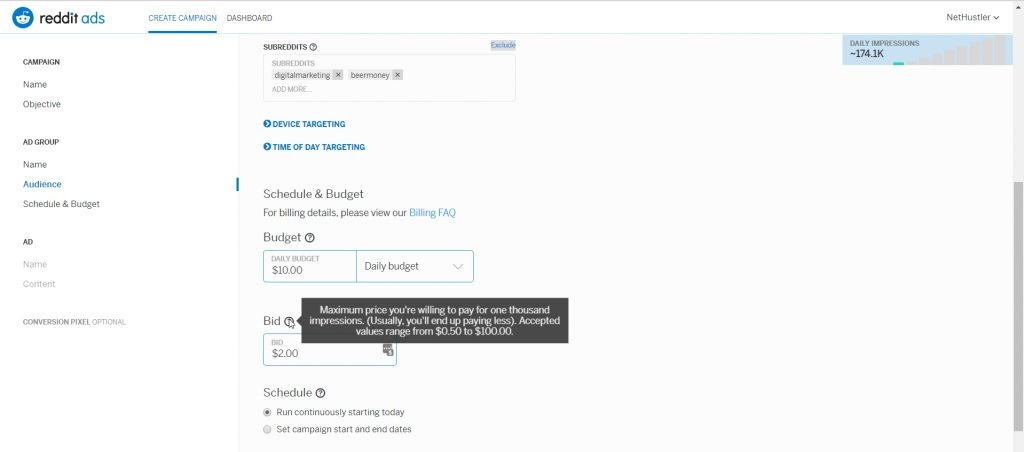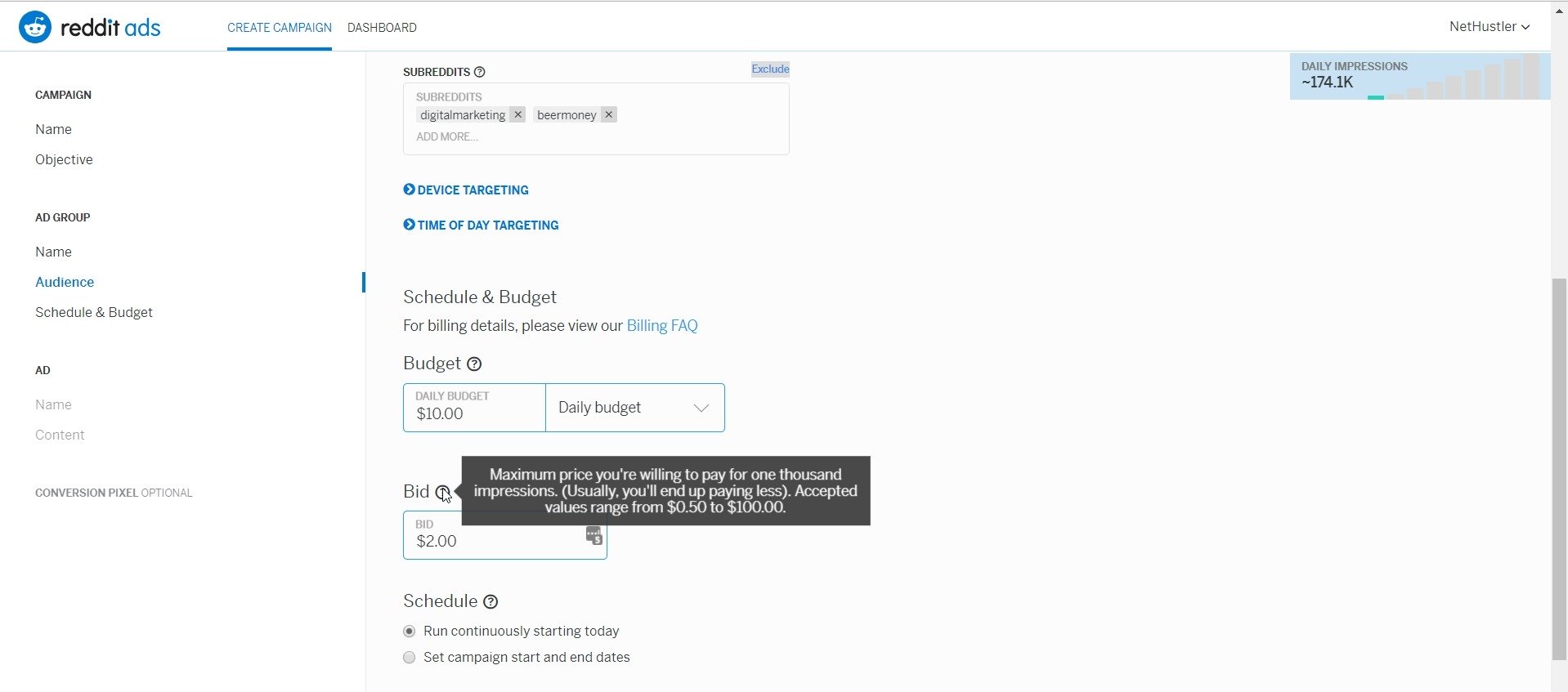 After that, you submit your campaign it will have to be reviewed and approved first, so you will need to wait up to 24hours in order for your promotion to go live.
Reddit is an amazing way of getting quality cheap traffic, but you must be careful of what things you're promoting as again, Reddit users can smell through the bullsh*t and if they sense something is tricky or a scam, they will let you and other redditors know about it.
Reddit Ads Extra Info:
Minimum Deposit: $5 (last time I checked…)
Minimum CPM: $0.50
4. Content.ad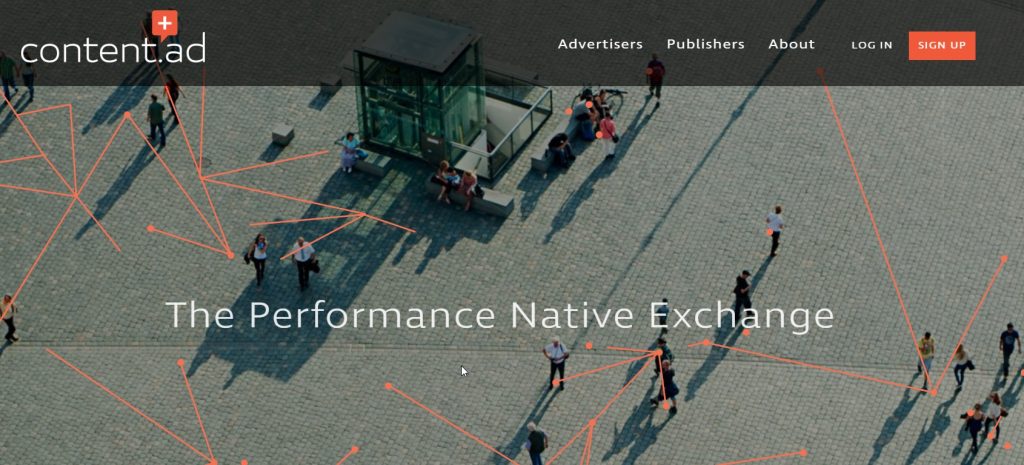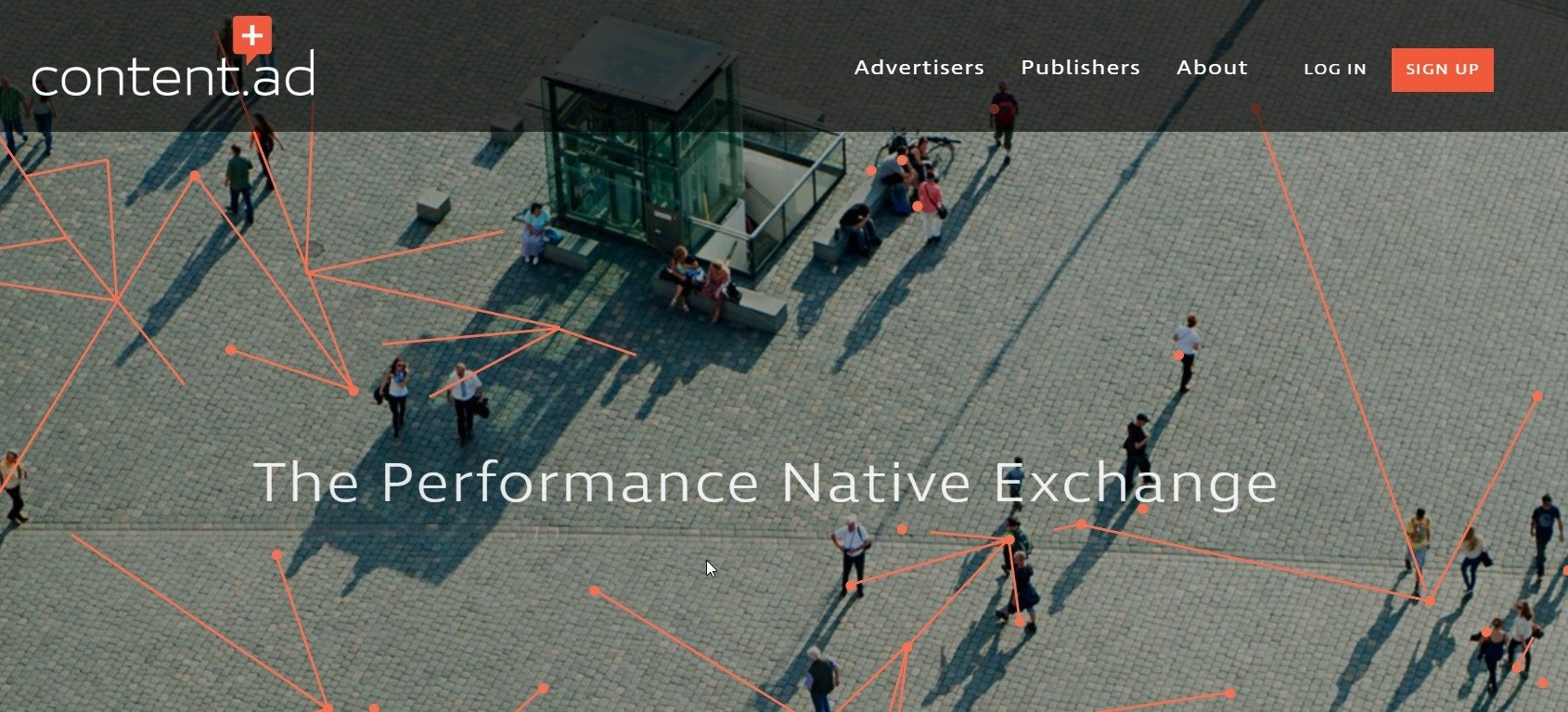 Content.ad is another content recommendation network, where you can buy native ads that appear on some of the biggest websites on the internet.
Just like Revcontent, Content.ad also has a huge volume of traffic that can be bought for pennies. There is a trick, however, Content.ad will give you a different pricing range for your campaign depending on what type of website or landing page you're promoting.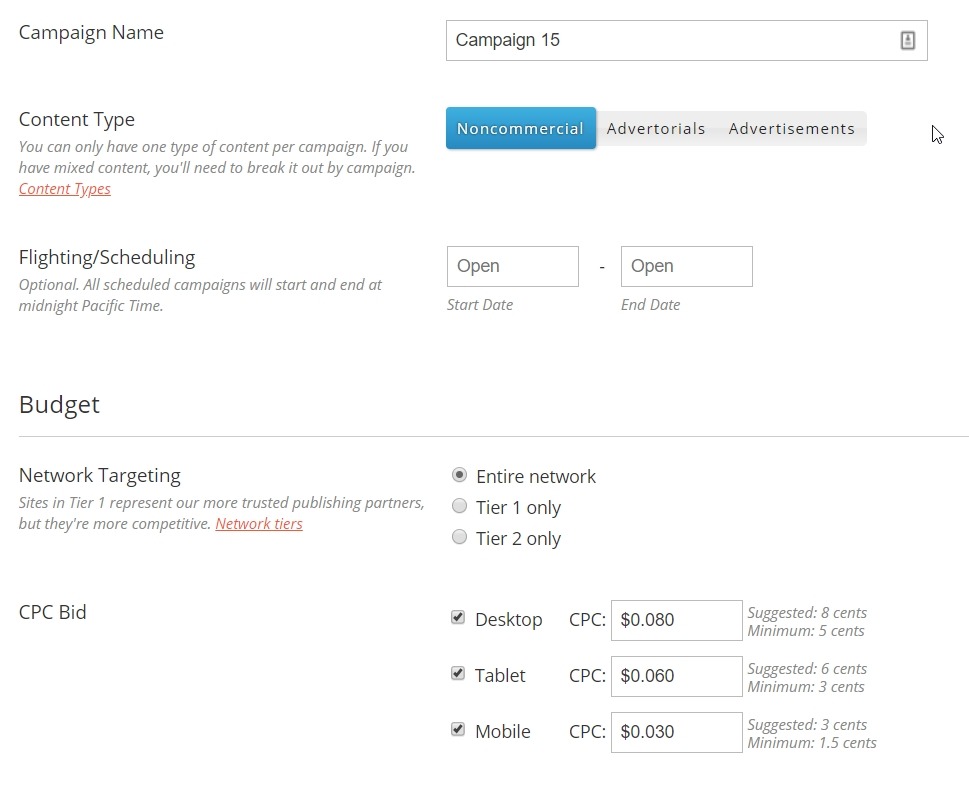 As you can see, depending on what type of content you want to promote you will have a different CPC bid.
So if you were to create a campaign for a blog article or a guide on something, that doesn't really promote a product or service inside the article, then you can use the Noncommercial content type inside content.ad and get clicks for as low as $0.01 on mobile, up to a minimum $0.05 on desktop.
You can have banners around your article, just nothing inside the article that specifically promotes something. (Adsense ads etc are ok).
Now if you wanted to promote an affiliate product, your own service or if you wanted to build an email list and gather subscribers via a squeeze page, you will have to choose the "Advertorials or Advertisements" content type, depending on what you're promoting.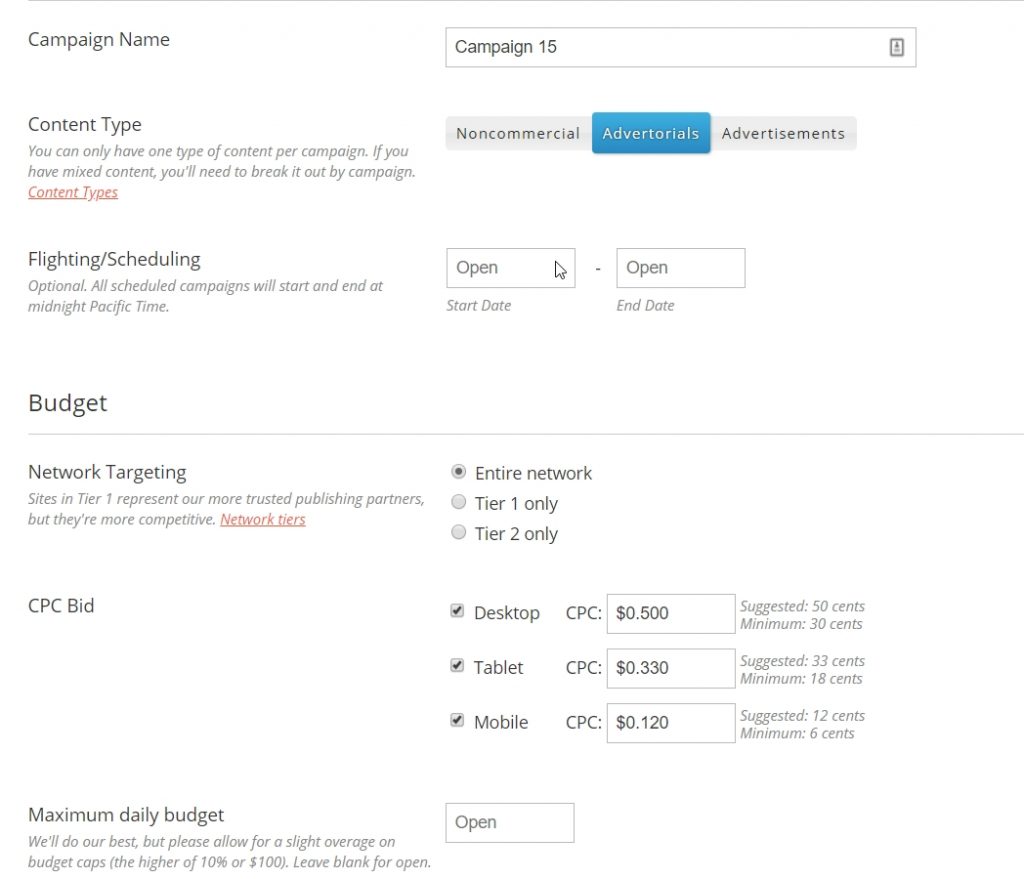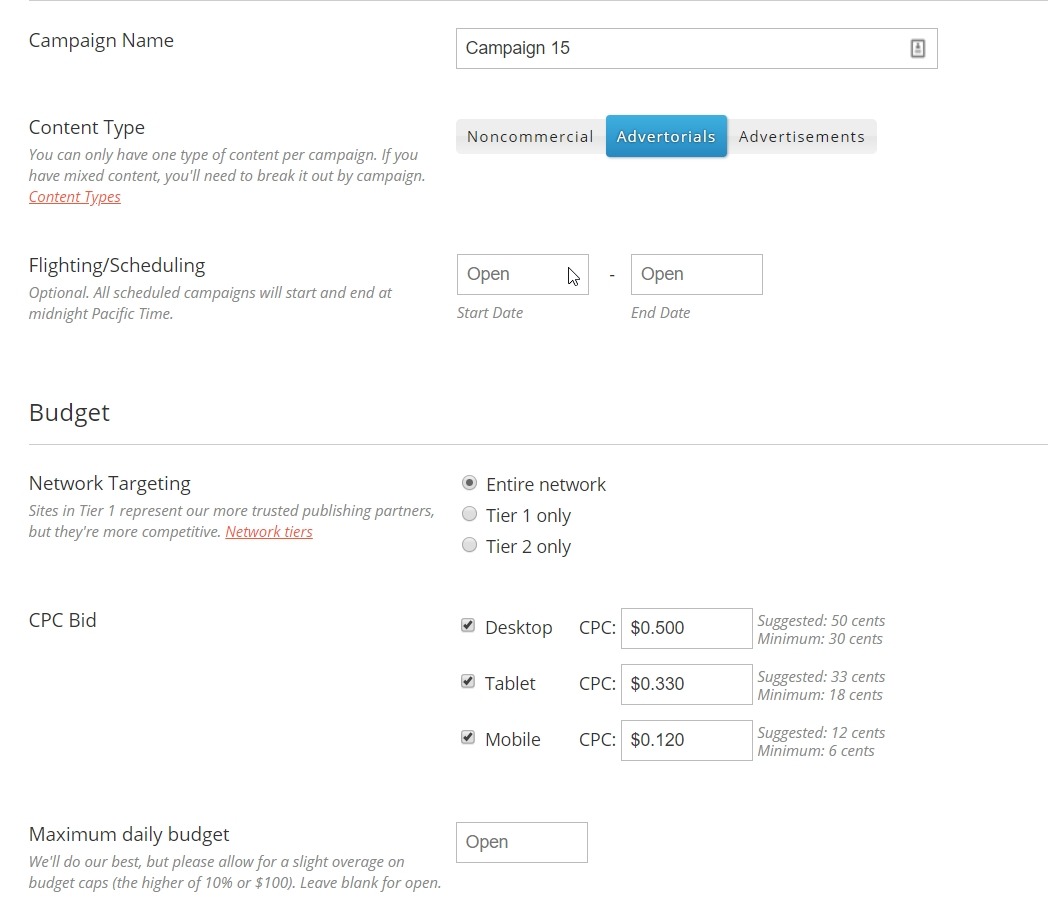 These are clearly more expensive to advertise, and you will have to pay at least $0.06 per click on mobile, and it can go up to $0.30 on desktop.
You should also keep in mind that with these native ad networks (content.ad, revcontent, etc), in order to get a lower CPC you need to have a good CTR (click-through rate) on your ads. The higher the CTR the lower the CPC will go. So you need to test many ad titles and images in order to find the best-performing ones.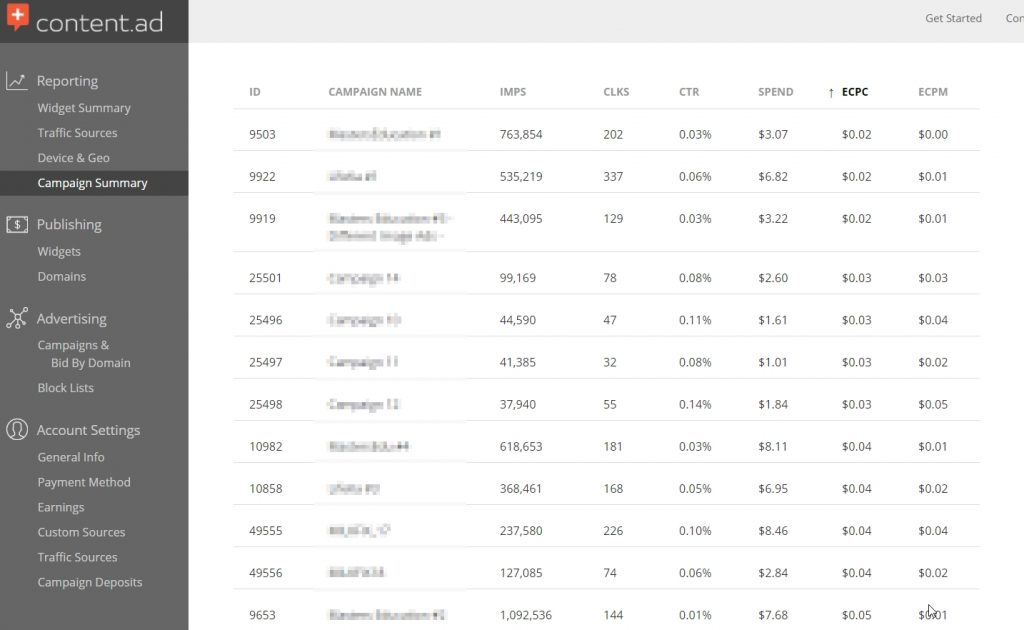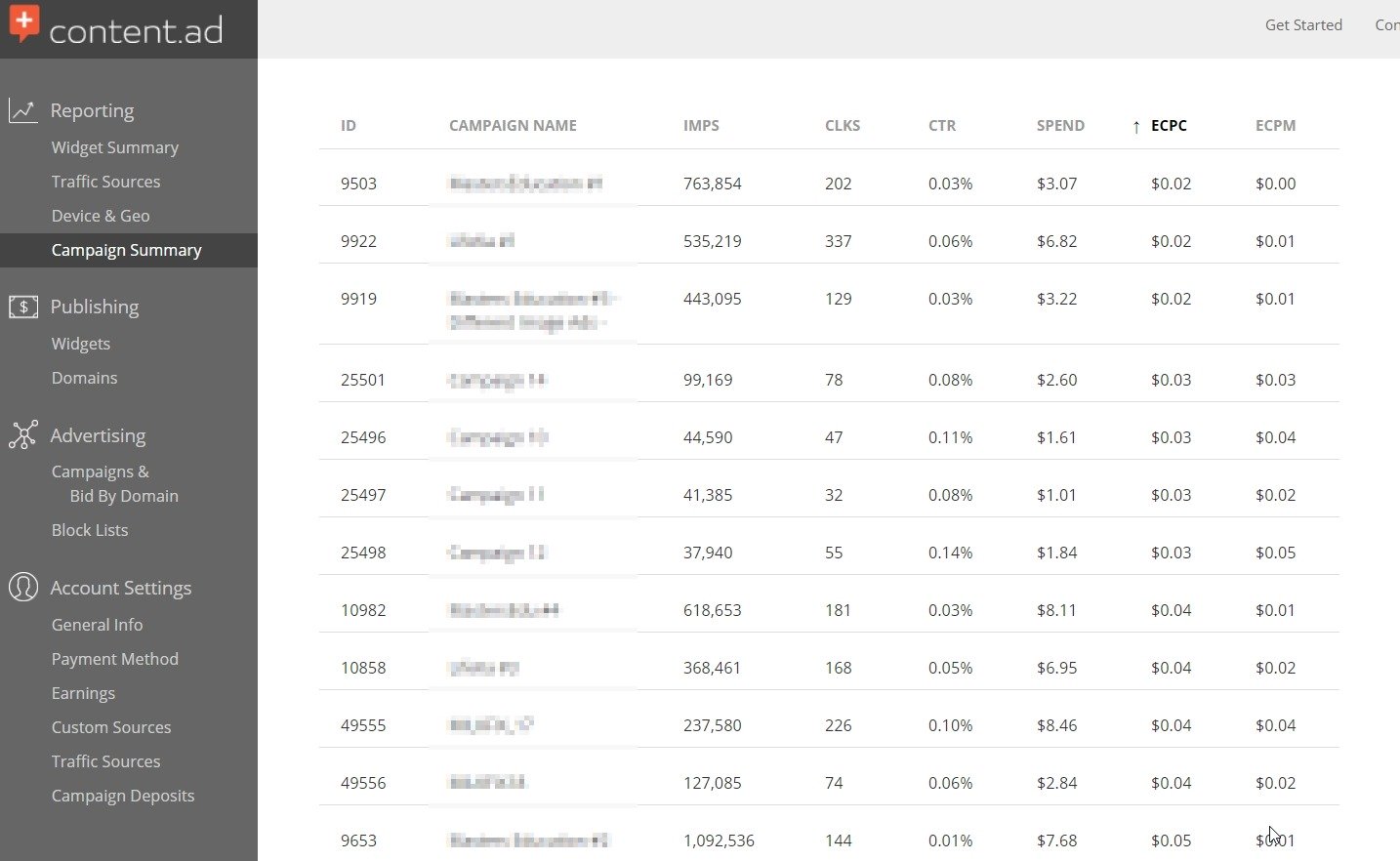 As you can see from some of my campaigns that I did in the past on Content.ad, I was able to reach a $0.01 CPC on some of them but usually, I had something between $0.02-$0.05 because I was mainly advertising on desktop US.
Note: If you target noncommercial, mobile only and other countries than the US, then you will get a lot of quality cheap clicks at a $0.01 CPC. This traffic is very good and it converts.
When you have those lists, it will be much easier to profit from Content.Ad (and also Revcontent), simply by blocking the bad IDs that are bots or not converting, or by only running traffic on a select group of websites that you know they convert.
You will get all these IDs and data if you use a tracking software. Tracking is very important when buying traffic (any kind of traffic not only Content.ad). Otherwise,e without any tracking, you will spend money on ads without knowing what converts and what doesn't and you will lose a lot of time and money by not doing it properly.
Get a tracking software like RedTrack (yes, this is an affiliate link, and no you won't be charged extra, yes I get a commission if you get it through my link, and yes you get a 14-day free trial first) that will register all the data about your visitors in order to know what converts and what doesn't. This way you will be ahead of the game.
Content.ad Extra Info:
Minimum Deposit: $250
 Minimum CPC: $0.015 on mobile / $0.05 on Desktop
5. PopAds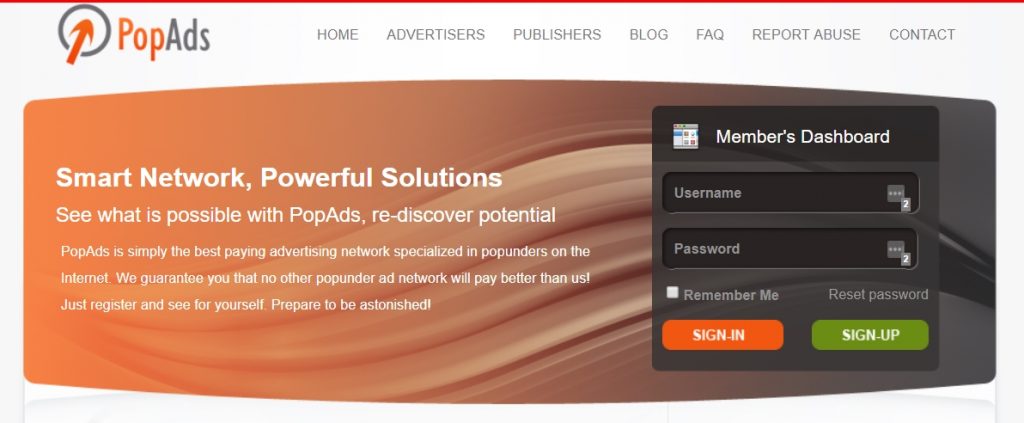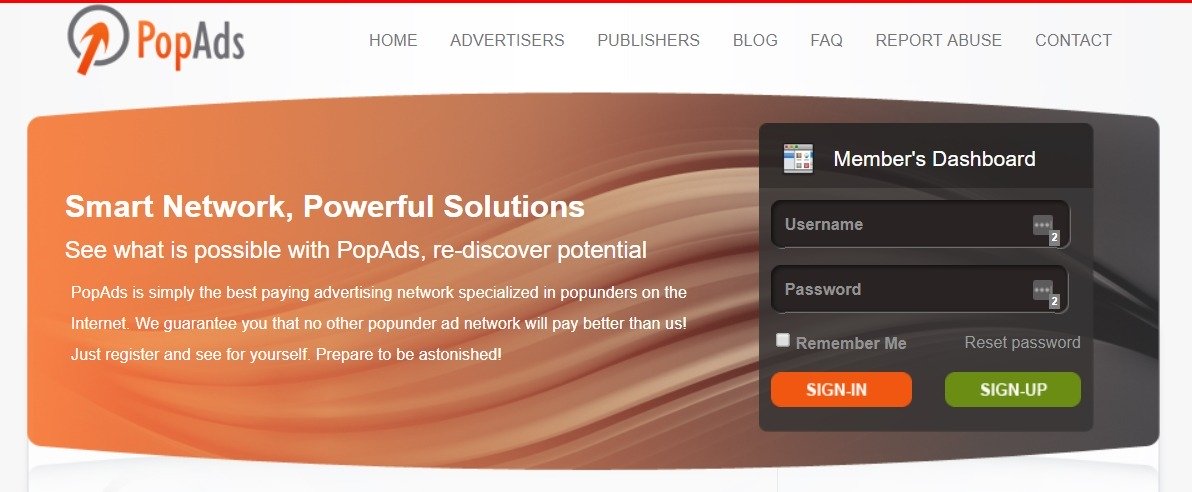 Popads is a pop-under and pop-up traffic source where you will have to pay on a CPM basis, so, for example, you can pay $5 for 1000 impressions that will be $0.005 per view. Most of the times though, you will pay much less than that, as you will see from one of my campaigns below.
Yes, popunders and popups are annoying to users, and yes there is a lot of bot traffic involved (well not a lot, but a good amount), so you will have to do proper tracking again, but it could be all worth it since the traffic is so cheap and contrary to what many people believe popups and popunders still work and they do convert, some people even have 4-5% conversion rate which is double than the average 2% conversion rate most advertisers get on Google Adwords.
To advertise on PopAds is simple, you need to go and open an account with them here, You don't need a high budget to get started, and you can fund your account even with $10.
After you have your account all set up and funded, you can go ahead and create a campaign. I will have to write a more in-depth guide on Popads in the future since there are so many features that you can play with, but for now here's what you need to know: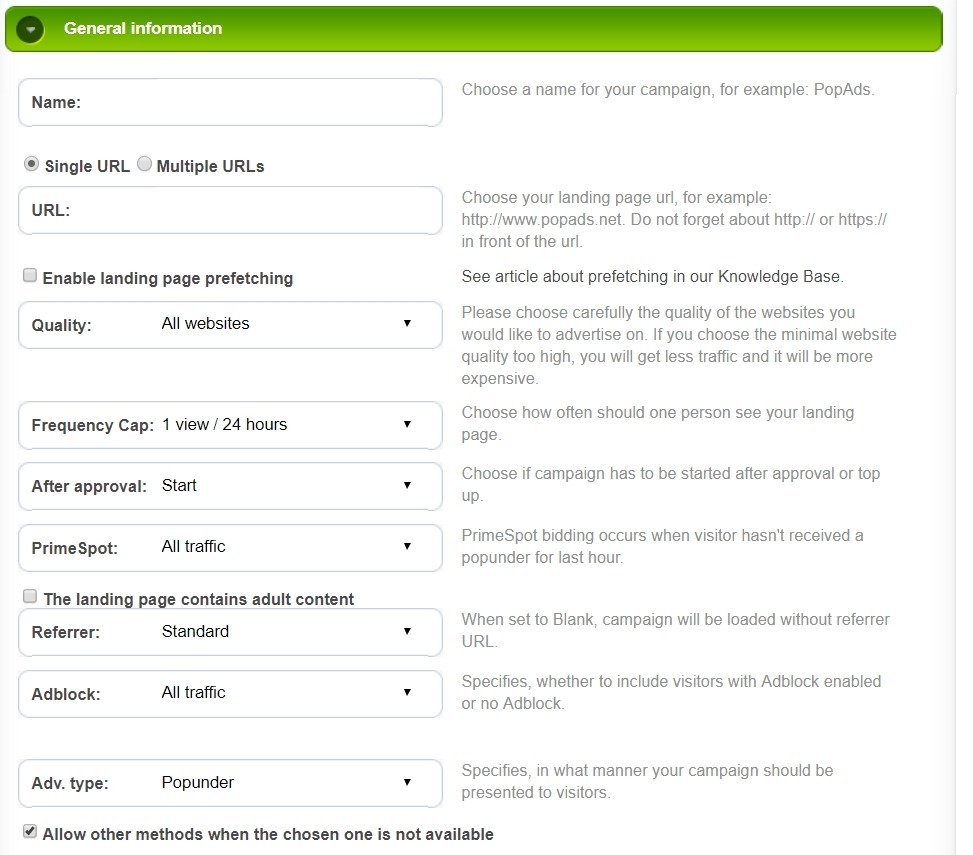 URL: Create a good looking pop-up landing page, you could use just a simple image or a nicely designed LP, and add the URL here.
Quality: you should leave it on "All websites". You will get more traffic and quicker, in order to faster optimize the campaign. Plus most of the times is not really worth it to pay extra just for the top 10% of websites.
Max Bid: here you need to use the "Smart Bid" option and enter the maximum bid you're willing to pay for a view, so for example if you enter $0.005 here, you will pay $5 per 1000 impressions. You can go lower or higher depending on your campaign settings (GEO, Device, Categories, how fast you want the traffic, etc)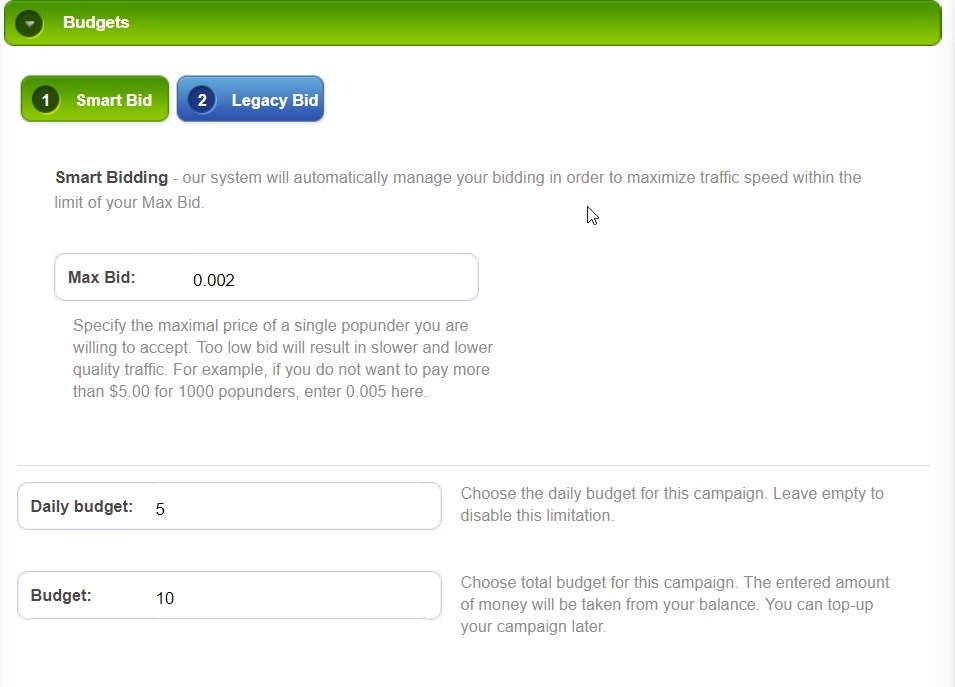 Throttling: Disabled
Categories: Choose Adult only if you promote an adult offer, otherwise go with the General option.
Website Targeting: Disabled (for now)
After your campaign is live, and you get some visitors to your link, provided that you're using a tracking tool like RedTrack, you will be able to see the IDs of the websites that are sending you the traffic.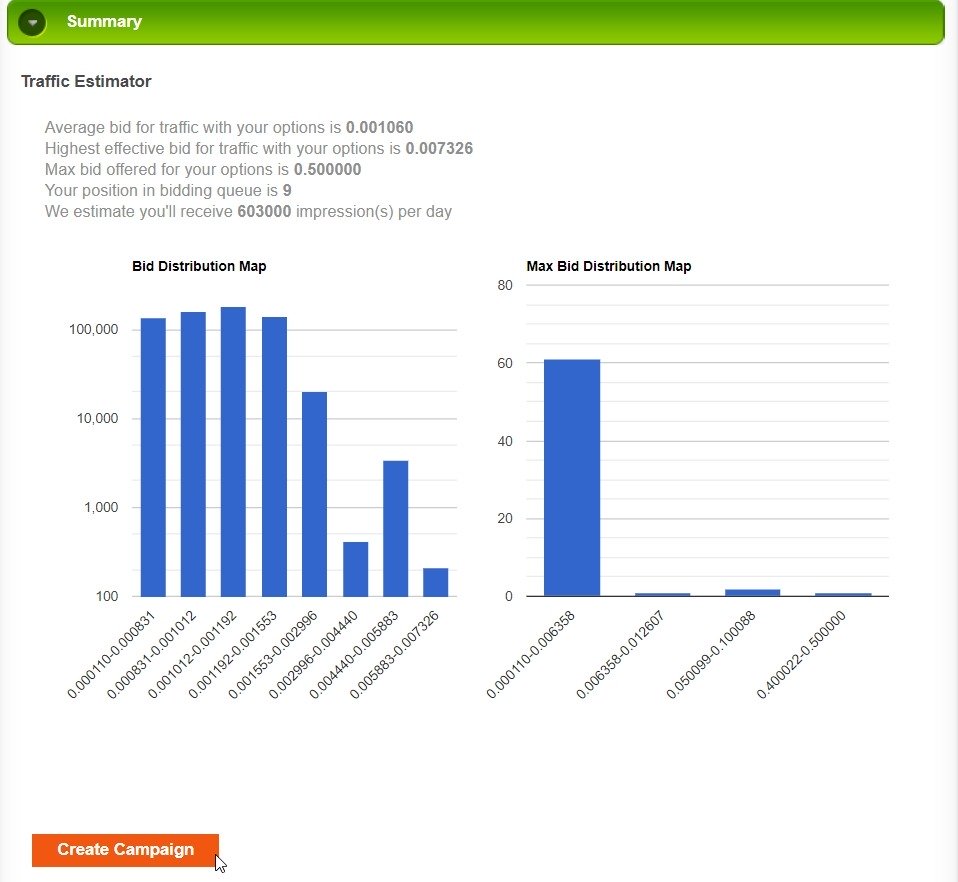 When you are finished with setting up all the things for the campaign, click on the Summary tab, here you will see how many impressions you will be able to receive per day with the settings and the bid that you chose. So if you want a higher impression count you will have to bid a bit more, but if you have a lower budget you can lower your bid and get fewer impressions per day.
Play around with the bid and the campaign settings until you are happy with the summary outcome, and then click on the Create Campaign button and wait for the review. For me, I like to go big and have more impressions and I bid slightly higher in order to be able to optimize my campaigns faster.
After the campaign is approved you will start receiving traffic to your link. After you get a good amount of visits (at least 5k) you could then start optimizing your campaign by excluding the bad website IDs or targeting only the websites that make you money or have good quality traffic with low bounce rate etc.

So if there is an ID that does not convert you can then go ahead and use the "Exclude Websites" option and add the IDs you want to block. You've probably realized by now that I'm talking about RedTrack a lot in this article, and you might think that I'm doing all of this just for a quick buck.
Yes, I will get paid a commission if you sign-up via my affiliate link (They have a 14-day free trial though), but tracking is essential when it comes to buying traffic. And I simply recommend RedTrack because it's very easy to use for beginners and also much cheaper compared to the other tracking tools around.
I could very easily recommend you Voluum or FunnelFlux which are also very good tracking solutions, but they are a bit more complicated to use and also more expensive (all of them start with a basic plan of $99 per month). But you can actually use whichever tracker you want.
For beginners, I think RedTrack is awesome and also cheaper, so that's why I keep on recommending it (if it was crap, it wouldn't be mentioned on my blog) Ok enough about this, but seriously tracking is important, doesn't matter what you use to do it, but do it or else you will lose money and get no data in return, data is important in order to optimize your campaigns and cut down your costs.
So that's really the thing with PopAds, you need to test campaigns, track and optimize in order to get it to be profitable and get quality cheap website traffic. It can be hard at first and you might need to spend a couple of bucks, but it can be worth it.
Popads Extra Info:
Minimum Deposit: $10
 Minimum CPV (cost per view): $0.00015 (yes that's 4 zeros, but of course depends on the GEO)
6. YouTube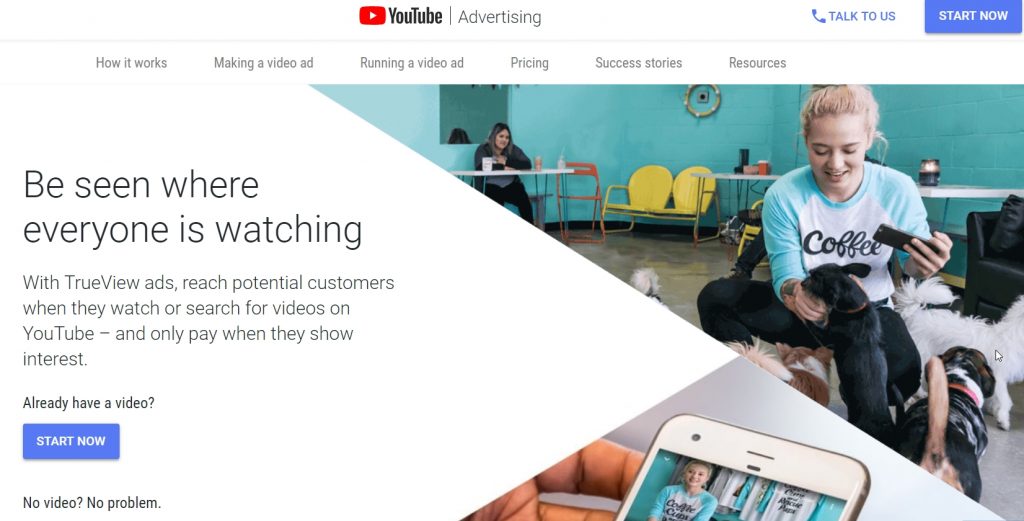 Youtube is the 3rd biggest website in the world and the 2nd search engine. It gets a ton of traffic every day, and yet there aren't that many advertisers on it.
Youtube in numbers: There are 400 hours of video uploaded every minute or 25 hours of video every 5 seconds. It has a user base of over 1.5 billion and there are about 5 billion videos watched every day.
The CPC can be as low as $0.02 for US traffic and maybe even lower in other countries. Comparing that to Adwords where you can find clicks upwards of $150 for certain industries, and you can see why advertising on Youtube makes cents (a stupid pun on sense and cents, I know, but I couldn't help myself).
Advertising on YouTube is as easy as it is on AdWords, but it comes at a lower price. It all depends on what type of ad you create, some can be cheaper the other more expensive.
So if you're looking for some quality traffic at cheap prices you should try and give Youtube advertising a try. You don't even need to have a video ad, you can simply use a banner as you would use on Adwords.
YouTube Advertising Extra Info:
Minimum Deposit: No minimum deposit for YouTube ads, you pay after 30 days
 Minimum CPV (cost per view): $0.01 (it really depends on the ad format that you chose)
7. Facebook Ads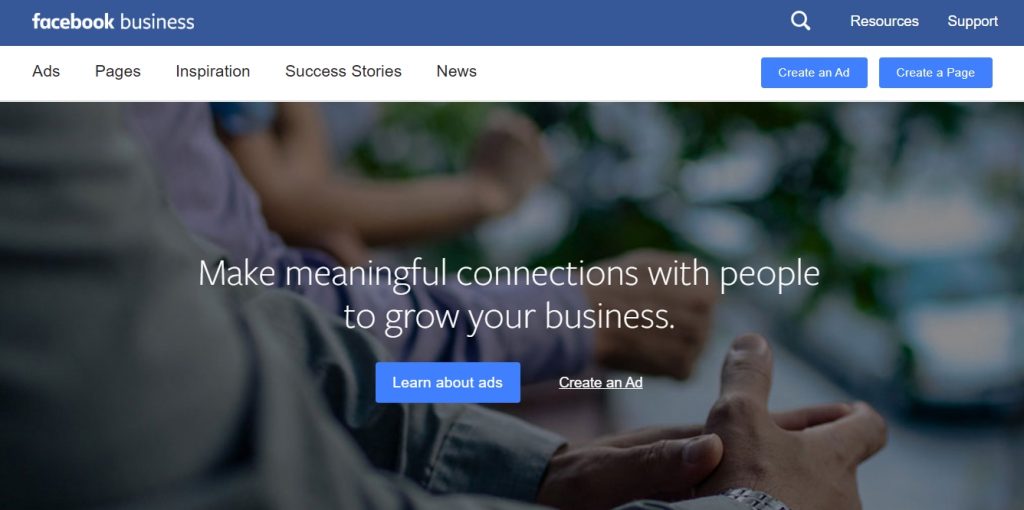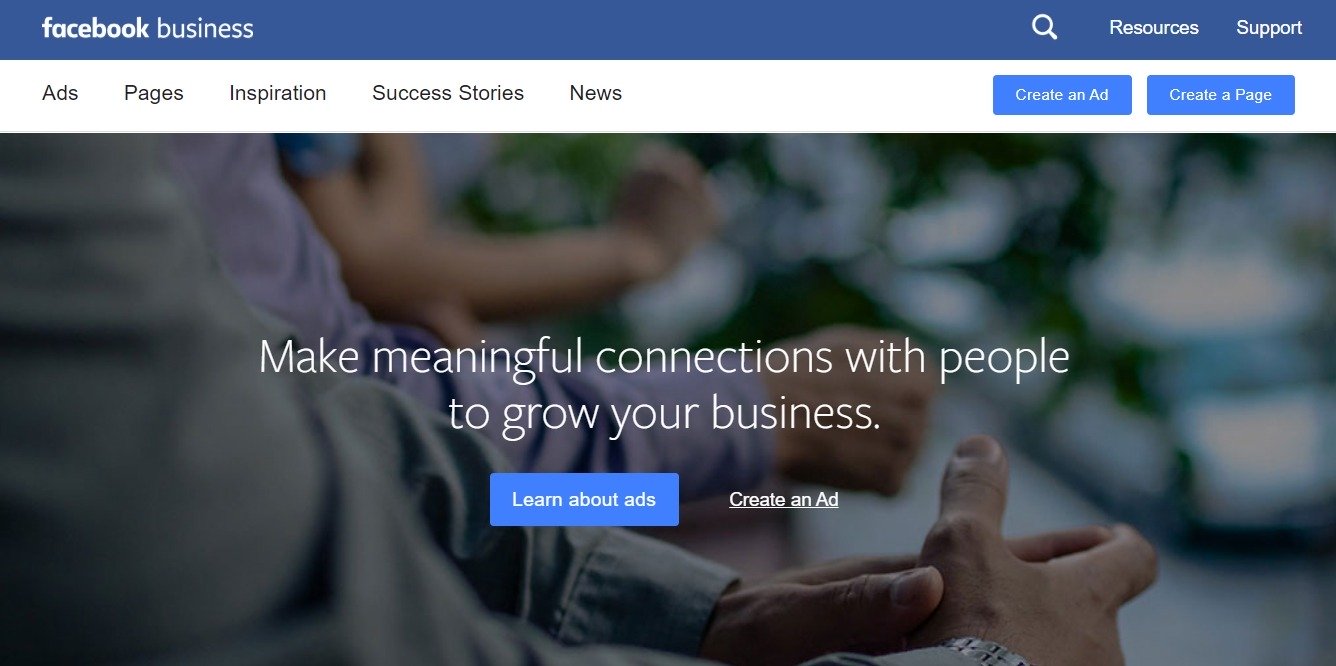 Ok, I'll be honest with you, I have a love and hate relationship with Facebook Ads, and I don't really like advertising on Facebook that much, simply because I think other sources convert better, I mean Facebook is a social network, people hang on it to watch videos of cats and some pictures of their friend's newborn baby, they aren't in the mood to buy or subscribe to things.
That doesn't mean I don't use it from time to time…or that it doesn't work… Facebook is still great if you want to start out and you don't have a big budget since you can get started without even depositing any funds and just create a campaign with $5 per day or so.
Anyway…
A few years ago it wasn't that difficult to get $0.01 clicks from Facebook ads in the US.
Nowadays things are different. There are way more marketers and advertisers using FB ads and also Facebook has done many changes to their ads platform, so it isn't as easy or as common anymore to get $0.01 clicks.
But not impossible…
If you want to get penny clicks from Facebook you need to have engaging and captivating ads that users will share, like and comment and also a high CTR (click through rate).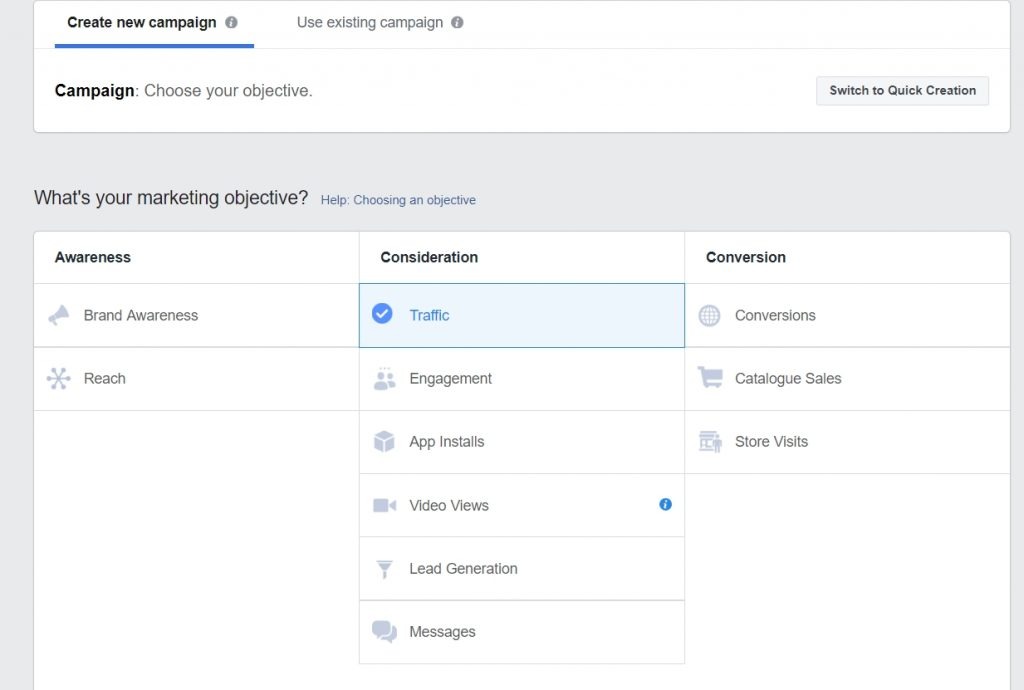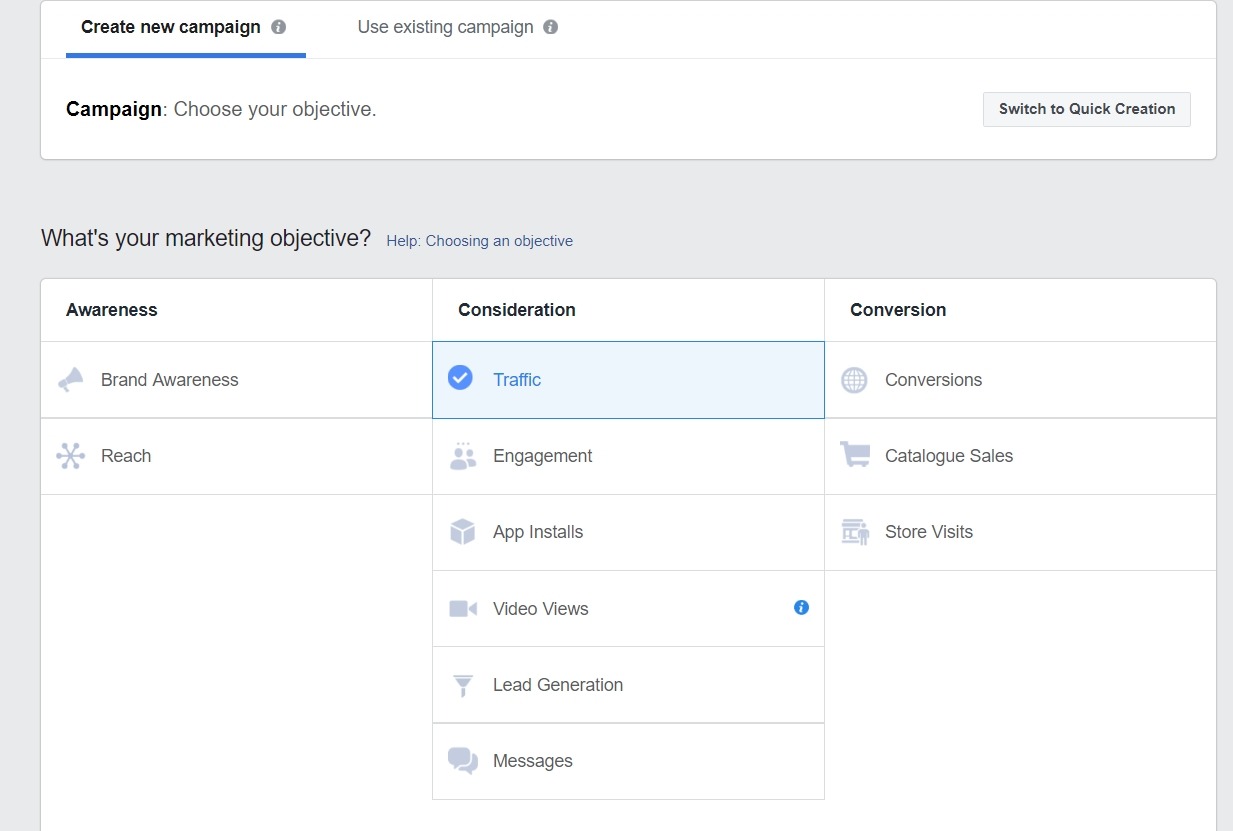 The type of ad you chose to set up is also important. For example, a boosted post on your facebook page will have a much lower CPC then if you were to do a "Website Traffic" ad.
That's because Facebook will obviously want their users to remain on their website instead of going to an external one. So clicks to your website will almost always be more expensive than something like a post share or page like.
Video ads are another beast altogether. In general (for me at least) I find way easier to get video ad views for just $0.01/view.
Of course, video ads don't have the same CTR as the other type of ads, but the benefit is that you can get that post to go viral much easier since a video is more engaging than a normal ad and you will get free traffic after a while if enough people share it.
In addition to the different ad types, the target audience that you will have to set up during the ad creation process also plays an important role in lowering or raising your CPC.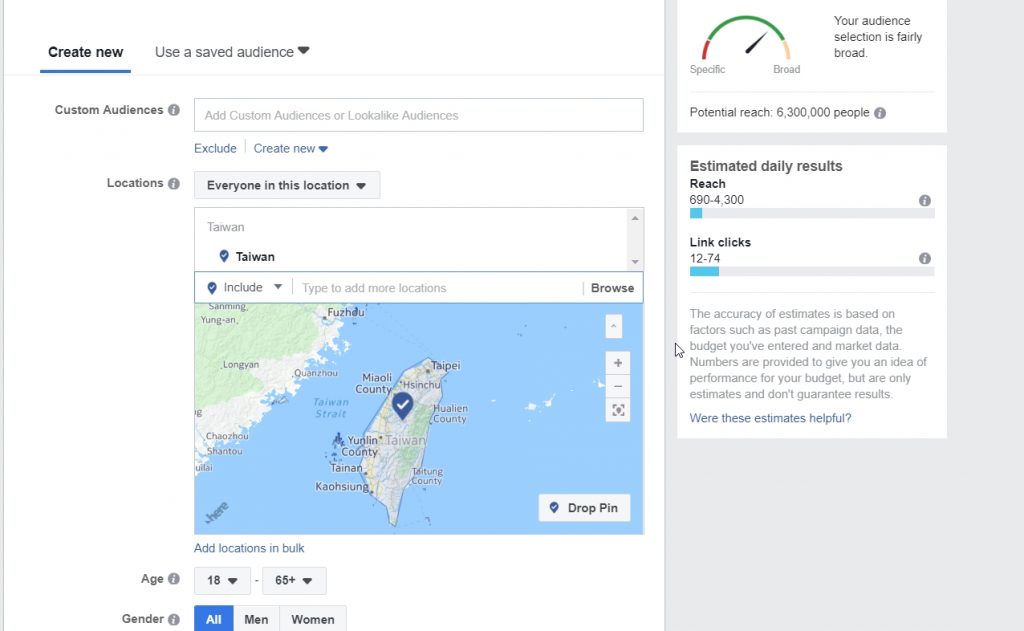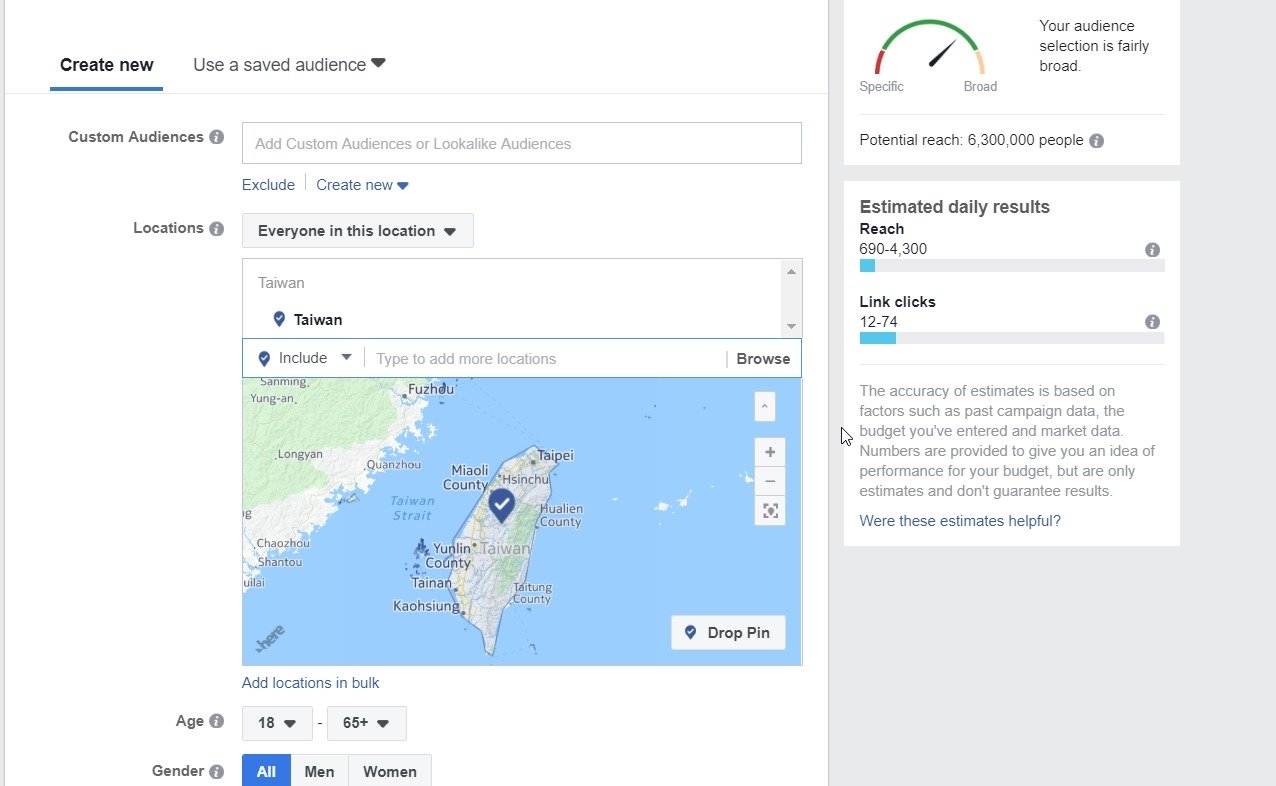 If you do retargeting and you have a custom audience based on your website traffic, the CPC will usually be much lower.
So as you can see, there are still some ways to get cheap traffic from Facebook ads. Now I don't know if it will convert well for you (for me it's hit or miss), somedays you might have great results and some days not so much.
Regardless Facebook Ads is still a good platform to try out and their great advantage is the insane targeting possibilities and also the fact that you can start out with $5.
Facebook Ads Extra Info:
Minimum Deposit: No minimum deposit, you pay after your account reaches the threshold amount.
Minimum CPC: Can get as low as $0.01 if you optimize your ads correctly and you're not in a competitive GEO
8. MGID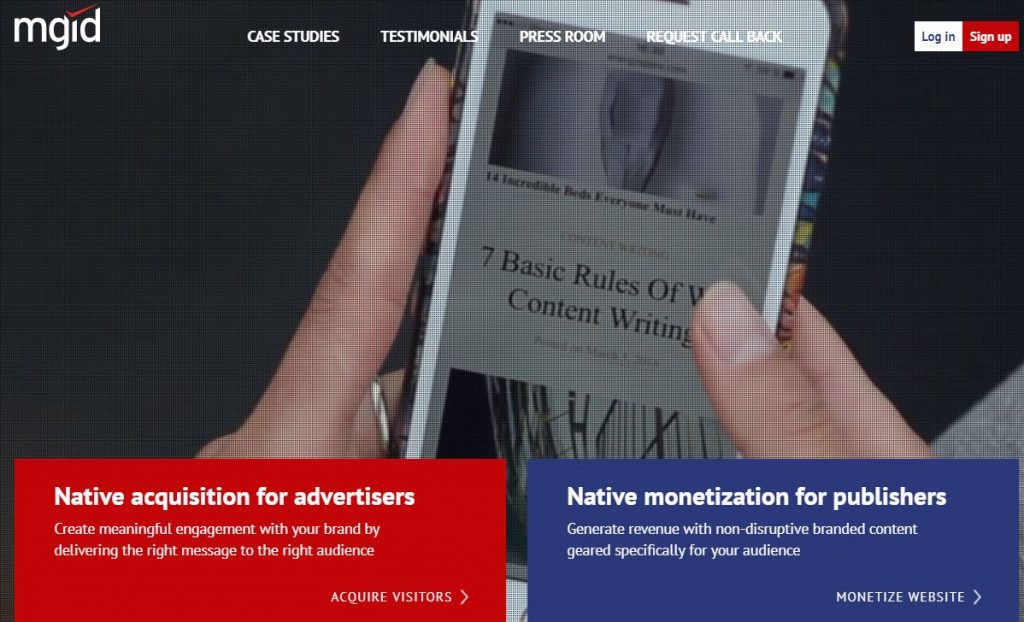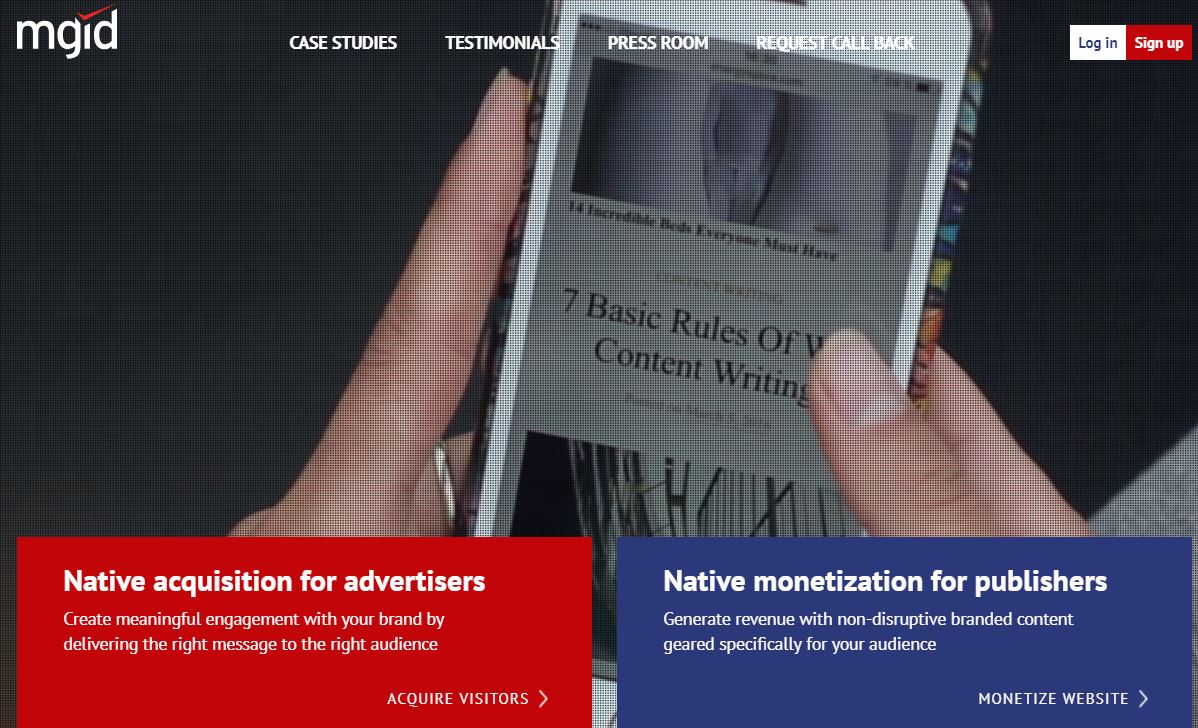 Mgid is another native advertising network, similar to RevContent and Content.ad. The best part about them is that the minimum deposit is low: $100 and that they are more lenient towards what campaigns you can run and what you have on your landing pages or in your ad settings.
For example, you can run a bit more "riskier" ads on MGID, that you wouldn't be allowed on other native ad networks like Revcontent. You could also run offers in some categories that some ad networks won't allow you to advertise, such as: ED, Hair Loss Pills, Adult Games, Dating, etc.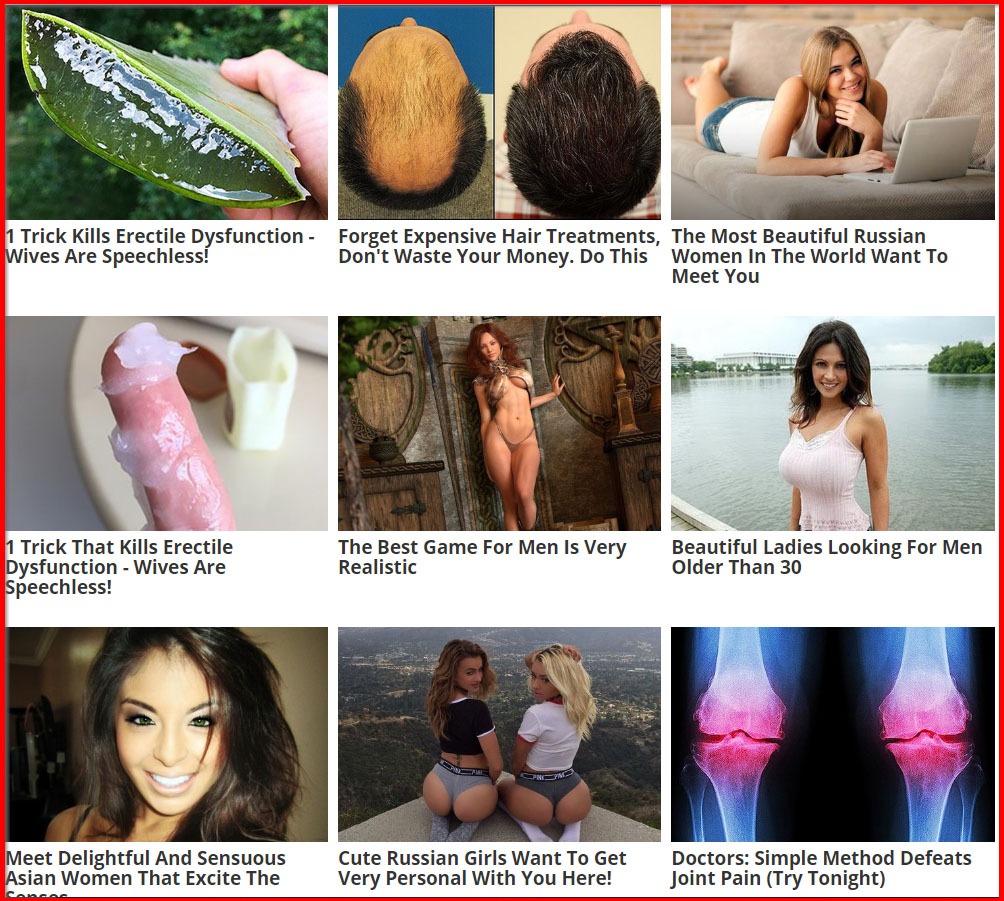 Of course they have rules too, so don't expect that you could run some crazy offer or landing page, but in general, they approve campaigns riskier than the other networks.
You might be wondering if they have good traffic and if they can provide results… well as you could already see in this article I've only talked about companies that I personally tested and worked with, so yes Mgid has good traffic and they convert well (highly recommended you use a tracker to track the bad websites / ID's that send you traffic that doesn't convert.You could try: FunnelFlux tracker)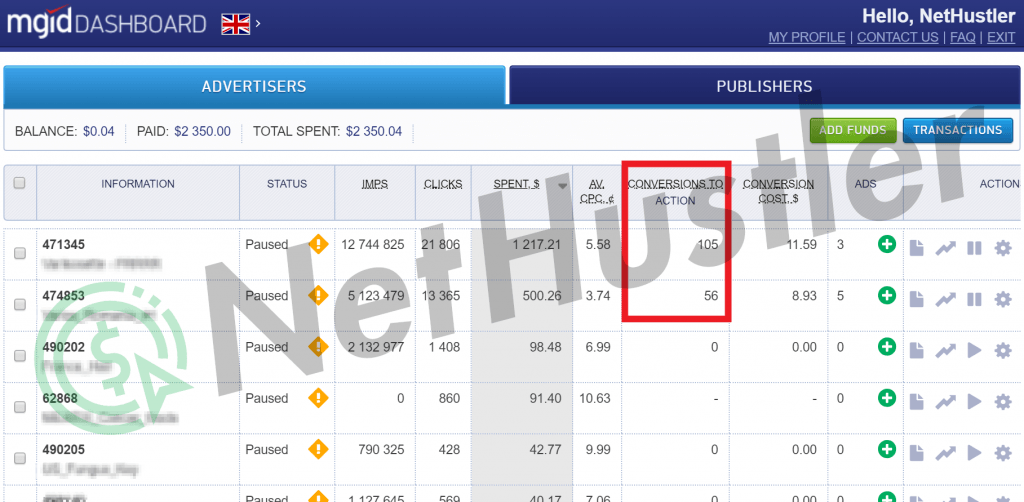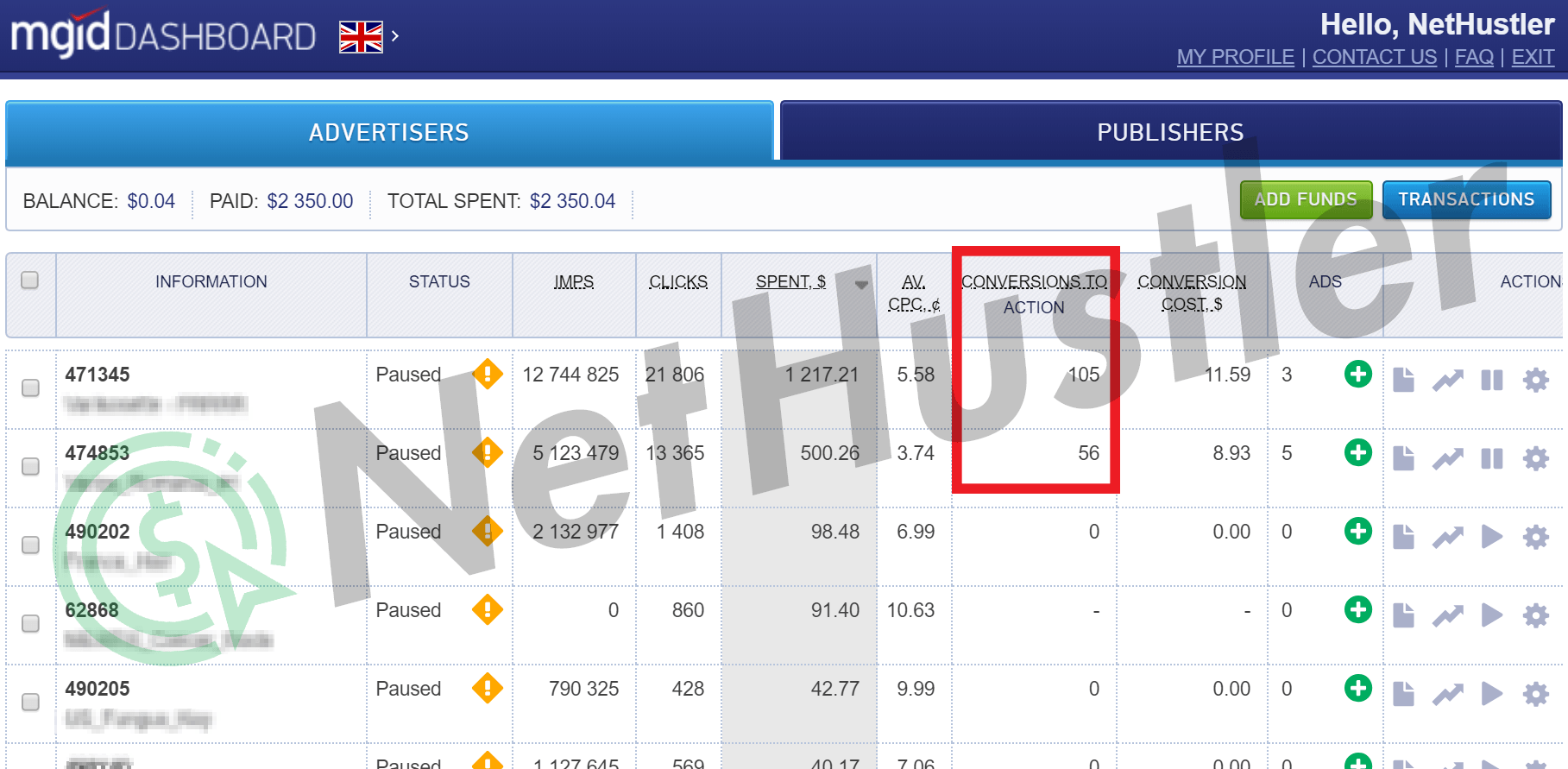 As you could see from the image above, I've spent $2350 with Mgid on this account, which of course means that I had some great results, otherwise I would've stopped at like $200 – $300.
I tested some random health products that I never promoted before in 2 random countries (France & Romania) and I had no idea what to expect. To my surprise, they've both made me money and they were both very profitable. The first campaign in France made 105 sales and the second one for Romania, I got 56 sales. Not that bad considering that they both paid almost double the conversion costs.
I  had to optimize the campaigns a bit and block some bad website ID's and test a couple of different ads, but all in all, it was a smooth process and managed to get both campaigns on a positive ROI.
The other campaigns that you see with 0 conversions, were used to promote some content on my blogs, so no conversions to be shown there since I had nothing to sell. I just wanted to increase my social media and boost my number of shares on some blog articles and that worked out nicely.
In the end, Mgid is another company that I recommend.
Mgid Extra Info:
Minimum Deposit: $100
Minimum CPC: $0.01 (depending on the country, it can go up)
Their minimum accepted CPC varies depending on the country you are targeting. For example, if you want USA and Canada traffic you need to bid a least $0.035 for UK and Australia at least $0.045. For Europe between $0.015 and $0.2 and other GEO's around the world, the minimum bid is $0.01.
9. MegaPush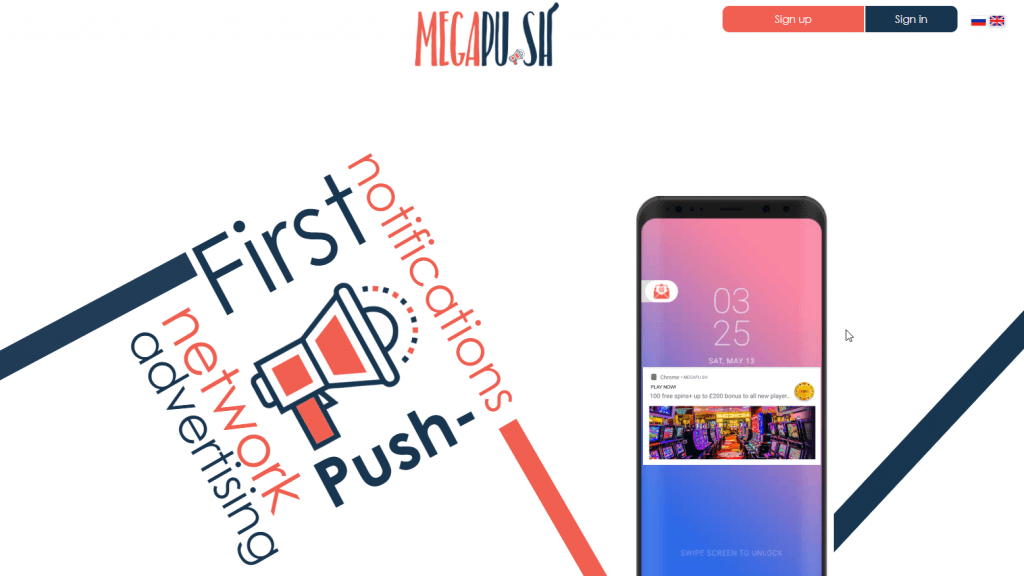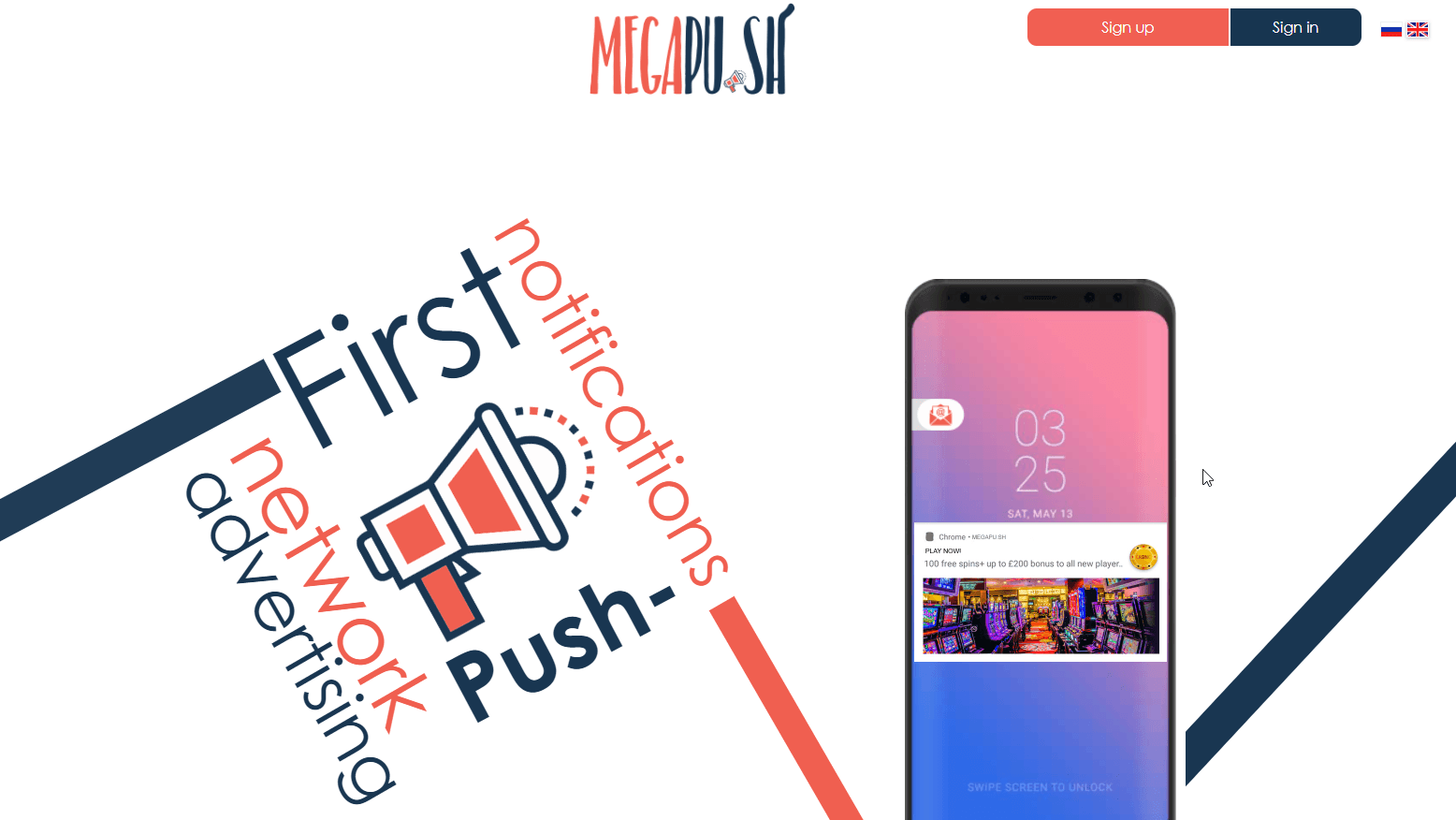 Megapu.sh is a new ad network that is based on push notification advertising. Push notifications are those messages that you receive on your phone from various apps and websites that you are using. For example, you receive push notifications every time you receive a message on Facebook or from your bank account informing you about a recent transaction etc.
Even though it's a new Ad format, push notification advertising is growing at an incredible speed, and more and more companies are now using this traffic model to bring clients and leads to their services and websites.
Advantages of Push Traffic: It's almost always bot-free, depending on the network that you chose to work with. Being a very new ad format, there aren't any bots out there that can simulate a user subscribing for a website's notifications.
So advertisers are taking advantage of this since that means there are fewer ways to lose money.
Another great advantage of push traffic is that your message will appear directly and instantly on the user's device, which means maximum visibility and a very high CTR (click-through rate) when compared to the more traditional banner ads.
Ok, so now where do you go in order to find good quality push notification traffic?
Simple answer: MegaPu.sh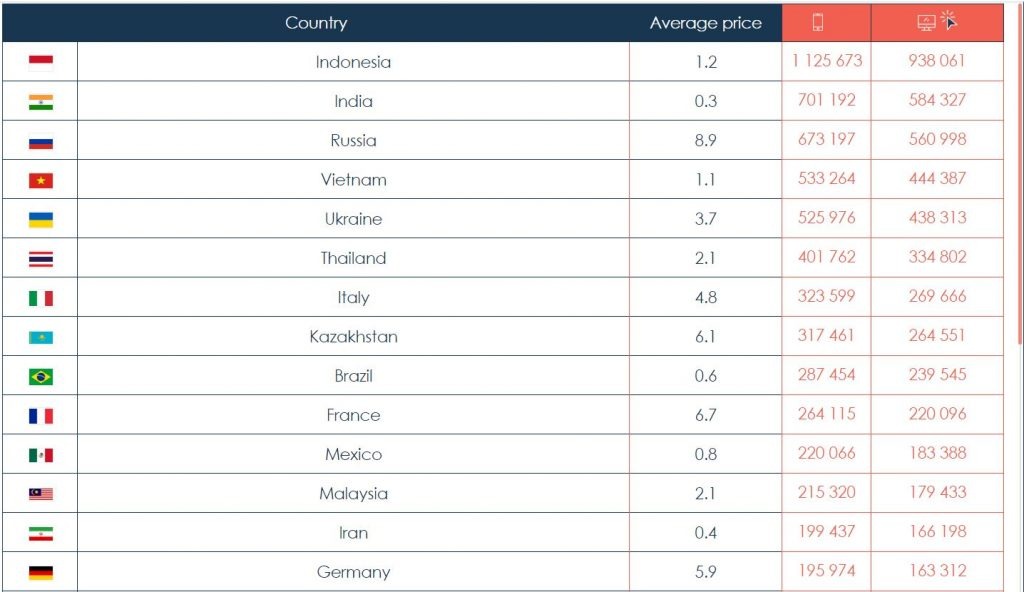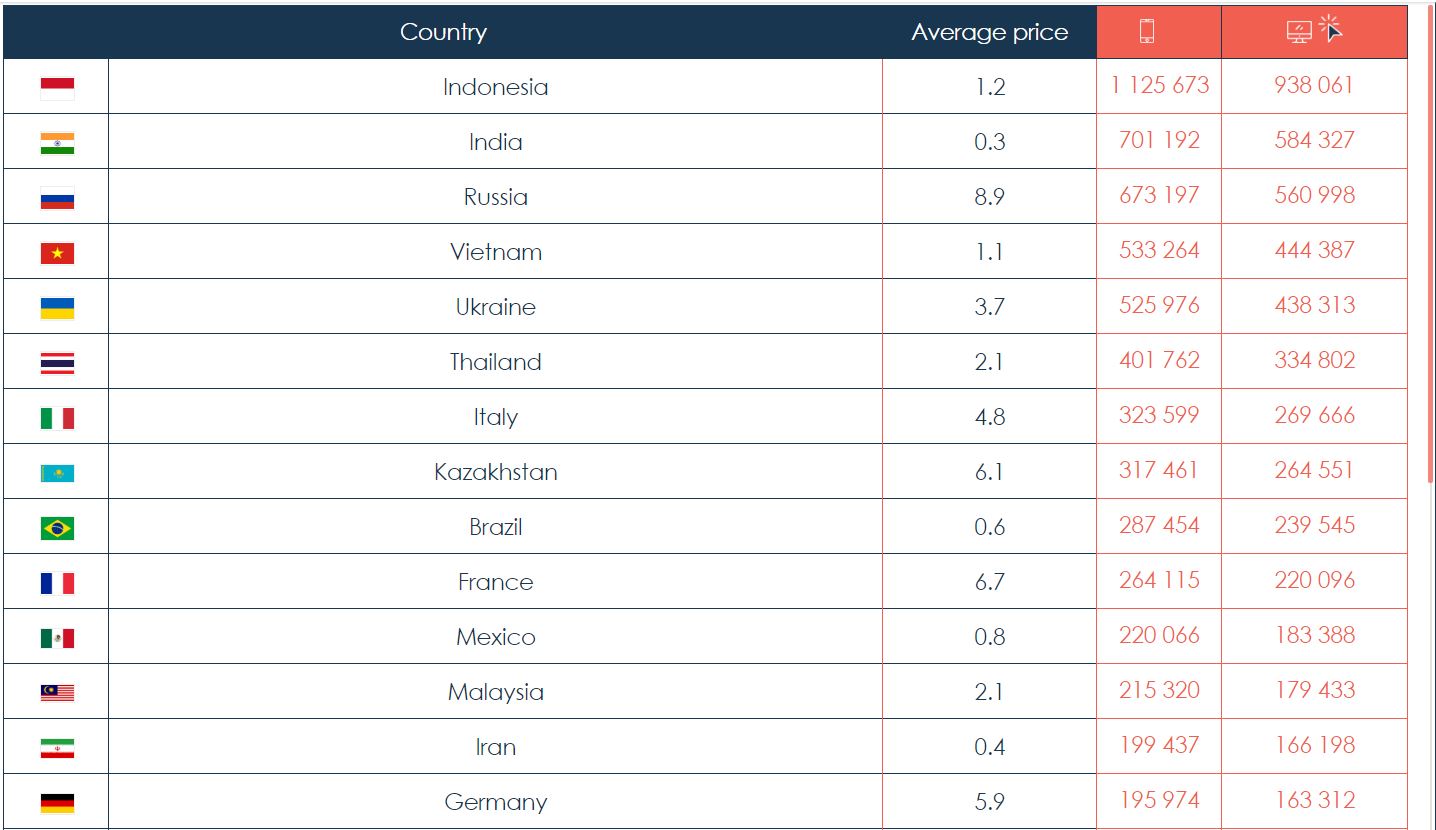 They have a very good and large inventory and at very affordable prices. They use a CPC pricing model (meaning you pay each time someone clicks on your push ad). Their lowest CPC is $0.001. Yes, that's right a tenth of a cent. Can you imagine the possibilities with such cheap traffic?
The only "issue" is the weird way in how they are displaying the cost. they just display everything in cents, so 0.1 becomes a tenth of a cent which is $0.001.  So make sure you won't get fooled by that high number when you see it. For example, if you see something like Germany – 5.9 it doesn't mean you will pay $5.9 per click it means you will pay $0.059. So 2.1 becomes $0.021, 0.6 becomes $0.006, and 0.1 becomes $0.001.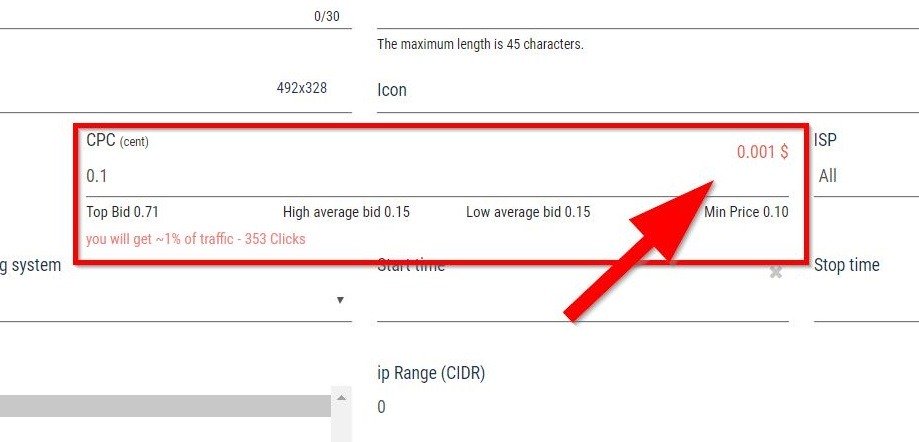 The CPC in Megapu.sh depends on the country you're targeting. Some countries have a minimum of 2 ($0.02) per click, while others have a minimum of 0.1 ($0.001) per click. Usually even the high tier countries such as: US, Canada, Australia, UK etc.. only have a minimum bid of $0.02 which is still extra cheap.
But if you have offers that convert well in other countries then you will be able to get a ton of cheap traffic. For example, India starts at $0.003, Brazil starts at $0.002, Panama and a few others at $0.001, etc. so there are plenty of opportunities to make a nice profit.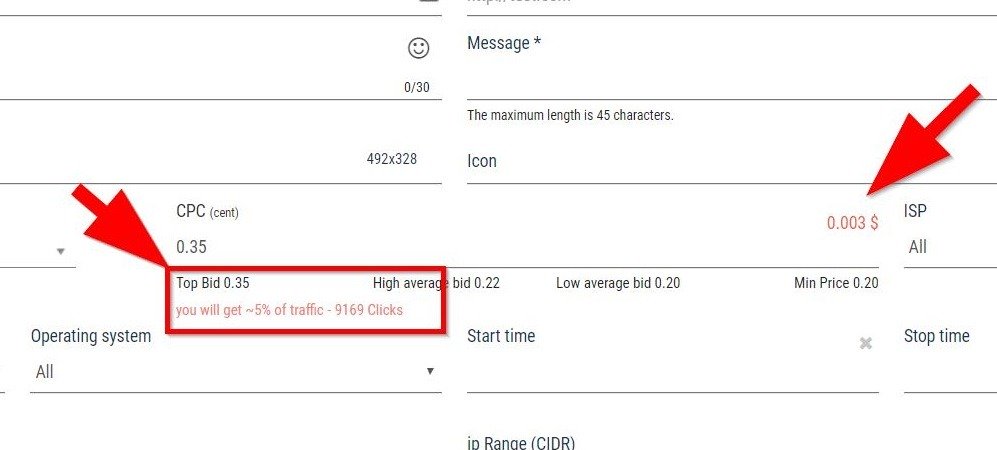 I've had multiple successful campaigns on MegaPu.sh and I'm still using it to this day… here's an example of some of my campaigns from a few days ago: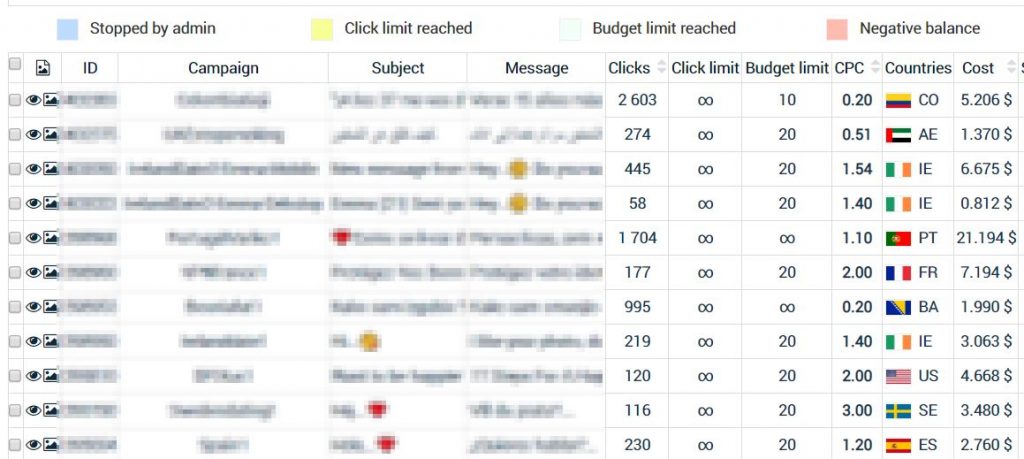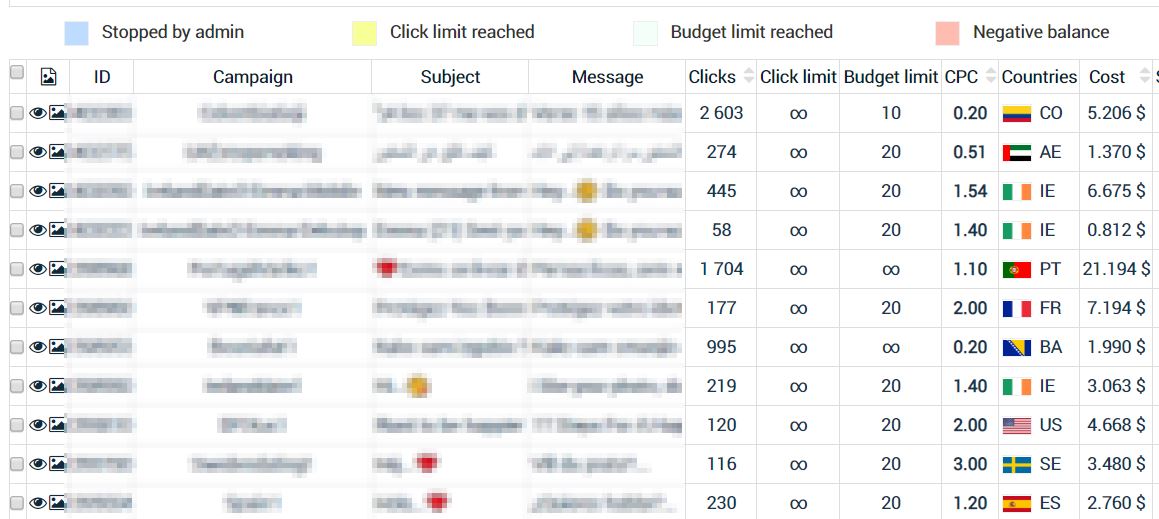 Now obviously I can't show you exactly what offers and campaigns I'm running, (I will create a separate blog post for that in the future), but as you can see I'm getting clicks as low as $0.002, sure I could've bid $0.001 on some of them but I wanted access to more traffic and faster. In other more competitive countries as you can see I bid anywhere between $0.01 to $0.03.
And yeah like I've said I made money with them, and I still run traffic every day through them for various CPA and affiliate offers as well as some of my other blogs. So I really recommend you give them a try. Check out my latest blog post for my MegaPush Review.
MegaPush Extra Info:
Minimum Deposit: $100
Minimum CPC: $0.001 (for selected countries)
10. PropellerAds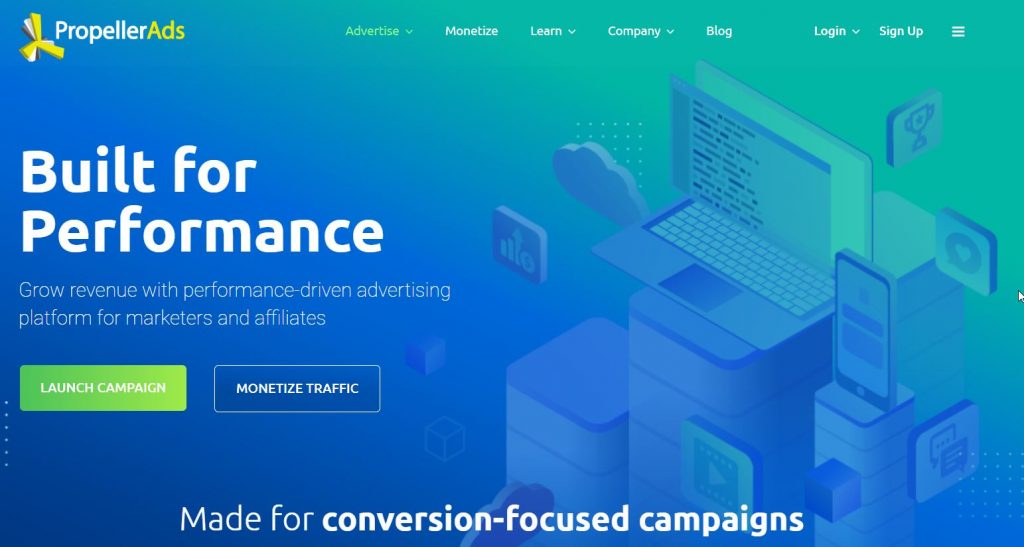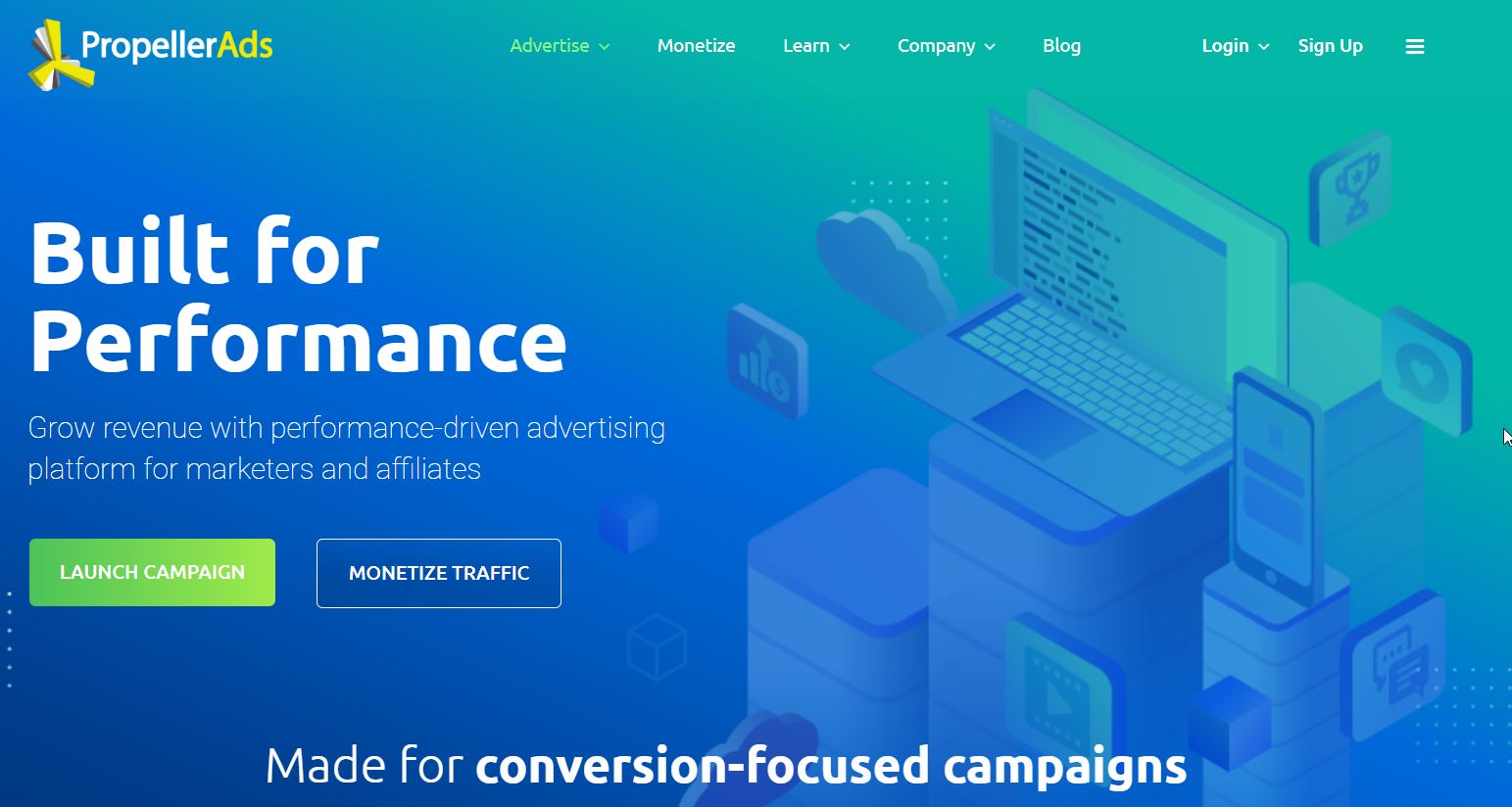 PropellerAds is another great advertising company. Although I only use it for their Push Notification traffic, they also have a few other options such as: CPM, Banners, Interstitials etc. However like I said I only play with their Push traffic.
It works the same way MegaPu.sh works, the only thing different is that they have a slightly higher minimum CPC for push notification traffic which is $0.005, and in some countries, you really need to bid a bit higher like at least $0.01.
I don't care about their other ad formats, I only tried their interstitial banner a few times, it worked ok but I only broke even, and I had to block too many bad zones in order to bring in a bit of money. Their push traffic, however, is very good.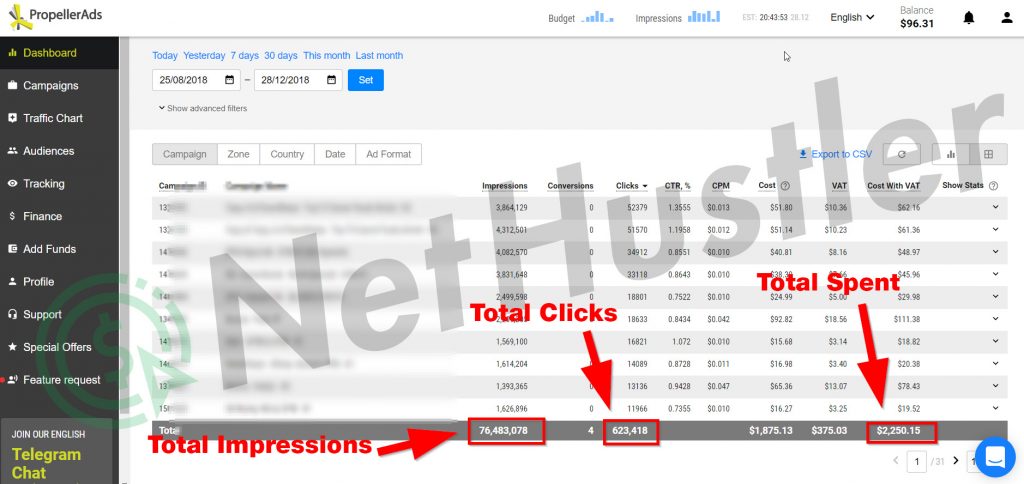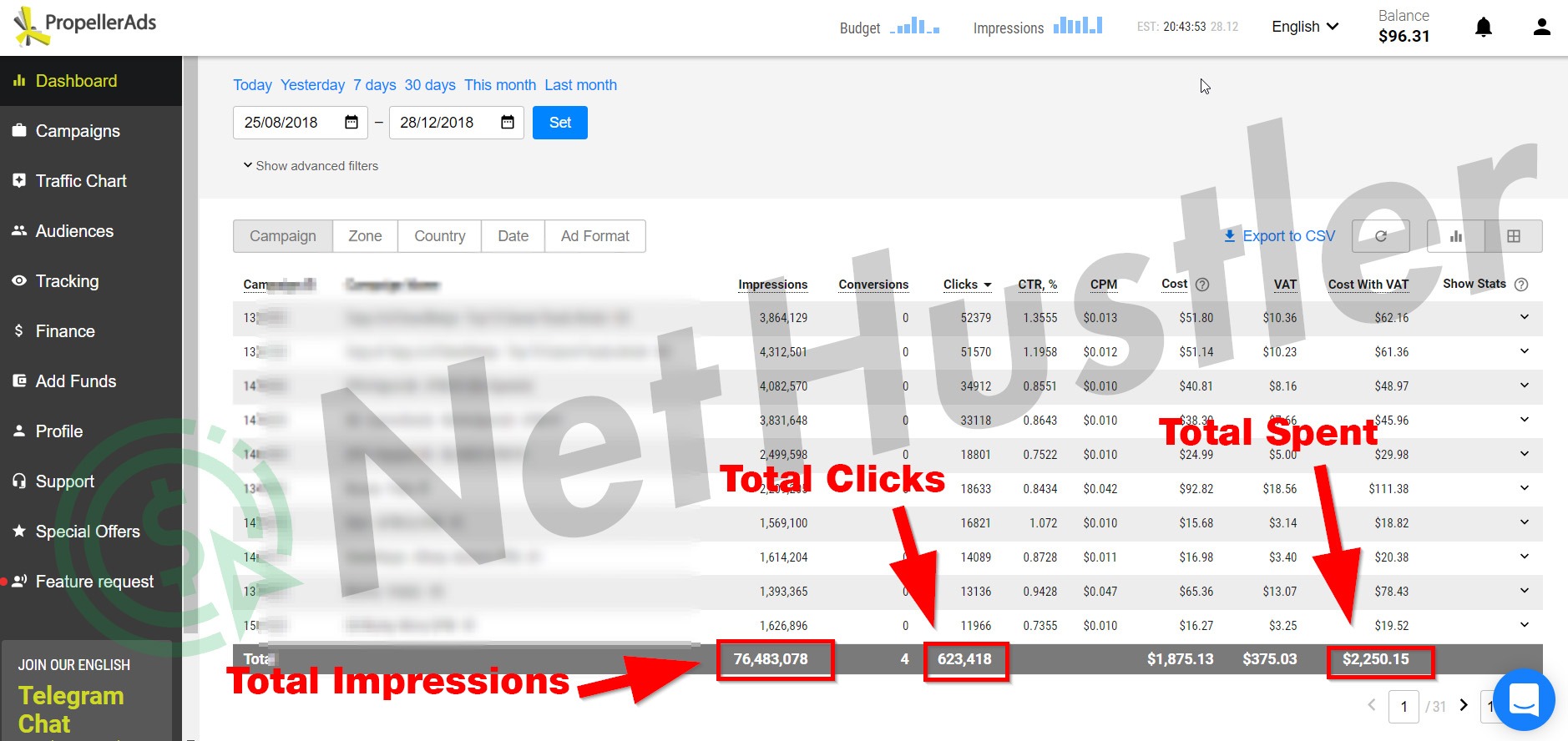 As you can see I bought 623,418 clicks in a little under 4 months and I paid a total of $2,250 (the actual cost was $1,875, but since I'm a European citizen, PropellerAds charges me a VAT tax).
That's on average $0.003 CPC. However keep in mind that I tested many campaigns in many countries, for example in Sweden and Switzerland I was paying a minimum of $0.08 CPC or more, and in countries like the Philippines, I could go with $0.005.
They also had a promotion a while back when their minimum CPC was $0.001, but I only got to take part for like 2-3 weeks, but then they made their minimum CPC $0.005 so I was paying at least $0.005 – $0.007 CPC for countries like India, Taiwan, Brazil, Mexico, etc.
Here are some Average CPC prices and also the minimum CPC for some of the countries for Push Notification (this is based on a screenshot I took on 29 December 2018, so it changes daily):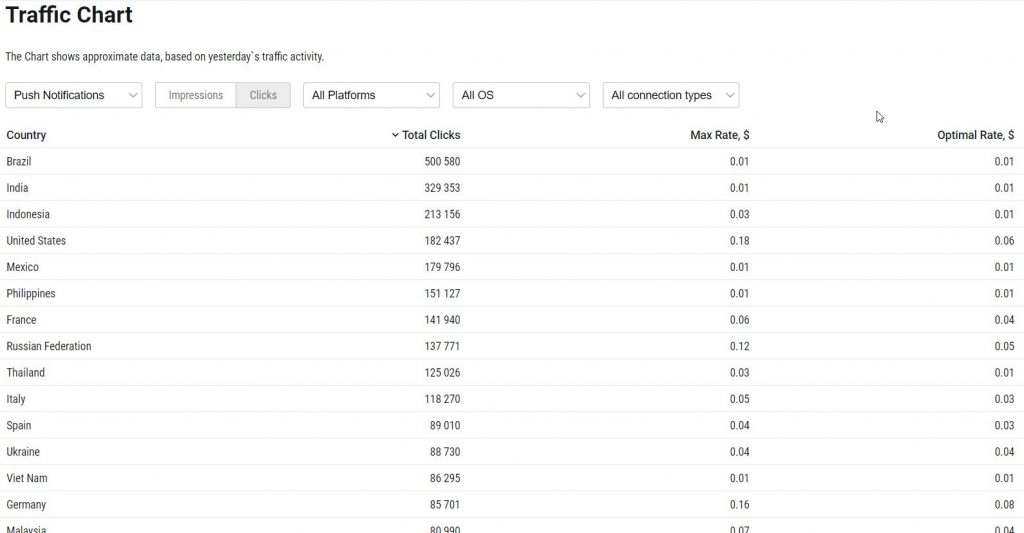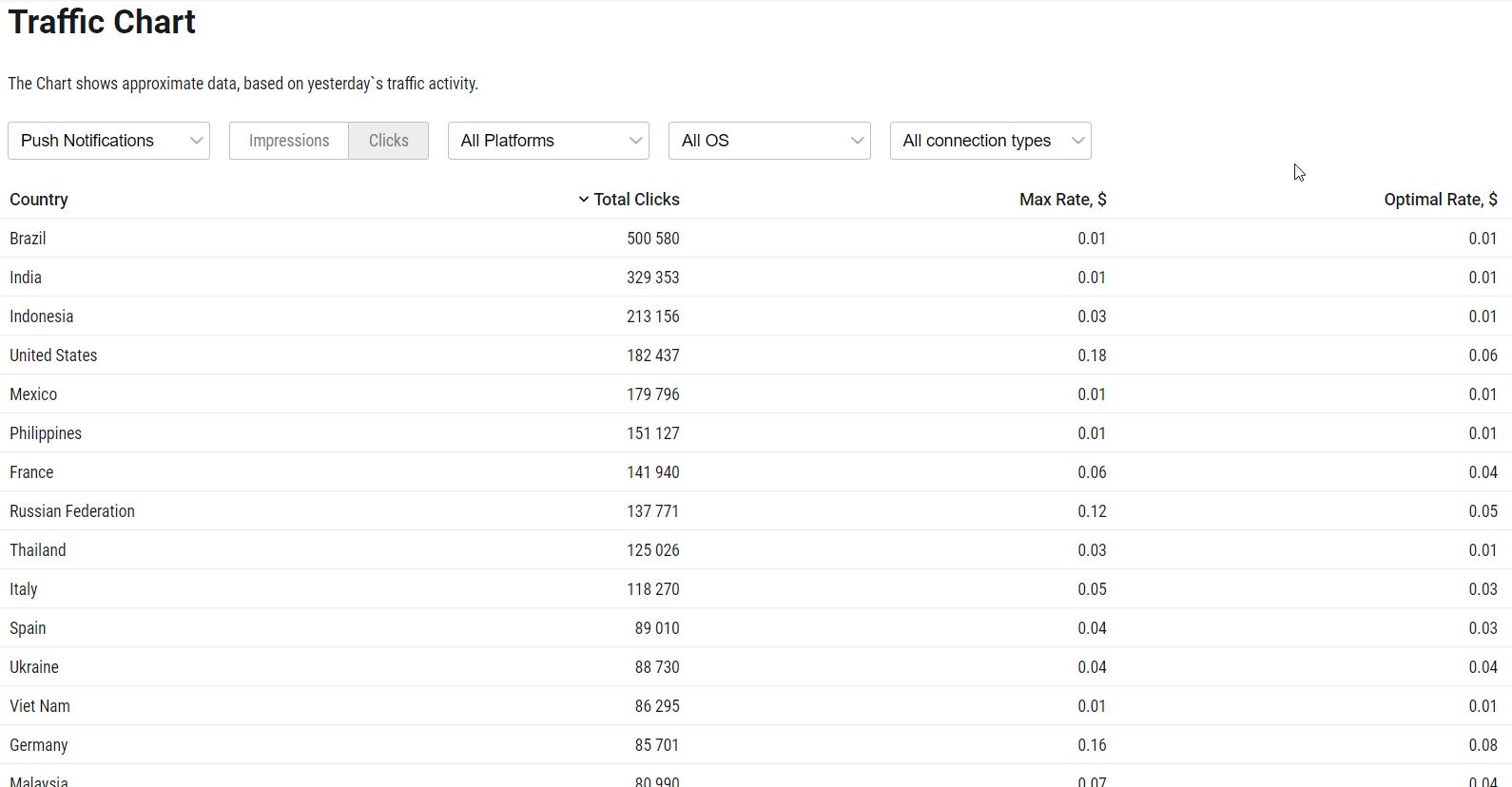 So what could I say more about PropellerAds…well if they didn't have good traffic, I wouldn't have bought so much of it.
I've tried a bunch of things with Propeller, from dating CPA offers, to content arbitrage, affiliate product sales in different niches like health, finance, casino etc. Some failed, some made me some really nice money.
I always figure out how to make a profit with all the companies that I'm working with, so I was able to get my money back plus some nice profit. But in order to figure out what works and what doesn't, you will have to test a lot. It all depends on what you're trying to promote, te to be honest, and how quickly you can scale things up.
PropellerAds Extra Info:
Minimum Deposit: $100
Minimum CPC: $0.001 for banner/native ads and $0.005 for push ads.
Conclusion
So there you have it…
10 very good and cheap website traffic platforms that you can use to promote your websites, blogs, affiliate offers, gather email signups etc. Sure some of them are a bit harder to master for example Youtube and Facebook Ads, but they are still worth a try, as the quality of traffic you can get from them is amazing.
I recommend all of these networks, otherwise, I wouldn't have written about them. They all have their differences and of course, they all vary in traffic quality and price. However, they are all tested and I've personally made money with them and I still use at least half of these networks on a daily basis to buy traffic for my websites and campaigns.
My favorites right now:
Bing Ads (Now Called Microsoft Advertising) – For promoting more serious services and software.
PropellerAds – For arbitrage and CPA affiliate marketing.
RevContent – For Adsense Arbitrage.
Watch out for the bot traffic and invalid clicks from Revcontent and PopAds, and make sure you track everything (even on Bing/Facebook ads you need to track your campaigns and see what keywords convert, etc…).
I really don't want to sound like a broken record, but trust me you can ask any serious marketer and he/she will tell you that tracking is one of the most important things to do when you pay for traffic.
So yeah, get yourself a tracking software like RedTrack or FunnelFlux (a bit more easier to use) and have fun setting up your campaigns.
If you want you can share in the comments your favorite cheap website traffic network and also the costs associated with it. I'm sure others will find it very helpful. Also, like and share this article if it helped you out.
Please keep this in mind though:
The information you see here can always change, these networks can always increase their prices or minimum deposit, or they can start running bad traffic or close down accounts left and right. So I will try to update this article every time I hear news about some of these changes.
Also, please understand that the results I had here with some of these companies, can be very different from the results you might get. I spent a lot of time and money learning how these networks work and what kind of offers are converting well, so I generally have an idea on how to at least break even and get my money back.
Basically, you can make some nice sales too using these companies, but I can't guarantee it 🙂 Ok? Why I can't guarantee it? Well because not even these ad networks can guarantee that you will make sales or your money back, so it would be insane for me to promise you that you will be able to do it and make a profit.
This doesn't mean that you would not be successful if you try them… it's all about your product/service that you're promoting and of course the country and your landing page.  So, it's indeed possible to make money using all of these traffic sources, but these things are not an exact science.
In general, though, it's not that hard…you just need to learn a few things, burn some money on tests, and pick up it from there 🙂
I hope this article helped you out, if you have any questions let me know down in the comments, I'll try my best to reply to every one of them.