22 Best Google AdSense Alternatives for Your Site in 2022
This post may contain affiliate links. If you buy something through these links I will receive a commission (at no additional cost to you). I personally hand-test everything that I promote, and I only link to services and products that I like.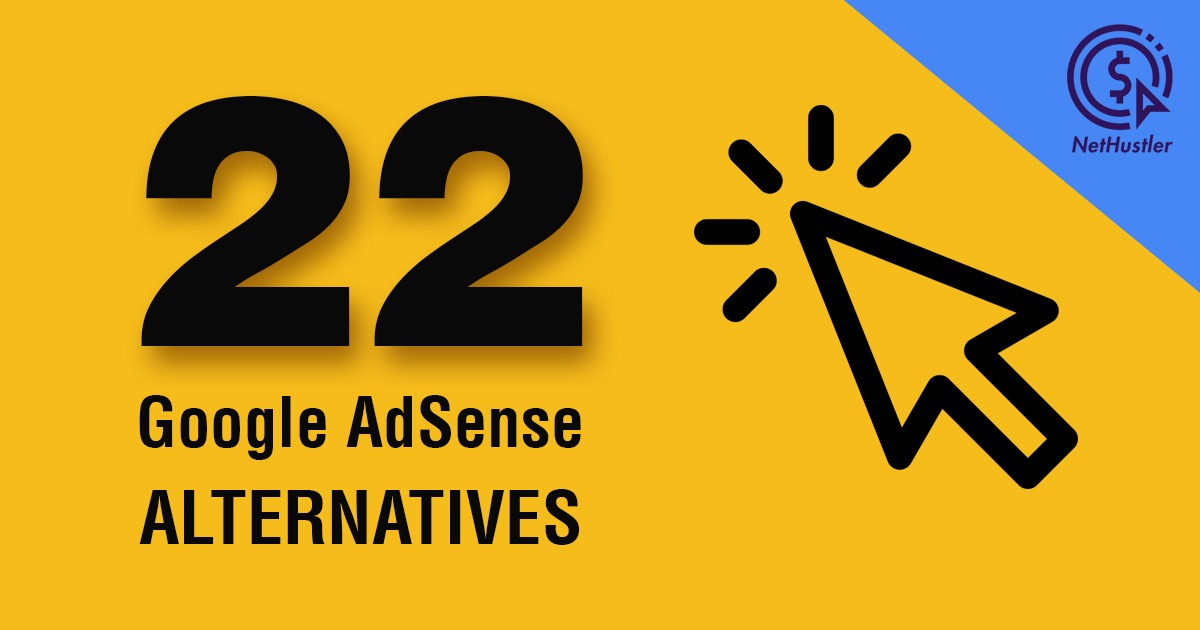 If you're reading this article, searching for the best Google AdSense alternatives, it means two things:
You applied to AdSense but your site got rejected
You had AdSense running for a while on your site but now Google banned you all of a sudden
Both of the options suck, and I feel your pain.
AdSense for some is like that golden egg, everyone is chasing after it, and almost everyone is trying to get AdSense running on their website.
There are many reasons to monetize a website or a blog with AdSense, a few of them being that it's very easy to implement, especially if you have just started blogging and it pays very well.
If one morning you opened up your email or AdSense account and seen the dread red bar informing you that your AdSense account has been suspended or banned, then here are 22 of the best Google AdSense alternative that you can use on your blog or website.
The Best Google AdSense Alternatives for 2022
1. Media.net – Best Google AdSense Alternative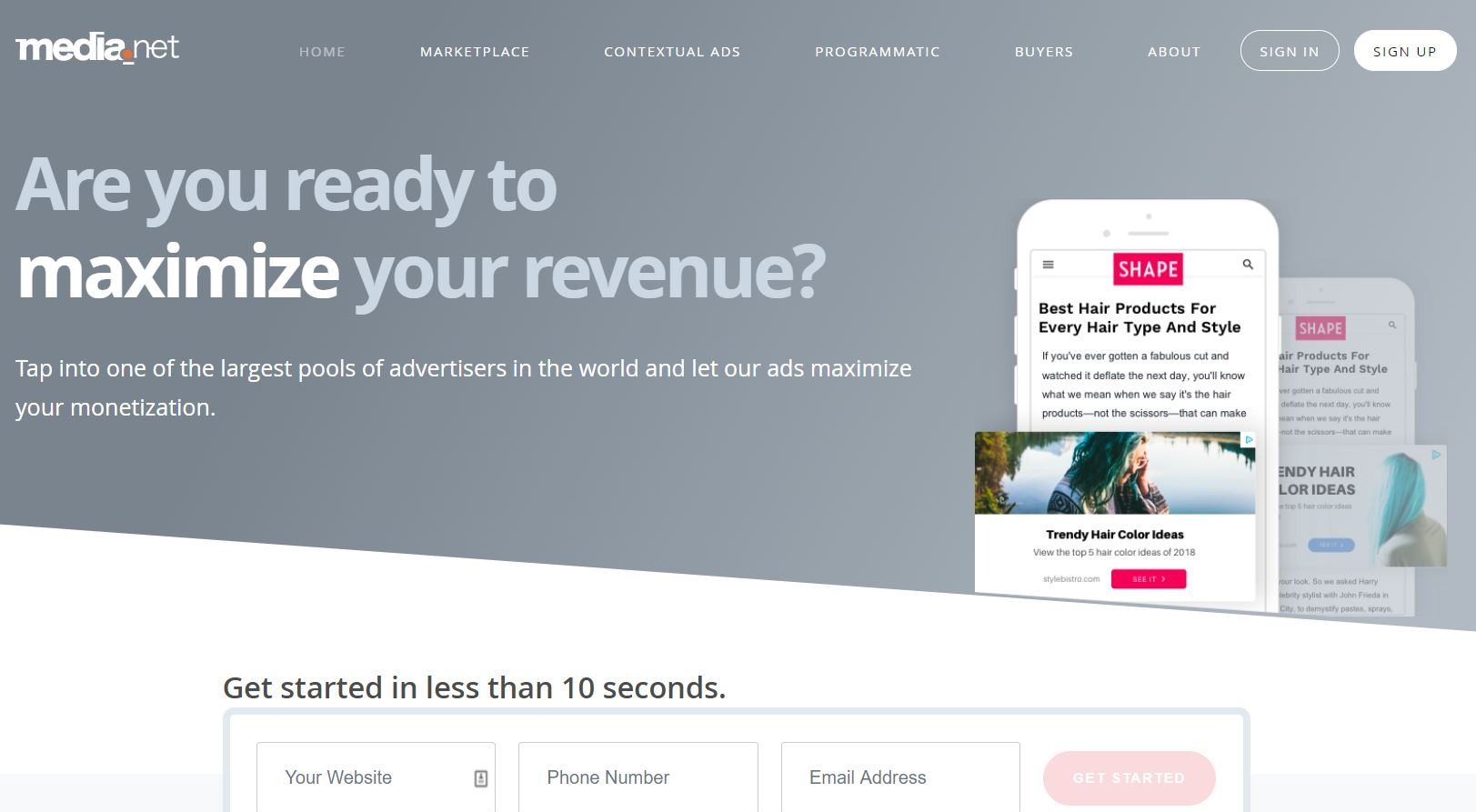 Media.net is hands down the best Google AdSense alternative, especially in 2022. They are the second biggest contextual ad network on the web, after Google AdSense of course.
Media.net has a different way of serving ads on your website, compared to AdSense. Their ads are powered by both Yahoo and Bing search engines.
So you get 2 big ad networks in 1. And so because of that, their ads are mostly search-related, based on the keyword and content of your site.
Up until a few years ago, they were purely a contextual ad network, meaning that all the ads would be text links.
But nowadays, they also feature display, native ads, and video ads. So you have a great variety of ad options to use on your website, in order to get the most amount of revenue.
Some of their publishers include big names like Forbes, WebMD, MSN, Reuters, CNN, CBS, USA Today, and more.
Those are some big names, they receive a ton of traffic, and their content is A+.
So because of that, in order to join the club with the big boys, your website must be of premium quality.
Last time I checked they don't really care about how much traffic your site gets. But they do care about premium quality content and the GEO of your traffic.
Make sure your content is unique, without grammatical errors, and basically the best that it can be, before applying.
Also since Yahoo! and Bing networks are largely used in English speaking countries, they would prefer that your website has traffic from those countries (US, CA, UK, AU, etc.)
Anyway, there's more to talk about Media.net and why it is the best Google Adsense Alternatives, but I will create a new separate Media.net review article in the near future.
Get a 10% extra bonus on all your Media.net earnings for your first 3 months when you SIGN UP Through This Link.
2. Propeller Ads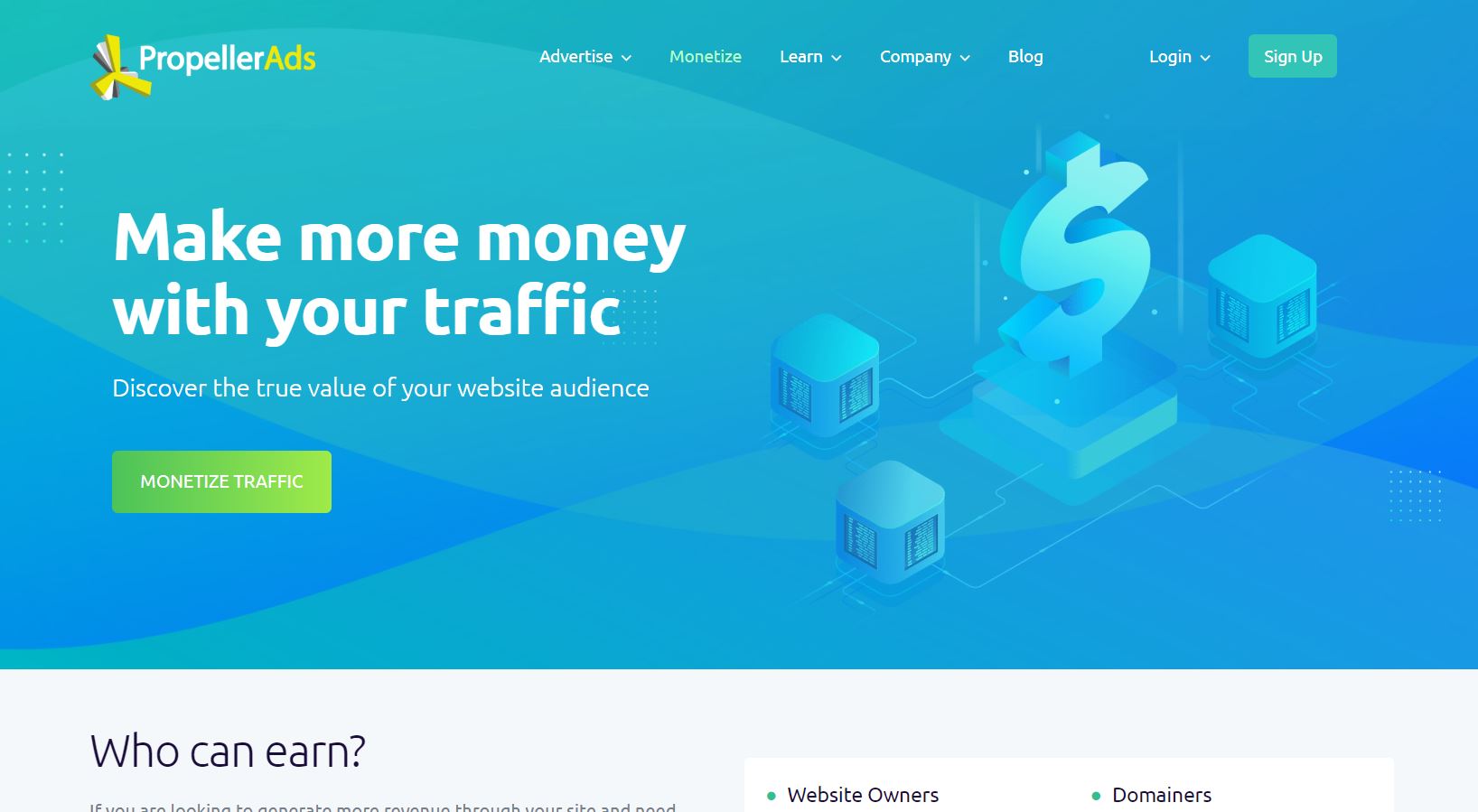 Some might be surprised to put Propeller Ads so high up on this list. Many people haven't even heard of them I'm sure of it.
They are relatively "new", launched in 2011. But trust me, that has nothing to do with the way they handle business.
I use them mainly as an advertiser for traffic acquisition instead of monetizing my websites as a publisher with them, and let me tell you, they are some of the best in the business for me, the traffic is great, cheap, and it converts.
But let's talk about their publisher side of things since you're looking for best google adsense alternatives right?
They have a few "controversial" ways for publishers to monetize a website, these include:
Popunder (Onclick Ads)
Interstitials,
Push Notifications
Native
Smart links
They have over 150,000 publishers working with them, so you know they are up there with the big networks in terms of publisher numbers.
The best thing about PropellerAds is that they have a 100% global coverage. Your site traffic can be from the USA or Uganda, they don't care and they will have ads to SERVE for every GEO.
Of course, you won't get the same amount of money for traffic from Uganda compared to the USA, but you will at least earn something and have ads up and running. Compared to other networks who won't even be able to give you ads for those smaller GEOs.
A great thing about Propeller Ads is that their ads also bypass Adblock, increasing your revenue.
They are one of the best Google AdSense alternatives, hands down. So give them a try, I'm sure you'll love them and get approved way quicker than on other networks.
3. Taboola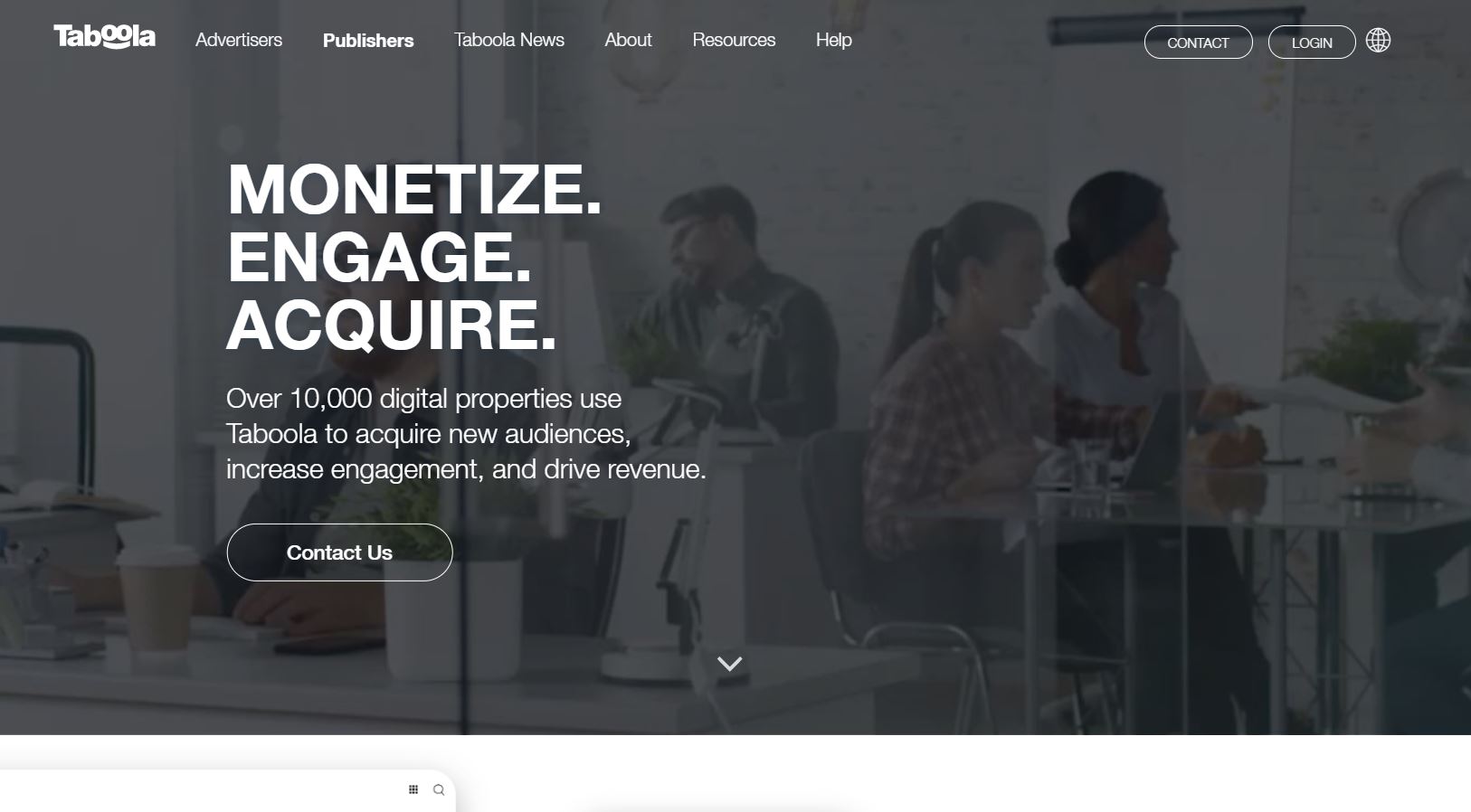 Taboola is a native advertising network that serves sponsored content and videos as ads.
You've probably seen their feed of ads on popular websites around the internet. Their ads are mostly for arbitrage websites, and are something like: "What Will Happen To Your Body If You Eat 6 Eggs Every Day?"
Those are the type of ads I'm usually running for my arbitrage websites, and some time ago I also used Taboola, again as an advertiser, but yeah it worked well.
On the publisher side of things, if you're looking for the best Google AdSense alternatives, Taboola can be a great replacement, although, usually it's better if you pair AdSense ads and Taboola on your website.
As a standalone AdSense alternative, Taboola can give you some good revenue, but I think you will HAVE to use another form of monetization in addition to Taboola on your website, so choose another one from this list, and if your site gets approved by Taboola then you can combine two of these Google AdSense alternatives together on your site.
Your site might need to receive at least 500k visits every month or more, in order to get accepted though.
4. Ezoic – Great Google AdSense Alternative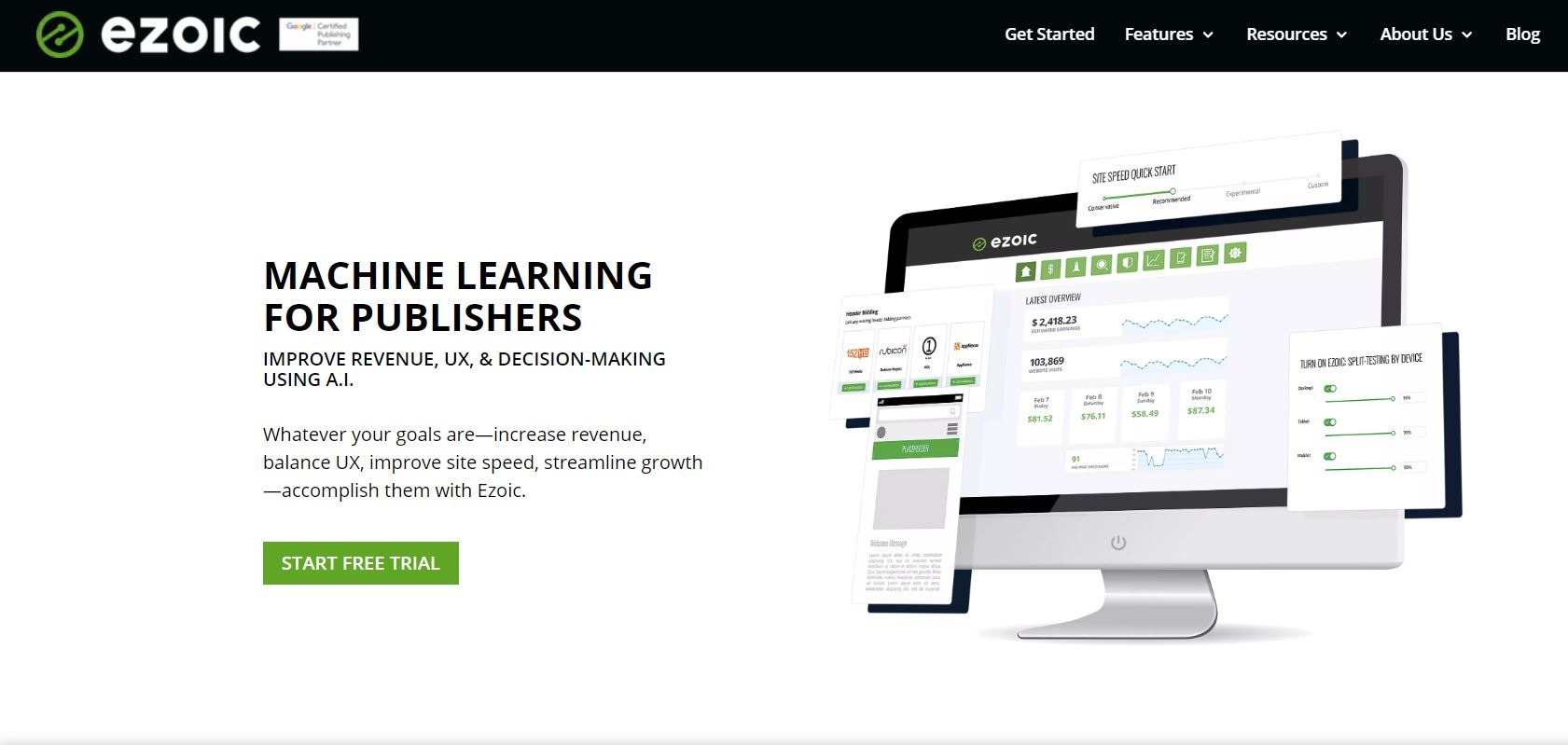 Ok, Ezoic is not really an alternative if you got banned by AdSense, because in order to get approved by Ezoic your site will go through the same kind of review like Google AdSense has.
Also since they serve AdSense ads through their platform too, having an AdSense account is mandatory.
But Ezoic has its own ace up its sleeve. It can increase your AdSense earnings, by constantly doing testing between various ad sizes, types, and positions on your website through their AI algorithm.
Ezoic is basically a platform that takes ads from all the top ad networks in the world including Google AdSense and makes them compete against each other for a spot on your site, thus increasing your RPM and revenue.
Usually, it's not that hard to get approved by Ezoic, but like I said your site will have to meet the same conditions as Google AdSense first, and have at least 20k visitors every month.
5. Adsterra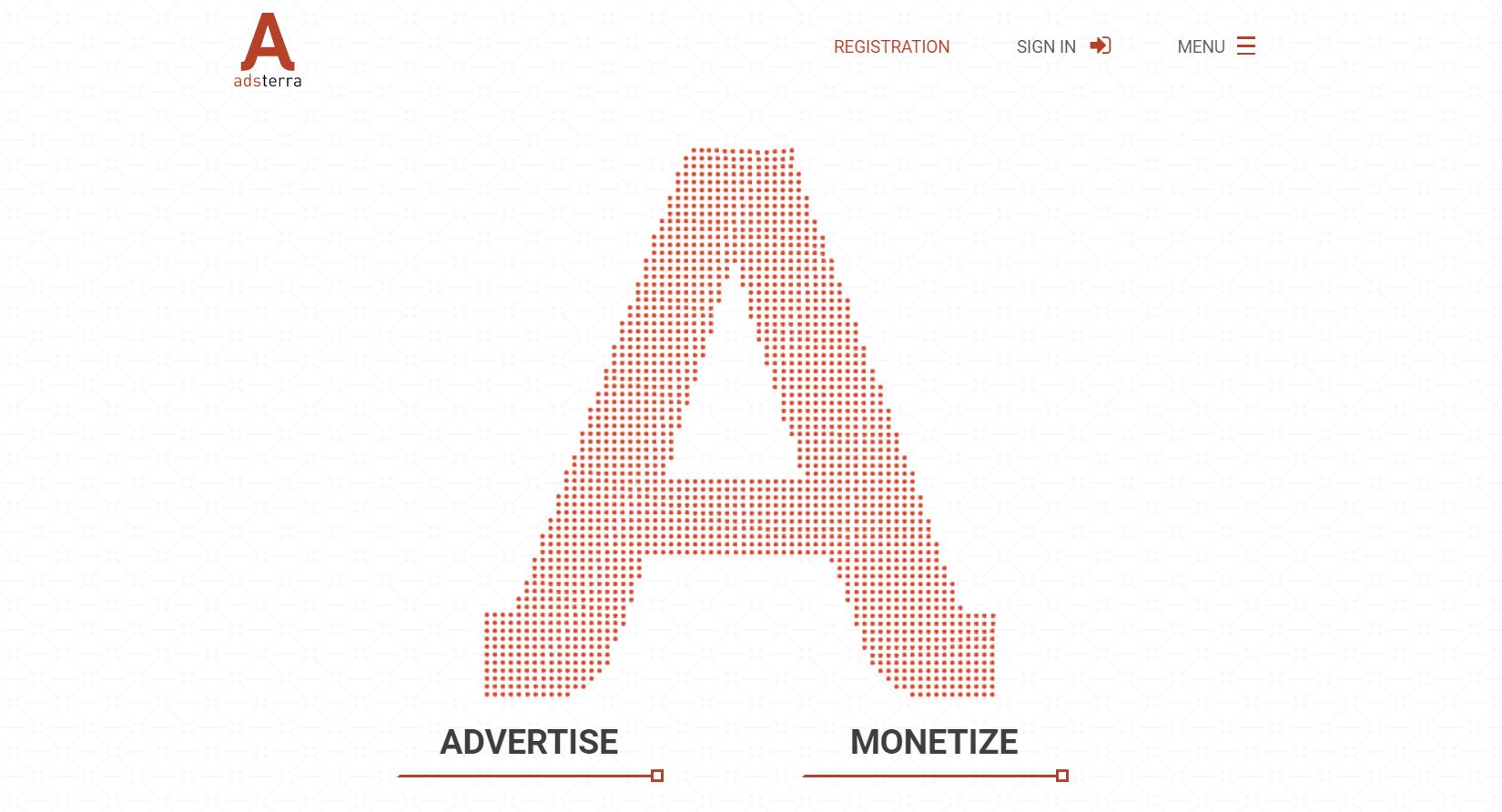 Adsterra is also a favorite of webmasters who are searching for the best google adsense alternatives.
Their ads are covered in 248 GEOs, and get more than 25 billion impressions each month. So you know there is quite a lot of traffic and advertisers on their network, along with a healthy number of publishers of course.
They have regular display and video ads, but also push notifications, popunders, and interstitials.
For many publishers, Adsterra's biggest PRO is its payment cycle and methods. They make payments on a NET15 basis and can send your money through Wire, paxum, bitcoin, and PayPal (which for many publishers getting payments through PayPal is great).
6. Infolinks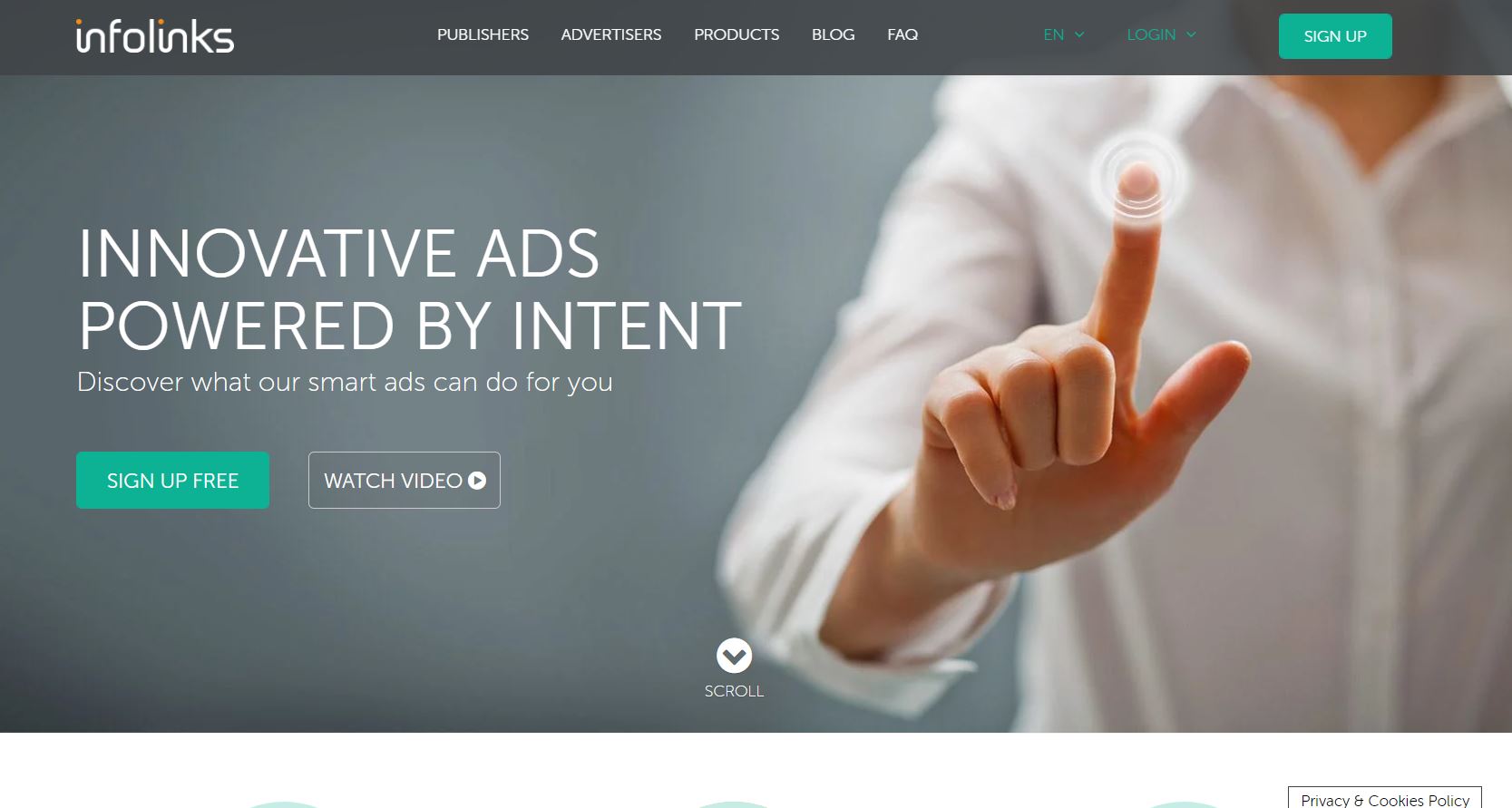 Infolinks was one of the first ad networks offering inText ads. (meaning that certain keywords of your site will become links that when clicked by your visitors will feature infolinks ads).
They also have display, interstitial, link units, and frame ads.
The best thing about infolinks is the ease of use for publishers to sign up and copy & paste ads to their website and start earning almost immediately (most of the time in under 24hours).
Infolinks is another great Google AdSense alternative, but they can also be used alongside AdSense ads if that's something you might want to try in order to increase revenue.
7. Revcontent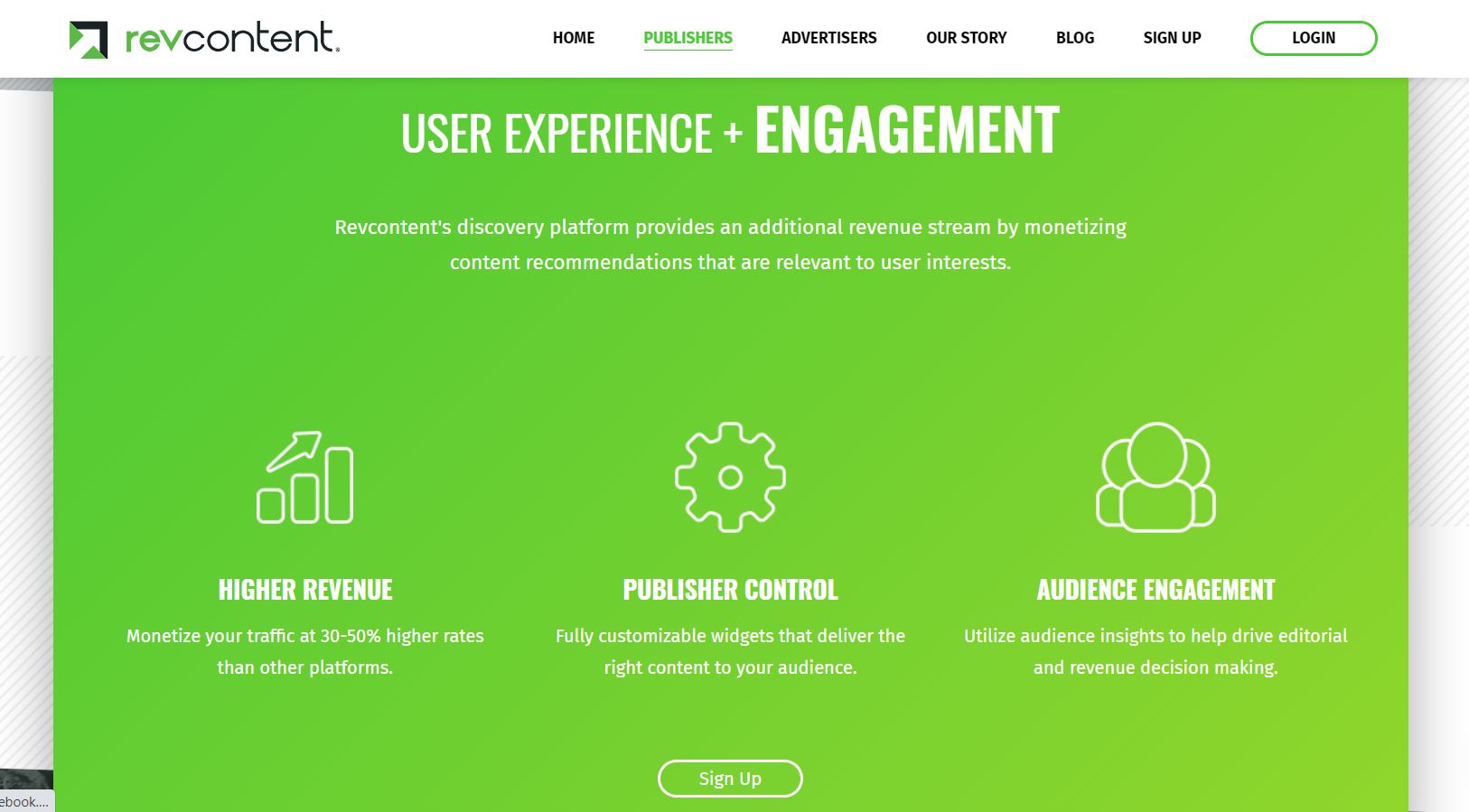 Revcontent is another great native advertising network that I also use a lot. It's similar to Taboola and the other native ad platforms out there and is also one of the biggest ones in the game in terms of numbers.
They serve over 250 billion recommendations per month.
That's a lot.
The approval process for publishers can be a bit more stringent, like any other respectable ad network, they want your site to have:
unique and premium quality content 
a good amount of traffic
They serve ads through the already popular format of content recommendation feed based on native technology so that the ads look good on every device.
8. Outbrain – High Paying Google AdSense Alternative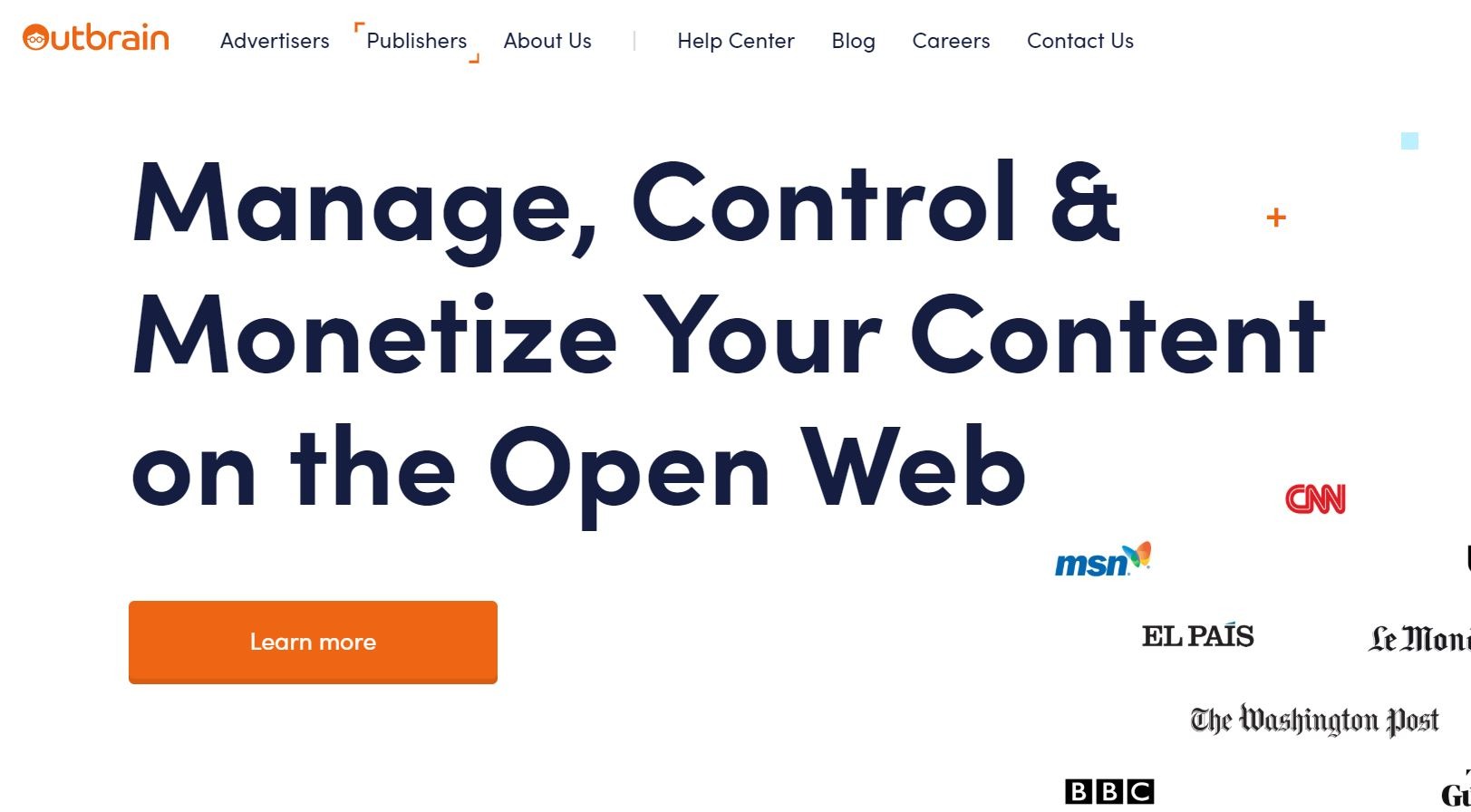 Similar to Taboola and Revcontent, Outbrain is another native advertising platform that serves ads through content recommendations.
They have very good CPCs and you can earn some nice revenue by using Outbrain's ads on your site.
However…
Unlike the other content recommendation platforms, Outbrain's rules for accepting a new publisher is very intense and demanding, so not every website will be approved.
Last time I checked…their minimum traffic requirement was… (get ready for this): 10 MILLION visits, preferably from the US.
That's crazy for every small to medium website owner out there, let me tell you that.
Of course, this is all unofficial, and a number that I heard from various sources, but I believe it's somewhere in between 3mil to 10mil to be honest if your content is amazing… and I mean AMAZING.
9. Content.ad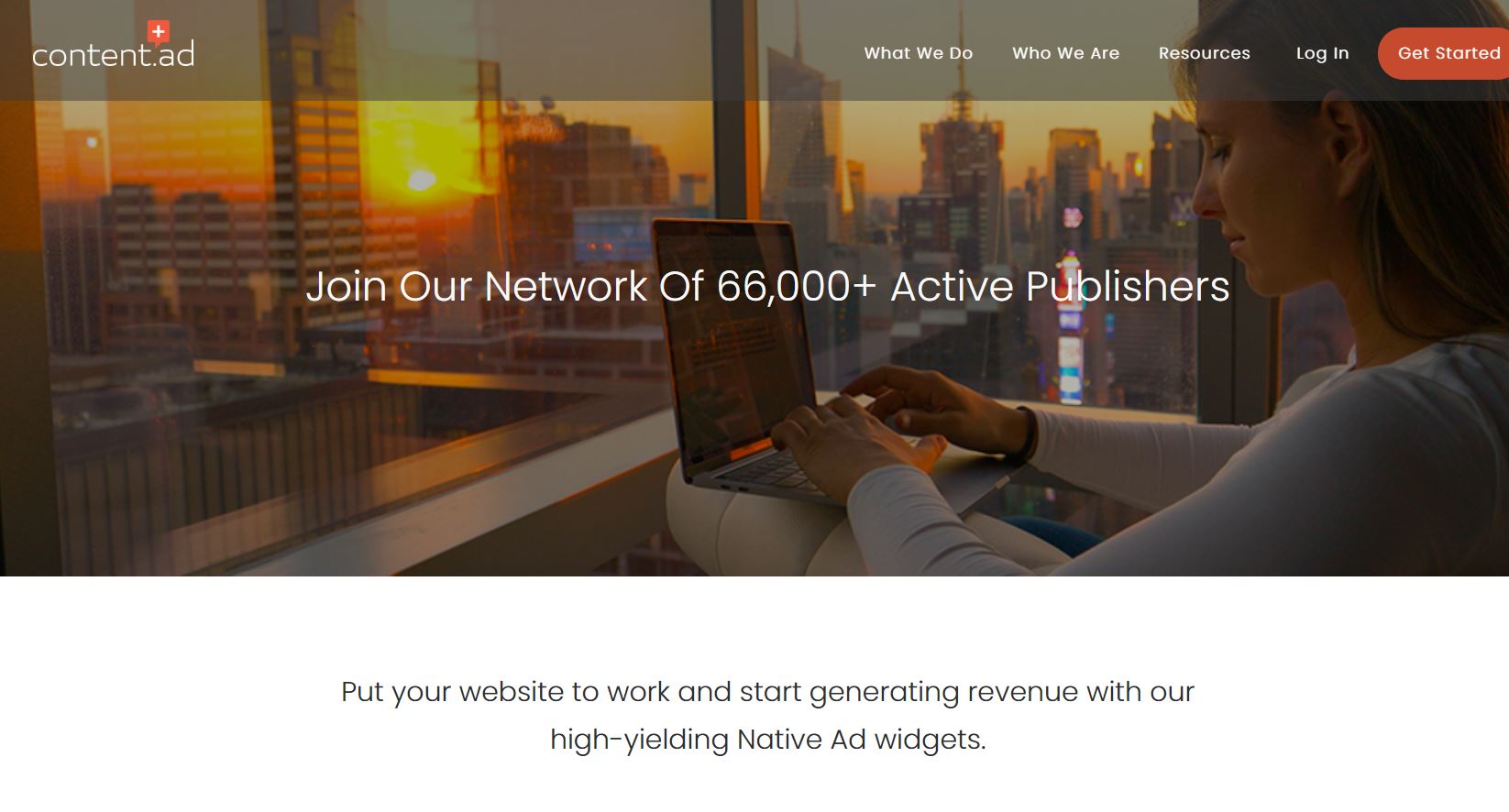 The benefit of Content.ad native ad network is that they have more normal requirements for publishers to sign-up. They also feature native content recommendation ads like Taboola, Outbrain, and RevContent.
But since they are easier to get approved, you will also find more type of clickbait-y titles on their ads, so if you don't like those on your site, then they might not be a good fit for you.
I remember when I started out doing AdSense Arbitrage, I could not get my site approved by Taboola, Outbrain, and Revcontent, because I had a very small amount of traffic to my site since I was just starting out.
Content.ad saved the day for me, and I added their native ads below all my arbitrage articles and on the sidebar or my blog while also running them alongside Google AdSense.
90% of the time, their native ads would give me back all the money that I invested in paid traffic, and then every click on the AdSense ads would be pure profit.
Their pay was pretty good for Tier 1 traffic, I think about $0.15 CPC, but this was like 5-6 years ago, so things might have changed now, I haven't tested them in a while.
I even ran adsense arbitrage ads on their networks as an advertiser, while also serving content.ad and adsense ads in my article lol, it worked amazing.
So give them a try if your site receives a lower amount of traffic.
10. MGID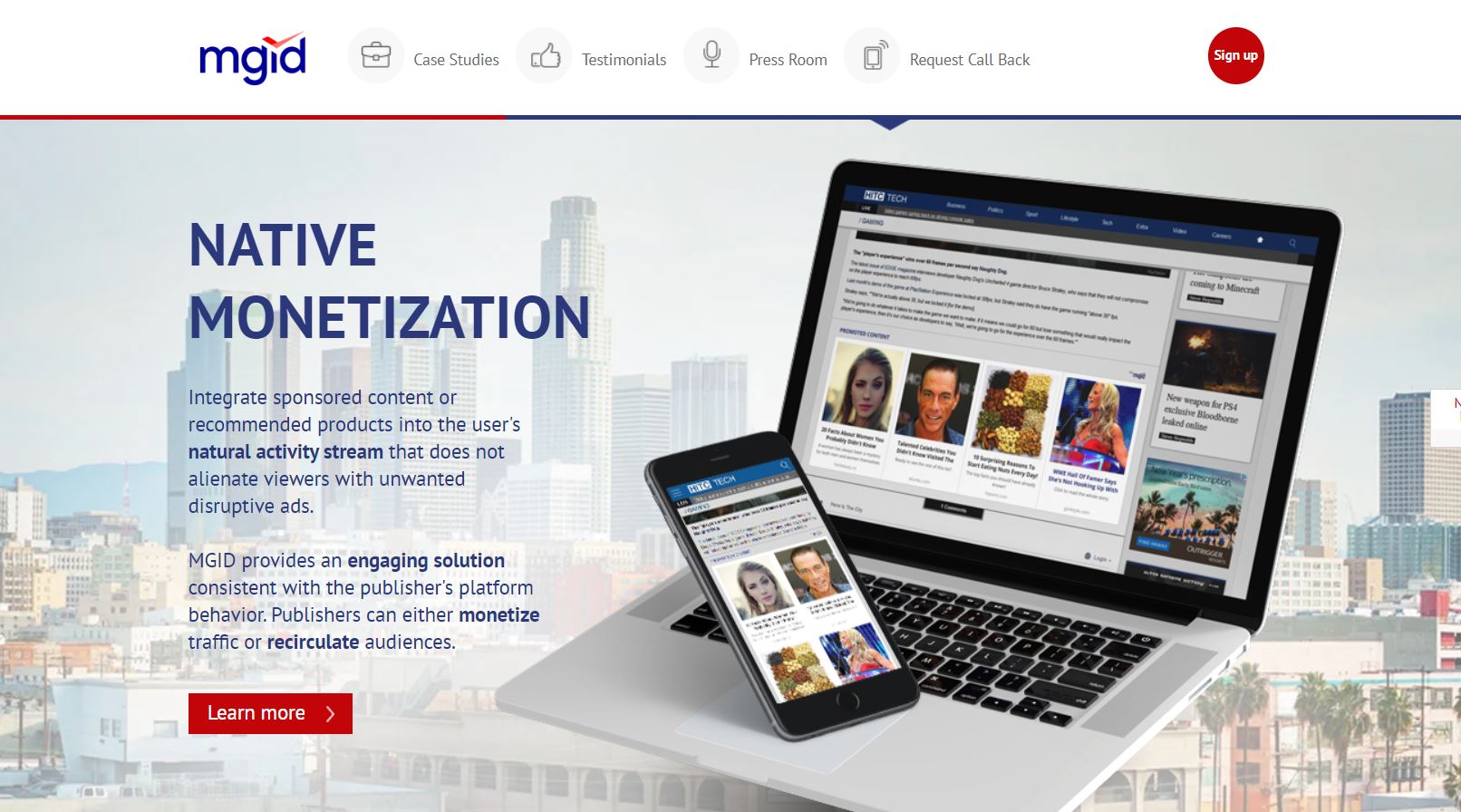 Same as Content.ad, MGID is a very good alternative to the big 3 behemoths of native ad networks (Taboola, Outbrain, Revcontent).
Their ads can be a bit riskier though, so make sure to set up filters and stuff before placing them on your site if you don't want to see ads that are too sexual in nature or clickbaity.
11. Adversal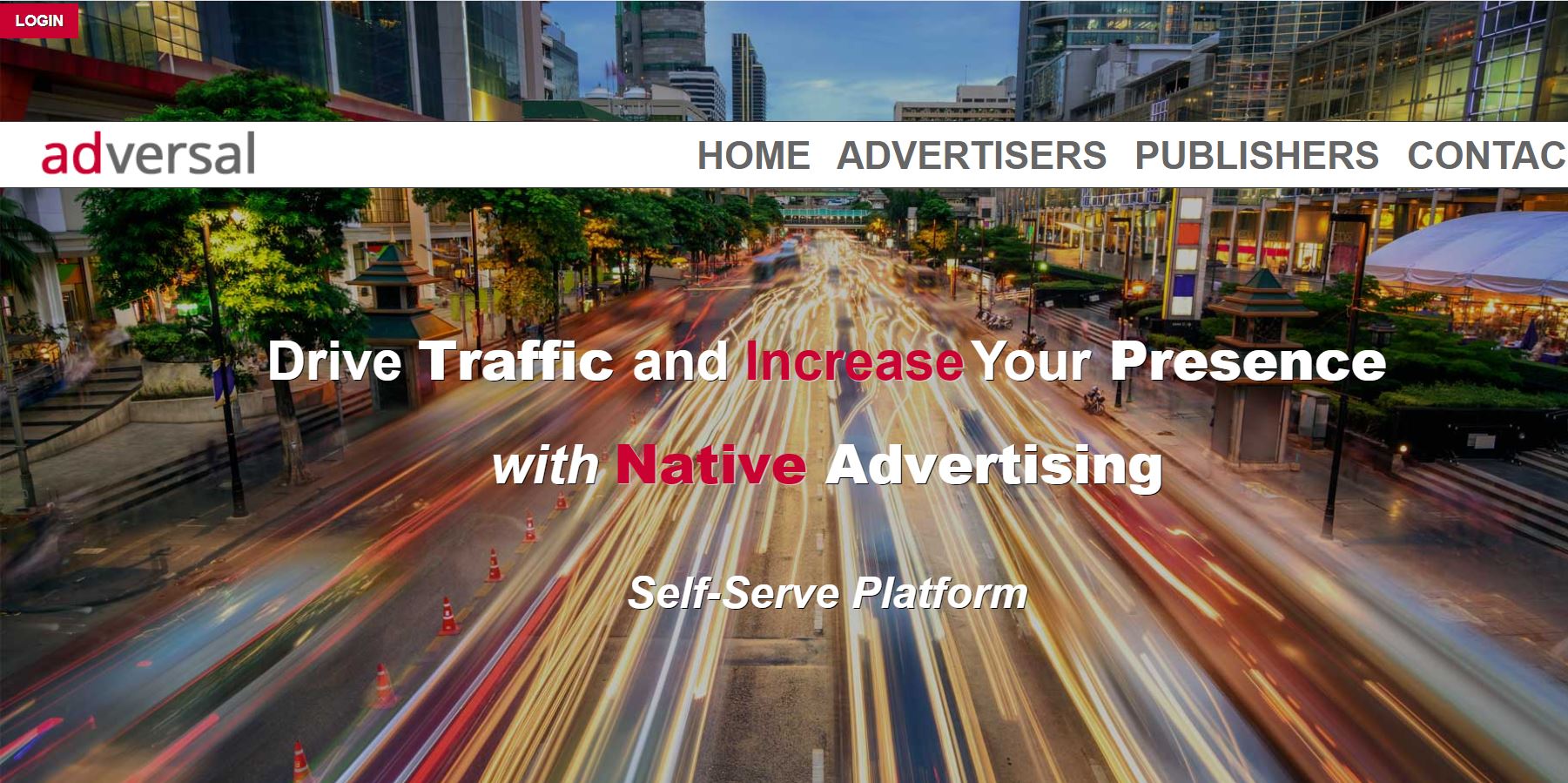 Adversal is a self-serve native advertising platform. While less known than other native platforms out there like Taboola, Revcontent or Outbrain, Adversal is still a very good ad network to apply to if you're searching for best Google AdSense alternatives.
Their requirements are generally low: Your website needs to have its own domain name (so don't try applying if your site runs on a free subdomain like flowers.somethingelse.com unless of course, it's yours).
You will also need to have at least 50k page views per month, don't have any malware, piracy, illegal and adult content, and that's about it.
12. Amazon Associates – Good Google AdSense Alternative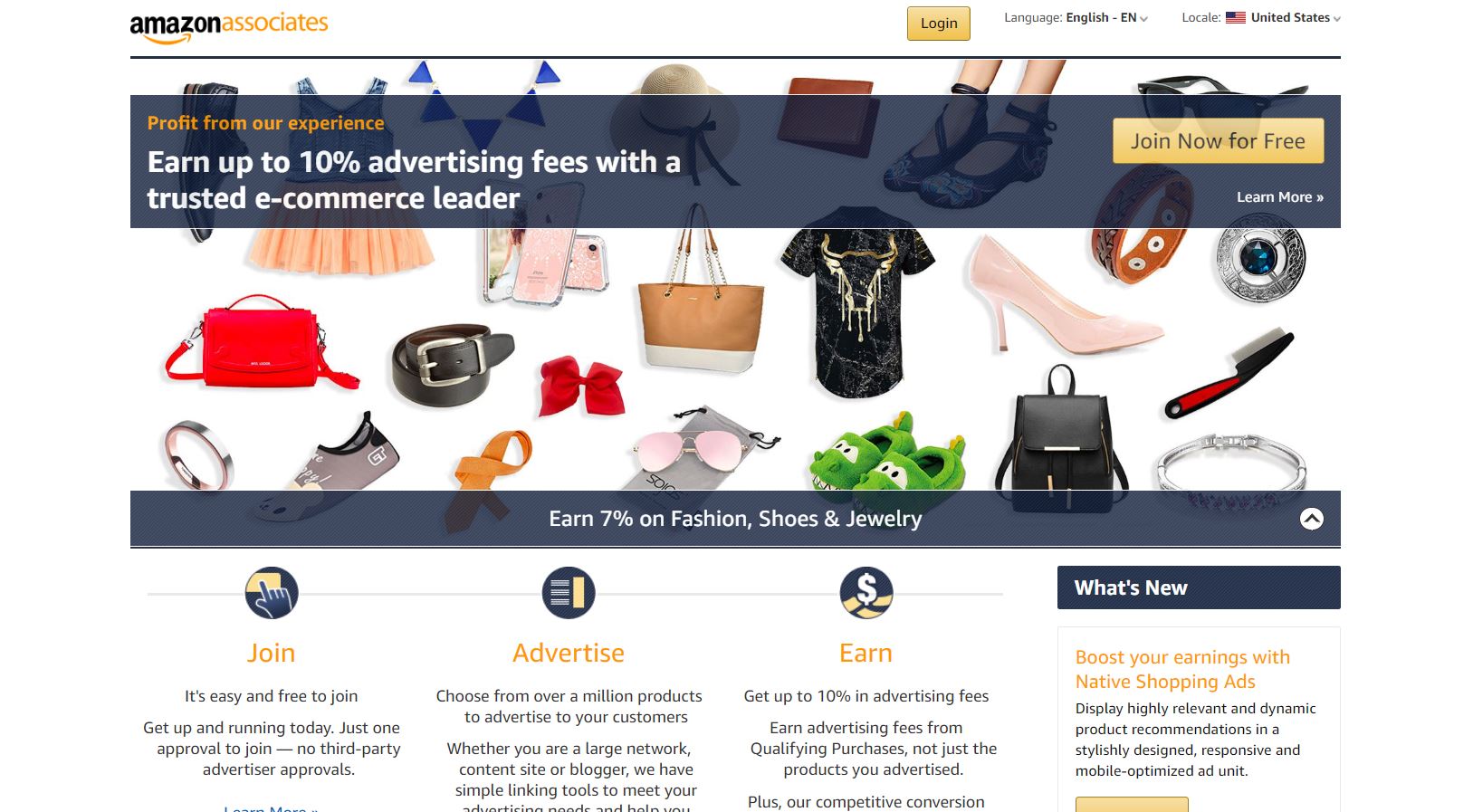 There are websites out there that are built solely for promoting Amazon products. Most of the time they won't even have AdSense on their site, in order to increase their Amazon income.
Needless to say, Amazon is one of the best Google AdSense alternatives, especially if you're in a good-paying niche.
Their native ads blend seamlessly with your content, showcasing your visitors the best products to buy that are related to your niche.
Their commission percentage varies depending on what things you promote,  and because of that depending on your niche, you can either make almost no money at all or make a ton of money by promoting some of their more expensive products.
Amazon Associates shines when you can create content reviewing their products, or organizing list with the top 10 products in a category. For example, you could create an article like Top 10 Washing Machines, and if you get a lot of traffic for that article you can make a lot of money, since washing machines are on the expensive side, compared to a book or DVD.
13. AdCash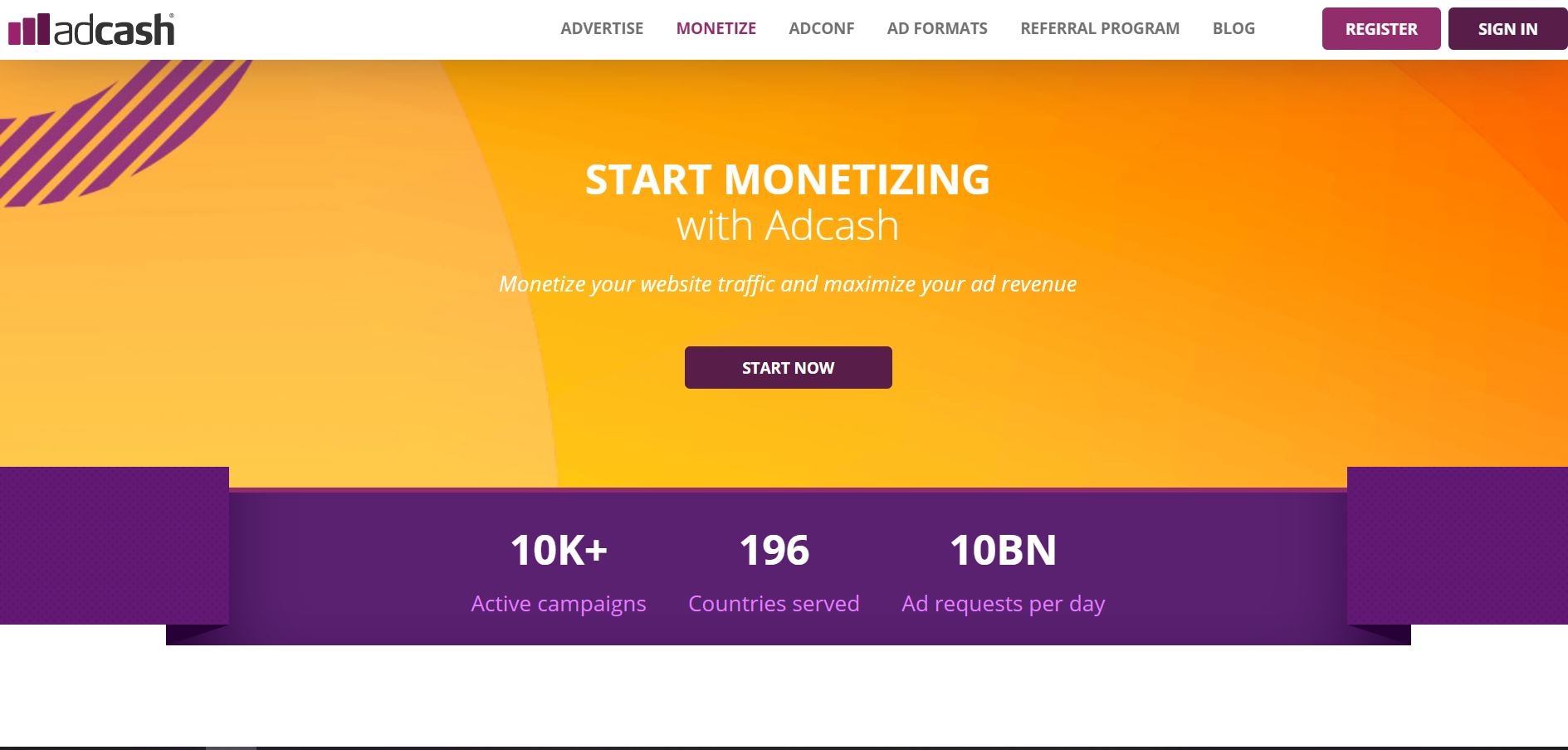 AdCash is another popular Google AdSense alternative. They have the ability to serve ads in over 196 GEOs, which is good because you don't want to have empty ads on your site.
They accept all publishers, small, medium, or large. This is very good especially if you're struggling to get approved by everyone else.
Their ads also bypass Adblock software, so you are able to earn a bit more compared to other ad networks who don't offer this technology.
Their ad formats include Interstitial, native, pop-under, push notifications, and banners.
They also have many payment options for example Payoneer, Webmoney, Skrill, Bitcoin, and PayPal, this is great compared to others who can only pay through WIRE or check or bank transfer.
14. PopAds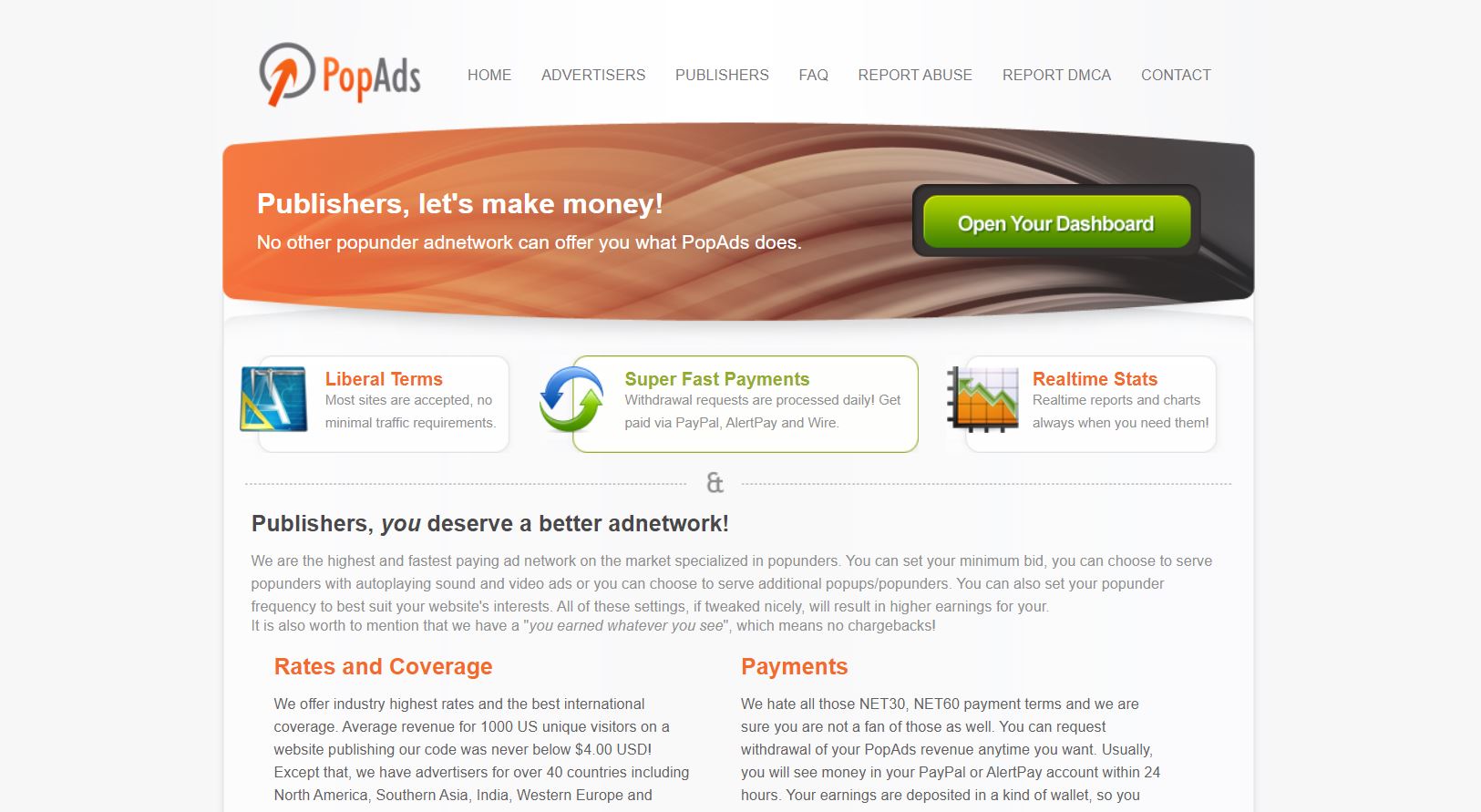 Popads is a popunder and popup ad network. Because of that, almost every website can get accepted (of course no illegal content, and stuff like that).
The pay is not that great of course, this being a popup ad network, but it's still not that bad, especially if your site got rejected by everyone else.
You can also use other ads from other networks in combination with PopAds in order to increase your revenue.
I only tried them as an advertiser, but the traffic I was getting was not that bad, to be honest, you can still get conversions from popup and popunder ads even in 2022.
15. ylliX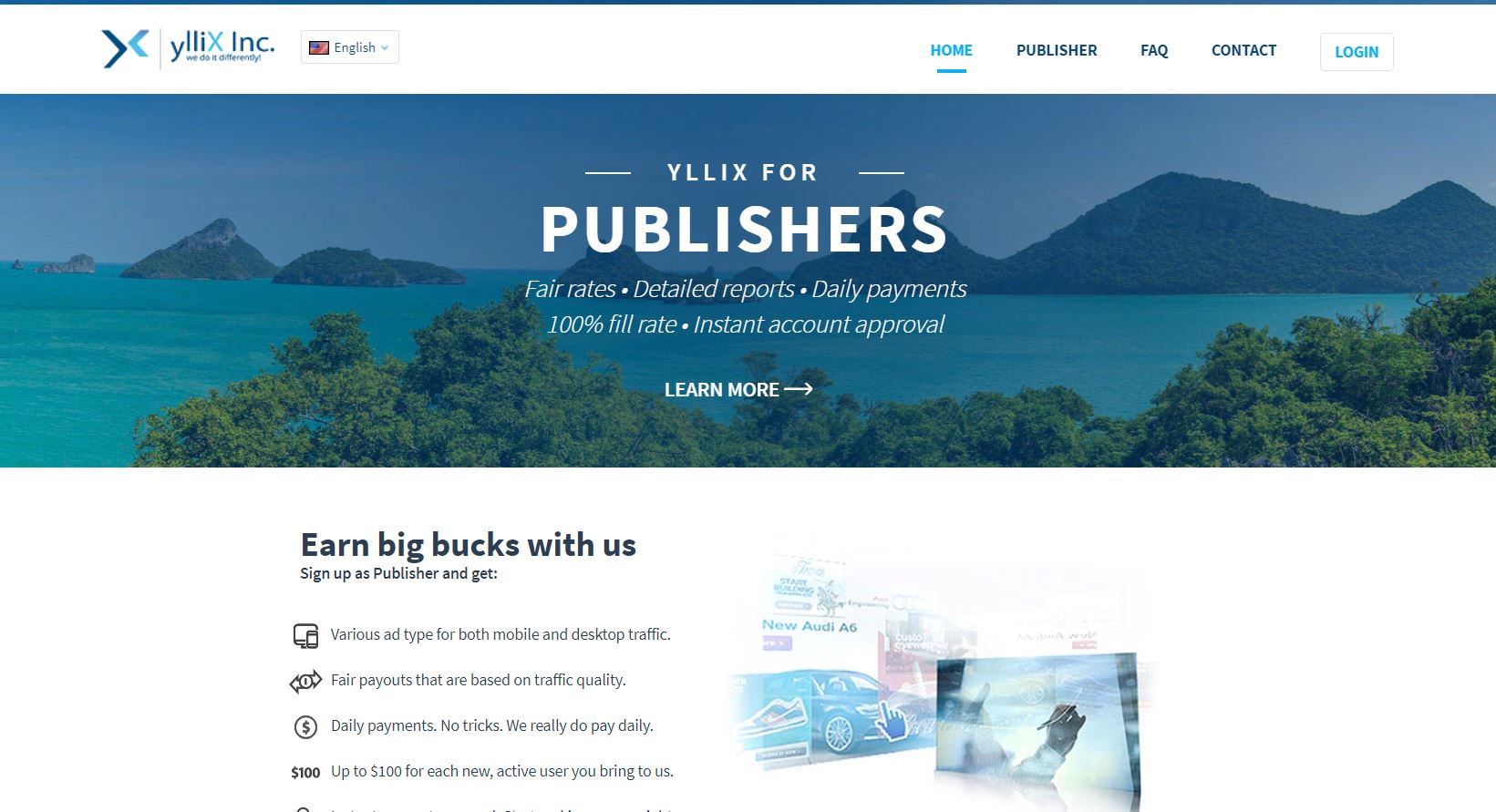 ylliX is another great AdSense alternative, that has some very big PROs for some publishers.
For example:
They issue daily payments (amazing)
$1 minimum payout (WHAT? nobody has a lower payout than ylliX)
So combine these 2 points together and it means that even a small publisher can start earning money right away.
When it's time to pay real-life bills, sometimes the networks that offer daily payments are a lifesaver.
They have a 100% fill rate for every GEO and feature CPM, CPC, and CPA ads.
16. Sovrn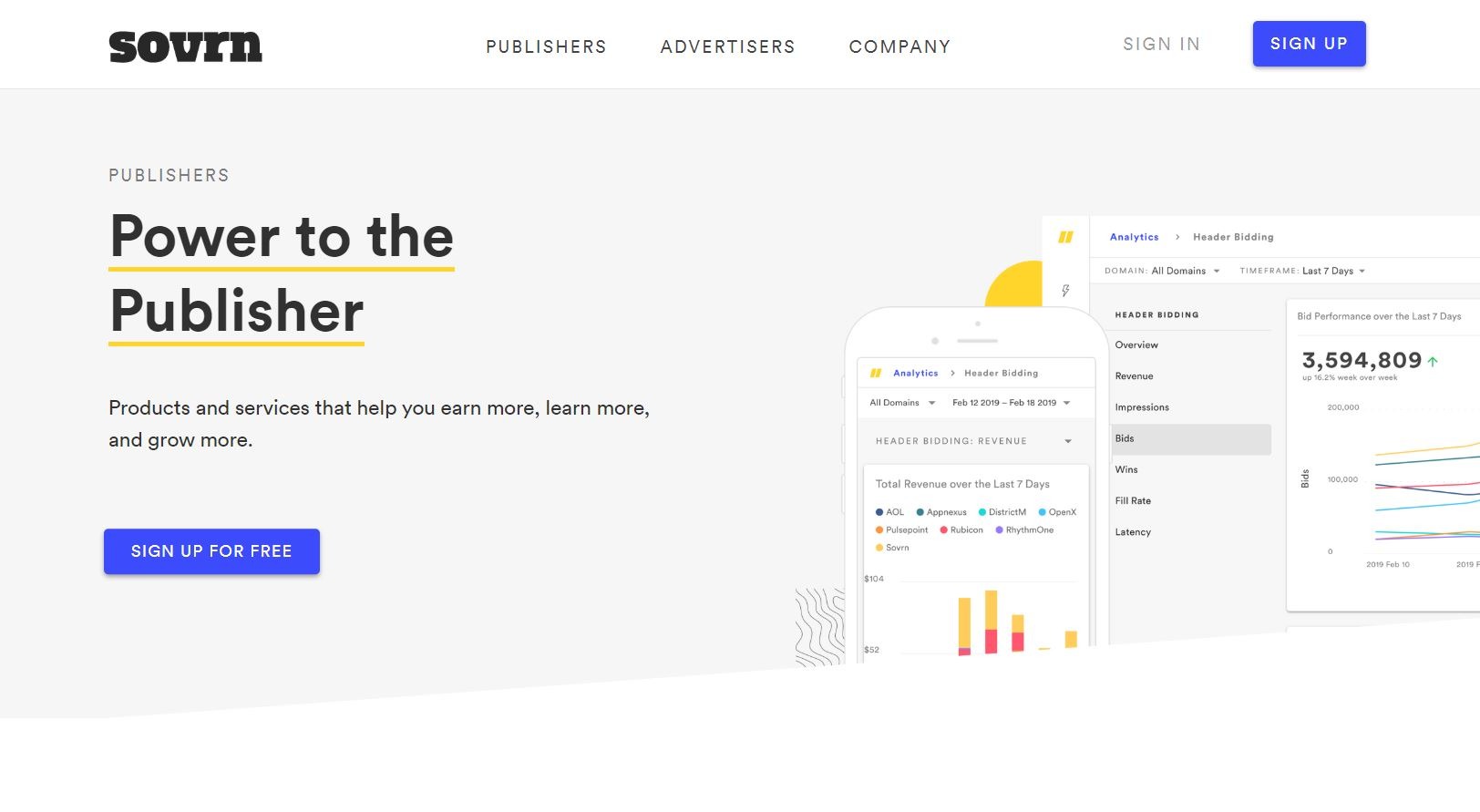 Similar to Ezoic, Sovrn also runs a competition between different advertisers and ad networks in order to give you the best revenue.
Everything is automated done by their algorithm in the back-end so you don't have to worry about anything.
Back when I started, these things had to be done manually with scripts, DFP, and many other things.
So it's great to see companies like Sovrn that automate everything in order for their publisher to get the most possible revenue for their traffic.
Sovrn joined forces with Viglink, so it can also feature ads related to commerce (same as Skimlinks, which we will talk about below), but they also have ads that pay on a CPM basis (cost per mille).
The great thing about ads that pay for CPM is that your visitors don't have to click on them in order for you to earn money, which is awesome.
You simply earn every time an ad is viewed. So per 1000 ad views (CPM), you will earn a certain amount depending on your site's content, traffic, and GEO.
17. BuySellAds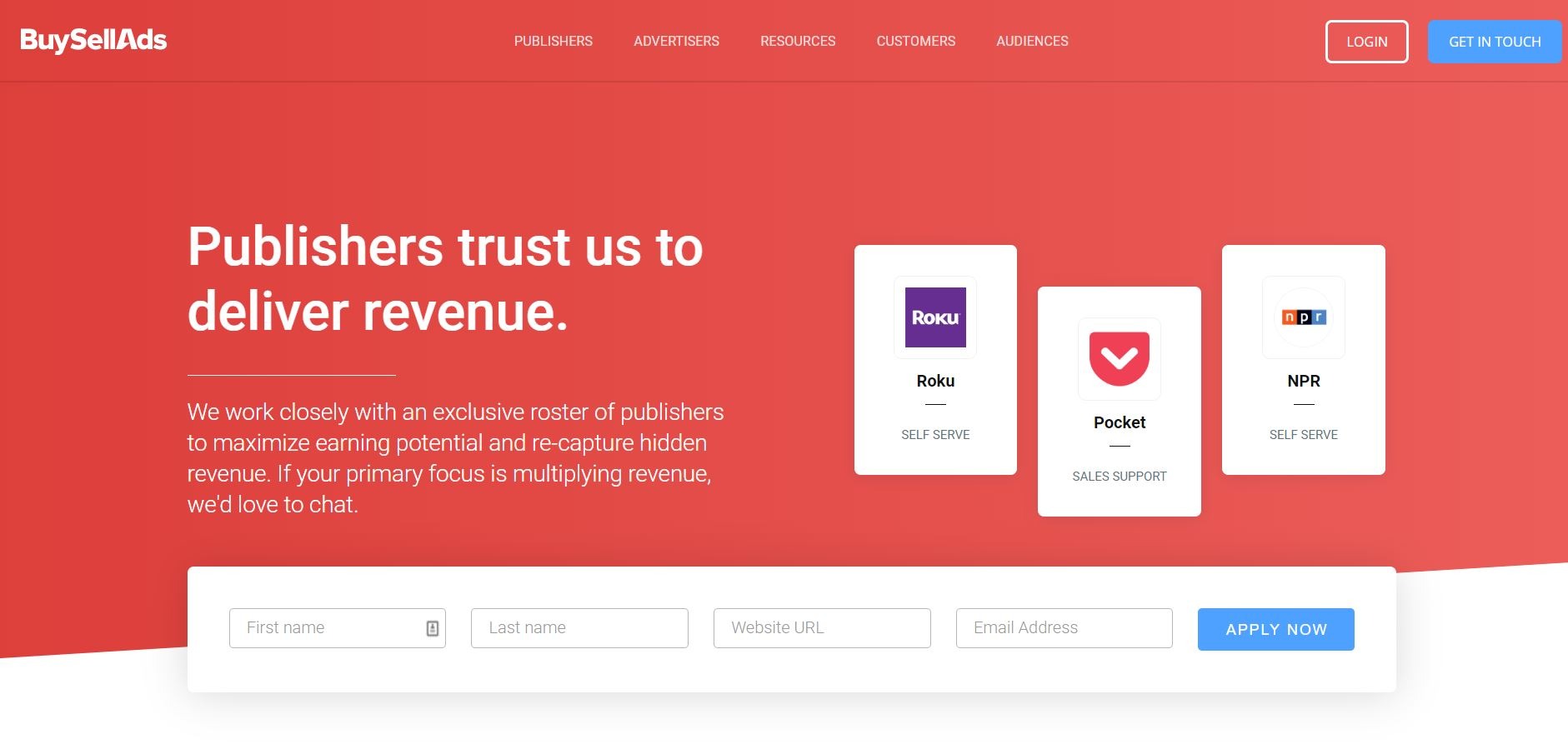 BuySellAds is different than every other ad network on this list. It's based mostly on display banner ads, and here's where things get interesting:
You are in control of almost everything.
You basically list your website on their marketplace and then advertisers can see your website and book an ad on your site for a 30 day period.
So you choose which positions the banners go on your site and also what banner sizes you're willing to accept from advertisers.
Another unique twist of BuySellAds is that you decide the price. Isn't that a bit crazy? Like you could ask for $100 for 30000 Ad Views, or $1000. It's up to you really.
Of course be realistic with your numbers, as there is a lot of competition on the marketplaces, that features some big-name publishers like Pocket, Brave, Firefox, Dribble, Digg, etc.
Check out other sites in your niche on the marketplace and see how much they are charging for the number of impressions. And try to model your pricing after them.
If you have a site with a low amount of traffic, it's best to start very cheaply at first so that you can attract advertisers right away.
Remember, you don't get paid unless advertisers directly book and place banner ads on your site directly. There's no automatic software that does it all automatically for you like with the other ad networks.
The benefits are that you set your own price though, and sometimes you can earn even more than with AdSense because of that.
18. Skimlinks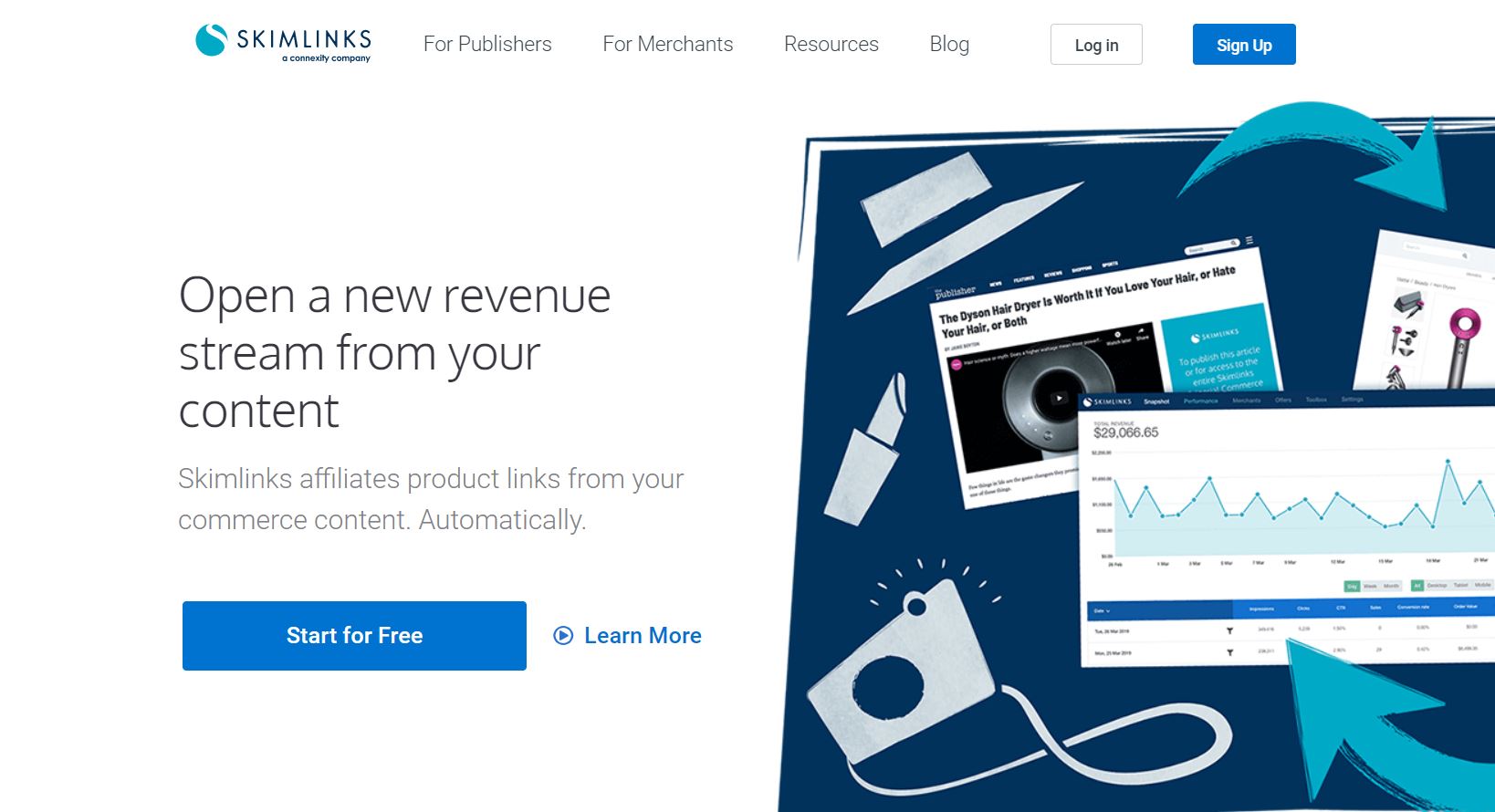 Skimlinks is great. Their ad technology and the way it works can be similar to the way Infolinks does things.  However, there is a very big difference between the two.
Where Infolinks replaces keywords of your content with clickable ad links that work similar to Adsense, Skimlinks turns all your commerce keywords into affiliate links for those products.
So if you have a blog post talking about shaving machines, Skimlinks will automatically replace product keywords with affiliate links for that product.
They have access to over 48000 affiliate programs, including merchants from other affiliate networks like CJ, Rakuten, and Awin.
19. Bidvertiser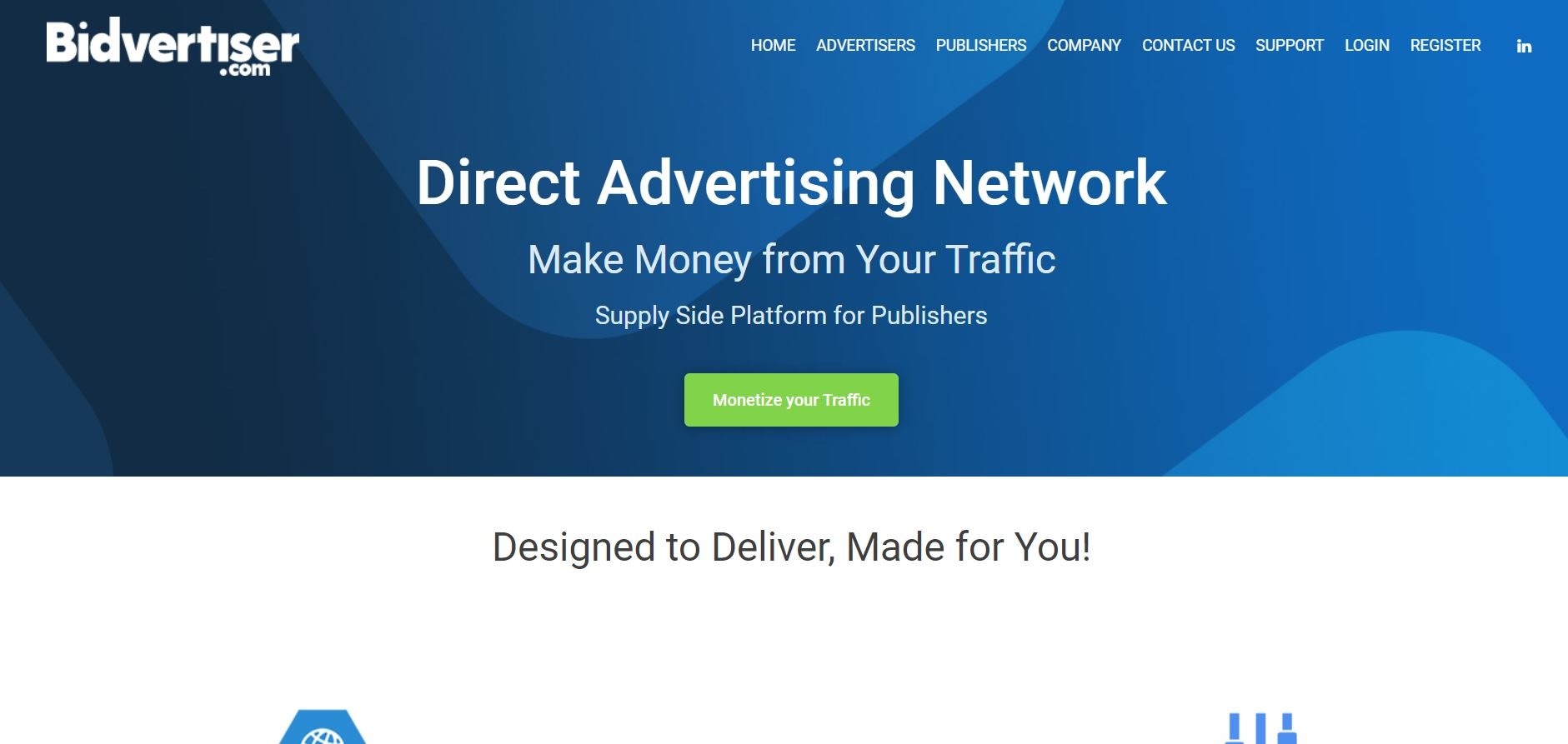 Another contextual ad network. Although it doesn't pay that well and it's not that popular, Bidvertiser is still out there competing with the best every day.
You could sign up to them if your application was denied everywhere else, they don't have too big of requirements, and almost every website can get it.
Their biggest PRO is that publishers can get paid with a balance as low as $10, so this is great for publishers looking to earn some quick bucks to pay hosting bills for example. They can also pay via PayPal which is always a big plus.
20. ShareASale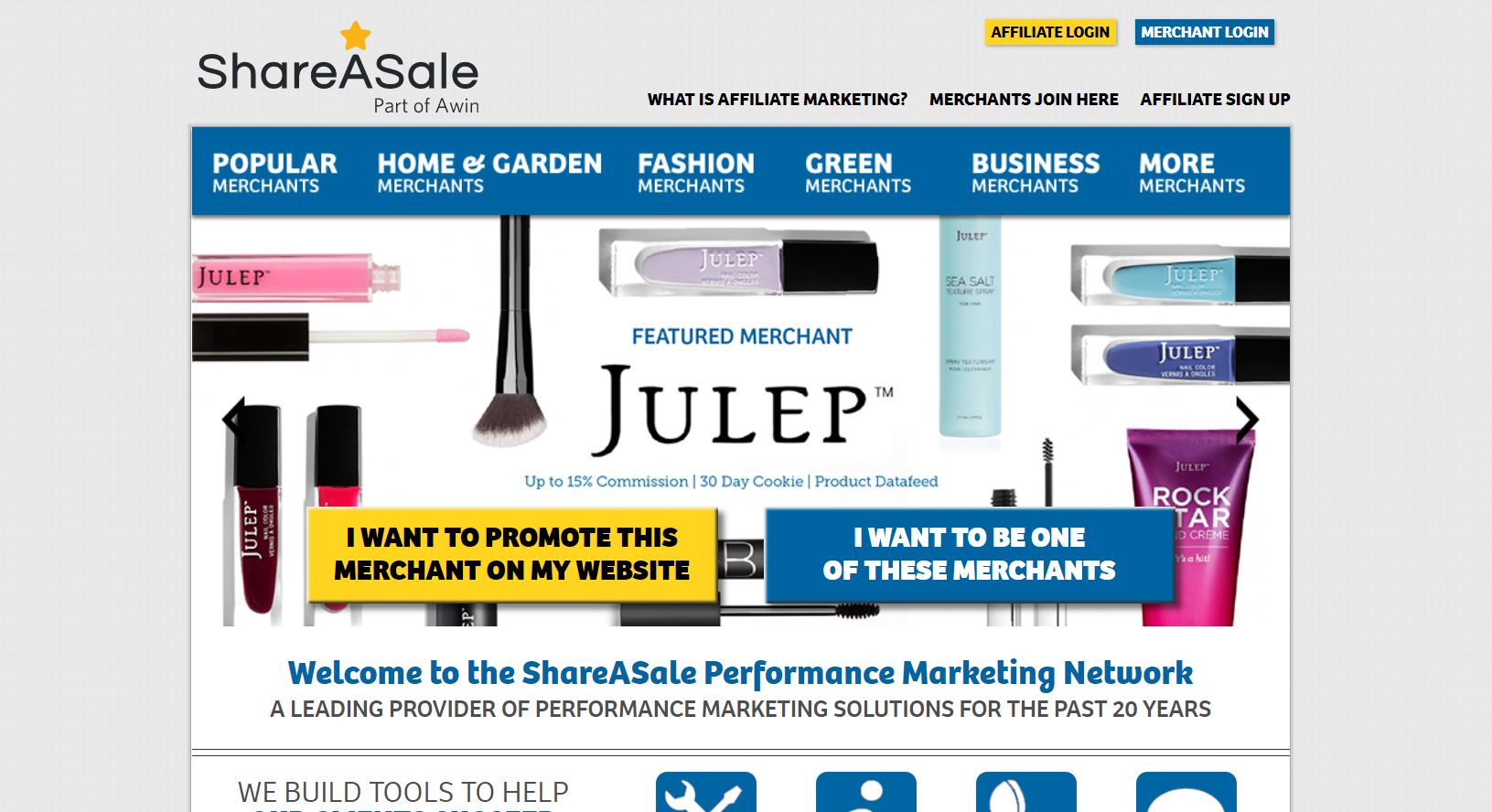 Similar to Amazon Associates, ShareAsale has a large inventory of vendors who all have products in many different categories. So you can promote everything you want, from mattresses to Glasses, PC repairs, web hosting, health-related products and more.
Check them out if your Amazon Associates application was denied.
21. ClickBank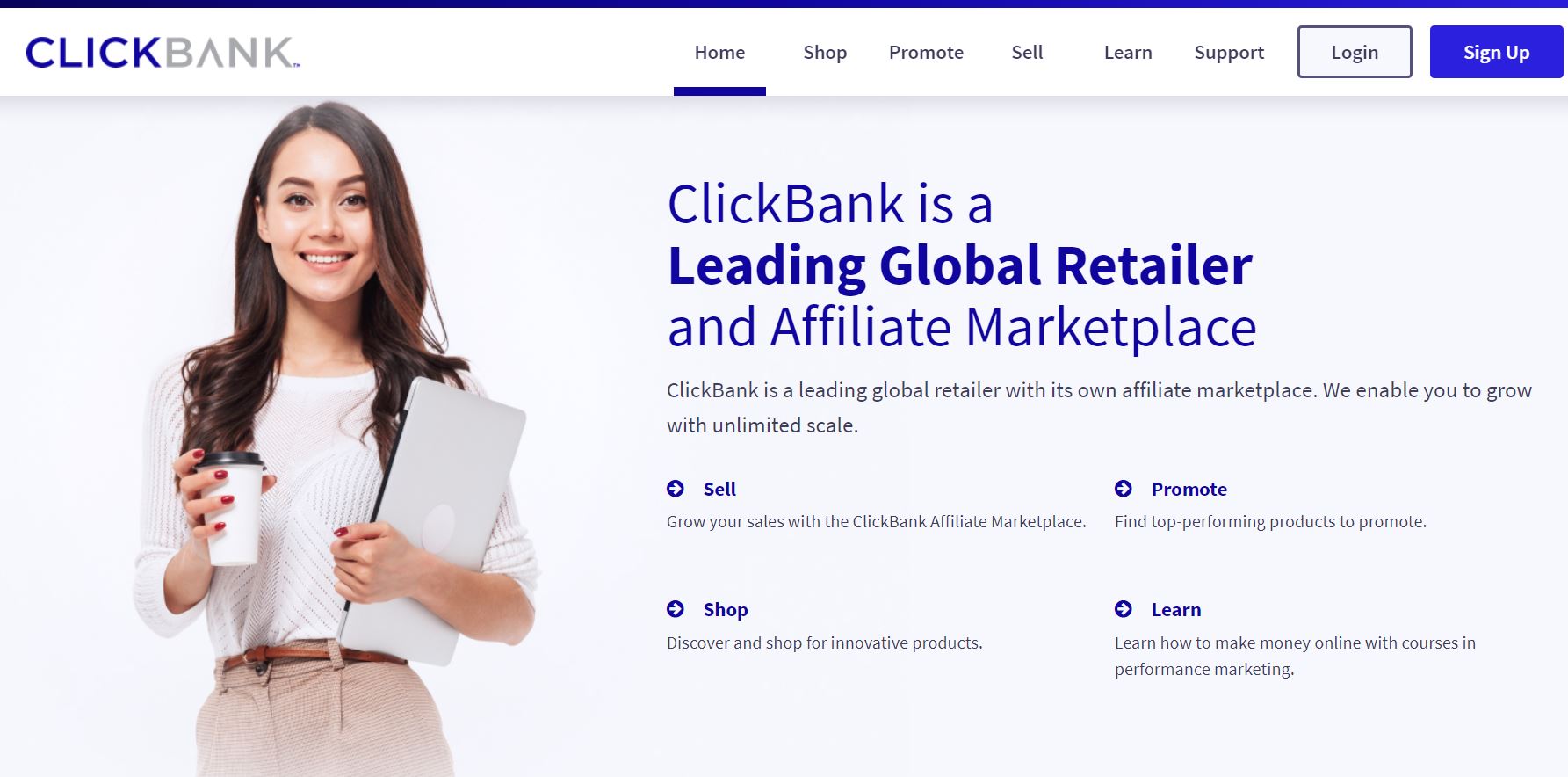 ClickBank is a marketplace filled with good affiliate products that you could promote. Almost every publisher can get it, if you have a functioning website already, with nothing illegal on it.
You can find products for many niches to promote on your website.
So for example, if you have a health-related website, instead of AdSense ads you could add Clickbank banners, that promote different health-related products all over the site.
There are many affiliate marketers with niche websites that are monetizing them strictly with ClickBank affiliate products. So trust me it works, as I did it myself at some point, and that's why I think that if you have a good quality niche website, Clickbank can be one of the best Google AdSense alternatives if not BETTER.
22. CPA Networks – Great AdSense Alternatives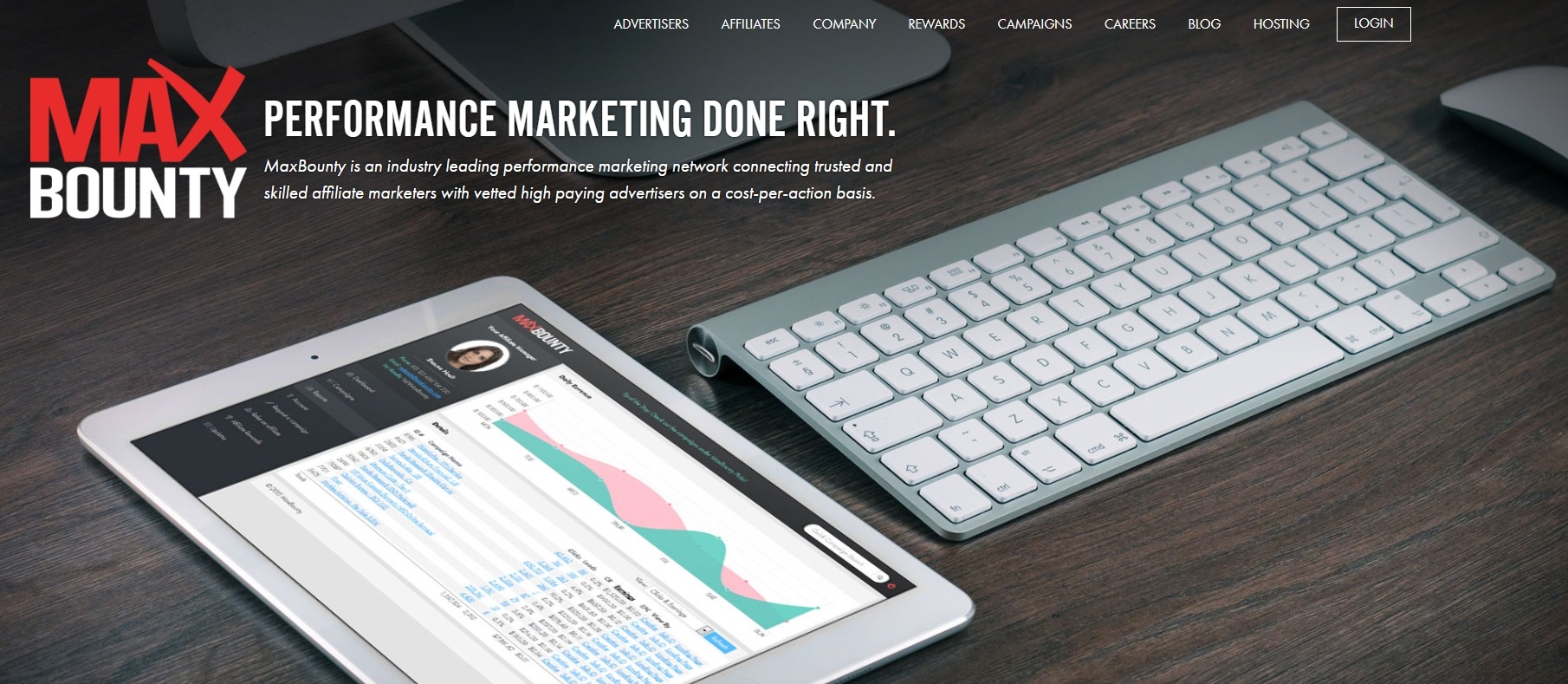 Look, there's no reason why you can't just slap some CPA ads on your website. Especially if you have content related to one niche and focus on one topic.
There are CPA offers for almost every niche out there. So if you want to try something different, you can also give CPA a try.
I tried it myself for some of my arbitrage sites and it worked great. I've replaced a native ad network that I was running and replaced them with my own content recommendation ad feed, based on CPA ads and Clickbank offers. You could try and do the same if everything else fails.
Learn more about what is CPA affiliate marketing and how to make money with CPA.
Conclusion: Best Google AdSense Alternatives
Ok, so you've finally reached the end, and now you're a bit confused maybe and don't know which of these networks to choose to apply too. My answer to you is simple, apply to a few of them that you think would fit your website, and just wait and see what their response is.
Nobody limits you to only sign up for just one ad platform. You could sign-up for multiple, and choose to only use 1 or 2 of them.
I would recommend you to try and sign up for Media.net as it's the best Google AdSense alternative in terms of earnings per click right now.
It's all up to you. Also, you need to test things a lot, in order to see which of these networks will give you some good revenue that could compete or at least be somewhere close to the revenue you were getting using Google Adsense ads on your site.
So there you have it, 22 of the best Google AdSense alternatives that I know of, if you know more good networks, leave a comment down below and let me know. I will review to see if it's any good and if it is I will add it on the list as well.
Related posts: How To Monetize Your Website – 8 Effective Methods for 2022