How to Do Keyword Research for Your Blog
This post may contain affiliate links. If you buy something through these links I will receive a commission (at no additional cost to you). I personally hand-test everything that I promote, and I only link to services and products that I like.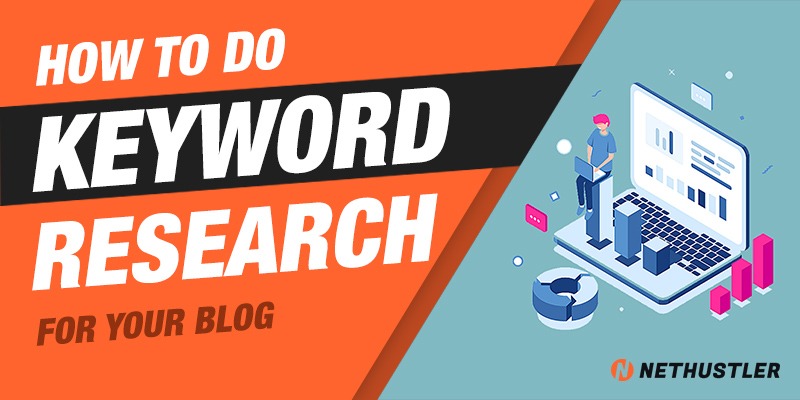 Ah, keyword research, the bane of our creative writing process.
Wouldn't it be great if we could just focus on writing epic content without giving a f*ck about keywords and search engines?
Well, you theoretically can. Because search engines have become so advanced nowadays that you don't even have to do too much research for keywords and waste hours on that instead of writing your content.
There are bloggers who never do keyword research and rank just fine, and then there are those who waste hours trying to find the perfect keywords to use.
Which approach should you use if you are a new blogger who just started a blog?
I'm not doing any of those, and I'm ranking for a lot of competitive terms on all my blogs and doing just fine.
So what's my secret?
No secret, really. I'm doing something that's in between those two options.
I do basic keyword research for a bunch of articles that I have planned to write, and when the time comes to write them I don't waste it on KW research and instead focus on putting out awesome content.
I just don't care to spend too much time doing KW research when I could be out there writing more epic content and promoting the sites.
So while I do some research, I don't go over the top with it, and I also don't keyword stuff my articles. That shit is going to hurt your ranking more than it would help. It's not 2001 anymore, so stop doing that.
Ok, Stephen so how do I do keyword research properly?
Glad you've asked. Let's begin:
Plan your seed keywords
You know, I'm a fan of planning all my stuff, from business ideas, to what to eat, when to work out, and also what content to write on what dates.
I also do that when researching new niche topics for new projects and sites. I plan a list of seed keywords that I can then use to build cornerstone or pillar content on, supported by articles from related keywords.
Sounds confusing as heck?
I know, so here's an example:
Let's say you're a boss at "gardening", nobody can beat your skills in growing the most amazing tomatoes in the shortest period of time. Your neighbors are jealous as hell, and they want to learn your secrets.
So you decide to start a "gardening blog" where you explain to newbies all your gardening tips and tricks.
Alright then, but before you do that, you need to gather some seed keywords (I swear it's not a pun on the gardening niche example, I just realized it also).
These are also known as main keywords, and it's basically what you will base your whole content strategy on.
For example:
"lawn care"
"garden planning"
"gardening techniques"
"garden tools"
"pest control"
To come up with those seed keywords you have a couple of options, the first one would be to just take a piece of paper and a pen and start writing topic ideas.
I know it sounds basic A.F. but it works, your brain is, after all, the most powerful machine known to man, way more powerful than those keyword research tools that I'm going to talk about in a minute.
When that's done, move on to the next step:
Gather your main keywords
Here's the part where we can start using some digital marketing tools for keyword research to give us a helping hand.
There are a couple of keyword research tools that you can use, and I'm going to give you a bigger list down below, but for now, let's use the good old Google Ads Keyword Planner.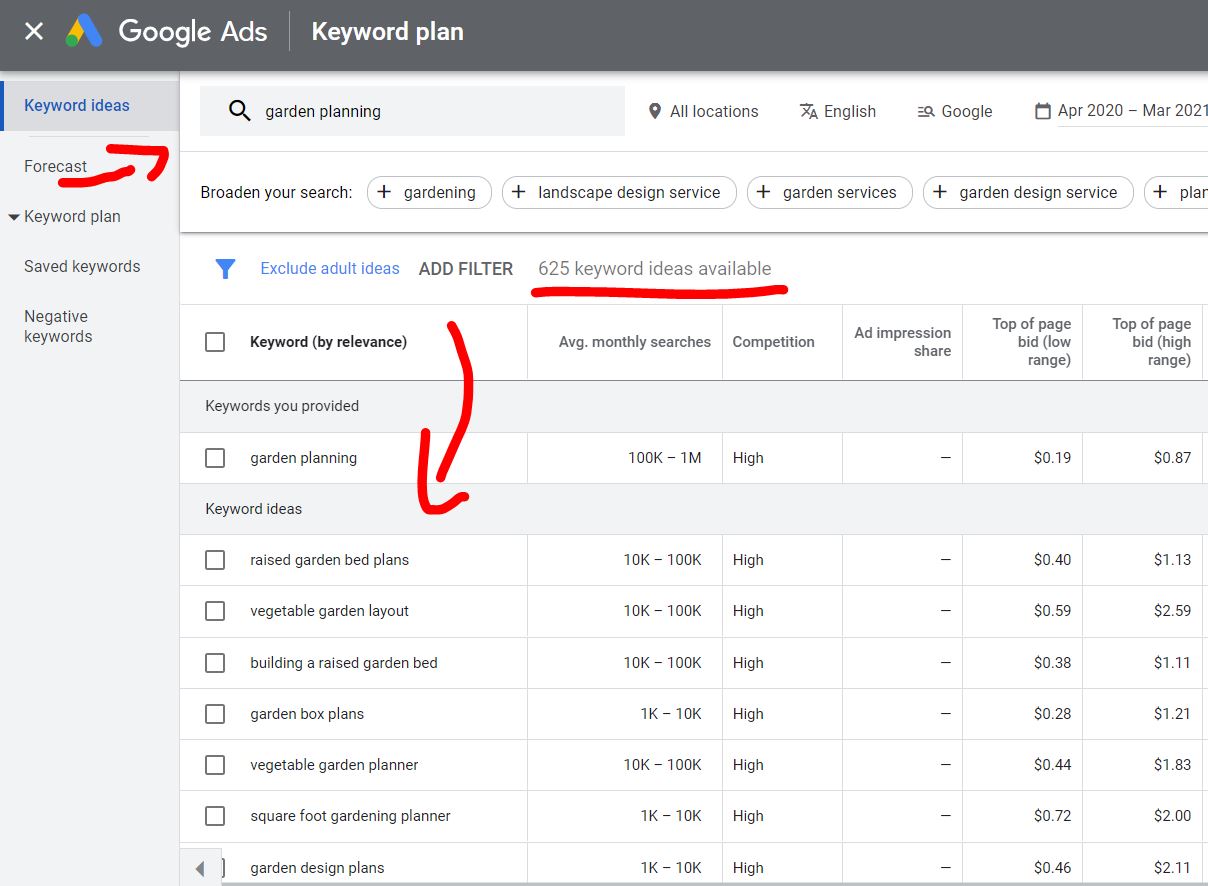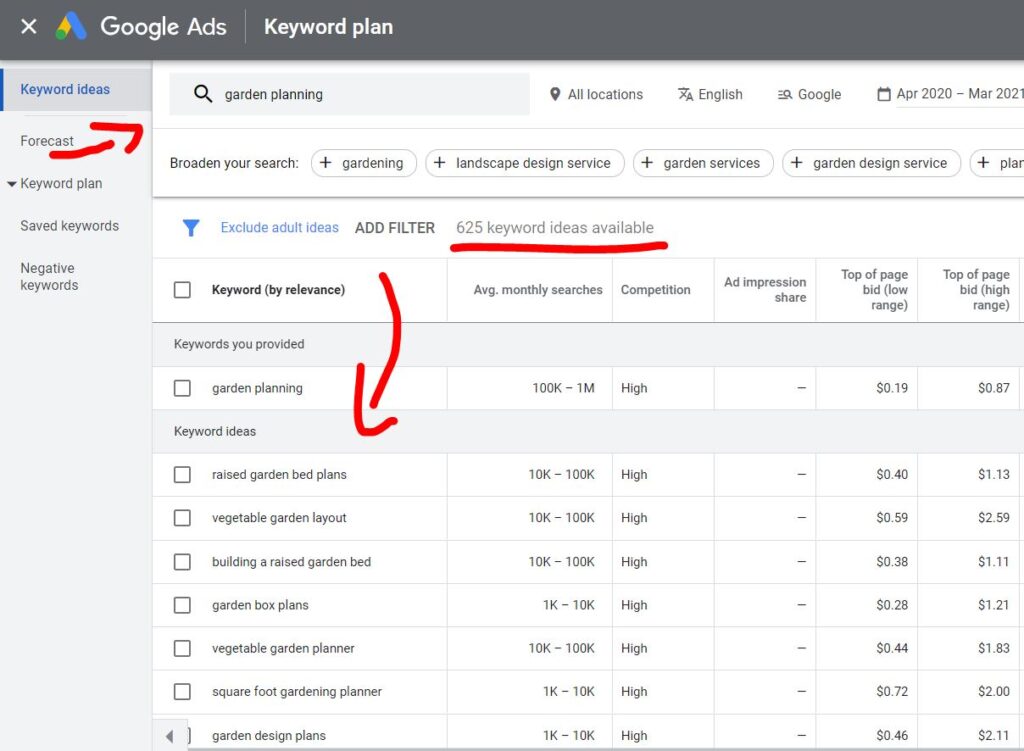 No, you don't have to advertise on Google or spend any money in order to use their tool, however, if you'd like to try their ad network (which is very good) you can get a Google Ads Promo Code up to $150.
All you have to do is open up a Google Ads account then go to Tools > Keyword Planner and enter your main seed keywords into the box to get more related keywords.
For this example, I've used the "garden planning" seed keyword, and I got back 625 relayed keyword ideas that I can now use to write content for (if I knew anything about gardening).
You also get insight into more useful metrics such as
Average monthly searches — Useful to know how many people are searching for those terms every month, so that you know for sure there are enough people that might read your blog posts
Competition — This is more about the competition between advertisers, but can also highlight the competition for that keyword for organic rankings.
Top page bid — The CPC (cost-per-click) bid that advertisers are willing to pay to get on the top page of Google for those terms, useful if you want to know the average value of the keywords if you monetize with Google AdSense
Of course, those are only estimates, and Google has made many changes in the past years to their Keyword Planner, and it's harder to know exact data (such as exact monthly searches).
But there are a couple of more keyword tools that you can use to get more accurate info, such as Semrush (Get Free Trial through my affiliate link).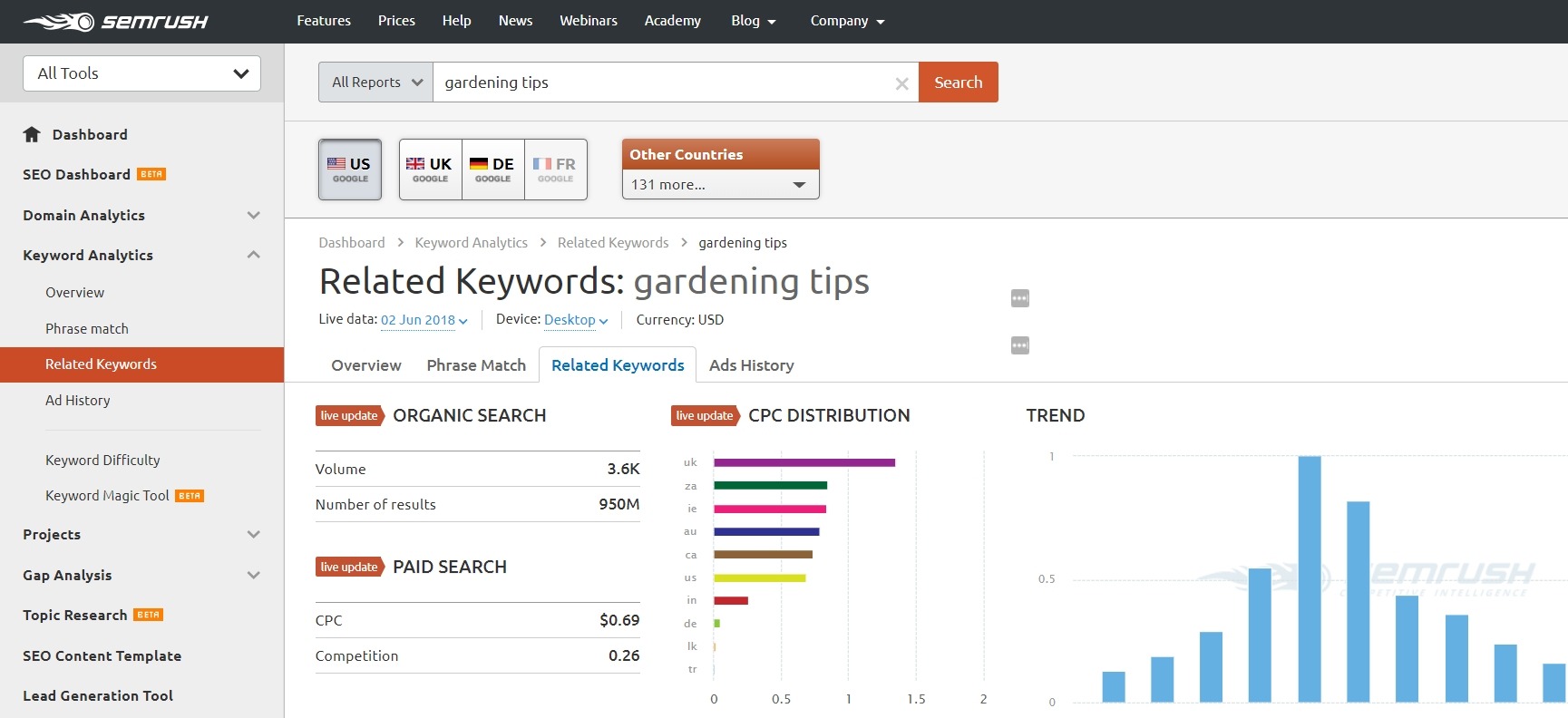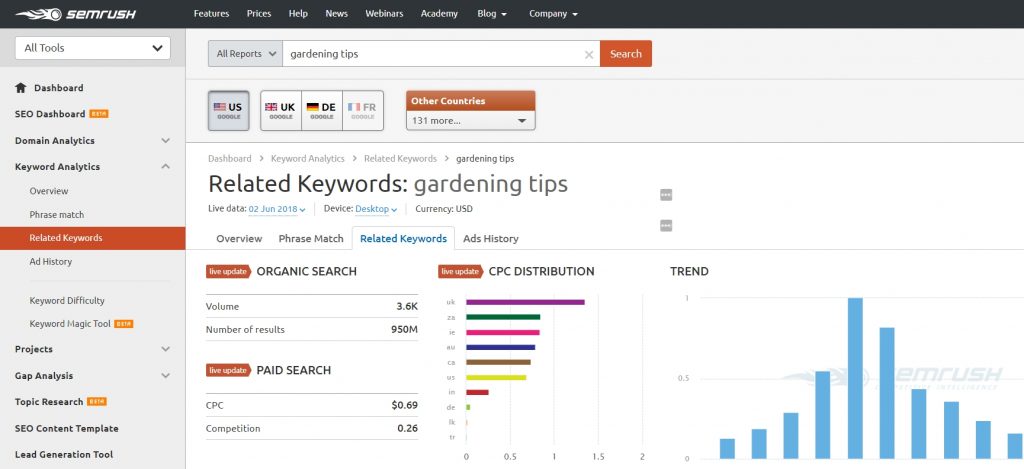 As you can see with Semrush we can get so much more useful data about main keywords but also related ones.
You can see exact keyword difficulty for the organic search (instead of difficulty for advertisers).
This means that it will show you how hard it will be to rank for a certain term in Google, when you write content on that topic, and competing with all the other bloggers that are writing for that specific term as well.
That is super useful to know, because sometimes in order to rank high for some particular hard difficulty keywords, you will need to bring your A-game and write more content and analyze the competition to see what they are doing and so on.
Luckily for you, that is easy to accomplish if you use Semrush as they have over 40+ tools to help bloggers and marketers get to the top of the SERP (search engine result pages).
For example, you can discover questions and their search volume of what people frequently ask in that niche, so that you can know exactly what articles to write.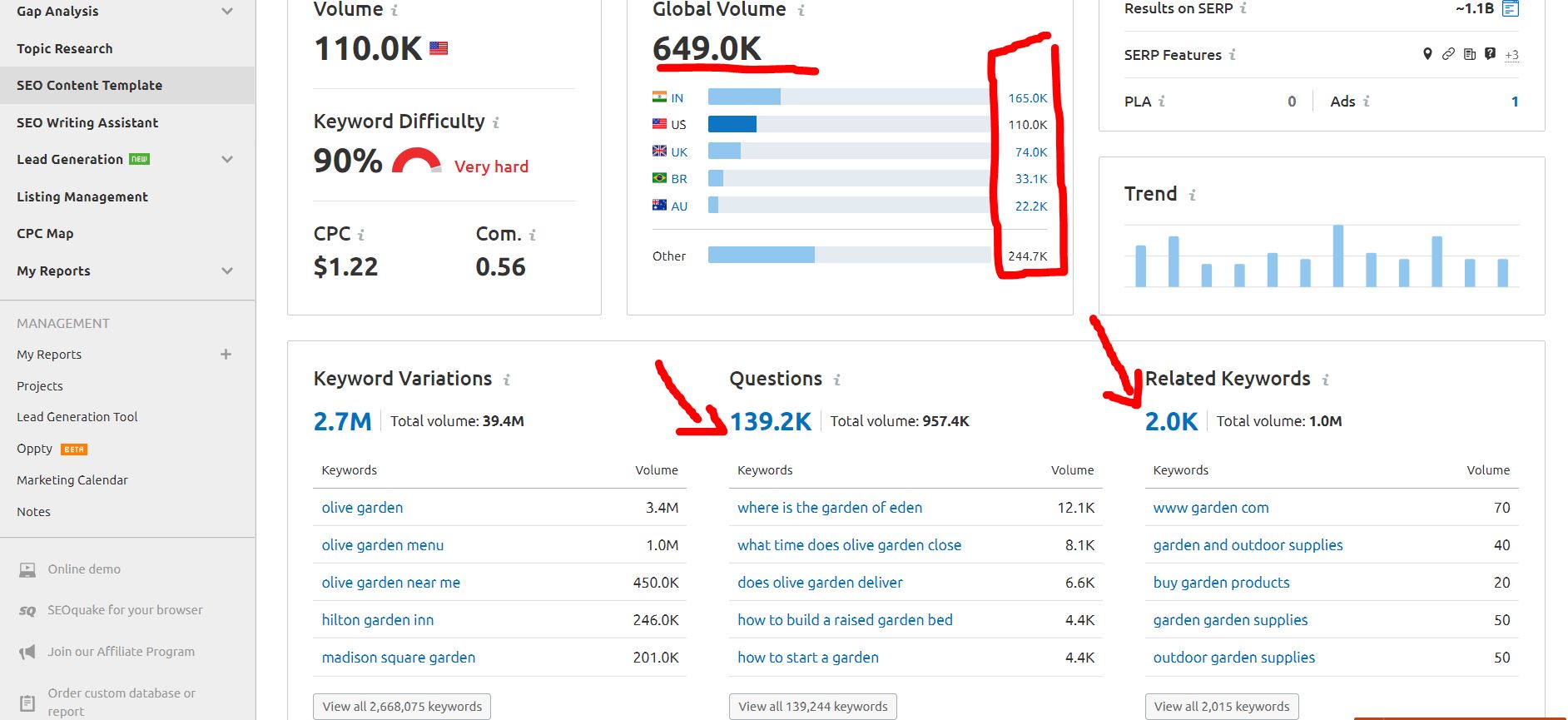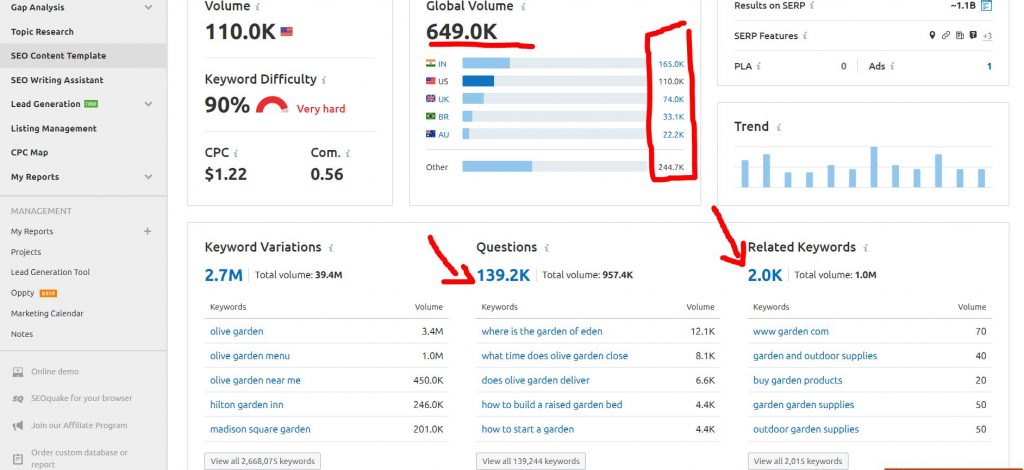 Once you gathered a bunch of keyword ideas and know their search volume, you can start writing good pillar or cornerstone content around them.
Pillar content stands for articles that will be the main focus points on your blog, the most in-depth and well-thought-out pieces of blog posts that you can write.
These are usually very long and provide useful stats, charts, images and examples.
Here's one of my cornerstone articles: AdSense Arbitrage (it's about 10k words)
It's also helpful if you create a content plan for your blog using these keywords, so that when it's time to write something new:
a. you don't have to waste time thinking about a topic to write about
b. you have already done the keyword research and you're good to go
Related: Write blog posts faster
Target Long-Tail Keywords
Alright so by now you have a few seed keywords ready and some main keywords that you can use to create content around, it's time to focus on long-tail keywords.
I hear you asking already…
What are long-tail keywords?
Long-tail keywords are search terms that are very specific in their nature and they are called that because they typically consist of 3, 4, or more words, as opposed to seed and main keywords that are usually 1 or 2 words.
As you can see from the image above, 70% of ALL the searching terms are long-tail keywords.
Meaning that users usually prefer to type in specific phrases such as: "how to grow tomatoes in winter" and variations of that instead of "grow tomatoes"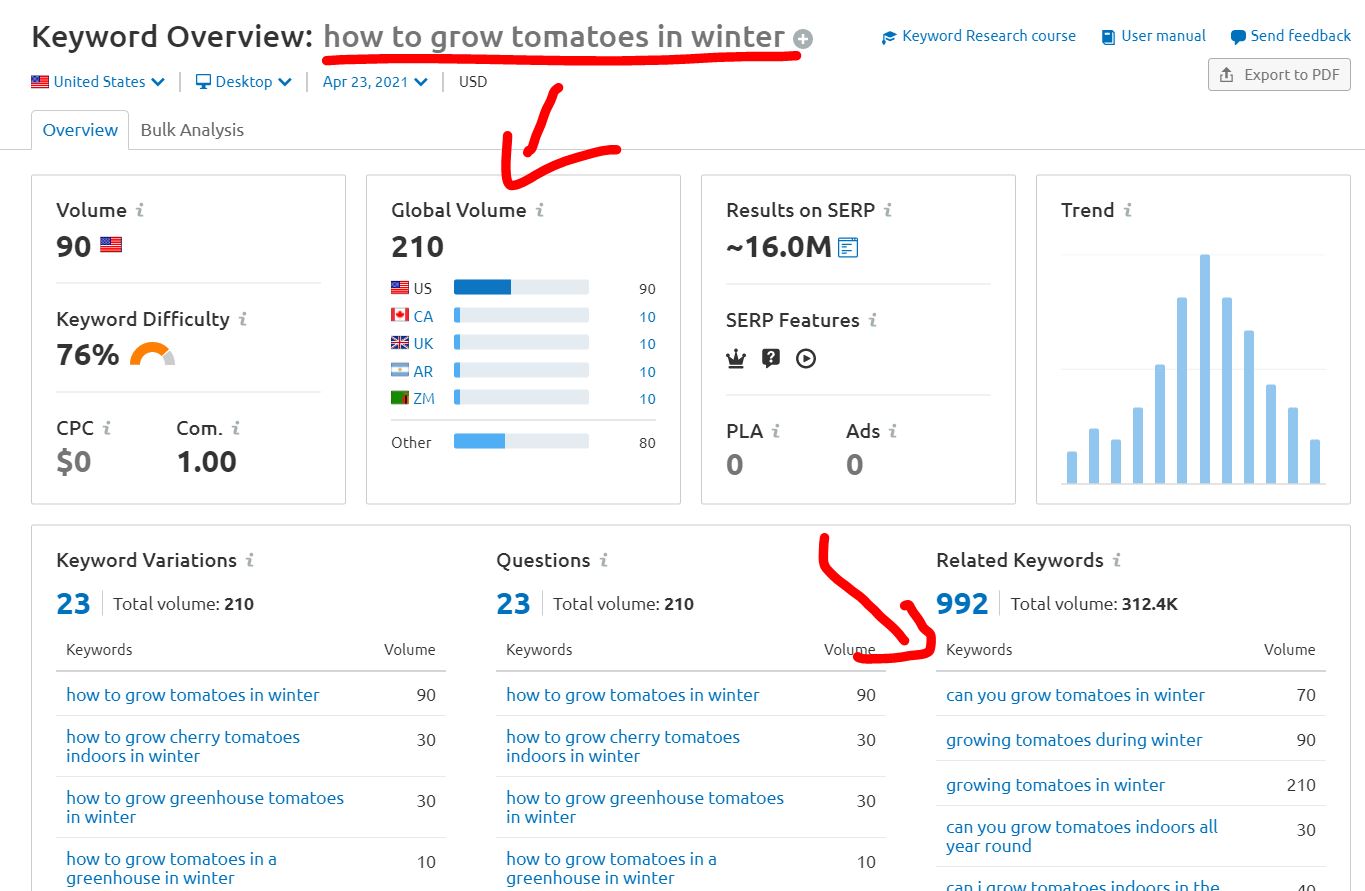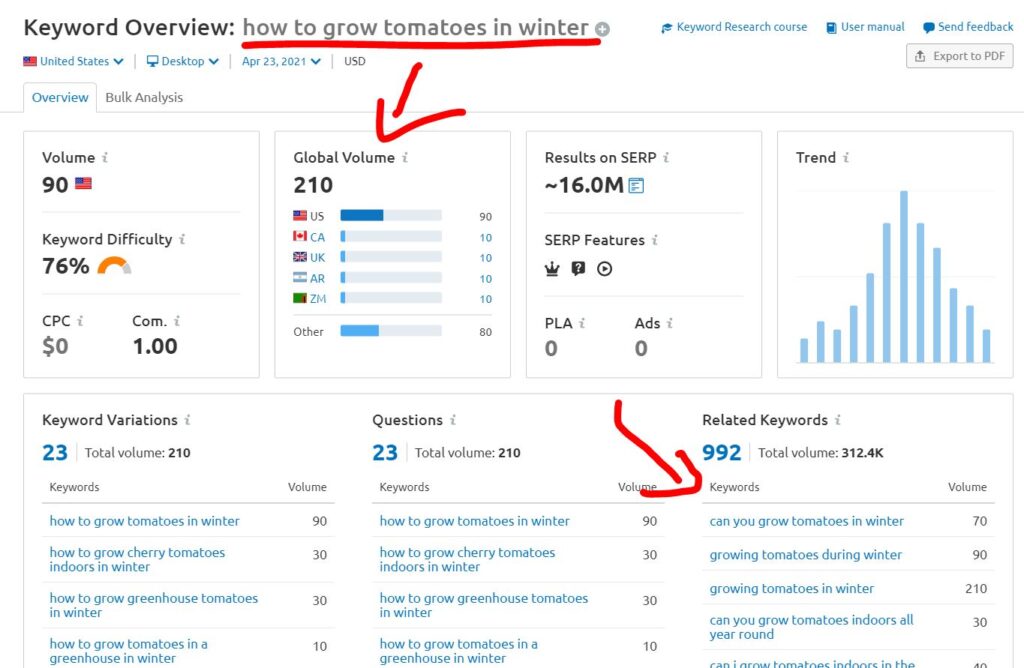 This essentially means that you should focus on writing content with these long-tail keywords in mind.
So once you create a few pieces of pillar content for your main keywords, you should focus then entirely on writing articles that are based on long-tail ones.
Obviously you should then link from your long-tail articles to the pillar ones.
Not only is it easier to rank using these longer terms, but you will also get to discover and write content on topics that many other blogs don't.
Plus, as you've seen in the screenshot above, people hardly (30% only) search for direct terms, so you're better off writing for what people actually look for.
For example use them in your blog post's title, WordPress slug, inside the first paragraph, and use it as an alt text for your featured image.
That's it, once you do all 4 of those things, you essentially signal to Google what your article is all about. You don't have to keyword stuff (add the same keyword 100 times) in your content.
Sure you can use variations, and related keywords throughout your article, and you can even use the same long-tail keyword a few times, but don't overdo it.
How to find long tail keywords
You have many options when it comes to discovering long-tail keywords, from using Google to paid tools.
So let's start with Google first. There are 3 ways that you can extract keyword ideas from Google:
1. Related searches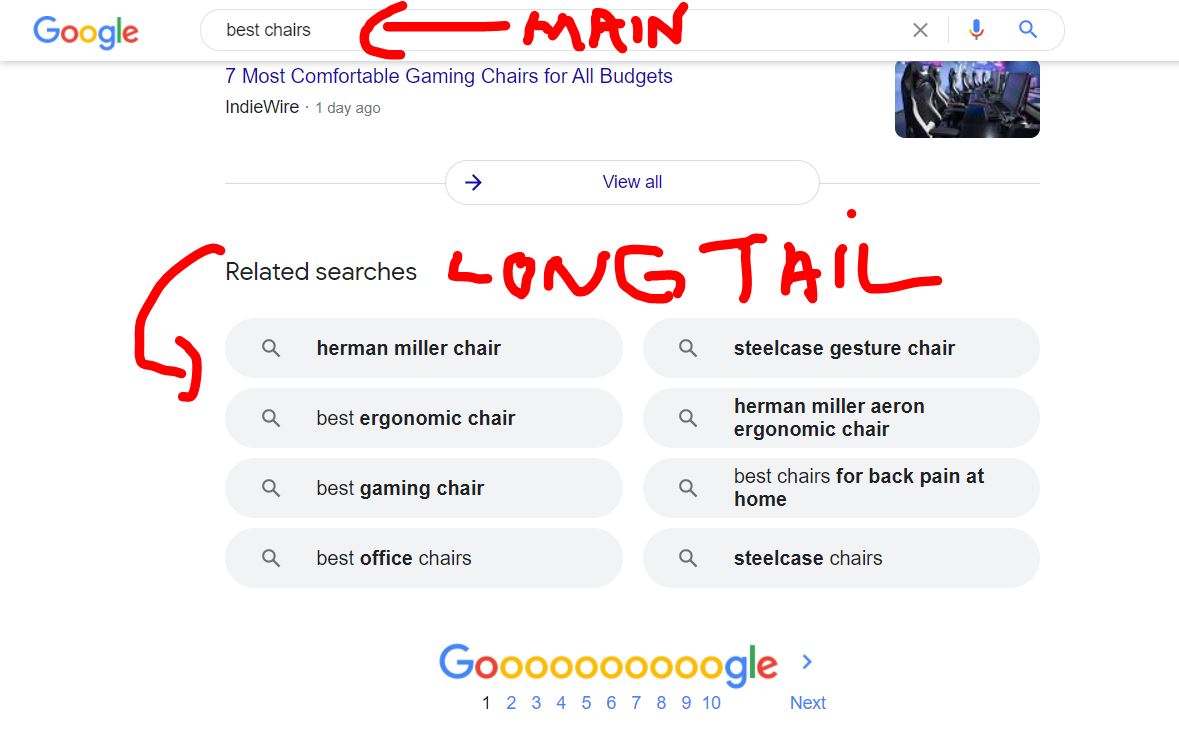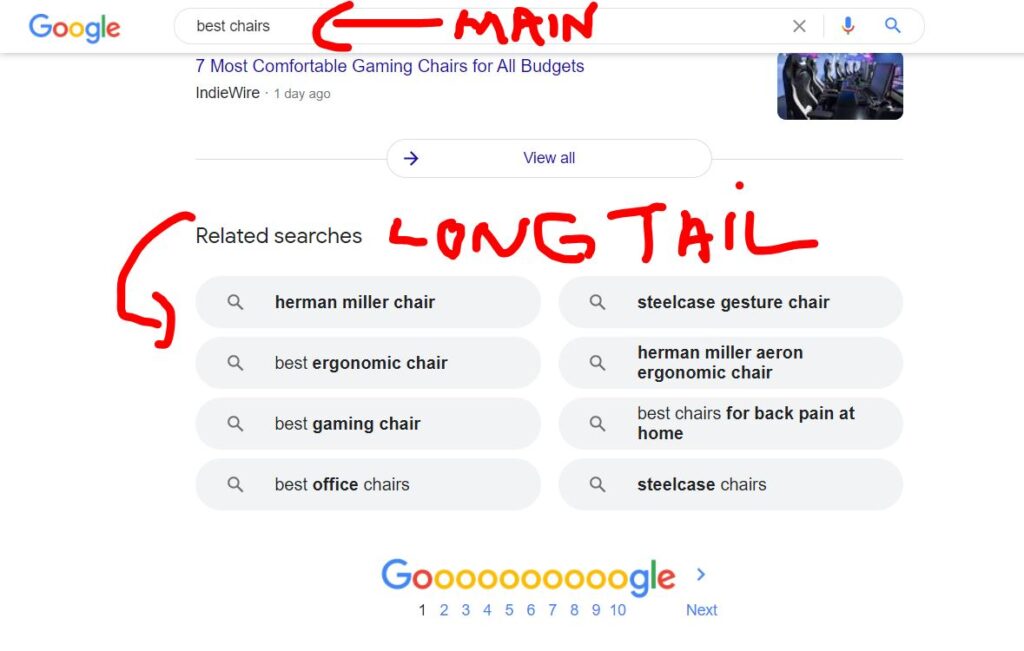 As you can see, we easily got 8 long-tail keyword ideas from our main search term.
Keep on doing more searches for your main and seed keywords and you'll get a ton of ideas from the related suggestions.
Alright, let's see 2 more methods to get topic ideas and keywords from Google:
2. Google Autocomplete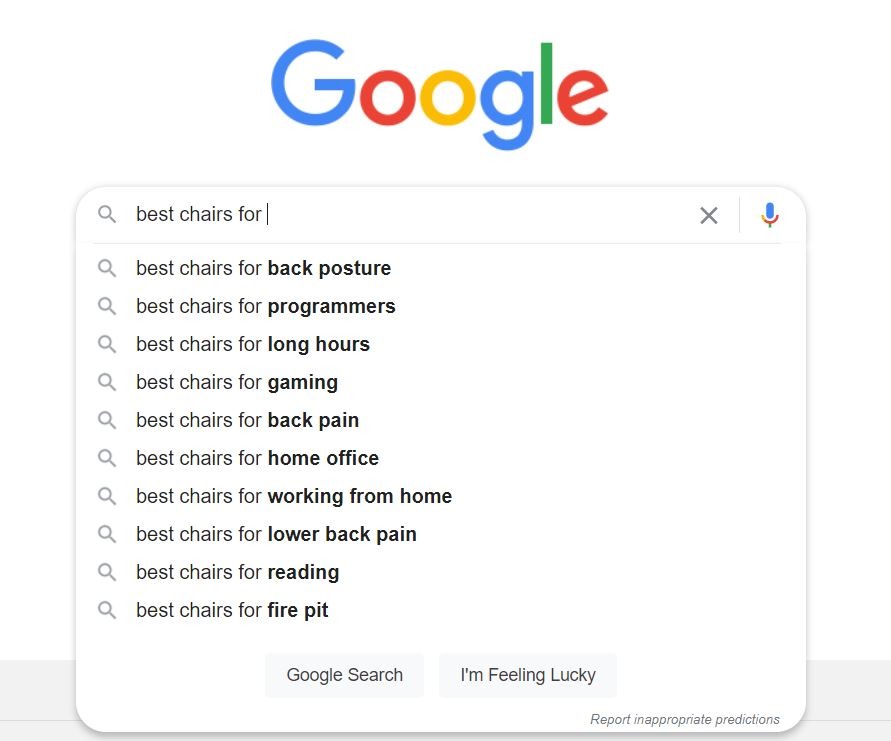 Simply enter your main keywords into Google's search box and check out the predictions that you will get. These are all search terms that people are using.
3. People also ask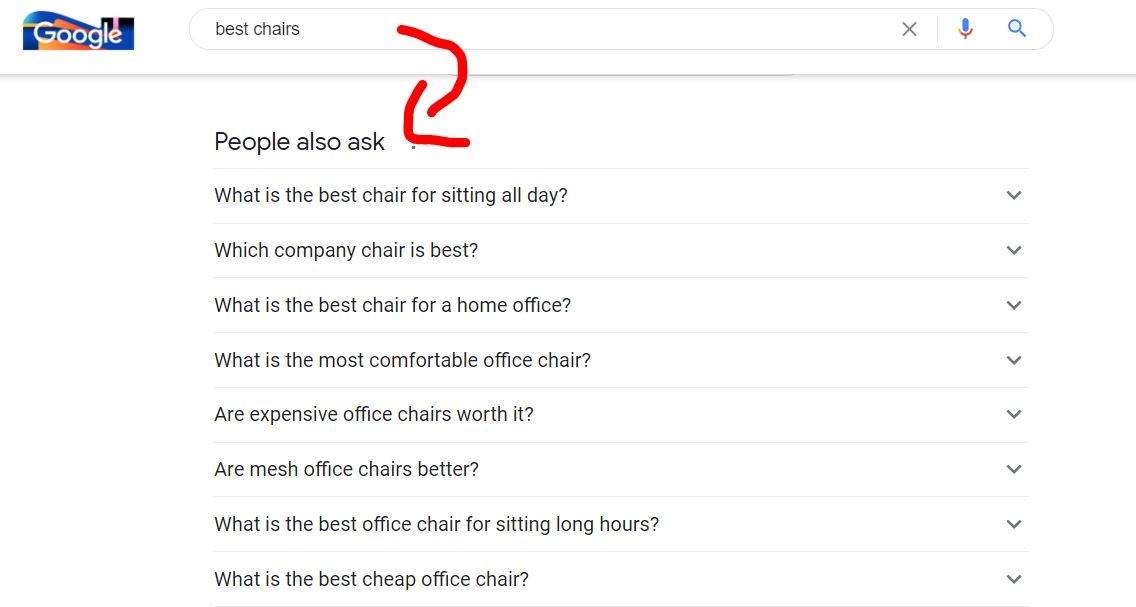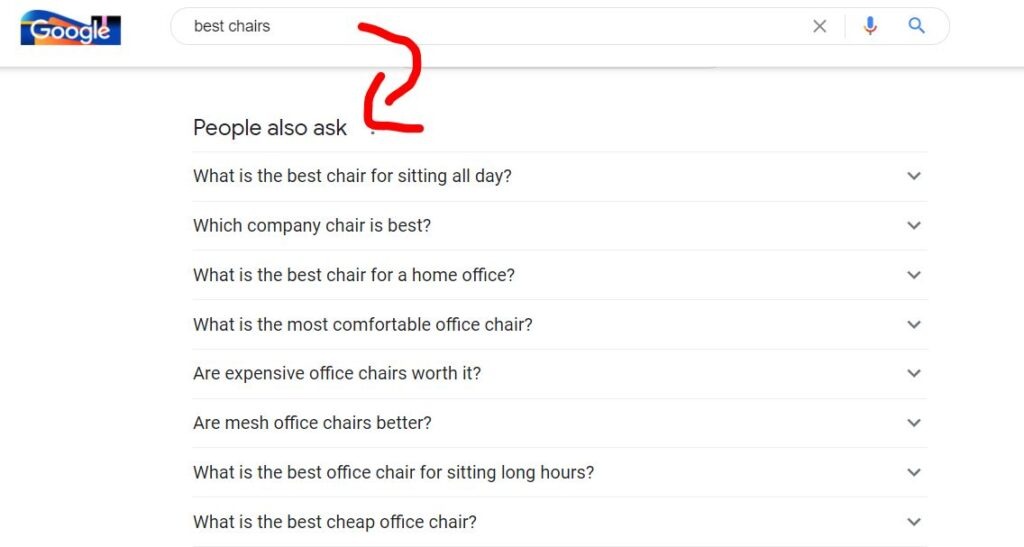 Finally, the last method to use Google to get more keyword ideas is to check out the "People also ask" feature.
Basically, these are questions that users normally type into Google, and if you can create content that answers those specific questions, you can get a ton of traffic.
4. Using keyword research tools
Google sometimes doesn't provide you with enough related terms and keyword ideas that you might need, plus you don't get to see the search volume, competition, and difficulty to give you a much more accurate idea on the topic.
There are many tools that you can use such as:
Most of these are paid tools, some do have free trials, like…you've guessed it: Semrush and KW Finder.
Why should you pay money for researching keywords?
Well, good point, you can totally do just fine using free ones such as Google, but then again most of the free ones are either limited in functionality, by design, or the good features are put behind a paywall anyway.
There are many reasons why paying for keyword research tools make sense, and I'm going to go over them right meow:
Spy on competition
Wouldn't it be great if you can suddenly get access to a lot of keywords that your competitors are already ranking for, and checking out how many searches they are getting, from what keywords, countries, and what type of content they have?
Oh wait, you can totally do that, with paid keyword research tools of course.
Look how easy it is to find all the keywords, search volume, keyword difficulty, and positions for "dogfoodadvisor.com" (example site in dog food niche)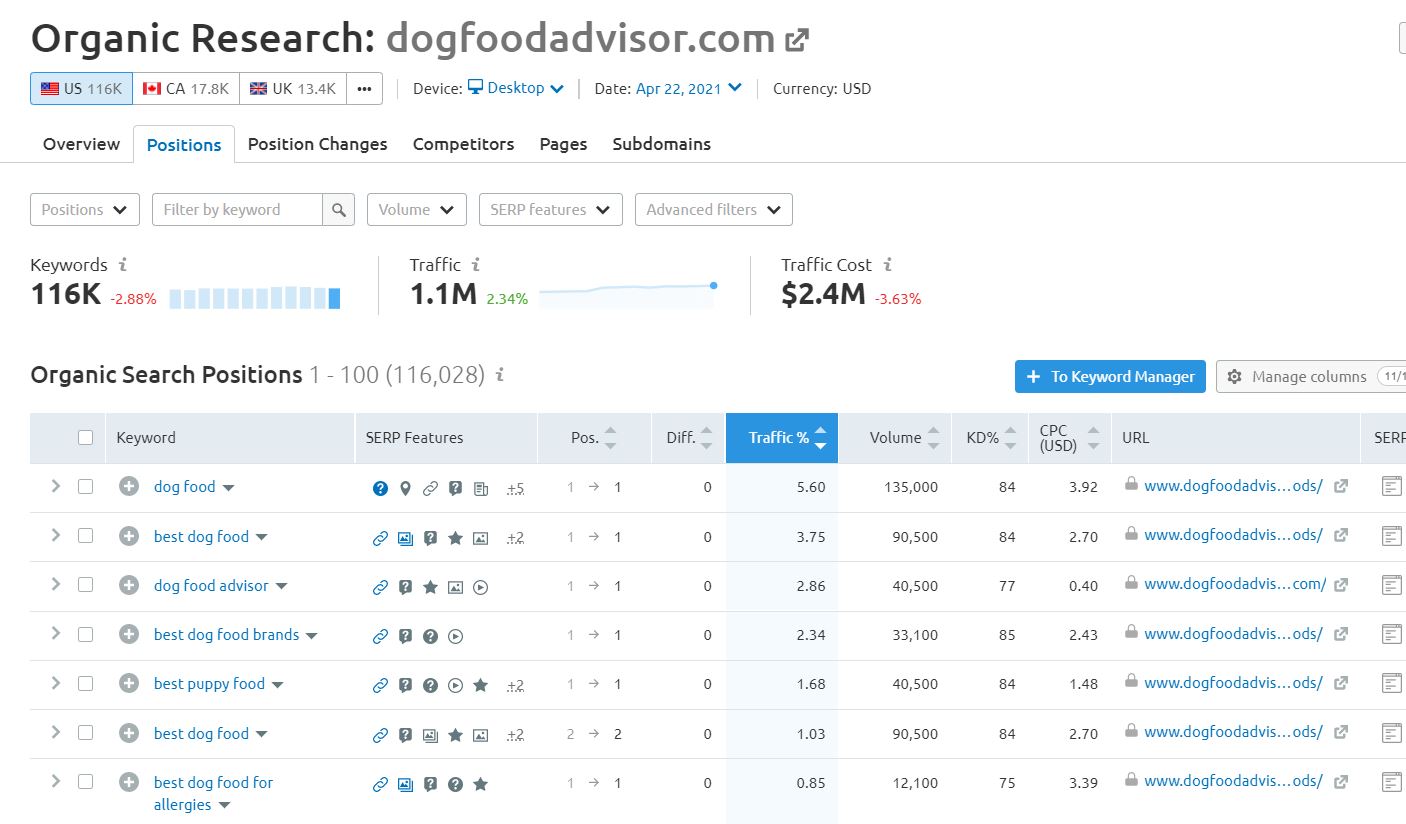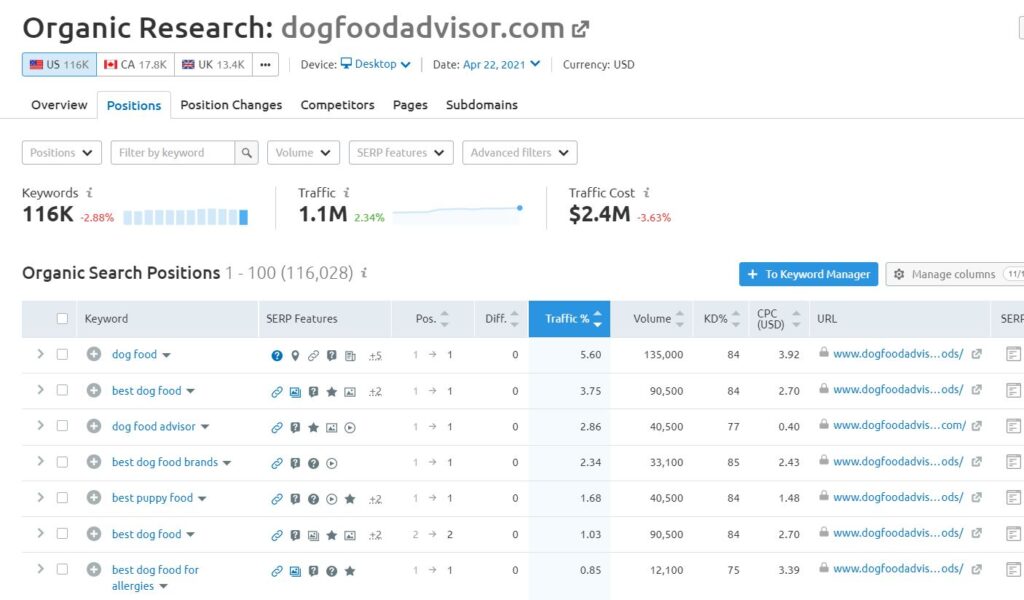 Not only that, but you get to see their top pages, meaning this is their pillar content and all the popular posts that receive the majority of the traffic from the search engines.
You also get to see how many keywords the particular URL ranks for.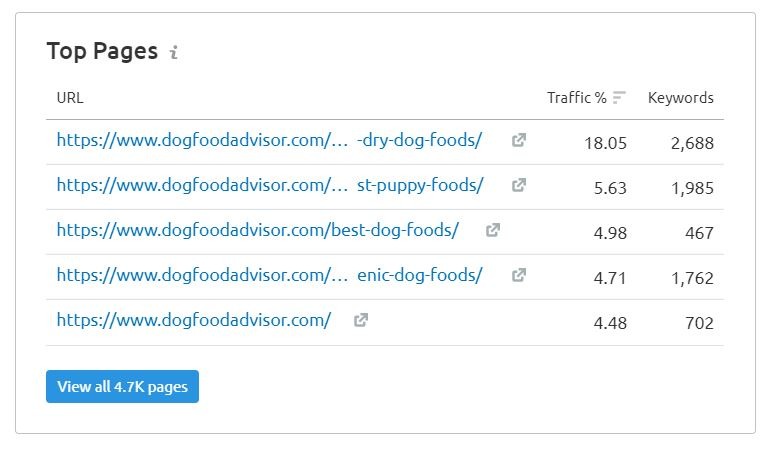 This is information is important to have, especially if you're in a more competitive niche with very high keyword difficulty, it allows you to easily identify what sort of topics you should write about and also how to write it.
Check the Keyword Difficulty
Another great reason to use paid keyword research tools is to easily and accurately check out the keyword difficulty.
This is helpful especially at the beginning when your blog or website is brand spanking new, and you have no backlinks (external links from other websites) pointing to your domain name.
Without a good amount of quality backlinks, your new blog will struggle to rank for more competitive keywords that have higher difficulty.
This leaves you with two options:
a. Gain a bunch of good links fast (no trash links either from spam, etc)
b. Target keywords with low difficulty
I would go with the second option, and that's what I always did anyway, and what I will continue to do.
I can't be bothered with creating backlinks going out there and cold-emailing blogs and sites asking them to "please put a link back to my blog" and other shit like that. I don't care it's not my style and I don't have the time.
Also I don't just go and buy backlinks. That's a recipe for disaster.
So my other option was always to target low difficulty keywords at first, and create amazing fricking content that's so good and in-depth that Google HAS to reward me with some high rankings.
Most of the time this strategy works, other times it might backfire if the keywords are higher in difficulty.
Nevertheless, the point stands: I hate outreaching and begging for backlinks, and I find it easier to write awesome shit that gets backlinks naturally over time.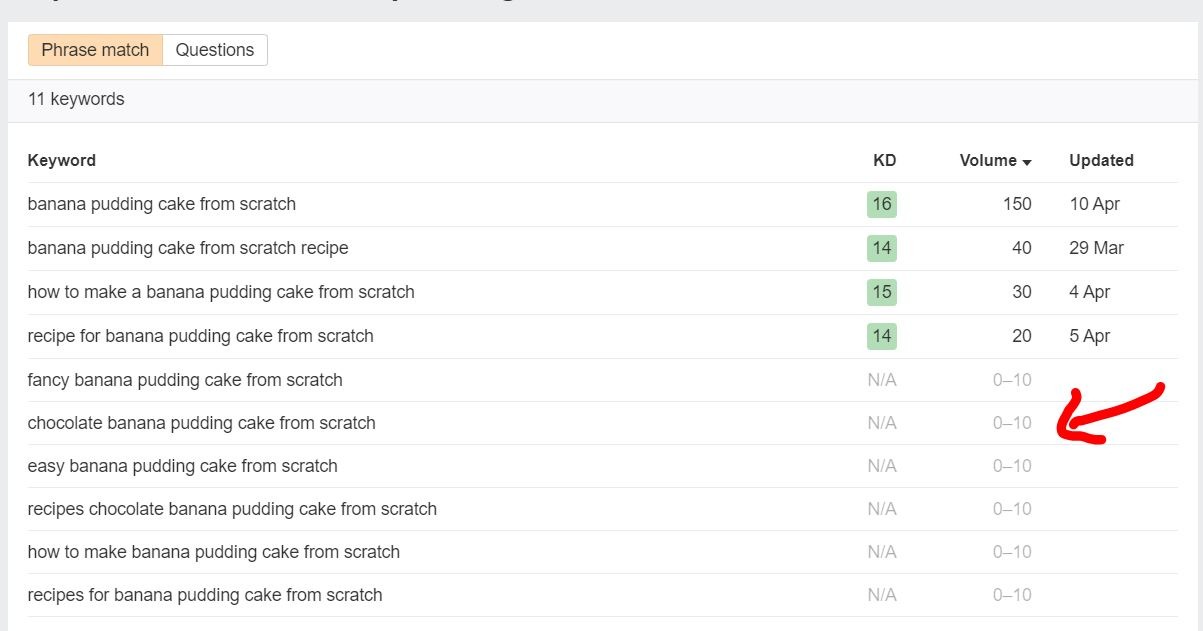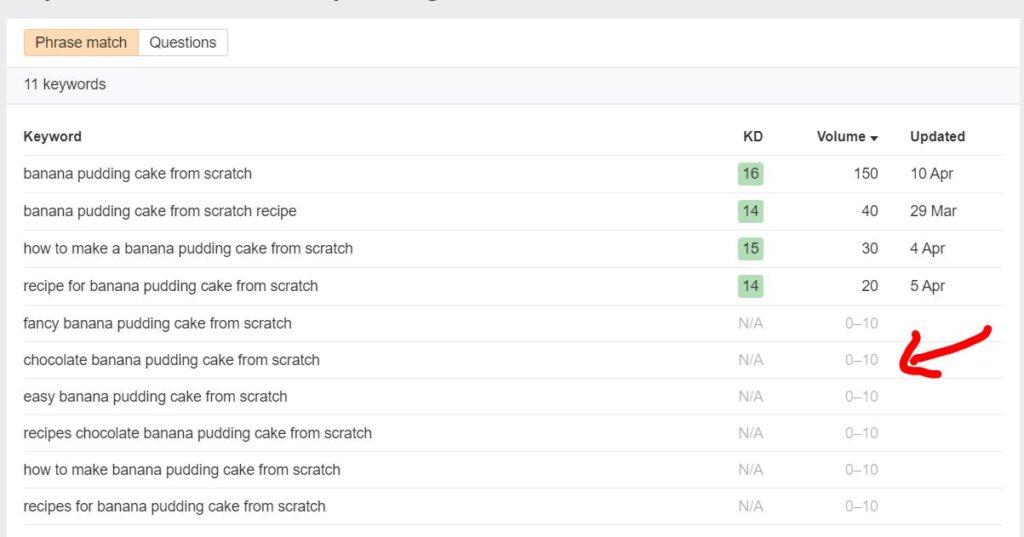 Basically, the higher difficulty number ranges from 1 to 100, or 1% to 100% depending on the keyword tool that you're using.
With 1 being the lowest difficulty and 100% being the hardest to rank for.
So aim for keywords that are lower in difficulty, I would say target the 0-20 range at first.
Oh yeah, I sometimes go even after the keywords that show 0 KD (keyword difficulty), you know why?
Because if it appears in a keyword research tool, there are people out there that are also searching for that term, and they are really easy to rank, and you don't need to build backlinks.
But yeah, you will need to pay for a KW tool to get access to stuff like this, that's why I was mentioning earlier that free keyword research tools like Google's Keyword Planner won't show you this crucial data.
And hey, if you're a lazy bastard like me who doesn't give a rat's ass about building backlinks manually, then this might be the best option for you too.
Paying a couple of bucks per month beats the hell out of emailing people or worse paying for guest posts.
If you go to Fiverr you can find people selling guest posts for crazy amounts like $150-$200. Never buy those, instead here are the 12 Best Fiverr Gigs that I like.
I'd rather use that and pay for a KW tool that will let me uncover the darkest and deepest secrets in terms of competition and keywords and SEO and paid advertisements and staying on top of my rankings in the SERPS, and easily coming up with content ideas, you get the point.
Keyword Research for Your Blog: Final Words
Keyword research is important to do, but don't stress over it, and don't over-optimize your articles.
Search engines are smart, they have evolved and updated a lot over the years, it's not so easy to just copy/paste one keyword 1,000 times in an article or ad 3431 related keywords in the footer of your site.
I rarely do any keyword research these days, partly because I already figured out how to create my content and how to use similar keywords to the main focus keyword.
Sometimes I do research to see what the competition to my niche sites are doing and plan content accordingly.
Otherwise, if it's for the NetHustler blog I create a content plan for the week or month with blog post ideas to write and do the research then. Usually, this happens once a month or so.
Stay hustlin'
Stephen