Microsoft Advertising (Bing Ads) Coupon & Promo Codes: $100 Ad Credit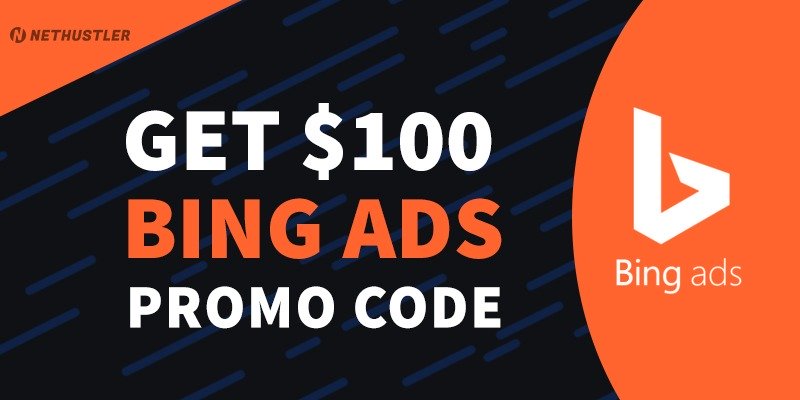 Let me guess, you're here because you're searching for a Microsoft Advertising (formerly Bing Ads) promo code, coupon or voucher.
Right?
Well, then if that's the case, let me tell you a secret: That's exactly what you're going to find on this page.
Are you excited yet? ✨
If not, why not? After all, you're going to get $100 in free ad credit on Microsoft Advertising that you can use to start creating campaigns for your online or offline business.
Are you in a hurry and don't have 5 minutes to read this entire article and want to get access to your Microsoft Advertising promotional code right away?
Fine then… here it is:
Below you will also find a table with Bing Ads coupons for specific countries. Even though the above link works for almost every country in the world, sometimes you might get a better deal if you're using a coupon from another country.
Wait, Stephen are those affiliate links? How DARE you? *Insert Greta Thunberg .gif*
Listen, man… Even though NetHustler income is not even 5% of my online business income, it's still nice to get some extra coin for providing you with so much awesome free sh*t on a daily basis.
It's just psychological stuff, we are animals after all, and we need that dopamine hit from time to time. In life, you want to see some rewards for the stuff that you do.
Makes sense right?
What you probably don't realize is that, without my partner link, you wouldn't be able to easily find other Bing Ads promo coupons that are working all the time for pretty much every country out there.
So…
In the end, let's play nice, and just say that both of us will benefit from this, cool?
Oh, by the way, Bing Ads is now going under the name of Microsoft Advertising.
You'll see me use both names throughout this article since…well I can't really get used to the new name… I'm used to calling it Bing Ads… it sounds nicer and it's faster to type.
Anyway…
Advantages of Microsoft Advertising
Here are 5 great advantages of using Microsoft Advertising:
1. To get access to a higher-value audience

It's been reported that the average income of Bing users earns over $100,000 a year.
So if you have high ticket items that you want to advertise, then Microsoft Advertising might be the perfect choice for you.
2. Cheaper compared to Google Ads
As per Wordstream's data, Microsoft Advertising has a 33% lower CPC rate than that of Google's.
So if you want to spend less and access higher-value customers, this is a solid combo.
What's more, with my Bing Ads coupon you will get $100 ad credit to test this almost for free 😉
3. Easily import Google Ads campaigns
If you're already advertising on Google Ads, you can easily import your campaigns into Microsoft Advertising and start promoting on their large network.
All you have to do is either link your Microsoft Advertising with your Google ads account and then it will import automatically, or manually export your campaigns and import them in Microsoft Ads.
4. Target more people that are not using Google
Google Ads is great, but you're missing out on 46 million searchers that you cannot reach on Google (that's a lot yo).
They have over 7.5 billion monthly desktop searchers, and a 37% share of the U.S. desktop market through their Bing, MSN, Yahoo, AOL, and other partners.
You can't afford to ignore that, for real.
5. Amazing customer support
I've been running campaigns on Bing Ads (Microsoft Advertising now…) for years, and their customer support has always been helpful and quick.
Getting ads, ad extensions, and campaigns approved takes a few minutes to a couple of hours at most.
6. Get a higher conversion rate
Apparently, campaigns that are running on Bing have a better conversion rate than Google's PPC program.
This has to do with the fact that Bing is used on computers more, whereas Google's traffic gets a lot of smartphone and tablet traffic that doesn't convert as well.
If you're after higher conversions and CPCs that are 33% cheaper than Google Ads, then you should

give Bing Ads a try.
Benefits of Bing Ads Coupons and Why Use Them?
I mean, what a silly question. Why do people use coupons and vouchers anyway?
To save money of course. That's why it's worth using Microsoft Advertising promo codes.
Go ahead, I dare you to scratch your head and come up with more legit reasons than this, leave me a comment below.
If you're just starting out doing online marketing, chances are that you don't have a lot of funds available to buy paid website traffic.
Starting out advertising with a $100 Bing Ads free credit promo offer can do wonders for marketers that don't have too much money to invest.
All you need is to spend $25 on Bing Ads, and you will automatically get $100 ad credit after you've reached the minimum ad spend requirement.
So by doing some simple math (I'm not that good at math but even I can figure this out), that $100 (bonus ad credit) – $25 (required minimum ad spend) = $75 that you get to use to advertise for free.
Plus, you might even see a profit from the first $25 that you spend on ads, so getting the extra Bing ads credit on top of it makes it that much better.
How do I get Microsoft Advertising Promo Codes?
I've put together a handy list of places where you can search and find Bing Ads vouchers, coupons, and promo codes.
Here are 5 ways that you can get Microsoft Advertising promo codes:
From Official Bing Ads Partners
Hey, wait a second, I'm one of those… 👋
You see, digital marketing companies, ad optimization platforms, and other affiliates and partners like myself, will get access to official Microsoft Advertising promotional offers to share with their customers and readers.
The following Bing Ads promo code links are special just for the NetHustler blog readers, how lucky are you huh?
So if your billing address is in one of the countries from above, it's probably better to use the Microsoft Advertising promotional offer that's specific for your country, it might be more advantageous over the regular get $100 for spending $25 promo.
If you don't see your country in the above table
DON'T WORRY
.
Use this promo link
, and you will get the $100 Bing Ads Coupon (works for 99% of countries).
Service Providers
There are service providers such as Bluehost that will give out marketing promo offers such as Bing Ads vouchers and Google Ads coupons to their customers.
If you create a blog on Bluehost, as one of their customers you can access their $100 Microsoft Advertising ad credit offer.
Website Builders
There are also site builders like Wix or Weebly that give out coupons for Microsoft Advertising if you sign up for their service.
I would stick with Bluehost to be honest since they have better infrastructure and WordPress is much flexible and easier to work with than a site builder.
Business tools & software
There are many other digital marketing tools and software that businesses use on a daily basis that can also provide you with extra Microsoft Advertising vouchers.
One of the best examples is Shopify. If you're running an online shop on Shopify you can also get extra Bing Ads coupons and Google Ads promo codes.
Coupons and voucher sites
The last but not least way to get Microsoft Advertising promo offers is by checking out coupon sites.
These sites will regularly post Bing Ads coupons and vouchers whenever they get their hands on some of them.
The issue with most coupon sites when you're looking for Bing Ads promo codes is that most of the time they are expired or not working.
You know what Microsoft Advertising promotional offer never expires? You've guessed it,
sign up via my link
now and enjoy that sweet extra $100 Bing Ads Credit.
Can Existing Microsoft Advertisers Use These Coupons?
NOPE.
These Microsoft Advertising promotional offers are usually given away by Microsoft to advertisers that have never tried their ad network before, as an incentive to sign up.
So as an existing advertiser, Microsoft doesn't really have a reason to give away too many promo codes, since you're already using their platform.
I know… it sucks for most of you who are already using the ad network and are looking for Bing Ads coupons.
But hey, nothing is impossible, so they can always send you an email giving you some free ad credit, so who knows.
I know that Facebook ads do this from time to time and Google as well, so maybe Microsoft will do it too.
How Do Microsoft Advertising (Bing Ads) Coupons Work?
The Microsoft Advertising promo codes work just like any other coupon or voucher out there.
You simply sign up via my link and create an account, spend $25 on ads, and then you will receive $100 ad credit automatically to your account.
Awesome right?
You don't need to copy/paste some non-functioning code anymore, that's why my link is magical and it works for almost any country in the world.
Where Can I Enter The Bing Ads Coupon to Get Free Credit?
Your Bing Ads coupon will be automatically added to your account if you are a real hustler and create an account via my link.
To check the status of the coupon:
Log in to your Microsoft Advertising Account
Click on tools
Go to Billing & Payments
Select Payment methods
Click on Promotional offer.
You will then see something like this:


As you can see, you will find there your Microsoft Advertising promotional offer, the coupon code, status, and dates that you redeemed it and when it expires.
You will also be able to see your Bing Ads credit remaining balance, so make sure you spend it all until the coupon expires.
The status will tell you if your Bing Ads coupon is active, expired, depleted, or if you need to spend more money in order to be activated.
The Microsoft Advertising credit is added automatically to your account when you spend the minimum amount required on ads (usually it's $25)
Microsoft Advertising Promo Code: Conclusion
Congrats on making it all the way to the bottom. By now you should have already signed up via my link and created an account on Bing Ads to activate your promotional offer.
The beauty of my link is that since I'm a partner of Microsoft Advertising, these promo links will stay up indefinitely, or at least until I'm kicked from their program because they can't stand the insane amount of leads and advertisers I'm sending their way.
Alright, go out there and start your campaign on Bing Ads with this promo offer, and let me know how it goes.
As I said before, the awesomeness of Microsoft Advertising is that they are a little less stringent than Google so you can get a bit more creative with what you're advertising and how your landing page is set up.
Stay hustlin'
Stephen
Bing Ads Frequently Asked Questions
Tips If Your Bing Ads Promo Code Isn't Working
If your Microsoft Advertising promotional code isn't working check and see if you've met the minimum deposit or ad spend requirements.
Does Microsoft Advertising Work for Small Business?
Yes, you can advertise your small business on the Microsoft Advertising network, if it's not against their rules and regulation.
Are Bing Ads Worth it?
Any paid advertising method is worth it, especially if you don't want to wait for SEO to take effect (3-6 months).

So yeah, I would say that Microsoft Advertising is definitely worth it, especially since it can be 33% or so cheaper than Google Ads.
Is the Microsoft Advertising Promo Code available in my country?
Usually, if you sign up via my Microsoft Advertising promo link, you will be able to sign up and take advantage of the promotion from pretty much any country in the world.

I'm sure some places maybe like North Korea, or Cuba are not going to be eligible, but for example, I've had signups via my link from countries in Africa, Asia, South America and pretty much all over the world.

So try it out and let me know how it goes.
Can I use multiple promo codes in my Microsoft Advertising Account?
Not really. These types of promo codes are a one-and-done deal. They are used by Microsoft to gather new advertisers to their network so after the promo is up you won't be able to use another one on that account.

You will rarely see promo codes for existing Bing Ads advertisers… but who knows it might happen.
How long do Bing coupons last?
Most of the time Microsoft Advertising promo codes will have an expiration date, so check it out when you redeem it, you will then be able to see when it expires.

So make sure to use your free Bing Ads credit before the coupon expires.
Is Bing Ads Cheaper than Google Ads?
Yes, Microsoft Advertising (formerly Bing Ads), is on average 33% cheaper than Google Ads.

This allows marketers that don't have large advertising budgets to test their products and services on Bing Ads before they scale up with Google Ads.
How to Add Payment for Bing Ads Coupon?
You will have to add a payment method in order to activate a Microsoft Advertising promotional offer.

Depending on the country you used in your account, you will have different payment methods. Usually, these are Credit cards and PayPal.

Keep in mind that Microsoft Advertising might make a small $1 charge to your credit card in order to verify it.

You can add a payment method by going to your Microsoft Advertising Account > Tools > Billing & Payments > Payment methods.
Why should I Invest in Bing Ads?
Investing in Microsoft Advertising might be a good idea if you want to get access to people that don't use Google as their search engine. For example, that's about 46 million desktop searchers in the United States alone.

That's an insane amount to ignore, you also get a cheaper CPC and sometimes a higher ROI than on Google Ads.
How do I advertise on Bing for Free?
Well, it's not actually free, because you will have to pay for every click that your ads receive, but with that being said, you can get free ad credit added to your Microsoft Advertising account that you can use to advertise on Bing.

Check out this link and get $100 ad credit in Bing when you spend $25.