Best Affiliate Networks & Marketing Platforms to Make Money in 2022
This post may contain affiliate links. If you buy something through these links I will receive a commission (at no additional cost to you). I personally hand-test everything that I promote, and I only link to services and products that I like.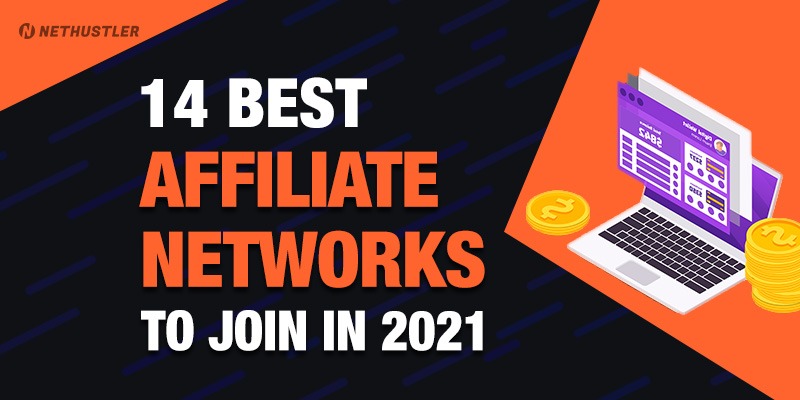 You've heard that affiliate marketing is a great way to earn a passive income online and decided to try it out? Great… in this article, you'll find the best affiliate networks that you should join in order to start your journey.
There are no less than 14 top affiliate networks that you should consider joining, each of them has its pros and cons, and unique exclusive offers. So join the one that makes the most sense to you, your goals, and your website.
But first…
Other than the articles on this blog, I rarely write my own content. Why? It's simple: I hate it. That's why
I outsource it
from places such as
Fiverr.
What is Affiliate Marketing?
Affiliate marketing is where you as a publisher will create content or send traffic for offers and products that you don't own in order to make money with every sale that you make.
Affiliate marketing is great if you don't have a product or service of your own to promote on your blog, website or various other channels (email marketing, social media etc).
Here's a quick story I've put together for you, enjoy:
Lucy has a blog about dogs, but she has no products of her own to sell or promote in order to monetize her blog traffic.

The solution for Lucy is to join a few affiliate networks where she can find dog products such as toys, food, training guides from product owners, that she can promote on her blog via a unique affiliate link.

Every time someone clicks on Lucy's affiliate links and makes a purchase, Lucy will receive a commission and get paid for that action.

This makes Lucy more eager to write more posts on her blog, increase her traffic and earn more money as an affiliate marketer.

-The end.
What is an Affiliate Network?
An affiliate network is an online platform where you as a publisher can get connected with merchants from all over the world so that you can promote their products as an affiliate.
How Do Affiliate Networks Work?
Pretty much all affiliate networks will have about the same joining process. You will have to create an account first, and wait to get approved into the network.
Some affiliate marketing networks will auto-approve your application, others will require manual review from affiliate managers.
After you're approved, you can start browsing the affiliate network's offers and products so that you can find the right ones to promote.
If the network also requires you to request approval from each merchant that you'd like to promote products from, then you will have to also do that.
Finally, when the merchants also approve you, you will get access to unique affiliate links and marketing tools that you can use to promote stuff such as Banners, Email text, articles, links, etc.
You then take those links and copy/paste them into your blog or website or whatever and from there you hope enough people click on them and buy things thorugh your affiliate links in order for you to start making passive income online.
Read more: Affiliate Marketing Guide
What are the Best Affiliate Networks?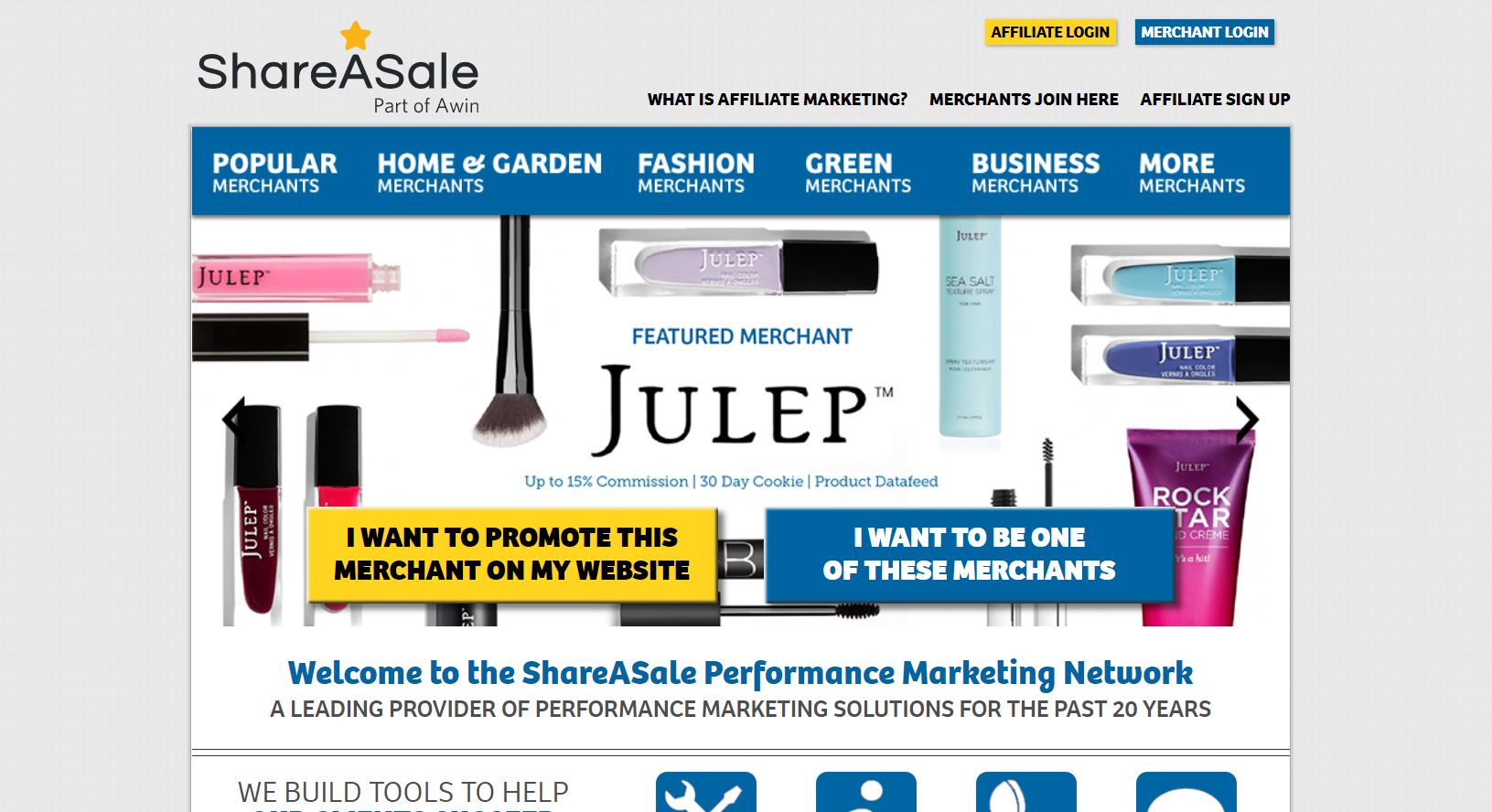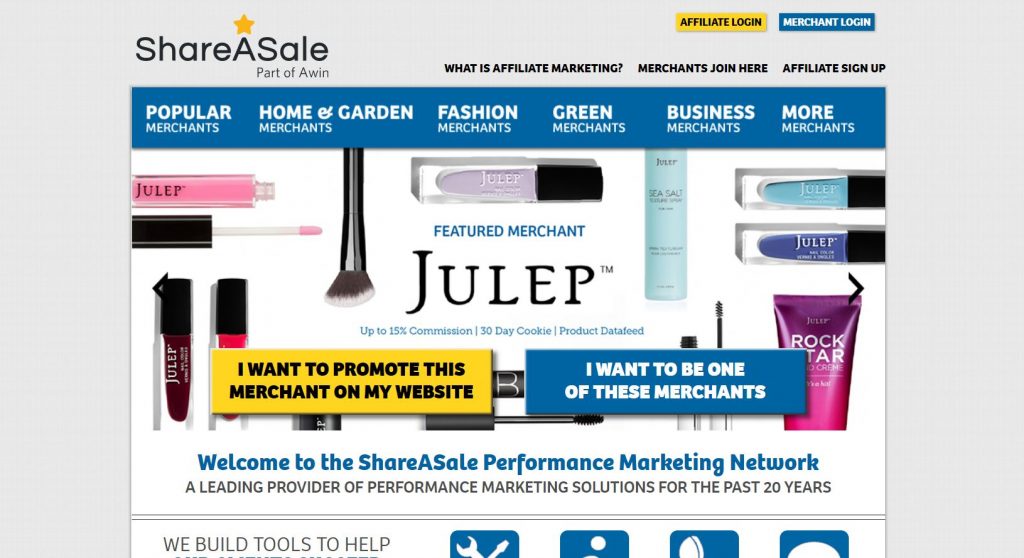 ShareASale is one of the oldest and most trusted affiliate networks on the internet. They started out in 2000, and since then, they grew to 211,000 affiliates (publishers) and 15,000+ merchants with over 5,000 affiliate programs.
You really can't go wrong with ShareASale, as they have a wide variety of affiliate products to promote, from physical products to digital ones, services, you won't be out of options of what to promote that's for sure.
What I like about ShareASale is the amount of tools and features that they provide affiliates to make it easier for them to promote the products.
ShareASale being a veteran affiliate network, it's was one of the first ones that I joined when I started making money online as an affiliate marketer many years ago, and guess what… I'm still with them even to this day.
What products I'm promoting with them? Nowadays I'm promoting mainly digital services (I'll let you guess), but in the past I pushed a ton of nutra (nutraceutical) and supplement products.
Niche & Product types: On ShareASale, you can find affiliate products to promote from all categories: physical products, digital products, services.
Average Commission rate: Depends on the merchant (5%-25% average)
Cookie duration: Depends on the merchant & products you promote.
Minimum payout: $50
Best for ShareASale is great for beginner affiliates and experienced ones.
Amazon Associates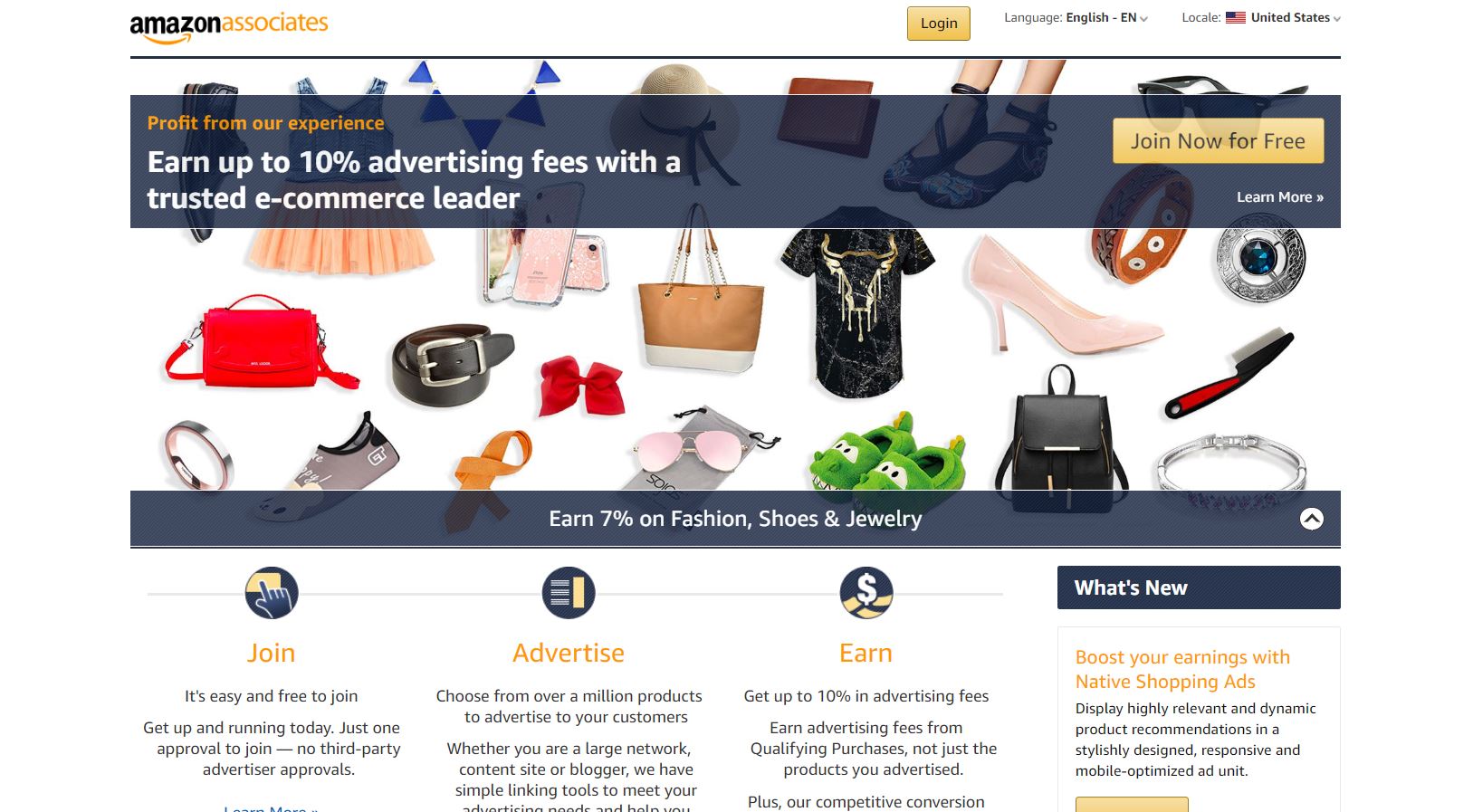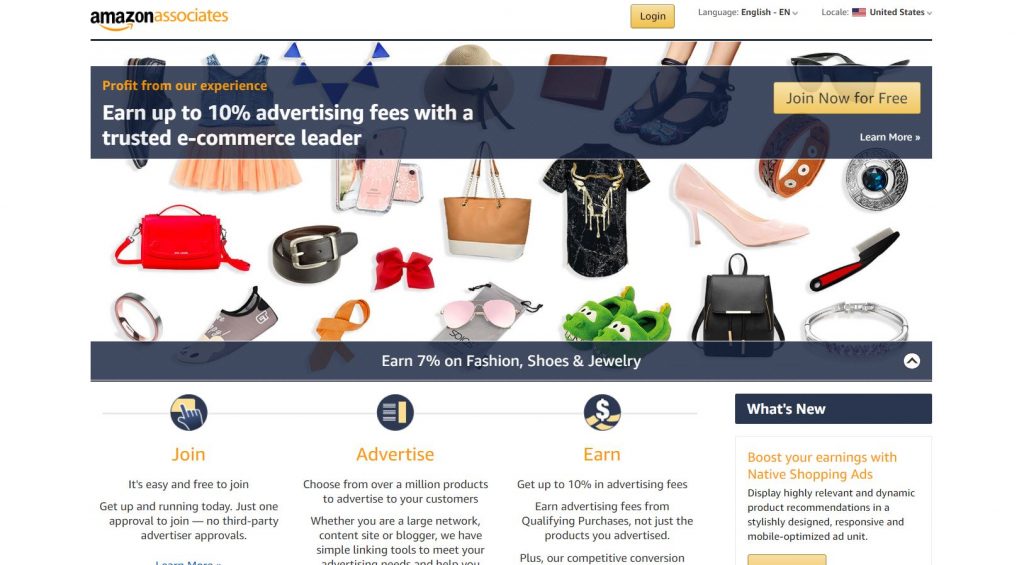 By now pretty much the whole world knows about Amazon, being the largest e-commerce platform online, it's no wonder that their affiliate program is also one of the most popular as well.
You see the great thing with Amazon's affiliate network is that publishers (affiliates) get access to millions of products that they can promote in just a few minutes.
If you're starting a blog in any niche imaginable, you will find it easy to promote affiliate products from Amazon's large inventory, you can sell anything from cat toys to boxes of cereral.
Amazon's Associates affiliate network is easy to join, and it doesn't take too much to set up your affiliate account.
While Amazon's affiliate program has lower commissions than industry average (maximum 9% rate for certain product categories), it makes up for this with a 24-hour cookie where you can earn commissions from any other item that a customer has bought from Amazon.
For example if you're promoting a toothbrush and the person also buys a bar of soap, you will receive a commission for the soap too, which is pretty neat.
Amazon Associates Details:
Niche & Product types: Amazon has a large inventory of products in any niche, from physical to digital, from food to books, you name it.
Average Commission rate: 0.2% to %10, depending on the category.
Cookie duration: Amazon's universal cookie only lasts for 24 hours.
Minimum payout: $10
Best for: Amazon Associates is great for any affiliate marketer.
CJ Affiliate (formerly Commission Junction)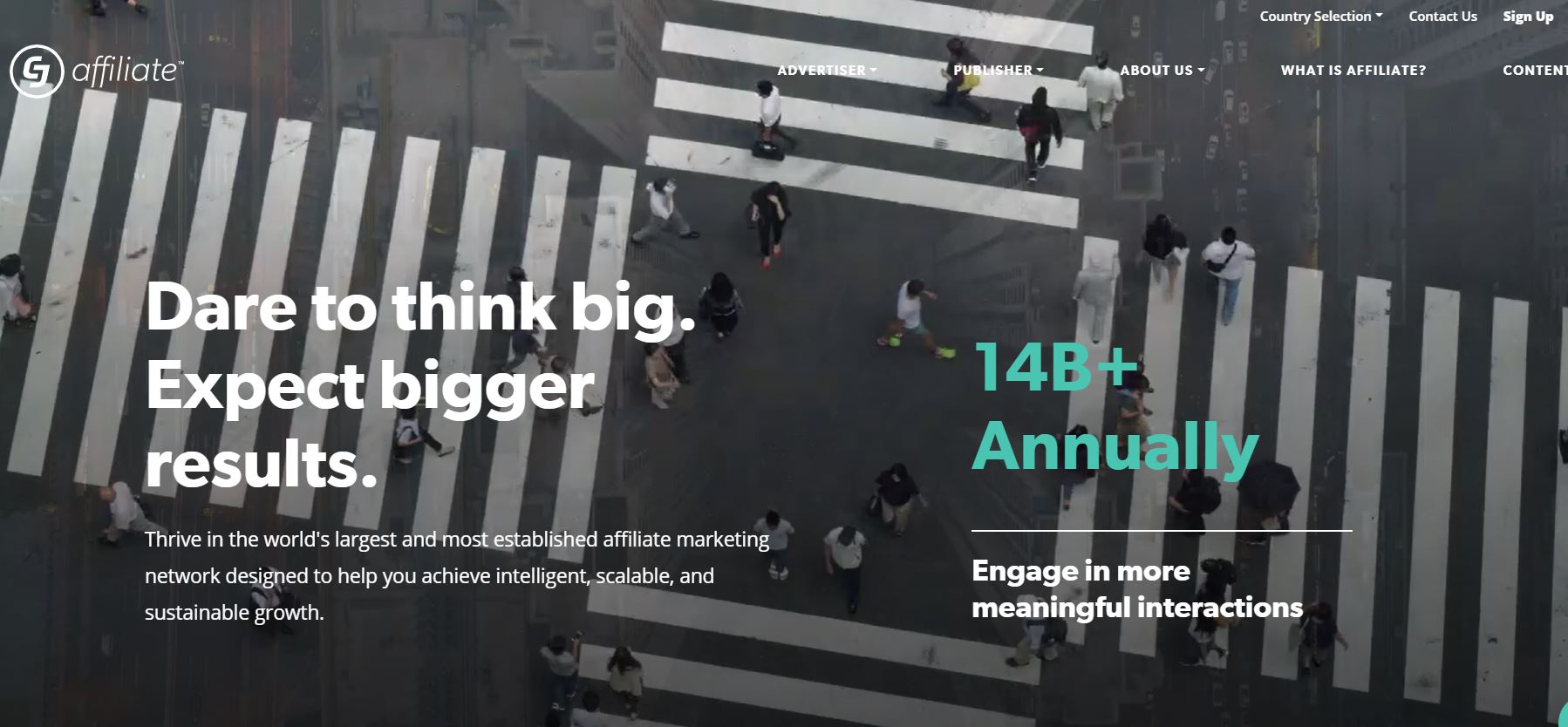 CJ Affiliate formerly known as Commission Junction, started out more than 20 years ago, being one of the oldest affiliate networks in the game, they have created relationships with top world-class merchants.
CJ has over 3,000 merchants and they have paid more than $1.8 billion in affiliate commissions last year, and since I'm also a CJ affiliate, a tiny tiny fraction of that $1.8 billion went to my bank account as well.
Through CJ I get to promote top brands such as Bluehost (Get WordPress hosting for just $2.99/month), on the NetHustler blog, so I know for a fact that CJ is an awesome affiliate network.
What I like about CJ Affiliate is the fact that their dashboard updates automatically with new commissions without you having to refresh it like a maniac and also their data insights are amazing.
To join CJ you will need to fill out an application with a couple of details on how you'd promote products, and what type of marketing you're good at. Unlike Amazon, and more like ShareASale, you will have to apply to each merchant that you'd wish to promote products from one by one.
If you get approved, great, you can start promoting their affiliate services and products immediately, if they decline you, don't get discouraged, try another similar merchant and try working on your description more.
CJ Affiliate Details:
Niche & Product Types: There are plenty of niches and categories in CJ, and you can promote physical products, digital products, leads & services
Average Commission Rate: The commission depends on the merchant.
Cookie Duration: The cookie length also depends on the affiliate vendor.
Minimum Payout: $50 for direct deposit / $100 for check payments.
Best for: Intermediate to experienced affiliate marketers, since you work with top-class brands, you need a great site and steady website traffic.
Impact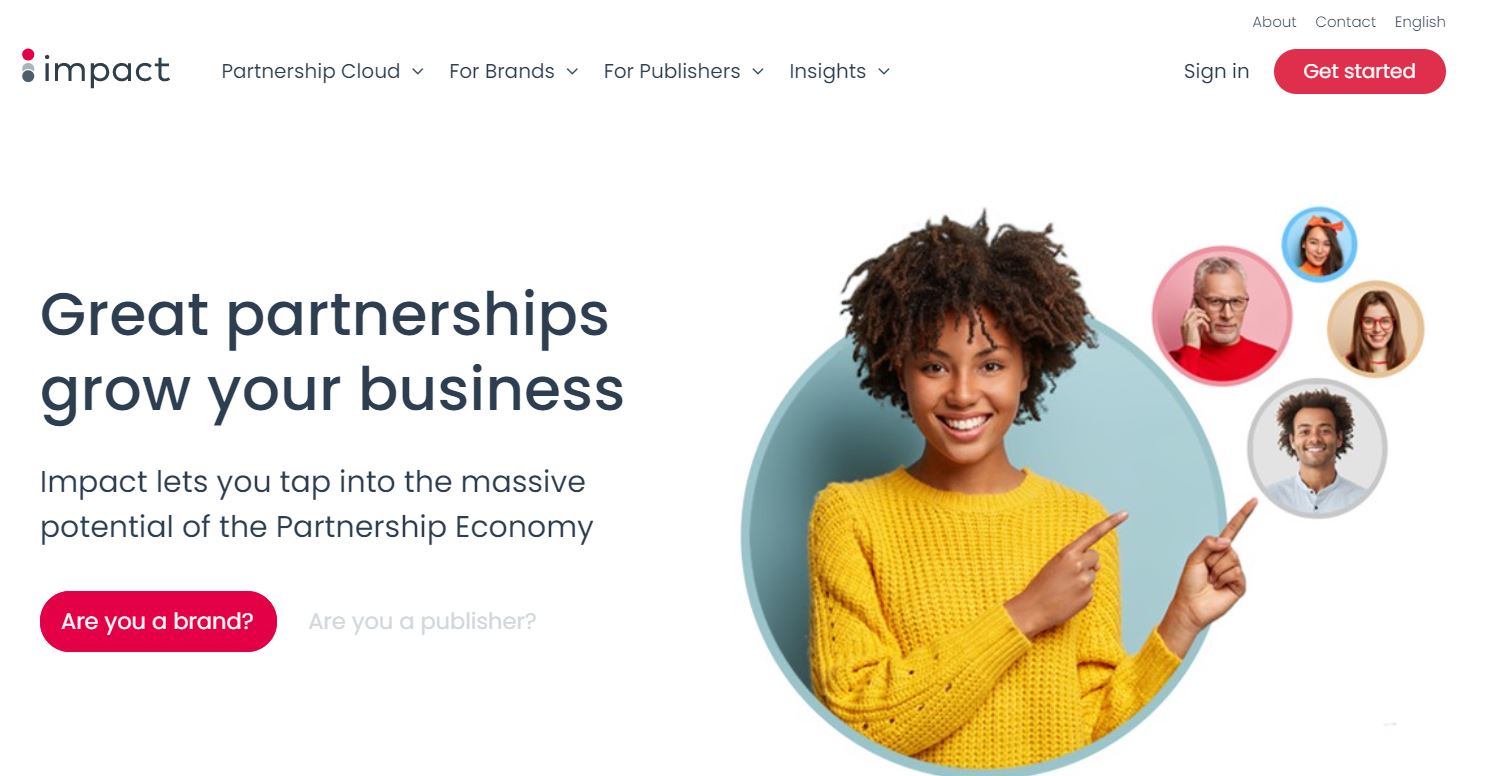 Impact is another affiliate network that I personally use, for promoting mainly products related to AdSense arbitrage such as themes and all kinds of good stuff.
Even though they are a relatively new affiliate platform, they have gathered top brands and merchants and have a lot of affiliate products available.
Apparently there are over 9 million products available to be promoted through Impact's Marketplace, that's a huge number (but keep in mind that the bulk of those products are from a few brands such as Envato that has millions of products.).
Impact has a pretty automatic system, and a ton of tools to make things easier for partners, through automatic invoicing, payouts, and more.
Impact Details:
Niche & Product Types: Various products either physical or digital from top brands.
Average Commission Rate: Depends on the affiliate vendor.
Cookie Duration: Also depends on the affiliate merchant.
Minimum Payout: $50
Best for: Any type of affiliate marketer.
ClickBank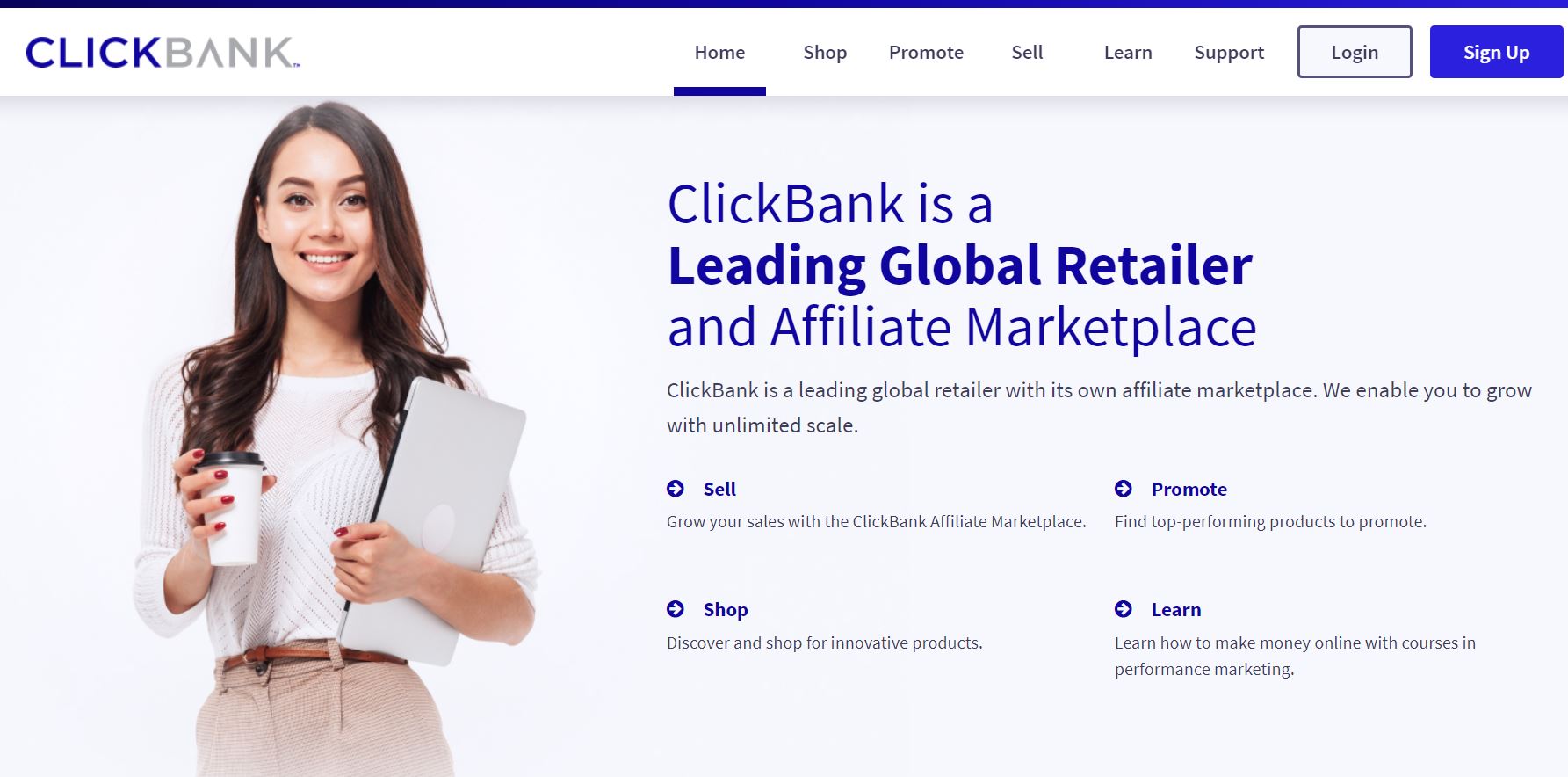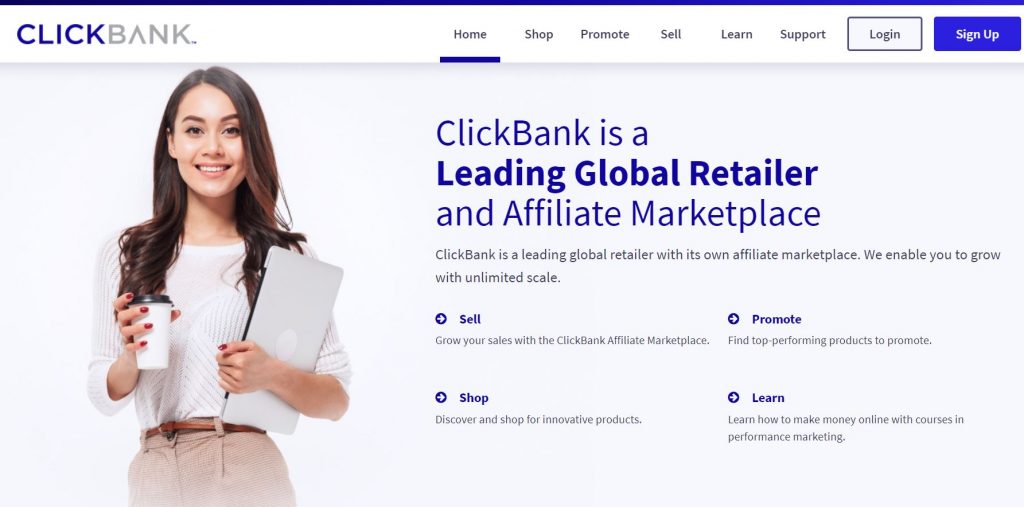 Clickbank has been an affiliate network ever since I could remember (1998 to be exact). I'm sure that you've heard about them by now, and pretty much any affiliate marketer out there has tried promoting some of their products at some point.
While Clickbank is a great marketplace to find affiliate products to promote (mostly digital such as eBooks and courses), you will also find some physical ones such as supplements for example.
Clickbank has paid as much as $4.2 billion in affiliate commissions so far, and they have over 3,000 affiliate products on their platform.
Now… a word of caution. While Clickbank is a great affiliate platform, some of the products that you will find to promote inside their marketplace are a bit shady.
So if you plan on doing affiliate marketing with Google Ads for example (or with Bing), I suggest you CAREFULLY analyze everything from landing page, stupid insane claims, affiliate tools and resources to promote, and of course reviews (legit ones) if you can find.
In general, you should stay away from vendors that have bogus products in Clickbank that are claiming super insane things (you'll know them when you see them).
Not only do they have a very high refund rate (10-20% in some cases), you also risk the chance of getting banned from your paid traffic source (if you're paying for traffic).
Plus at the end of the day you want to sell things that are actually helpful and of use to people. Right?
Clickbank Details:
Niche & Product Types: Products in many niches, mostly digital though.
Average Commission Rate: Depends on the Clickbank vendor (40%-75% usually)
Cookie Duration: Also depends on the affiliate vendor.
Minimum Payout: $10
Best for: Beginner affiliate marketers.
Awin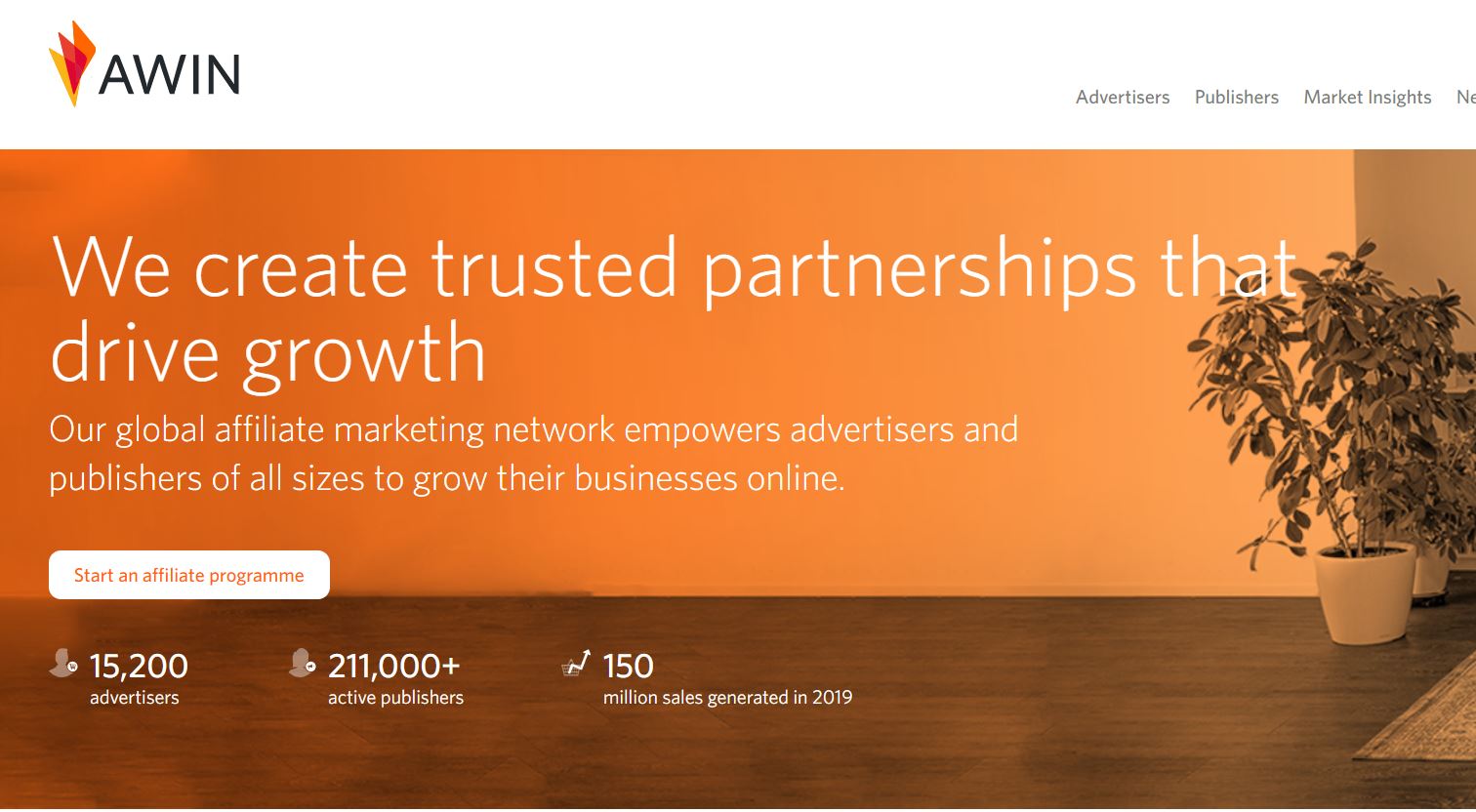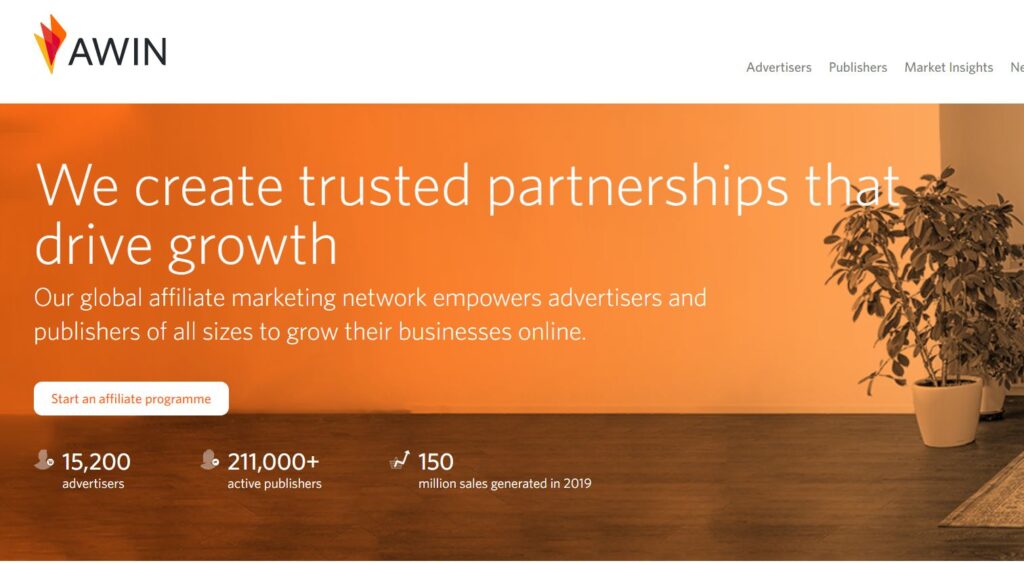 Awin is another huge affiliate marketing platform that gives publishers access to partner with more than 15,000 brands.
The affiliate platform started out in Germany in 2000, and it was formerly known as Affiliate Window. Because of their European roots, you will also find a larger number of vendors and brands from Europe.
Fun fact about Awin, even though they have their own platform and separate site, they have also bought ShareASale in 2017, since the sites are not combined, you should sign up as an affiliate on both platforms to access more products to promote.
Note: You will have to fork up $5 in order to apply and register on Awin as an affilaite. I know, weird.
Awin Details:
Niche & Product Types: Physical and digital products and services in all categories.
Average Commission Rate: Depends on the merchant you partner with.
Cookie Duration: The cookie also depends on the merchant.
Minimum Payout: $20
Best for: Every affiliate marketer, especially those with traffic from Europe.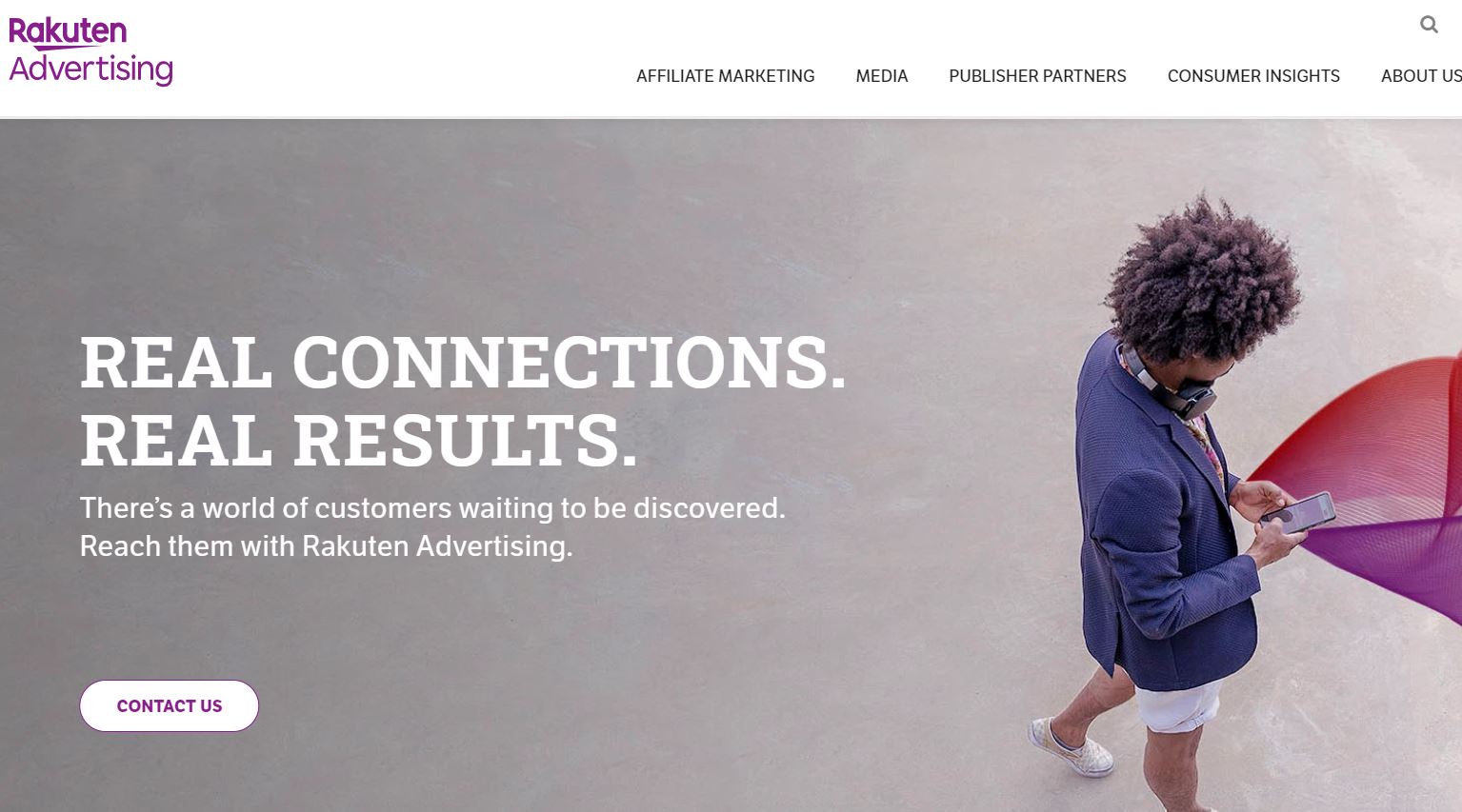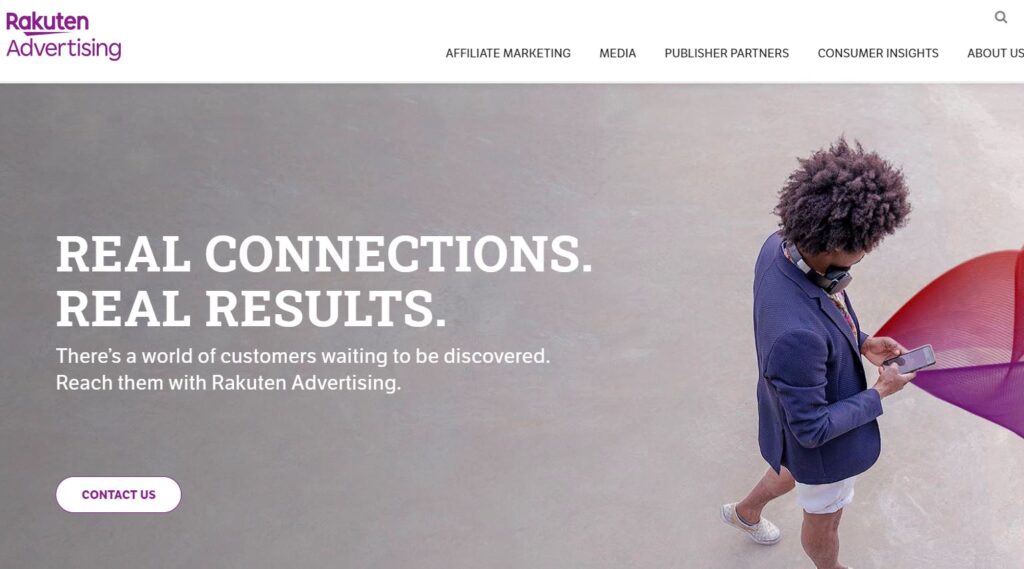 Rakuten Advertising (formerly Rakuten Marketing but also LinkShare) is another marketing network that was founded by the Japanese e-commerce giant Rakuten.
Over the years though they have decided to also expand into affiliate marketing, after acquiring LinkShare (a popular affiliate platform) in 2005.
I suggest you have a pretty good website first that receives some traffic (similarly to CJ) because it might be difficult to get approved by some of Rakuten's vendors. You will also have to sign up for each merchant individually.
While they don't have a huge amount of merchants (they average about 1,000), their platform is still filled with high-quality and world-renowned brands, making Rakuten an easy choice when it comes to expanding your affiliate profits.
There are many top brands that publishers can access and promote their products such as New Balance, Sephora, Wells Fargo, Udemy, Virgin Holiday JetBlue Vacations, Sixt, Ecco.
Rakuten Advertising Details:
Niche & Product Types: Their selection might be a bit limited, but the affiliate products and services are of high quality.
Average Commission Rate: This depends on the merchant you work with
Cookie Duration: Again, varies, depending on the merchant
Minimum Payout: $50
Best for: Intermediate to experienced affiliate marketers.
Sovrn//Commerce (VigLink)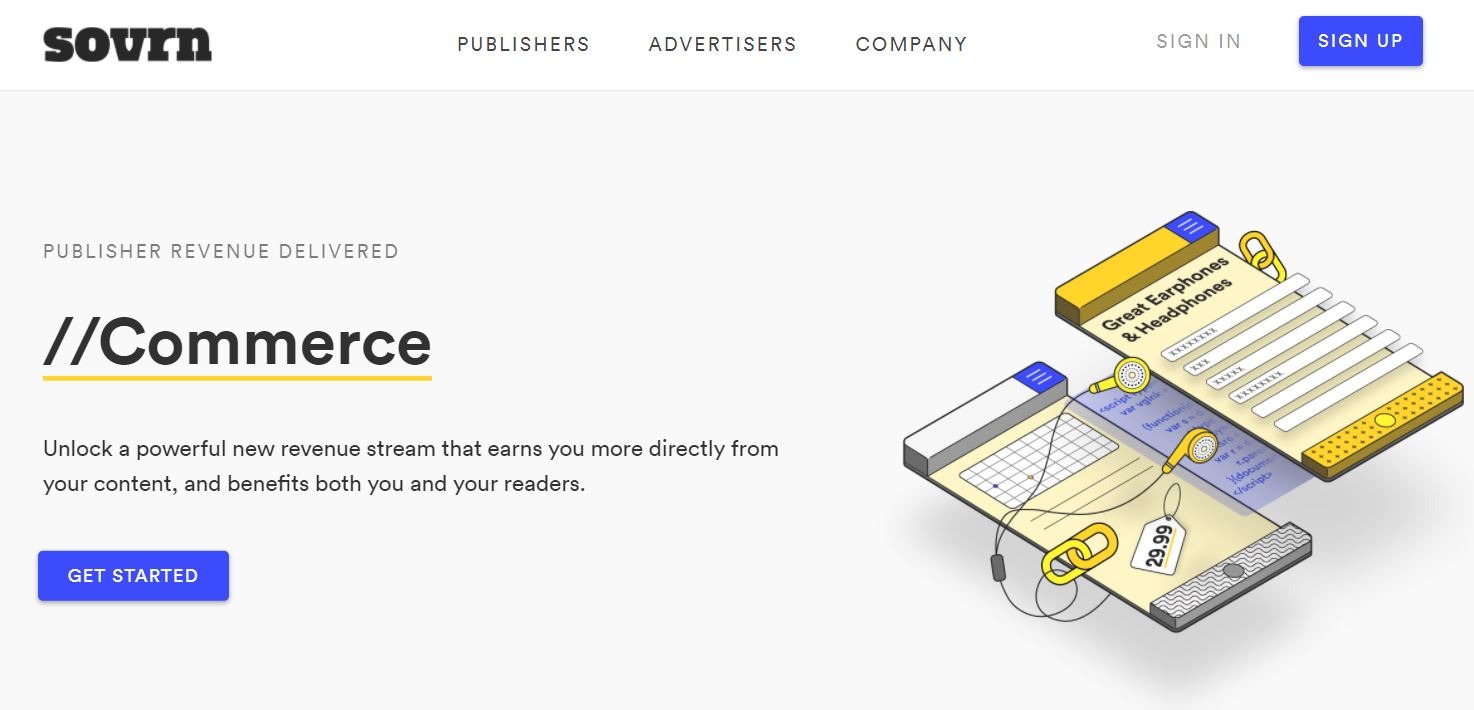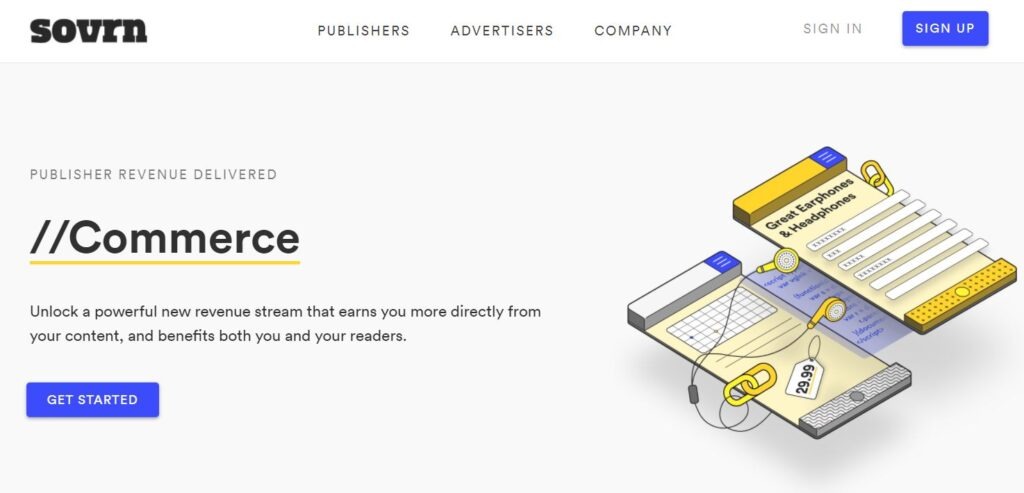 Formerly known as VigLink, Sovrn//Commerce is another great publishing platform for affiliates to join, but with a twist.
The twist relies in their ability to quickly turn bits of text from your content into affiliate links that are matched with the most relatable products and services that's mentioned in your content.
How cool is that?
So if you're a lazy affiliate marketer (not that's anything wrong with that, I'm one of those too), you can just sign up with VigLink, I mean… Sovrn//Commerce, and just write content and they do everything else for you automatically.
Sovrn//Commerce Details:
Niche & Product Types: They have a couple of hundred merchants, so the selection is not as great as other affiliate programs, but it's easy peasy
Average Commission Rate: Varies, depending on the merchant/product.
Cookie Duration: Depends on the merchant/product.
Minimum Payout: $10
Best for: If you have a website or blog with good content, join them.
eBay Partner Network (EPN)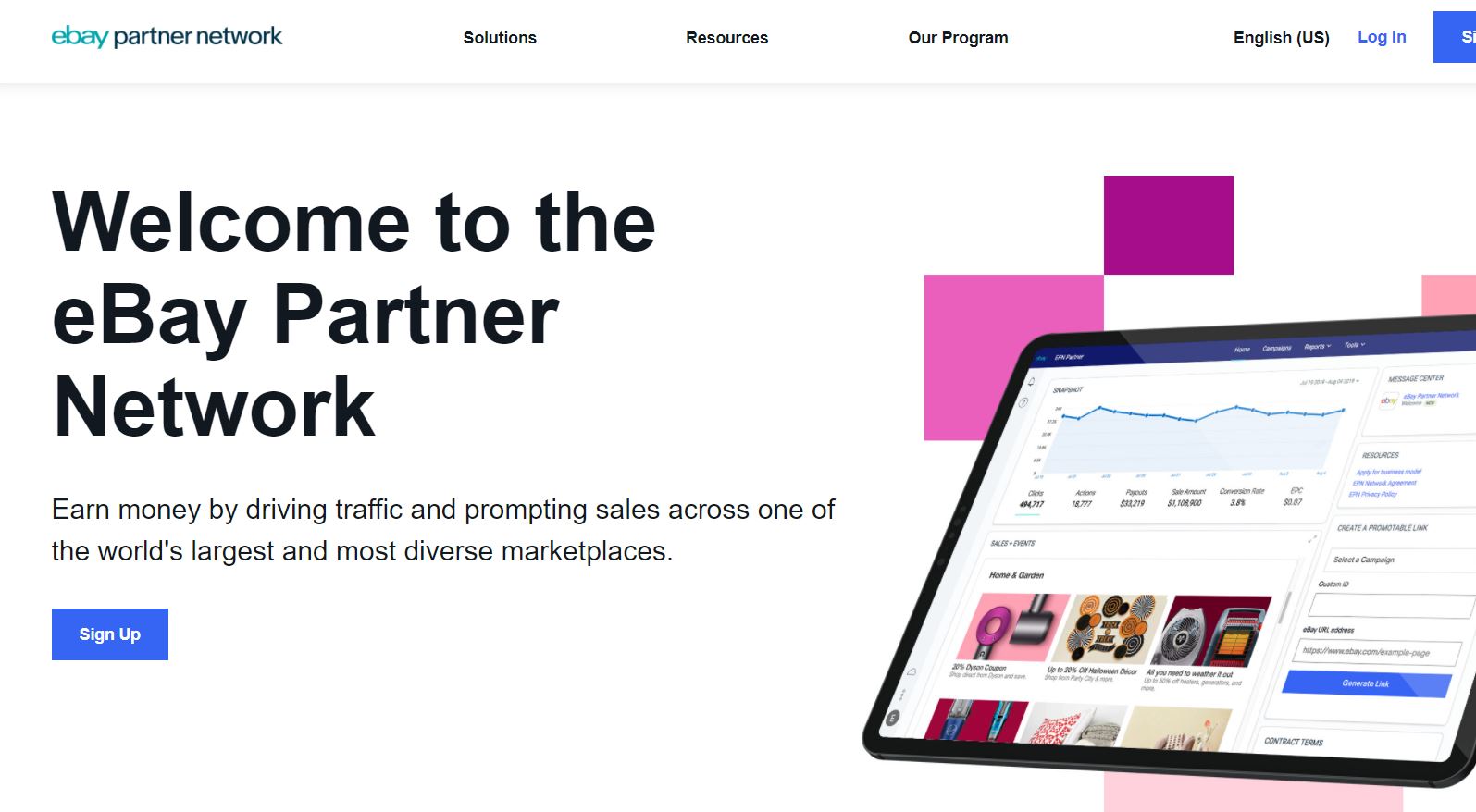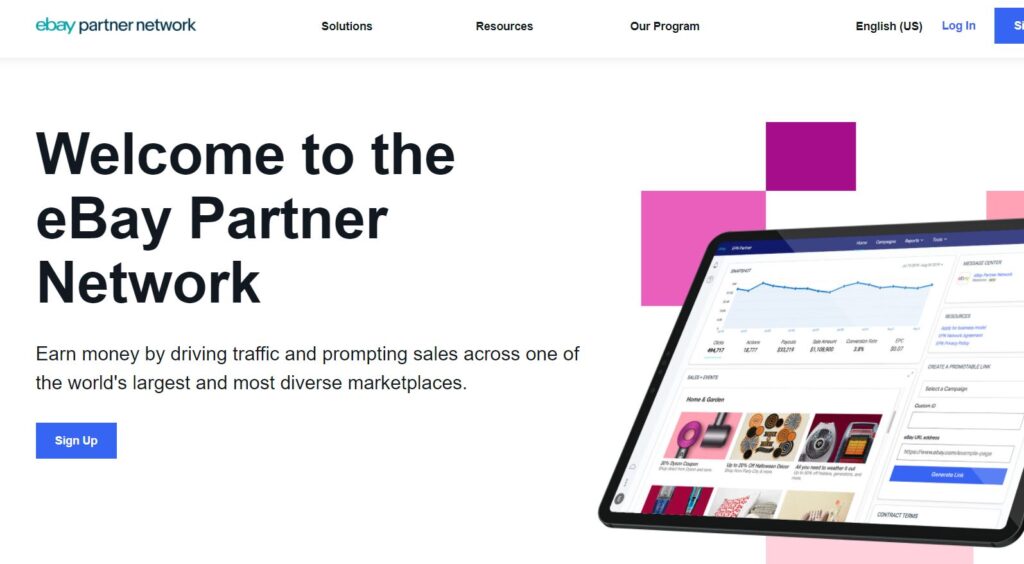 Ever heard of a little site called eBay? I'm joking of course… (unless you've been living under the sea for the past 25+ years). Still, I bet you didn't know that eBay has an affiliate program called eBay Partner Network.
If you already knew that, well, congrats… if you didn't though, check this out… you get to be an affiliate for EVERY listing that exists or comes up on eBay.
How awesome is that?
So if someone is selling their antique collection of … dirty socks, you can promote that listing and when it gets sold (who would buy that? seriously), you get to earn a commission.
NOTE: Your commission is not based on the selling or sold price, your commission is from eBay's revenue share from the auction, so again not the auction price.
eBay Partner Network Details:
Niche & Product Types: Any listing that goes up on eBay. Mostly physical products but there are some digital too.
Average Commission Rate: Varies, depending on the product category.
Cookie Duration: 24 hours for a "Buy Now" sale, 10 days it's an auction.
Minimum Payout: $10
Best for: Good for every affiliate marketer.
JVZoo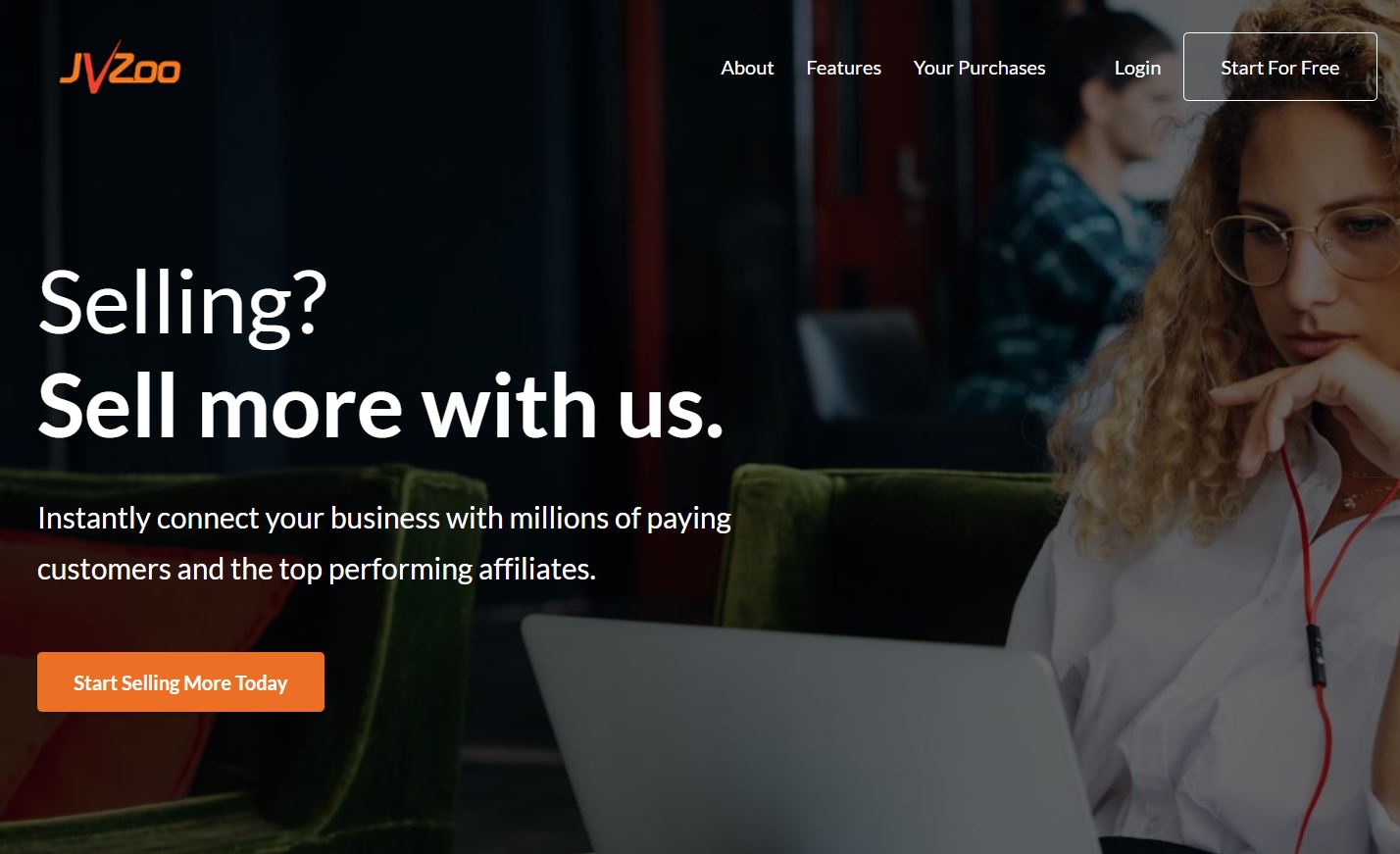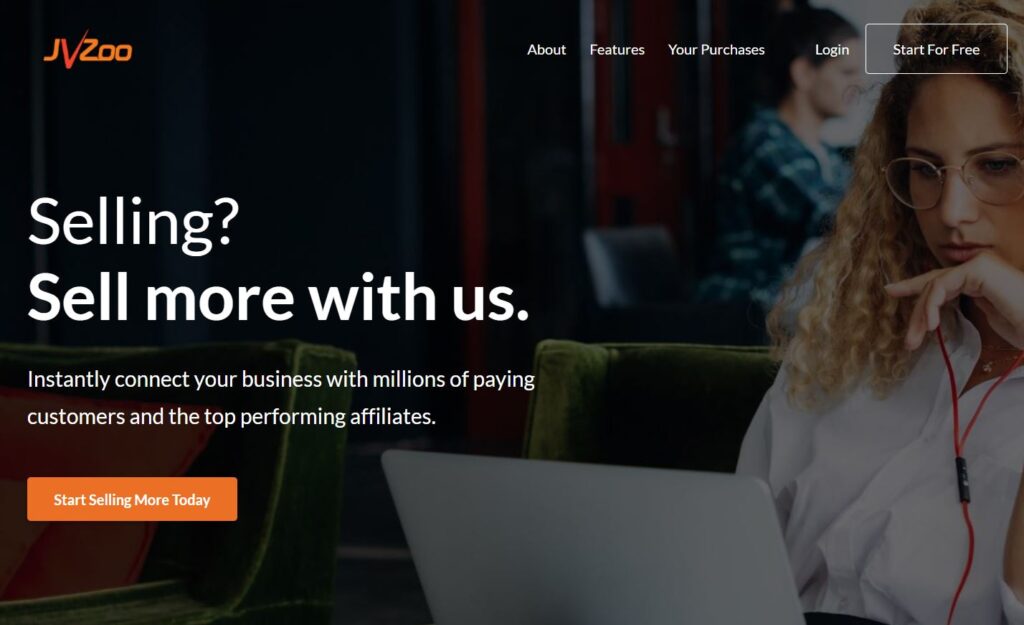 With over 800,000 affiliates, JVZoo is another great affiliate network and a good alternative to Clickbank. You will find mostly Make money online, IT and technology digital products to promote.
But there are also products from other categories such as Cooking and Arts & Entertainment.
So if you're in the niche of technology, give JVZoo a try, and check out their huge marketplace of affiliate vendors. I'm sure you'll be able to find an affiliate product to promote that suits your audience.
JVZoo Details:
Niche & Product Types: Mostly digital products in the IT niche.
Average Commission Rate: Depends on the vendor.
Cookie Duration: Cookie is set by the merchants, so it depends.
Minimum Payout: $50
Best for: Affiliate marketers in the tech, IT, Make money niches.
FlexOffers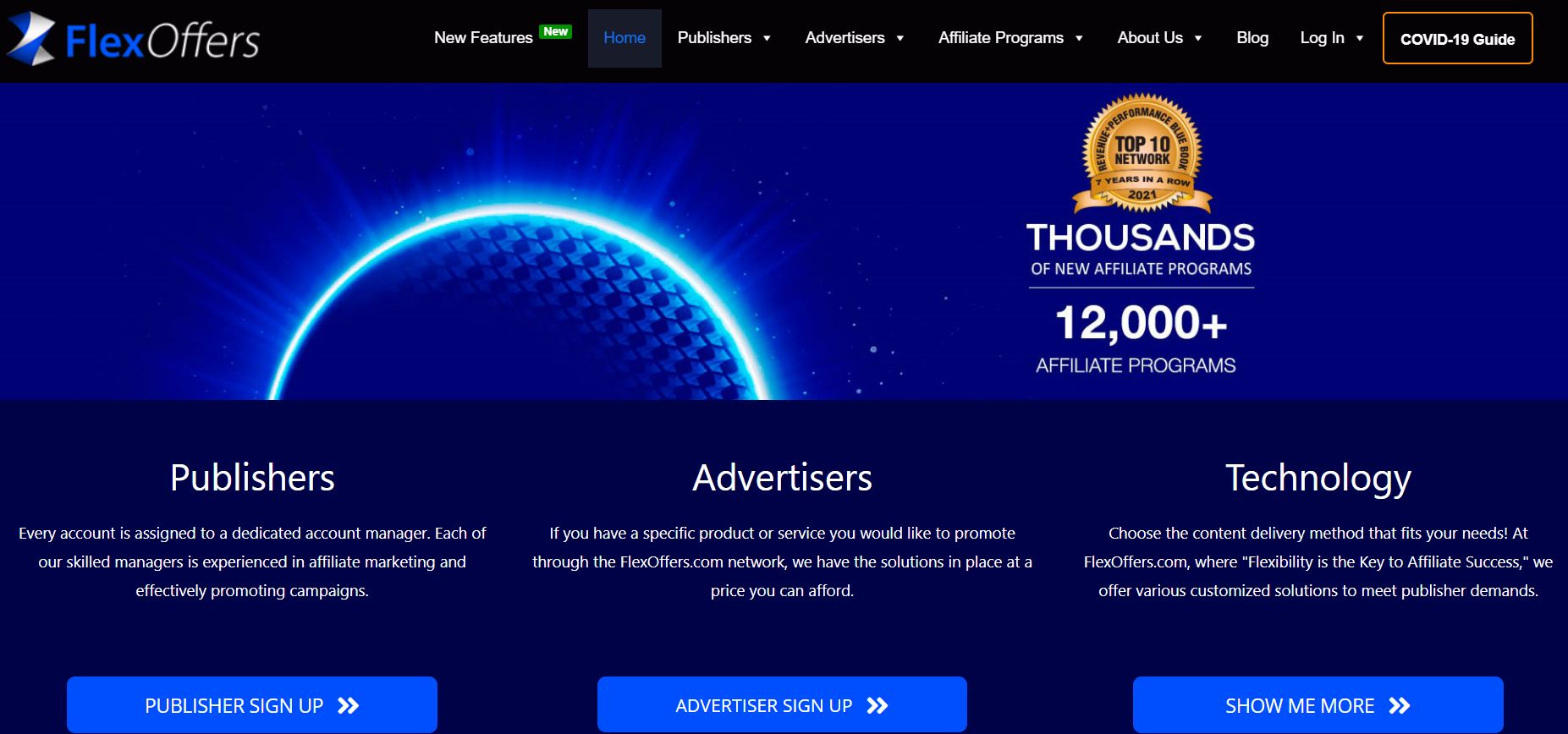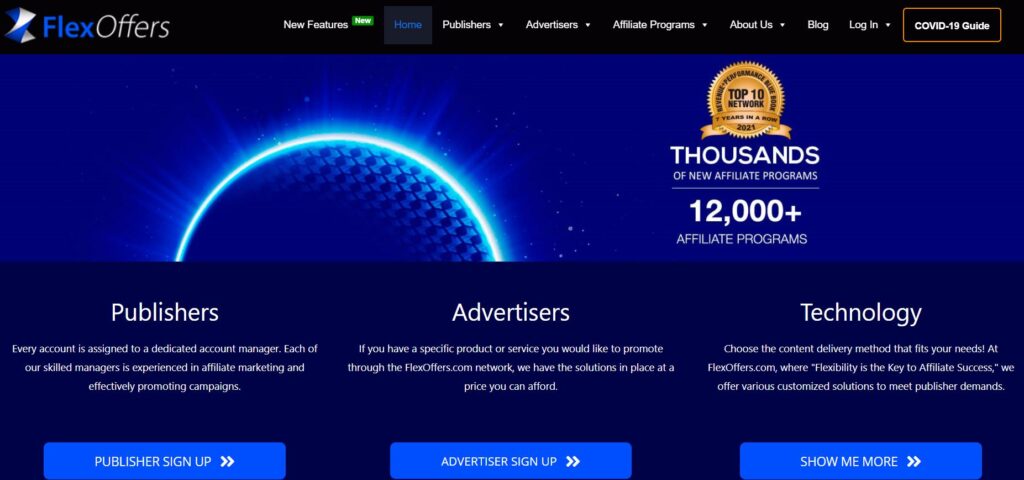 FlexOffers is flexing on us (I know…terrible pun) with over 12,000+ advertisers (merchants).
So if you're an affiliate marketer struggling to find good offers to promote, give FlexOffers a try.
They are relatively new, but this is one of the best affiliate networks in the game with tons of exclusive offers and vendors.
Their large inventory has merchants and products from all categories including top brands such as Walmart, Forever21, Macy's, Gamestop, Lenovo, Barnes & Noble, and a bunch more.
What's more, their platform is super sleek and publishers get access to a nice dashboard from where you can quickly glance over the latest products, promotions, and exclusive offers that the network has to offer.
You also get your very own dedicated affiliate manager, so if you got any questions or need tips or help, you can just send them a quick message and they will do their best to help you out.
FlexOffers Details:
Niche & Product Types: Ton of products from all categories, including physical and digital ones.
Average Commission Rate: Varies, depends on the vendor.
Cookie Duration: Same as above.
Minimum Payout: $25
Best for: Any affiliate marketer.
Maxbounty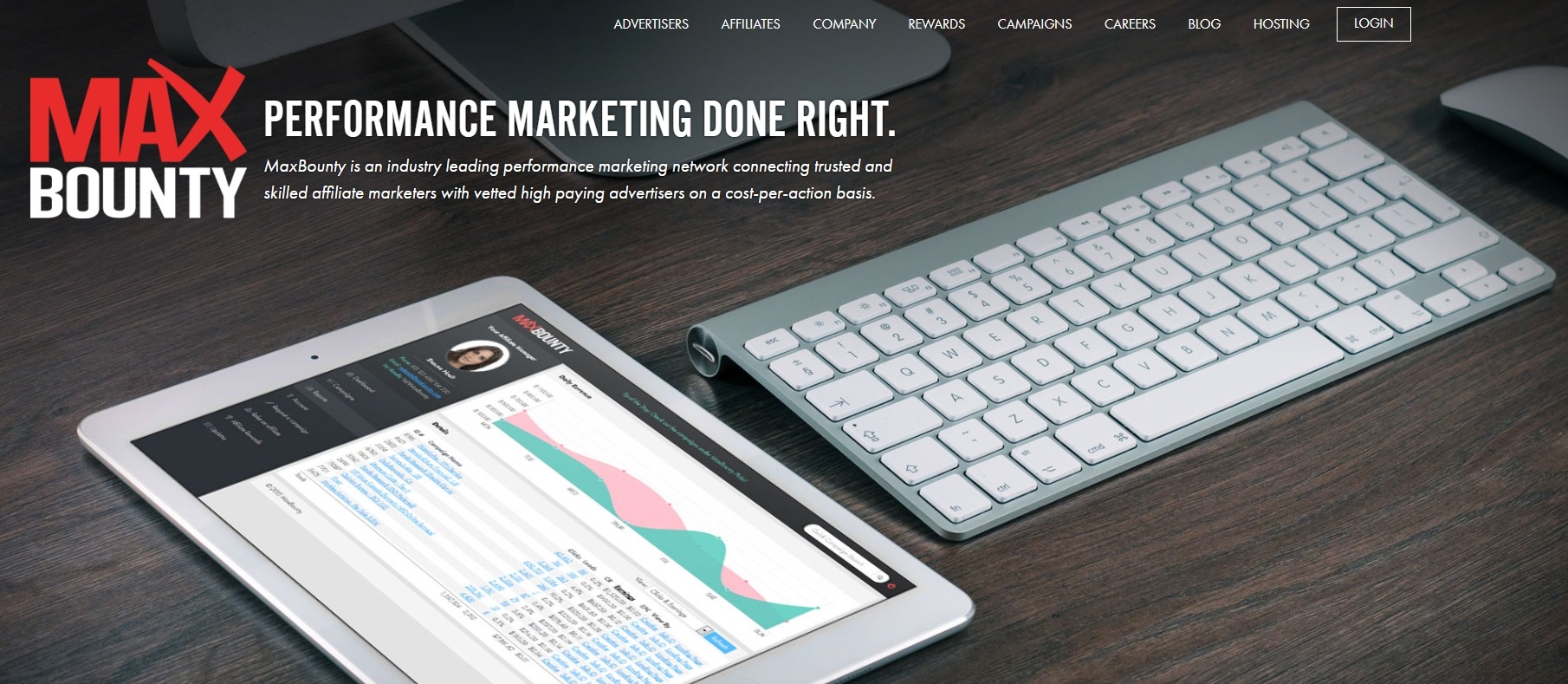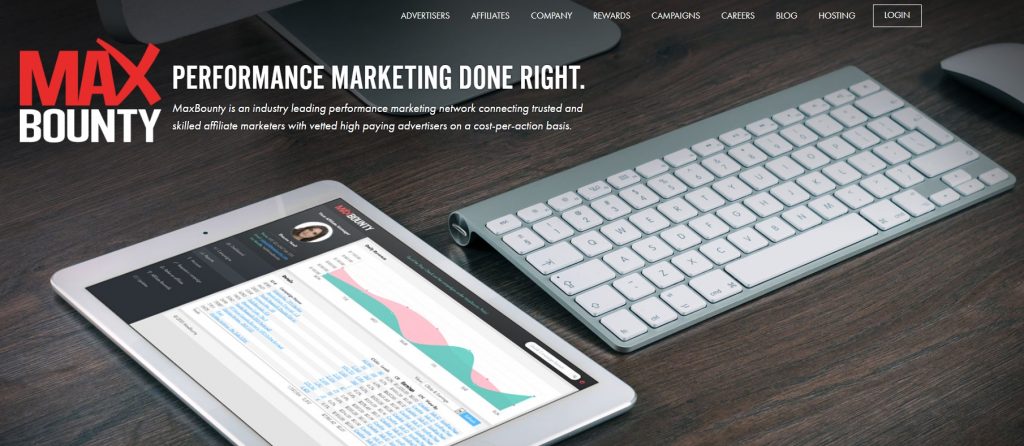 Maxbounty is a pure CPA affiliate network, that has over 1,000 offers available for affiliates to promote.
They are constantly in the top 3 CPA affiliate marketing networks every year, voted by affiliates like you and me, and they are known for good support, quality offers and for paying on time.
There have been many CPA networks over the years, some have disappeared others are struggling to find affiliates, but MaxBounty is still here after 17 years.
Read more: CPA Affiliate Marketing
Maxbounty Details:
Niche & Product Types: Has about 1,200 offers ranging from email submit offers to VPNs, supplements, and more.
Average Commission Rate: Depends on the offer, from $0.5 to $600
Cookie Duration: Cookie is combined with a pixel that fires on conversion
Minimum Payout: $100
Best for: From beginner to PRO affiliate marketer (mostly pros tho).
Avangate Affiliate Network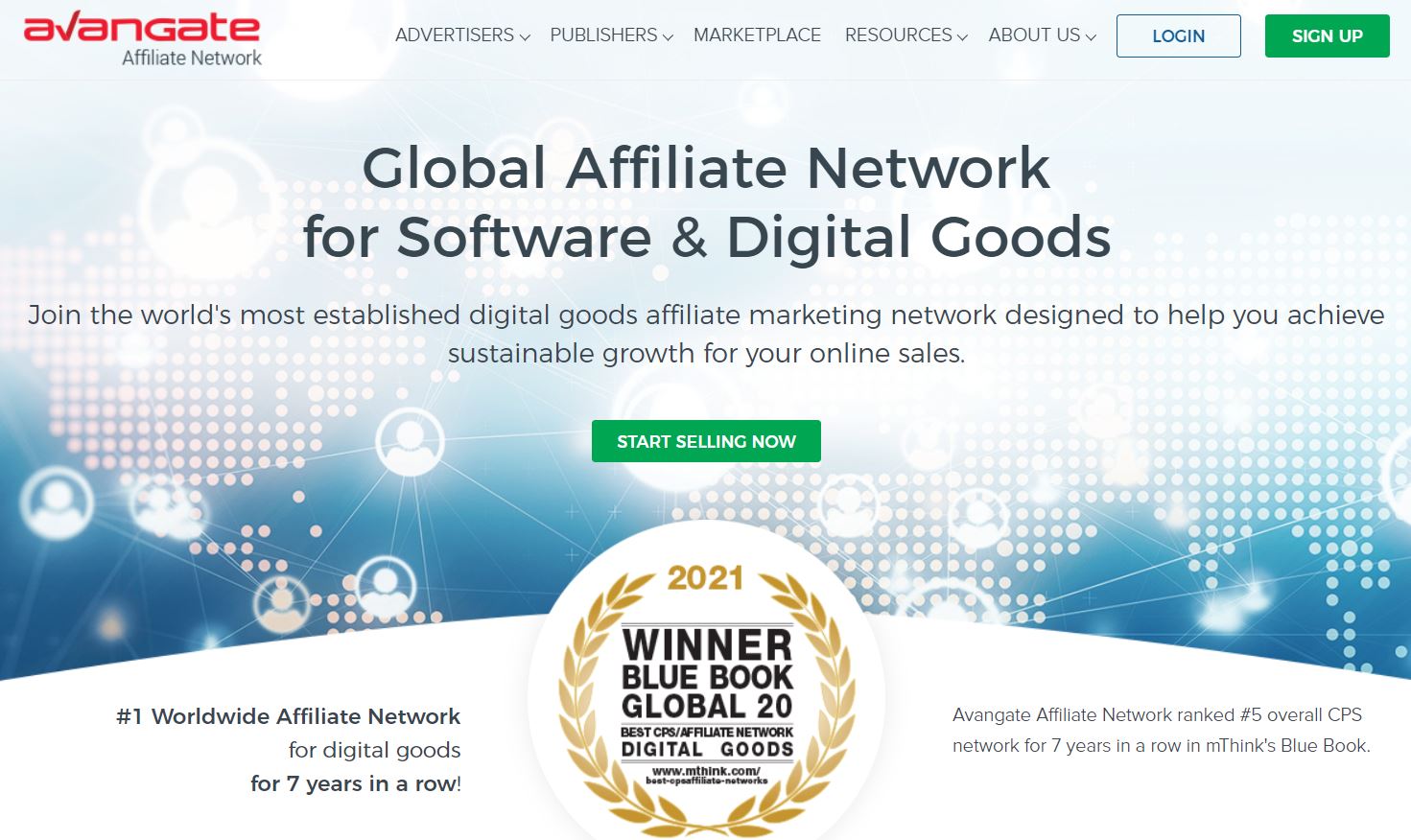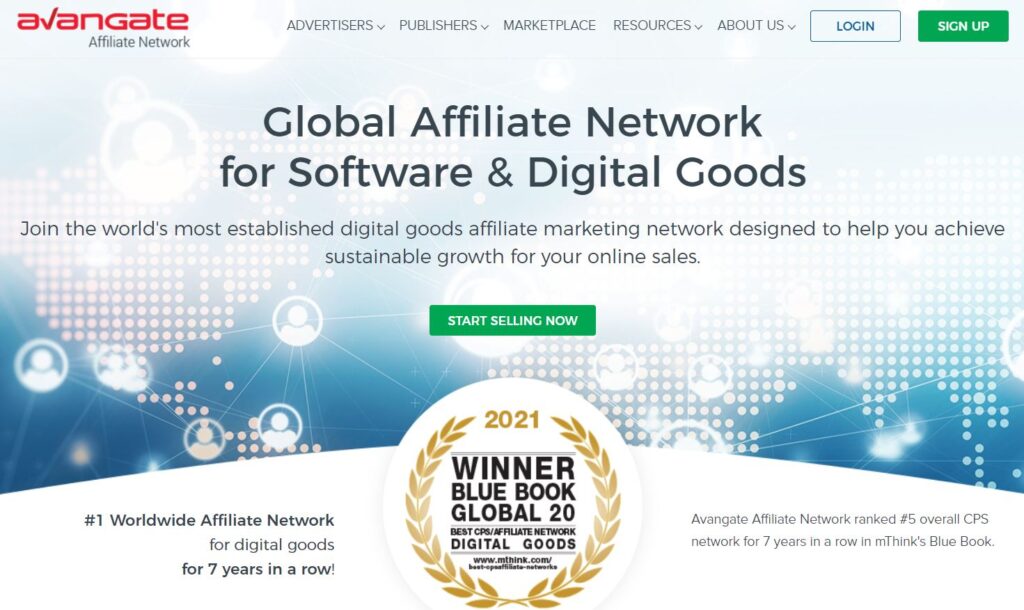 Avangate affiliate network is great if you're looking to promote software and digital goods because they have hundreds of those.
If you're in a niche that's all about technology, business, and finance, you will find a ton of great quality offers to promote from Avangate network's premium advertisers such as Bitdefender, Kasperksy, Malwarebytes, Nero, and more.
Oh, and they have been named the #1 Worldwide affiliate network for digital products for 7 years in a row by Blue Book Global. Not to mention that they have a very large cookie duration (probably the longest in the industry).
Avangate Details:
Niche & Product Types: Digital software and tools.
Average Commission Rate: from 20% up to 85% (depends on product)
Cookie Duration: Cookie duration is 120 days (one of the longest)
Minimum Payout: $100
Best for: If you have a website or blog in the tech niche, go for it.
Skimlinks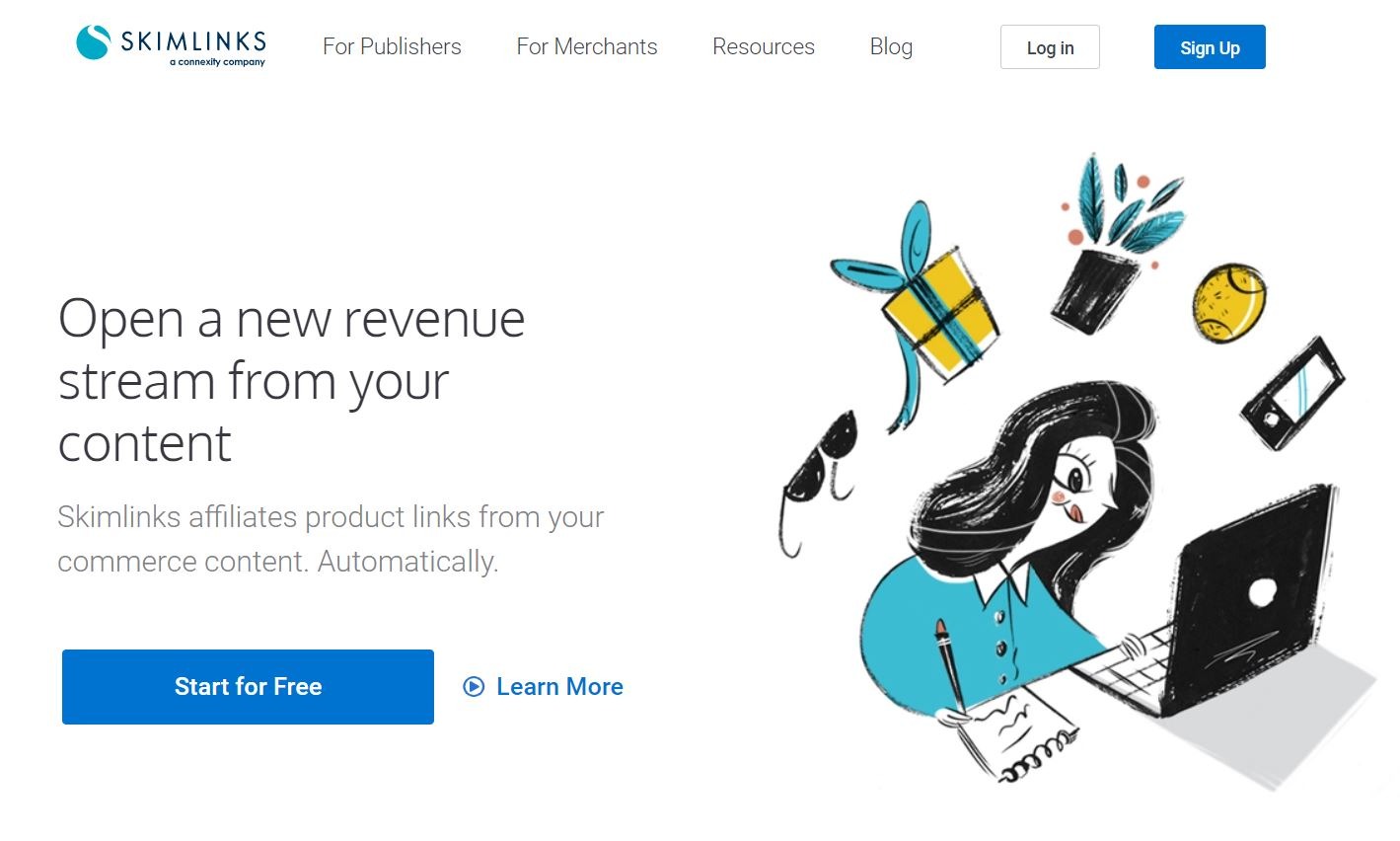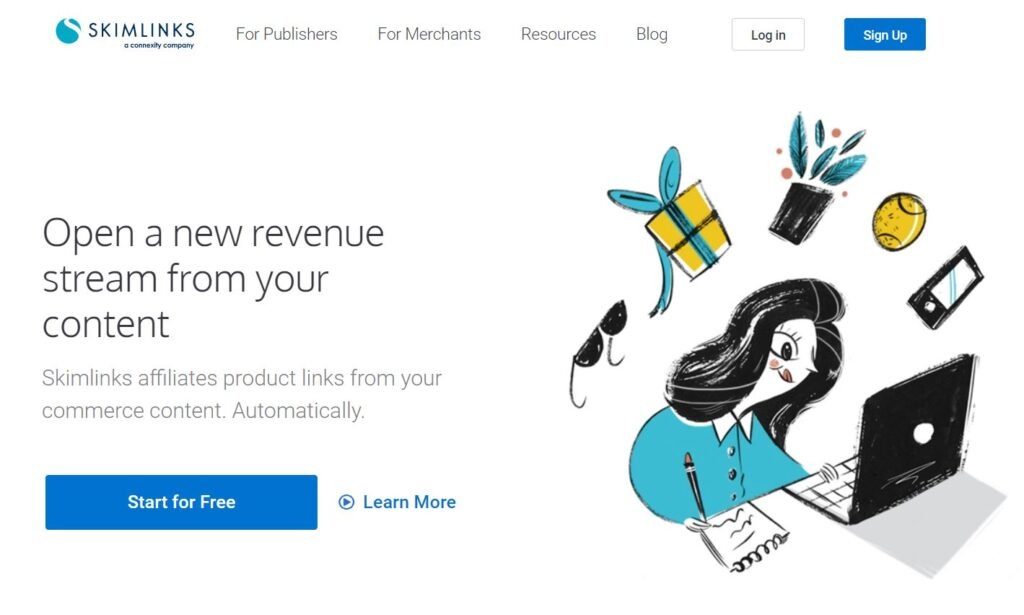 Skimlinks is another eCommerce affiliate platform that's similar to Sovrn//ecommerce. It adds links to different affiliate products automatically throughout your content based on the keywords and the topic inside.
So if you want a hands-off approach to the affiliate marketer, sign up to Skimlinks add their code on your site, and you're done, from there they will do everything for you.
Some of the biggest websites online are using Skimlinks to earn more money such as Yahoo, Hearst, Daily Mail, Conde Nast, HuffPost.
Publishers get access to over 48,000 merchants worldwide, making this one of the biggest networks online that have a huge number of advertisers.
Avangate Details:
Niche & Product Types: They have mostly physical products across all niches.
Average Commission Rate: varies, depending on merchant.
Cookie Duration: same as above 😉
Minimum Payout: $100
Best for: Affiliates that have websites with good traffic numbers.
Top Affiliate Networks Conclusion
So if you wanted to become an affiliate marketer and never knew what affiliate networks to join, I hope this post solved that issue for you.
Now you have 14 top tier platforms that you can join and earn money as a publisher, also known as an affiliate marketer.
Let me know which one you've joined and if you like them so far.
Frequently Asked Questions
How do affiliates get paid?
You will be sent a payout whenever you reach the threshold that is set up by the affiliate networks that you join. It also depends on the billing cycle, some networks pay once a week others once a month.

Usually, you get paid via direct deposit into your bank account, PayPal, but also wire, checks, and crypto.
How much do Amazon affiliate links pay?
Amazon's Associates' affiliate program has very low commission rates, up to 10% to be exact.

However people trust Amazon a lot, so they convert more, you also get to earn commissions for products that you didn't promote but the customers also bought from Amazon. That's a pretty good reason to try Amazon's affiliate products on your site.
How do affiliate links make money?
Every time someone purchases or does an auction that went through your affiliate link first, you will get credited with a commission.

Depending on the affiliate networks that you have joined, you will be paid either a flat fee or a percentage of the sale.

You will then receive a payout either every week or once every month, depending on the affiliate platform you have joined.
Is affiliate marketing easy?
Yes, I consider affiliate marketing to be one of the easiest ways of earning money online and having a true passive income from a blog or a website.

All you have to do is copy/paste some product links into your blog, and that's it. You don't have to manage products and customers yourself, everything else is done by the vendor and the affiliate networks.
Do you have to pay to be an affiliate?
No, not usually. There's only one affiliate network that is on this list where you will have to pay $5 to join and that's Awin. But mostly no, it costs no money to join affiliate platforms.
Can affiliate marketing make you rich?
Yes. There are people earning millions a year via affiliate marketing.

However, it all depends on what kind of marketing you do, how much traffic you send through your affiliate links, and basically how much effort you put into this. If you treat this as a serious business, then you will earn a lot.
Is affiliate marketing still profitable in 2022?
Of course, it is, and it will continue to be profitable until the internet literally shuts down.

People will buy more and more from the internet, and research shows that most people search for reviews and other information before buying something, this is where you as a content creator (if you have a blog, website, YouTube channel, social media page, etc), can give them additional info and also insert your affiliate links.