CJ Affiliate Review & Beginner's Guide in 2022
This post may contain affiliate links. If you buy something through these links I will receive a commission (at no additional cost to you). I personally hand-test everything that I promote, and I only link to services and products that I like.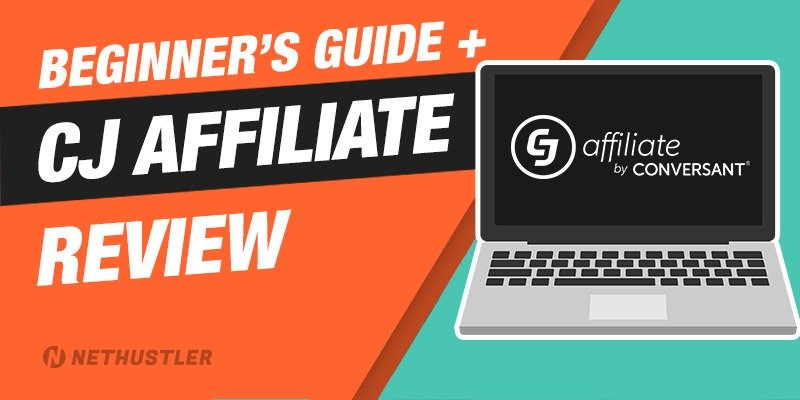 Wondering what the heck is CJ Affiliate and if you should sign up on this affiliate network? Well, wonder no more, in this article I'm going to do a CJ Affiliate review alongside a beginner's guide to get you started properly in 2022.
First things first though:
CJ Affiliate started out in 1998 with the name of Commission Junction. They kept that name until they got acquired by ValueClick in 2003.
After a short period of time, ValueClick changed its name to Conversant, and for a while, the network was known as Commission Junction by Conversant.
Nowadays though, they have rebranded under a more shorter name: CJ Affiliate.
Even though their official name today is CJ Affiliate, die-hard affiliates that knew them for a couple of years before the rebranding still calls the network: Commission Junction.
You might even see me slip a few times throughout this article and go with the older name just because that's what I was used to for so long.
Anyway, I had to clear this up, because, with so many name changes, affiliates might be confused about what network they are joining and what's going on.
So, let's get into it then:
What is CJ Affiliate?
CJ Affiliate as its name suggests is an affiliate network. It's constantly rated as one of the best affiliate networks in the world. And for good reason.
This network is pure awesome, as you will get to learn throughout this post.
If you're doing any kind of affiliate marketing, I strongly recommend you to give CJ a try.
They got incredible support and also work with some of the biggest brands in the world.
So yeah, these are not your average merchants. Because of that, these top brands have strict rules and requirements in place that are highly focused on: quality.
What Sets CJ Affiliate Apart From Other Affiliate Networks?
Great question… not that you asked it, but… hey, let's believe that it was actually you who said it. Okay?
Here's my short answer:
They are pretty frickin cool man.
I mean, okay, fine here are some more details if you really need them:
1. Amazing Insights and Analytics
Seriously, their auto-updated balance feature is amazing. Gone are the days where you have to manually refresh the page to see if you have got any new sales or commissions.
With CJ's real-time reporting, you don't have to smash your F5 (or reload) button anymore. Instead, you just leave your CJ Affiliate dashboard open in a tab, and it updates itself automatically.
Oh, and the insights… man the insights are great as well. You get access to a ton of data about your commissions and how you have generated them that will help you level up your affiliate game even more.
Here are some great points about their analytics and insights
Cookieless tracking (this one is huge)
Cross-device sales (no more lost commissions)
Real-time insights (such as the path to purchase, placement, device, etc)
2. Incredible Affiliate Programs and Offers
CJ Affiliate works with over 3,000 merchants, including some of the biggest brands in the world such as Norton, Microsoft, NIKE, J. Crew, Priceline, Barnes & Noble, Xfinity, Walgreens, Verizon, Disney, Samsung, and a lot more.
You get the point, right?
Their affiliate programs inventory is huge and packed with big names, you would be crazy not to give them a try.
3. Higher Commissions
Did you know that CJ Affiliate has paid their affiliates over $1.8 billion last year?
I don't know about you, but to me, that's some big baller type of shit. You won't see any run-of-the-mill CPA network paying out that much. Maybe not even in a lifetime, let alone in a single year.
That means CJ Affiliate always pays their affiliates on time, and also, they got some pretty nice and juicy commissions.
Sure some categories will have low percentages (like Amazon Associates low, 2%-10%) but others can pay even hundreds of dollars for a single sale or lead.
It all depends on the niche that you choose to promote. Physical affiliate products like clothes and accessories will have a lower commission than digital affiliate products such as software and also leads.
4. CJ Affiliate Has Stellar Support
I always judge and review an affiliate network after their support performance. If an affiliate manager takes ages to reply, that's no bueno.
A great network always has an awesome support service, and I'm happy to report that CJ Affiliate ticks that box.
Whenever I had any type of issues, their help team was always on point and fast to reply and help me out, for example when I didn't updated my payment method and the payment bounced back.
Or when I didn't quite understand a program's special rules and needed some extra clarification. I always got a reply back in less than 24 hours. Simply amazing.
There is a support center where you could find answers to common questions but also you can contact CJ Affiliate directly via live chat or email. No phone though.
5. They Help You Kickstart Your Affiliate Journey
If you created a blog or website that has awesome content on it and receives at least 10,000 monthly page views, you can qualify to join CJ's Content Certification.
The content certification program allows you to focus more on writing good content and focus less on affiliate marketing and applying to advertisers.
Instead… CJ Affiliate will connect you with over 600 brands immediately, so that you can start earning right away, without having to manually request to be accepted one by one from each advertiser.
Your traffic will have to be mainly from the US and UK and Canada to qualify, and like I've already said: Have great content that's unique and receive more than 10k page views per month.
Sign Up Requirements for CJ Affiliate
There aren't that many requirements to join CJ Affiliate as a publisher.
You will have to be over the age of 18, and have a live website.
Yeah, that's about it. But you have to keep in mind that this only applies to the CJ Affiliate network. You will then have to apply for every advertiser that you wish to work with individually.
Some of these advertisers will have their own set of rules and requirements that you will have to keep in mind before applying to promote their services and products as an affiliate.
Oh, and if you don't get any sales in a 6 month period, your CJ Affiliate account may get deactivated. It's a similar story as with Amazon Associates.
So it's best if you have a site that receives some traffic and is able to generate some sales every now and then if you want to keep your account alive.
Related: Free Traffic Sources for Affiliate Marketing.
CJ Affiliate Sign Up Process
The signup process for CJ Affiliate is pretty straightforward. Simply go to CJ.com and click on the signup button in the top-right menu.
Don't forget to sign up as a publisher and not an advertiser. But you already knew that. Right?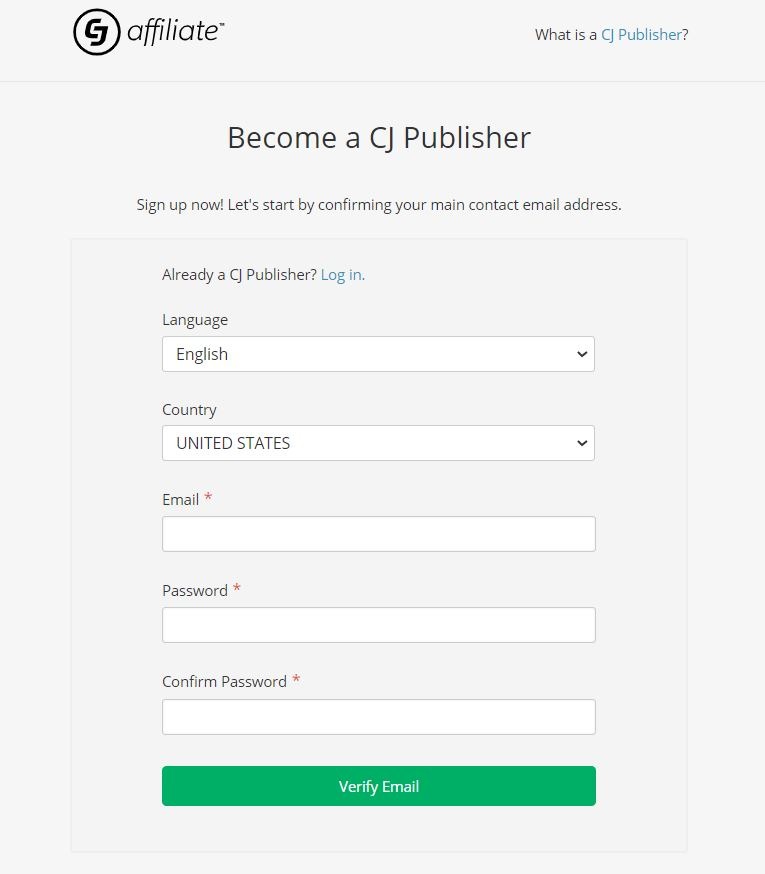 After that, go ahead and fill out your name, email address, and password. Oh and select your country of residence for tax purposes.
Speaking of tax, after confirming your email address (you should receive an email shortly after you sign up about that), you should add your tax details in your CJ Affiliate account.
Go to Account > Administrative Settings > Tax Information (EDIT)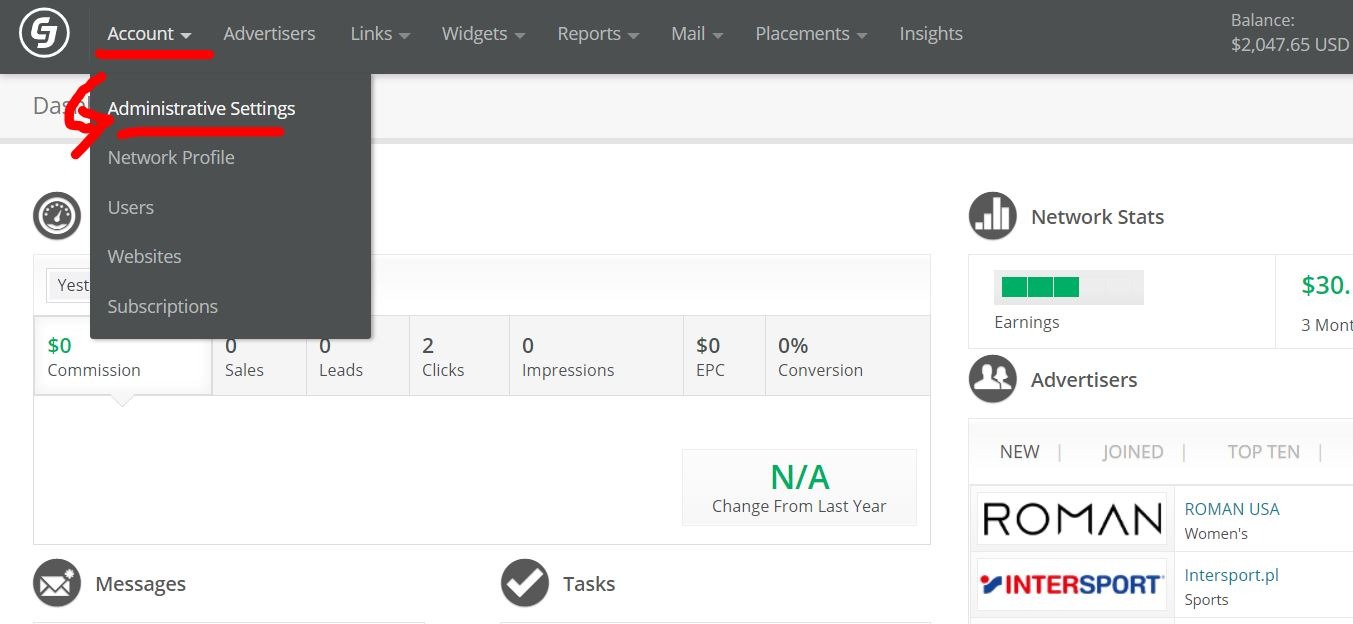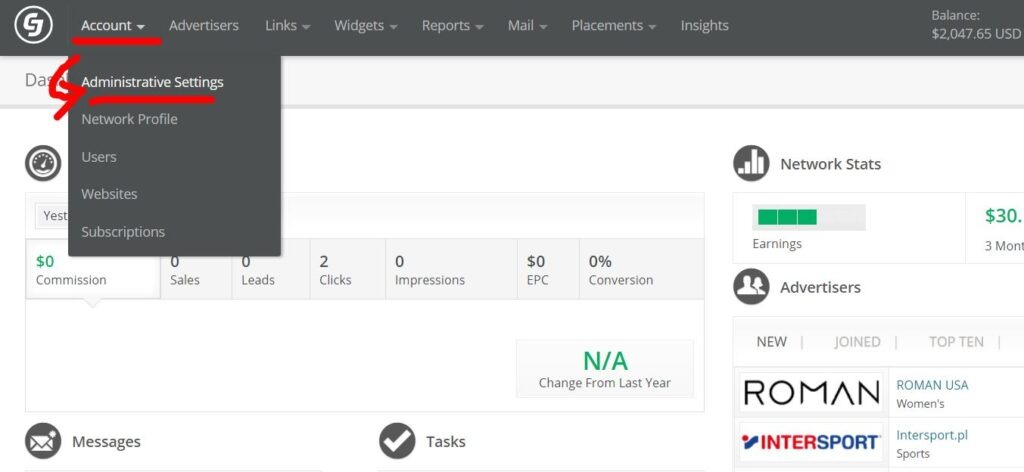 You won't be able to get paid unless you do this step.
After that, it's time to set up your network profile and add details about your website or blogs that you plan to use to promote Commission Junction offers.
Go to Account > Network Profile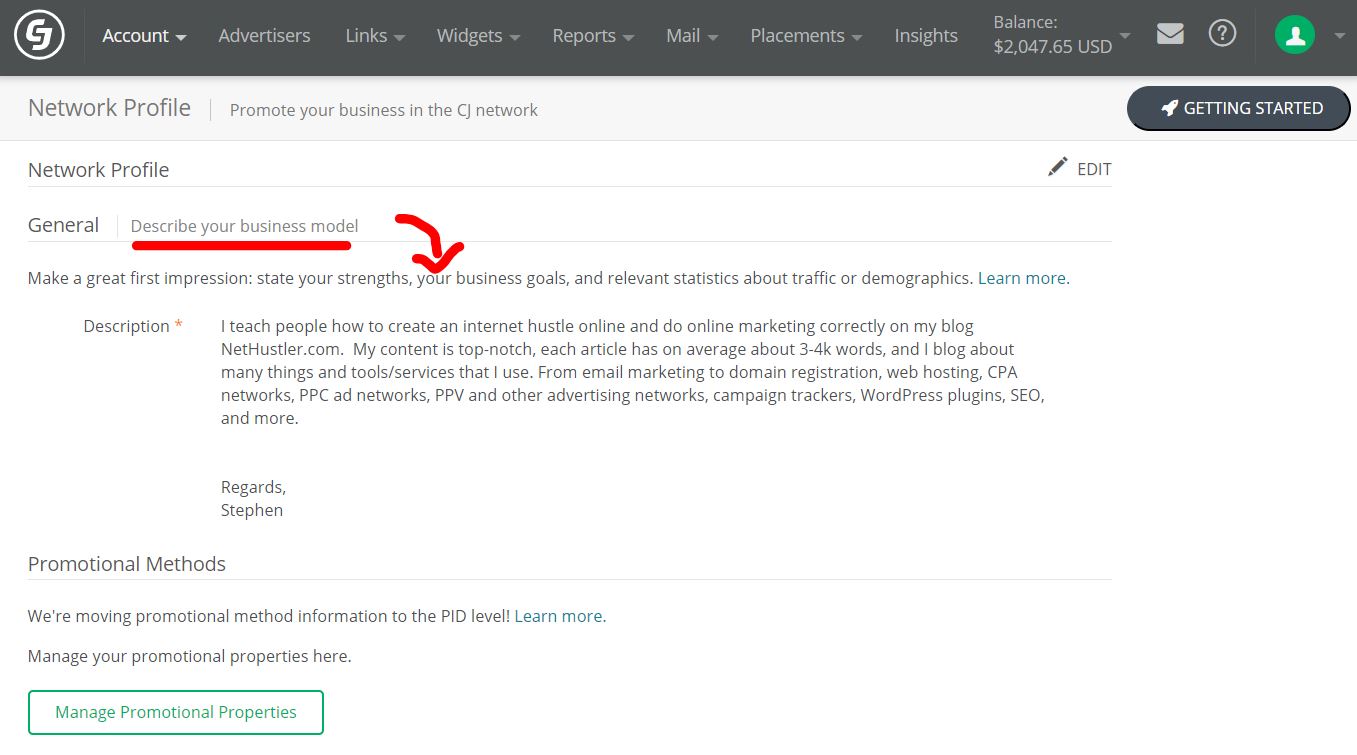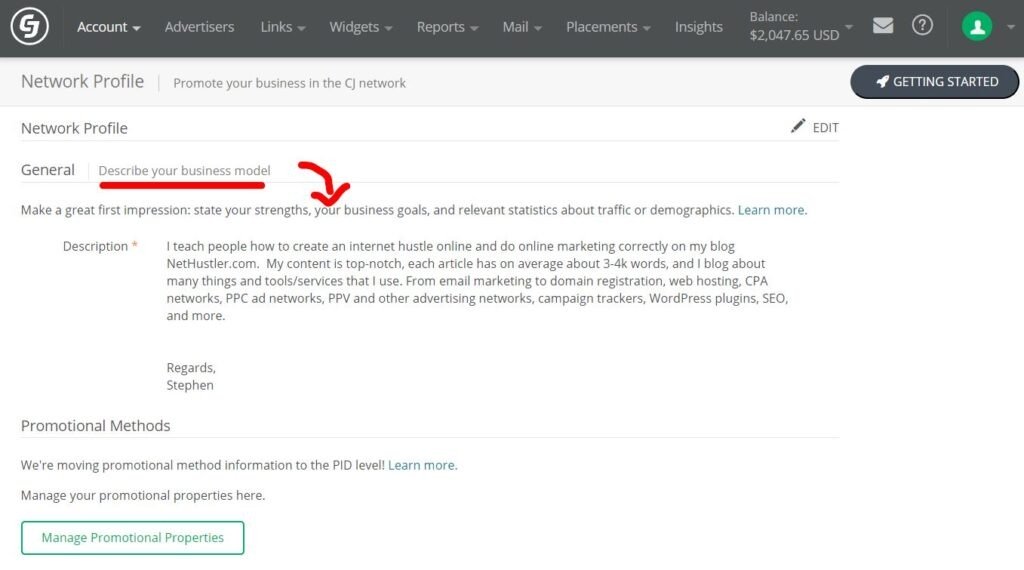 Make sure that you keep your description professional and include all the important points about your blog/website and promotional methods.
This will be the first thing that an advertiser will see when you apply to promote their products.
Remember, on CJ, you will have to apply to advertisers manually, you won't just sign up and get access to freely promote any product/service unless you join their Content Certification program.
So this description of you and your main promotional method/property matters a lot. Think of it as a CV.
After you're done with that, it's time to add your Promotional Properties. Simply click on the big green button (Manage Promotional Properties) and you will be redirected to a page where you could add your websites and socials.
You will see something like this: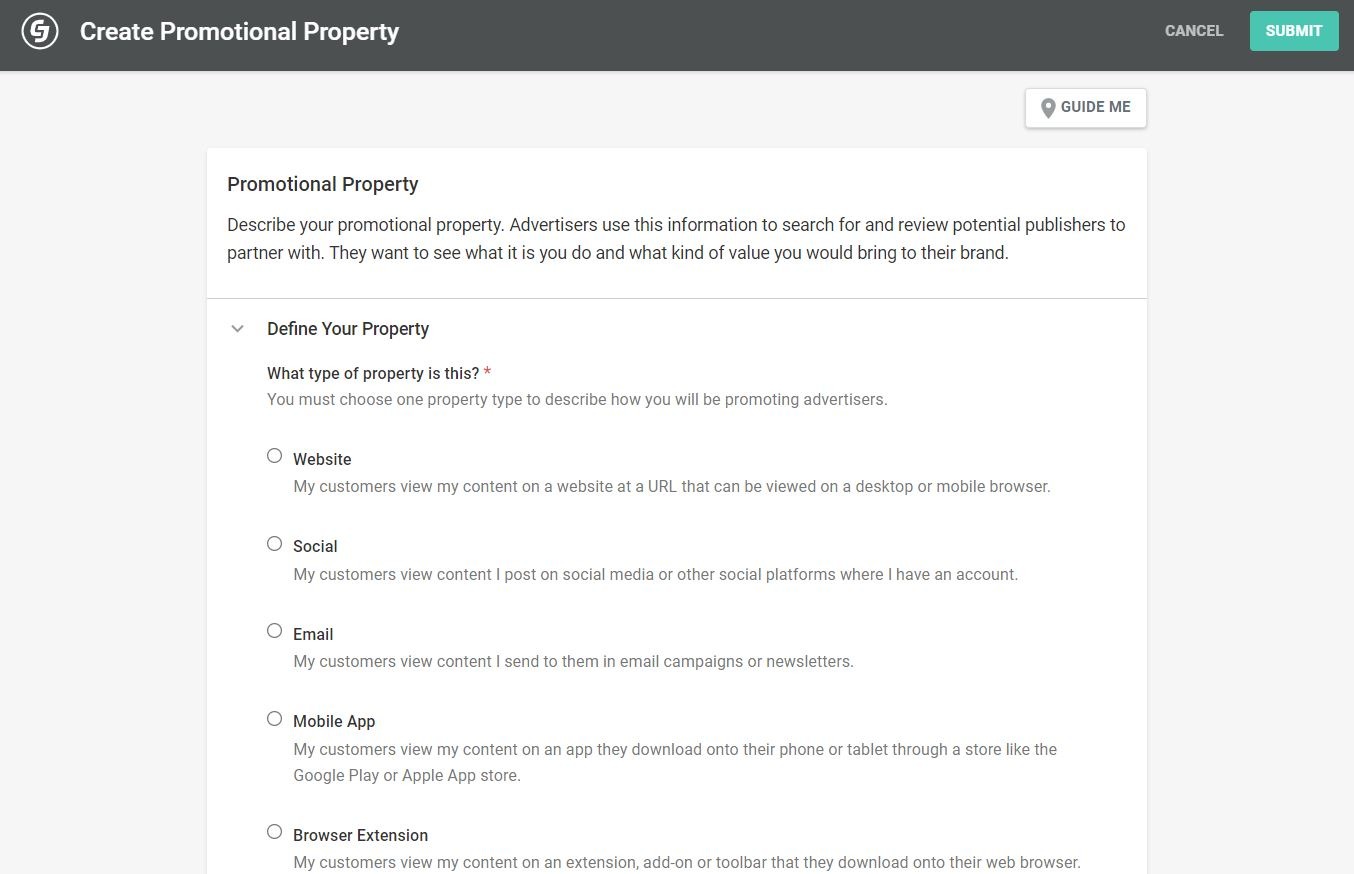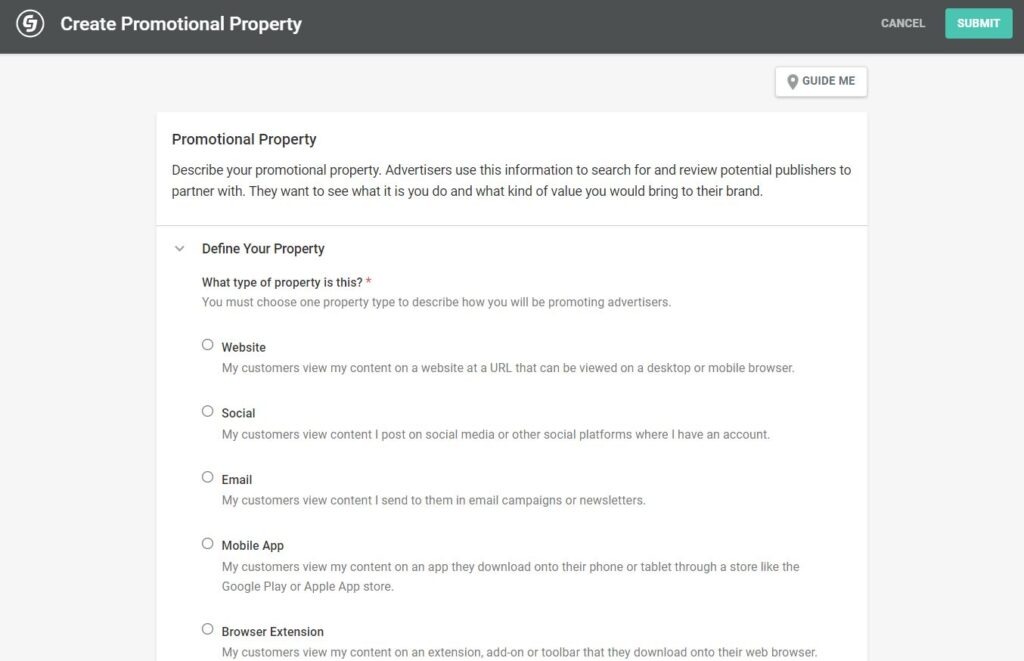 If you plan on promoting affiliate programs via your website, then choose a website. If you're an influencer or manage big social media accounts with huge follower numbers then choose social. If you have built an email list for affiliate marketing then choose email, and so on.
Depending on the property you want to use you will get asked different questions and will have to fill different fields.
Most of you would probably choose the website one, and so you will have to add your URL and extra details such as the site name, and promotional model.
Now you can start applying to affiliate programs that you would like to promote.
While you're waiting their reply to your request, you should sort out your payment info. Remember the advertisers will have to manually approve or deny you, so it might take a while (usually up to 48 hours). This depends on the advertiser (also known as affiliate vendor) and it's not up to CJ.com staff.
CJ Affiliate Payment Methods
CJ Affiliate has only a few payment methods available, such as direct bank transfer, check, and Payoneer. Sadly they don't use PayPal, but Payoneer is still a great solution with low fees for international affiliates.
CJ pays affiliates on a Net-20 term, meaning that they will send out payments on or after the 20th of each month if you have the minimum balance required.
For direct deposit, the minimum balance to be eligible for payment is $50 while for a check it's $100. I think for certain currencies like the Euro or the Sterling Pound the minimum is 25.
What Affiliate Programs are Available on CJ Affiliate?
There are all sorts of affiliate programs in the CJ Affiliate network. Since there are over 3,000 merchants on the platform, you will be able to find products and services in pretty much any category out there.
To find affiliate programs to join simply click on the Advertisers link in the top menu and you will get sent to a page that looks like this: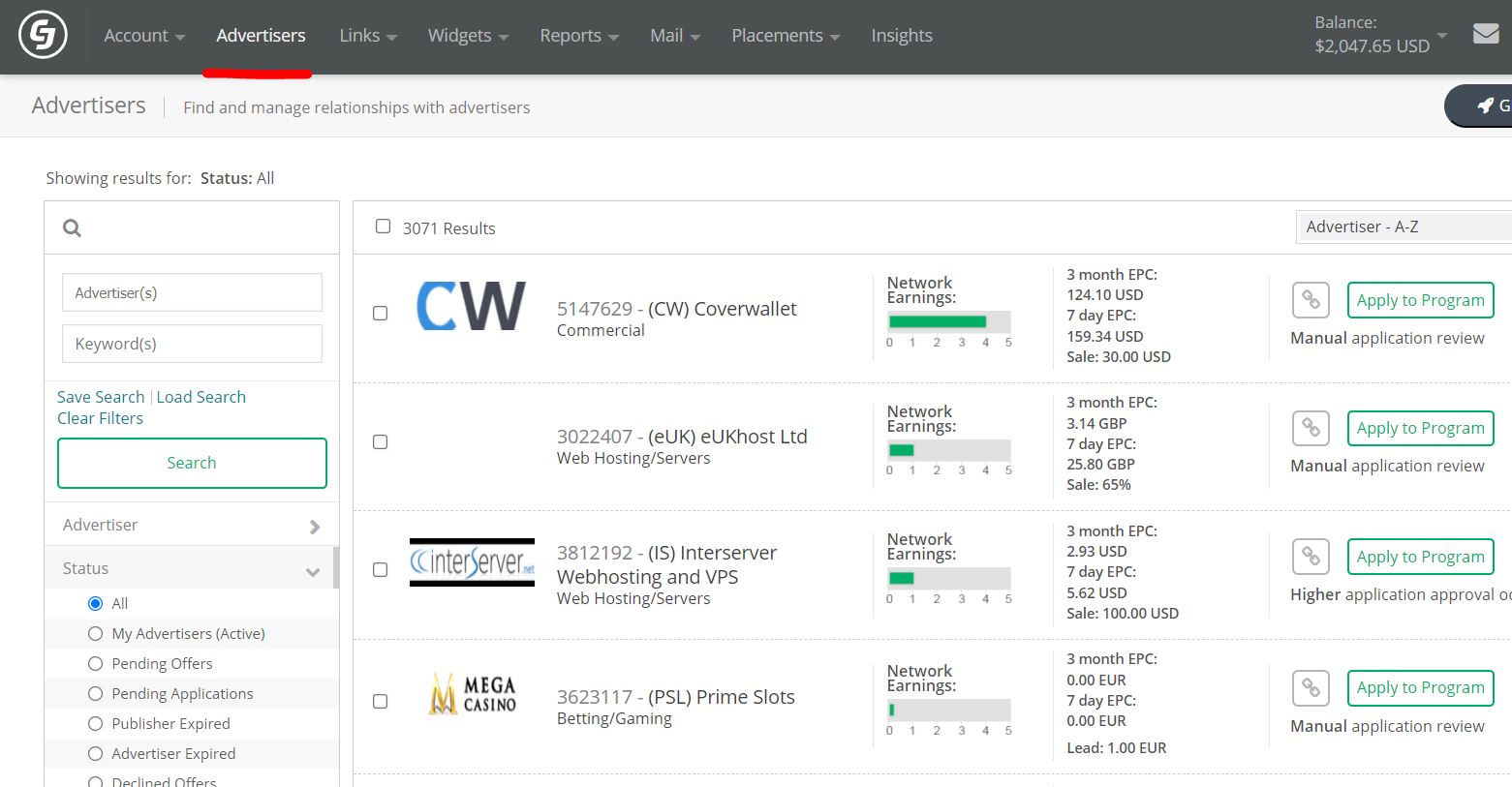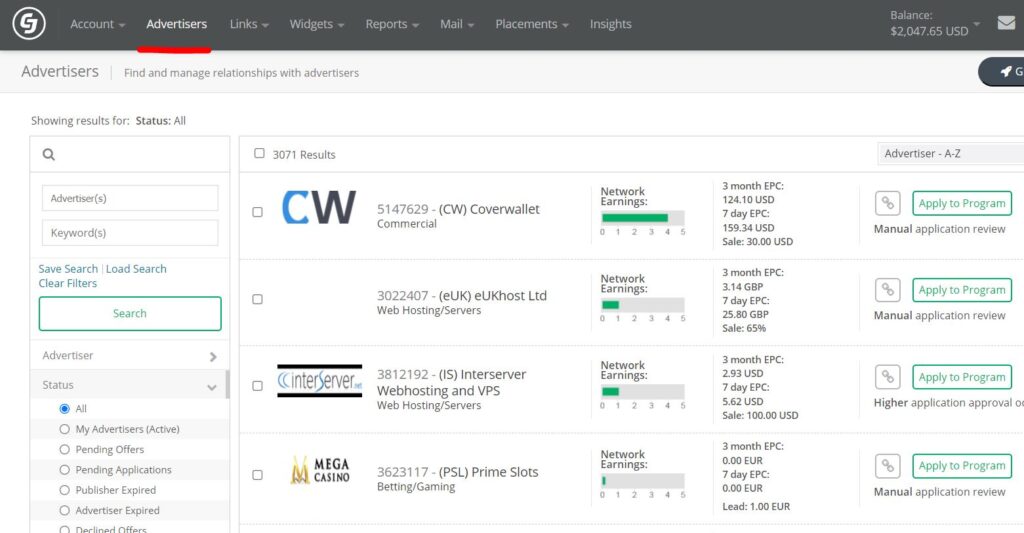 On this page, you will be able to sort through all the affiliate programs that interest you, and when you find some that are relatable to your website or audience, click on "Apply to Program" to send an application.
From the left-hand side of the screen, you will be able to filter advertisers even more, based on categories, serviced areas, language, and more.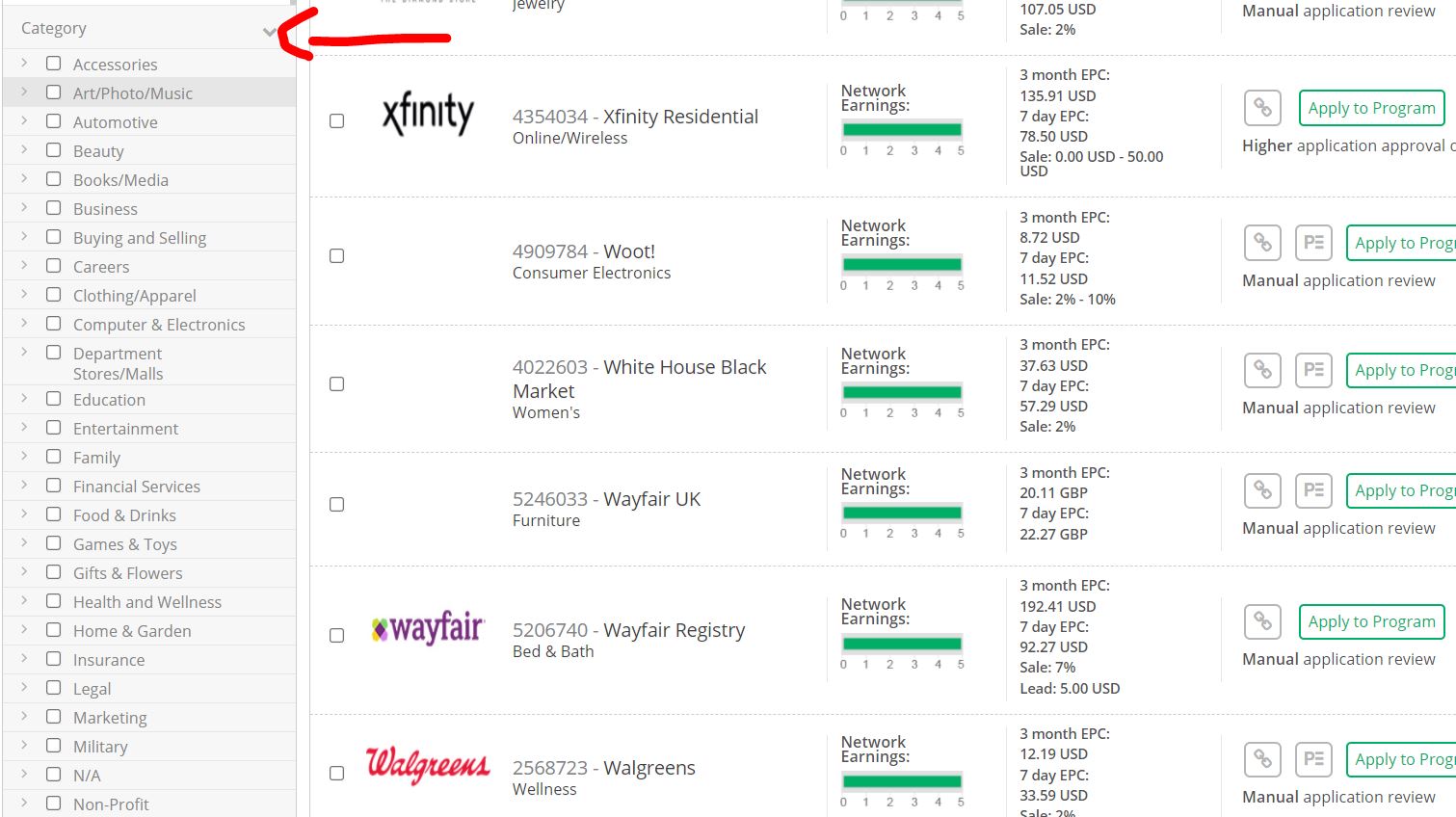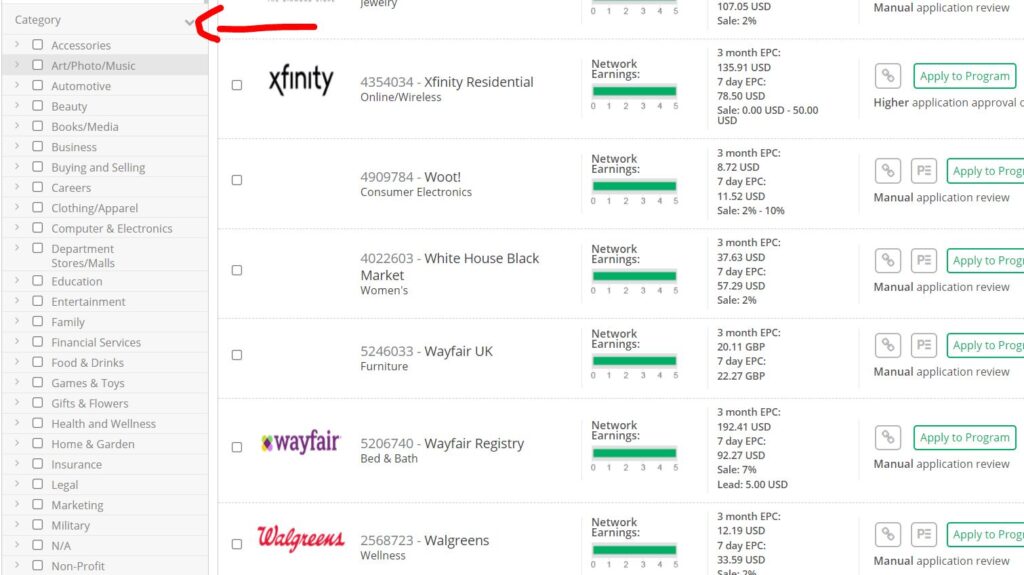 As you can see you have a big list of categories to choose from, some of the most popular programs on CJ Affiliate are in:
Furniture
Computer & Electronics
Beauty
Wellness
Accessories
Financial Services
Internet Services
Sports & Fitness
Travel
Make sure to only apply to programs that you feel you have a good chance of promoting and don't just spam apply to all of them.
You will receive an email in a few hours or days after an affiliate manager from that advertiser checks your application, either that you were approved or denied.
If you get denied, don't stress too much, try going to a competitor's program, or go for some general offers that can be promoted on pretty much any site, so that you can build up some reputation and experience, after a while, you can re-apply.
What is Network Earnings in CJ?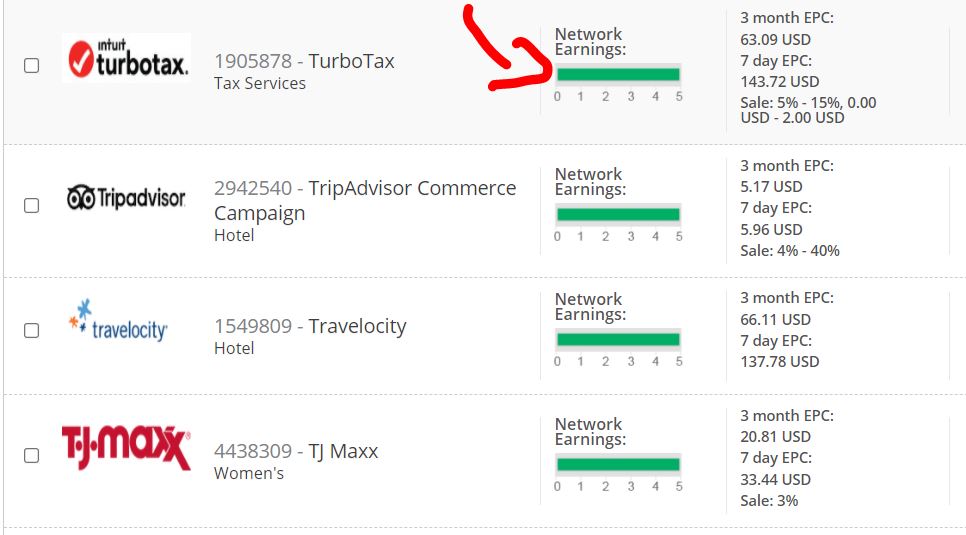 The network earnings is a metric that's showing how well an affiliate program is doing across the CJ Affiliate network, meaning, if they earn a lot of money from sales generated by affiliates.
An affiliate program with high network earnings means that the product or service is pretty popular with publishers and it gets a ton of conversions.
CJ's network earnings range from 0 to 5.
With 0 being the lowest score meaning that the program gets almost no sales, up to 5 which means that they offer is super popular and is in the top-performing programs of the entire network.
How does CJ Affiliate Work?
Commission Junction works like any other affiliate network. You sign up, get approved by an advertiser, grab your unique affiliate links, and copy/paste them on your website or other promotional properties.
Here's how that works:
If you have been approved to promote an affiliate product or service, go to Advertisers > Select My Active Advertisers > Click on Search like so: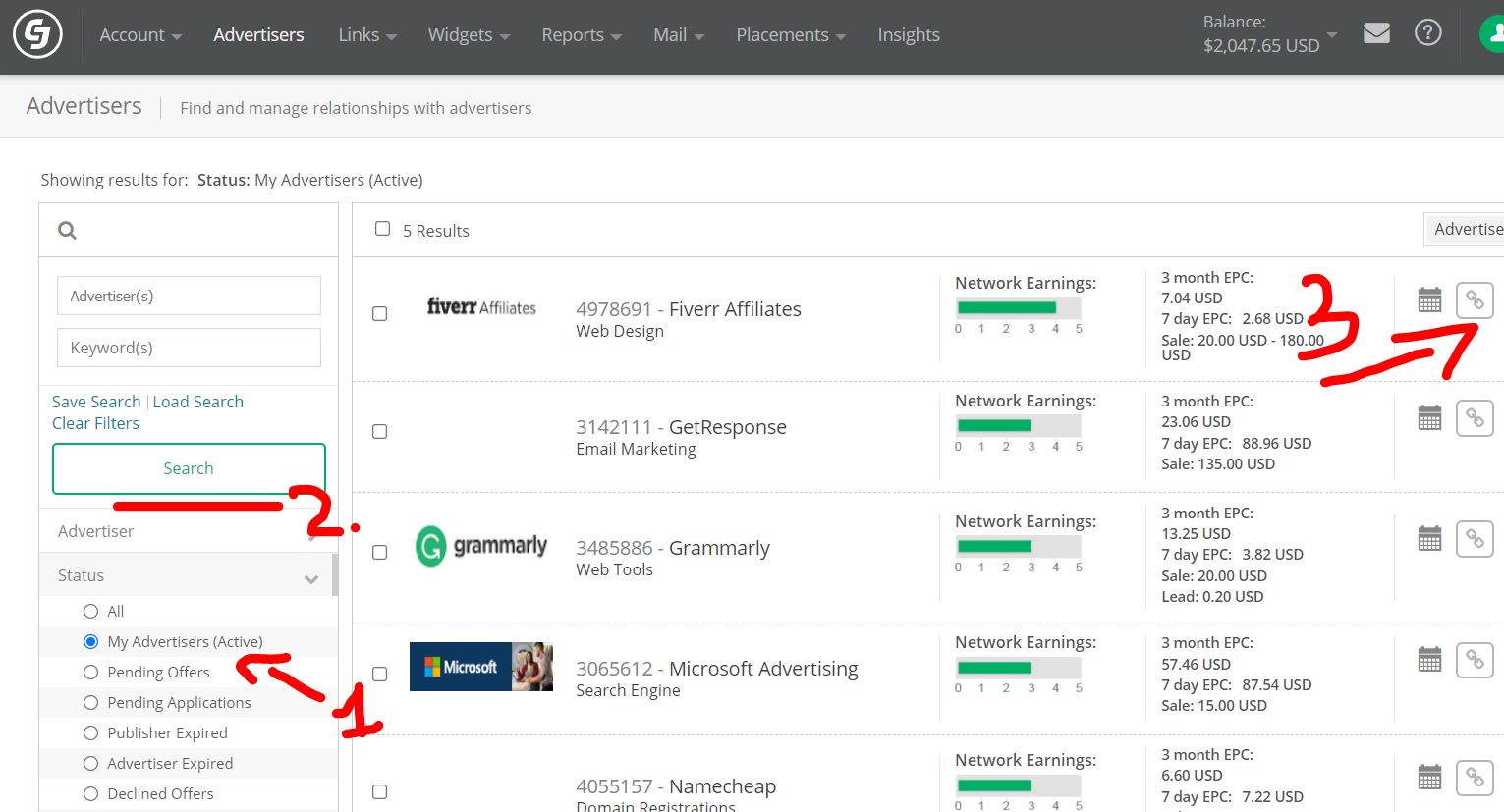 Then, when you see a list with your active advertisers, simply click on the get links button (step 3 in the image).
You will then be redirected to a page where you could find all the affiliate links for that product or service, it should look like this: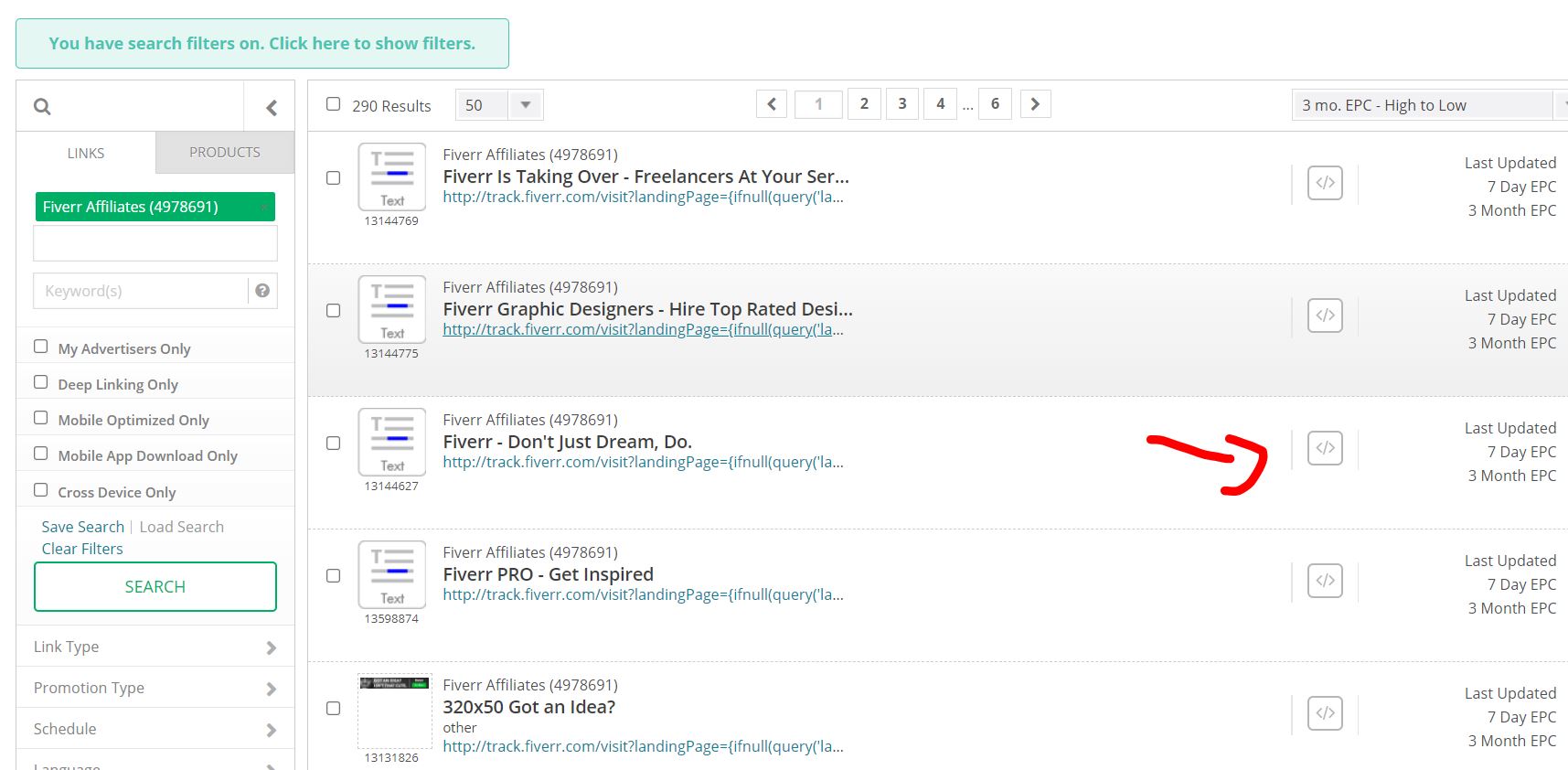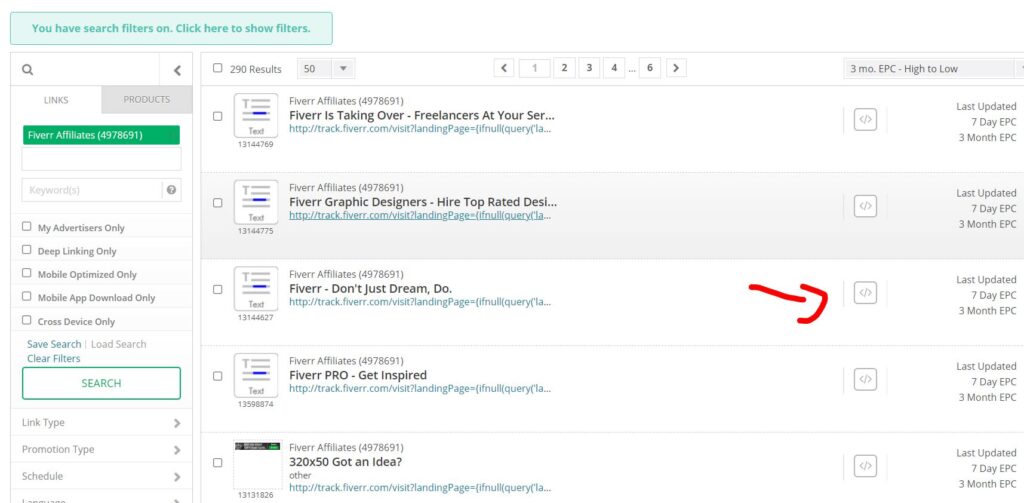 Depending on the advertiser, you will find here a bunch of promotional material:
Text links
Banner ads
Flash link
Smart link
Most popular though are text and banner links. Choose the ones that you feel are appropriate for your promotional method and content.
If you have a website you can use banner ads and text links. If you only promote via social media or email you can opt to just use content links, etc.
It's up to you really. But make sure you follow the program's terms.
Next to the ad creatives you will find a "Get Code" button (check the pic above).
Click on it and then a field will expand under the promo ad with a few options for you to grab your unique affiliate link, like so: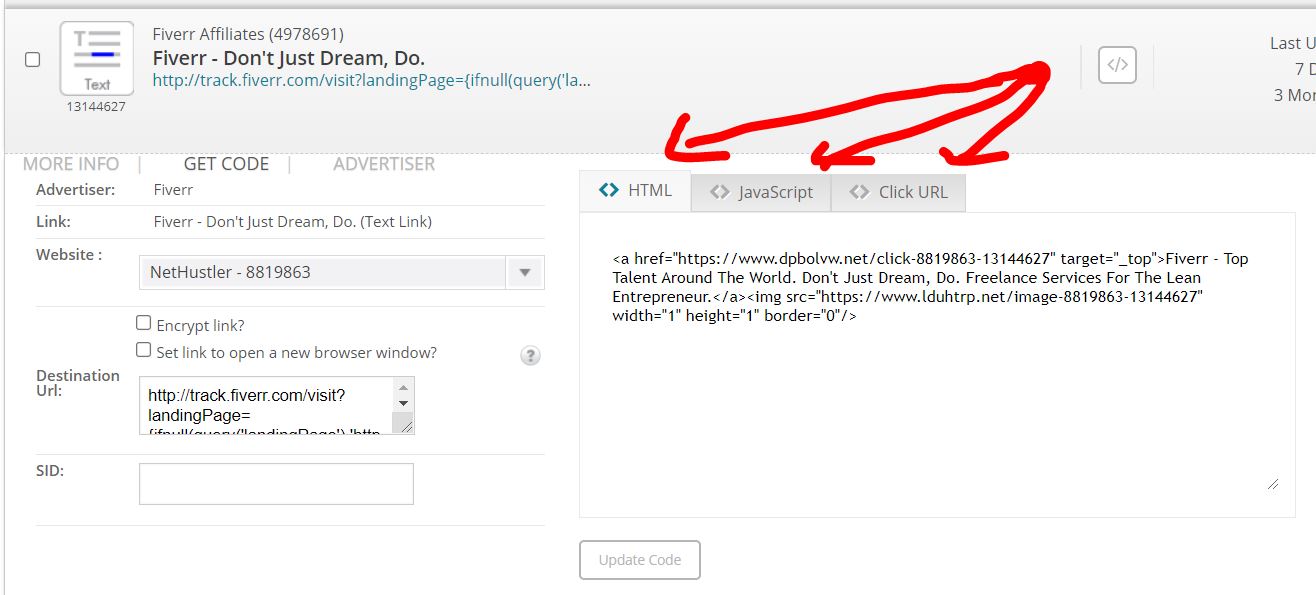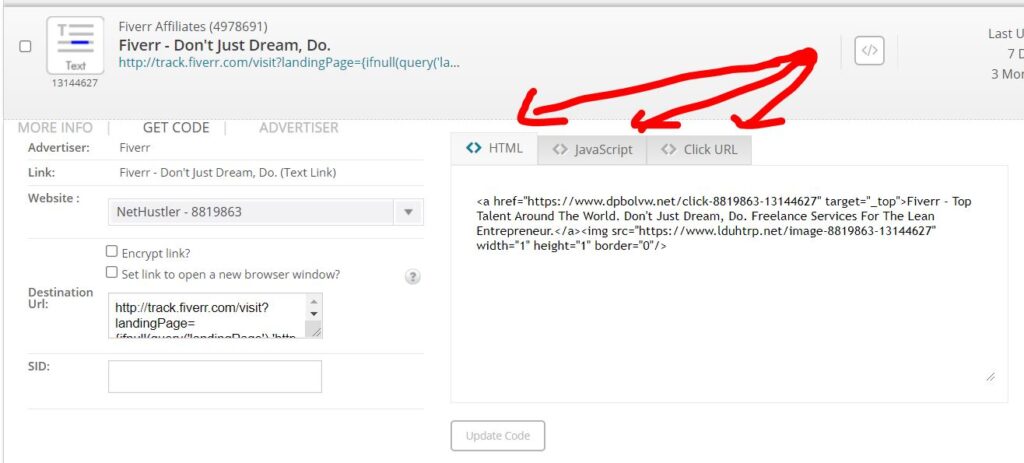 Again, it's up to you which of these codes you want to use. You have 3 options:
HTML Code
JavaScript code
Click URL (Simple link)
All you have to do is copy the code that you think it's best suited for your promo method, and paste it where you feel it's appropriate.
For example, if you want to promote a product from CJ Affiliate in your blog post, you can simply copy the click URL without dealing with HTML and JavaScript.
If you want to add affiliate products and offers to your app or in more dynamic ways on your site, then you might want to use HTML or JavaScript codes.
Notice the SID field. You can use this to uniquely identify each of your affiliate links. For example, if you promote the same link multiple times in your blog.
You can use a unique SID to track your affiliate links better and know exactly which article or post or email brought you the commission.
All you have to do is manually add something in that field for example FishArticle, then click on Update code, and get the new affiliate link with the "FishArticle" SID. Now you take that link and use it in your "Fish Article" to promote that product.
If you want to promote the same affiliate link in another post and want to track that accurately, you will do the same thing all over again but use a different SID this time for example: "FlowersArticle"
Is CJ Affiliate Legit?
Of course, CJ is a legit affiliate network. There are countless CJ Affiliate reviews online to back this up.
The only CJ Affiliate reviews that you will see that have negative ratings are probably from the publishers who got caught doing some nasty stuff like sending bot traffic or breaking the terms and rules of the affiliate programs repeatedly.
For me, CJ has been great, and I never had any issues with them, sure it's just my experience and opinion, but then again this is a company that has a proven track record from 1998. Few if any affiliate networks are older or larger than CJ.
My affiliate payments have always been on time, and always got updated over new upcoming changes to the system or the terms.
CJ Affiliate (Commission Junction): Conclusion
CJ Affiliate is one of the greatest affiliate networks that you can join. I highly recommend you to give them a try.
And no, I'm not affiliated with them or sponsored by them to write this post either. So I earn no money for praising them.
I mean I am a publisher/affiliate on their network, but I promote and make money by talking about other products, such as Namecheap, Grammarly, or Fiverr, and not CJ Affiliate.