How to Build an Email List for Affiliate Marketing
This post may contain affiliate links. If you buy something through these links I will receive a commission (at no additional cost to you). I personally hand-test everything that I promote, and I only link to services and products that I like.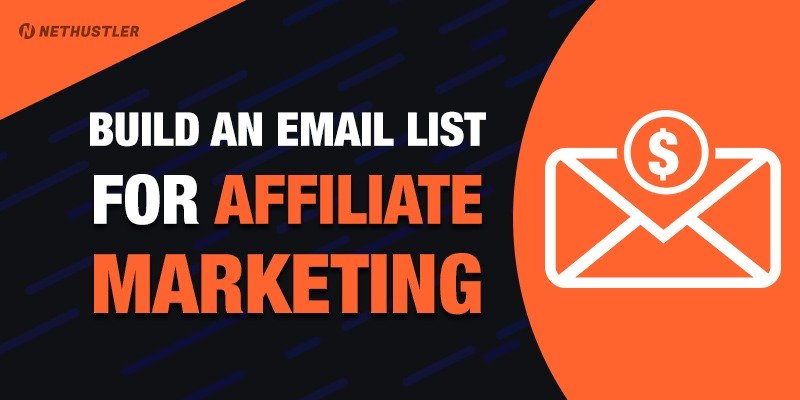 No, contrary to popular belief, email marketing is not dead, in fact, building an email list for affiliate marketing might be the smartest thing an affiliate could do.
Not convinced?
Well, fine. You don't have to listen to me then, but you could watch this email sent statistics image done by people much smarter than me:
As you can see, email as a marketing tool is far from dead, there are over 319 BILLION emails being sent DAILY.
And the number is forecasted to increase in the next following years.
If you're not building an email list for affiliate marketing, you're missing out on a ton of extra revenue. BIG TIME.
Did you know that 58% of people will check their emails first thing in the morning? Yeah, I didn't know either, apparently, it's true though:
So again, for those that are saying that people don't read emails anymore and how all the action is on social media these days, it's simply not true.
I recently gave my opinion in an article on Lifewire, about how Slack Connect is planning to replace emails.
Needless to say, it's a very bold (but stupid) claim, at least in my opinion.
You want to know why?
Because… and get this: Users will still need an email address to sign up and invite others.
LMAO. Good job at replacing email guys, solid work. 👏
Anyway… before I turn this into another rant, let's get back on track…
Affiliate marketing via email marketing
The point is this: if you're just a regular affiliate bro, buying cheap traffic and sending it straight to an offer or through a landing page first, you're missing out on a shitload of money and the opportunity to build your own traffic source.
Yeah, I know that, because I've been there. I've been one of those idiots for a lot of time who always said: fuck emails, I don't have time for that, people don't open them anymore.
BOY WAS I WRONG.
As soon as I started building email lists for affiliate niches, I started to see a lot of revenue piling up.
It was an epic fail moment when I realized that:
So every time I click send on one of these emails, people will open it, read it, find the shit useful and buy the stuff through my links?
YEP.
These days, you will rarely see me promote affiliate offers without first directing the traffic to an email squeeze page.
Sure the conversions at first will not be as high as without the email squeeze page, but who cares, I'm building a list of people that are super interested in that particular niche, and whenever I want I can just send them an email and get instant traffic to my blog, and affiliate products.
For example, here's an email list that I built about 2 years ago, it's simply for just 1 niche, where I promote affiliate offers straight-up via paid traffic and emails:


Imagine how stupid I was wasting money on paid traffic without building a real frickin' asset, or caring about SEO. Sure I don't really care about SEO these days either, but man, I do love my lists now.
And by the way, just so you know, you don't need to have 50k+ contacts in your list to make money either.
Even if tiny lists like these ones can make you some dollars here and there: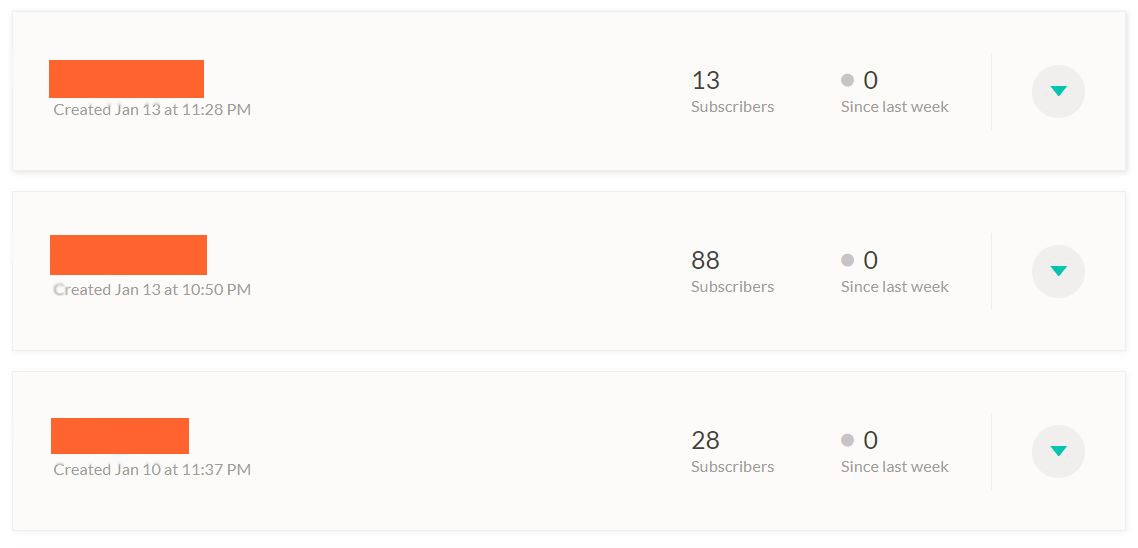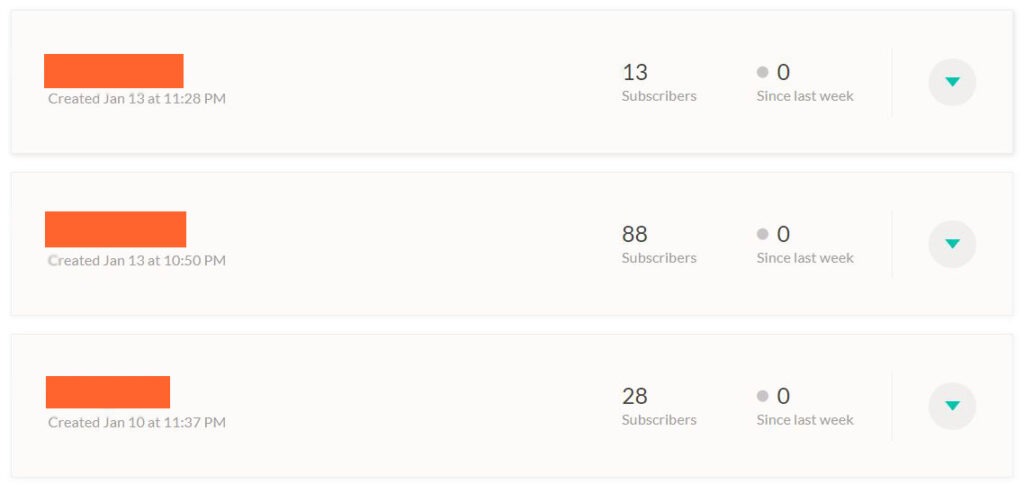 These are all in the same niche but are separated by GEO. Funny thing is that I was promoting CPA offers only, and most of the time direct linking or using a skinny bridge page.
I'm using an email squeeze page as a bridge page now, and it's kinda the same thing, I don't lose out on too many conversions upfront, and I get subscribers that I can then use to market later on with more affiliate offers and products.
Plus I redirect users to the affiliate offer after they subscribe anyway… so I'm still making money directly.
Even the lists with 13-28 subscribers made me money on the back-end when I sent a small email with just 2-3 lines of text directing them again to a CPA offer:


Look at those crazy open rates and CTR (click-through-rate). Did they make me a fortune? Of course not, but I did get 2-3 signups on some low-paying CPA offer.
The point is this: don't be an idiot like me, and start building an email list for affiliate marketing, PRONTO.
Why an email list is important
Have you not been reading a single word of what I just written up until now?
OK, fine…
Here are 3 reasons why building an email list is important:
1. Traffic Safety Net
Imagine one day you wake up and Google has introduced a new search update changing their algorithms completely and your niche affiliate website is nowhere to be found anymore.
If your affiliate marketing business relies on free organic traffic, you're going to be screwed if / when that happens.
Having an email list as an extra traffic source not only will help you through those painful times, but it will also make it easier for you to build and connect with your audience.
That's important because people rarely buy something the first time they get introduced to it by an affiliate for example, so it takes a bit of time to nurture those leads into sales, and email marketing is the perfect way to achieve that.
So yeah, think about that for a second 😉
2. Not wasting money for others
Buying traffic is cool and all, because it's a great way to see some fast results when you're doing affiliate marketing.
Since not everyone has the time to invest in free traffic sources for affiliate marketing. Some of us prefer to buy website traffic.
The problem with doing just that, and without building an email list with that paid traffic, is that you're basically making the ad network richer every time you continue buying traffic.
But you also send leads and sales to your affiliate partners that they can use indefinitely to market to them (or until they unsubscribe).
So that leaves you empty-handed, and you're basically gambling every time you pay for traffic if they will convert or not, if you pay for 1,000 clicks and only one of those people bought your affiliate product, well that leaves you with 999 prospects that you now just lost, without getting the chance to market to again.
This is more true if you're doing affiliate marketing on a small budget.
3. Make more money
Ever heard of the phrase: "The money is in the list"?
Well guess what, that's still true even to this day.
After all, email marketing still brings a 4,400% ROI, for every dollar invested.
By building email lists for your affiliate marketing niche sites and blogs, you will get to make more money on top of what you're already making, by simply sending a few emails a month.
Yeah, it's that easy. (In theory at least, if you do things correctly, I don't know you.)
How many emails do you receive daily from all over the place?
When was the last time you bought something after clicking one of the links inside?
Probably not that long ago, right?
I know for a fact that I bought a website optimization product a few weeks ago via an email that I have received, since the new Google update is coming shortly, and website speed will be important in determining the rankings in the future.
Of course, the link was an affiliate one, and I'm glad that it was because I have completely forgotten about the update if it wasn't for that email so it was the least I could do.
Building an Email Marketing List
Look, it's not that complicated to create an email list these days, with so much automation and easy drag-and-drop email marketing services out there.
I'm going to give you here the short version of how to build an email list for affiliate marketing. This is assuming that you have already started a blog in a niche where you promote affiliate products:
Choose an email marketing service – But stay away from Mailchimp as they don't allow affiliate marketing. I recommend Aweber, (aff.) but also here are 27 Mailchimp Alternatives.
Create an email list – In your new email service, the first thing you need to do is create an email list for your affiliate marketing site or blog. If you work with multiple niches, build separate email lists for each affiliate niche.
Create email forms – Email services these days allow you to easily create email forms that you can then copy/paste and embed on your site.
Create automated campaigns – Also known as email autoresponders or drip campaigns. Basically emails that users will receive after a given time. Think about useful things that they might want in that niche, after 2-3 automated emails with free content you can send them 1 email promoting affiliate products. Of course, this is totally up to you, it's just the ratio that I use.
Sit back and relax – That's it, if you've embedded forms in your blog or have created an email squeeze page, all it's left for you to do is keep sending traffic to your affiliate site or squeeze page, and watch as subscribers grow.
Alternatively, if you're doing affiliate marketing without a website, most email marketing services will have an option of building an email landing page (also known as a squeeze page), that they host for you on their servers.
You can then send traffic to that email form page first, gather subscribers, and then redirect them straight to the affiliate offer, this way you get to build your email list and make money with affiliate marketing at the same time.
Obviously, there's more to it than that, as I've said above, this is more of a short version, for the full step-by-step guide check out: How to start an email list.
Make money with an email list
As you have probably realized by now, an email list is a pretty powerful asset to have.
There are many ways on how you can monetize an email list such as:
Promoting your own products and services
Promoting affiliate offers
Sell solo ads – You can get paid to let advertisers send emails to your list
You can actually charge money for people to get access to your newsletter
Email abandoned shopping cart users and try to convert them.
Sell ad space inside your emails. (Regular banners or short text)
Offer coaching and consultation
As you can see there are quite a few ways to make money with an email list. So there's plenty of reasons to start one as soon as possible.
You don't have to aim for 100,000 subscribers in your first year also. Start out with a small but achievable goal such as 1,000 contacts, that's more than enough to make email marketing work for you and increase your revenue.
Affiliate Marketing with Email List: Conclusion
As you can see, there's plenty of reasons to start building an email list for affiliate marketing but not only that, you could (and should) start one for any type of online marketing and business.
These days it's easy to set up an autoresponder, and copy/paste some text and images via drag-and-drop email builders, and you're done.
All you have to do is make sure to put email forms on your website where they are visible, use email popups (email opt-in form in a pop-up).
Put one in your sidebar or middle/end of the article, whatever, just make those email opt-ins visible.
If you're doing affiliate marketing without a website or a blog, you could still build a short email squeeze page, that you can use to gather subscribers and afterward shortly redirecting them to the affiliate offer.
Alright, in the end it's up to you if you decide to build an email list or not, you're a free thinker, so take a few moments and reflect on this article and then decide if it's going to be worth it or not.
Stay hustlin'
Stephen