15 Best Book Affiliate Programs of 2022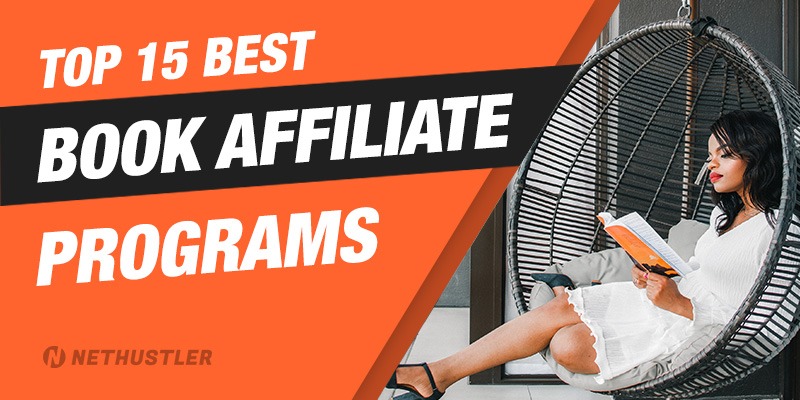 Do you want to promote books, eBooks, and audiobooks to your audience and make money? I'm going to show you the 15 best book affiliate programs that you can join and promote and start making money.
Who knew nerds could make money out of their passion? Did you know that the book industry is going to grow up to $124 billion by 2025?
Do you want to also get a piece of that pie?
Start promoting books on your blog and social media with these book affiliate programs.
As a nerd and avid book reader myself, I have created an affiliate site promoting eBooks a while ago. While it was quite profitable, I didn't capitalize on it and made the mistake of only limiting it to eBooks instead of promoting books and audiobooks too.
Oh well, at least you can learn from my mistake and start promoting all the book types that you can find.
Below you will find a list of the best book affiliate programs that you can join to start making money via affiliate marketing while promoting cool ass books to your readers.
1. Barnes & Noble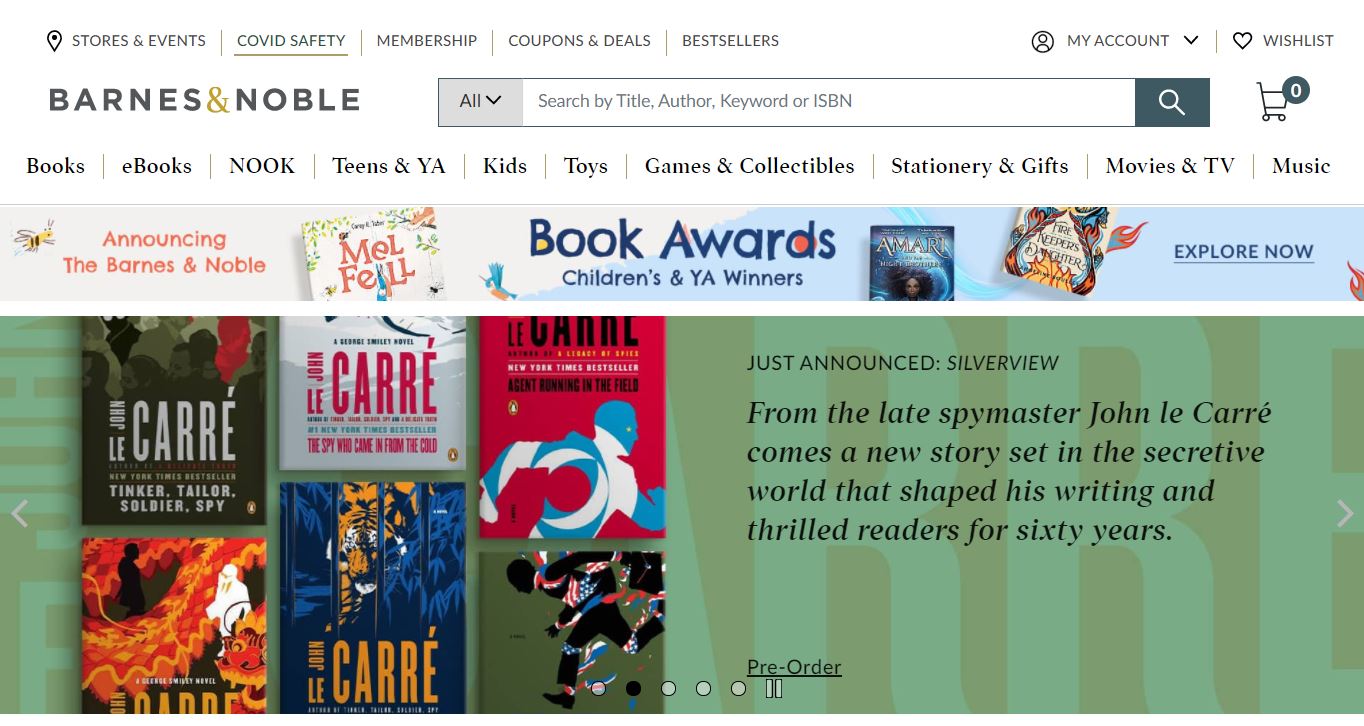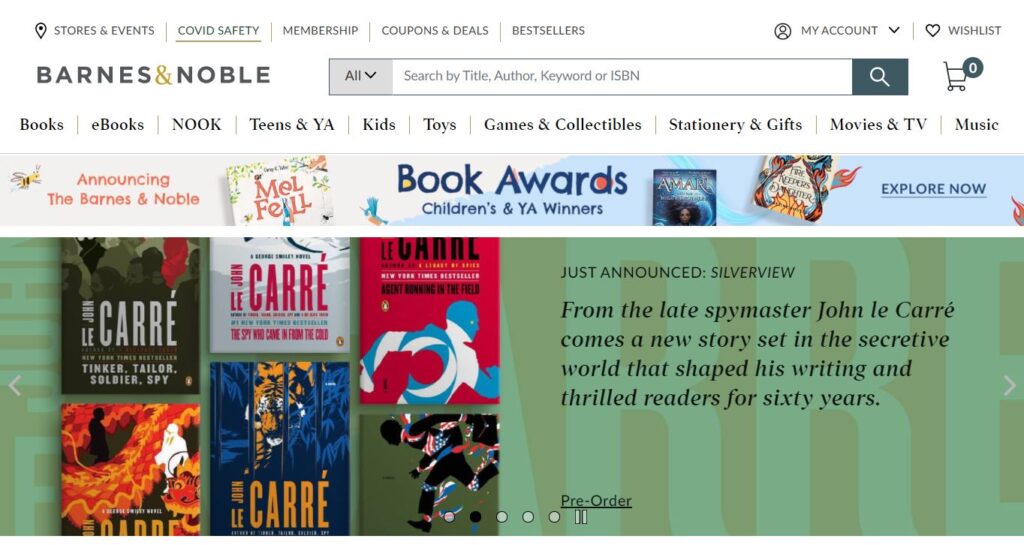 Barnes & Noble is the most popular bookstore on this list. It also won the #1 bestseller book shop in the United States, beating even Amazon Books.
Take that Jeff Bezos.
It goes to show that perseverance and striving to succeed will always be more important than anything else. Who would have thought that Amazon is not the number 1 book seller in America? Not me, that's for sure.
Anyway, although Barnes & Noble has a quite low commission percentage (just 2%), it might still be a good idea to promote their books simply because of their brand attraction.
People respond better to well-known brands like Barnes & Noble and Amazon. So in theory the conversion rate should be higher.
Barnes & Noble Affiliate Program:
Commission rate:

2%

Cookie duration: 1 Day
2. Books-A-Million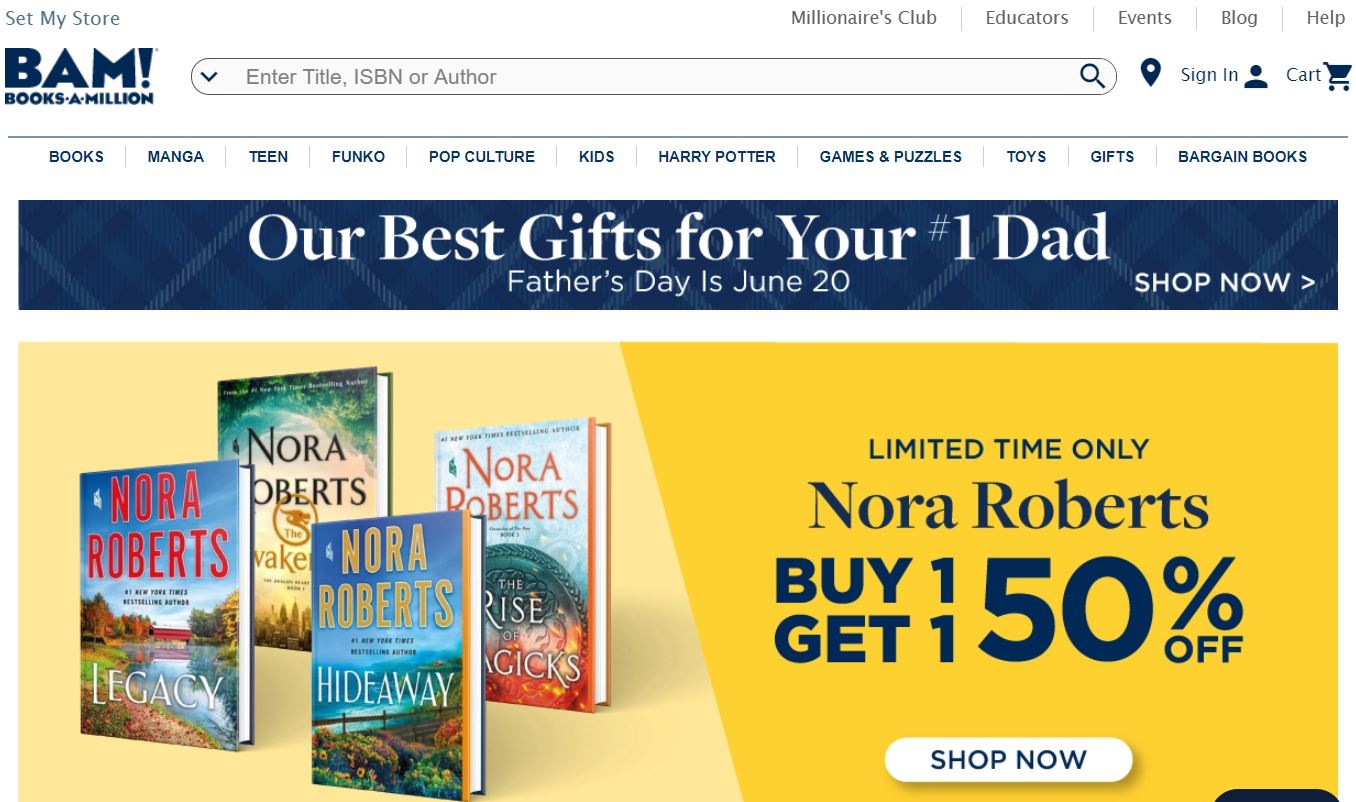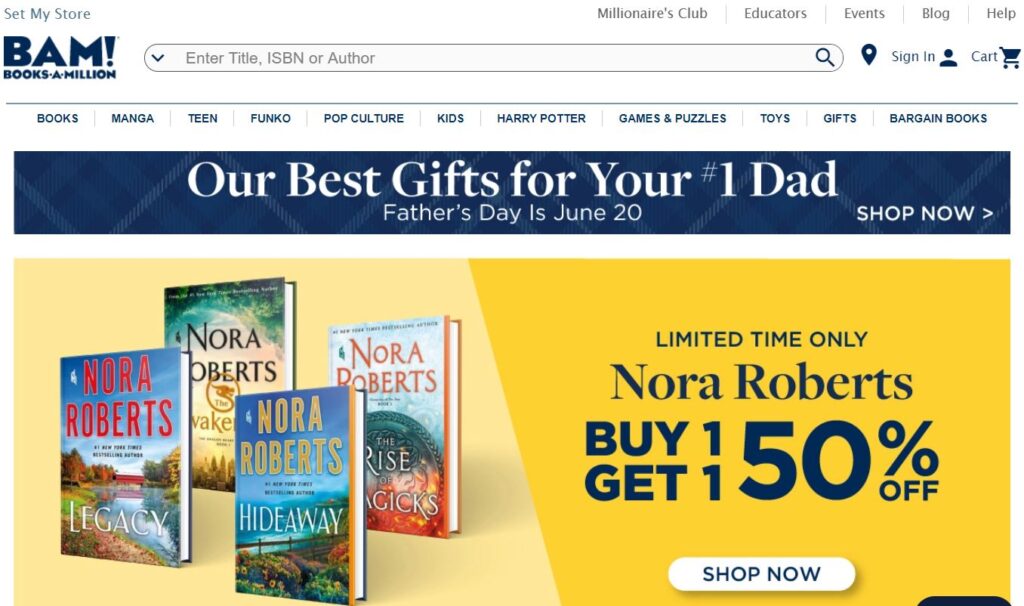 Books-A-Million, also known as BAM! is another huge bookstore that's rivaling Barnes & Noble. They don't just sell books though they also have toys, gifts, collectibles, and more fun stuff that you can promote as an affiliate.
If you have started a blog about books and the culture around them, the extra things that you can make money with when promoting Books-A-Million could further increase your revenue as an affiliate.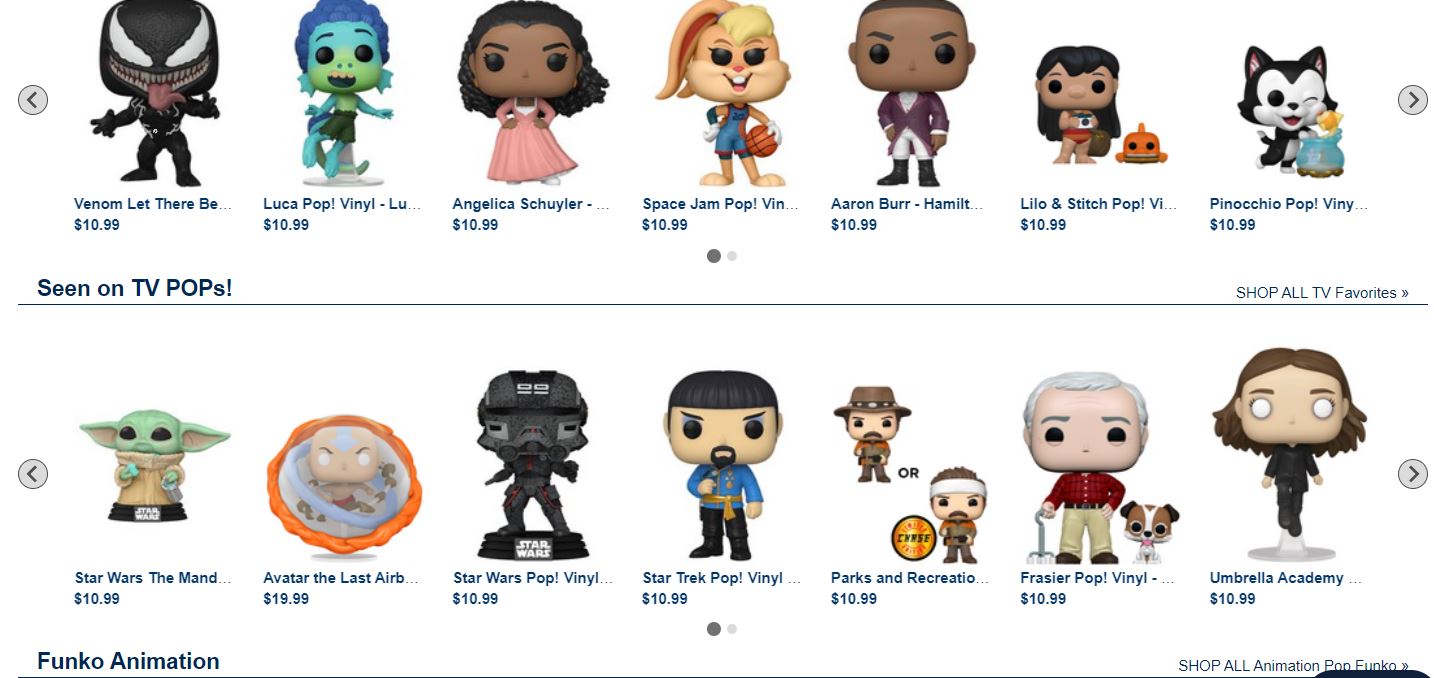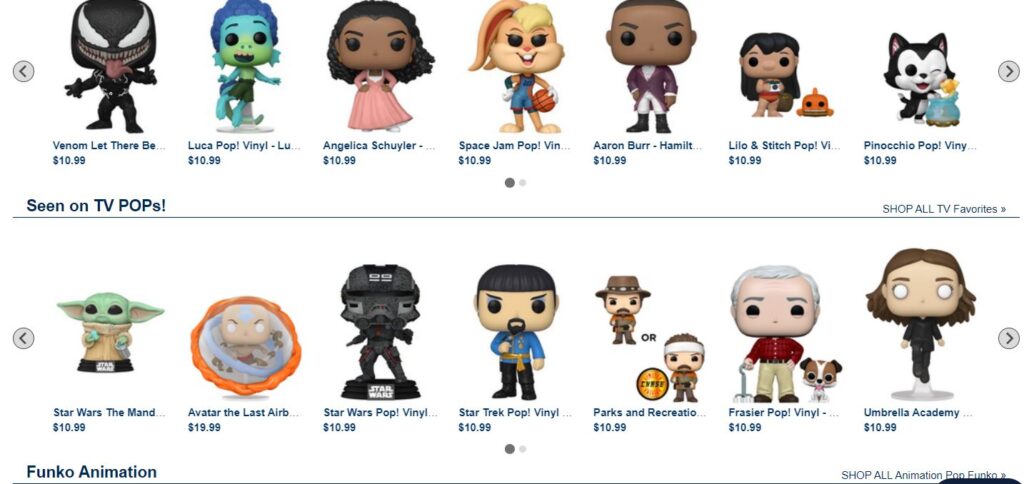 For example, their pop culture collectibles, which are basically figurines called Funkos, are all designed after famous characters from books, TV shows, and movies.
This gives you the opportunity to not only promote books but also give your audience something more unique.
They also have a commission that goes up to 5% and a cookie duration of 30 which is great compared to other book affiliate programs on this list.
Books-A-Million Affiliate Program:
Commission rate:

5%

Cookie duration: 30 Days
3. Better World Books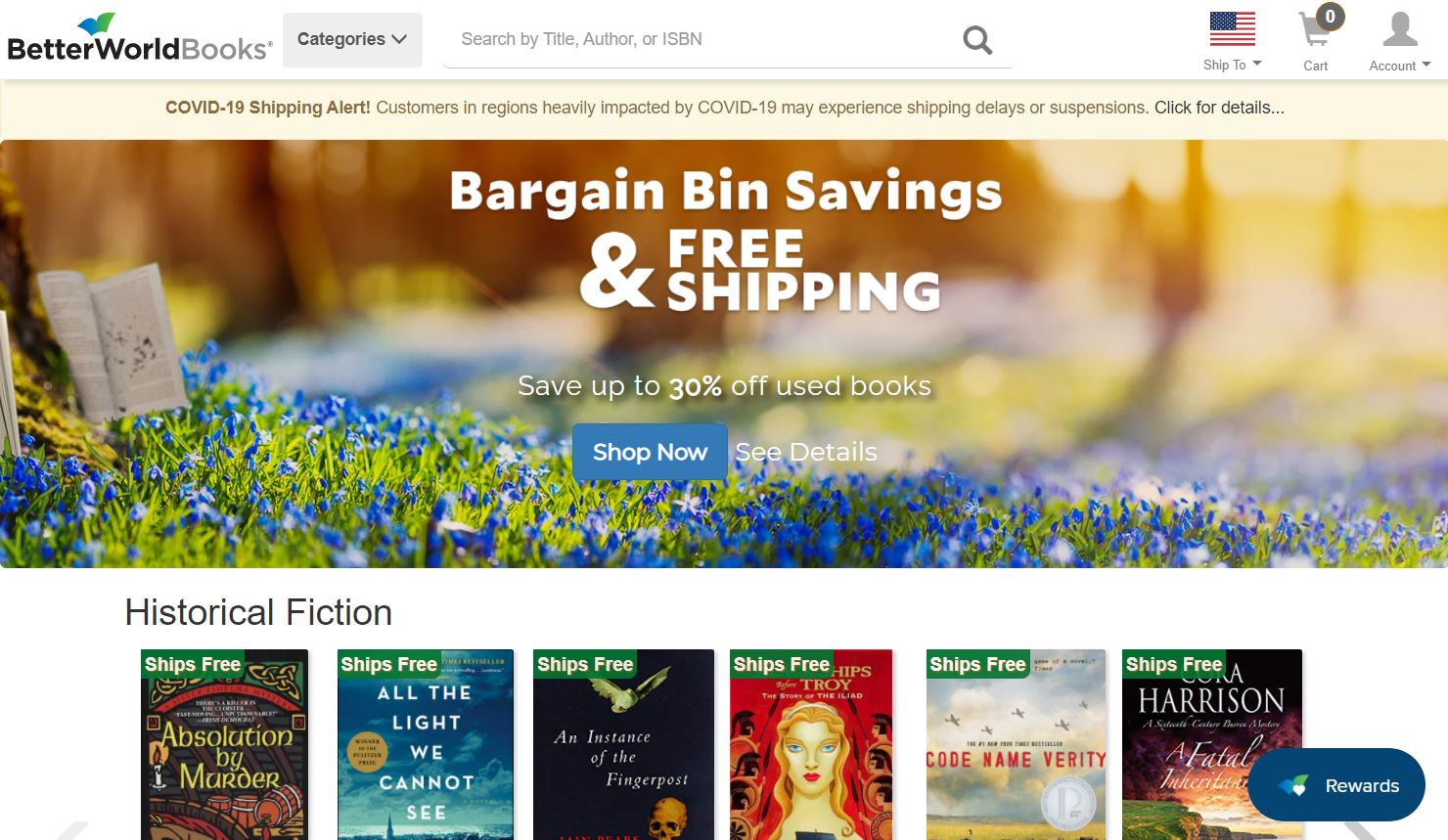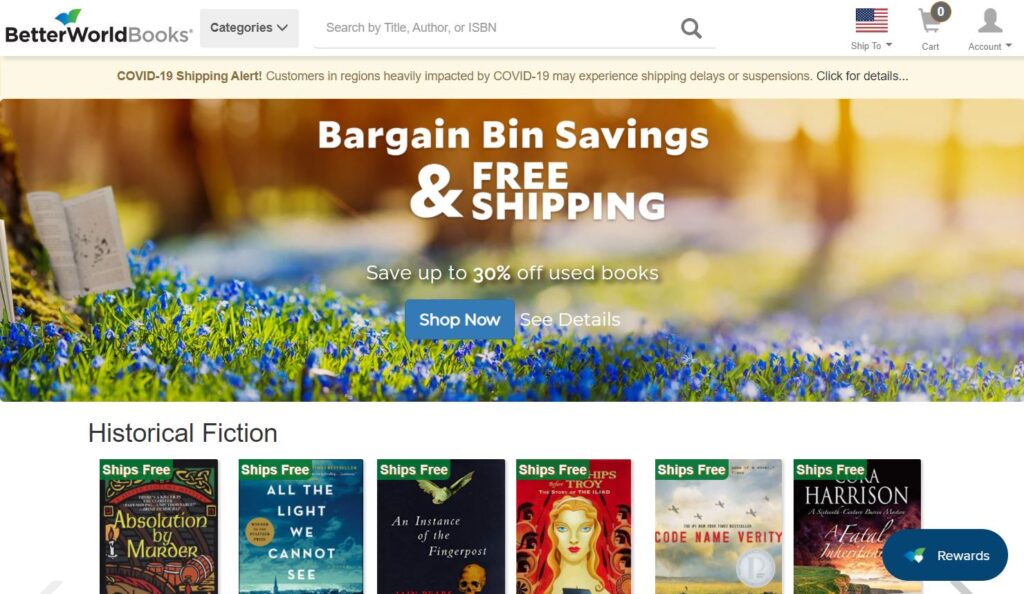 Another great book affiliate program is Better World Books.
What's great about this bookstore is that as their name suggests they want to make the world a better place. The company donates and recycles millions of books but they also raise funds for different causes and libraries.


This makes them super popular among consumers, and because of that they have stellar reviews and have earned the trust of millions of shoppers. And I have to say I admire them for this as well, so if I were to promote books as an affiliate, I would choose them in a heartbeat.
Better World Books affiliate program has a 5% commission rate. They also have one of the longest cookie durations in the game: 45 days.
Check them out:
Better World Books Affiliate Program:
Commission rate:

5%

Cookie duration: 45 Days
4. Book Depository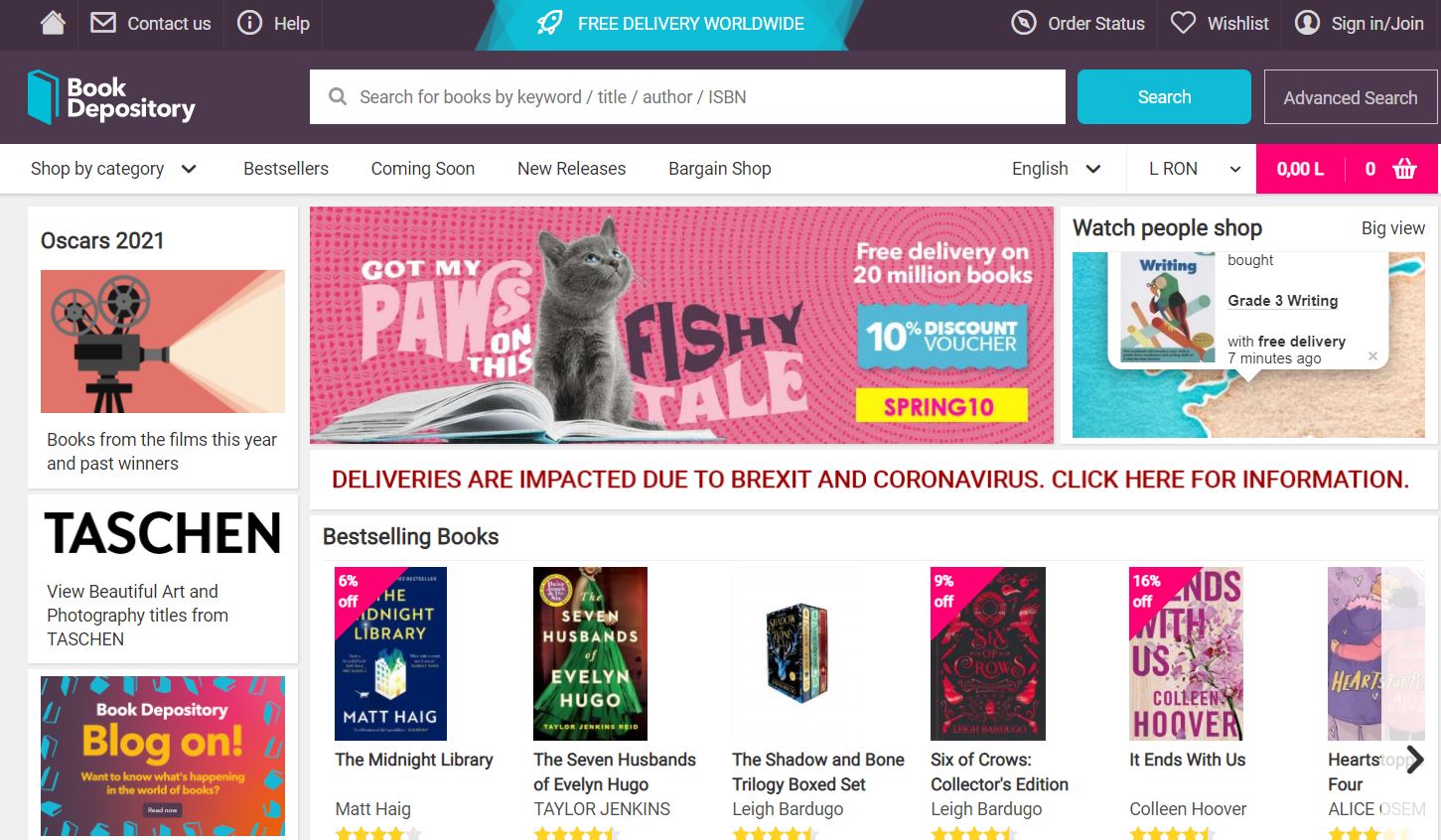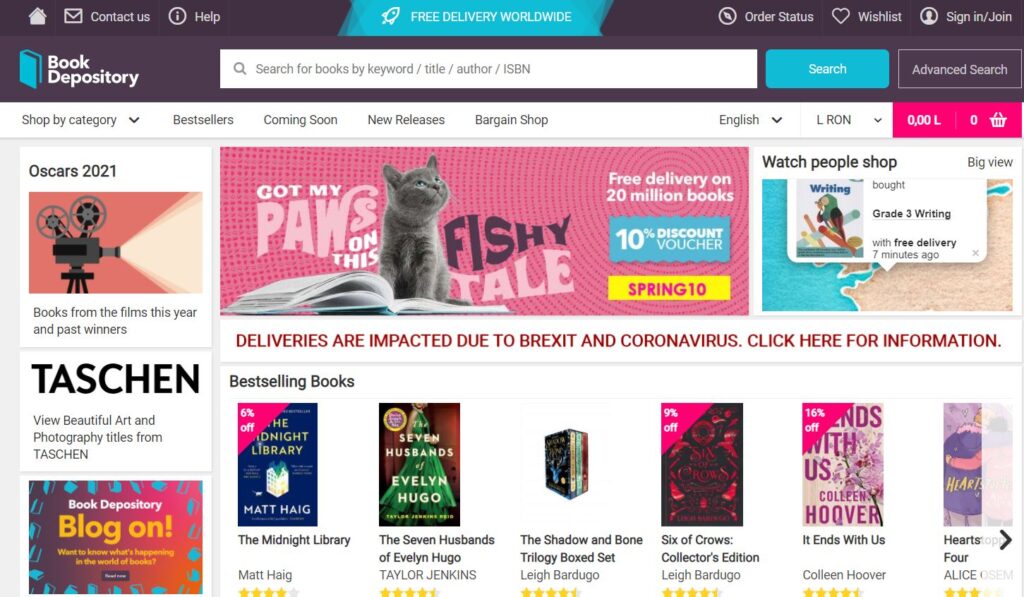 Book Depository is a UK bookstore but they do offer worldwide FREE shipping for all their orders, which is awesome.
The online book shop was started by an Amazon employer back in 2004, but they have been bought in the end by Amazon in 2011 or so.
Still, the book shop is pretty popular online and their reviews are not that bad. The only downside is that I don't know their cookie duration, so you will have to sign up and see for yourself.
Book Depository Affiliate Program:
Commission rate:

5%

Cookie duration: No idea. Not mentioned on their affiliate page.
5. VitalSource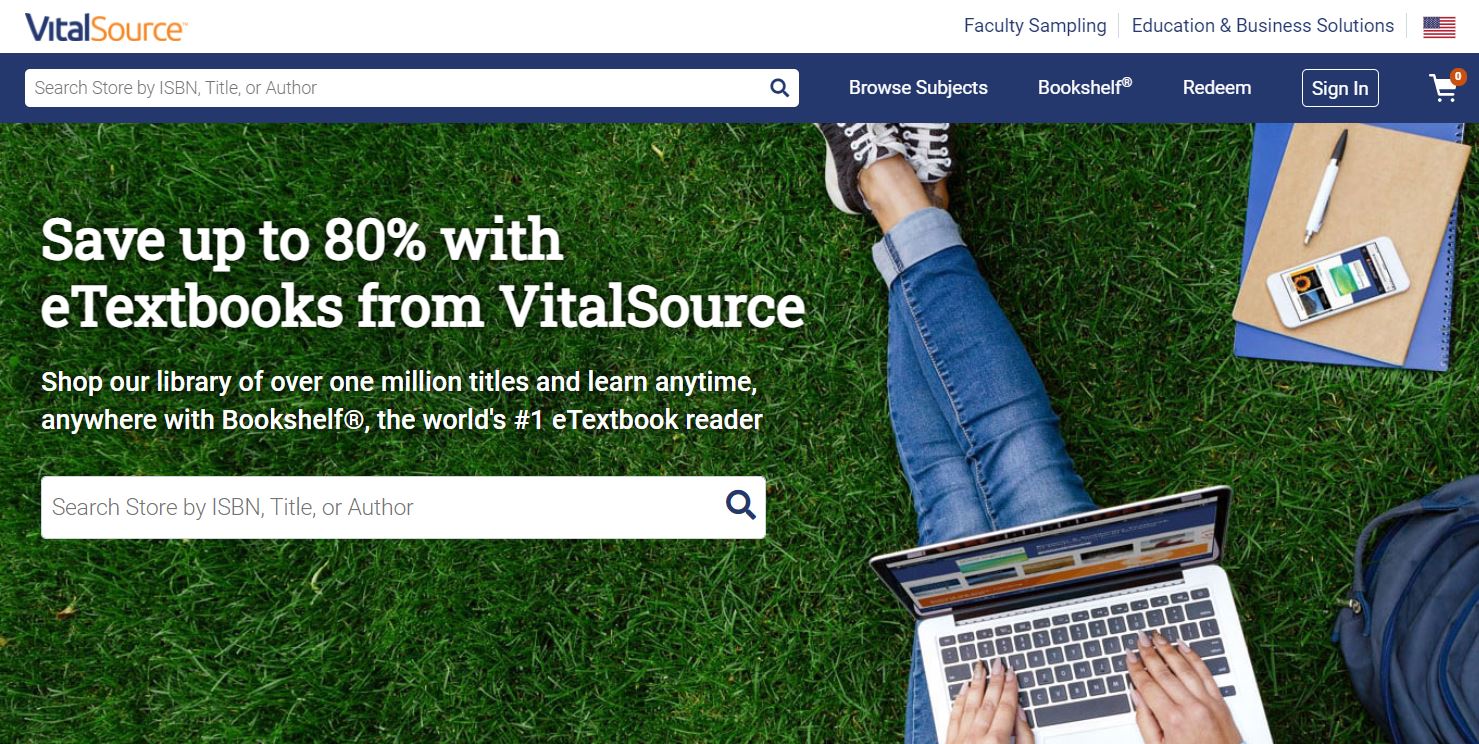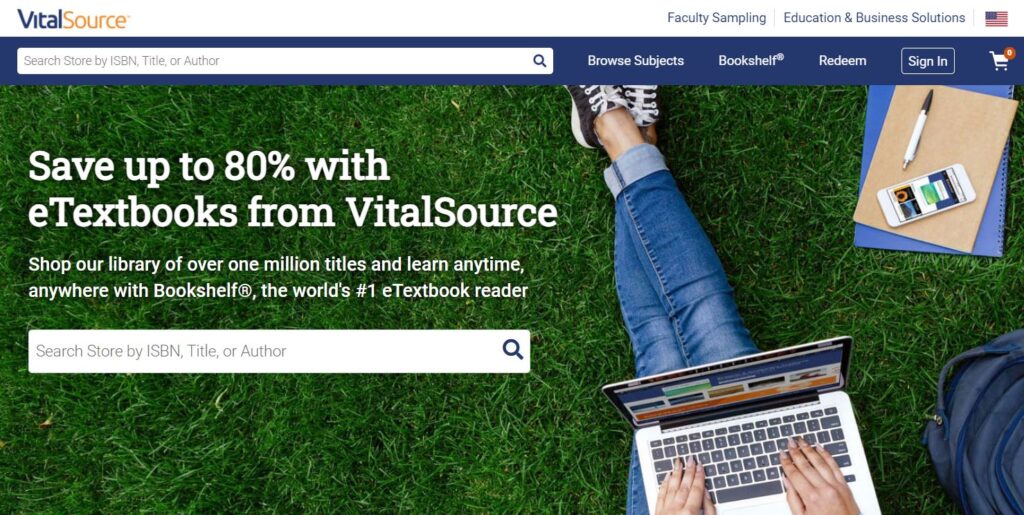 VitalSource is a bit different because unlike the other book affiliate programs, this store is more focused on textbooks for students.
If you have a website in the education niche, then you should give VitalSource affiliate program a try.
They have a large inventory of textbooks and students can save up to 80% by purchasing their textbooks from them instead of using another site.
You can join the VitalSource book affiliate program through the Commission Junction affiliate network (read my CJ affiliate review).


They have high EPC and network earnings which only means one thing: other affiliates are seeing some great results by promoting this program.
Even though their commission rate is only 3%, the textbooks costs quite a lot so you will still be able to earn some decent money (as you can see in the above picture, notice how high the EPC is).
VitalSource Affiliate Program:
Commission rate:

3%

Cookie duration: 40 days.
6. Bookshop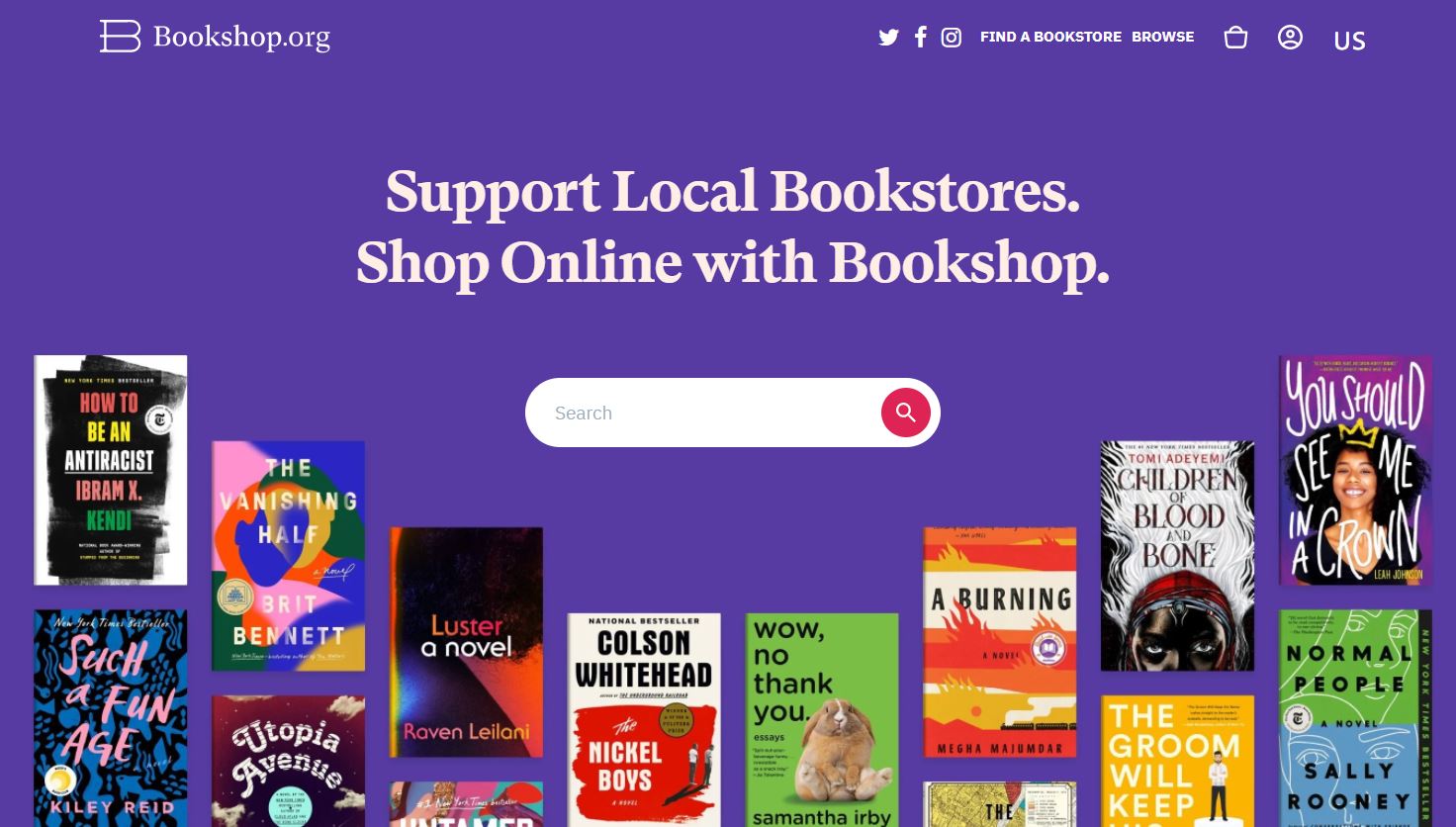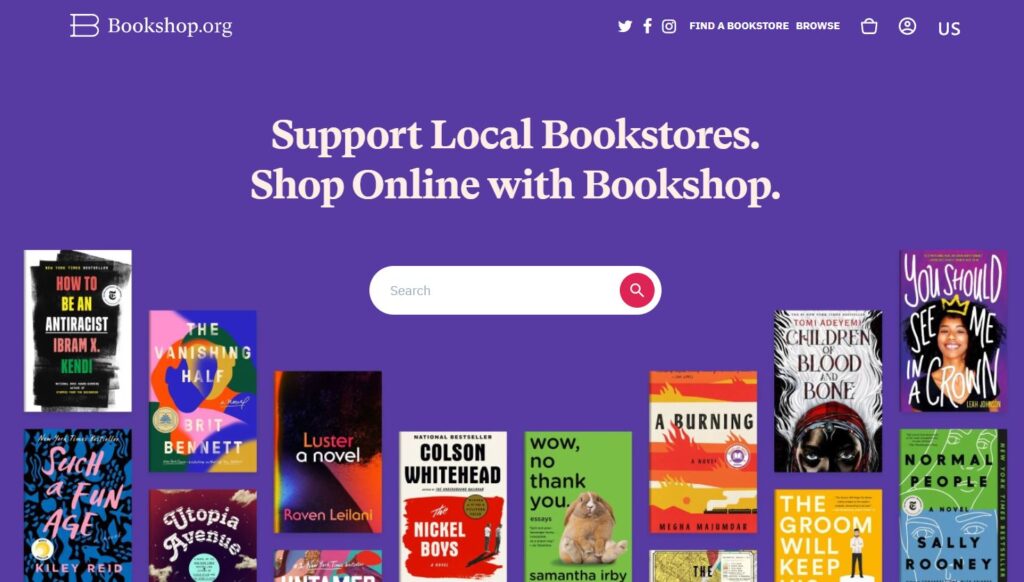 Bookshop was built to give local bookstores that don't have a digital presence a helping hand.
You see their whole mission is to convince online shoppers to ditch Amazon and to start supporting their local bookstores.
It works like this: When someone wants to buy a book they are asked to find a local shop that they want to support.
When they buy the book all the money goes straight to that local store. In the absence of a local store, some of the money is going into a pool that is then used to support the shops in other ways.
It's a pretty neat idea, and I for one totally support it, because I don't really like the idea of Amazon being a book empire.
Like any other bookstore on this list, Bookshop has books in all categories:
Arts
Biographies
Business
Investing
Comics
Cooking
Fantasy
History
Horror
Humor
Literature
Fiction
Poetry
Romance
and more
Bookshop Affiliate Program:
Commission rate:

10%

Cookie duration: Doesn't say on the affiliate page.
7. eBooks.com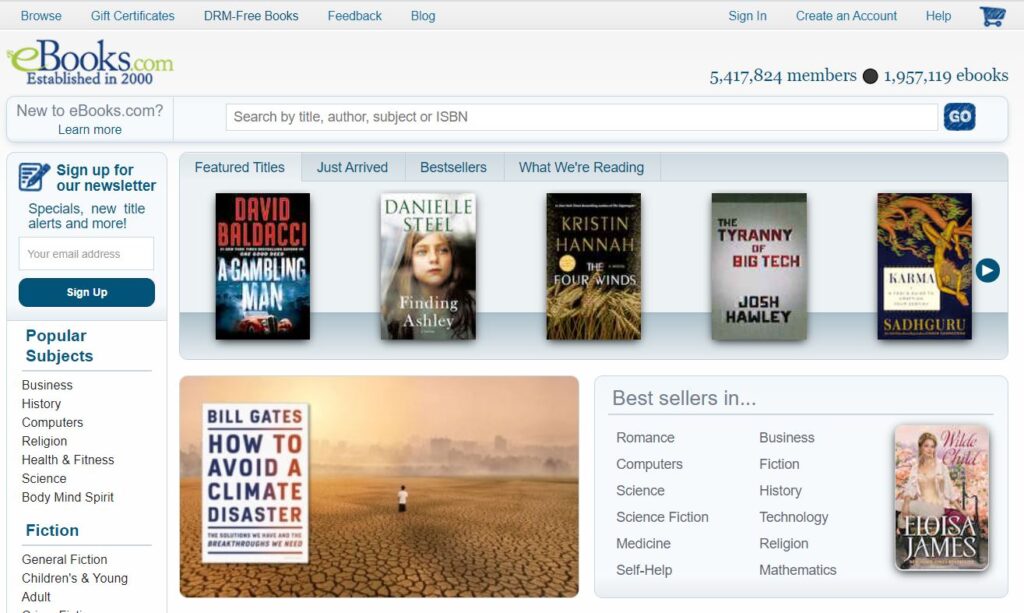 What a great domain name. Readers automatically know what to expect, when they are being redirected to this website, have you guessed what they sell?
eBooks. They sell eBooks, obviously. The site is awesome because there are many niche categories with eBooks that are not featured on Amazon.
So if you want to promote more unique affiliate products on your site, give eBooks.com a try.
A great thing about the eBooks.com affiliate program (it's run on the CJ Affiliate network) is that if you earn more than $500 in affiliate sales you can increase your commission rate to 10%, even up to 15% if you go over $2,000.
eBooks.com Affiliate Program:
Commission rate:

8%

Cookie duration: 45 days.
8. IndieBound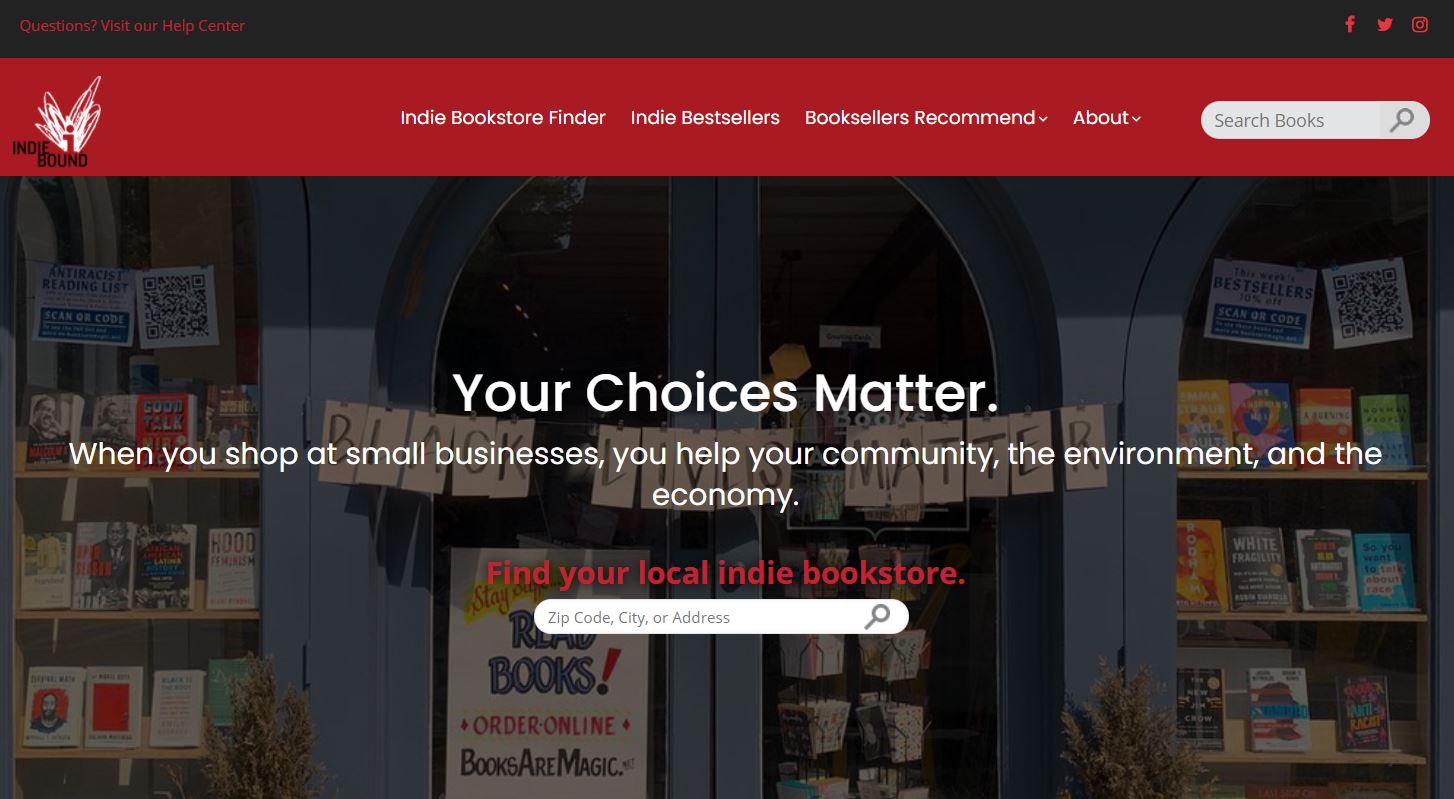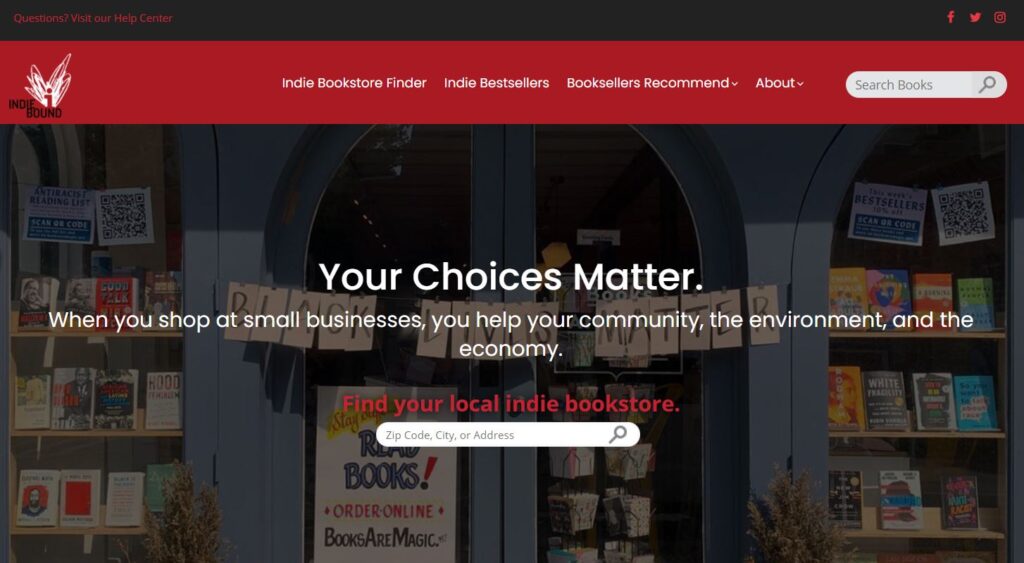 IndieBound is another book shop that's dedicated to supporting local and independent stores.
It's also a great way for readers to connect with indie authors, and get book recommendations from them. IndieBound will redirect users to purchase books from the nearest local book shops that are available near them.
So that means that all the money supports the local community which is great for many who dislike Amazon's practices.
IndieBound Affiliate Program:
Commission rate:

Doesn't say

Cookie duration: Unknown
9. Knetbooks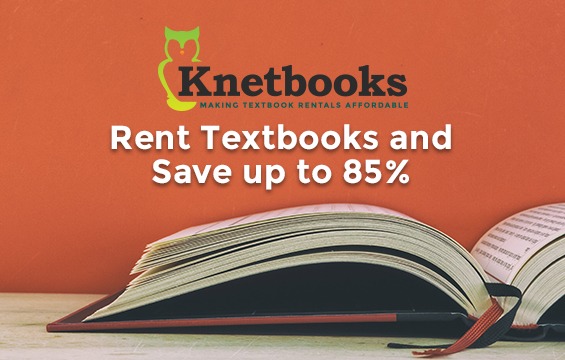 Knetbooks is another website where students can go and rent cheap textbooks.
Students can save up to 85% in textbook prices by simply opting to rent them from Knetbooks' large inventory of over 6 million titles.
What's awesome is that the shipping is free and that also includes the return shipping.
Renters can have the books for a semester, quarter, or short-term rentals like 58 days, usually, some students will extend this duration.
If your blog audience is focused more on students and education, then joining the Knetbooks affiliate program might be a smart choice to earn some extra money.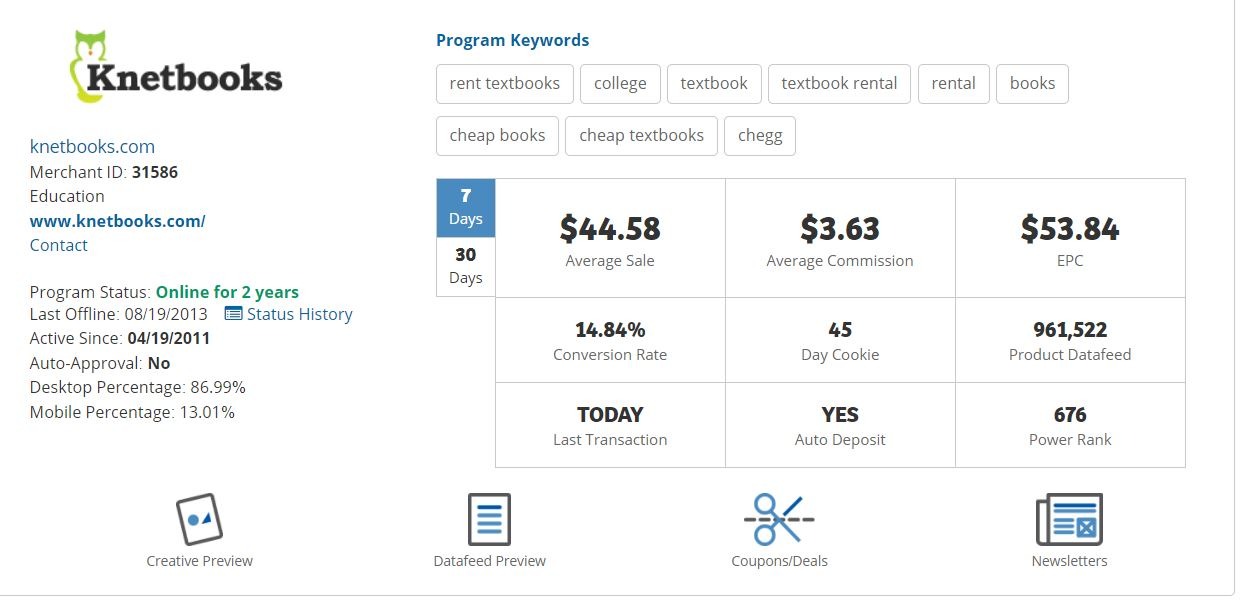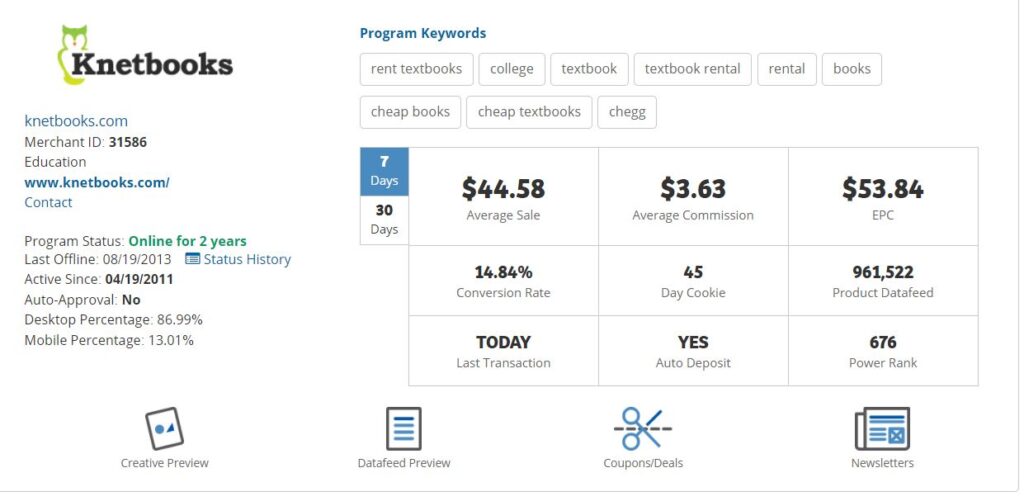 This book affiliate program can be found on ShareASale, and surprisingly it's got a rank of 676 in their PowerRank (which means the program is popular). Their conversion rate is also good at almost 15%.
Sure the average commission might be on the lower side, but then again, that's usually the norm with book sales.
Knetbooks Affiliate Program:
Commission rate:

8%

Cookie duration: 45 Days
10. BiggerBooks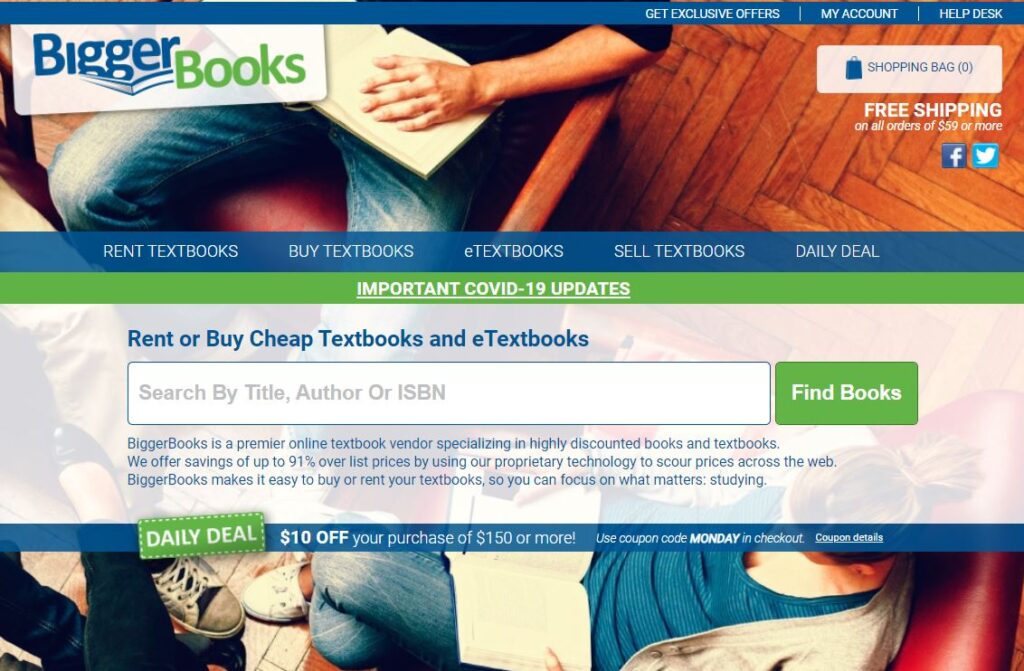 BiggerBooks is another source for students to buy or rent textbooks for a cheaper price. They claim that you can save up to 91% on textbooks by constantly searching the internet for you to find you the best deals on books.
The interesting thing about the BiggerBooks affiliate program is that you can choose what affiliate network to use. You can sign up on CJ Affiliate or ShareASale.
BiggerBooks Affiliate Program:
Commission rate:

5%

Cookie duration: 30 Days
11. AudiobooksNow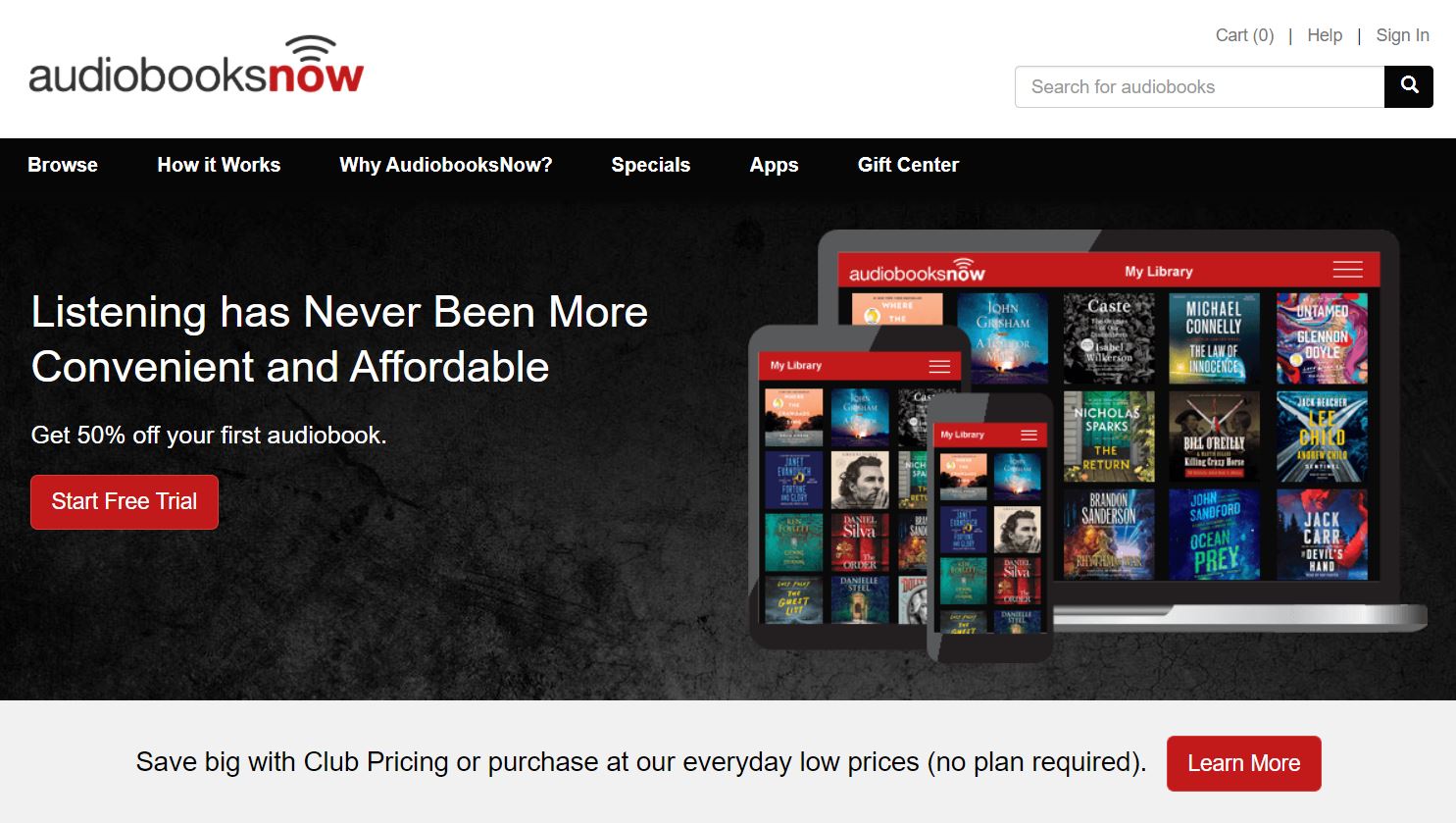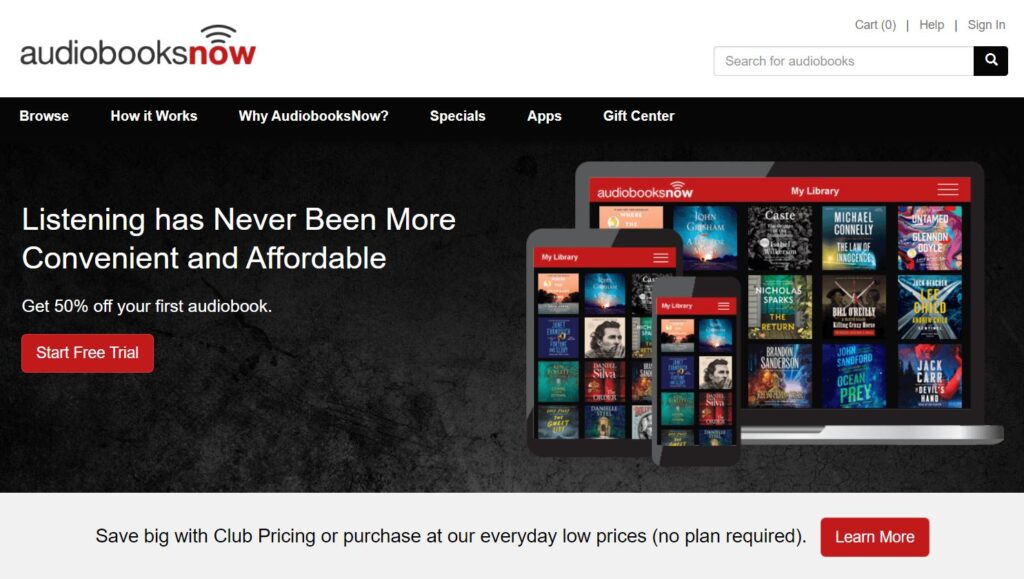 Are audiobooks… books? People seem to think so. Listen I'm joking obviously, but to me, a book is a damn book, meaning it's a solid rectangular thing filled with hundreds of pages of paper that have a Narnia smell to it.
Maybe I'm oldschool, but I digress…
The fact is that audiobooks are popular as heck these days, and it's not unusual to see many bestsellers that have more sales in the audiobook format than the print version.
Still, I get the idea, you're exercising or going for a walk, or driving, an audiobook might be the perfect mix, if you're bored of listening to the same radio stations over and over again.
AudiobooksNow is one of the biggest online shops where you can send your readers to buy audiobooks at cheap prices. They have over 80k titles and a bunch of free ones as well.
AudiobooksNow Affiliate Program:
Commission rate:

10%

Cookie duration: 15 days.
12. Textbook Solutions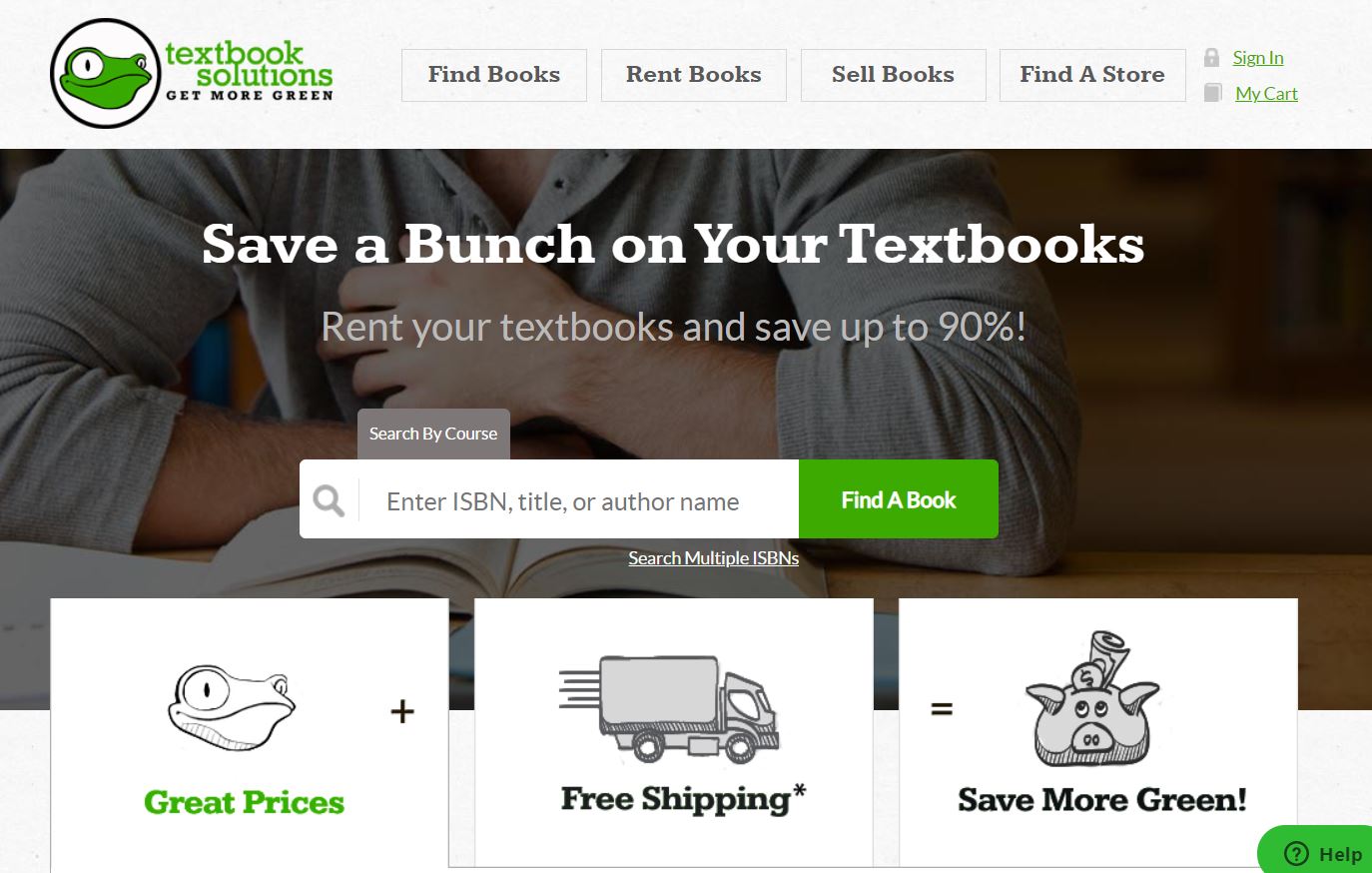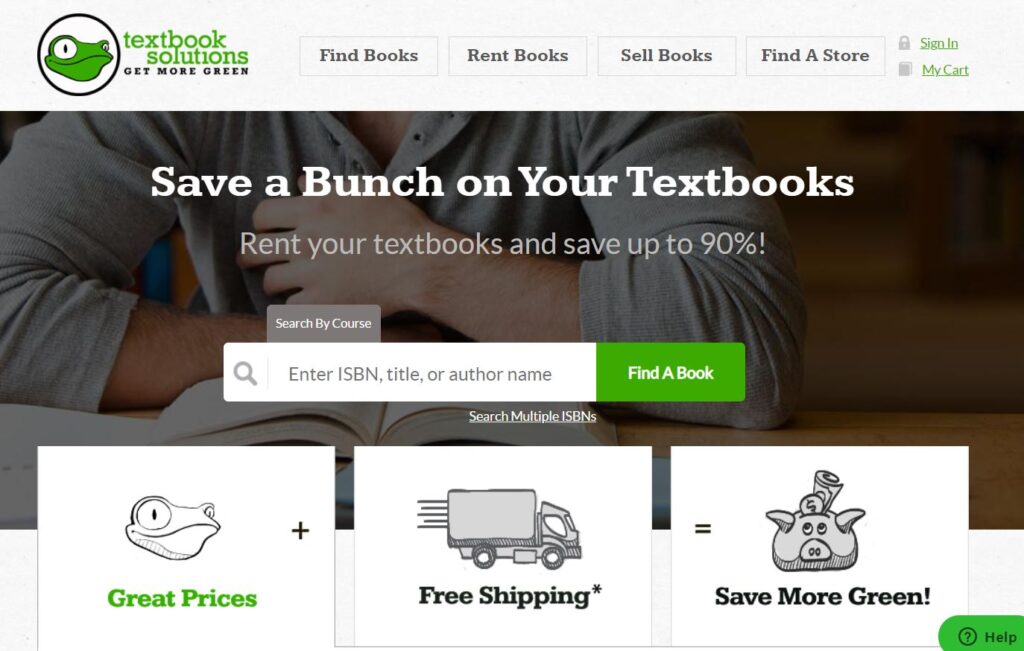 Another textbook rental website, Textbook Solutions has one single goal: to help students save money.
Not only that but students can also sell their own used textbooks to Textbook Solutions and get straight cash for them.
Their affiliate stats from ShareASale look pretty decent, the EPC is high, conversion rate is also good, and they have auto deposit.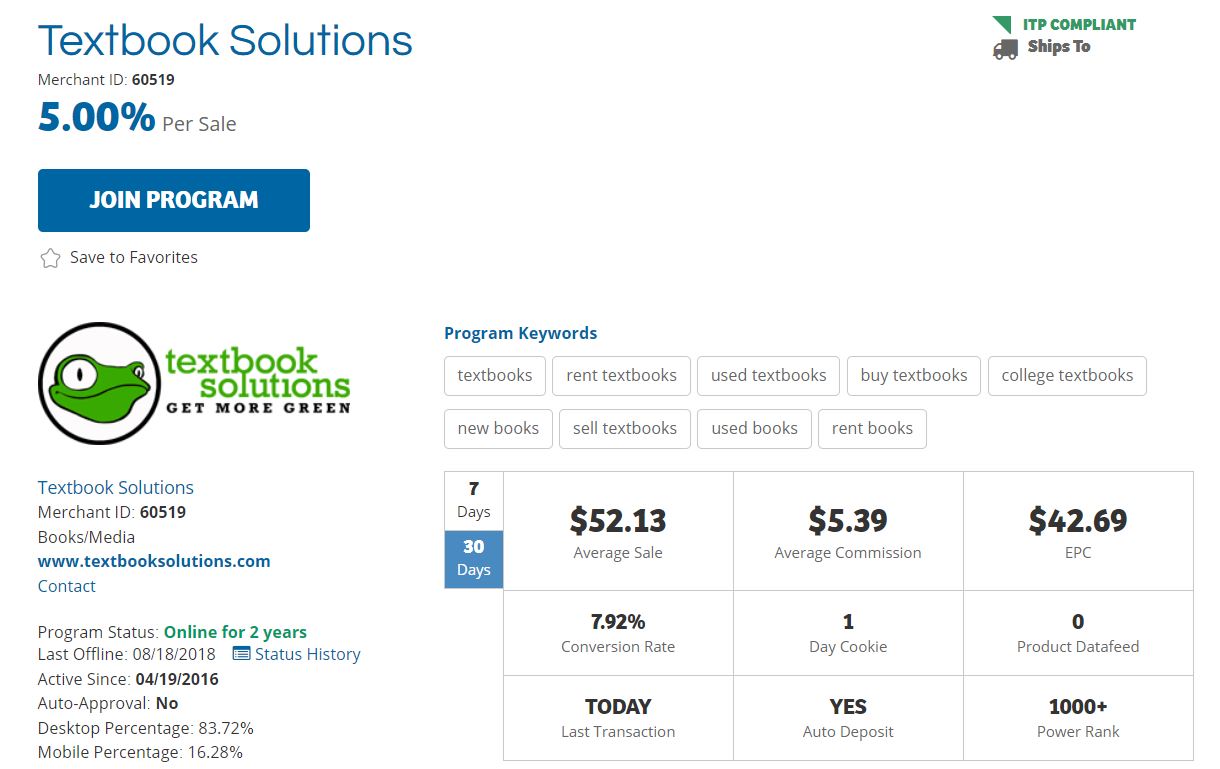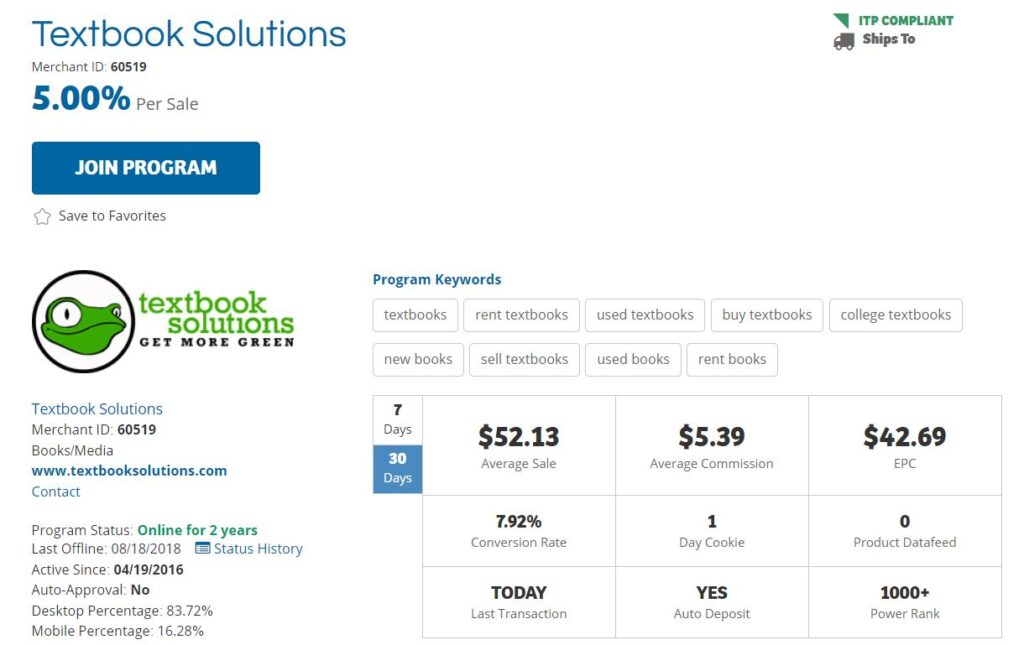 The only thing that I don't like about this book affiliate program is the 1 day cookie duration. It's simply too small of a window. Especially when compared to other similar programs.
Textbook Solutions Affiliate Program:
Commission rate:

5%

Cookie duration: 1 day (meh).
13. Bookroo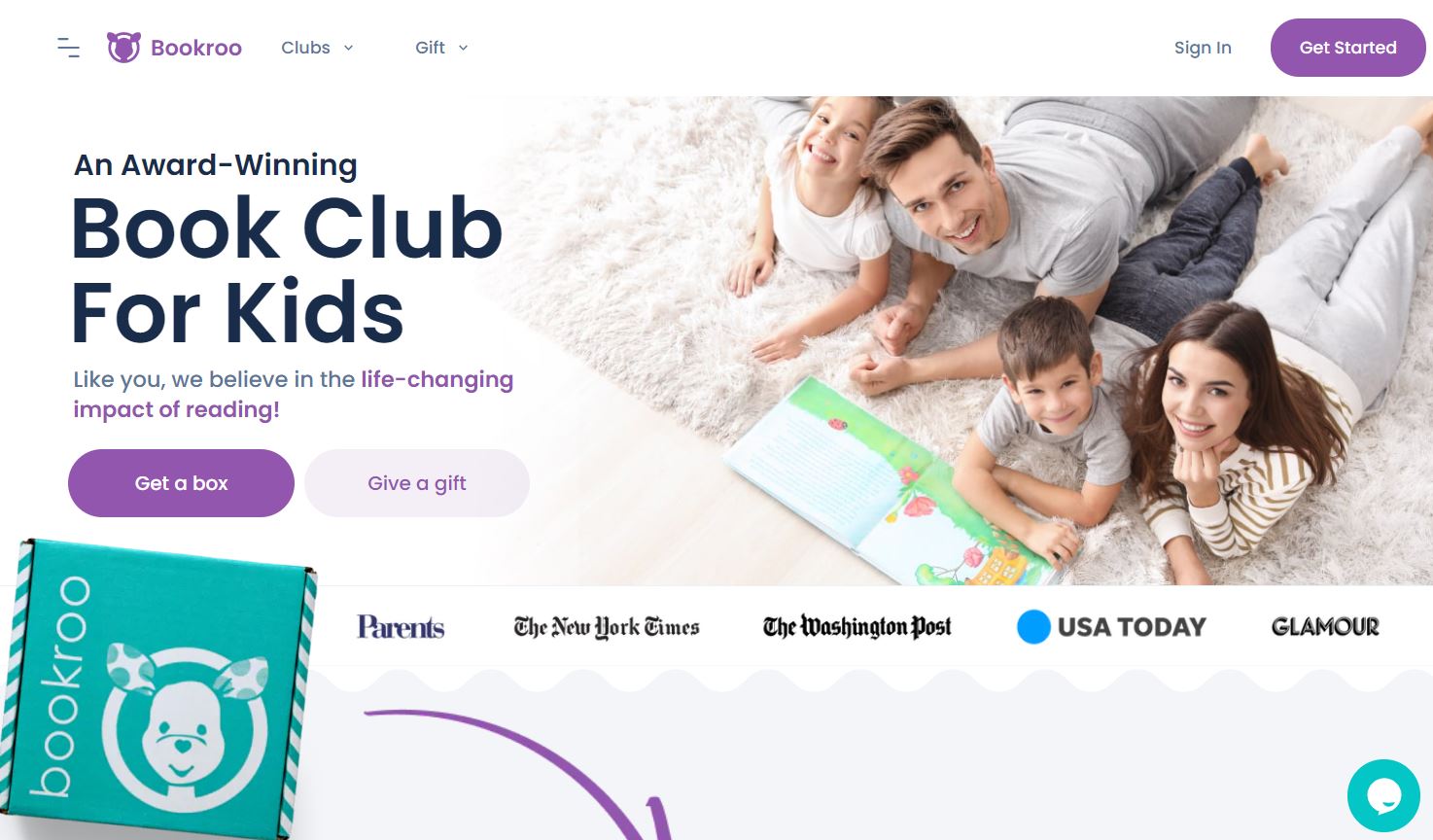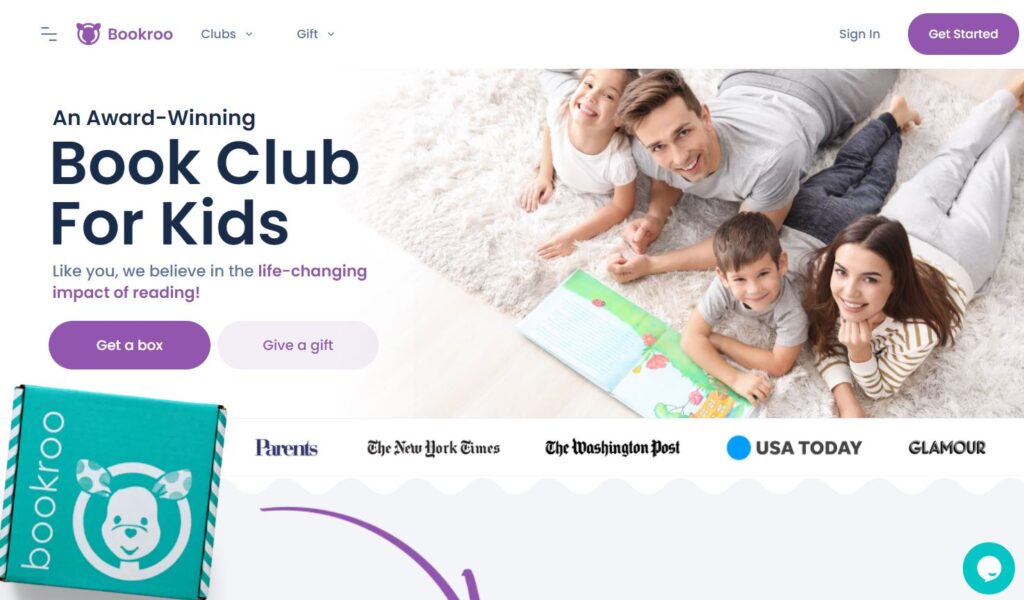 Bookroo is a book club for kids. I know, it's a bit different than all the other book affiliate programs that I've talked about on this page, but yet here we are.
But listen, if you have a parenting blog, mommy blog, or any other website niche that's about family, and related to kids, then you can make this work.
The idea is pretty awesome, basically, Bookroo is a subscription service box that delivers children's books every month. Their boxes and books are based on the age of the kids, so that allows for a greater variety.
Bookroo's affiliate program can be found on ShareASale, here are some extra details: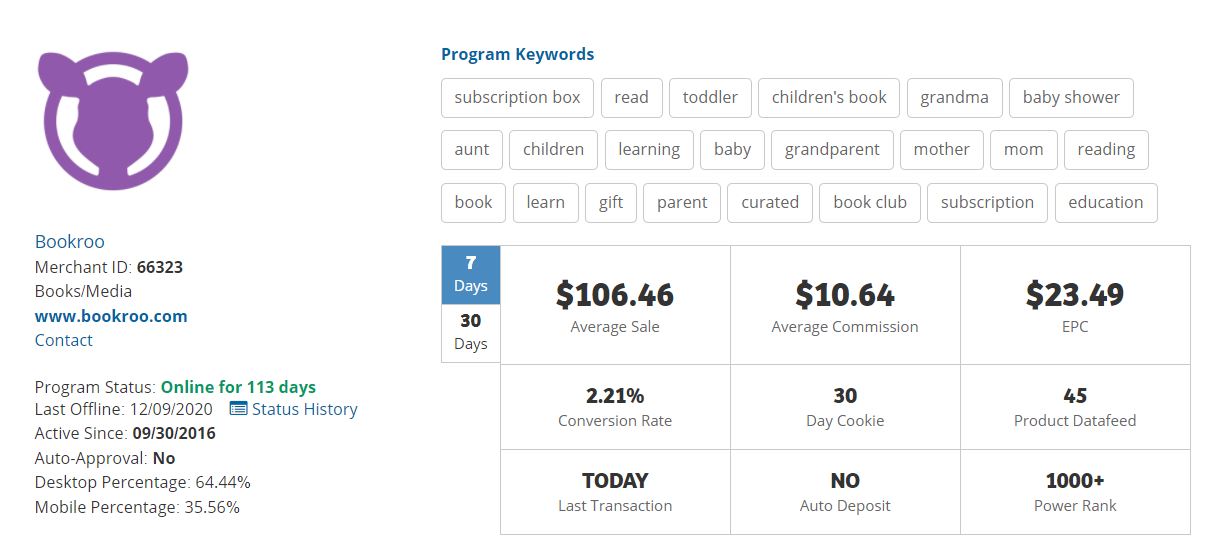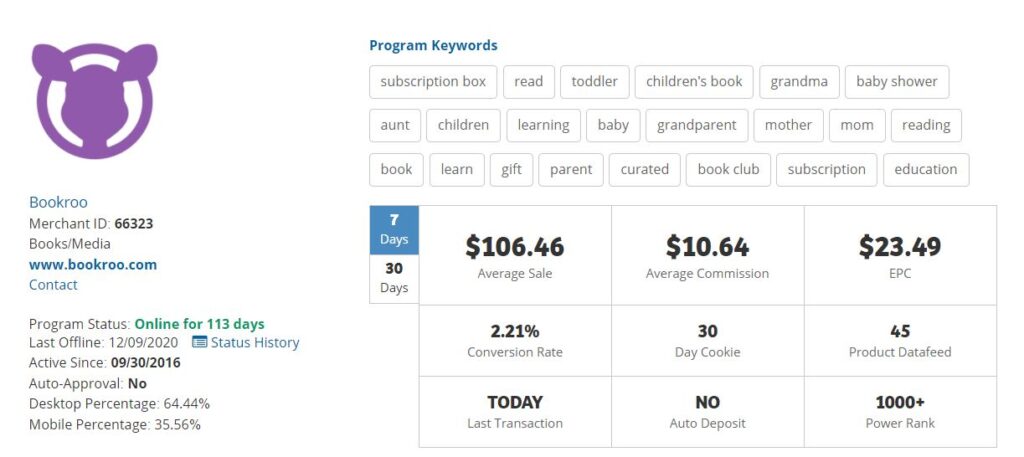 Bookroo Affiliate Program:
Commission rate:

10%

Cookie duration: 30 Days
14. Chronicle Books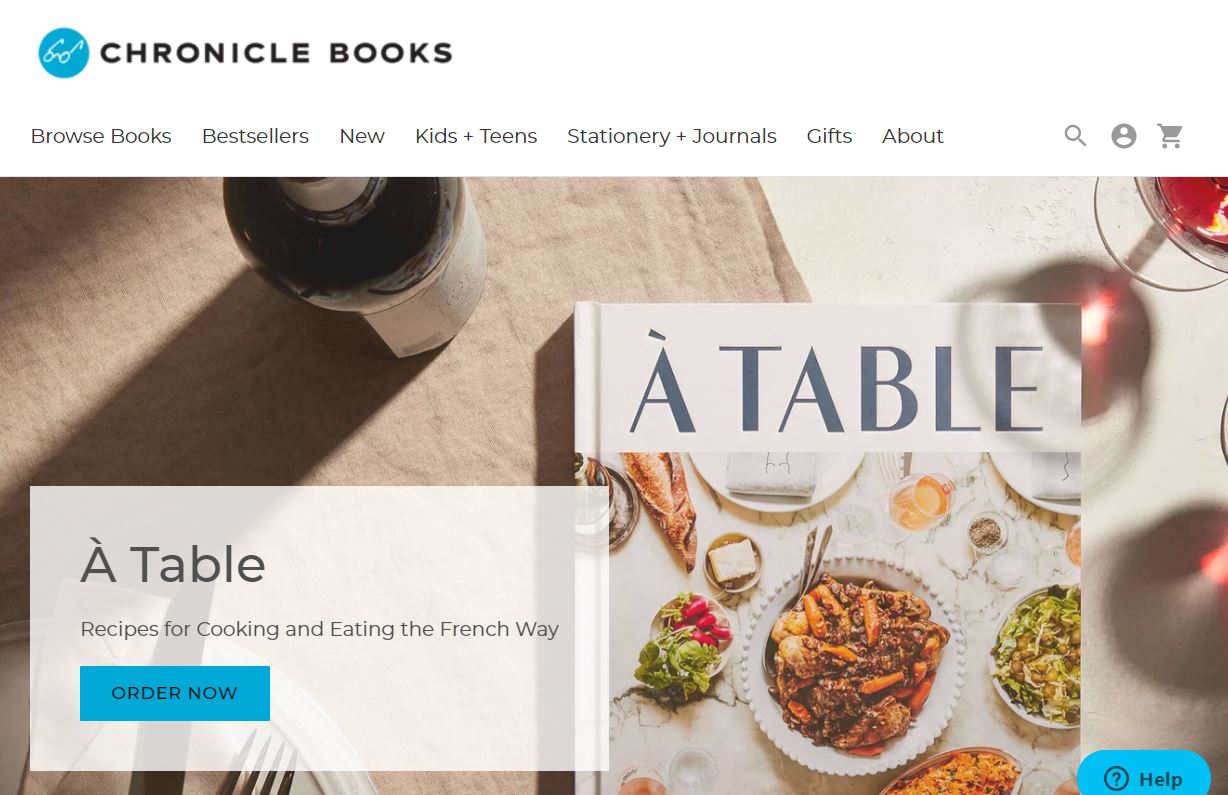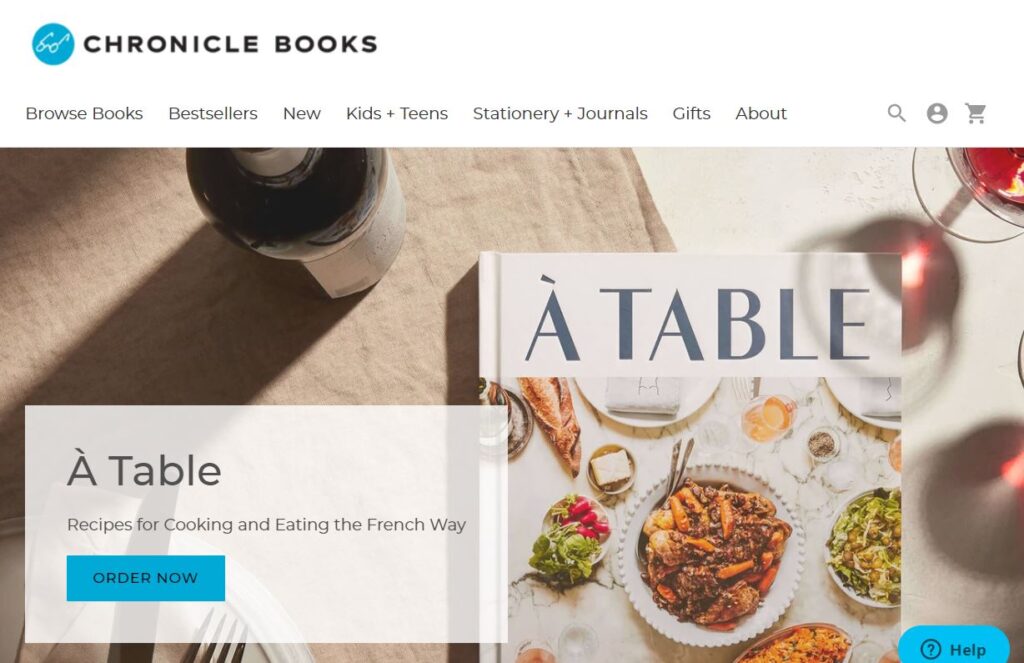 Chronicle Books is a hybrid shop that is a part bookstore and part gift shop. They have a lot of bestsellers in their collection in numerous categories such as Art, Design, Entertainment, Food, Lifestyle, and more.
But also, they have books for kids and teens, stationery and gifts.
Affiliates can earn up to a 10% commission rate with the Chronicle Books affiliate program. Their cookie duration is also pretty decent at 30 days.
To join you will need to sign up with Linkshare and then apply for their program. See the link below.
Chronicle Books Affiliate Program:
Commission rate:

10%

Cookie duration: 30 Days
15. AbeBooks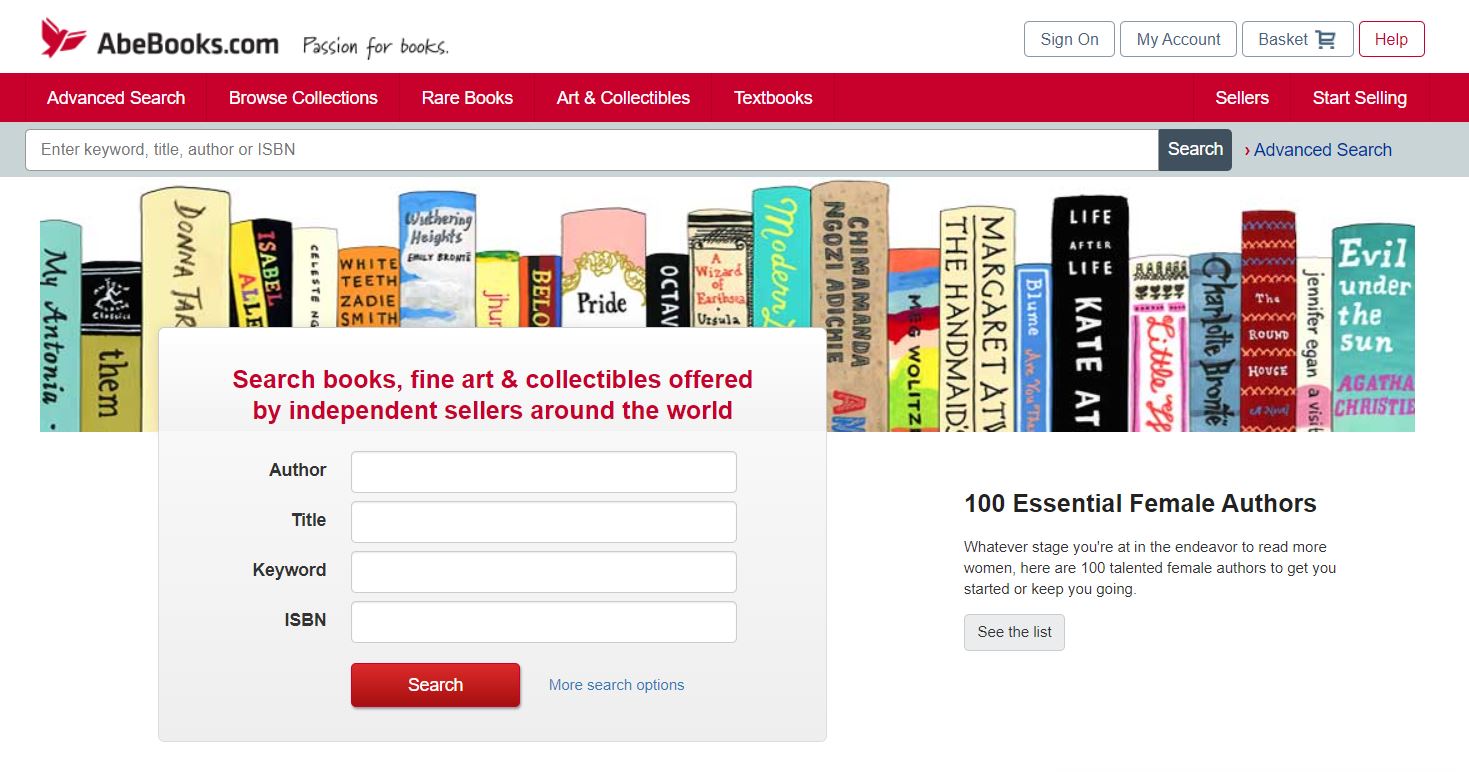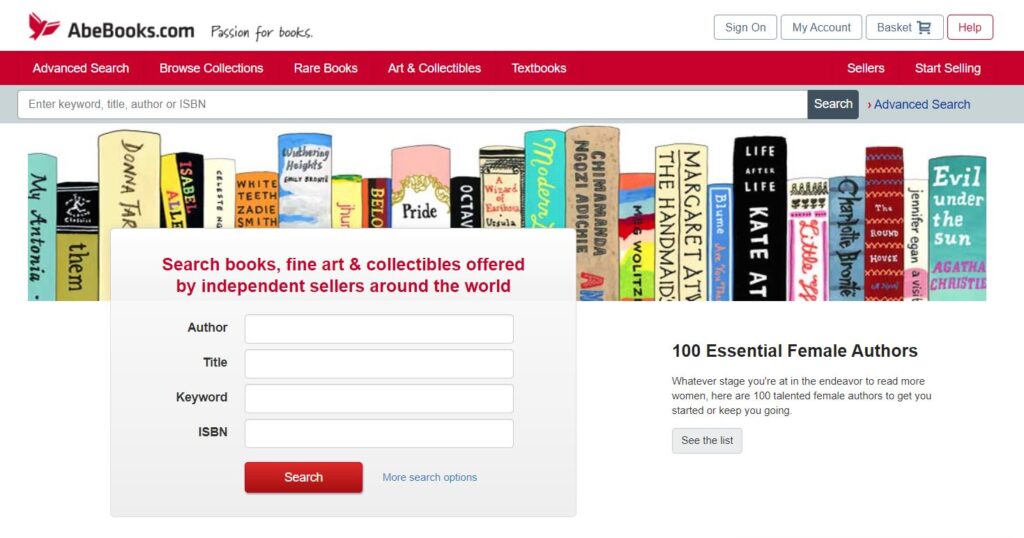 AbeBooks started out all the way back in 1996, and it's now a global online book marketplace where visitors can buy books, collectibles, and even art.
Their specialty?
Rare and hard to find books that are no longer being printed. This is huge because you will have some unique affiliate products to offer to your website's audience.
They won't find some of these books in other stores that's for sure, especially not on Amazon. It's probably why Amazon bought AbeBooks a couple of years ago.
This is one of those unique book affiliate programs because of the rarity of the products that they have, so give them a try if that's your thing.
AbeBooks has a 5% commission rate for every sale that occurs through your affiliate link.
You will need to sign up on Impact Radius before you can apply to this program.
AbeBooks Affiliate Program:
Commission rate:

5%

Cookie duration: 30 Days
Bonus: Amazon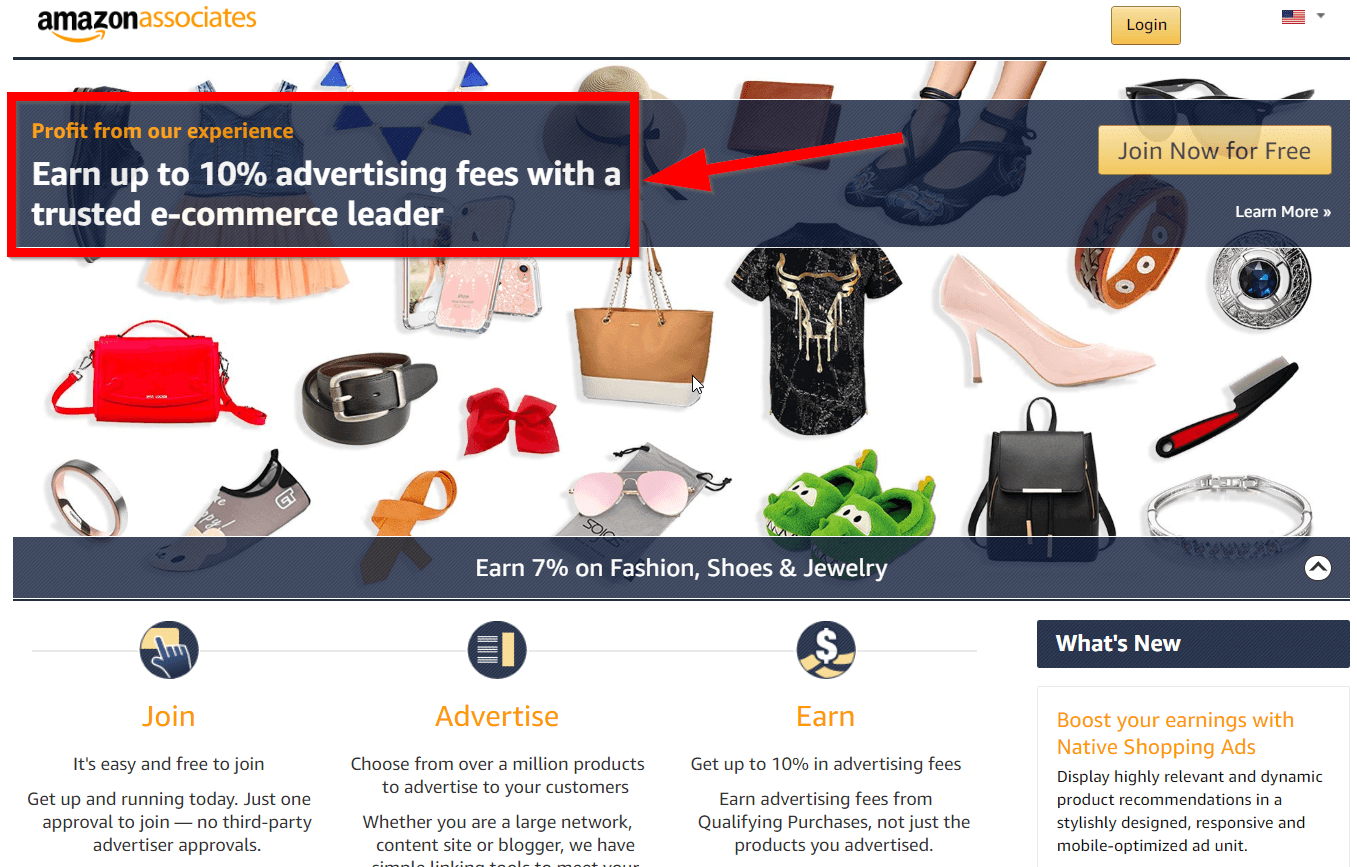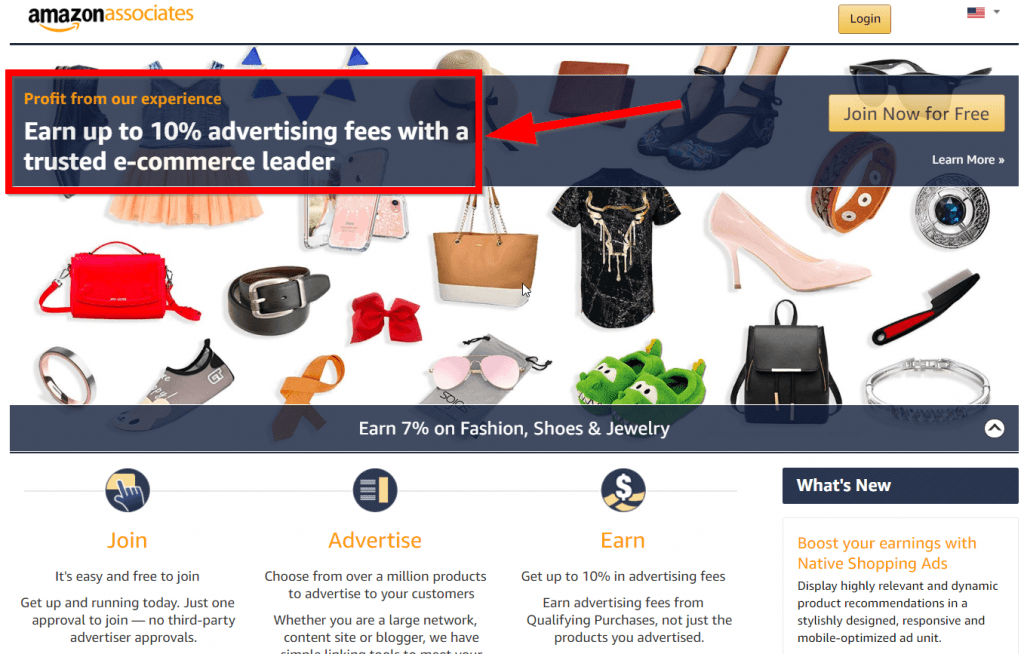 I mean, I know… you know, everybody knows. If you want to buy books online you go straight to Amazon. It's how they got so huge in the first place.
This dude Jeff started out this tiny little company selling books from a small office.
Now Amazon has become this huge behemoth where they dominate the industry with insanely cheap and low prices and driving many local stores out of business.
I'm not against Amazon too much though. I also realize that the local bookstores should have gone online 20 years ago. They didn't do that, they thought it was silly, and for that, they are now hurting a bit.
Anyway, say what you want about Amazon, one thing is for sure, they are the Goliath of online e-Commerce, and you'd be a fool not to give their affiliate program a try. At least for a short period of time and see how that works out for you and your book affiliate site.
To join Amazon's book affiliate program, you need to sign up on Amazon Associates page, see the link below.
Amazon Affiliate Program:
Commission rate:

4%

Cookie duration: 24 hours for anything on-site / 90 days for products added to cart
Book Affiliate Programs: Conclusion
So, there you have it, 15 great book affiliate programs that you can join and make bank off nerds. And again, don't get mad at me using the word nerd, I'm a huge fucking nerd myself (glasses and everything), so I'm allowed to do it.
While these book affiliate offers can bring you some nice passive income, I still don't think that the commission rates combined with the low average sale value are high enough.
I think an affiliate might lose money by only doing affiliate marketing with book products on their site.
Me personally I would first and foremost use Google AdSense or an alternative to Google AdSense. Then as a secondary monetization technique, I would also promote some of the products from these book affiliate programs.
So a healthy mix between these two, I think would bring the best possible income from a niche blog in the education niche.
Bonus tip: you can also use native ads, from some of the best native ad networks as a third monetization option. Sure it might be a bit overkill but then again, when is extra money and revenue ever hurt, anybody?
Let me know what you think and which of these book affiliate programs you like the most and is converting well for you.
Stay hustlin'
Stephen