Affiliate Marketing on Facebook: How to make money [Guide]
This post may contain affiliate links. If you buy something through these links I will receive a commission (at no additional cost to you). I personally hand-test everything that I promote, and I only link to services and products that I like.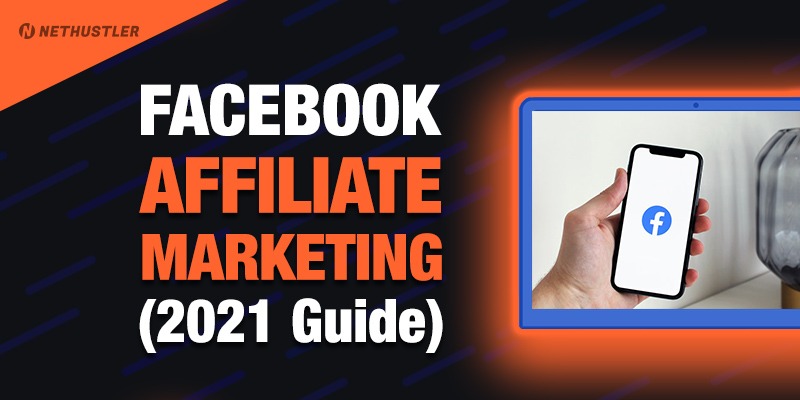 You're spending thousands of hours on Facebook, (right?) so why not at least get some money in return. Affiliate marketing on Facebook isn't that hard to pull off, but you must know some key things.
What things? Can't I just post an affiliate link on Facebook and make money?
In theory you can, but in practice it becomes a bit more complicated.
Don't know how to get started making money online? One of the best ways is to
start a blog.
You can easily do that with
Bluehost.
You see, there's a guy called Zuckersomething, and the dude is pretty serious about what's allowed and what's not allowed to be promoted on Facebook, for some reason he runs the whole damn thing.
Not only that, but affiliate programs and networks might also have their own rules regarding promotion on Facebook.
That is why if you want to start affiliate marketing on Facebook you must first read the rules. ALL of them. Especially if you want to pay for Facebook ads.
But not all is bad because tons of affiliates make a lot of cheese, I mean money on Facebook promoting affiliate products and services. So in this article, I'm going to show you how to do it properly.
What is Facebook affiliate marketing?
Facebook marketing is an easy way for affiliates to promote products and services either for free or through paid Facebook ads.
It makes perfect sense, after all, Facebook is the biggest social media platform in the world, with over 2.7 billion people registered.
There are thousands of Facebook pages and groups for pretty much any niche that you could think of.
You can get in on the action, and start creating your own little space on Facebook, and promote affiliate products.
But do it the smart way though, especially if you want to earn some serious cash.
So here are a few tips on how to do just that:
Affiliate marketing on your Facebook profile
Don't be a donkey and promote affiliate links on your Facebook profile.
I'm talking about your personal Facebook page, the one you have all your friends and family on.
It's kind of a shitty thing to do, and plus… it's not going to last long anyway.
What happens after you get 1-2 sales? You can't get more because you have a limited number of friends on your personal page.
So yeah, I wanted to start out with this one because it's a mistake that I see many affiliate marketing newbies are doing.
Running Native Ads?
Spy on Your Competition & Create Winning Campaigns with Anstrex
Think about your grandma seeing a link for a dating CPA offer. You wouldn't want that to happen now, would you?
What should you do instead? This:
Create a Facebook page
If you want to do affiliate marketing on Facebook the right way, you need to create your own page or pages (if you want to promote stuff from other niches).
Creating a Facebook page is easy. But first you need to choose your niche.
When you have a niche in mind and some name ideas for your page do this:
Go to Facebook, create an account if you haven't yet, then click on the "Pages" link in the left-hand side menu.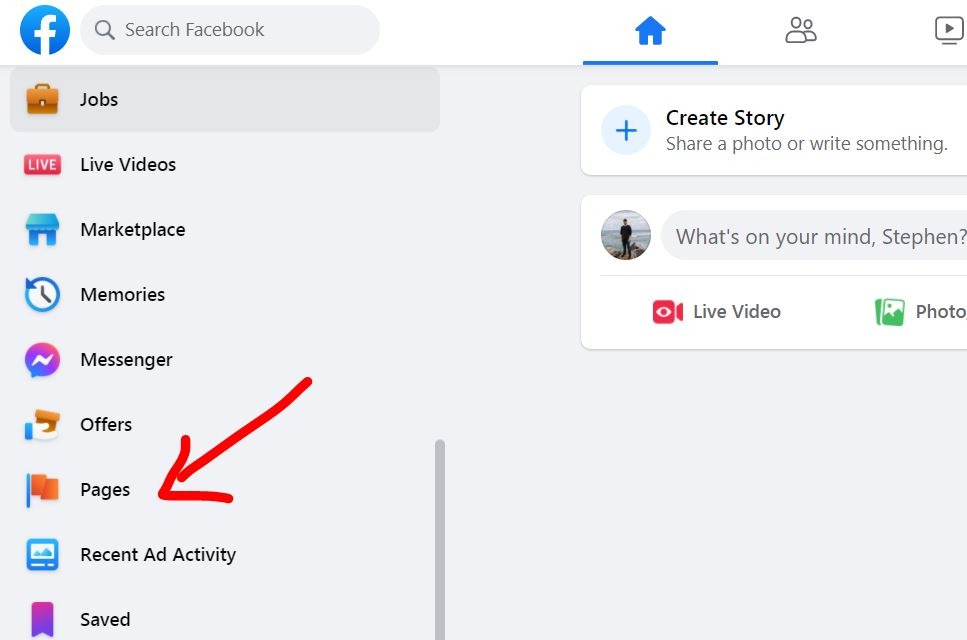 After that, you're going to see this: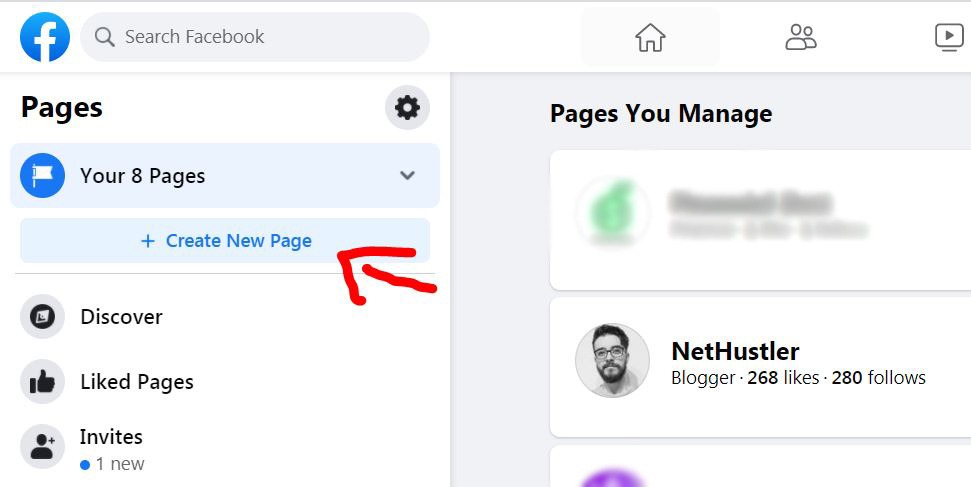 Click on the "Create New Page" button, and add the details of your page, like so: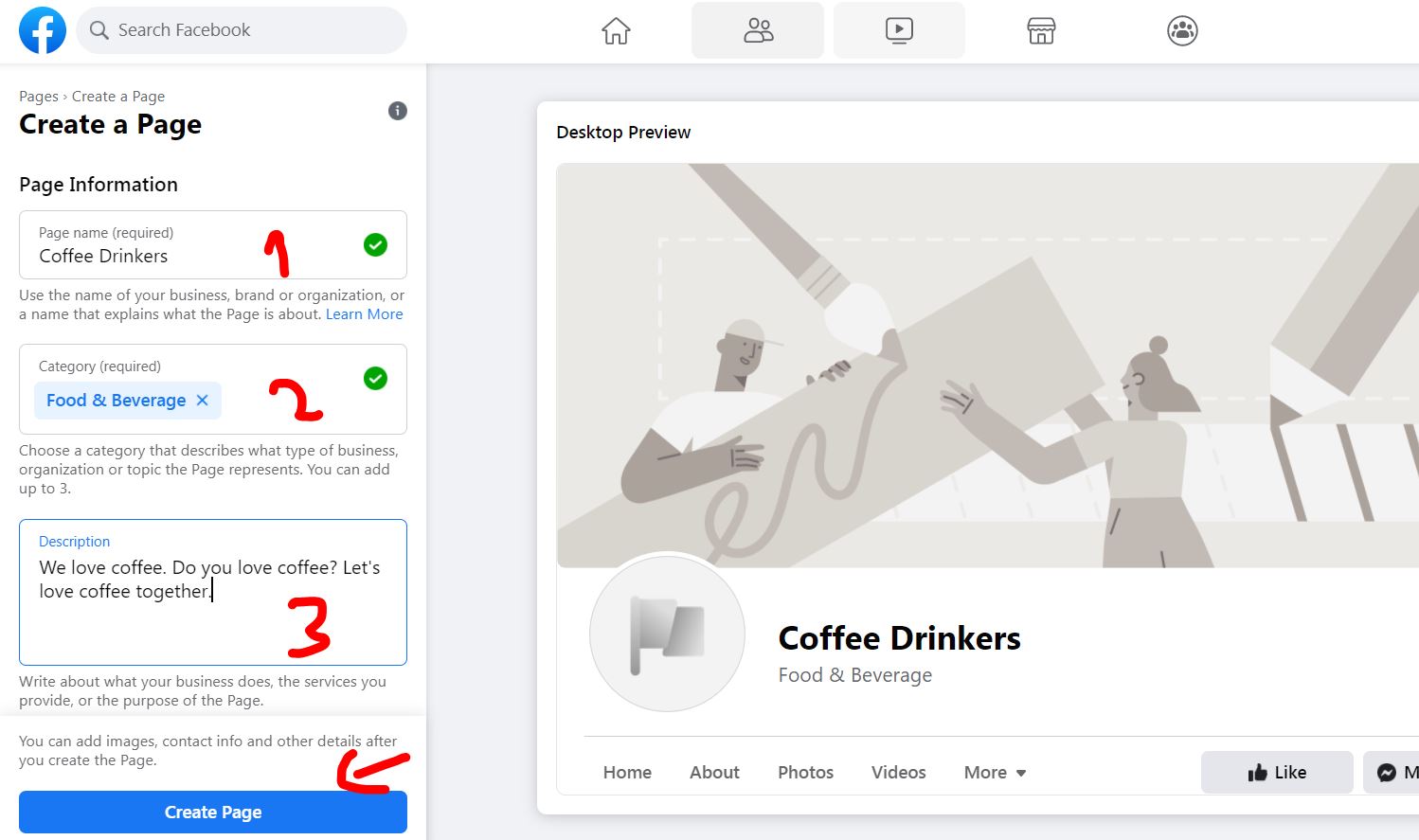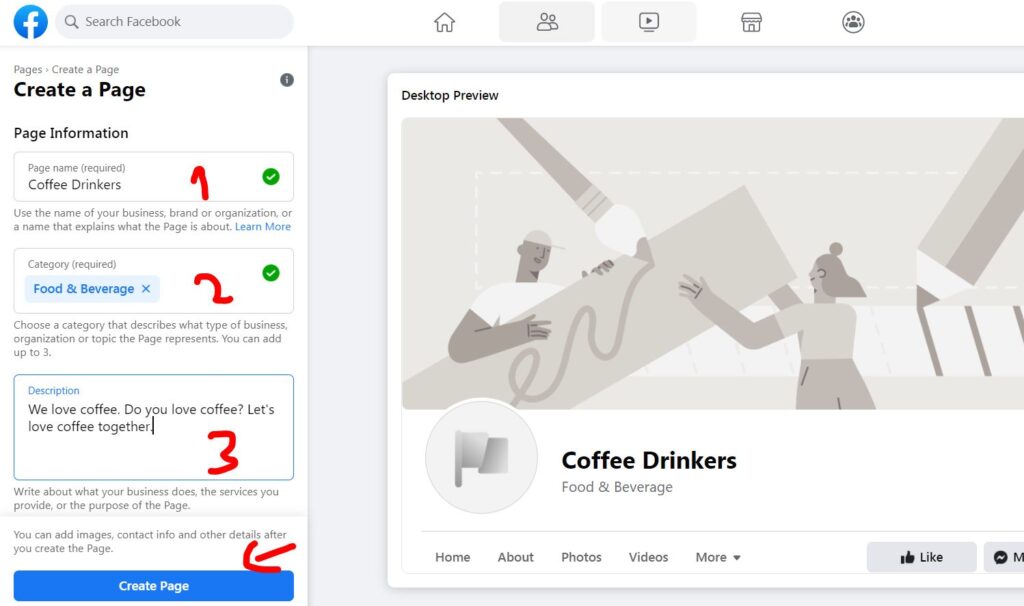 Add a page name, then choose the category, add a short page description (what the page is all about), and finally click on the "Create Page" button.
After that, your Facebook page will be live, and ready for you to start building an audience on it.
Of course, there's a ton more settings and things that you can do and optimize to your pages such as changing your Facebook page URL to a custom one, setting up a page username, adding a profile picture, cover image, and more.
Since this is a guide on how to do affiliate marketing on Facebook, I'm going to skip over all that basic Facebook stuff and move on with the guide.
Build your page audience
With the page now created, it's time to build your audience.
But how do you actually do that, and where do you start from?
Well, there are many ways in how you can promote a Facebook page, one of the easiest ones is to add the Facebook Like box on your website.
Don't know how to get started making money online? One of the best ways is to
start a blog.
You can easily do that with
Bluehost.
Don't have a blog or a website?
While it's true that you can do affiliate marketing without a website, oftentimes it's more beneficial for an affiliate marketer if they create a blog and promote that blog instead of promoting affiliate offers directly.
Learn how to start a blog with my in-depth guide, and you should be able to have one up and ready in about 15-20 minutes.
Having your own website that you can use to promote affiliate products will also give you more options if you want to promote affiliate products on Facebook and create ads for Amazon or other offers that don't allow you to direct link.
If you're in a hurry and don't have time to read the guide, you can
go to Bluehost
, and create a blog in under 5 minutes with just a few clicks.
Okay, back to building a page audience now.
More ways to get Facebook page likes:
Commenting on other pages (related to yours) with your page
Joining groups in the same niche
How to comment as a page on Facebook:
Go to the page you want to comment on, when you want to leave your comment, switch from your personal Facebook account to your Facebook page, by clicking on the icon with your profile picture next to the comment form, like so: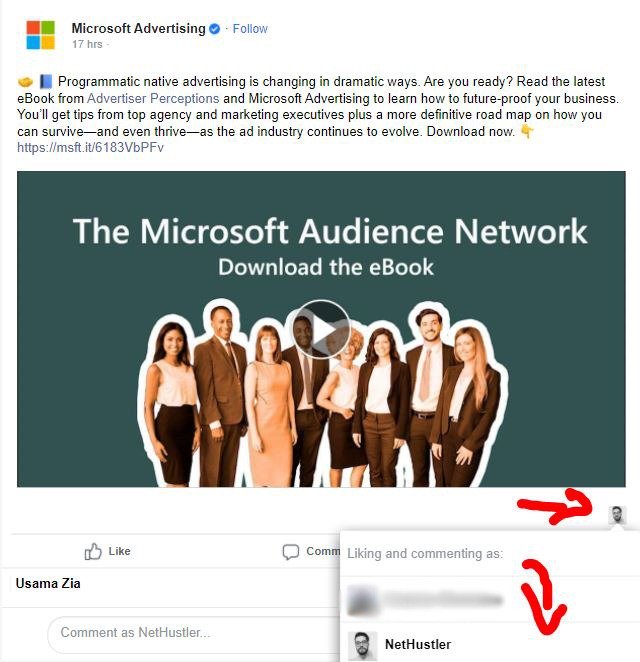 You can now choose the page that you wish to use to comment and interact as on Facebook.
This allows you to build exposure and bring likes to your page from people that are super interested in your niche (if you're leaving comments on related pages).
It's an easy and free way to gather likes and build your Facebook page.
The next one, is to join groups:
Join Facebook groups
Facebook groups are sort of like forums, there's a group on Facebook for EVERYTHING.
Seriously.
Are you in the "Crystal healing" business? Well, there are ton of Facebook groups that you can join:
Don't know how to get started making money online? One of the best ways is to
start a blog.
You can easily do that with
Bluehost.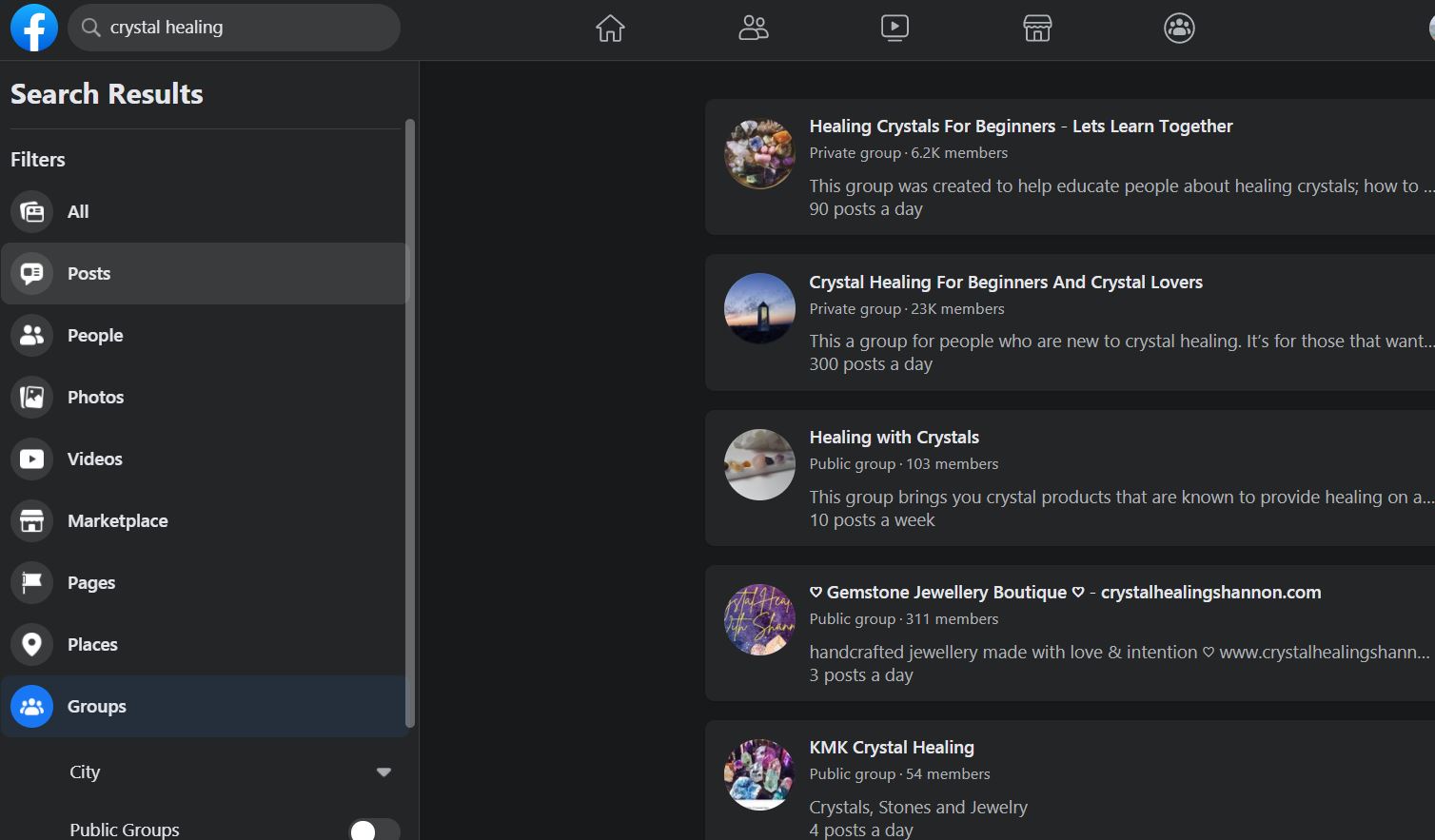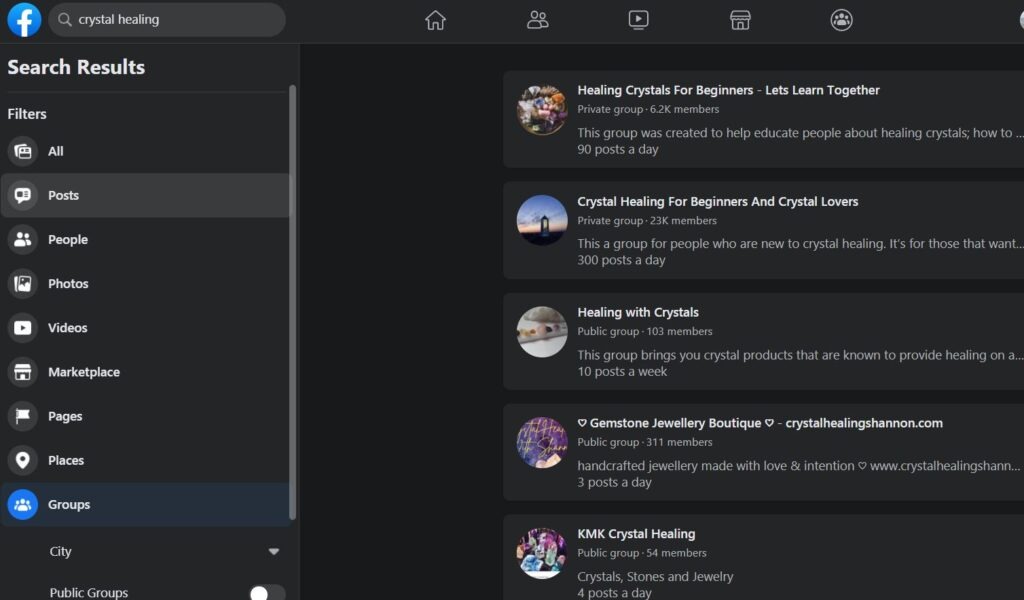 But…
Don't just join tons of Facebook groups and start spamming your affiliate links.
No, no. You don't want to do that.
Why?
Because, you will get booted as fast as you can say SPAM.
Seriously, people don't like spammy links, they are on Facebook to chill not to click and buy shit off the internet.
How to do it properly:
Join related Facebook groups
Start adding value and becoming a productive member
Add good and unique and fun content
Minimal promotion to your blog or your Facebook page.
That's how you do it.
Do that in a number of groups and you will quickly start seeing tons of likes and clicks on your links.
If you've created a blog, it will be even better, because you could share useful articles with the groups and not seem like you're trying to sell anything. (which is the natural way of doing affiliate marketing anyway).
Examples of Facebook affiliate marketing
Let's look now at some great ways to do affiliate marketing on Facebook.
In the first one, we can see a post from "Deals We Like" Facebook page, that shares a direct amazon affiliate link to their page followers: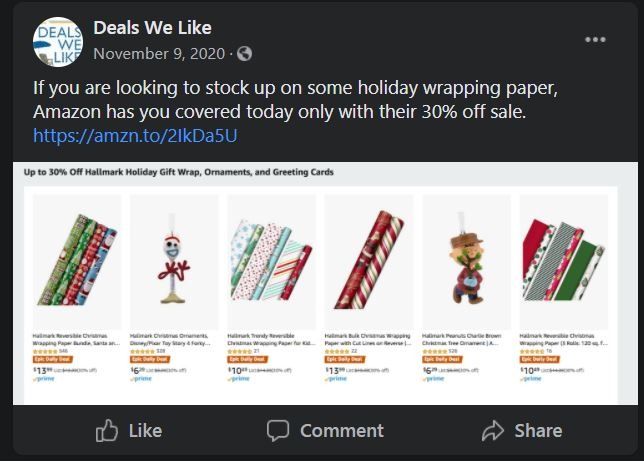 You can do that and see some good results, especially since it's free traffic.
But remember: If you want to promote or boost that Facebook post, you are NOT ALLOWED to direct link to Amazon. In other words: You need to link to your website first.
Let's see how "Thrifty Nomads" is operating on Facebook:
Don't know how to get started making money online? One of the best ways is to
start a blog.
You can easily do that with
Bluehost.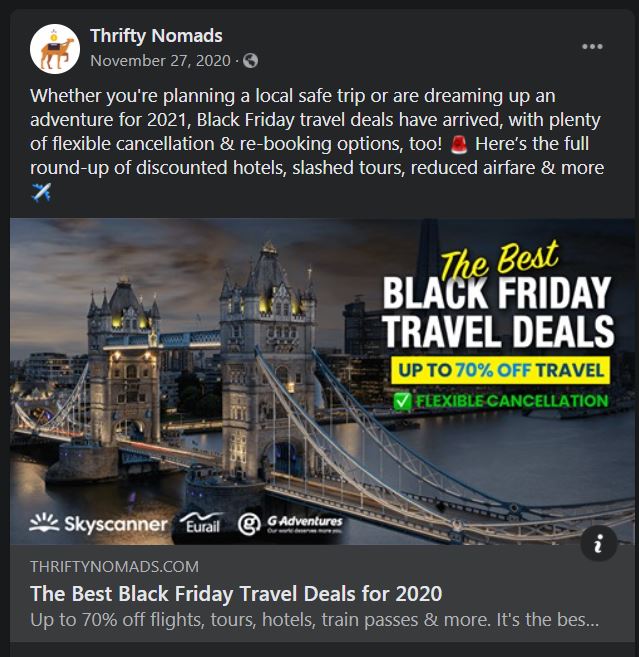 In the second example, we see how linking to your own blog can help you create a more useful and engaging Facebook post, and you also get to build traffic to your website which becomes one of your main assets in affiliate marketing.
Both pages are doing Facebook affiliate marketing, and I'm sure both of them get some decent results out of it since they have pages with thousands of likes.
I would recommend you to not post only affiliate promotions to your page though. Try and add some unique and valuable content as well.
A good post ratio: publish 3-5 valuable posts where you don't promote anything and then you can publish 1-2 affiliate posts.
This will give you a nice balance of quality posts and promotional posts and your page followers will be much more engaging and happy in the long run.
Follow the same rule if you're starting an email list as well 😉
Affiliate marketing With Facebook Ads
You can also do affiliate marketing with Facebook Ads, here's a great example of one such ad from WPBeginner: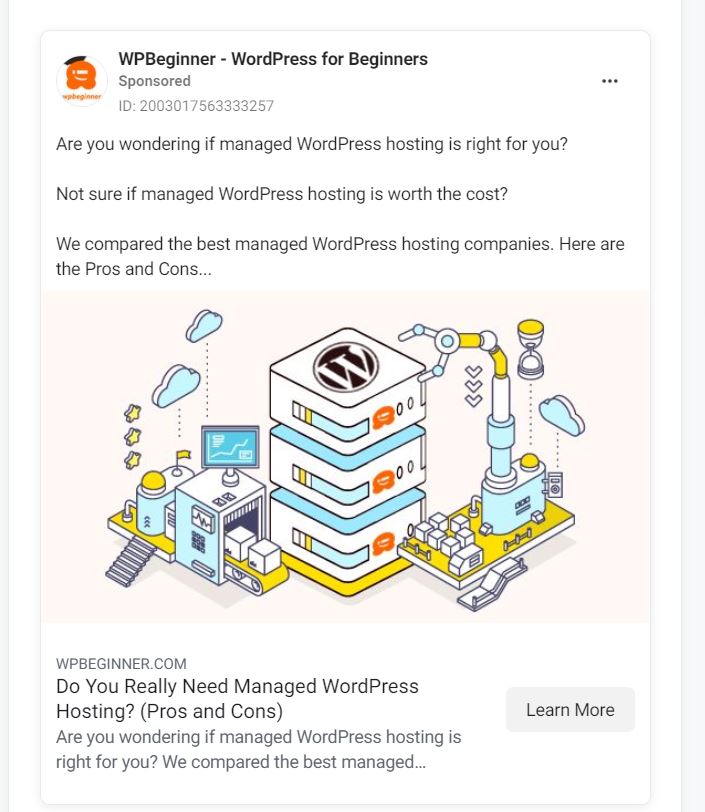 As you can see they aren't direct linking to an offer, instead they use the Facebook ad to drive traffic to their website first where they have a lot more freedom to properly "sell" the affiliate products to users.
Advertising affiliate links on Facebook Ads can be very profitable and a pretty much straightforward process.
However, you need to know that Zucc, is really out there banning Facebook advertising accounts left and right for not complying with their Ad rules.
So, you're obviously not allowed to promote affiliate marketing scams, and trash products with fake hype and claims.
That shit will get you banned in a second.
Sure there are clever guys out there who are buying thousands of fake Facebook accounts just to advertise crappy products with link cloaking and shit, but I really don't recommend you go that route.
Instead, try and read the actual Facebook Ad Guidelines, and learn what you can and what you can't promote, and try and run legit ads to legit products.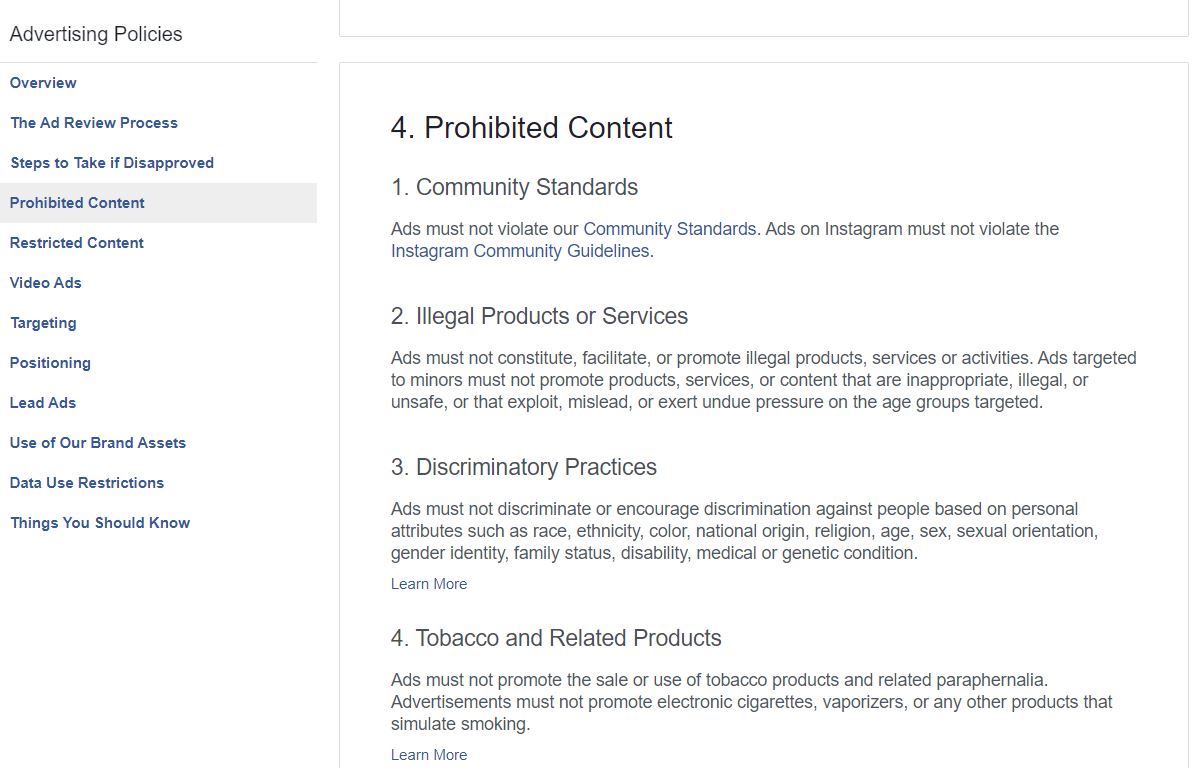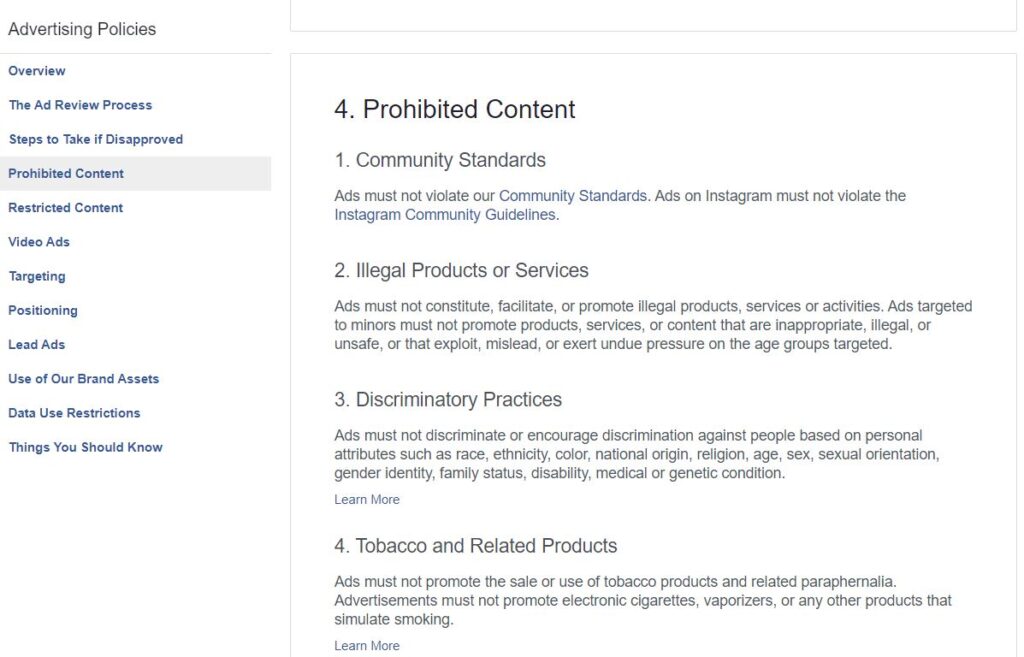 It will be much beneficial for you in the long run if you do it this way.
My favorite all-in-one SEO tool is
Semrush
. It basically has over 40+ SEO tools inside one neat and easy-to-use platform. Check out
Semrush via my affiliate link
and get a
7-day free trial.
How to create Facebook ads for affiliate products:
Boost Existing Posts
You can simply choose an existing post that you have published on your Facebook page to boost (promote it). This is an easy way of creating a Facebook ad for affiliate products.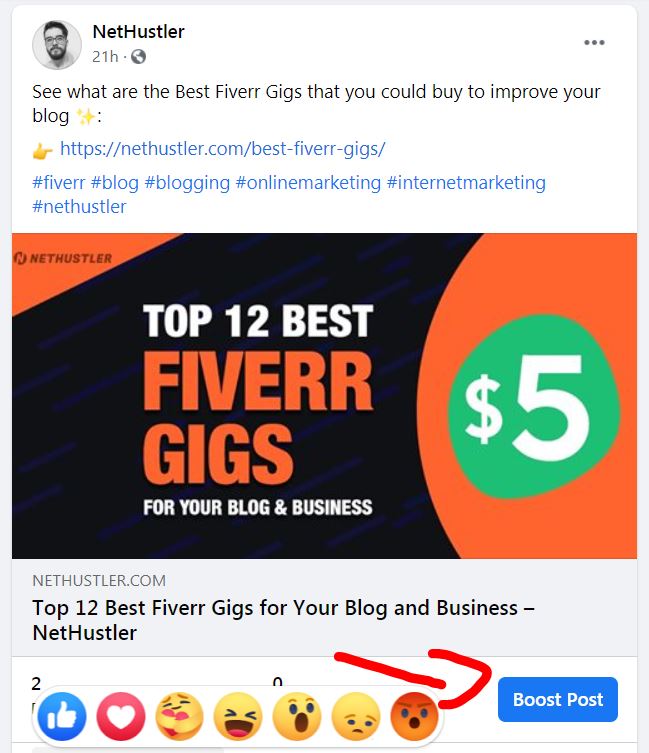 You can select some basic targeting and choose a budget and that's it. After the ad is reviewed it will go live.
Ideally, you want to send traffic to your site first, but you can also direct link affiliate offers (if you're allowed to by the affiliate program, for example, Amazon doesn't let you direct link affiliate products if you promote posts).
Another way of doing affiliate marketing with Facebook Ads is to use the Ad Manager.
Use Facebook Ads Manager
To get more out of Facebook advertising you want to create ads straight from the Ad Manager.
It's a bit more "complicated" to use than simply boosting a post, but you will have access to many more targeting features.
This allows you to pinpoint your target demographic and the find best users with a higher chance of conversion when shown your affiliate marketing ads.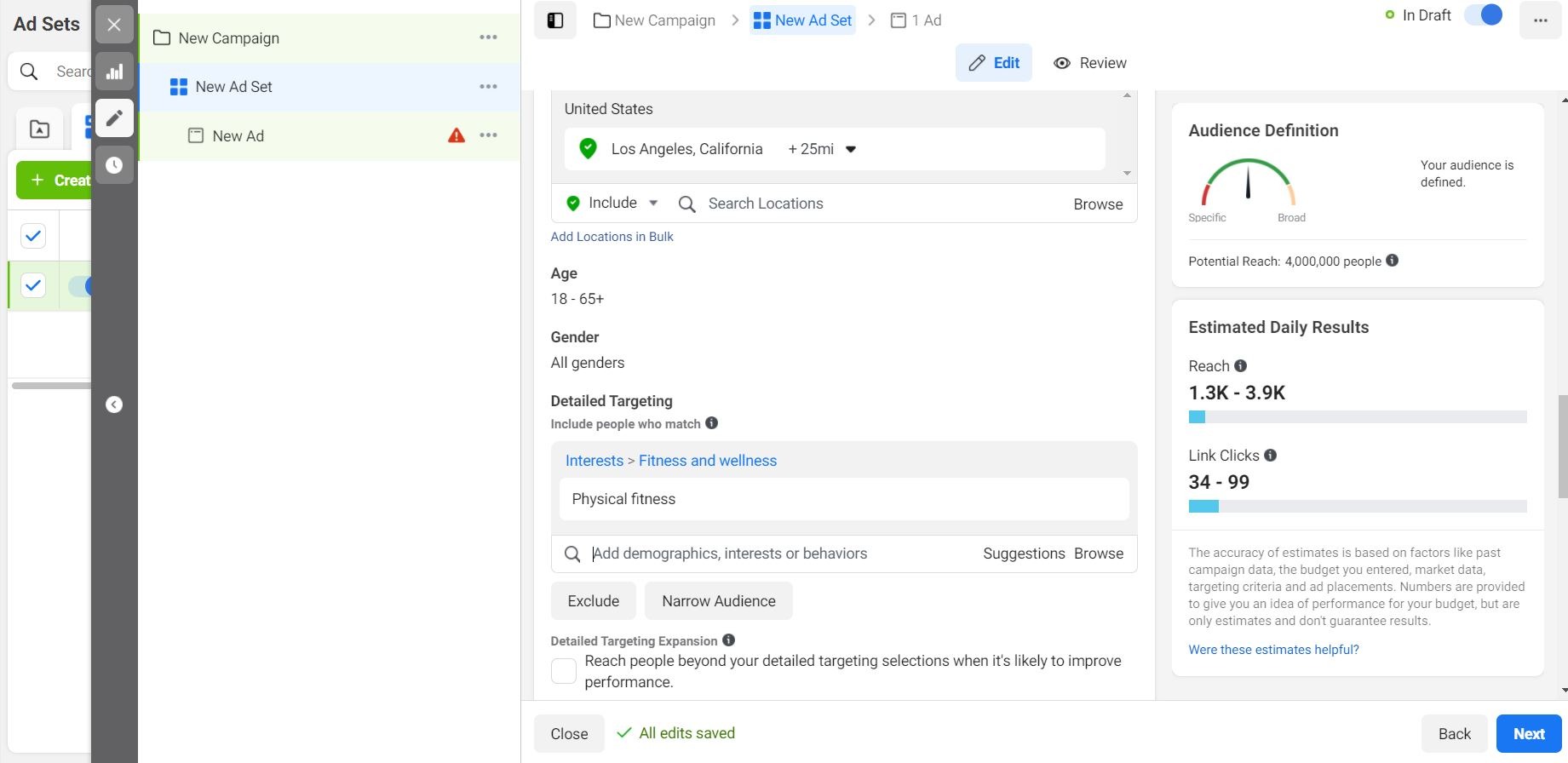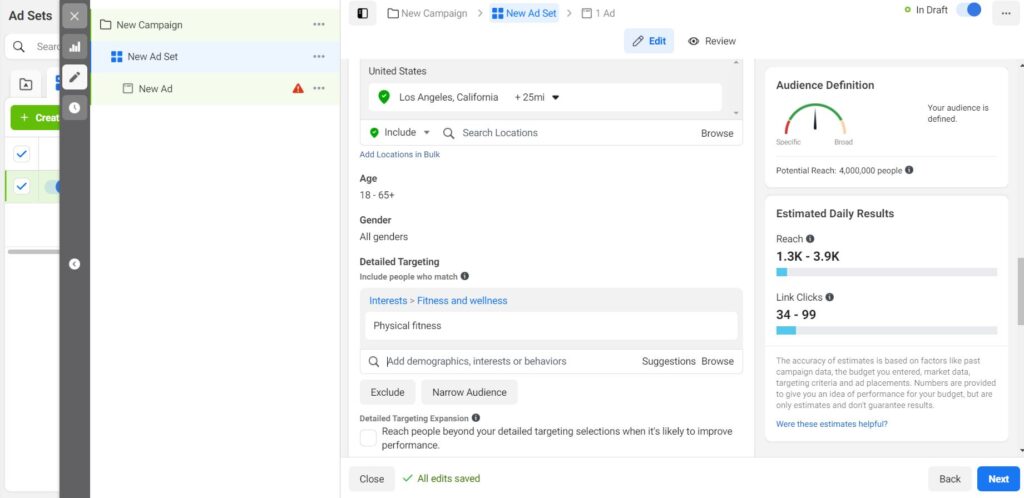 As you can see, there's a ton of targeting options in the Ad Manager compared to the regular "Promote post" feature.
So you can find exactly the people that are going to be the most interested in what affiliate products you're promoting on Facebook.
But…
There's a ton of things to take into consideration when creating Facebook ads for affiliate marketing:
Choosing campaign goals (Traffic, awareness, app installs, conversions, leads)
CPC vs CPC bidding
Finding Ideal Customers
Setting Ad Time / Schedule
Creating a high-quality ad image
Adding a CTA button (call-to-action)
Campaign Budget settings
Using the Facebook Pixel & Audiences
Ad placements
However:
There's so much stuff to explain that I don't want to make this post even longer.
So…
Other than the articles on this blog, I rarely write my own content. Why? It's simple: I hate it. That's why
I outsource it
from places such as
Fiverr.
I'm going to create a more in-depth separate guide about affiliate marketing with Facebook ads, so stay tuned for that.
Is Facebook affiliate marketing worth it?
Short answer: Yes.
Longer answer: It depends on how much time and money you want to invest into it.
Why?
Like all things in life and digital marketing, there are some PROS and CONS for doing Facebook affiliate marketing.
PROS of Facebook Affiliate Marketing
You can reach a ton of people, over 2.7 billion to be exact.
Pretty easy to use and straightforward
You don't need to have your own website (I highly recommend one though)
Don't need to spend any money.
You don't have to rely on SEO
If you don't like creating videos on YouTube, Facebook might be a better fit.
CONS of Affiliate Marketing on Facebook
It became increasingly harder to do it for Free (there are limits to how many people view your posts)
Ads can become quite expensive if you don't know what you're doing
There's a lot of competition for ads in top GEOs
Facebook Ad policies are very strict
Affiliate Marketing on Facebook: Final Words
Yay, you've reached the end, congrats.
Are you excited about trying Facebook affiliate marketing?
Great, because even with all that big list of Cons, this social media platform is still the largest in the world.
There are so many people to reach that's crazy to ignore it.
Sure it's not as easy as it was before Facebook limited the number of followers seeing your posts, but it can be a nice asset to your affiliate marketing strategy.
Be careful with the bidding though and be ready to immediately stop non-performing campaigns, especially if you're trying to do affiliate marketing on a small budget.
So give it a go, and let me know how it goes.
Hustle more'
Stephen